Lauren Bushnell's New BF Has Dated A Lot Of Girls From Bachelor Nation
In last week's roundup of shocking news, another skinny, attractive blonde woman got a new boyfriend! That's right folks, The Bachelor's OG Lauren B, Lauren Bushnell, is dating country singer Chris Lane. I'm sure you're thinking to yourself "who the f*ck is that," and you're not the only one. I mean, I'm not thinking that because the only thing I listen to on Spotify for eight hours a day is the Hot Country playlist and the soundtrack from A Star is Born. But I don't presume to believe anyone else has as refined a music tastes as I do.
Last week Chris Lane and his brand new Bachelor contestant debuted their relationship at the BMI Country Music Awards.
I can see the love in her eyes. 
As previously mentioned, you may not know who Chris Lane is, since he's no Tim McGraw (please tell me you people know who Tim Mcgraw is PLEASE), but he's actually no stranger to Bachelor Nation. And you know why? Not because he's been featured on every one of Becca K's musical dates. But because he's dated at least three previous Bachelor contestants. So let's take a look at Chris's history with the franchise, shall we?
Chris Lane first showed up on The Bachelor during Nick Viall's season. He sang his song "For Her" while Nick awkwardly rubbed his boner on Danielle Lombard's leg. Now, it's unclear if this appearance is what got Chris hooked on girls from The Bachelor, or if it was instead all the sexy SugarBearHair ads that he found irresistible. Either way, he's been hitting up ladies from the show for a while now.
Reality Steve has mentioned on numerous occasions that Chris Lane loves sliding into the DM's of many a Bachelorette, but I never thought much of it. I'm not going digging to find the specific references on Reality Steve for you guys because his site literally crashes my computer every time I go on. It's like I shouldn't be reading Bachelor gossip at work or something? But trust me, it's there. 
Sure, Jan.
Us Weekly also wrote that before dating Lauren Bushnell, Chris dated another Lauren B, Lauren Barr. She also competed on Ben Higgins season. My brain has limited capacity for remembering Lauren B's and unfortunately, I've maxed out at two. So, I have no idea who this girl is. Here's a refresher for us all:
I've still got nothing in the memory bank about her, but sure. She was on The Bachelor. I'll believe you. Apparently, they only recently broke up, and Lauren Bushnell called Lauren Barr to tell her that she and Chris were now dating. According to Us Weekly, "Chris was dating LB right before Lauren." Ouch. It's definitely got to hurt when your man upgrades to a girl with the exact same name as you but about one million more Instagram followers.
The article also mentions that Chris dated Clare Crawley before Lauren Barr! I'm sorry, does he think Bachelor Nation is his own personal dating app? Clare competed on Juan Pablo's season, coming in second for the heart of the world's most garbage single dad. Most recently, Clare got hastily engaged to Canadian Benoit Beausejour-Savard after Bachelor: Winter Games in what was most definitely not an act of desperation. Surprising no one, they immediately broke up.
So why, you ask, would Lauren B want to date a dude that has dated a plethora of her friends and contemporaries? The answer is simple. This b*tch loves to compete against her friends for a guy and win. Forever chasing the high of  true love that final rose.

But best of luck to Lauren and Chris! I'm sure they will have a beautiful few months together before Colton's crop of ladies are released from their show-imposed social media prison and Chris's fingers are itching to type "U up?".
Images: @usweekly/Instagram; @iamchrislane/Instagram; @_lbarr_/Instagram; Giphy (1)
BREAKING: 'Bachelor' Stars Arie And Lauren Are About To Be Parents
Well, well, well. Just when I was about to sit down and actually do work without Bachelor Nation interrupting with some messy f*cking drama, E! News lets it slip that Arie and Lauren B ARE PREGNANT. That's right, people, the most hated elderly race car driver in America and the female C3P0 he chose as his bride are expecting their first child together just months before they tie the knot in January.
This pregnancy news is low-key shocking because the couple literally got engaged six months ago. And if you're bad at math, let me just put it to you this way: this time last year, Arie was most likely engaged to Becca while Lauren B was in the development stages somewhere in the basement of an ABC studio. AND NOW THEY'RE BRINGING A CHILD INTO THIS WORLD TOGETHER. First baby Bekah and now Arie and Lauren? I feel like I'm taking crazy pills! Like, are none of these people using condoms anymore?? Or is that against ABC's contract these days? What. Is. The. Truth.
Lauren says she "kind of had a feeling" she might be pregnant, which leads me to believe that this baby was conceived after a single glass of red wine and Arie getting carried away with his fluttering hand gestures.
She also mentions that Arie has been doing "everything" for her since they found out she's pregnant, which is definitely the angle she going to use when she pitches their relationship to their future kid. I can't imagine she'd use their real "How We Met" story. Like, "well, honey, daddy dumped me for another woman on national television and then slide into my DMs three months later when he was still engaged to that other woman. It was just meant to be!!"

According to E! the January wedding is still going on as planned right after Colton's season airs, lest they start 2019 without clinging to their relevancy. Mazel tov, though!!
The article doesn't mention the baby's due date, which feels a little suspicious and like something they definitely sold to People.com to run when they're low on content one month. But, if my calculations are correct, the baby will probs make its appearance right around the time Colton's season wraps up. What fortuitous timing for them! I'm sure that wasn't at all planned and ABC is definitely not paying them extra to go into early labor during After The Final Rose. Nope.
As far as baby names go, I already have a feeling I know exactly what they'll name their kid. If it's a boy, I'm sure they'll go with Arie Luyendyk III to carry on Arie's legacy of swallowing a woman's mouth whole The Kissing Bandit. I can't think of any other legacy that man could possibly pass on. And if it's a girl, then I'm sure Lauren, being the unconventional, trendsetting woman we know and love, will want to go with something edgier, a little different. Like, Megan or Emily.  
In all seriousness we wish the couple all the best during this well-planned PR stunt very happy time in their lives! I'm sure we'll be hearing more about this the second someone else in the Bachelor franchise wants to have their five minutes of fame. Kisses! 
Images: @enews /Instagram (1); Giphy (1)
Arie And Lauren Are Trying To Steal Becca's Spotlight Again
In case you were ready for Arie Luyendyk Jr. and the advanced humanoid ABC hand-crafted in the Bachelor studio last season posing as his fiancée to finally fade into obscurity where they rightfully belong, think again! Because Arie and Lauren just announced their wedding date and location, officially bouncing back into the spotlight mere days before Becca's season of The Bachelorette premieres. What fortuitous timing for them! Now, I'm not saying that Arie and Lauren were trying to steal Becca's thunder by literally throwing their wedding in her face during a time that's supposed to be all about HER and HER love story, but I'm also not not saying that Arie would miss an opportunity to fuck over his ex one last time. Ya know?
Sooo not only did he embarrass her on national TV and take that giant engagement ring back, but now he's got rain on her parade less than one week before she DOES THE DAMN THING? And to those of you who are doubting if the timing of this announcement was, in fact, intentional, that's like, so cute of you to think. Seriously, bless your heart. But you don't think this announcement could have waited literally one more week? Like, if Arie and Lauren are soooo happy in their condo in Arizona, maybe they could have given Becca at least one week where the world isn't talking about how happy her ex is. I mean, has the girl not suffered enough? Judging by that heinous lace blazer she wore in her latest promo, she's been having a tough time of it. LET THE GIRL LIVE, ARIE! 

One more time for the people in back: YOU'RE TRASH, ARIE!
People reports that the happy couple are planning to get married in Hawaii on January 12th of next year. And, like, why you gotta do this to Hawaii? First, they've got to deal with Kilauea erupting and swallowing up their homes, and then as if that wasn't enough, the world's worst Bachelor of all time is going to bring his cardboard cutout bride there to desecrate the beautiful state some more with their limited vocabulary and backstabbing ways?
Sidenote: People, you're embarrassing yourself rn. WHERE is your journalistic integrity? First, you decide to reward Ashley I and her eyelash extensions by releasing her 8th grade diary "The Story of Us" vlog where she humble brags about finally getting a boyfriend, and now this? What's next? An in-depth look at the creative genius behind "Bitch, I'm Bella Thorne"?
*shudders*
Anyway, back to the wedding announcement that literally no one asked for. In an interview with The View, Arie said this about his upcoming nuptials:
"It's in Maui — it's at Haiku Mill which has this beautiful, old world feel with a lot of vines and greenery… It's not your typical beach wedding. And it's a private wedding, so not on TV — just a close group of friends. Probably 100 guests."
Lol so it's a private wedding and yet Arie announces on live fucking television the exact coordinates to the venue? I'm also assuming that the 100 or so "close group of friends" invited to the wedding include Arie and Lauren's Instagram endorsement reps, beloved producers, a People magazine reporter, and most popular Bachelor cast mates. I'm picking up what you're putting down, Arie.

Also, I do not for one fucking second think this wedding will be anything but a typical beach wedding. For one, it's in Hawaii, which as far as destination weddings go, is about as unique as Lauren's vocabulary. Then there's the fact that the couple getting married are Arie and Lauren, two people whose idea of a good time involves spending an evening watching their own Instagram stories and murmuring "love it" to each other from across the room. Yes, I'm sure I'll be dazzled by the ceremony.
Well, fam, that's all I have to report for now. We still have four whole days until Becca is set to have her moment in the sun, so I'm sure at least three more former Bachelor contestants will come forward to compete for her limelight. Fingers crossed Dean comes through to break my heart one more goddamn time!

Images: Getty Images; Giphy (2); bellathorne /Instagram (1)
Arie And Lauren Say 'I Love That' To A New House
It's been less than two months since The Bachelor finale made us all want to punch our TVs, but it appears things are going well for Arie and Lauren, the least interesting couple in the history of relationships. They haven't broken up yet, which is only mildly surprising, and this week they announced that they bought a house together in Arizona. Yay, wow, I'm so excited for them, what a wonderful couple. Ugh. When does Becca K's season of The Bachelorette start?
I'm pretty sure you don't need a refresher on what a douchebag Arie Luyendyk Jr. is, but let me quickly reiterate: he really fucking sucks. Nevertheless, Lauren, our favorite wooden doll, agreed to marry the pool noodle of a man who dumped her on national television (and then changed his mind). She has since moved across the country for him, and now they've invested in property together. Not to be cynical, but I feel strongly that every Bachelor couple should be together for a full year before making any major financial decisions together. Like, I'm sure they're very in love, but we saw how that turned out with Nick and Vanessa, and pretty much ever other Bachelor couple for the past 15 years. Why do I watch this show again?
Like any good C-list couple, Arie and Lauren announced their exciting real estate news in an Us Weekly exclusive, because it's all about earning that coin. They decided on the house after seeing almost 70 properties. Wow, Lauren is surprisingly picky about houses, considering that she apparently has literally no deal-breakers when it comes to choosing a man. The house is brand new, probably because when asked about the prospect of doing a remodel, Arie said, "Lauren was completely overwhelmed." I mean, of course she was. That would've required her saying, like, words to contractors. Scary shit. Just imagine these two touring a house together:
Real estate agent: These counters are premium marble, imported from Tuscany.
Lauren: I love that.
Real estate agent: The master bathroom has a jacuzzi big enough for two.
Arie: Wow.
Real estate agent: This picture window has stunning views of the mountains in the distance.
Lauren: Oh. Pretty.
The house they settled on is 2,600 square feet, which is plenty of space for them to avoid each other at all times. Lauren sounds like she's mainly excited about the house because it has space for the dogs. "Our dogs are very excited. They are each going to have their own room … I mean it does have four bedrooms." I can't tell if she's being serious (I don't get the sense that she's downloaded the sarcasm expansion pack yet), but it's extreme 2018 nonsense to give your dogs two separate bedrooms.

In the interview, Lauren also talks about her big move from Virginia Beach to Phoenix to be with Arie. She says it's been a really easy adjustment for her, but I'm not buying it. Lauren is like that new girl in 10th grade who was in three of your classes but never said a word. Do you even remember that girl's name? Elizabeth? Emily? Exactly. Lauren says she's been "making friends," but unless these friends are also only capable of speaking the words "wow" and "I love that", I have a hard time believing she's making a big social splash in Phoenix.
Anyway, Lauren says that "It has been fun exploring the area and Arie is a really good tour guide, so that helps." Yikes, that sounds bleak. I can't imagine anything worse than being forced to explore Phoenix, Arizona with fucking Arie Luyendyk Jr. as my tour guide. I'll do the self-guided tour, thanks. Since moving, Lauren has started real estate school, so someday she'll be able to sell homes with all the charisma of an index card.
I'm happy for her, truly. Hopefully we won't have to hear much from Arie and Lauren until the inevitable awful wedding, because they'll be so busy not talking to each other in their shiny new house. Works for me, because I'll be busy watching the new trash Bachelor spin-off.
Images: @ariejr / Instagram; Giphy
The Complete Biography Of Lauren Burnham
This season on The Bachelor, we watched as Arie Luyendyk Jr. fell in love with Lauren Burnham, a technology salesperson from Virginia Beach. Their deep, emotional connection couldn't be denied, but we never got to learn too much about Lauren's past. She's a woman of few words, but today we're excited to bring you her origin story, like it's never been told before. This harrowing, completely true story will make you ponder the very meaning of life, in a way only Lauren could. This is Lauren Burnham: The Complete Biography.
The year was 2011. A dorm room. The newest prototype in a long line of cyborg robots awakened for the first time. Her highlights were perfect, her manicure pristine. She was Lauren Burnham and, much like Jesus Christ, she had risen. With a face that was simply a copy-and-paste job of every hot white blonde girl who came before her, she was ready. As Lauren crawled out of bed for the first time, it took her a few minutes to stand confidently on her mechanically engineered legs. She wasn't used to the feeling of being human, or to feeling anything at all. This lack of deep feelings would never truly go away.
The room was sparse, with nothing but a closet full of flowy tops, a curling iron with which to make barrel curls, and a desk with a folder on top. Lauren opened the folder, and inside she found all the details of a fully-formed human life. Volunteer experience at a food bank and a Christian outreach center. A high school boyfriend to whom she was briefly engaged. A second-degree black belt in tae kwon do. Lauren memorized all the information, but quickly forgot most of it. She would spend the next seven years mostly dodging questions about her past, instead choosing to change the subject with interesting conversation starters like "this is so cute" and "it's so quiet" and "wow".
Lauren Burnham spent the first four years of her existence at Old Dominion University in Virginia, where she mysteriously made friends, despite her aversion to speaking words or doing anything interesting. She earned her degree in psychology, which came easily to her since all she had to do was download the DSM-5 to her internal hard drive. She was fun and carefree during the days, before returning back to her room to charge her batteries. Each night she slept for 9.5 hours, the amount of time required for a full charge. Lauren tried to pull all-nighters a few times, but someone would always find her lying lifeless on the quad and panic.
Following her graduation, cyborg Lauren entered the real world. She worked at a Michael Kors store, started a home staging business (whatever that is), and dabbled in marketing, but she hadn't yet discovered what she was really sent here to do. She voted for Trump, sensing that he was the right choice for a robot just trying to get ahead in this world. For about a year, she dated a professional hockey player, Christopher Crane, and they were also engaged (her second failed engagement). In the end, Lauren just didn't have the depth of emotion to fulfill Christopher, so she moved on.
She moved to Dallas, got a job in sales at Vonage, and became the Lauren we know and barely tolerate today. As her robotic system matured, she got even blonder, started saying even less words, and was finally ready to fulfill her true purpose in this world: winning The Bachelor. After getting selected for the show, all she had to do was refresh her vocabulary of pre-loaded phrases, and she was good to go. Really, all Lauren had to do to win Arie's heart was be blonde, and that was one thing she could certainly do. This was what Lauren was made for, what she was designed to do, and there was no way she would fail.
Now that Lauren has fulfilled her destiny and won the heart of Arie Luyendyk Jr., there's no telling what her next mission will be. Maybe she'll focus on world domination, or maybe she'll just try to learn another 12 words. Either way, her Bachelor victory is truly a testament to how far A.I. technology has come in the past few years, and we can't wait to see what's next.
Images: Giphy (2)
You Can Go On Vacation With Arie And Lauren For The Low Price Of $1,500
If you're one of the two people in the world who doesn't hate Arie Luyendyk Jr. with a fiery burning passion, I've got some exciting news for you. This summer, you can go on vacation with Arie and Lauren, and Maquel will be there too, because why the fuck not. The trip in question is a 6 day, 5 night stay in Bocas Del Toro, Panama, and a spot can be yours for just $1,499. Let's analyze what this money gets you, and whether it's worth suffering through for the better part of a week in the company of Arie, the human equivalent of elevator music, and a racist.
The company putting on the trip is called Adventure Hunt, and from their website, it looks like most of their trips are actual treasure hunts. As in, you pay to go on the trip, and then they literally plan Amazing Race style challenges for you. I'm sorry, but if I'm spending my hard-earned money to go somewhere with a beach, I will be parking my ass on the beach. Don't give me shit to do, that's not what vacation is for. The Arie and Lauren trip isn't like this, because I guess getting to hang with Arie is enough of a prize by itself. Ew.
In the six days in paradise (not that kind), the scheduled activities include a zip-line tour, scuba diving, and cave exploration. They say that in the cave, you can "see hundreds, even thousands of bats," which, while horrendous, still might be better than a one-on-one date with Arie. Every day of adventure is capped off with a group dinner. I love that. JK. I'm sorry, but I'm not dropping $1,500 so I can go hang out with a bunch of strangers who actually think Arie and Lauren are a fun couple. Fuck this mess of a trip.
While it's easy to say that having to be in the same room with Arie is the worst part of this vacation, it gets worse. For $1,500, this shit isn't even close to all-inclusive. You're responsible for your own flights and transportation, and it doesn't stop there. Other than the aforementioned group dinners, there's no food provided, and you also have to pay for all beverages besides water. Like, pardon me? Am I supposed to call an Uber to take me to the local Panama liquor store so I can be sufficiently buzzed before my first time meeting Arie and Lauren? There are also 50 spots open for the trip, meaning that you'll be stuck on this godforsaken trip with FORTY-NINE OTHER PEOPLE. I'm sorry, you're telling me I'm paying a cool grand and a half for this shit, and I don't even get to hang out with Arie and Lauren alone? This sounds like the fucking worst group date ever.

Imagine Scary Island from season three of RHONY, but boring and with Arie there. You do not want to go on this trip. Buuuut if you do, please get Maquel wasted so she'll tell you trashy stories about Arie and Lauren and her first marriage, and then let us know. Also, Arie, Lauren, and Maquel haven't even mentioned the trip on their Instagrams, so how do we even know this is legit? I feel like this is one of those "subject to change" things, where Arie will probably sign up for some race car thing the same week and have to pull out last minute. Actually, it might be better if he didn't come. Meanwhile, someone please plan a trip with Bekah M. and Kendall and all of our favorites, so we can actually have something to look forward to. Oh, and one more time before I go, fuck Arie.
Images: adventurehunt.co / Instagram; Giphy
Arie's Breakup With Becca Was More Messed Up Than We Thought
Now that The Bachelor has ended and we are all in shock about what a piece of SHIT he is—I'm sorry, by "shock" I mean, we all fucking knew but he further proved it—there is only one remaining question. Exactly when did all of this shit happen? From the episode, it seemed like Arie proposed to Becca, popped the Champagne, had a romantic weekend getaway, and then was like, "You know, I've fucked you enough times now, so I'm going to go fuck Lauren instead." But then during After the Final Rose, Chris and the women kept throwing out dates. Chris said, "a few weeks later", the girls said over a month. So when exactly did this destruction occur? How long did Arie Needledick wait until proposing to another woman? How many times can you realistically do that in a month? Let's break it down. We did some Pulitzer prizeworthy investigation to bring you a timeline of Arie and Lauren's relationship.
September 2017: The Bachelor begins filming. Becca and Lauren meet the man who is going to ruin their lives.
November 2017: Filming wraps up. Becca is happy and engaged. Lauren is either heartbroken or completely thrilled. It's hard to tell because she is a soulless void, so I guess she just resumed being soulless but now at her house instead of on television.
December 2017: Arie begins creeping on Lauren by liking her Instagram photos. It's literally like he took fuckboy lessons. Step 1. Slide into the DMs. Step 2. Ruin her life. What's even weirder? He wasn't even following Lauren at the time! This was a haunting the likes of which we have never seen.
So the proposal with Becca took place mid-end of November. They get a few days to themselves in Peru, then they come home, and by then it's December and Arie is already seeking out our favorite robot. Classy.
But shit really hits the fan on NYE, when Arie, who is STILL FUCKING ENGAGED, officially reaches out to Lauren-a-Tron 2000, saying he wants "to talk". I'm sure it opened with a "u up?" text at 
3am.
 Unfortunately for Becca and Bachelor Nation, Lauren was, in fact, up.

January 2018: 
Does Arie happen to tell Becca he's over it? Of course not, that would be the right thing to do. However, he did manage to tell a bunch of people that they broke up
before it happened
. This is part of what made Caroline so absolutely furious with him—Caroline heard about the breakup through Canadian Bachelor Brad Smith, with whom they share a mutual friend. So Caroline calls Becca, who has no idea what she's talking about.
Then, mid-January, THAT was when Arie finally called up Chris Harrison and the film crew to brutally and grotesquely dump her in front of America. Because "they need to see it", says dream date Arie. If you pause your TV at the right moment, you can actually see her heart breaking. Great TV, Arie, nice thinking.
The next day
, he flew to meet up with Lauren.
The. Next. Fucking. Day.
And Lauren was like, "Oh good, you're not engaged as of 12 hours ago. When are you going to propose to me?"

 March 2018: Arie proposes to Lauren, as now that all of America knows what kind of ball-less wonder he is, his chances of getting another chick to fuck him are pretty low. "I really the way you don't say anything and it's almost like you're not there," says Arie in his proposal. (I may have paraphrased.) I'm sure he also really liked that if he did it then, he wouldn't have to pay for the ring. Considering his success as a race car driver, I kind of get that part.
Becca runs screaming from Arie's octopus-like arms and into her future as the Bachelorette.

 So, their engagement lasted almost two months. Arie was truly faithful for about two weeks. Lauren overlapped—at least emotionally (do nudes count as physical cheating?)—for a couple weeks.
I'm sure all of this will work out perfectly for Arie and Lauren. Can't wait until they reproduce and create the world's dullest children. Cheers to the happy couple!
We Don't Hate Lauren B. Because She's Boring; She's Boring Because We Hate Her
Something shocking happened on last night's episode of The Bachelor. No, not Arie's sadistic staged breakup—last night, I started finding Lauren B. relatable. I know. Lauren B., the human toaster? Lauren B., the very advanced robot whose "pat eye corner" function looks almost like a real human crying? Hear me out. While I'm in no way defending ABC's choice to build a TV show around her, I'm starting to understand her. Here's a rundown of why you're probably more like Lauren B. than Becca.*
*Is Lauren B.'s sudden relatability a heavily edited hoax to make me hate Arie less? Probably, but that's fine because I'm never going to hate Arie less.
Exhibit A: Lauren B. Meets The Parents
Let's get one thing clear from the start: Lauren B. is relatable as a person; she's not good TV. (I actually think her on-screen dullness is relatable in and of itself. I too suspect I would not be good TV.) So while her visit with Arie's family was an exercise in not falling asleep in your wine, it seemed realistic. He's worried she'll be too shy. They touch a little more than appropriate. She cries from nerves. She's shocked when it goes well. All of these things happen pretty much every time my boyfriend introduces me to anyone (I know, I'm a treat).
Lauren B. looks like a walking Google Image search for "cheerleader," so you assume she must be bubbly or bitchy. And she's definitely not bubbly. But (hot take) I don't think she's bitchy either. I think she's awkward AF, and genuinely shy, and I have no idea why she signed up for this show. Just look at Becca in comparison—within five minutes, the family has her pegged as the "confident, outgoing" one. She wears a blazer and talks about her nerves with a confidence that no one with real nerves ever has. Becca is a strong, independent woman who takes Arie apple picking as a date. Lauren B. is bad in social situations, requires constant reassurance in relationships, and makes Arie ride a beach pony as a date. Which one did you say was more relatable?

Exhibit B: Becca's Description Of Lauren B.
When poor Becca is forced to discuss her boyfriend's other girlfriend, she's extremely graceful about it. After diplomatically stating how different they are (true), Becca finally admits that their differences aren't the only issue. (I would think them both dating the same man would torpedo any burgeoning friendship, but somehow that doesn't come up.) They didn't become friends because "other people were easier to get to know," according to Becca. In the real world, that's a normal thing to say. But this is Girl World, and here, that means a few things. 1) Lauren has serious RBF. 2) Becca and the other girls talked shit about her and thought she was unfriendly and boring. 3) Lauren was never here to make friends, and probably couldn't have if she wanted to.
As someone who attended five different summer camps without making new friends, OH MY GOD did I find that Becca comment relatable. We saw a little bit of this side of Lauren as they neared the finish line and she started telling the producers how she wanted everyone else gone. And not in interview mode—just Lauren B. talking to a producer in the hall after the rose ceremony. AKA, definitive proof that she had no friends in the house (probably why we hear her speak so little). She talks to the producers only, because they're paid to manipulate her be nice to her, and Arie maxes out her social interactions for the week. Honestly, feels. I always thought the girls cry-hugging and saying "love you" as they leave was the least realistic part. I take between 10 and 100 years to reach that kind of intimacy with other people.
Becca: I made so many friends!
Lauren: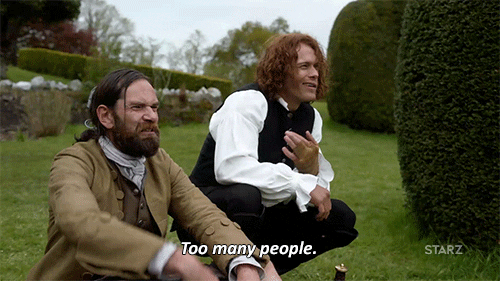 Exhibit C: Lauren B. Gets Dumped
Obviously, these girls are always the most relatable when they're being dumped. (Just me? Back to therapy it is.) But Lauren in particular said something I found both hilarious and insightful: "I feel like he's making the easier choice," she says. Judging from everything Arie's said about both relationships, that seems on point. But Lauren is the one to say it, and to isolate that factor—Becca is easier—without judgment. Lauren doesn't say it cattily, or imply that Becca's  relationships are superficial because of it. She doesn't weigh it as a judgment against herself that she's more difficult. She just seems genuinely disappointed in Arie for not figuring out what he wanted sooner. And isn't that just the betchiest thing you've ever heard?
Lauren B. knows she's a challenge. She's been upfront that she's a challenge. If Arie doesn't pick her, it's not that he didn't love her. Arie just couldn't rise to the occasion. He didn't want to work that hard. He wasn't capable or willing. To say "I think he made the easier choice," and hate him for it instead of hating yourself takes courage. Everyone go write that down for the next time a fuckboy blows you off. "It seems like he's making the easier choice," you'll say breezily at brunch. Because if you're being honest, you want a boyfriend who works his ass off for you. In snack runs alone, my boyfriend has put in too much time and money to call our relationship easy. A guy who isn't up for that is failing your test, not the other way around—and Arie failed Lauren B.'s.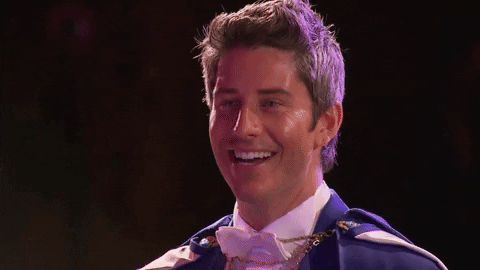 So, was this article just a plug for Lauren B. and Arie getting their own spin-off? Absolutely not and I'd die before watching that. But as horrendously blah as she is on-screen, think carefully about how your own anxiety and subpar people skills. Lauren B. is not a cardboard cutout. She's just a person who does poorly in the spotlight and opted to be on national TV.
Images: Giphy (3); Getty