Hold Up, Is Lala Kent Friends With The Kardashians?
2018 has been such a salacious sh*tshow that nothing shocks me anymore. Like, yesterday I found out that Bella Thorne is in a throuple with Mod Son and some YouTuber and I didn't even flinch. The president regularly threatens World War III on Twitter and I don't even feel anything. So it takes a lot to astonish me these days, and leave it to a Vanderpump Rules starlet and the Kardashians to shake me to my core.
Look, I hate a contrived crossover more than the next person. I mean, remember when Bravo tried to shove a Stassi and Kyle Cooke hookup storyline down our throats when they did that mashup episode of Pump Rules and Summer House? Before dating Beau, Stassi's type was…well, manipulative, narcissistic assholes (full offense, Jax and Patrick), and even she couldn't bring herself to go along with the crossover by hooking up with Kyle on a warm summer's eve because he is such a douche (pun fully intended).
But this KUWTK and Pump Rules crossover? I'm so here for it.
We knew from a previous KUWTK episode that Randall and Lala had a blink-and-you'll-miss-it cameo at a poker game with Khloé Kardashian. And we've also seen on social media that they have a mutual friend, which is Jonathan Cheban. We honestly thought that they were, at most, somewhat acquainted with each other because they have minimal social overlap. Boy, were we wrong.
Yesterday, Khloé threw up this pic on her Instagram story. Usually she posts pics of herself interspersed with inspirational quotes. And we all know that the amount of thirst traps and inspirational quotes you post on social media is directionally proportional to how thirsty you are for validation and how f*cked up your life is at the moment. So it was especially random that she posts a picture of her with Randall Emmett and Lala Kent to congratulate them on their engagement.

I have spent as much time thinking about and scrutinizing these pictures out than I have thinking about and scrutinizing a two-word text message from a guy. So yeah, at least a good four hours and it's still going to keep me up at night no matter how much Ambien I take. But I digress.
What a weird gesture to congratulate someone on their engagement and then say to follow them on Instagram. And she's not even talking about Lala—she just says Lala is gorgeous (which she is). She's talking about Randall, who literally refuses to be filmed and had Lala's friends sign NDAs so they wouldn't take pictures of him or leak information about him. And now he wants followers??
But it gets weirder. Four hours after Khloé posts this random story, Scott Disick throws up a picture of him and Randall chilling in the back of a car together.

Will any of us start following Randall on Instagram because Scott and Khloé told us to?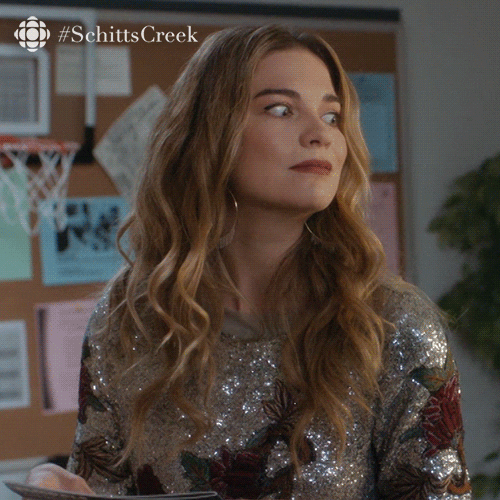 But, like my shrink said when he suggested that I start seeing him two times a week instead of once, "There's so much more crazy sh*t here to analyze." First off, even Scott doesn't follow Randall on Instagram. But then again, he doesn't even follow his own girlfriend. But still, it's so on brand that Scott hangs out with a guy that is such a caricature of an L.A. bro that Entourage is partially based off of him. It's also funny as f*ck that Scott is willing to post a picture with a guy who isn't really his bestie, yet I can count on one hand how many pictures he's posted of Sofia Richie.
Why is the reigning family of social media suddenly buddy-buddy with a Pump Rules star and her producer fiancé? I don't know, but I guess I'll have my answer if Sofia Richie ends up starring in a sh*tty sorority movie next year.
Images: Giphy; letthelordbewithyou, khloekardashian / Instagram
I Was Rooting For You, Lala, We Were All Rooting For You!
Okay everyone. It's only Wednesday, it's another fucking blizzard, and Lala Kent—breakout fan favorite of this season's Vanderpump Rules—has somehow made my morning even worse. In a classic Stassi circa November move, Lala participated in a podcast episode that seems designed to ruin her career. And just like I did with Stassi's podcast in November, I listened to the entire thing. Let's dive in to the river of horseshit controversial comments Lala shared on Tuesday's night episode of Juicy Scoop.
What Was Said
The most inflammatory part of this episode references Lala's ongoing "feud" with Jennifer Lawrence. (ICYMI: J Law called Lala a cunt on Watch What Happens Live. Lala was mad.) This clip, conveniently located 72 minutes into the 75 minute episode, is already triggering some well-deserved outrage. Naturally, host Heather "I love burying ledes" McDonald was eager to get into the J Law drama. And the two of them got most of the shit-talking out of their system in the first five minutes. Beyond the typical "my feelings were hurt" and "she's gross" and "congrats on the failed movies," they kept it pretty clean. UNTIL: an hour later, we get this exchange seemingly out of nowhere:
Heather: Do you think ever did anything sexual with Harvey Weinstein?
Lala: Yeah. I think she's that type of chick.

At this point, Heather starts breathing like she's having a panic attack. Obviously, she asked an incredibly leading and inflammatory question, and I think part of her can't believe Lala really fell for it. Lala herself seems aware she's crossed a line, though she doesn't seem interested in acknowledging it as a bad thing. If you're at home wondering why exactly it IS such a bad thing, that's what I'm here for. In the immortal words of Queer Eye's Jonathan Van Ness, let's unpack that.
Why It's So Fucked Up
First of all, Heather: "did anything sexual" is not appropriate terminology when discussing instances of alleged rape and sexual assault. To say the woman is "doing something sexual" when she's under coercion, stripped of her agency and ability to be "doing" anything at all, is beyond cruel. Second, as literally everyone can agree, the instances of "sexual activity" with Harvey Weinstein under discussion are instances of alleged rape or assault. So why is Heather McDonald essentially posing the question, "do you think Harvey Weinstein ever preyed on Jennifer Lawrence?" as though it's opportunity to talk shit? And why the fuck is Lala answering like she agrees? What is "that type of chick," Lala? Because from where I'm standing, it sure as hell seems like what you're referring to is a victim.

The Horror Continues
Heather at this point decides to abandon all remaining vestiges of dignity, saying she thinks it's "interesting" how Jennifer Lawrence decided to "abandon" Harvey Weinstein right away. Unlike Meryl Streep, who she says only "distanced" herself. So like, congratulations Heather—you've found the only context in which Meryl Streep is not the classier alternative. (Also, both J Law and Meryl have publicly denounced Weinstein since. Just because Meryl didn't immediately call for his incarceration does not mean she was standing by him.)
But again, I am so fucking confused about the stance being taken on Harvey Weinstein here. After Lala drops a few more charming tidbits about how J Law has a fat face and bad hair, the two women chill out a little and do manage to address the fact that Weinstein is a disgusting pig. (The word they're looking for is predator, but I'll take what I can get at this point.) Somehow, they don't seem to see where that fact clashes with making nasty speculations about Weinstein and Lawrence being "sexual," or trying to make her speaking out against Weinstein seem like a bad thing.

Lala Says Dumb Shit, Pt. 3
Then again, the other 72 minutes of this podcast really call into question how much Lala gives a shit about displaying human decency. About her friends: she wishes Raquel had "more than half a brain," mocks Scheana's singing voice and James' DJing, and casually drops that Faith may or may not have committed identity theft and "pulled a knife" on her. (To be fair, this last point was in response to a reader question. But Lala, rather than denying it outright, basically indicates she's not supposed to discuss it.) On relationships, Lala says she's not dating Randall for the money—because if she were dating for the money, she'd go for "a billionaire about to croak." And on why she so frequently engages in what Heather calls "urban-ish talk"? Well, Lala says it was a natural byproduct of her upbringing. You know, in Utah: the 39th least diverse state.

The Aftermath
So yeah, suffice it to say that Lala is not the most reliable or kind witness when it comes to anything. But I'm a little astounded that someone who has vocally insisted on her status as a feminist has stooped so unbelievably low, simultaneously delivering a "burn" to Jennifer Lawrence and setting society's understanding of the #MeToo movement back five years. Since the podcast aired, Lala has issued the following apology.
My interview with Juicy Scoop was taped a couple of weeks ago when I still felt hurt and emotional. Excuses aside, I wanted to let it be known https://t.co/jgyLLTyy75 and I are all good now.

— Give Them Lala (@lala_kent) March 20, 2018
And like, super glad they're on good terms. Good for J Law for definitively proving she's a bigger person than you. But it wasn't really the personal sparring I wanted an apology for here. I want an apology for discussing Weinstein's predatory behavior as though it's juicy gossip about the victim. I want an apology for saying that women should stand by men with a history of sexual abuse simply because they had a working relationship. You complain about Jennifer Lawrence not "standing by other women" by insulting you. But you, Lala, are the one who denigrated Weinstein's victims en masse for the sake of an ill-conceived punch line, and then made a low blow about another woman's weight. So please, sit back down with whatever feminist book you read the first 20 pages of, and FINISH IT. Think about how you can actually embody some of the girl-power ideas you've been screaming about all season—because this isn't it.
Images: Tumblr (4); Twitter; Amazon
Are James Kennedy & Lala Kent Still Friends? A Definitive Timeline Of Their Relationship
It's time we all admit it: James Kennedy and Lala Kent are now the backbone of Vanderpump Rules. As fun as it is to sympathize with Jax's back problems and early bedtimes, we tune in to VPR to see hot people get drunk and embarrass themselves. This year, really only James and Lala are serving that up—and their messy twentysomething dynamics don't stop there. Bouncing off their infamous pasta feud, James and Lala spent the first half of last night's episode trying to get Raquel to dump him casually dry-humping, then screaming at each other, then having a heart-to-heart in which James confessed his ongoing love for Lala. (Again, that last bit would've been more shocking if they hadn't been rolling around under the same blanket all night.) So, what does this confession really mean? And what can we expect from these star-crossed lovers two former besties? We're breaking down their entire friendship to see what conclusions we can draw.
The Early Years
Lala joins VPR in season 4, and leaves midway through season 5, in 2016. (She leaves largely because of rumors about her married boyfriend, Randall.) James ends his garbage-fire of a relationship with Kristen in season 4, and goes out with Lala pretty much immediately after. Their "relationship" is cut short when he continues to bang his way through SUR, moving on to Lauren the hostess. Since according to this Instagram, James and Raquel have been together for two years, he meets her shortly thereafter. While their romance is cut short, Lala and James form a beautiful friendship, presumably based on their mutual love for fitting into child-sized clothing and expressing their love for rappers who would probably have preferred to be excluded from the narrative.
The Fight
If you didn't watch "it's not about the pasta," just do it now (or read our recap). The gist of the fight is James calling Lala's boyfriend "fat," which is apparently a huge trigger for her. He also suggests that he pays for all her shit (seems accurate), and that's why she's with him. Lala flies into a rage, and cuts all ties with James in a now-deleted tweet. James makes some half-hearted attempts to clear the air, all of which are about as pathetic as this re-tweet of an article where Lala say she's done with him, punctuated by a lone ":(."
— James Kennedy (@itsjameskennedy) January 23, 2018
The Reunion
Of course, this is VPR, where feuds have the lifespan of fruit flies. On February 3, James posted this Instagram, with "@lalakent glad to have my mate back" in the caption. And as early as January 28, Lala posted this Instagram of the two of them (while refusing to tag him and zooming in on her own face, in true petty style). And she takes full advantage of the pasta-feuled attention, posting Instagrams on on Jan. 30 and Jan. 31 referencing the feud and even making a "pasta challenge" for her fans. So, there's a fairly strong argument for this feud not being all that big a deal to begin with. These two seem pretty firmly baked into each others' lives—case in point, Lala's known James since she was 18. And, FWIW, she named her lip gloss shades "Randy," "The Affair," "Mistress," and "James". You can draw your own conclusions.
What's Happening Now
While they briefly bounced back in early February, James' continued alcoholism disrespect seems to be too much for Lala. On Watch What Happens Live With Andy Cohen last night, Lala admitted that James adds "nothing" to her life. (It didn't help that they'd just watched a preview in which James says "If I had been that billionaire successful DJ, she would have definitely come along for the ride." (The ride presumably being his penis). In the episode itself, she laid out the dynamics at work with shocking maturity. She states that "James thinks he's losing " but that their relationships don't "mean we're losing each other as friends." Yes, this would hold a lot more weight if she hadn't just behaved inappropriately with James all night, humiliating Raquel. And yes, I'd care more about that behavior if Raquel could summon up a personality that doesn't resemble steamed cauliflower.
But Lala is fundamentally correct. As two hot young reality stars, they should be able to have a slightly inappropriate friendship and significant others too. What James is getting wrong is assuming there's an underlying "will they or won't they" to his and Lala's storyline. Whoever she dates, he thinks he owns her in the end, and they're just detours from the Kennedy path. But Lala likes him for the attention, and for their eerie physical similarities ability to take hot Instas together. As soon as he starts embarrassing her by treating her like his property, she's out.
Ultimately, Lala's going to have to do what we all do with that guy friend who's clearly into you. Stop whining to him about your relationship, touch him as if you're related, and be clear that it's not happening. Given the social media silence on both ends since this episode, I'm hoping that's what she's doing. I'm sure James licking his wounds about this will be ugly, but hey—ugly just means good TV.
Is Lala Really A Home-Wrecker? An In-Depth Investigation
Earlier this week, Lala Kent went public with Randall Emmett, her rumored formerly married boyfriend, by posting their first-ever selfie on Instagram. I would say "aww cute" when any couple becomes Instagram official, except for when one person in a relationship is a hot hostess, and the other is a toad encased in human skin. Since Lala began dating Randall while he was still legally married, she's been called many things, like a home-wrecking whore (courtesy of Katie Maloney). But Lala insisted on this week's episode that she is no such thing. So did Lala actually break up Randall's marriage? I have been called upon by myself to investigate, and my findings are interesting, if I do say so myself.
According to E! News, while Randall Emmett and Ambyr Childers' divorce was finalized on December 22, 2017, the couple were separated in 2015 and again in 2016. Vanderpump Rules season 5 aired on November 7, 2016. According to Scheana on our Betch Slapped podcast, Vanderpump Rules films over the summer—meaning that, in the summer of 2016, Randall and his wife could very much have been separated. Does that make it okay? Ehhh, I'm not going to play ethics police given the way I rang in the New Year/lead my life in general, but it's dubious. Not to mention, how many times has a married guy lied to his mistress and said "We're separated, it's over, I'm going to leave my wife"? But is Lala the reason this marriage ended? Given that Lala was on Vanderpump Rules in 2015 and there was no mention of this married guy, and Emmett and Childers were already separated then anyway, it doesn't look so cut-and-dry.
Furthermore, I stalked Ambyr Childers' Instagram, and what I found was extremely interesting. And yes, I am pretty disgusted with myself for stalking an innocent woman's Instagram account just because she is loosely associated with a castmember on a second-tier reality show I watch, but then again, her Instagram was public and extremely easy to find, so who's the real victim here? So I looked at all 182 of this woman's posts (I know, you don't have to tell me), and you know what I didn't find? A single picture of or with Randall. Now, I know that she could have done an Instagram purge, and/or some couples don't feel the need to post their SO on social media (I am told), but still. It's odd.
And you know what else I found? A picture of Ambyr with some other dude who is decidedly not Randall. From the looks of it (aka the caption), she's spending the year in Paris with this guy. And like, that wouldn't mean anything, except for the comment that says "beautiful couple!". And there's another picture of them from a week ago with comments like, "You guys are the cutest!!!" and "great way to end the last chapter and start anew!" YEAH. So I'd say it looks like both Randall and Ambyr have moved on, although only one of them moved on to an age-appropriate SO. Four for you, Ambyr. You go, Ambyr.
So did Lala break up this marriage? Is she a home-wrecking whore? Should we stop judging hers and other people's relationships from the outside? These answers and more, next time on "probably not but that's not going to stop me."
Lala Is Flaunting Her Affair With Her Married Boyfriend On Instagram
It's not enough for Lala Kent to be returning to Vanderpump Rules; this bitch has been out here thirsting for publicity like it's nobody's business. Don't @ me, I am acutely aware that I am providing her with said publicity after which she is thirsting. It's called symbiosis; look it up. But what I don't understand is Lala's methods for acquiring said publicity. I guess her publicist (can a third-rate character on a second-tier reality TV show afford a publicist?) is really taking the whole "all press is good press" adage seriously, because Lala is flaunting her rumored affair on Instagram for press. And like, it's working, but I still think it's tacky as hell.
Anyone with the neurological capacities to type in "Lala Kent married boyfriend" into Google knows her married boyfriend is rumored to be film producer Randall Emmett. Don't feel bad if you've never heard of him; according to Wikipedia, his best-known films are Silence (2016), Lone Survivor (2013), and 2 Guns (2013). So yeah. M. Night Shyamalan he is not (yeah IDK, that's the first movie director I came up with off the top of my head). On Tuesday, someone Tweeted at us that Lala straight-up posted a picture of herself with Randall to her IG story. I appreciated and noted the tip, but sadly, she took it down before I could verify it for myself. I am a real journalist, DAD. But Wednesday night, Lala was not so lucky. I nabbed this screengrab of a video of a vase of flowers:

All right, so R.E. is obviously (reportedly) Randall Emmett. (Don't sue me for libel, kthx.) If you Google "Randall Emmett married", the first result is "Ambyr Childers," so he's presumably still married in the eyes of the law. So we all on the same page here? Lala is just brazenly out here, posting pics of her married boyfriend and the gifts he give her to her Instagram And, honestly, I am without speech. Give me a minute.
I know Lala is a professional thot, but have you no shame? Good god, woman. I'm guessing at this point Randall's wife is well aware of the affair, but holy shit. Could you chill? Do you have to be like a middle school girl, professing her love for her boyfriend du jour all over the internet? This is like when I used to put my crush's initials in my AIM away message, except my crush didn't know who I was, I didn't have hundreds of thousands of AIM buddies, and OH YEAH my middle school crush wasn't married.
This is so tasteless. The man has kids, FFS. Of course this is all his fault for cheating and he's a scumbag and I'm not downplaying that, but at the same time, if you (Lala) are going to try to play stepmom to these girls later on, maybe stop posting pictures of your gifts from daddy when daddy was still married to mommmy. I'M JUST SAYING. What happened to the good old days when people tried to keep their affairs secret? That's why they're called affairs in the first place… otherwise they'd just be relationships. This is a whole new level of sidepiece culture, and I am not loving it. *Adds this to the ever-growing list of reasons why I'm single and plan to remain that way forever*
Yeah, can I get a cleanup on Aisle 2? Because this is a mess.