Do The Producers Hate Colton? Diggy Moreland On This Week's 'Bachelor in Paradise'
Diggy here from season 13 of The Bachelorette and season 4 of Bachelor in Paradise. Betches thought my Twitter commentary on all things Bachelor was fire, so they gave me room for more than 280 characters.
I'm going to try to do my part to recap what was a somewhat anti-climactic Episodes 2 & 3 of Bachelor in Paradise. If you don't like spoilers, please read anyway, as we need as many eyes on this as possible.
Episode 2 kicks off with Colton returning from his date with Tia, and he's immediately cornered by Goose (Chris) and the rest of the Rat pack (which consists of Jordan and Nick), and they demand to know what his intentions are here in Paradise. From afar, it looks like they're filming a fight scene from a late 90's musical where no one gets touched and they only snap fingers, but they do get down to business eventually. Colton hints at still being in love with Becca, which Chris responds with: "Then why are you here??" In less than a few words Colton pretty much says: "I'll be damned if I miss out on these airline miles." Plus, Tia's here.
The next morning, the smartest guy on the beach, Venmo John, "finds" a date card, and Kenny is now the lucky person that gets to get off the island.  With his newfound popularity, Kenny talks to Bibiana, Nysha, Chelsea, and Krystal, and he decides to take the newly hobbled Krystal on the date (she somehow managed to hurt her foot on a rock on the beach, which I can personally attest is 99% sand). Kenny's date is a wrestling date (if you didn't see that coming, LASIK is for you) where he and Krystal get to enjoy a real life Nacho Libre, minus the tortilla chips. A few kisses happen, but mostly just perspiration from Kenny.
Back on the beach, Jordan makes "dinner plans" for Annaliese. Notably missing from said dinner: plates, utensils, and food. Anyway, it's the thought that counts…but she's still hungry. Kevin, who was trying to start something with Krystal, starts looking at Astrid like he wants to crawl all over her, but it's actually a lizard that beats him to the punch instead. He takes her to beach and their lips lock and he throws away the key. BUH BYE, KRYSTAL.

Pause here, because, YUKI'S BACK!!! She was a star on Winter Games for her personality and lack of English. That 2 week stint in our hearts has now qualified her to pour shots (which she has never done) in another country, which just proves to us that she's just trying to fill up her passport.
Cocktail Party time, meaning two guys are going home. Awkward convos happen, Hail Mary's are thrown, but ultimately it's the Tia and Colton show… again. Tia grabs Colton to chat, and she pretty much tells him that everyone is saying Colton is an immature 6th grader (which for the record, is not true, he's a lot older than that). Colton tells her that he wants to see what's out there, and that she should do what makes him happy, because then she'd be happy. Well, whatever the hell that means. Chris then picks up the pieces by spitting hot fire and saying he's here for Tia and nothing else (remember I said this).
Rose ceremony shakes out as such: Krystal to Kenny, Astrid to Kevin, Tia to Chris, Kendall to Joe, Nysha to Eric, and Angela to John. At this point, we just knew Colton was going home, but Bibiana (*cough cough* producers) decide to give Colton a rose so he can "have the chance to find love." Those keeping score at home, yes we lost fly-ass Wills and Nick just so we can have more of the Tia/Colton saga.

If you thought you were going to have a full week without our most recent Bachelorette, Becca, you were wrong. In the beginning of episode 3, she shows up the next day, like that trust fund friend with nothing better to do. Becca talks to Tia, and by doing so, haunts Colton in the process.I'm not sure if the producers hate Colton or not, but god is he easy to make fun of. Colton starts crying on a rock smaller than him, and Becca essentially consoles him back to health. Boom, now he has closure, and can be the savage Colton that America has come to know and love.
In what we have to imagine is AMAZING editing, Annaliese continually states how much she's into Jordan, and then boom—Jenna walks in and leaves Jordan as speechless as we've ever seen him. (It must be noted: Her outfit is pink, in addition to her hair, which makes me hope she sticks around so I can see if her hair will always match her outfits.) Jenna takes Jordan on the date, and this dude is GIDDY. They ride horses and make out on the beach (and everywhere else). Also present on this date: a black box that covers Jenna's butt the entire time. Essentially this date was just taking turns breathing for each other. Jordan comes back to the beach and pretty much tells Annaliese "good luck" and gives her two fingers. David tries to ruffle a few feathers by celebrating Jenna's birthday with her alone, and Jordan sits there like a chaperone, ensuring that there is no physical contact.
Caroline (Arie's season) shows up super nervous and literally is speaking a mile a minute. (Someone KISS her already so she can stop talking, PLEASE.) She takes John on the date, who is polar opposite of her normal type of guy. This date REEKED of a friendship, but somehow Caroline is into it. They drink, they dance, a kiss happens, Paradise wins again. Jubilee shows up the next morning, asks John on a date (literally asking him while he's snuggling with Caroline…SAVAGE) and he says yes. Ziplining and nerdy convo, once again, this date is heading to the platonic section.
Kenny decides to make a night beach date for Krystal, but Krystal pretty much tells him to check your brakes, and then pump them. He pretty much got friend zoned when males have the power…BALLSY move, Krystal. Fast forward to 5 minutes later when she's making out with Chris (yes, Tia's Chris) on the daybed. Colton finds out, and runs faster than he did as a football player to tell Tia that Chris kissed Krystal. While chatting to Jordan about how he has everything in the bag, Tia confronts Chris in a fashion that has me ANXIOUS for next week!
Images: Giphy (2)
I Did Krystal From 'The Bachelor's Beach Workout And Almost Died Of Boredom
Happy Bachelor Monday, fam. We're back to talking about the one TV franchise that literally takes up more time than football season and March Madness combined. (Don't fight me on that. You don't stalk the players' Instagrams in between games.) If you follow Krystal on social media, you've probably noticed she's even more *Krystal* online than she was on the show. Like, IDK what bothers me more—the fact that she straight-up said the phrase "needle dick" or that she goes by @coachkrystal_ on social media. I'm so concerned. Anyway, whether you refer to Krystal as the most annoying voice in Bachelor history or the girl on a mission to find brand endorsements true love, you can't deny her body looks amazing. So, I decided to try her "beach workout" myself. I found it on her Instagram, obviously.
Unfortunately, my "beach workout" was done in the gym because I live in New York, but I feel like I still got the gist of it. Here's how it went:
 ¼ Mile Run
Coach Krystal (cringing as I type that) claims this workout is her "FAVORITE way" to beat stress, but honestly running sucks, and in my opinion it's pretty stressful. Like, I feel personally victimized by the incline setting on the treadmill. Plus, I could think of a couple other ways to chill out like smoke weed, but running works I guess. I was totally dreading the run portion of the workout, but then I got on the treadmill and like, reached ¼ mile before I even made it through one song. I was confused. Is this a typo? Why would anyone only run ¼ mile? Could I actually get fit running for less time than it takes me to brush my teeth? Okay, moving on.

10 Step Ups (Each Leg)
I used a bench at the gym for this one, and I even held dumbbells in my hands to make it a bit harder. Like, stepping up on a bench 10 times is pretty basic, so I figured the added weight could make it more interesting. Am I already more qualified to be a "coach" than Krystal? Honestly, these aren't terrible, so I'm going to tentatively say yes. I definitely felt the burn in my glutes and quads, and I'd definitely recommend adding the weights. But obviously no shade to Krystal's version…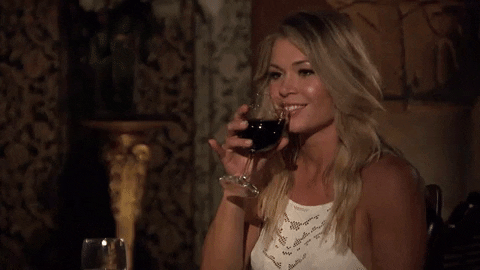 10 Tricep Dips
These ones are tough. Tricep dips are extra tricky because you're not actually using any added weight, but you're also low-key using your entire body weight at the same time. You're basically holding onto a bench behind you while facing the other direction, and then straightening and bending your arms to bring your body up and down with your triceps. Krystal does these with her legs straight, but you can also keep them bent to make it a bit easier. It's more important that you're getting full range of motion with the dipping part of the movement.
10 Leg Raises
Leg raises are always a good lower ab exercise. I'm a fan. Doing only 10 sounds easy, but it's important to do these slowly to really engage your core and feel the burn in the lower part of your abs. The idea is to lie flat with your legs out in front of you, and then raise them up and down while keeping your back flat and your core tight. Krystal does these with her hands behind her head, but if you feel any lower back pain, I suggest keeping your hands under your lower back area.
10 Toe Touches
Another good one—more focused on the upper abs. Staying in the same position as your leg raises, keep your legs in the air, as straight as possible, and then try to touch your feet or toes, bringing your shoulders off the ground with your core. Also, a lot of people do weird shit with their neck here, but try to keep it as neutral as possible and really just use your abs to lift. These should be done faster than the leg raises, so 10 of them should go by pretty fast. Thanks, Krystal.

20 Bicycle Crunches
This is a good burnout move, and it's also for your abs. No wonder this girl has a six-pack. Put your hands behind your head, then bring your knees in towards your chest and lift your shoulder blades off the ground, touching your elbow to the opposite knee in every rep. Bicycle crunches are usually done too fast, but it's really not a race. It's more important that you're crunching with your abs instead of just hitting your elbow to your knee without using your core. Don't cheat yourself. Think about the "shoulder to knee" cue instead of elbow. You should feel this in your obliques and your upper abs, and honestly it should be hard.
My Takeaway
I didn't mind this workout, but I probably wouldn't do it again. Krystal suggests doing 3-5 rounds, and, honestly, I only did two rounds before I got bored. Plus, people were starting to think I didn't know how to work a treadmill because I was only on it for, like, a minute at a time. On the plus side, I definitely broke a sweat, and felt like it was a pretty sufficient full body routine. I wasn't sore the next day, but it was a solid workout and I'd recommend you trying it out for yourself. And if you actually do five rounds, you deserve a glass of wine.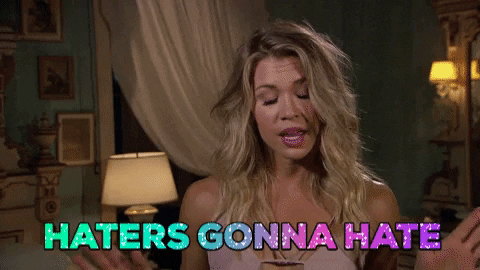 Images: Krystal Nielson, Instagram; Giphy (4).