The Biggest Clues That Kim And Kanye Were Headed For Divorce
Waking up in America this morning, it was like a new day had dawned. The sun was shining, the birds were chirping, the Senate was flipped, and most importantly, we're finally living in a post-Kimye society. Okay, I'm getting ahead of myself. On Tuesday evening, Page Six reported via multiple sources that Kim Kardashian and Kanye West are breaking up, and that Kim is planning to file for divorce.
This news obviously spread like wildfire, but as of now we haven't gotten any official confirmation. With a story like this, there's a 50/50 chance that the "multiple sources" are Kris Jenner and Kris Jenner's other phone, but this could also be a completely false story to promote like, the new Kardashian shows on Hulu or whatever. Only time will tell, but there are certainly factors that would make this one of the least surprising things that could happen. We've discussed some of the trouble signs in their relationship before, but now that it looks like we really might be at the end of the Yeezy Brick Road, let's look at where it all went wrong.
Kim's Style
One thing that everyone knows about Kanye's relationship with Kim is that he basically overhauled her personal style. In 2018, Kim said at a Business of Fashion panel, "I always thought I had really good style until I met my husband and he told me that I had the worst style." She recounted how, early in their relationship, he cleaned out her closet, and she recalled, "I probably had 250 pairs of shoes and when we were done cleaning it out, I had two pairs left and I cried." Hear that? That's toxic energy. It's totally normal for your style to be influenced by the people around you, but throwing away all of your shoes because a man told you to is completely different.

And this wasn't just one-time thing. In an episode of KUWTK from 2018, Kim said that Kanye was policing her sunglass habits, telling her in an email "you cannot wear big glasses anymore. It's all about tiny little glasses." In a 2019 episode of the show, Kanye criticized Kim's photo poses, saying "You are my wife and it affects me when pictures are too sexy." While Kim insisted that Kanye always gave her "the freedom to be and do what I want," some of the actual evidence from their relationship suggests otherwise. It's one thing to value your partner's input, but this style stuff is some controlling bullsh*t, and it's only a matter of time before someone doesn't want to put up with that anymore.
Wyoming
View this post on Instagram
Let's be real: Kim Kardashian has no desire to live in Wyoming. She's a Calabasas queen through and through, and the thought of her leaving behind her entire world in LA to live full-time (or even most of the time) at the ranch seems unfathomable. Kanye, on the other hand, seems to thrive in the relative isolation of the Cowboy State, and according to Page Six, this physical distance between them is by design. Kanye reportedly spent the holidays in Wyoming rather than with his family, and the source says "Kim got Kanye to go up there so they could live separate lives and quietly get things sorted out to separate and divorce." It seems kind of sh*tty that Kanye likely didn't get to see his kids over the holidays, but the California/Wyoming divide would be an easy way to keep unpleasant interactions to a minimum during a separation period.
Kanye's Presidential Campaign
— Kim Kardashian West (@KimKardashian) July 5, 2020
It's barely been six months since Kanye West announced his 2020 campaign for President, but already it feels like some kind of distant fever dream. While Kanye spent the latter half of 2020 halfheartedly selling his soul for what ended up amounting to 70,000 votes, Kim seemed to ignore her husband's campaign almost entirely. Other than quoting Kanye's initial announcement tweet with an American flag emoji—a vague endorsement at best—Kim never spoke publicly about the campaign or used her platform to show any kind of support. It's not a novel concept for couples to have political disagreements, but to spend five months pretending your spouse's Presidential campaign doesn't exist isn't your average dinner table argument. If Kim was already growing tired of Kanye's often outlandish behavior, it seems likely that the campaign could have been one of the final straws.
Kim's Birthday Trip
View this post on Instagram
Kim's much-maligned 40th birthday trip is another recent-ish event that already feels like ancient history. Leaving aside all of the questionable COVID precautions and tone-deaf photos, let's talk about Kanye's involvement in the trip. According to the Page Six report, Kanye almost didn't come on the trip, and ultimately only attended for one day: "He showed up late and left early, he wouldn't appear in any of their Instagram shots. All he did was bring over the hologram of her father, Robert Kardashian, then got out of there as fast as he could." As much as Kim claimed to like the hologram, everyone else thought it was creepy, and it's kind of hilarious that Kanye thought that would make up for him missing the entire trip.
That Terrifying House
View this post on Instagram
We've all seen Kim and Kanye's weird white monastery-looking house that became the inspiration for a million memes. While Kim has gushed about the house publicly, it's always seemed like their extensive renovations—estimated at $20 million—were mainly a passion project for Kanye. Last year, Kim told Architectural Digest that she thought the home was already "perfection" when they first saw it pre-renovation, but Kanye thought it was merely "workable," and completely transformed it according to his minimalist vision.
I have my doubts about how much Kim actually loves the aesthetic of her home currently, but either way, Page Six's sources say that she'll want to keep the property in a potential divorce. Interestingly, Kim owns the land surrounding the house, as well as the lots next door (because why not), but Kanye owns the building itself, so things could get messy if they both try to hang onto the home.
Whatever divorce may or may not be happening, we're definitely still early in the timeline here. The second any paperwork is filed, it would be public record, and you already know TMZ and Page Six have people on standby to comb through every paragraph for potential tidbits of information. Hopefully we'll get some more concrete information in the coming days, but honestly, I feel in my bones that there's some truth to this story. We've all seen it coming to a certain degree, and where there's this much smoke, there's almost always a fire.
Images: Jaguar PS / Shutterstock.com; Giphy; kimkardashian / Instagram
Kim Kardashian's Fourth Baby Is Here
It's an exciting day in Calabasas, because Kim Kardashian and Kanye West's surrogate has given birth to the couple's fourth child. The news that the surrogate was in labor broke on Thursday, when Kris Jenner was a guest on The Ellen Show. Ellen first surprised Kris by bringing out Kourtney Kardashian, with all of Kourt and Kim's kids. While Reign was busy screaming about candy on the couch (adorable), Kourtney surprised her mom with the news that Kim's new baby was on the way any minute. Kris cried, I cried, we all had a great time.
Today, Kim Kardashian announced via Twitter that the baby is officially here:
He's here and he's perfect!

— Kim Kardashian West (@KimKardashian) May 10, 2019
She also said that her new baby looks exactly like her daughter Chicago:
He's also Chicago's twin lol I'm sure he will change a lot but now he looks just like her ✨

— Kim Kardashian West (@KimKardashian) May 10, 2019
Back in early January, sources first began to confirm that Kim Kardashian was having a fourth baby via surrogate. This is her second time using a surrogate, a little over a year after having Chicago. Kim had a notoriously difficult time with her first two pregnancies, suffering from a number of issues including pre-eclampsia. After her second pregnancy, her doctors advised her against getting pregnant again, but she's always talked about her dream of having four children. Lucky for her, using surrogacy, her dream is now a reality.
Little baby West is grandchild number 10 for Kris Jenner, and they've all been born in less than 10 years. This family really knows how to procreate, and there's no doubt in my mind that the third generation of Kardashian-Jenners really are taking over the world. Give it 15 years, we'll all be working for North West. Kim Kardashian's newest baby is actually the first Kardashian child in over a year, which was a break we desperately needed. In the first half of 2018, we had to deal with the back-to-back-to-back arrivals of Chicago, Stormi, and True, so it's been nice to just focus on the important things in 2019, like whether or not Jordyn Woods hooked up with Tristan Thompson. God, that feels so long ago.
Images: Shutterstock; TheEllenShow / YouTube
The Most Expensive Celebrity Weddings
The winter months are finally behind us, and we are entering into the most beautiful season of the year. Wedding season! There's almost always an open bar, shrimp cocktail, and the potential you'll make out with your step-cousin. What's not to love? In fact, I'm currently looking forward to my brother's wedding, where, with the help of my unlimited Bar Method membership, I plan on outshining everyone and calling it "Cait's Big Day." See! These things are fun!
But I hate to break it to you: no matter how awesome your sorority sister Deborah's all-inclusive Cabo nuptials were, they were a mere dumpster fire compared to the opulent events that celebrities throw for their weddings . I guess when you made a billion dollars on a sex tape, why not get married in a castle for the publicity to celebrate the third time you found your true love? It doesn't make a mockery of the sanctity of marriage at all! This year, the main event we're all waiting for this year is the marriage of the King and Queen of Extra, J.Lo and A-Rod, where I'm sure as a party trick they'll have Instagram models lighting stacks of hundreds on fire, and serve champagne spiked with liquid gold. But since we don't know exactly when that's coming, I've decided to take a look back at the most expensive celebrity weddings of all time. Proceed with caution, because these numbers have been known to cause extreme jealousy and even rage blackouts.

1. Nick Jonas and Priyanka Chopra
You can't mention extravagant weddings and leave out our most recent gluttonous celebrants, The Hottest Jonas Brother ™ and his Bollywood star bride, Priyanka Chopra. Nick and Priyanka had not one, not two, but THREE wedding ceremonies, all in the hopes of luring Duchess Meghan to just one, but apparently she was busy making Kate Middleton cry or whatever. Kidding! I mean, not kidding about the three weddings, I would never joke about something like that. I'm kidding about them trying to trap Meghan Markle into coming, I'm sure they know she already dropped them faster than ABC dropped Quantico.
One of the weddings (don't ask me which one, I'm already exhausted from this story and I have numerous disgustingly ostentatious weddings to go), took place at the Umaid Bahwan Palace, a royal palace-turned-hotel in India, which costs $60,000 a night. They also put on a fireworks display and wore custom Ralph Lauren designed outfits. I know you're wondering, "Did poor Nick Jonas have to spend all his Camp Rock money on this wedding?" and the answer is a resounding NO! Thankfully, our lovely couple got practically the whole thing covered by sponsorships including Tiffany & Co, Longchamp, and Elit Vodka. I hope you all are able to get sponsors for you own weddings, because is it even true love if you aren't getting paid for it?
2. Kim Kardashian and Kris Humphries
TBH I totally forgot Kris Humphries existed until last week, when he decided it was important to let the world know he is the proud owner of a Five Guys franchise. Congrats! This revelation really just made me hungry, but it also got him into this story, so I guess he can call it a win?
In case you also forgot about Kris, let me refresh your memory. His wedding to Kim reportedly cost $10 million, $20K of which was spent on the cake that they all enjoyed, and then they immediately went to their plastic surgeon and had the fat the cake left on their waistline injected into their asses. I'm just speculating, but we all know it's plausible. This wedding is especially fun because it involves math! If you spent $10 million on a wedding that last 72 days, how much did that cost you per day? Probably more than Kris's Five Guys franchise will ever take in, that's for sure.  (It's actually $138,888.88 per day, if you're seriously curious).

3. Kim Kardashian and Kanye West
After Kris Humphries, Kim decided she needed a more famous husband fell in love with longtime friend Kanye West. So, in typical girl-with-no-shame fashion, she decided to throw yet another obscenely expensive wedding.
Kim and Kanye got married in Italy at the Forte di Belvedere, which cost over $300,000 to rent. There was a performance from Andrea Bocelli, and her gown was Givenchy Haute Couture. Okay, now listen hard, because this is the only nice thing I'm ever going to say about Kim Kardashian: I kind of liked her dress. Now excuse me while I go burst into flames. Anyway, the lovely couple was married amongst their friends and family, except for Rob, who deemed himself too fat to attend. If only we could all use that excuse Rob, IF ONLY. When all was said and done, the event cost around $2.8 million, according to E! Online. That sounds atrocious, but TBH the cost per day is WAY less than her wedding to Kris Humphries, so it was practically a bargain.
4. George and Amal Clooney
When the ultimate bachelor announced his engagement, the world was stunned. Everyone thought that George would grow old with his motorcycle and Max, his potbellied pig. But he gave it all up to eventually run for office marry a gorgeous British human rights attorney. Fine, if you had to settle, George, I guess she'll do.
The pair got married in Venice, with their A-list guests arriving by boat and looking every bit the movie stars they are. Everyone stayed in Cipriani hotel suites that cost a reported $3 million, and George looked dapper in his Giorgio Armani tux, while Amal wore a custom Oscar de la Renta gown, which she showed off on the cover of People magazine. The whole event cost over $4.5 million, and that doesn't even include all the Casamigos Tequila that I'm sure George provided at no cost.
5. Prince William and Kate Middleton
Finally, we get to the royalty! The parents of the most badass member of the monarchy, Prince George, got married on April 29, 2011. Their wedding is unique because most things didn't actually cost money. The castle for the reception? Oh no biggie, they own it. The tiara? A loaner from the Queen's personal collection. Kate's makeup? Oh, the future Queen consort will do it herself, thanks. So why the f*ck did this wedding cost a reported $34 million? SECURITY. That's right! A whopping $32 million was spent to keep this event secure. And I guess it was worth it? All members of the royal family (as well as Pippa's iconic backside) survived the event and have lived on to bless the world with their beautiful offspring, mediocre fashion, and petty family fights.
So there you have it, all the sh*t celebrities waste money on for marriages that probably won't last most expensive celebrity weddings. I wish there had been more circus performances and puppies serving appetizers to report on, but if that happened, no one is telling me. Fingers crossed J.Lo will do it!
Images: Giphy (2); priyankachopra, kimkardashian, about_clooneys, katemiddletonphotos/Instagram 
These Celebs Had The Most Extra Valentine's Day
If you're in a relationship, Valentine's Day is really the one day of the year when you have a free pass to be obnoxious on social media. As a single person, it's fun to complain about everyone posting their flowers and chocolate, but I get it. But while you were posting a throwback photo of you and your SO with a cheesy caption, some of our favorite celebrities were out here getting truly wild yesterday. Here's a rundown of some of the most extra celebrity posts this Valentine's Day, and most of them are exactly who you'd expect.
Kylie Jenner
Less than one week after Stormi World broke the internet, Kylie Jenner is back with another over-the-top holiday display. Travis Scott is currently away on tour, but that didn't stop him from arranging a series of heart-shaped rose arches that probably cost more than I make in a year. Actually, I wouldn't be surprised if Kylie coordinated these herself, because she seems like the kind of woman who would want to be in control of her Valentine's Day. It's unclear if there was a gift or something waiting at the end of the display, but it was probably something else I can't afford.
Randall Emmett
If the name "Randall Emmett" still doesn't ring a bell for you, he's Lala Kent's fiancé, thus he's better known as "Rand" or just "My Man." As we know, Lala is currently filming a new movie, and she got surprised on the set with a very large vase of flowers. Like, she's sitting in the courtroom set in costume in full WWII Germany-era clothing, and they bring the flowers in. I guess this is romantic, but I'm pretty sure you'd get fired for pulling this sh*t if your man wasn't the one financing the movie.
Ashley Iaconetti
We can always count on BachelorNation's most annoying couple to bless us with dumb content. Earlier this week, we learned that Jared and Ashley are writing a children's book (yikes), and if Ashley's V-day caption is any indication, we're in for a real treat. While posting the sappiest photo of her and her fiancé, she writes a nice caption about how if you're a lonely loser, you should still have hope! Thanks so much Ashley, your support really means the world. Can't wait to preorder the book!
Kim Kardashian
Considering that Kanye West rented out an entire baseball stadium to propose to Kim Kardashian,  it makes sense that he goes way too far for Valentine's Day. First of all, if I went anywhere near that room, there is a 100% chance that I would accidentally shatter all those vases. Cute gesture, but I'm f*cking clumsy. Also, where is all of their furniture? Did Kanye have a moving company take away all the furniture just for the afternoon? Also, Kim K loooooves Kenny G, and I can't think of anything that turns me on less.
NO BIG DEAL KENNY G IN MY LIVING ROOM!!! Happy Valentines Day ??? pic.twitter.com/A1GD0UlEwu

— Kim Kardashian West (@KimKardashian) February 14, 2019
Katy Perry
There's nothing more eye roll-inducing than a Valentine's Day engagement, and it's no big surprise that it came from Katy Perry and Orlando Bloom. They've been together for a long time (not counting the period when they were broken up), so it makes sense for them to finally be engaged. I'm not so sure how I feel about that ring (actually, I'm sure, it looks like a Ring Pop), but I'm definitely not feeling this weird closeup angle or Orlando's greasy-looking hair. Whatever, I'm happy for them I guess.
Images: @kyliejenner / Instagram; @randallemmettfilms / Instagram; @ashley_iaconetti / Instagram; @kimkardashian / Twitter; @katyperry / Instagram
Kim And Kanye Are Having A Fourth Baby
2018 was a big year for Kardashian babies. Within the first half of the year, Kim, Kylie, and Khloé all had new additions to the family, and so there was plenty of baby drama to go around. But as we all know, the devil works hard, but Kris Jenner works harder. If you were worried there would be a lack of Kardashian babies in 2019, you can safely put those fears to rest. Multiple sources are confirming that Kim Kardashian and Kanye West are having a fourth child via surrogate, and it's a boy. We're less than 36 hours into 2019, and I'm already exhausted.
You probably all remember that, after having her first two kids herself, Kim had a lot of issues with getting pregnant again. That led them to use a surrogate to have their third child, Chicago, who was born last January. They're using a surrogate once more, and the sources are saying that the baby is due in early May. Thankfully, that gives us plenty of time to mentally prepare for the newest Kardashian-West arrival, because I'm still reeling from when Tristan cheated on Khloé the week before she had her baby.
The sources say that Kim has always wanted four kids, so this is, like, the final addition to her perfect family. That's nice, but I think there's another reason. Honestly, Kim probably decided to pull the baby trigger once she heard that Meghan Markle was pregnant, because our American royalty has to keep up with the Brits at all costs. We haven't gotten any confirmation about Meghan's due date, but I really hope that both of these babies are born on the same day, so we can see who's really more famous. Meghan Markle is definitely thirsty for good press, and I would love to see the Palace scramble to get top billing over Kim and Kanye.

In terms of baby names, I'm still working on a full list of ridiculous possibilities, but given that they went with Chicago last time, it would seem very fair to name this child Calabasas. It's what they deserve!! Congrats to Kim and Kanye, and to all 40 of the other family members that I don't have the energy to list. This family is never going away!!
Images: Shutterstock; Giphy
ALERT: Kim Is Responding To Kanye's Latest Tweetstorm
As we all know, Kanye West has been on a bit of a Twitter spree lately, in which he talked about his love for the Twitter-Man-In-Chief Donald Trump. Obviously, after reading the tweets, we all wanted to know how Kim K felt about this and, luckily for us, the Kardashians waste no time making sure we all know exactly what they think about everything. Kim Kardashian responded to Kanye's tweets just hours after they were posted and, tbh, we'll just let Mrs. Kardashian-West speak for herself.
To the media trying to demonize my husband let me just say this… your commentary on Kanye being erratic & his tweets being disturbing is actually scary. So quick to label him as having mental health issues for just being himself when he has always been expressive is not fair

— Kim Kardashian West (@KimKardashian) April 25, 2018
Yesterday it was announced that Kanye had parted ways with some business people and media outlets made this about Kanye's mental health. Rather than just a simple business decision. So I'm glad he tweeted about the state of his company and all of the exciting things happening

— Kim Kardashian West (@KimKardashian) April 25, 2018
He's a free thinker, is that not allowed in America? Because some of his ideas differ from yours you have to throw in the mental health card? That's just not fair. He's actually out of the sunken place when he's being himself which is very expressive

— Kim Kardashian West (@KimKardashian) April 25, 2018
Now when he spoke out about Trump… Most people (including myself) have very different feelings & opinions about this. But this is HIS opinion. I believe in people being able to have their own opinions,even if really different from mine
He never said he agrees with his politics

— Kim Kardashian West (@KimKardashian) April 25, 2018
Kanye will never run in the race of popular opinion and we know that and that's why I love him and respect him and in a few years when someone else says the same exact thing but they aren't labeled the way he is and you will all praise them! Kanye is years ahead of his time

— Kim Kardashian West (@KimKardashian) April 25, 2018
Mental Health is no joke and the media needs to stop spitting that out so casually. Bottom line

— Kim Kardashian West (@KimKardashian) April 25, 2018
Now, I just need to take a moment to say: this is exactly why I keep an alert up for Kim Kardashian's tweets. Sure, 99.9% of the time it is updates about her new but .01% of the time you strike gold, and the makes it all worth it.
So let's address Kim's actual points. First, she's low-key right about the mental health thing. As fun as it is to armchair diagnose celebrities on Twitter, we probably should leave that kind of shit for doctors. Just because you took Psych 101 and have seen a therapist since you were six doesn't mean you're like, an actual mental health professional. On the other hand, Kanye just tweeted three days' worth of nonsense peppered with coded alt-right language so like, you can't blame people for thinking something is off.
Secondly, are we sure that Kanye is *out* of the sunken place? Because this new Kanye seems a lot like a guy who is and  currently having his body inhabited by some elderly white man who loves Twitter and bought him at an auction. Are we not 100% sure that elderly white man is not Donald Trump himself? Just saying…
Thirdly, I am glad to know that Kim does not agree with Kanye about Trump, but he literally tweeted that he "loves" the president, so saying "he never said he agrees with his politics" is kind of a stretch. He also just tweeted this, which makes me feel like Kanye does, in fact, agree with Trump's politics:
we got love pic.twitter.com/Edk0WGscp6

— KANYE WEST (@kanyewest) April 25, 2018
Honestly, I cannot wait to see the KUWTK episode that addresses this. Kris is probs already planning a three-part release and product launch to commemorate it. In conclusion, I'm just gonna leave this right here:
Thank you Kanye, very cool! https://t.co/vRIC87M21X

— Donald J. Trump (@realDonaldTrump) April 25, 2018
Heads up, you need to keep up with the news. It's not cute anymore. That's why we've created a 5x weekly newsletter called The 'Sup that will explain all the news of the week in a hilarious af way. Because if we weren't laughing, we'd be crying. Sign up for The 'Sup now!
Images Via Giphy (2)
Kim Kardashian Is Stirring The Pot With Taylor Swift Again
The Kardashians are many things: savvy businesswomen, personal testaments to the wonders of silicone, and most importantly, pettiness extraordinaires. Seriously, you do not cross a Kardashian unless you want to never hear the end of it for the next decade. Case in point: Taylor Swift. We all know the did-she-or-didn't-she lie about approving Kanye's "Famous" lyrics back-and-forth situation. Anyone who thought we as a society had moved past this moment was sadly mistaken. NOPE. Welcome to yet another installment in the saga of Taylor Swift vs. Kimye. Seriously, will this story never end? It all started with the VMA moment way back in 2009, and here we are in December 2017, still dealing with this shit. Lord Jesus, fix it.
Today's news is thanks to Kim, who just can't help herself from being a messy bitch who loves drama on Instagram, and we love her for it. On Monday, Kim posted a throwback photo of herself taking a photo of Kanye's "Famous" art installation from last year. In case you need a refresher, this was the sculpture of Kanye lying in a giant bed with a naked Taylor Swift, among other celeb figures. The sculpture was controversial when it was first unveiled, but honestly we have bigger issues in our country than Kanye's publicity stunts, so we moved on like normal people who think about things other than karma.

So Kim posted the photo of Taylor's fake nipples, and Taylor's fans reacted exactly how we would knew they would. AKA they started posting rat emojis on her photo, because snakes eat rats and Taylor is a snake and Kim is a rat and surely Kim is VERY intimidated by all of this.
We understand that Taylor's fans have to take everything super personally, but seriously? They can't do better than commenting rat emojis on Kim's Instagram? Kim has literally over a hundred million followers, so we're pretty sure she's not sitting by her phone obsessing over every single comment. Or maybe she is, but Taylor's fans are just giving her the attention she wants. Good job, 16-year-old Taylor fans, you really showed her!!
Kimye's Third Baby Has A Due Date And We Know The Gender
While Taylor Swift has been busy cooking up lame revenge plots against Kim Kardashian and Kanye West, they've been a little busy with some exciting plans of their own. Way back in July we told you that Kimye's surrogate (still upset I was not contacted for this position TBH) was pregnant. This week, most likely to distract us from the 15 category five hurricanes that are currently brewing in the Atlantic, Kim and Kanye gave us their due date. This means Kim will tie Kourtney with three children each, while Khloé still has none. She really is the Gretchen Wieners of this family.
Kim has been public about how difficult it was for her to get pregnant, so using a surrogate seemed like the obvious choice for baby number three, and now it's really happening. We've always felt strongly that the movie Baby Mama is highly underrated, so hopefully Kimye will help bring awareness to surrogates everywhere, or something.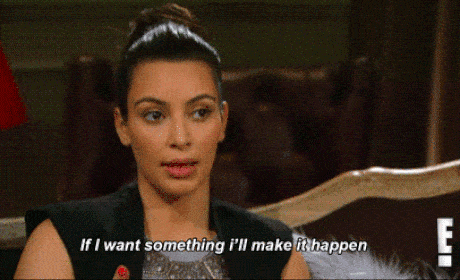 The newest Kardashian-West arrival is due in January of next year, and according to the always reliable "sources," the baby is supposedly going to be a girl. We're very happy about this. Obviously Saint is a cute kid, but North is literally the most beautiful child since me the baby Jesus. Hopefully the new baby will look just like her and everyone will be jealous happy.

Some additional sources also claim to have details about the surrogate herself, who is reportedly a black woman in her 20s who already has two children. Sounds about right. She's also reportedly a registered Democrat, which will probably cause drama with Caitlyn on a future episode of Keeping Up.
Kim has talked about wanting a third child, so she must be super excited, and is probably already making a list of baby names that will sound the best on contouring kits and reality show spin-offs. We can't wait for January 2018 when we find out what rich person name they choose, because the last two haven't disappointed.