UPDATED: Khloé Kardashian Responded To Rumors She's Pregnant Again With Tristan's Baby
It's been an interesting year for celebrity news, but oddly enough, the Kardashians have been pretty quiet so far in 2020. Sure, we saw Kendall hanging out with Jordyn Woods' ex, and Kylie has been buying enough land to build a cult headquarters (just a theory I have), but all of that barely registers compared to the storylines that Kris Jenner has been cooking up for the past 15 years. But we all know Kris works harder than the devil himself, and this week, rumors spread that Khloé Kardashian is having another baby with Tristan.
Yes, that Tristan. As in, Tristan Thompson, who cheated on Khloé just before she gave birth to their first baby together. And the same Tristan who may or may not have hooked up with Jordyn Woods. After that whole fiasco, Khloé dumped Tristan, and aside from the necessary coparenting relationship, we all assumed things were over between them. But with this family, things are never just that simple.
This week, celebrity news outlet GOSSIPOFTHECITY reported that Khloé is expecting a second child with Tristan, and that she's been hinting on Instagram that the baby is a girl. Okay, not so fast. While this felt like it could be true, and there was definitely some possible evidence here, this report didn't actually cite any sources other than what Khloé has posted on Instagram. But even with thin evidence at best, we could still analyze what was in front of us.
Like many of us right now, Khloé has been posting a lot of throwbacks on Instagram. While this could just be a side effect of not being able to go anywhere/do anything during quarantine, it's also reminiscent of Kylie Jenner's strategy for hiding her entire pregnancy. Khloé has also posted some more current photos of herself, but they're all cropped pretty close on her face, eliminating any risk of showing a baby bump. These patterns in her posts aren't proof of anything, but they would make sense if Khloé is, in fact, pregnant.
View this post on Instagram
In addition to the Khloé's posts of herself, GOSSIPINTHECITY also pointed to her posting lots of pictures of pink things as evidence that her alleged second child is going to be a girl. Yeah, this is gonna be a "you're reaching" from me. While these fluffy pink clouds are cute, they're not like, out of character for Khloé's vibe on social media. KoKo loves posting random sh*t—remember all those nonsense quotes and inspirational posts on her story after the Tristan and Jordyn scandal? The clouds are cool, but I'm not convinced they actually mean anything.
View this post on Instagram
Aside from any potential Instagram clues, the biggest indicator that this might have been real was what Khloé herself has said on TV. On this season of Keeping Up With The Kardashians, which was filmed in the fall of 2019, we've seen Tristan rebuilding his relationship with Khloé and her family. While it's nice to see True's parents on good terms, Khloé has talked about struggling to set boundaries with Tristan. But we've also seen Khloé talk about wanting to give True a sibling sooner rather than later, and that she would be open to using Tristan's sperm to make that happen. Sorry for that, but I'm just repeating what she said.
On the show, we've seen this depicted as an idea that could happen at some point in the future, but that was happening six months ago. Whether Khloé and Tristan went the IVF route, or they had a little baby-making rendezvous, they could easily have another baby on the way at this point. There's been talk of whether Khloé could be pregnant for weeks now, and today, the rumors reached a fever pitch.
UPDATE: But as the speculation spread around the internet on Wednesday, people started getting a little out of hand. On Twitter, many people criticized her for taking Tristan back or deciding to have another child with him, none of which was ever confirmed. Things got so crazy that Khloé felt the need to address the situation on Twitter:
Funny how picky&choosy some can be with who and how you feel others should live their lives. I believe people should focus on their own lives/families, put energy into bettering the scary world we are currently living in, and try projecting positivity as opposed to nastiness.

— Khloé (@khloekardashian) May 13, 2020
The nasty things you're saying about me over A RUMOR! I have seen so many hurtful/despicable stories and tweets about me over a false story. And if it were true…. it's MY LIFE, NOT YOURS.

— Khloé (@khloekardashian) May 13, 2020
Funny how picky&choosy some can be with who and how you feel others should live their lives. I believe people should focus on their own lives/families, put energy into bettering the scary world we are currently living in, and try projecting positivity as opposed to nastiness.

— Khloé (@khloekardashian) May 13, 2020
So uhh, those throwback pictures were fun, but I guess they didn't mean anything? While Khloé doesn't get into a lot of specifics, it seems pretty safe to say that she's not pregnant, and she and Tristan aren't back together as anything more than True's parents. This all started out as a fun guessing game about her social media posts—and Khloé doesn't even really seem pissed about the pregnancy rumor—but it was quickly ruined by trolls who took things too far. Khloé can do whatever she wants in her personal life, and if that includes having another baby with Tristan, then why not? Just because we like talking about these people's lives doesn't mean we know everything, and ripping into strangers on Twitter is such a waste of time.
Images: Eugene Powers / Shutterstock.com; khloekardashian / Instagram; khloekardashian / Twitter
Are Khloé Kardashian And Tristan Thompson Still Together? We Investigate
For those of you who Keep Up on a regular basis, you know it's a full-time f*cking job. Not only do you have to tune in on Sundays, but also every other day of the week. You need to deep dives into their social media so you can figure out WTF is happening. It's exhausting but someone's got to be this committed to avoiding doing actual work do it. And nothing is more exhausting than trying to figure out if Khloé Kardashian and Tristan Thompson are still together.
Last spring, Tristan proved that men are unfit to live in society and should be caged at all times when he cheated on Khloé while she was NINE MONTHS PREGNANT by motorboating a bunch of randos he met at a club. As if little baby True didn't have enough issues to bring up with her future therapist, now she can add "daddy issues" to the long list. Since then Khloé has been v v quiet about WTF is going on between her and Tristan despite the fact that I am heavily invested in their relationship and need answers immediately.
KHLOÉ: *chooses to keep very personal issues of her private life private*
ME: 

Sources say the couple has been on "rocky terms" ever since the scandal broke but, like, what does that even mean? Like, how rocky is it? Is it like they're in couples therapy but Tristan still sleeps on the couch kind of rocky? Or more like he's allowed to breathe near baby True but only during supervised visits? WHAT IS THE TRUTH? And with the cheating episode airing on KUWTK this Sunday (!!!) it's important that we have answers now more than ever. I'm not trying to get hurt again, ya know? Let's take a look at the evidence, shall we?
1. Her Instagrams
Tristan has been suspiciously missing from Khloé's IG for MONTHS now. If there's a stronger indicator for a relationship falling apart than that, I don't know it what is. Since the cheating scandal, her feed has been a constant stream of baby photos and thirst traps. I guess motherhood only changes you so much. Tristan did make a quick appearance in August when Khloé posted about her weekend getaway to Mexico but, like, at the very back of the photo reel and their bodies weren't even touching. If there's one thing I know about the Kardashians it's how much they looove to flaunt their asses and significant others, so the fact that his face is buried so far back in her IG that even I have a hard time tracking it down means it's not looking great for T.  
2. The Bali Vacation
This year the Kardashians pregamed Halloween with a casual vacation to Bali. I do something similar except replace "vacation to Bali" with googling vacations I can't afford, stuffing my face with discount candy to numb the pain, then saying "f*ck it" and incorporating Target's last-season swimwear into a slutty costume so I can get some sort of use out of that purchase. Self-care is so important, isn't it ladies?
So, the Kardashians pregamed in Bali and even let the father of the year alcoholic and self-proclaimed sex addict Scott Disick come. You know who wasn't invited? Tristan Thompson. Some might say this is because Tristan is training in Cleveland. I say it's because Kris Jenner threatened to throw him overboard. Khloé also posted a super cute photo of her and True with the caption "blah blah blah Thankful for the memories baby True and I are creating" (I paraphrase). Does that now low-key feel like a dig at Tristan? She might as well have said "thankful for making memories with baby True AND NO ONE ELSE." Khloé, I'm picking up what you're putting down.
3. The Cleveland Move
Perhaps the most damning piece of evidence: Khloé has yet to move back to Cleveland. Apparently Khloé was supposed to join her baby daddy last month when he moved back to Cleveland for basketball season, but instead is living her best Calabasas life. According to sources she's not making any moves rn and is "just going to sit back and assess the situation very closely" aka she's making damn sure there's no more late night motorboating going on before she moves her entire life to middle America.
That said, she did attend one of his games earlier this week. Some people are saying this is proof that their relationship is back on track, but I have trust issues am not buying it. This feels less like a loving partner's show of support and more like Khloé flew two thousand miles to make sure her man wasn't eye-f*cking any cheerleaders. Just saying.
4. Halloween
Finally, my investigation brings us to yesterday. Halloween. While her sisters were testing Instagram's nudity policy one lingerie photoshoot at a time, Khloé was posting a sh*t ton of photos of baby True looking adorable AF. Once again, Tristan was suspiciously missing from every photo. But while he was absent from her feed, she showed up on his IG story with this painful looking photo:
Is it just me or does Khloé look f*cking miserable? Or at least like she's exhausted from putting up with all his bullsh*t? GIRL, YOU AND ME BOTH. (I mean actually, this looks like one of the Wayans brothers disguised as Khloé Kardashian, but barring that theory, she looks like she's screaming internally.)
So there you have it. The (not at all solid and based solely on rumors and Instagram captions) facts. THE DEFENSE RESTS. TBH I think Khloé and Tristan are still together, but only for True. Or so Khloé's rabid followers (hi) don't set fire to Tristan and everything he loves.  
Images: Giphy (1); @khloekardashian /Instagram (1); @kimkardashinan /Instagram (1)
Tristan Thompson Says Having True 'Changed' Him & I'm Not Buying It
According to Cosmo, Tristan Thompson, of Yeah-I-Cheat-On-My-Pregnant-Girlfriend fame, has finally said something regarding his new role as a father in the Kardashian circus.
While chatting with the podcast Road Trippin (which I've literally never heard of), Tristan said that the birth of True has totally changed him. Yawn.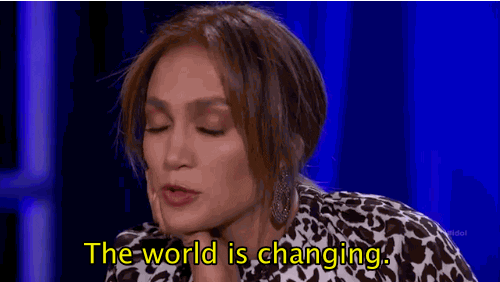 "Baby True is eating, sleeping, and shitting. That's all they do. I think with a girl, you're so much more emotionally like … With a boy, it's just like 'Hey man. You'll be alright, man. Stop crying,' But with True, it's like, 'True, it's gonna be OK. You know, we're right here. Daddy's here to feed you. It's me! Look, yeah!' It's way different, but it's fun, though … It changes you."

ALRIGHT, FIRST OF ALL—I just find it so funny how watching the woman you supposedly love go through pregnancy did nothing to change you, but now having a screaming child has. Additionally, Tristan confirmed he wants MORE children, which, wow, what a great idea considering a) you've barely proven yourself with this one and b) I guess we never discovered who you'd be having more children with. I worry that mean will leave a trail of baby mamas that he cheats on when they're nine months pregnant with his next baby mama in his wake. It won't be pretty, but in a way, the repetition of the pattern may bring comfort to some.
Anybody else also find it weird that he didn't mention Khloé even once in that snippet? "Daddy is here to feed you." Yah, well, pretty sure mommy is, too.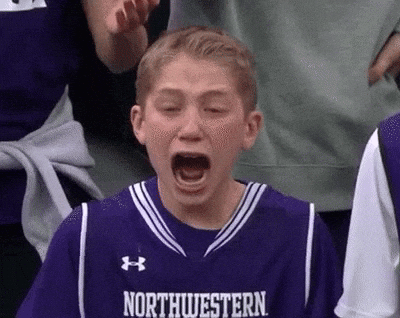 On top of this steaming pile of BS declaration of a truly changed man, Khloé has thrown her hat into all this and declared she's fallen in love with Tristan all over again. YIKES. According to an E! News report (should I put report in quotes … cause… lol), Khloe says she can't imagine being a single mom and "giving up her dream life with Tristan." REALLY? WHAT PLANET DO THESE PEOPLE LIVE ON? So I guess the dream life is popping out a kid while knowing that the father of said kid is out gallivanting with numerous women and doing all the cool shit outlined in 50 cent's classic song "In Da Club." Sounds amazing, lemme get in on that. Apparently, once she decided to take him back, Tristan has been proving himself to show how changed he is.
Let's take bets on how long this whole thing lasts—while Tristan has proven to be a triflin' ass ho, Khloé's decision-making skills seem a little off. I'm betting that by January 2020, this shit has run its course. You heard it here first.
Images: Giphy (3)
Khloé Kardashian Broke Her Silence In The Most Confusing Way
Friends, it has not been an easy few weeks for Khloé Kardashian. Not only did she have to push the giant spawn of an indiscreet cheater out of a hole the size of a lemon, but she had to do it while knowing that in the end she really should have gone the sperm donor route. I can only imagine this birth required lots of drugs, ice chips made from Evian water laced with liquid gold, and high thread count sheets. Then, since the birth of True "I was named to shame my father" Thompson, Khloé  has also had to endure the media saying she is "living in hell." What a beautiful way to describe Khloé's time with her brand new daughter. Put that one in the baby book for sure. Well, Khloé has finally had enough.
Yesterday E! News posted a picture on Instagram and linked to a story they wrote about how Khloé is "leaning on Kourtney" right now, since Kourt has also endured the shame of a cheating boyfriend with no regard for the woman whose organs literally shifted around inside her body to accommodate their child. I'm paraphrasing.
And after all the stories written about her since the cheating scandal broke, Khloé finally decided that a story claiming her sister was helping her out required a comment. So that's the line, then. Not her boyfriend being taped motorboating a rando in a club, or her mother telling Ellen that she is struggling with breastfeeding, but it was this nothingburger story that I can't even find a record of on the internet. Am I bad at Google? Anyway, Khloé commented on E!'s insta saying "oh damn… I hope I don't crush her by leaning on her! I love my little @kourtneykardash"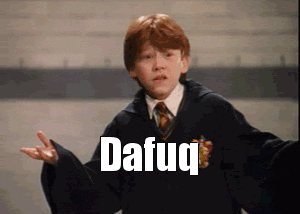 First of all, I feel betrayed by the stories claiming Khloé was "breaking her silence" and "clapping back." V misleading. It would be more appropriate for them to say "Khloé was finally so fucking bored while attempting to get True to latch on to her breast that she commented on an Instagram so she could get some more free media attention." Should I make that this story's headline?
Next, is she trying to shade E!? Like I just can't tell. If it's an insult, it's not a good one. It only serves to remind me that Khloé is, in fact, much larger than her sisters and that I really should get back to my investigation into who her real father is before the case goes cold. That bulletin board of clues in my basement isn't going to solve itself.
And finally, is she just agreeing with them? Like, "yeah I'm leaning on her, us gals with shitty taste in men gotta stick together"? I'd love to see how these sisters actually lean on each other. I'm sure we'll find out soon though, documented by a nude photo shoot for Insta.
Kourtney:  "I'm sure you're feeling sad Khloé but, like, you're blocking my ass and stealing my best light"
Khloé: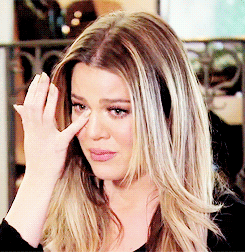 So basically it appears that the media made a story out of nothing. Shocking! Hit me up when Khloé actually breaks her silence with a scathing statement about Tristan's cheating ways while clasping his balls triumphantly in her hand. Sound good?
Images: @commentsbycelebs /Instagram (1); Giphy (2)
The Real Reason Khloé Kardashian Named Her Daughter True Thompson
After nine long months and one very public cheating scandal orchestrated by Kris Jenner, we finally know the name of Khloé Kardashian's baby: True Thompson. What, like you thought she wouldn't be petty? Let's unpack this name, shall we?
The obvious reason Khloé picked the name True Thompson is to troll Tristan. If I found out my boyfriend was cheating on me days before I had to push the spawn of his 6'9" body out of a tiny hole, I don't think I could be held responsible for what I put on a legal document either. But, I think a judge would stop you from naming a baby "Fuck You Thompson," even if you have a show on E! and 75 million Instagram followers. We've not yet descended into totally anarchy.  The question is though, did she name the baby True because she knows that her little girl is the only Thompson that will ever be true to her? All I'm saying is if we made a drinking game out of Tristan telling the truth we'd all be dead right now. Ya feel me?
Sadly, there is an alternate meaning (other than vague-naming) behind this decision. According to Kris Jenner, True is a family name.
How convenient for Khloé that she has generations of petty ancestors. I also think it's interesting that the Kardashians are descended from people named True, when there ain't nothing true about those asses. Like, let's not pretend that Tristan is the only one lying about shit, when these girls literally look like centaurs. Kris also linked to True's newly established Instagram account, because what's a baby for if not to be used for monetary gain? My dad did always tell me growing up that we were born to provide him with free labor, so maybe that's an "everyone" thing and not just a "fame-whoring stage mom" thing.
Also, I'd love to pretend that I'm above being jealous of a newborn baby, but that's just not my ~truth~. I need to know how much money the family had to pay to get the Instagram handle @true. Like, someone must have had it before, but Khloé and her gang members sisters pulled some strings and got the handle they wanted. To be honest, I'm more curious about this than WikiLeaks and the NSA combined. Sue me.
I will give Khloé credit though—I think True is the best/least heinous name of the recent Kardashian babies. I literally doodled the name Stormi in my Lisa Frank notebook while my 6th grade math teacher explained long division. Never did quite grasp it. I do think I know the real reason Khloé picked True, though—does it sound suspiciously like BLUE Ivy Carter to anyone else? Obviously Khloé just wants us to associate her child with the baddest bitch in the celebrity baby game.

All I know for sure is that we've waited a small millennium for this child to be born and we got stuck with fucking True, so we might as well make the best of it. I guess we'll have to wait for Kendall to get pregnant for another try. Fingers crossed Kris is harvesting the embryos as we speak!
Images: @khloekardashian, @krisjenner / Instagram; Giphy
How The Kardashians Are Responding To Tristan Cheating On Khloé
Last week news broke that men are scum Tristan Thompson probs cheated on nine-month-pregnant Khloé Kardashian with some hoe at a club. Is this the part where we corral up all of the men and set fire to everything they know and love? Cause I've been ready and waiting for that shit since 1992. Just saying. Anyway, while I've been at home sharpening my pitchfork gleefully following this scandal from afar, the Kardashians have been "rallying" around Khloé in her time of need. Cosmo.com recently reported that the Khloé's family has been trying to help her concentrate on her newborn daughter and keep her away from the news, which, like, would be super sweet of them if I wasn't seeing their barely clothed bodies all over my damn Instagram feed. I guess some families show their love and support with cards and flowers, while others take selfies of their asses. To each their own. So here's how all of the Kardashians are responding to the Tristan Thompson cheating scandal, may God have mercy on their souls:
EXHIBIT A: The Kardashians Break Their Silence
Kylie was the first to break the Kardashian/Jenner silence pact after the cheating scandal broke. This picture was posted just hours after her sister's personal life went up in literal flames, and as you can see, Kylie (and her ass) are clearly distraught over the whole thing. Kylie posted not one, not two, but a whole damn series of photos that not only showed off her post pregnancy body unwavering support, but also helped promote an old lip kit. Because nothing says "thinking of you, sis" like an aptly timed promotion. Kris Jenner would be so proud. 
EXHIBIT B: Green Is The New Grief
Kourtney was the second member of the Kardashian fam to break their silence, and she did so with a casual reminder that while sources say Khloé is "devastated" and trying to "get the hell out of Cleveland," Kourt and Kim are living their best lives on vacation. So sweet! I literally can not think of one single other way to send thoughts and prayers to a family member going through something than with a photo-shoot in between Mai Thais by the pool. What I find most interesting here is Kim and Kourtney's choice of wardrobe. They both chose to wear green, which I can only assume is a subtle way of saying they're green with envy at all the press Khloé's been getting from her obliterated relationship. Like, no one even seems to give a shit that they're in Turks & Caicos for adult spring break. I mean, what has the world come to??
EXHIBIT C: Nothing Says Support Like A Selfie
Then we have Kim, from whom I honestly expected nothing less. If you'll recall from early episodes of Keeping Up With The Kardashians, Kim has always handled painful, traumatic family moments by taking fire selfies. To be fair, this pic was taken a whole day after Khloé's world imploded. Who knew Kim would be the most sensitive out of all the siblings? Perhaps motherhood has changed her? Lol, I know. I crack myself up. Let's just hope that Kim doesn't keep the picture that captured Khloé's emotional devastation at finding out the father of her child blatantly cheated on her with another woman on the mantel in her and Kanye's mansion like she did Khloe's DUI mugshot. Never change, Kim!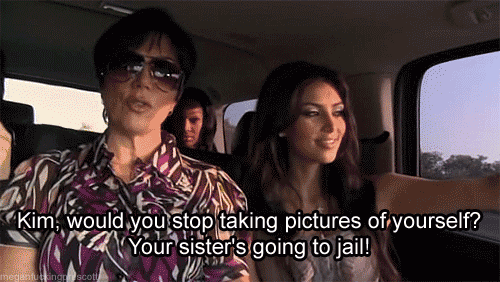 EXHIBIT D: This Is Really Necessary
And finally, my favorite show of support, here we have half of the Kardashian fam (and friends!) dancing on the metaphorical grave of Tristan and Khloé's relationship. This photo was taken just days after Khloé gave birth to little baby True and her sisters rushed to her side in the delivery room. Based on the time stamp, I'm assuming this was taken sometime after Khloé pushed a human being out of her body and in the next breath had to call her lawyer to see if they got that video of Tristan taken off of TMZ yet. While this may not have been taken at the Cleveland airport (though several paps caught similar footage of Kim and Kourtney leaving said airport) this photo shoot is still a little too close for comfort. And by "comfort" I mean common human decency.
Well, as you can see, with sisters like these how can you not want to kill yourself feel loved and supported during your most vulnerable moments? I'll keep these shows of support in mind for the next time my sister calls me to cry about her ex-boyfriend. Thanks for the tips, ladies!!
Images: @kourtneykardash /Instagram (1); @kyliejenner /Instagram (2); @kimkardashian /Instagram (1); Giphy (1)
Khloé Kardashian Gives Birth To 57-Year-Old Woman Named Karen
Following the longest pregnancy in recorded medical history, Khloé Kardashian has finally given birth in Cleveland, according to sources close to the reality star. Pregnancy experts around the world were puzzled and concerned by the length of her gestation period, but we're told that her 57-year-old newborn was delivered without a hitch. As she had previously announced, Kardashian decided to give birth in Cleveland, and the medical staff at the world-renowned Cleveland Clinic had their hands full with this special delivery. While most were expecting an infant child somewhere in the neighborhood of 8 lbs., Kardashian instead birthed a fully-grown woman named Karen, who has already secured a job in HR at a local law firm.
Karen, who is the heaviest baby ever delivered at 143lbs, was reportedly speaking within minutes of being born, mostly in outdated cliches and figures of speech, and once to ask for a manager. Speaking to a local television station, Karen remarked, "Well, you know, the second I came outta there, I just felt like a bull in a china shop! I'm just happy as a clam to be out here in the world, but I am still trying to figure out what exactly is a 'Kardashian'?"
As is the case with many middle-aged women across the country, Karen seemed unsure of why everyone was so interested in her family. "Is my Aunt Kim a politician? A movie star? Geez, there were so many cameras at the hospital, don't all these people have anything better to do?"
We reached out to family matriarch Kris Jenner, who was overjoyed at the exciting news. "Khloé has been waiting decades to be a mom, and I'm just so proud of her. I'm also super, super excited to have another lady over 50 around. We're gonna have so many wine nights, it's unreal!" Jenner has yet to meet Karen due to her refusal to set foot in Ohio, but she's sure they'll hit it off right away. The rest of the Kardashian family shared Kris' excitement over the new arrival, with the notable exception of Kylie. "I just, like, why does she have wrinkles?" she remarked. "What are those? We should definitely get her some botox ASAP, that's so not cute."
As for Khloé Kardashian, she and her partner Tristan Thompson are planning on staying in Cleveland for the time being. "While Karen is getting settled in at her job, it's really important that we create a nurturing environment for her," Kardashian said. "I don't have personal experience with 'jobs,' but I've heard they can be stressful, and it's not easy to start a new career in your 50s." Thompson couldn't be reached for comment, but Khloé Kardashian assured us that he's thrilled with the new arrival, and not at all concerned that Karen is "the whitest woman in the world."
We're all eager to learn more about Karen Kardashian-Thompson, but don't expect to see her on E! anytime soon. "Ya know, reality TV just sounds like a big waste of time. I found this old show called Cheers, and someone told me that there are over 250 episodes. I'll probably just stick to that."
Images: Shutterstock; @khloekardashian / Instagram
I Find Khloé Kardashian's Baby Registry Personally Insulting
Thankfully I don't know anything about this yet, but having a baby is obviously a very stressful time. There's a lot to think about, but thankfully Khloé Kardashian has an Amazon baby registry so she won't forget anything important. The registry is part of a paid promotion with Amazon, but it's still pretty hilarious to imagine Khloé having to beg people online to buy her an $11 container of nipple butter. I really love that Amazon values the Khloé's opinions enough to pay her, because now I feel like Amazon and I are on the same page. Someone at Amazon Khloé and Kourtney came up with a list of 63 items, because apparently you have to buy a lot of shit before having a baby. Grab your scuba masks, because we're about to take a deep dive into Khloé Kardashian's baby registry.
Khloé Kardashian's baby registry is split up into 10 different categories, spanning fun topics like diapering and feeding. Remind me to never have a baby, okay? A lot of the items are simple, affordable necessities (like $12 diapers and some basic bath towels), which is honestly just an insult to my intelligence if they expect me to believe Khloé Kardashian needs her fans to spend their hard-earned $12 on her. There are also plenty of more luxurious items on the list. One eye-opening suggestion is a $179 machine that looks exactly like a Keurig, except it only makes baby formula. That's um…not nearly as fun as a Keurig. You know your life is over when you're trading in coffee for baby formula.
Khloé, who loves talking about how she has OCD, also wants you to buy a $500 Dyson air purifier and a $700 Dyson vacuum, which just seems extremely unnecessary. Obviously you should do your best to keep the baby's environment clean, but come on. Your kid isn't going to be able to breathe pure oxygen for their entire life, so you might as well introduce them to pollution early.
Khloé and Kourtney provide little quotes to go along with each section, which really just demonstrate how far removed from reality these ladies are. On the topic of bathing, Khloé says she is "so looking forward to the routine of winding my daughter down with a warm bath and getting cozy for bedtime." Cut to a montage of Khloé, sweaty and covered in baby food, desperately trying to get her daughter to stop crying and go to sleep. Kourtney, who has lots of mommy experience, recommends a $175 co-sleeping dock, which she says she discovered when Penelope was born. If this sounds like something out of a sci-fi movie, don't worry, I had to Google it too. Sure, everyone likes sleeping with their baby, but the price tag on this glorified life raft is less than relatable.
Another theme of Khloé Kardashian's baby registry is books. So many books! There are 10 different books on the list, including one written by Jimmy Fallon. Kourtney says you can never have too many books, which is true unless you don't happen to live in a giant Calabasas mansion with 17 different storage closets. If you hadn't noticed, Khloé and Kourtney might not have the most realistic perspective on raising a newborn baby. (Or reading books, tbh.)
Khloé's baby will probably be here within a few weeks, so she better hope someone buys her this shit real quick. Otherwise, her little baby girl might have to go without her bath pipes toy set, which would really be a tragedy. Oh wait, Khloé Kardashian can afford to buy everything on this list without even thinking twice. The total list costs around $6,000, which is like $2 in Kardashian money. I can confidently say that not a single person on this earth other than Khloé Kardashian herself needs to contribute to this registry. On that note, I'm about to go to Starbucks and spend three minutes agonizing over whether or not I can justify splurging on a grande. I'm basically a Kardashian!
Images: @khloekardashian / Instagram; Giphy; Amazon