A Celebrity Trainer Answers All Your Questions About Keto & Intermittent Fasting
These days, it seems like every person on Instagram has an opinion about what meal plan or exercise program you should follow. But, as we know, you can't trust influencers' fitness advice. So who do you turn to when you have a question about, say, the pros and cons of keto and Intermittent Fasting? You turn to the pros, of course. Jorge Cruise is a celebrity fitness trainer, distinguished weight loss coach, brand partner for Cece's Veggie Co., and #1 best selling fitness author. He has influenced celebrities such as Angelina Jolie, Jennifer Lopez, Khloé Kardashian, Steve Harvey, Miley Cyrus, Tyra Banks, 50 Cent, and Eva Longoria with his diet and workout plans. That's more celebs than in the famous 2014 Oscars selfie. Except, this time you get an invite to join the squad and hear what Cruise has to say about the Intermittent Fasting and Keto diets, two of the hottest diets that all your friends are probably talking about right now. 
So, WTF Are Intermittent Fasting And Keto?
They may be really popular at the same time, but these two diets couldn't be more different. According to Cruise, "Intermittent Fasting (IF) is when you eat in a time restricted window, typically 8 hours to eat and 16 to fast" and "Keto is focusing on high fat, high protein and leave out carbs." Cut out carbs? Over my bread body. Thankfully for me, Cruise agrees. He states, "Personally, I feel like IF is better because you can eat carbs, it's a more balanced approach and is more practical. The 16 hour window of fasting you allow your body to do housekeeping, or autophagy, which is vital to longevity and disease prevention." 
What Are The Pros & Cons Of Each?
No diet is ever right for you, the word literally has the word "die" in it. But, if you're going to give one a try, then you should do one that would best suit your lifestyle. Cruise says, "IF is for someone who wants a lifestyle and balanced program where you can enjoy carbs. Keto is just for short-term and only if you like high fat, high protein and don't like or don't mind not eating carbs." Who the f*ck wouldn't mind not eating carbs? No one. Absolutely no one. 
How To Prepare 
We've all been there, having a "Last Supper" before going on a diet, where you eat like you're never going to be able to eat anything flavorful ever again. I mean, it's literally the inspo behind the name of our podcast, Diet Starts Tomorrow. But just know that if you do that, you're doing it wrong. You should prepare for a diet mentally, not by thinking about how much you are going to miss eating ice cream, but by reminding yourself of your motivations for starting the diet. Cruise states, "Regardless of any diet, having strong motivators to do so is very important. If you don't have a strong enough reason it will be hard to start anything. I suggest to my celebrity clients to find a reason beyond looking good for summer—something significant. Maybe that's transforming their confidence so they can improve their relationships or get into a better one, connect it to their career knowing that if they are healthier, they have more energy and confidence and can earn more. For some it's family, being a role model for their kids or their spouse. Find something strong to motivate yourself." 
How To Stay On Track
It's easy to get off track, but remember that smart eating decisions start in the supermarket. Cruise suggests, "For IF, fresh produce is good, and focus in on healthy fats and protein. You can also have carbs like vegetables and even pizza, pasta, and fried rice." As far as vegetables go, Cruise says, "My go-to and what I recommend to my clients is Cece's Veggie Co., a line of organic spiralized and riced veggie products that go from pan to table in minutes. Cece's makes it easy to add fresh veggies or swap in veggies for pasta and rice for a fraction of the carbs and calories."
For keto, same thing, but no carbs. "Choose organic, and you may need more variety since it's high fat high protein," Cruise says. Another way to stay on track is through exercise. Cruise says, "I think exercise is something you should do everyday. I think you should do it in the morning while you're fasting , it's scientifically proven to be the best time to burn belly fat. Make sure to stay hydrated with electrolytes and water. With keto, a lot of people work out as well." 
How To Have A Life
Going out to dine with friends can transform your night from a nice, relaxing evening to an anxiety-filled disaster when you're on a diet, but it doesn't need to. On IF, Cruise says, "you can customize your eating window around what plans you have. You can eat at night with your friends if you go out or in the morning/afternoon. You can enjoy the foods you love on IF like pizza, pasta, and wine!" However, he notes, "with keto it's trickier because you have to focus in on healthy fats and proteins only. You won't be able to eat bread, drink wine, etc. so it'll be a little trickier since it's more limiting. You will need your friends' support since you can't be eating as many carbs." So, I guess this is a good way to find out who your true friends are. If they can handle you at your carb deprived worst, then they're real ones. 
So, Which Is Right For You?
Ultimately, I don't like to sign up for something that doesn't allow me to eat cookies whenever I want, but that's just me. But if there had to be a diet that was less painful, Cruise says, "IF is easier as it's a lifestyle plan, it's what I do and teach all my clients." In regards to Keto, Cruise explains,"Keto is a great way to lose weight rapidly, but unfortunately, you can't eat a lot of carbs. They both can cause you to lose about a pound a day," Cruise points out. So it all comes down to this: what's more important to you: midnight snacks that you can eat on keto, or carbs that you can eat on IF. You can only choose one. 
If neither of those sound amazing, Cruise created his own diet explained in his book,The Cruise Control Diet where you eat in an 8-hour window. And unlike IF, there's an eating plan that ensures people aren't hungry. He says, "The great thing about the Cruise Control diet is that there's NOTHING that's off-limits."
So, that's the tea on Keto and Intermittent Fasting from a celebrity trainer. If you're brave enough to take on one of these diets, I wish you the best of  f*cking luck. If not, let's get pizza some time.
Images: Jorge cruise (3) / Instagram

A Ranking Of The Most Ridiculous Fad Diets I've Tried
For upwards of four years now, I have been testing out various fad diets and writing about my experiences, typically to the detriment of my metabolism, mental stability, and overall health. Sometimes, people enjoy this. Sometimes they tell me to kill myself. It's a mixed bag, really.
Despite the many things I have written to the contrary, I love doing these diets. I love pushing myself to limits that literally no one asked me to push myself to. I love the adverse reactions I get from people when I explain why I'm buying Grade B Maple Syrup in bulk. But mostly, I just love attention and suffering, so this is truly my calling.
While doing research for my next diet, I decided to take a stroll down memory lane and revisit some of my more outlandish ventures. While this was initially a move of pure procrastination, it made me think that it could be fun to reminisce on the simpler times in my life when I walked around with ice cream in my purse or incited social media rants from unnamed wellness influencers.
Without further ado, here is the ranking of the most ridiculous sh*t I've ever put my body through in the name of art.
Full transparency, I loved Keto. I try to still adhere to it, albeit in the loosest terms possible. But in those early days when I had no idea what I was doing, before I truly understood macros or what it meant to measure food, sh*t got weird. How weird, you may ask? Please refer to the photo below of me, sitting on my patio, eating rotisserie chicken straight out of the bag at 9pm on a Tuesday because I had abruptly realized that I was still 790 calories short of my daily goal. This is not an ad for Frank's Red Hot, but also, I would not be opposed to this being an ad for Frank's Red Hot. Call me.
Keto is a dream once you can break down that mental barrier that tells you that you can't eat things like butter. If that sounds like an easy feat to you, congrats on never having had an eating disorder. The idea that I was not only allowed, but encouraged, to eat buttery, creamy, fatty foods on a daily basis was so outrageous that for a second I understood the extreme resolve with which Flat Earthers stand by their beliefs. The ground doesn't curve when you walk on it! Butter is fattening! These are indisputable facts, and I refuse to hear anything to the contrary!
But once you've moved past that simple obstacle, life is different. You know how many kinds of cheese are sitting in my fridge at this very moment? Six. SIX. Sure, there hasn't been bread in my kitchen in months, but SIX KINDS OF CHEESE. It's liberating, in a way that prison yards are liberating. Like yeah, there's lots of fresh air and more activities to take part in, but also you're still being held captive by a system built to deprive you of your humanity.
Diets are bad. Don't do them.
You would think that a diet that forced me to consume nothing but spicy lemonade for 10 straight days would be further up on the list of stupid things I've done, but that's because you don't understand the supreme comfort of not having options.
Most of the other diets on this list have a large margin for error. You can unknowingly eat the wrong ingredients or even too much of the right ingredients. You can be tempted by "safe" foods with hidden pitfalls or fool yourself with meaningless words like "moderation." But that's not the case with the Master Cleanse, because you're allowed one thing and one thing only: cayenne lemonade. Two liters of it a day. For 10 days.
There's no room to justify cheating, because there's no gray area here. Every day is the same question, a thousand times over. "Is whatever I want to eat in this moment a liter of spicy lemonade? No? Then I can't have it." It's crazy how easy life gets once choice is taken out of the equation. That's usually a sentiment that dictators in movies use to justify their regimes, but I won't waste time drawing any parallels there.
I'm gonna do this wack ass crash diet vogue printed in the 70s and die pic.twitter.com/DbHCWBJ4cf

— Open Heart (@Rayoflightray) April 28, 2019

No diet in my entire history of diets has gone off the rails faster than the Cabbage Soup Diet did. It came too early in my career, before I'd broken my will enough to truly understand self-control. Perhaps tackling it today would be a different story, but at the tender age of 23, I was unprepared for what the Cabbage Soup Diet would offer me: too many options.
Remember what I said about the Master Cleanse just few paragraphs up? This is the opposite, in every way. Every day the Cabbage Soup Diet gives you merely a parameter of the things that you can eat, without an inkling of portion sizes. To an adult with the ability to stop themselves from eating an entire flat of blackberries in a day, this probably wouldn't be an issue. To me, an animal without the foresight to realize the mass outbreak of canker sores that would result from eating that many blackberries in a mere 24 hours, it was a hellscape of my own making.
The Cabbage Soup Diet is not a diet, it's a social experiment. Some sadistic asshole wrote down on a website designed in 1984, "you can eat three steaks today" and then waited to see if some idiot would actually do it. Well, guess what! That idiot is here! And time has given her the wisdom to fight back! Or at the very least, yell about it on the Internet!
Despite the fact that I willingly opted into this experiment, I still somehow feel like the Cabbage Soup Diet took advantage of me. It's a sentient being from another universe, sent here to prey on weak-minded people who think eating four bananas a day is something moderately within the realm of healthy behavior. That cursed website is the dieting world's version of Tom Riddle's Diary: another second longer and I would have been found in a dungeon, cradling a bucket of mushy vegetable soup. I don't even know where I'm going with this anymore. F*ck you, Cabbage Soup Diet.
As far as diets go, Whole30 wasn't that crazy. Sure, I didn't remotely enjoy it. But, all things considered, it's not like the premise was insane. In fact I discovered, one of my favorite recipes of all time, a lovely Whole30 compliant Zuppa Toscana, during my 30-day trial. The entire experience was kind of like that time I (accidentally?) ate a bunch of edibles at homecoming senior year of high school and then puked all over my blackberry—it didn't ruin my life but I'm not exactly in a rush to do it again anytime soon, you know?
So why does Whole30 hold the number two ranking on this coveted list? One that could be taken by Kourtney Kardashian's godforsaken avocado pudding? For one very important reason, reader: this video.
(Please excuse the recording methodology—my roommate and I are incapable of grasping technology released past the year 1997)
On Monday, March 19th, 2018, the founder of Whole30, one Melissa Hartwig, posted a series of stories to her Instagram. This in itself isn't out of the ordinary; she's an influencer, that's what she does. Except, on this fateful day, these videos were about me.
I think it goes without saying when I tell you that this kind of thing doesn't usually happen to me. Except for that one time one of the kids from MTV's Scream retweeted one of my recaps about his show, this is the most public attention I have ever received for my work on social media. I am 100% sincere when I say that I will cherish this series of impassioned statements about what a sh*tty person I am for the rest of my life.
I cannot stress enough to you how often this video gets broken out in my day-to-day life. At work. At bars. In Lyfts. At bars. When I'm home for Christmas. Mostly at bars. Drunk people love this stuff.
The fact that this woman exerted the effort to not only post a swipe-up to my article but then immediately tear it to shreds over the course of five consecutive videos will never cease to delight me. It makes every bloated, exhausted, sober second of Whole30 worth it. Guess I did find that life-changing journey, just not in the way she expected.
Nothing will ever top this, in terms of preparation, dedication, fervor, or absolute insanity. The absolute wildest thing about about the Halo Top Diet was that it's not even justifiable; eating ice cream for seven days is, despite what I told everyone around me, not a diet. Period. This series is dedicated to the trials and tribulations of documented fad diets, and yet somehow I managed to convince a company, an editor, my friends, my family, and my coworkers that this was a viable idea. To this day, I don't understand how it happened.

To have known me during the Halo Top Diet is akin to having known someone during war, except only one of you was at war and the other was bemusedly watching from the comfort of their home while eating a hot dog. Also your friend at war kept asking if they could smell your hot dog. Shut up. It's fine.
Friends of mine still reminisce on the Halo Top Diet like it was a nostalgic era of their youth and not the most surreal seven days of my entire life. Let's ignore the obvious physical ramifications at play here—do you understand the mental strain you endure when you set out to eat ice cream and nothing else for a week? Can you even grasp it? Let me answer that for you: you can't. I thought I could, and I was wrong.
After two days, the laws of polite society cease to exist. There is no social norm too big to surmount, no simple civility that you aren't willing to trample. You transcend faux pas and exist in a serene yet somehow also ominous realm of ultimate inner peace, save the unrelenting headache and constant nagging reminder that every meal you eat for potentially the rest of your life will be cold and sweet.
That realm makes things possible that you would never have believed yourself capable of before. Things like standing in front of your entire office and begging them not to touch the ice cream in the freezer because it is both your breakfast and lunch. Things like looking at a waiter in the eye, saying "I'm good, thanks," and then pulling a pint of melted ice cream out of your purse to eat in front of them. Things like attempting to pour hot sauce onto your ice cream in a fevered search for something savory, only to be stopped by people who do, in fact, care about your dignity. You know, to name a few.
In short, if you can't handle me at my Halo Top, you don't deserve me ever. That's it. That's the deal.
Have an idea for a diet that could potentially rival the ones on this list? Leave it in the comment section and I just may hate myself enough to try it.
Images: Giphy (2), Instagram (@marykatefotch, @melissa_hartwig)
8 Keto Snacks And Supplements That Don't Taste Gross
If you're reading this, then you're probably curious about or already following the oh-so-popular Keto diet. By eating very few carbs, a moderate amount of protein, and a lot of fat, your body goes into a metabolic state of ketosis. WTF is ketosis? Basically, it's when fat ~magically~ transforms into a form of fuel called ketones to add some pep in your step and melt off that muffin top (I paraphrase)—and people all over the world are swearing by it. Here are a few of the best keto-friendly products, snacks, and supplements that will help you burn fat and gain energy.

You already know we had to kick off this list with bulletproof coffee. This cold brew bulletproof coffee is made with collagen protein, butter from grass-fed cows, and NO sugar. At 5 net carbs, this product is equal to two cups of coffee, so it's the perfect thing way to kick off your morning.

Feeling crazy and want to make bulletproof coffee yourself? You can always make it on your own with guilt-free coffee, grass-fed butter, and a quality MCT oil, like holistic health pro and amazing life coach Aubrey Marcus's ONNIT MCT Oil. It's way more potent than regular coconut oil, with almost 13g of medium chain triglycerides (fatty acids) designed to jump start ketosis.

Perfect Keto Bars have less than 3 grams of carbs and twice as much fat in them as protein (almost 20g fat compared to 10g protein), which literally makes them the *perfect keto bars*. They don't taste like sh*t, even though there's no added sugar or chemicals–just coconut oil, almond and cacao butter, sea salt, and a few other high-quality ingredients to give you the energy you need in the AM, or after a workout.

Just because Keto limits your carb intake doesn't mean your life has to suck. WrawP makes a few different flavored wraps made out of organic young coconuts and psyllium husk (the Curry flavor is my absolute fave) so you can still live a little. Cash in nine of your daily 20g carbs at breakfast by making a cheesy breakfast scramble wrap with eggs and avocado. F*ck, now I'm hungry.

Veggies are sketchy territory on the Keto diet, because they're typically high-carb. Broccoli is one of the most low-carb veggies out there, making it the perfect natural supplement for Keto athletes, gym-goers, and health nuts. BROC SPROUT 2 capsules are made from 100% broccoli sprout and help to produce Sulforaphane in the body which causes your cells to boost your immune system, brain, and physical power. Yay, broccoli!

Macadamia nuts are low in carbs (1 net gram), high in fat (21g), and super good for you. Swap out higher-carb nuts like peanuts, almonds, and pistachios for these babies as an easy, filling snack or condiment by blending them until they're creamy and spreadable. Macadamia nuts and nut butter are definitely more expensive than your typical peanut butter so prepare to shell out a couple of bucks, but it's worth it. Dastony makes macadamia nut butter, brazil nut butter, and other awesome nut butter flavors in 8 oz or GALLON tubs.

Love chips, but can't eat Pringles anymore? No problem! Parm Crisps are chips made from 100% cheese. They come in Pizza, Jalapeño, Sesame, and Original flavors so you can satisfy all of your taste buds. Zero carbs and an equal mix of protein and fat, these cheesy snacks will keep you sane when you're craving unhealthy, non-keto friendly chips.

Lily's Sweets chocolate is a personal favorite for like 1,000,000 reasons. It's fair trade, non-GMO, naturally sweetened, and SO delicious. If you bake your own keto treats and want to add healthy, no-sugar-added chocolate, these are the chocolate chips you want to use in your recipe. Lily's Sweets also makes incredible milk and dark chocolate bars for when you're too lazy to bake and just want to sit on the couch and snack on something sweet (try the caramelized & salted milk chocolate bar…or don't and let me have them all, please and thank you).
Images: Sara Dubler / Unsplash; Bulletproof; ONNIT; Perfect Keto; WrawP; BROC SPROUT 2; Dastony; Walmart; Lily's Sweets
Betches may receive a portion of revenue if you click a link and purchase a product or service. The links are independently placed and do not influence editorial content
I Tried Intermittent Fasting For 10 Days & It Was Not At All What I Expected
As I'm sure many of you can relate to, I did not enter January feeling the best I've ever felt about my body. Honestly, forget holiday weight gain—I hadn't successfully lost weight since a stomach bug last May, and the whole thing was starting to feel hopeless. In 2019, I'd already tried a juice cleanse (painful, results gone within a week), and macro counting (exhausting! very difficult without professional advice on what to eat). So finally, I turned to intermittent fasting. I am in no way a nutritionist, and I cannot tell you whether IF is "good for you," or give you a scathing review of whether or not the science behind it is legit. What I can tell you is that I had a tough 10 days, and a surprising set of results. If that's enough for you, read on for my experience with intermittent fasting
What I Expected From Intermittent Fasting
If you're interested in learning more about the science behind IF (intermittent fasting), or the different ways you can do it, I used these three articles as guides. Like I said, I'm not a nutritionist, and I truly don't want my advice here to be the last word on whether or not you embark on a major diet change. Please believe me—it is a MAJOR change. I understood the merits of IF in two ways before starting. First, I learned that periods of fasting decrease insulin production and boost growth hormones—both of which mean nothing to me, but they apparently help boost metabolism, burn fat, and gain muscle. Second, by limiting your "eating window" (a term my friends would literally pay me to stop hearing at this point), you're meant to limit overall calories (e.g. you can't eat breakfasts anymore; you skip seven breakfasts' worth of calories per week).
Have some objections to that second point? Yeah, me too—don't worry, we'll get there. But just to be clear with my intentions for IF: I wanted to lose weight. Not a drastic amount, especially not in 10 days; I know all too well that that weight just comes right back. But losing maybe 1, 1.5 pounds? If nothing else, just to prove that my body was still capable of weight loss after all the weird diets I'd put it through. So, I decided on a 16:8 routine (16 hour fast, 8 hour eating window), and set off on my 10-day journey.
Actual footage of me putting together diet plans and not shutting the f*ck up about it:
How Fasting Actually Felt
Despite most recommendations for 16:8 suggesting eating 12-8pm (or even earlier), I set mine from 2-10pm. First of all, I struggle way more with snacking at night than I do during the day, and I didn't want to set myself up for failure. Second of all, I have a standing Bachelor date Monday nights, and no way in hell was I sitting through Colton's journey for love without a healthy dose of wine and pizza. The first few days were mostly the same: I showed up to work around 10 (usually when I eat breakfast) and had unpleasant but bearable waves of hunger until 2pm. This included stomach cramps (worst when I woke up, or when someone ate a delicious-looking bagel near me), and a few headaches. Water and black coffee helped, but honestly more in terms of keeping me awake than making me feel better.
The first mistake I made that week? On Day 3, I went to a spin class at 8am (a disgusting habit I picked up in LA). Not only did I nearly die from hunger that morning, I forgot the parameters of my eating window and ate until 10:30pm that night. While I worried I'd messed everything up, and was starting to question how healthy it was anyway, I woke up on Day 4 "feeling LIGHT" (per my detailed notes). My stomach felt flatter, my digestion was good, and my hunger cramps were clearing up sooner. Everything seemed good. And then, as must happen to all diets, the weekend came along.
I was spending that particular weekend in Salt Lake City, crashing some friends' ski trip. (I don't ski, I just wanted to drink in a cabin for a weekend.) In preparation, I switched my eating window for the weekend to 4pm-12am. After all, if I was going to make IF my long-term eating pattern, it had to be something I could do while maintaining a social life. And my social life right now involves ingesting calories after 10pm. (I say "involves," but really that's all my social life is.) I also weighed myself Friday morning, but both of the scales turned out to be broken, and both told me I'd gained 16 pounds in the past two weeks.
So, even though I'd woken up Friday feeling light and lean, I spent most of that day questioning reality and trying not to eat my own hand. By the time I could eat at 4pm, my body went into full animal mode, terrified I would fast for another 18 hours at any moment. Basically, I filled the day with airport snacks, a pasta dinner, and bags of Cheetos and mini Oreos the Airbnb host had left behind. Yes, right up until midnight. Saturday and Sunday, I accompanied the non-skiing group to two massive brunches and fasted through both, for which I would like several medals. (Insta proof below.)

Throughout the weekend, I felt like the bloating and general gross-ness I'd kicked during the week was back—but mostly I blamed the type of food I was eating (processed garbage and desserts, yum), and it was more of an internal "yuck" than an "oh sh*t, these pants are not fun to button." The final few days I focused on drinking sh*t tons of water, eating more real foods and fewer snacks, and bringing my eating window back to a reasonable range. (AKA Monday I ate 4-11; Tuesday I ate 3-10; Wednesday I could eat at 2 again.) But honestly, I never quite kicked the bloated feeling from the weekend and I was still freaked out by the scale disaster Friday. By the time I went back to regular eating, it didn't come a minute too soon.
Pros & Cons I Felt On Intermittent Fasting
I would need a licensed professional to confirm or deny this, but I suspect that I messed up by making my eating window so late on the weekend. Like I said, I am a chronic night-snacker—which means I've read all the advice on how it's the worst thing you can do for your body and how you're meant to give your body 2-4 hours of not eating before bed. I've also been a yo-yo dieter for years, and heard rumors of starvation mode (when your body's metabolic rate slows down bc it thinks you're dying and need the food) if you deprive your body of calories irresponsibly. Again, IDK for sure what happened, but once I started eating from 4pm-12am it felt like my body panicked, shut down any fat-burning processes, and held onto whatever calories I did consume for dear life.
In other words, with a later eating window, my digestion slowed, my usual bloated feeling returned, and it quickly seemed like a terrible idea. And while my 2-10pm eating window had made me feel lighter after a few days, it had also allowed me to stop thinking so carefully about what I was eating. I would try to break my fast with a big, healthy meal, but I was way more relaxed about carb content, afternoon snacking, and eating desserts. As long as I stopped at 10pm, I was still technically on a diet—right?
Yeah, I wasn't right. People who promote IF assume that you'll eat fewer calories if given less time, but they've clearly never been to a timed buffet. I can't say for sure whether I was eating more calories while I did IF, but I really doubt I was eating fewer (and definitely not on the weekend). And overeating with 16-hour breaks isn't a diet: it's just eating the same amount and giving you a better shot at digesting it properly. By the time I found a less f*cked up scale that Friday, I found I was two pounds heavier from the whole experiment.
BUT—and again I have no way of proving this—I felt like it was possible that part of that weight gain was muscle. I'm the kind of person who can (and has) temporarily gained two pounds from a large meal, and I'm very familiar with what that feels like. This weight gain, however, felt different.
To sum up my very scientific impression of how my body changed during this process, I felt like I was roughly the same size but less jiggly—like my pants were maybe a little tighter in the legs, but looser in the waist. It wasn't my goal, and I still have five pounds I'd like to lose, but I've experienced worse results on more painful regimes.
Overall, would I recommend intermittent fasting, or ever do it again? Kind of! I would recommend trying a few different eating windows and seeing what works best for you, for sure. I might try incorporating a 24-hour fast once a week, since I'd had good short-term results with a few days of fasting. Ultimately, I think incorporating a couple fasting periods helped me shed some bloat and regulate digestion—but extending the fasts and confusing my body on when to expect food backfired. As much as I hate to say it, I have to accept that this wasn't a "weight loss hack" by any means. If I actually want to see a lower number on the scale, I will have to consume fewer calories. Until then, I'll be accepting tips on how the f*ck I'm supposed to enjoy an evening at home without eating until the second I fall asleep.
Images: louisabhaus, dietstartstomorrow (2), betches / Instagram
3 Signs That Weight Loss Isn't The Answer To Your Problems
When it comes to weight loss and dieting, we've all heard and believed a lot of lies. The Kardashians get their figures by sipping on Fit Tea! Gluten-free is always better! This is how many calories you should eat! No, this! Frankly, it's exhausting. The most damaging of these lies, in my opinion, is "nothing tastes as good as skinny feels." (To those of you doubting me, I lost 7 pounds with a stomach bug last summer. The taste of mac 'n' cheese kicks that feeling's *ss every time.) Not only is this saying wrong because it was coined by someone who has never tasted food (hi Kate Moss! Big fan), it's wrong because it promotes the idea that—no matter what else is going on—you would feel better if you were skinnier.
On that note, I'm sadly confident that every day of my life so far I would've agreed with the statement "my life would be better if I weighed ten pounds less." Even (and especially!) in moments with much, much more pressing issues directly affecting my well-being. So as we all embark on our respective, crazed self-improvement Januarys, here are some warning signs that your weight is not the real issue. In other words, signs that no matter how much you diet, or how much weight you do manage to lose, it's not going to address what's really bothering you. It won't, ultimately, make you all that much happier. And isn't that really the point?
You Constantly Compare Yourself To Others
Comparing yourself to others is a sure way to "fail" any diet plan. As countless trainers have told me when I whip out an inspo picture of Kendall Jenner, no amount of food restriction or exercise can make your body look like someone else's. You can look like a version of yourself with more muscles, or less fat, or with more or less of a noticeable stomach (I'm told—I've never experienced this myself). And that's it! Those are all your options. So if your desire for weight loss is specifically sparked by seeing a certain body type, I'm afraid to say that dieting will not get you where you want to go.
It's a long, boring process to become okay with what you're born with. (And it's one that the wealthier members of our society forgo for plastic surgery.) Whether the boost you need to get more okay with yourself is retail weekly therapy, daily affirmations, or just better bathroom lighting (I cannot recommend this one strongly enough), I can promise you that happiness is not five pounds away. So stop looking at the scale; the answer is somewhere else.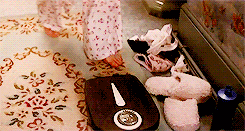 You're Way Too Obsessed With Your Diet
No, this isn't just a fun way to call out vegans and Paleo people. (Though truly, the amount y'all talk about your diets is insane.) One major sign that you're offloading other concerns into one specific area ("I need to lose weight") is when you become incapable of talking or thinking about anything else. When you become so fixated on what you can and can't eat, and when you can expect to see results, and whether or not anything feels different or bad or good all day—it places a huge, untenable amount of pressure on that part of your life. It puts you in a place where you're not able to find happiness from any other aspects of your life (AKA your friends, leaving the house for non-work reasons), and it convinces you even further that the only thing that will make you happy is losing weight.
We're all guilty of going a little overboard with a new venture we're excited about, and I don't want to shame anyone who's put in hard work on a diet. (I did the keto diet for two weeks, and the amount of math involved at every meal almost killed me.) But feeling like you're so obsessed that it's all you can think about means you need to step back. If you're finding that the only joy you get comes from seeing a number on a scale, it's not going to be quite so easy to just jump back into normal life once you're at the weight you think will make you happy. You need to address (right now! at the weight you currently are!) why other aspects of your life aren't fulfilling to you, and work on that at least as much as your diet.

Your Eating Is Mostly Emotional
Late-night shame binging, stuffing your face with apps at a family event, refilling your plate for the third time when your stomach still hurts from the second. Am I just describing my holiday break, or do I have a larger point? Both! What all those eating incidents have in common, beyond the fact that I am a monster, is that they had nothing to do with how hungry I was, or what I really wanted to be in my body. At many points in my life (#growingupfat), I've used food as a distraction—a quick hit of endorphins in the form of chocolate or cheese that took me away from the present moment. Whether that moment was stressful, sad, or just plain boring, eating made it better.
But as it turns out, eating every time you're not 100% okay with your surroundings does not actually feel better in the long run. And every time my emotional eating ticks up, and my weight inevitably changes along with it, I address it in the worst way. I am So Fat! I tell myself. Better go on an all-out diet, starting with green juice at 8 AM. But here's the thing! I was not gaining weight because my breakfasts were bad for me. In fact, I ate pretty healthily, within the context of normal meals. And making those normal meals more restrictive (under the I Am Fat & Therefore Must Diet regime) just exacerbated my emotional eating. Hungry people are weak people, and saying no to a midnight pint of ice cream only got harder when I'd subsisted on lettuce all day.
So, if you're like me and a lot of your "bad eating" tends to happen in these types of settings—where the food has nothing to do with its role as food, and everything to do with your mood—no diet in the world, sadly, will fix it. You have to figure out a peace for yourself in moments that typically have you reaching for food. Because even though there may be unwanted weight involved, it's not the weight that's the problem—it's the way you're using food to control your emotions. (And if you solve that problem, any remaining weight loss goals you have will be so much easier.)
See this? This is a picture of me on Sunday night not a well-adjusted human.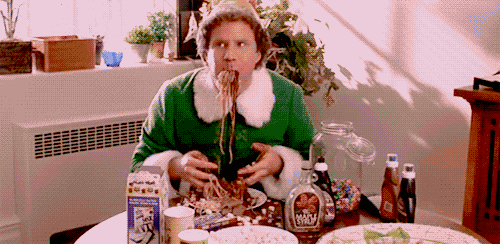 As you can probably tell, I'm guilty of all three of these behaviors. It sucks to feel obsessed with your weight, and it's easy to feel like the whole world encourages that kind of thinking. But the lie that they're selling is that weight loss is everything because weight loss will make you happy. Don't forget that happiness—YOUR happiness—is what you're actually after, and don't be fooled into thinking that weight loss will always, definitely get you there. There are other ways to be happy, and honestly, most of them make me way f*cking happier than going on a diet.
Images: Giphy (3); Unsplash / i yunmai
Easy Keto Meals That Hardly Require Cooking
If you're tired of being bombarded by the keto diet on your FB page, Insta, and everywhere else you spend long periods of time, tough sh*t, cause we're about to lay down some easy keto recipes. For the uninitiated, the keto diet—short for ketogenic diet—is focused on minimizing cards and letting you stuff your face with fat so that your body, which is easily distracted, will use fat instead of carbs for energy. I paraphrase science a little bit. According to Women's Health Magazine, "after about two to seven days of following this eating routine, you go into something called ketosis, or the state your body enters when it doesn't have enough carbs for your cells to use for energy." Then what happens is your body "starts making ketons, or organic compounds that your bod then uses in place of those missing carbs—and oh, it also burns fat for more energy." Basically, as Cady Heron famously said, your body is running on carbs. Once all the carbs are gone, you'll drop 10 pounds like that! I should have an honorary biology degree. Anyway, if you wanna just, like, burn up all your fat and carbs, here are some stupidly easy keto meals that barely require a recipe.
1. Smoked Salmon Stuffed Avocados
Praise da lort, you can have avocado and smoked salmon while you're keto-ing your life away. This recipe requires you to cut an avocado in half, remove the pit, then stuff some smoked salmon and creme fraîche inside, topping with a bit of salt, pepper, and lemon juice. Your body is literally a temple and I feel like Ina Garten would be v proud.
2. Chicken And Green Beans
If you hate putting effort into literally anything, this is the keto meal for you. Go to the store and buy a rotisserie chicken. Cut off some pieces. Steam some green beans. Dinner is f*cking served. It literally does not get easier than this. You don't even have to roast the chicken yourself.
3. Caprese Omelet
Do you know how to make an omelet? Time to learn. This recipe marries eggs with the much beloved combo of mozzarella, tomatoes, and basil. It works for breakfast, lunch, dinner, or when you're really hungover and don't know what day or time it is. If you need me to explain to you how to cook eggs, you have bigger problems than doing the keto diet IMO.
4. BLTA Lettuce Wraps
Bacon plus lettuce plus tomatoes plus avocado gives you so many life points as a basic b*tch! Grab some fresh romaine lettuce, then pile on the bacon, fresh tomatoes, and avocado slices for an amazing breakfast or lunch. This goes great with iced coffee and judgment, too.
5. Zucchini Noodle Pasta
Break out the spiralizer, cause it's time to eat zucchini noodles! After you cut your vegetables into noodle shapes, top it with anything from your favorite jarred tomato sauce to sun-dried tomatoes and feta to olive tapenade to literally cheese and pepper. Low carb, low fat, and not quite as good as regular pasta but, whatever, you chose to be keto.
6. Oktoberfest Brats With Mustard Sauce
Going keto but still wanna chug beer and celebrate German culture (the fun parts, anyway)? Get your Oktoberfest on with this recipe that doesn't require complex thought AND doesn't feel like it should be healthy in any way since it consists of half glorified hot dogs, and half sauerkraut! You're such a world traveler.
7. Garlic Chicken
If you're cool with actually COOKING something, buy a bunch of chicken drumsticks, season them with salt, pepper, chopped fresh garlic, and parsley, then put them on a greased baking sheet. Sprinkle over some extra virgin olive oil and lemon just, then put them in a 450°F oven for about 40 minutes or until the chicken is brown and roasted. You can eat this with a nice arugula salad or several glasses of wine. Is wine keto?
6 Foods You Think Are Helping Your Summer Body But Aren't
I once learned in AP European History that the first king of England was too fat to get on his horse, so he decided to eliminate all food from his diet and only drink alcohol in the hopes of shedding a few pounds. A thousand years have gone by, and it feels like our diets haven't really progressed (and tbh his sounds pretty logical). We're constantly being harassed by new diets and healthy foods, and some of the facts can get confusing, mostly because it all comes down to your own individual body. Although there aren't specific foods that will straight-up make you fat, there are some foods that are marketed as super healthy, but they aren't really doing you any favors. Here are some of health foods that are not so healthy.
1. Gluten-Free Bread
The "gluten-free" buzzword is often written on food items, but unless you're actually gluten intolerant or have Celiac disease, these products aren't necessarily healthier for you. In fact, gluten-free bread is usually packed with so many artificial ingredients and sugars to make up for the lack of gluten. You're honestly better off eating regular bread.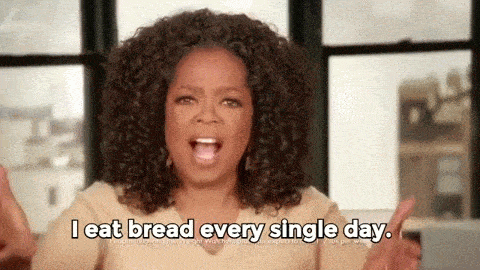 2. Orange Juice
The whole "fresh orange juice" health fad started like, 60 years ago, but let's keep in mind that women were still smoking while pregnant at the time. AKA, it's outdated. I mean, I'm not saying orange juice made with minimal ingredients is at all dangerous for you, but if you think you're drinking a glass of health with your oatmeal in the morning, you're wrong. Orange juice is basically a cup of sugar, and even if it's just made with oranges, which have a ton of vitamins, it's a lot of sugar to gulp down at once. Plus, lower sugar fruits like strawberries and papaya have more vitamin C than oranges do, so there goes that excuse.

3. Granola
Granola is one of those foods that really isn't terrible for you, but it's marketed as this magic bag of health and wellness, and honestly, nobody takes the serving size into account. Most granola companies, even the ones that use "clean" ingredients, don't make it clear that the serving size is usually 1/4 cup. Anyone who's ever looked at a measuring cup knows that is tiny. Many people (hi) end up eating entire bowls of granola, ingesting like, 600 calories in one snack. Granola is meant to be sprinkled on top of Greek yogurt or snacked on in small doses, so keep that in mind when eating half the bag before lunch.
4. Restaurant Veggie Sides
I'm one of those people who are guilty of going out to dinner and ordering a bunch of vegetable sides, thinking that it's the healthiest option on the menu. Honestly, they're usually not that healthy. It's pretty much known that vegetables suck, taste-wise, so these restaurants often douse them in oils and sauces and butter to make people want to order them. Like, if you're wondering why your Brussels sprouts appetizer tastes like french fries, maybe it's born with it, maybe it's tons of added fat. You're better off ordering a lean protein, like fish or grilled chicken. You don't have to avoid vegetables completely, but just be wary of what you're actually ordering when you're out to eat.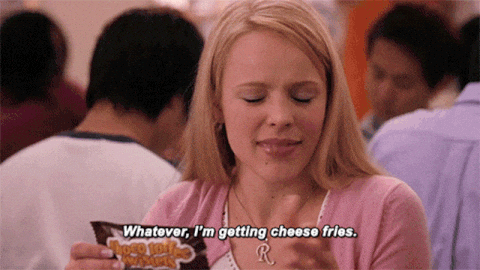 5. Agave Nectar
Ever since Miley went vegan and açai bowls became trendier than Momofuku cake, agave nectar is trending in the wellness world—but unless you're vegan, it's not that healthy for you. Like, agave is supposed to be the "healthy" sugar substitute, but the reason it has a low glycemic index is because it's filled with fructose, which, when ingested in large quantities, turns to fat because your liver can't turn it into energy. Instead of demonizing sugar and turning to agave as an alternative, just add sugar in moderation and realize what you're actually putting into your body when you buy these alternatives.
6. Dried Fruit
Ugh, this one makes me so sad because dried mango is actually the best thing since watermelon Sour Patch Kids. Dried fruit is similar to granola in the sense that it's really not harmful for you, but nobody talks about serving sizes, and they're SO sad. Dried fruit is all carbs and sugar, and often companies add even more sugar to them. Like, have you ever realized why Craisins are so much sweeter than actual cranberries? Spoiler: it's sugar. If you're eating dried fruit, find a brand that has no added sugar, and try not to eat the whole bag in one sitting. You can do this.

Images: Jannis Brandt / Unsplash; Giphy (4)
7 Tricks Celebrities Do To Make Their Stomachs Look Flat
People say the camera adds 10 pounds, but like, I'm convinced that only applies to when you open your iPhone camera and it's accidentally on selfie mode. Celebrities are known to have perfect bodies, and despite a few bad paparazzi shots of a hungover Amanda Bynes, I fully agree. I mean, I know they spend a lot of money on personal trainers and nutritionists, but I think we deserve to know some of the tricks they use to get their stomachs to look perfectly flat and feel amazing despite all the flying and drinking they do. After doing some thorough research on the topic, I'm ready to share. Here are some celebrities' favorite tummy hacks.
Jessica Alba: Probiotics
Jessica Alba is a client of celebrity nutritionist Kelly Leveque, and her clientele also includes Chelsea Handler and Emmy Rossum. This woman knows how to make women look great, and her trick is probiotics. In fact, Jessica Alba doesn't even diet or watch her calories, because she's mainly focused on eating in order to improve her gut health. Apparently your gut health helps regulate your hormones and control your weight, so by improving the microbiome in your gut, you'll slim down and feel great.
Kourtney Kardashian: Green Tea
As much as we love our coffee, green tea is having its moment right now, and the Kardashians are totally funding it. Kourtney Kardashian can probably write a book about her list of health hacks (Kris Jenner, great opportunity here), and we've already tried a few of them. The flat tummy hack she swears by right now is her daily green tea latte. She drinks it with honey and almond milk, and she says it makes her stomach feel and look its best.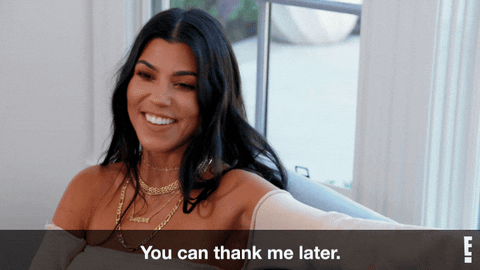 Meghan Markle: Water
An article recently came out about how Meghan Markle can take long flights all the time and still avoid bloating and puffiness. Important news right here. Anyway, it turns out she swears by her probiotic and drinking tons of water. She says this combo actually helps with jet lag and it prevents your body from bloating and even becoming constipated. Especially when flying at high altitudes, your stomach becomes filled with air, so loading up on water while traveling is a must. Start chugging.
Adriana Lima: Breakfast Smoothie
If you thought all Victoria's Secret models skip breakfast and eat three unsalted cashews for lunch, Adriana Lima says drinking a filling smoothie in the morning is actually what makes her look so good. Obviously aside from all the ab workouts she does, Lima says she looks her best in a crop top when she drinks a breakfast smoothie, usually with avocado, honey, or yogurt. She claims it boosts her energy and kick-starts her metabolism for the day. And I mean, it seems like it's working for her.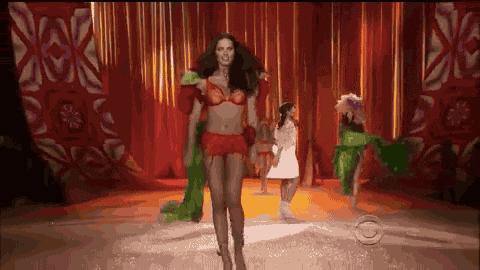 Khloé Kardashian: 5 Staple Foods
Khloé has obviously hired a team of health and fitness professionals to get her body to look its best, but she has her own tricks when she's not getting her ass kicked by Gunnar Peterson on national TV. Apparently Khloé sticks with five foods that give her that slim stomach look: avocado, ginger, watermelon, tomatoes, and oats. I assume she eats other foods aside from these five, but she likes incorporating these into her diet and says they helped her see results that complement her hard work in the gym, and they obviously work. I mean, there's a reason Revenge Body exists.
Emmy Rossum: No Fructose
I haven't heard the word fructose since freshman year biology, but apparently Emmy Rossum avoids fruit when she wants to de-bloat and feel her best in a tight dress. Fructose is the natural sugar in fruit, and although fruit is obviously good for you, having too much of it can make you bloated, and that's because the fructose feeds the gut bacteria that could make you look puffy and full. Honestly, if we're talking about giving up FRUIT, I'm scared to see what else she avoids, but like, it's her life.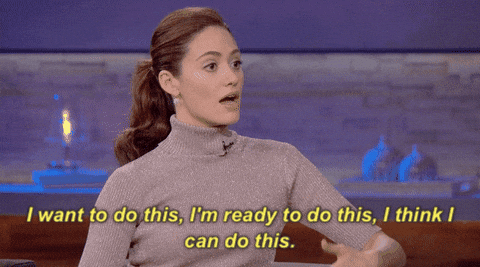 Miranda Kerr: Dandelion Tea & Goat Milk
Okay, this could be the weirdest hack of all, but Miranda Kerr is literally goals so let's talk about it. People always ask Miranda what she likes to eat, and she usually has normal answers, like toast and eggs and green juice. BUT Miranda also swears by this mixture of dandelion tea with goat milk. She says it has cleansing and detoxifying effects. I looked it up, and it turns out dandelion root actually has a ton of antioxidants and it can work to detoxify your body and reduce inflammation, so she's not crazy. She doesn't explain why she adds goat milk, but dairy from goats tends to be easier to digest than from a cow, so that's probably the reason. Personally I don't plan on trying this one right now, but if anyone does, please report back. I need to see what this girl's raving about.
Images: Giphy (3)