Everything You Need To Know About Keratin, From A Girl Who Hates Her Hair
Growing up, I hated going in any form of water. This made me the odd kid out when I was younger, especially at camp. Whenever we HAD to go in the pool or the lake, I would fake sick or beg my parents to write a letter excusing me, ostracizing myself even more as that brat who wouldn't go in the water. Was it because I couldn't swim? Had a fear of water? No, and no. I couldn't go in the water because then once I got out, everyone would realize that I had a wild Jew 'fro, and then what?!?! My best friend all those years was probably my hair straightener. Luckily, as I got older, the beauty world realized I was not alone and developed a frizz cure: Keratin treatment, which I've sworn by since the first time I tried it over a decade ago.
Despite Keratin treatment being around for a long time, my friends still ask me how I tamed the wild beast that sits upon my head. When I explain that I get it done every 4-5 months, they still can't grasp what this actually entails. So I looked to the pros at John Barrett Salon to get the lowdown on the treatment that quite literally saved my hair.
Who Is The Ideal Candidate For A Keratin Treatment?

"Someone with unruly frizzy hair," says Keratin pro Carter Todd. He adds that you don't want to come in if your hair is "over-processed in terms of bleached to the max," because it will just get damaged. And if you don't want pin-straight hair? That's totally okay, you could still consider getting keratin. "Some people want straight hair, while some just want their hairline done—it can be customized," Todd explains. "So if you still want some curls, then we would flatiron the product in less during the treatment. The amount of it being ironed in dictates the results, to an extent." He also emphasizes the importance of having a thorough consult at a salon before starting your treatment, making sure the people you're speaking to are certified and have trained with the actual hair product company.
What Are The Results Like?
girls with straight hair don't know how privileged they are

— ? (@layawn) June 18, 2019

Keratin may be a universal term in that mostly everyone knows about it, but that doesn't mean you'll experience the same outcome everywhere you go. Some cheaper salons make their own formula, which can be dangerous because they might use ingredients that can be harmful to your health. A safe way to judge is that if a salon's prices are too good to be true, they usually are. Sorry, but it's generally a fact—and I learned this the hard way. I saw and felt a huge difference in the results from when I went to a "hair bar" for $175 and a properly trained salon for around $500. Yes, that sounds expensive, but most beauty procedures and treatments are. After all, your health isn't a place where you want to be cheap or cut corners. Also, I have thick long hair that goes down to my mid-back and thus requires a LOT of product, which probably affects the price too.
According to Todd, the price depends on your hair type. He says, "For people who have no color treatments, the results will be milder. If the hair is completely virgin, it's less receptive to treatment." It's also important to consider what time of year you're getting the treatment done. "Keratin treatments in the summer last for a shorter time than the winter because you're sweating, swimming, and exposed to the sun. In general, it depends on how often you shampoo your hair since the product 'washes' out as opposed to growing out like Japanese Straightening treatment." So, if you shampoo once a week, your keratin treatment will last longer than if you wash your hair, like, three times a week. If you need to wash your hair more often during the week, Carter recommends that you rinse your hair with just conditioner, and if you're frequently in the ocean (first off, give me your life), make sure to rinse your hair with water so the salt isn't sitting in your hair.
How Often Should You Get Treated?

This depends entirely on the person's hair. "Some people can do it every 3 months," Carter says, "but for others, I would suggest they only do it 1-2 times per year."
What's The Difference Between A Keratin Treatment And Japanese Straightening?
As we briefly mentioned above, Keratin washes out, while Japanese Straightening grows out, leaving your hair ridgy at the root. But the real difference lies in what actually happens to the hair during these treatments. Carter explains, "Japanese Straightening completely restructures the hair from the inside out and involves an abundance of chemicals that leave you with a completely permanent treatment that grows out." Keratin, on the other hand, works on the outside layers of the hair only. Explains Todd, "The treatment goes into the hair with the Keratin nutrients, and the high heat from the hair iron seals it up for an extended period of time. Each time you shampoo it, a little bit of the treatment comes out. Sulfate-free shampoo helps to make it last as long as possible."
At the end of the day, if there is one beauty treatment I swear by, it's a Keratin treatment. It helps to severely diminish frizz while still allowing you to style your hair any which way you want, all without changing the actual composition of your hair structure. If you're thinking about trying it but still don't know if it's right for you, most places offer complimentary consultations, so definitely take advantage of that!
Images: Giphy, Unsplash, layawn/Twitter 
5 Things You Didn't Know About Hair Extensions
Hair extensions—much like microblading, eyelash extensions, and fillers—have been making people hotter for years without you knowing. Now, in the age of Instagram, celebs and influencers alike are finally opening up about how they achieve their high-glam looks (not to mention their flawless no-makeup looks). The rise in hair extensions is particularly near and dear to me: six months ago, I cut off eight inches of hair in a moment of sleep-deprived lob-fever delirium. Since then, I've been trying everything short of Sugar Bear gummies to get my length back, a routine my friends finally got sick of hearing about and cut off with a simple question: why don't you just get extensions?
Hah! I thought at first. Extensions were for photo shoots and reality stars—not me. But after doing some research on what extensions look like today, and how broadly they're used, I realized that extensions weren't simply a viable option: they could be exactly what I'm looking for. To learn more, I chatted with Lisa Richards, founder of RPZL. RPZL is the first blowout bar to also offer hair extensions, and they're a huge part of the reason why extensions have become more accessible. So, set aside your preconceived notions about hair extensions and listen up: here are the five most surprising things I learned.
1. There Are So Many Different Types
Like I said, I'm new to the idea of hair extensions, so bear with me if you've heard this before. But I assumed that hair extensions were always a full, glued-on experience—not so. At RPZL, they offer clip-in extensions and clip-in ponytail extensions, both of which can be removed nightly. According to Lisa Richards, those extensions can last for years "if you care for them." So knowing me, I'd ruin them within six months—but good to know!
The other offerings at RPZL are premium tape and keratin bond extensions, which last 8 weeks and 3 months, respectively. Traditional extensions, Richards explains, "rely on heat," using a "mini flatiron to melt the keratin glue on an extension and bond it to a small section of hair." For the keratin option (which is unique to RPZL), the extensions are bonded using "cold fusion:" using a glue that "reacts to ultrasound when used with an applicator." Basically, we all know about the damage heating tools do to our hair; the keratin option eliminates that step, and is actually faster, too. (Per Richards: "no waiting for an extension to cool" makes the process 3x faster.)
2. You Can Treat Your Extensions Like Regular Hair
Another ill-informed thought I had about extensions was that they consisted of a singular swath of synthetic material, to be kept as pristine as possible for preservation. Nope! While synthetic hair extensions do exist, there are also ones made of real hair (I'll give you a guess as to which look better). With the real hair extensions, you can style your extensions along with the rest of your hair—Richards specifically says you can "color it, use a curling iron, flat iron it." This explains a lot of questions I had about how celebs make their hair blend so seamlessly with extensions. It's also something I feel very dumb for not knowing, so please don't roast me (too hard) in the comments.
3. Hair Extensions Can Add More Than Length
When I asked Richards what the number one reason for getting extensions was, she summed it up nicely: "inchessss." And while inches are obviously my #1 concern right now too (*glares at shoulder-length hair in mirror*), the other reason she gave blew my mind. According to Richards, people will also get extensions to add more color to their hair—"without the commitment or damage." Fun fact: two years ago, I did a very aggressive balayage with a very unskilled stylist who left me with more gray streaks than blond. The idea that I could have just clipped in some blond extensions and gotten subtle highlights instead leaves me shaking with rage. But also, it's definitely what I'll do next time I have the urge to lighten up (so, three weeks from now).
4. Not Everyone Can Get Extensions
Of course, not everyone can get extensions for a bunch of reasons (money is the first one that comes to mind, but I bet there are others). What I mean specifically is that not every hair length and style lends itself to extensions. As Richards put it, "people who can't put their hair in a pony tail" (e.g. people rocking pixie cuts) shouldn't try to get extensions. "It just doesn't blend well."  So, sorry to anyone out there who made even more of a dramatic chop than I did, but you'll need to wait a few months to be extension-eligible.
5. Hair Extensions Are Used In The Royal Family
This is my favorite fact of all time! (Well, other than the fact that Anna Delvey wore a velvet choker to court. I digress.) When I demanded to know what celebs have been secretly using extensions for years, Richards offered up an extensive (hah) list, including none other than the Duchess of Cambridge, Kate Middleton. (I know you were hoping I'd say Queen Elizabeth II, and I'm sorry. Please continue picturing the monarch with a clip-in ponytail for however long you need to mourn this loss.) Richards estimates that 97% of "all female stars" wear extensions for work or their private lives, but other "surprise" extension-wearers included Tina Fey, Jennifer Aniston, Reese Witherspoon, Lauren Conrad, and Chrissy Teigen.
YASSS QUEEN!!!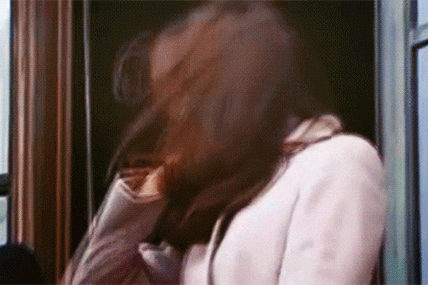 All in all, my conversation with Lisa Richards had me more ready than ever to book an appointment, and ride out these last few months of growing my hair back in style. After drooling with envy over everyone's waist-length curls at Coachella, I think I deserve this.
Images: @rpzlrpzl; @mercedes2429; Giphy
Lash Extensions, Lifts, Or Tints? Which Lash Treatment Is Worth It
The more reality TV I watch, the more I notice one, highly specific effect: I become obsessed with the relative lushness of my eyelashes. It doesn't matter that reality stars openly discuss their extensions, falsies, or long-standing relationships with Latisse. Every time I see a new VPR cast member upload a selfie, then take a quick peek in my own front-facing mirror, I'm left disappointed. SO, I did what any self-obsessed part-time beauty blogger sane person would: sent some emails, booked some appointments, and tested out each lash treatment du jour for myself. In the past year, I've tried out lash extensions, lash tints, and lash lifts—here's what I found out.
Lash Treatment #1: Lash Extensions
Lash extensions were the first treatment I wanted to try, mostly because I didn't really know lash lifts and tints existed until a few months ago. I've gotten lash extensions three or four times now, and the best advice I can give is that the quality really, really varies by location—so do your f*cking research.
Pros: If you're going to be on camera, or you just really live for a dramatic lash, then extensions are the way to go. If you're the kind of person who wants to pretend their lashes are totally natural and not have anyone be able to tell: this treatment is not for you. It makes sense that this treatment has the most pronounced effect, since it's the only one that actually gives you more lashes than you were born with, in addition to making them darker, longer, and thicker.
Cons: First of all, they're expensive. Not to burst anyone's bubble, but if you're paying under $100 for a service, then the service they're performing is likely very questionable. I also find the process fairly unpleasant, given that it's up to two hours of someone repeatedly, if softly, jabbing your eyelid. I've also had some stinging reactions from the glue they use, but whatever, beauty is pain. The other downside I'd note is that my real lashes do seem distinctly droopier for a few weeks after the extensions come off. It could just be in comparison to how lush the extensions seemed, or it could be that my lashes are not quite as load-bearing as I hoped. Either way—once I started getting extensions, not having them seemed like a real bummer. And financially, constantly having them just isn't an option.
Please enjoy this heavily filtered picture of me 3 hours post-extension treatment:

Lash Treatment #2: Lash Tint
For those of you who don't know, a lash tint involves, well, tinting your lashes. Ideally to a darker shade, but I guess you could get weird with it if you wanted. I visited the Benefit Brow Bar back in February for a lash and brow tint, since I was in LA at the time and feeling intimidated by all the women marching out of hot yoga without mascara streaming down their cheeks. I'll just discuss the lash aspect below, but I'd like to mention here that I also LOVED the brow tint—I usually stuck to a brow pencil that was similar to my natural shade, but I loved the added drama of going darker.
Pros: This is by far the most affordable service: at Benefit, it's only $21. The process is also very easy and painless—you're in and out in under 20 minutes. And it definitely works: I had jet-black lashes for the next 3-4 weeks. 
Cons: Honestly, it just wasn't a dramatic enough change for me to want to do it again. (Unlike the brow tint). I can see where this service would be useful if you have super-light lashes (looking at you, my blond and ginger friends), and color would give your eyes more of a pop. But unless your lashes are also naturally as curly and thick as you want them to be, I don't know that it'll fully replace your mascara routine. It also only lasts 3-4 weeks—as opposed to extensions and lifts, both of which should last at least 6 weeks.
I couldn't find a picture of me post-lash tint that looks like anything, so here's a video of Benefit's tinted lash primer instead:
Lash Treatment #3: Lash Lift
Okay, admittedly the service I got at Lash Loft is both a lift and a tint—so I can't really speak to what it would look like if my lashes were only "lifted." Lash Loft uses a Keratin-based treatment that "turns lashes upwards" as well as tinting. They also offer a service called a "lash perm," which adds curl but not color, and which is slightly cheaper so I'm considering trying it next time. Anyway!
Pros: This was my favorite treatment of the three. The application time was shorter than extensions (under 90 minutes), the look is more natural, and I don't constantly have stray extensions shedding down my face two weeks after getting the treatment. Where extensions felt like a necessary evil for my natural lashes, this treatment actually feels like it's helping them—the lashes on my face are 100% my own, but they've never looked thicker, or framed my eyes so nicely. Simply put, I'm in love.
Cons: Also expensive! It costs $160 for the full lash lift treatment at Lash Loft, and $100 for a lash perm. Like extensions, they're meant to last 6-8 weeks (I'm in week 3, and will keep you posted), but my lash budget is just not that high. Also, if you're getting these specifically for a photo op, you'll want to add mascara on top—it's not quite the dramatic pop of extensions.
My newly lifted lashes; ignore how dead I look in the eyes:

All in all—and depending on what your natural lashes look like—extensions are likely the only method that will replace mascara for you completely. But if you're comfortable with a natural look, my personal preference for a no-makeup morning is the lash lift. So until my reality career is in full swing, I'll be sticking with lifts—and the occasional swipe of my favorite volumizing mascara.
Images: Victor Hughes / Unsplash; @benefitcosmetics, @louisabhaus / Instagram
5 Questions You Have About Botox, Answered
Getting botox seems as common as putting booking info in your Instagram bio these days. Pretty much every person I know has tried botox before and is hooked. I admit, I was one of my last friends to jump on the bandwagon, but after hearing them rave about how amazing and smooth their foreheads felt and looked, I figured, "what's another couple hundred dollars towards my appearance?" I mean, my Keratin treatment costs $250 every 5 months and that pretty much sets the bar for how much I'm willing to pay for the sake of vanity beauty.
That being said, if you're considering getting botox, you probably have some questions. We spoke with NYC based plastic surgeon to the stars, Dr. Lara Devgan, to answer some of the questions you've probably been wondering when it comes to botox.
View this post on Instagram
Is Botox Painful?
I am the biggest baby when it comes to pain—I literally still cry when I get Novocain at the dentist. But for some reason this didn't bother me. Maybe it was because I was voluntarily coming in for this procedure, or maybe the thoughts of a smooth, wrinkle-free forehead blunted the pain, but for me getting botox actually didn't hurt. According to Dr. Devgan, "it's not bad; it feels like a little prick—no worse than plucking your eyebrows".
What Can I Expect During And After The Treatment?
The last time I got botox was right after work, and seven hours later I was dancing at a concert for five hours, which may sound ridiculous, but in fact it's totally fine. "Treatment takes about a minute and is well tolerated by most people," says Dr. Devgan. "Immediately afterward there is mild redness and bumpiness that goes back to normal in 10 minutes. It takes four to seven days for results to fully kick in. There is no downtime, so you can go right back to work or school."
How Long Do The Results Last?
Dr. Devgan advises that results can last 3-4 months depending on the individual and that will dictate how frequently you will get treated.

Are There Any Side Effects?
No wrinkles, duh!! But seriously, Dr. Devgan advises, "Bruising and swelling are the most typical things to watch out for, but they aren't common. Still, I wouldn't suggest doing injectables right before the social event of the year."
What's The Average Age Of People Looking To Get Botox?
Dr. Devgan explains, "It varies tremendously. I started when I was 27—it's the best way to preserve your skin quality the way it is at the age you start. You can try botox once and never do it again if it's not your thing— with no negative consequences. I suggest starting botox before you get etched lines when your face is in repose (at rest). Botox is a wrinkle relaxer, but not an iron, so it's best used preventatively."
Images: Shutterstock; laradevganmd / Instagram; Giphy
This Is The New Formaldehyde Free Way Celebs Straighten Their Hair With No Damage
Can you imagine a time where you couldn't remember the last time you straightened your hair? Probably not but, I'm here to say, surprise betch! Dreams do come true. The life-changing hair treatment, Magic Sleek, sounds almost too good to be true, and in a way, it is. Before I give you the 4-1-1, let me tell you about my balayaged hair. Naturally, it's an awk combo of thin, slightly wavy hair with too much frizz to function. There's no way I can step outside au naturale, so I'd always do what any other betch does—fry straighten the crap out of it. Still, I'd have to constantly shop around for the best defrizzer to keep my hair somewhat manageable. None ever worked… Clearly: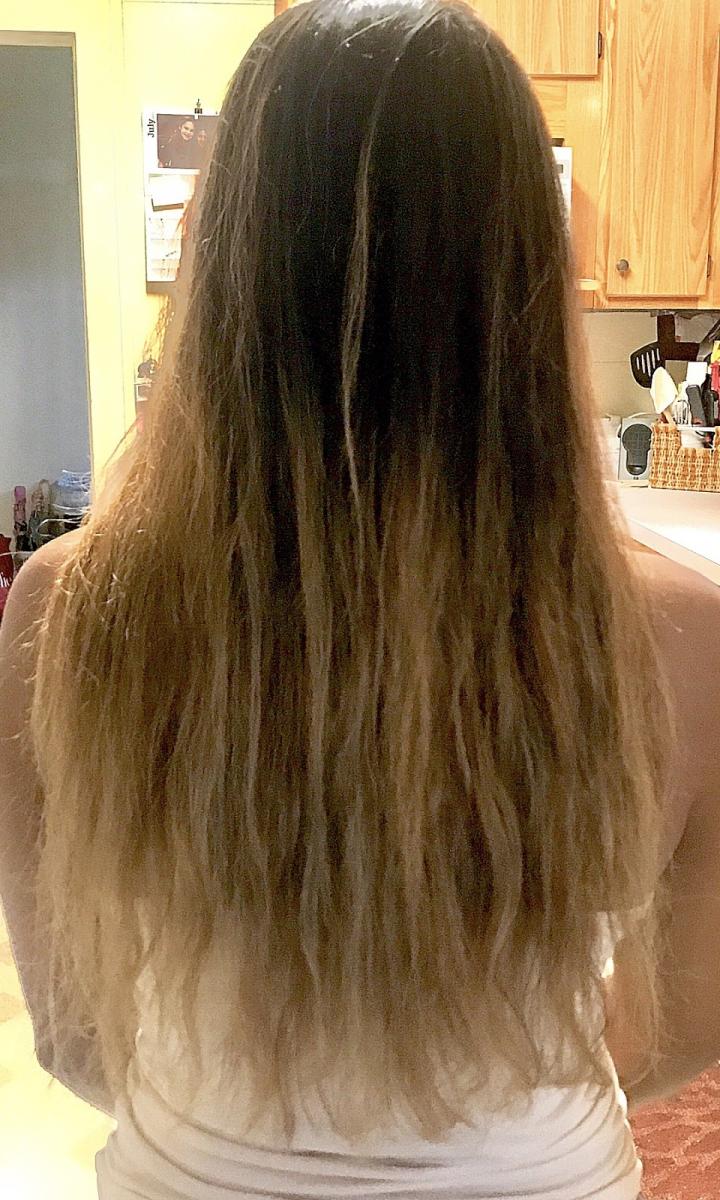 So when someone recommended Magic Sleek to me, at first, I was like ??? My hair is my crown life and I barely trust anyone with it. I never received any treatment besides coloring so, I Googled around (hard research, duh) and found tons of amazing reviews, including a few about how much Sarah Jessica Parker loooves it—like, NBD. So needless to say, I heard Carrie Bradshaw SJP got Magic Sleek done, so I got Magic Sleek done. I went to the Serge Normant at John Frieda Salon in Chelsea, and this place was the place. I'm talking high chandeliers, no chemical smell, #Views… I was basically Blair Waldorf for three hours.
Here's a peek into what felt like royal treatment:

I was introduced to hair stylist Ty Holbrook, who not only worked with Sarah's hair, but on drool-worthy James Franco's hair, too. *Slowly died but remained calm, cool, and collected* I also spoke with the creator of this unique formaldehyde-free treatment, Olga Isakov, who was incredibly passionate about making her clients feel nothing less than thrilled with their new hair. She shared that Magic Sleek's formula contains ~major key~ ingredients such as peptides, argan oil, exotic plant extracts, and tannins—lifesavers that combat frizz, encourage hair growth, repair breakage, and ultimately, leave your hair healthy, shiny, and sleek. This works on any hair type, regardless of texture, color, or prior treatment, and the nontoxic process is totally customizable based on your preference. One more time for the people in back, this treatment contains NO FORMALDEHYDES so your hair will be sooo much healthier than if you used certain other hair straightening treatments (*glares angrily at keratin*).
The three steps consist of shampoo, relaxing spray, and flat-ironing. By the time it's done, you'll be able to step out of the shower having pin-straight hair without any applied heat for three to six months. The only rules? No chlorine, salt water, or bleach (um, obvi) on your hair for a week—aka rules that aren't real an issue anyway. Since I wanted to retain some of my natural wave, Ty as well as another stylist, Ira, thoroughly rinsed the treatment out after only 30 minutes. After drying, they sectioned off my hair and straightened each part approximately 15 times. Bless their souls. When I was finished, the difference was unreal. It sounds so cliché but honestly, it was the super soft pin-straight hair all my dreams are made of.
I'M NOT KIDDING, *LOOK*:

More proof? My boyfriend actually noticed so, ya, you could say I was impressed. Equally as amazing, since getting this done my hair naturally dries this straight. I know it's 2017 and "I woke up like this" hasn't been relevant for a couple of years now, but I'm physically struggling not to say it. In any case, yeah, I get why SJP is a fan. But what I don't get is why nobody else knows about Magic Sleek—it's like, the best kept straightening secret. That I guess isn't a secret anymore, thanks to yours truly. I know, I'm such a good friend. I'll keep you guys updated on any negative side effects, but so far I'm too busy counting up all the time I'm saving by not being a slave to my flat iron.
Read: How To Keep Your Hair Straight In Humid Weather So Your Blowout Isn't A Total Waste