Colorism & The Hypocrisy Of Stan Culture
Whether we know it or not, stan culture is a big part of our lives. In every area of pop culture, from TV shows, to music, to movies, there are collective groups of stans who not only fan out about their favs, but go to bat for them online, and sometimes even hold them accountable for their less-than-perfect actions. Whether you think of yourself as a "stan" or not, we all fan out about something. Some people are obsessed with sports, others are obsessed with music. One thing that I am obsessed with and will always stan forever is reality TV. There are so many layers to it, and honestly, it's intriguing to follow the real lives of people who are completely different from me. This year, many of our favorite reality shows have undergone a shift, and the thing that I love about this new wave of reality TV is how important issues and current events are being discussed on these shows.
I felt even more inclined to talk about this because of Sunday night's reunion episode of the iconic Real Housewives of Potomac. I let out a gasp when the topic of colorism came up, simply because I never thought this conversation would be had on a show like this. Colorism is a topic that is often ignored, especially in BIPOC spaces. The conversation can be uncomfortable, especially for people who have not experienced it. I mean, we are talking about people being treated unfairly simply because of their skin tone—it's disheartening. The general consensus of the conservation was that the women felt like colorism was not necessarily an issue on the show, but rather the actions of certain castmates warranted buzzwords such as "aggressive". This conversation soon turned to the blatant elitism on the cast (which is also very real).
Though I do feel like colorism applies to the dynamics on the show, especially targeted at new housewife Dr. Wendy Osefo, I applaud Bravo and the cast, especially Dr. Osefo, for having this conversation in the first place. What triggered me, however, were the comments from non-Black people online, many of whom chimed in about colorism and ignorantly put their own opinions into a conversation centering around Black people. This made me uncomfortable, mainly because the discussion at hand is based on the experiences of Black people—Black women in particular—and yet many of the people commenting were not Black.
I get it, opinions are like assholes, we all have one. So you can save the comments about free speech and how I'm trying to "limit" that. But the commentary I've observed speaks to the hypocrisy present in stan culture, and how people online grant themselves this unwarranted comfortability to make comments about people and topics that they do not have any idea about.  
First, let me just give you a little bit of background. Colorism has been around for hundreds of years. Dating back to slavery, those who had a fairer skin tone were usually placed to work in the homes of slave owners, while those who were of a darker skin tone were placed in the fields, where they were worked harder and seen by fewer people. This classification process still has an impact on our community, with colorism affecting dating, mental health, how we are perceived in the public eye, and how we perceive ourselves.
As a dark-skinned Black man, I have experienced colorism since I was a child. Kids would make fun of me because I was darker, and adults reinforced the idea that I was not meant to be this dark, and that I spent too much time outside and simply did not wear enough sunscreen. However, it is not just the comments about my skin tone, but rather what people associate it with. If I am upset at someone, I am labeled aggressive. If I am walking behind someone wearing a black hoodie minding my business, people are more inclined to walk on the other side of the street. This led me to hate my dark skin for years(seventeen years, to be exact)—not because I was ashamed to be dark-skinned, but because of these societal ramifications that came as a result of my dark skin.
However, though my experiences have been tough, they do not compare to the amount of colorism that Black women face in their daily lives. In particular, dark-skinned Black women, face some of the most severe discrimination. The comments about their skin tone, hair texture, and constant comparisons to others who might have more "conventional" (read: European) beauty types are consistent, blatant acts of colorism. All my experiences added up still aren't even half of what dark-skinned Black women have had to deal with their entire lives. I will never feel comfortable trying to negate or undermine the experiences of a dark-skinned Black woman in particular, simply because it's not my place and it's wrong.
See what I did there? I acknowledged that I have gone through a difficult experience myself, but I realized my privilege as a man in a society where women (especially Black women) are treated far worse. Instead of trying to play oppression wars or negate someone else's experience, I decided to shut up and listen, and only speak when it's time to support the people whose experiences are important and relevant in that moment.
So why is it that people who have never gone through that experience feel the need to comment derogatory things, most of the time targeted at Black women expressing their anger? Why do their experiences bother you so much? I get it, you posted a Black screen on #blackouttuesday, you went to a protest, or sh*t, you might've pulled a Stassi Schroeder and hired a diversity coach. That's fine and dandy, but that does not mean that you have the right to try to control Black voices and their experiences.
For example, last week we dealt with the horrific death of Brandon Bernard, who was wrongfully executed by the state of Indiana for something that occurred twenty years ago. Many people advocated for the President of the United States to pardon him, however those attempts were sadly unsuccessful. During that time of people fighting for this man's life, there were a few Black celebrities, Kehlani and Victoria Monet in particular, who were tweeting and going about their day peacefully. Stan accounts started attacking the women, tweeting things like "Read the room" or "Are you dumb? This is not the time or the place". Here's the issue: Why are these accounts assuming these celebrities haven't heard what's going on? As Black people, we are always seeing our own being killed and treated unfairly, and there are times where we simply need a break. It's honestly traumatizing to constantly view ourselves in such horrific circumstances, and sometimes we don't want to be consumed with everything that's working against us, because it's draining and infuriating. And in addition to all that, why is it that anonymous accounts feel comfortable attacking these figures online, simply based on their own opinions?
Stan culture has given people platforms to give their unwarranted opinions on public figures who they do not know whatsoever. The worst part of this is many of them use AAVE (African American Vernacular English) in the wrong context, and start using it to attack Black people with platforms, be they singers, rappers, actors, influencers, or writers. Using our own culture to attack us is not only hypocritical, but also proves that many people leech off of our culture for their own personal gain and then try to throw it back in our faces. I've seen tweets like "It's the ignorance for me sis" directed at Kehlani and Victoria. Little do people understand that the whole saying "It's the (blank) for me" was started by Black people. We've used it for years, and it became a prominent saying after an Instagram live between rappers Yung Miami and Santana. However, like always, people found it and it soon catapulted into a phrase that "everyone" uses. We are never given our credit for trends and our lingo, but people want to hold us accountable when we aren't engaging with traumatic material?
It's wrong and downright disgusting how people who participate in stan culture feel so entitled to what we bring to the table, yet they want to belittle us in any and every way that they can. So please understand that no matter how many Black artists you may stan, or how many protests you've gone to, it doesn't give you the right to call us ghetto, talk about our appearances, insert your opinions about our culture, or most importantly, ownership of our feelings. Stan culture is all about holding people accountable, so when are non-Black stans going to participate in holding themselves accountable? 
Images: Sophy Holland/Bravo
The 8 Realest Women To Follow On Instagram
Celebrities are always celebrated when they do shit that the rest of us get a lot of crap for. For example, when Jennifer Lawrence screams "where's the pizza?" she gets turned into an viral sensation and asked about it on daytime television. When I do it, I get banned from ordering on the Domino's mobile app. Given the fact that celebs are considered way more likable when they keep it "real," you'd assume that they'd be a little more relatable on social media. Instead, they use their massive platforms to try to sell sports bras to us peasants. That said, there are some celebrities who don't suck on Instagram, and we need more of them. Here are the celebrities who actually, honestly, truly keep it real on social media and who are worth a follow.
1. Chrissy Teigen
I mean, duh. Chrissy Teigen's real AF Instagram is the reason we all love Chrissy Teigen. She's always transparent and hilarious. Like, when she did a hair roundup of her Met Gala look when she didn't go to the Met Gala, instead of just desperately posting selfies and old outfit pics like the rest of the celebrities that didn't go. Most people think that social media was created for a bunch of nerdy college kids to talk about hot girls on the internet, but we all know it was solely intended for Chrissy Teigen.
2. Anna Kendrick
Anna Kendrick's Instagram has like, the perfect ratio of red carpet photos to shots of her posing awkwardly in front of kind of funny scenes in sweatpants, with a solid few celebrity cameo selfies sprinkled in. When it comes to relatable social content, she practically invented it. She's always actually relatable without forcing it.
3. Jordyn Woods
Being best friends with Kylie Jenner puts like, a lot of pressure on your social media game. I don't know for sure, but I'm assuming that most days go like this: Jordyn taking nine million photos of Kylie, and then Kylie giving Jordyn 30 seconds to turn out some lewks and hopefully finding a pic that perfectly captures her best angles for the 'Gram. It's a job that I bet nobody could do but Jordyn Woods.
Peep that caption. THAT is how you caption a photo. None of this "nature is so beautiful" bullshit.
4. Rihanna
In the least surprising news you've heard since learning about a giant sinkhole in Washington DC that's trying to eat the White House, Rihanna has made this list. RiRi is the queen (or are we calling her the priest now or something? IDK) of everything, and that includes Instagram spamming. When she looks good—which is always—she posts like, 45 pics in a row and is Unapologetic AF. (See what I did there?) Sometimes she skips the caption, sometimes it's a few words about how she knows she slays everything, and sometimes it's Cardi B lyrics. She wins.
5. Catherine Giudici Lowe
For a product of a television show that typically breeds FabFitFun unboxers and nothing more, it's kind of amazing that Catherine Giudici and Sean Lowe are so funny on social media. Their kids are adorable AF and I somehow never get tired of seeing Catherine's content.
6. Kehlani
A pretty good way to see whether or not a celeb is fucking with you through their social media game is to assess their sponsored content. Like, how believable is it? Are they trying to get you to buy some shitty sunglasses so they can get a cut? Or are they trying to sell you some kind of appetite suppressants to break the internet? Kehlani's #sponcon always has a mission, so you know her IG is real. Every time she posts a Fashion Nova outfit, the check goes to an LGBTQ charity instead of just to her personal account.
7. Amy Schumer
It's kind of impossible to scroll through Amy Schumer's Instagram without picturing her screaming "KIM, TAKE MY PICTURE" at her sister for every photo. Although she basically makes a living off of shitting on celebs who take Instagram seriously, homegirl's still gotta come up with a caption that tags her glam squad when she attends press events, and she does usually get creative with it in the process.
8. Amber Rose
I'll be honest, I unfollowed Amber Rose on Instagram because I don't find her posts extremely compelling (too many kid pics if you ask me); that said, I can certainly acknowledge that she keeps it 100. (Are people still saying that?) When I think of people who post pics of their butt, being like "here's my butt" rather than trying to think of some pseudo-motivational caption or like "check out my new haircut", Amber comes to mind immediately. I respect her honesty. Her bio literally reads "I'm not a Hoe I'm a Hoé cuz I'm Classy." Inconsistent capitalization aside, I love that. Sorry Rih, but Amber Rose is the definition of unapologetic, and I think that years from now, feminist literature will mention her work to reclaim the word "hoe" from its misogynistic roots.
Honorable mention: Cardi B
Cardi B clearly takes the cake for the realest celebrity Instagram account. I know she has returned to Instagram after deleting it following a fight with Azealia Banks, but the 12 posts she's shared since aren't her true Insta style. I'm going to stay hopeful here, though. She'll be back for real soon, prob.
The AMAs Fashion That Should Have Been Stopped & The Looks We're Living For
Mondays always suck, unless it's the day after literally any award show. There's truly nothing better than sitting at your desk, pretending to work as you scroll through Instagram and judge the shit out of all the red carpet looks. As you've probably seen if you follow any celebrities on any form of social media, last night was the American Music Awards. Let's give compliments like a drunk girl in a bathroom then talk shit about the worst dressed, shall we?
Best
Demi Lovato
Okay, all extra celebrities, please take notice. Demi's look is like, the perfect example of the perfect music award show red carpet look. The dress is super flattering, the hair and makeup is incred, and overall it kind of has an edgy vibe but is still a classic look. Well done, Lovato.

Selena Gomez
Honestly, Selena has kinda been on my nerves recently for literally no reason whatsoever, so this is difficult for me to say, but I'm obsessed with this look. Usually a drastic post-breakup hair change is a bad move, but when you're rich AF and can get back into a relationship with Justin Bieber like, a week later, the rules don't apply. I love this new (old?) Selena.

Lady Gaga
Gaga wasn't even technically at the red carpet at the AMAs—she was at the Washington D.C. stop of her tour—and she still looked better than everyone else. She rocked an Alaïa to honor the recently passed designer (RIP) and channeled some major Madonna vibes. Into it.

Ciara
Pretty sure Ciara's sole purpose in life is to just be hotter than the rest of the human population. This dress is so dope. Plus, her hair and makeup is perfect but still looks natural.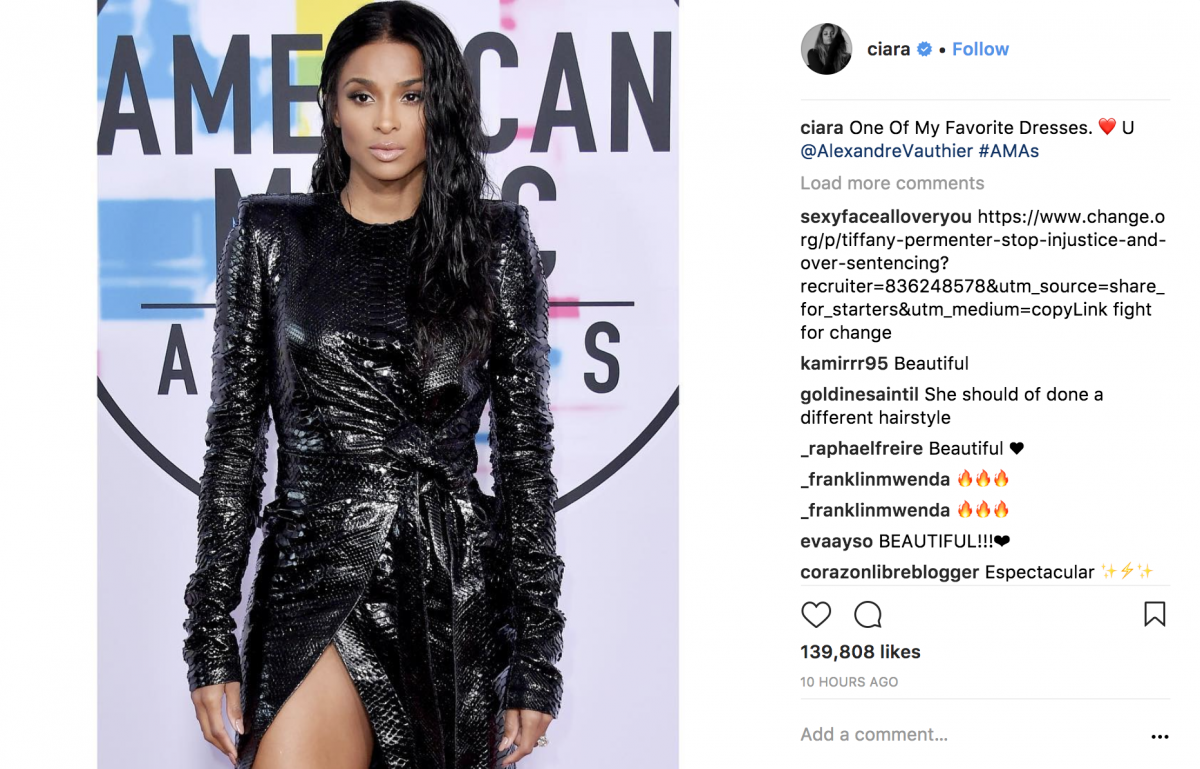 Kehlani
TBH, Kehlani's dress is kind of eh, but I'm considering her one of the best simply because she can pull off a low ponytail without looking like a founding father.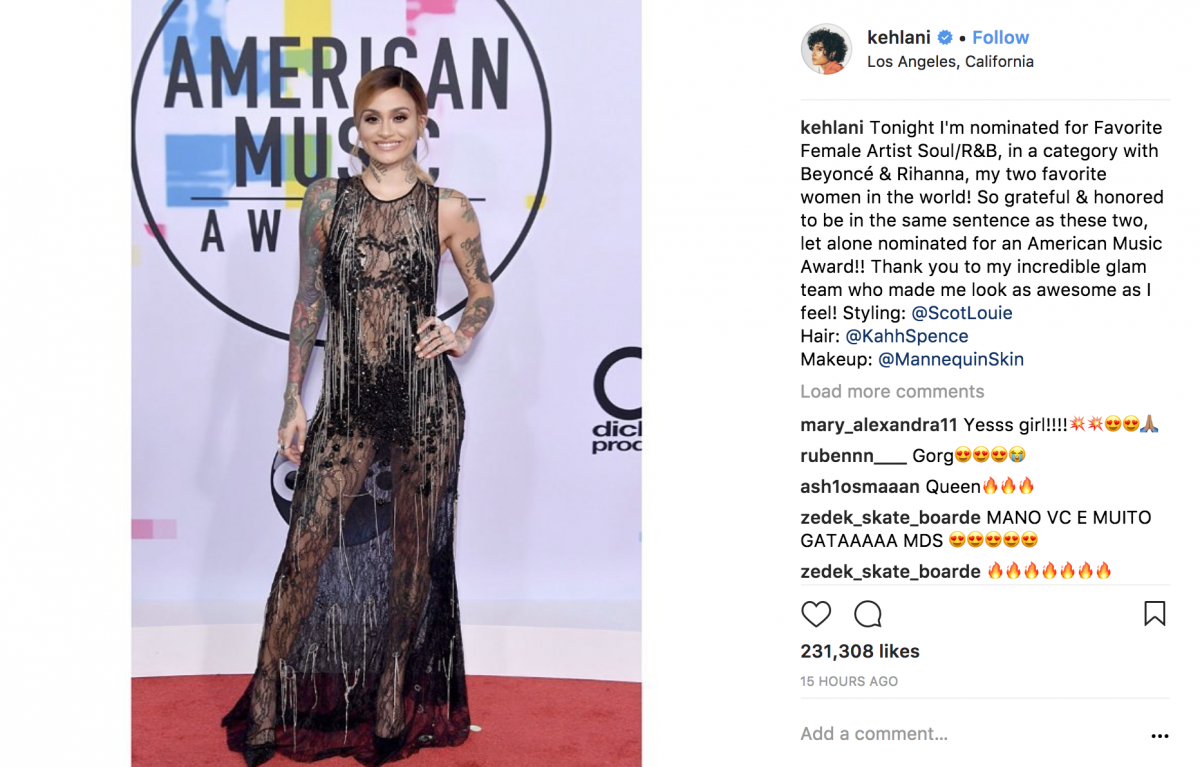 Worst
Sabrina Carpenter
I have no idea who you are, but I hate your dress. Sorry. It's very Miranda Hobbes and the boots kind of look like a serial killer made them out of human skin à la Silence of the Lambs.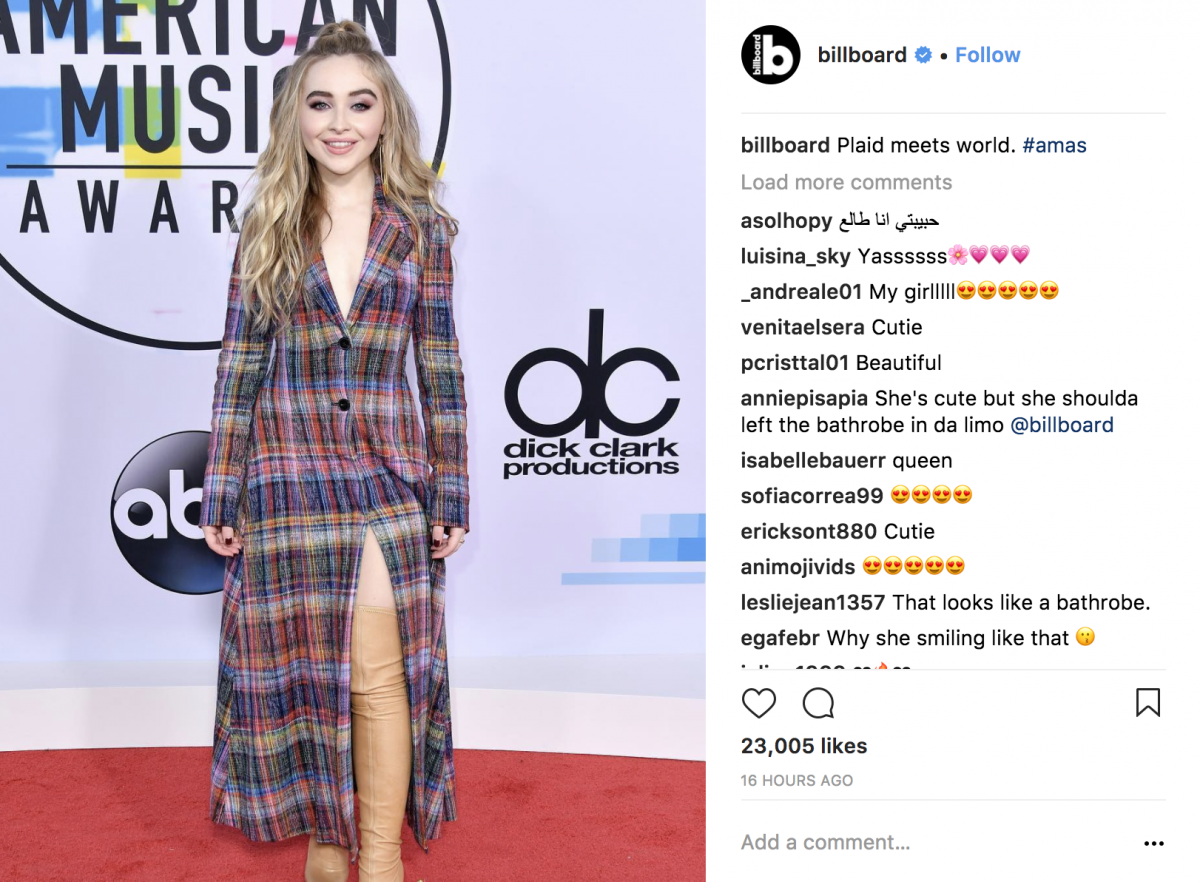 Demi Lovato
I'm putting Demi down for best dressed and worst dressed, because not even the most flawless styling could balance out this dress. She looks like a walking lava lamp. This is potentially one of my least favorite dresses in history.

P!nk
Even P!nk looks pissed to be wearing this dress. It kind of looks like a fancy loofah that came with the Bath and Body Works gift set your dad's new girlfriend bought you for Christmas after your parents' divorce.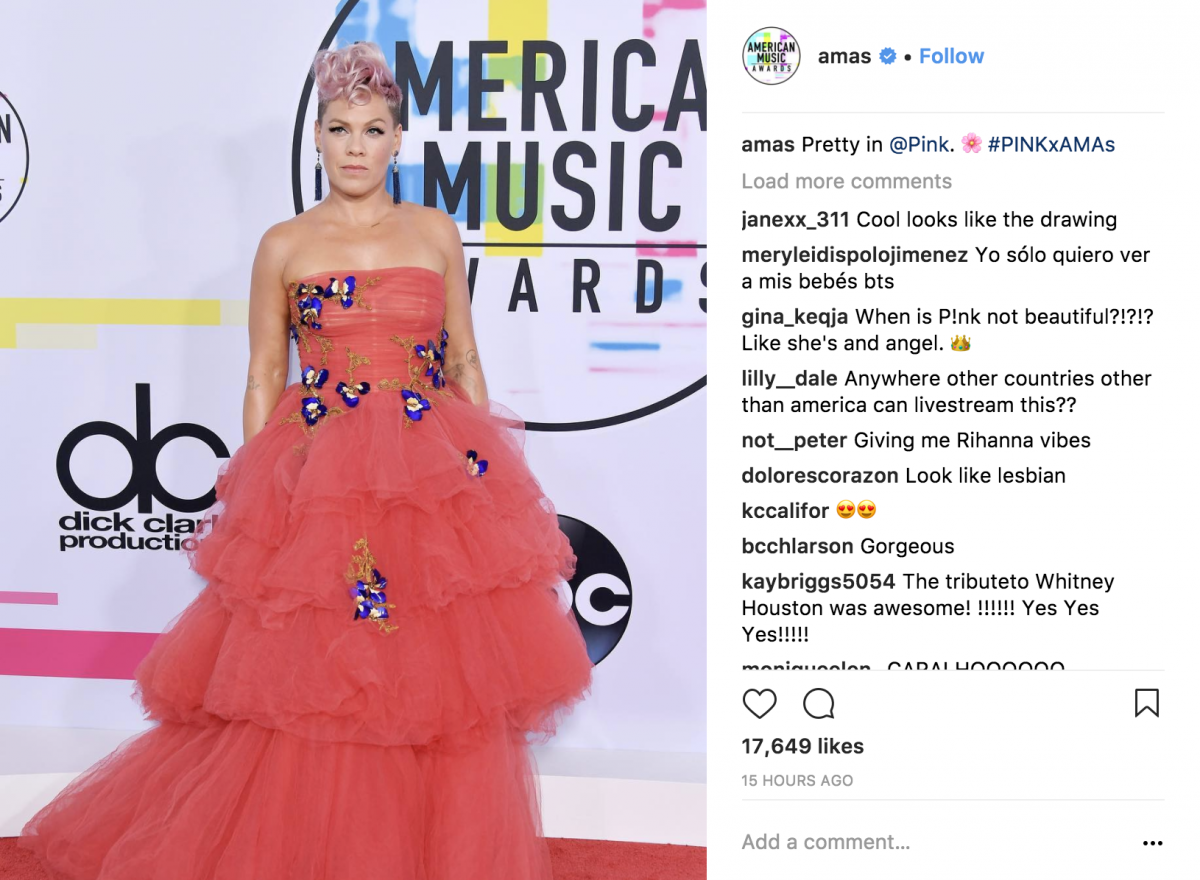 Bebe Rexha
I'm confused as to what is happening here. This dress probably had good intentions (even if it's made out of a fabric I would have worn to a friend's bat mitzvah in 2004), but then it decided to allow Bebe's boobs to try to run away from each other. Also, just looking at the cut of the dress paired with the shoes stresses me out, because I keep picturing Bebe falling over and having to do the worm instead of walk.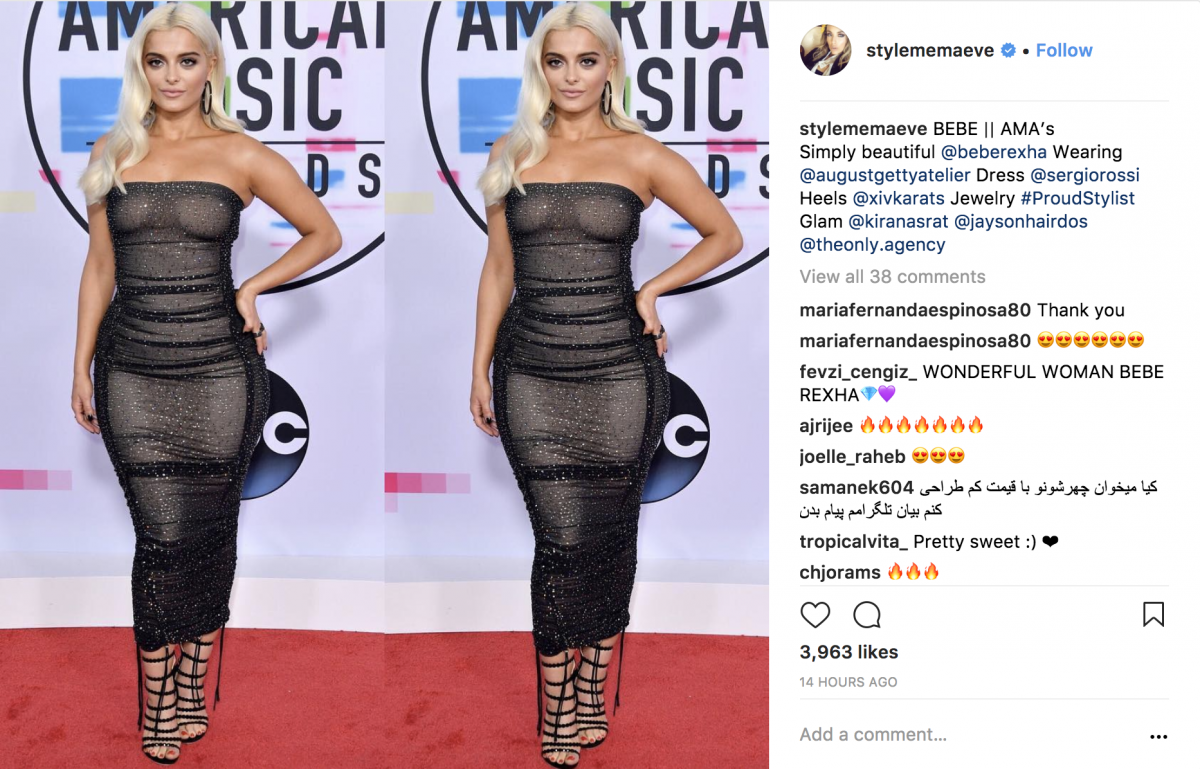 Julia Michaels
I mean, if the end goal here was to channel Lydia Deetz from Beetlejuice, then this look is killer. But like, I'm assuming that wasn't the point. This year, Comme des Garçons has kinda scammed everyone into thinking that it's fashionable to wear heaps of fluffy red fabric, but this look obviously isn't working.

All The Celebrity Coachella Fashion Choices That Disappointed Us This Weekend
Coachella weekend two was about as star-studded as the last bat mitzvah you attended, which kind of sucks for anyone who had shit to do besides dehydrate in the desert and was counting on scrolling through celebrity Instagram posts to ease the FOMO. The second weekend was basically a boozy brunch that you really wanted to attend because there's a great drink special and it's at a really IG-worthy restaurant, but you have to skip it because you're still throwing up the vodka crans you had the night before. Like almost every Tinder profile in existence, the last weekend of Coachella was seriously lacking good photos and the ones that were actually posted were pretty questionable.
Paris Hilton is apparently launching a line with David's Bridal. Okay, I just completely made that up, but I literally cannot think of any other reason why she'd show up to Coachella dressed like a miserable bridesmaid at a destination wedding. Honestly, she probably typed the #CoachellaMermaid caption while sipping on a Venti Unicorn Frappuccino from Starbucks. I don't understand why Paris can't just go back to wearing Juicy tracksuits and Von Dutch hats.
Vanessa Hudgens clung onto any last shred of relevancy by wearing a maxi dress that was clearly stolen from the wardrobe department of That 70's Show, hoping a stoned festivalgoer might mistake her for Mila Kunis.
Shay Mitchell wore a Canadian Tuxedo in 99 degree heat with a pair of Adidas slider sandals, which sounds like a Fear Factor challenge. I'd rather lay in a box of scorpions than wear five pounds of denim in the desert, which is saying a lot because I get freaked out just swiping past the spider in my emoji keyboard.
Kehlani—who you've probably never heard of but whose album is fire—celebrated her 22nd birthday at Coachella, which totally beats taking a photo next to giant gold 22 balloons in a slutty dress like everyone else does. I'm a little bit confused as to why she wore the yellow mesh tank top Hannah Horvath wore that one time she did cocaine on Girls, but it was her birthday, so I'll try to keep my comments to myself for once.
Lauren Jauregui (Editor's Note: who?) was probably the betchiest celebrity of weekend two, because she didn't even go, but casually posted a bunch of photos of this sick outfit from the first weekend. Posting photos a week late is such a power move. Like, obviously everyone dresses for the Insta at Coachella, but late posts make it seem like you were too busy blacking out to pick a decent filter. Even Lauren's outfit is a subtle brag. The long mesh top makes it look like she's wearing more than just a bralette and shorts, but still shows off a lot of skin.
This extremely underwhelming fashion roundup raises a serious question, though: Is Coachella becoming lame? Or was everyone just too hungover? I guess we won't find out until next year.