The Best 'Bachelorette' Recap You'll Ever Read: Like A Damn Sociopath
Welcome back, friends, to the best Bachelorette recap you'll ever read! When last we left off, Katie, dressed like the bestselling author of some Draco Malfoy fanfic, was in the process of telling the men to f*ck all the way off. All hail the queen. But why stop there? Look, I think it's cute that she thinks staring a man dead in the eye while clearly enunciating her wants and needs is actually going to effect any change in behavior. If that were the case, there wouldn't be so many warrants out for my arrest. If there's anything I know about cis straight men who think they're feminists because they liked a Cheryl Strayed tweet once in their lives, it's that a message only sinks in once it's been keyed onto their car. I don't make the rules, people, I just abide by them!!
Karl Continues To Dig His Own Grave
And let's take a look at the men in question. In true Bachelor form, last week ABC left us hanging at the rose ceremony after Karl revealed to Katie that there were some traitors in her midst. Did he have any evidence to back up his claim up? Absolutely not. Was he reading word-for-word from a script production gave him at the start of the rose ceremony? He'd tell you, but then production would have to kill him. Meanwhile, the rest of the men are one offhanded comment away from turning into Gaston's crowd of peasants ready to slay the beast. In this case, that beast is Karl. 

To be fair, the man did say he was a motivational speaker. Sure, his speeches usually consist of a few memes cobbled together in a slideshow, but it's clear he's stirred up some kind of emotion in this crowd tonight (even if that emotion is homicidal rage). The men continue to ask Karl basic questions about who this "wrong reasons" monster is, and he continues to answer with noncommittal shrugs and anxious looks towards the camera. Don't look at them, Karl. They can't help you now, buddy!
Where are the hosts during all of this, you might be asking? Getting wasted at the hotel bar. Ladies! I know you want to give Katie her space, but MY GOD, put the shot glasses down and check in on this rose ceremony. It's anarchy out there! Katie, after rounding up her errant hosts, voices her concerns over the rose ceremony and reveals she was planning to keep Karl until tonight's events. Tayshia and Kaitlyn tell her to just "go with her gut" which is not so much actual helpful advice as it is words you might find written on a tchotchke in a Cracker Barrel gift store, but fine. 
Honestly, their presence on this show continues to baffle me. What is the point of them hosting at all if this is the kind of advice they're willing to offer up? You'd think since both ladies were Bachelorette leads themselves, they might offer some sage wisdom like "the guy who points the finger usually has three pointing back at himself" but instead they deliver vague platitudes and weak smiles. Where is that sisterhood realness Katie keeps mentioning in all of her post-season interviews? I'm a little disappointed is all I'm saying…
But back to Karl! In the end, Karl's ploy for drama backfires and he gets sent home. It's not so much the hosts' advice to Katie, or even Katie's own feelings on the matter, that gets him the boot. In the end, it's the motivation he inspired in the crowd, the motivation that caused the rest of the men to assemble and campaign to Katie to kick his ass out. Honestly, I'd put that on your resume, Karl. Don't ever doubt your skills, buddy!
Too Much Reality In This Reality TV
Going into week three Katie warned us via an Instagram post that there would be triggering content on tonight's episode. At first, I thought she must be talking about the fact that Nick Viall makes a guest appearance on one of the group dates. I'm pretty sure his presence on my television screen always warrants a warning. Please watch with loved ones? I'm picking up what you're putting down, Katie. Thank you for that. I'll mute my TV. 
nick viall coming back for his 947436th appearance in the bachelor franchise like#TheBachelorette  #bachelorette pic.twitter.com/jv8yFOh2qn

— The Bitchelorette (@Bitchelorette_) June 22, 2021
But as we dive more into the group date it's clear that the trigger warning is actually warranted and not a joking matter at all. Nick helps Katie lead an honesty-first retreat of sorts where the men reveal the darkest parts of themselves. What's crazy is that the men actually do own up to their worst actions. Hunter talks about his messy divorce and the effect it's had on his children. The guy on night one who showed up in a cat onesie, grooming his paws and all, launches into a story about how his alcohol dependency led him to cheat on his girlfriend.
I'm just so floored that they're all taking this seriously. I mean, at the mention of "confessions" I thought at least one of them would start off his monologue with: "just when I thought I said all I can say, my chick on the side said she got one on the way." A missed opportunity, if you will. 
As each of them engage in their confessions, it's then I realize that seeing grown men cry on national television is actually good for my health. My skin is clearing up, my hair is shinier, my acid reflux is practically nonexistent. The healing properties of male tears should be studied in a lab, is all I'm saying.
And, look, I'll admit, I've been hurt by a lot of men in my life. Small hurts, mostly, that have built up until I've become the kind of person who doesn't trust easily, who's a little cynical and a lot prone to setting fires to the things my exes know and love (lol, kidding! My lawyer says I have to clarify that last bit was a joke!!). And I'm sure I'm not alone in those feelings. I'm sure a lot of women feel that way too. But watching these men acknowledge all of their red flags and the ways they've hurt women in the past is… therapeutic in a way? It shows growth. I'm not sure the show is always good at capturing moments like this or even evoking feelings of growth within the cast in ways that don't feel cheesy or outright forced. Moments like these are few and far between. Honestly, who knew male accountability could be so good for the skin?
But the real heart-wrenching moment comes from Katie herself. She ends the sharing circle with her own story—a story she's never even told her mother about—that involves a moment from her youth where she was "involved in a situation where there wasn't consent." She discusses how afterwards she tried to date her attacker rather than come to terms with the fact that she was a victim. Because of her past, she's struggled sexually in relationships and reveals that she hasn't always been so "sex positive" and that's been an issue with some of the men she's dated. Honestly, my heart hurts for her. The thing about Katie that shocks me every week is how deeply relatable she is. Here she is on a date that is basically ABC's version of trauma porn (there's nothing this franchise loves more than to pimp peoples' pain out for viewership). And yet, Katie is able to turn this date into a thoughtful discussion on trauma. She takes control of the narrative in a way that feels real and honest. It's impressive.
Later in the episode, Katie navigates more realness when she invites Michael on the one-on-one date. The majority of their date focuses on Michael's past. He reveals that he is a single dad, widowed after his wife died of breast cancer two years ago. Katie tells him that she will always understand his love for his wife and would never feel intimidated by that relationship. Again, so mature! So much growth! 

Now, does that mean I think they'll end up together? Ehhhh. Look, I love Michael and he warms my heart with his little smile, but a zaddy he is not. Let's be real, he has all of the sex appeal of a cardigan. At one point Katie even tells him that he has pen pal energy, and doesn't that just say it all? I'm not sure there's any chemistry here, but if she's looking for a genuine guy who is here for the right reason, then that alone should win him a rose. 
The House Has A New Villain
With Karl's spectacular demise at the last rose ceremony, we thought evil had been vanquished once and for all. Later in the episode, we learn that evil hadn't been defeated so much as transferred to its next unwilling host: Thomas. Damnit. I knew Katie should have saged that hotel.  
Last week, Thomas came off as suave and attractive. I think I even wrote in my recap that "I have working eyes so I understand his appeal." This week he's coming off like a guy whose hobbies include tripping old people in the street and emotionally hobbling women.
It starts with his group date confession. While the rest of the men are making amends with their past cheating and failed marriages, Thomas takes the whole honesty thing one step too far: He tells Katie that he only came on this show for Instagram likes. Thomas! That might be the song in your heart, but that's not to be expressed on camera! Save that for your confessional, at least. 
Thomas: yeah I thought I could be the next bachelor…

Karl sitting at home: #TheBachelorette pic.twitter.com/pU7TgdWryM

— 𝐤𝐚𝐲𝐲𝐨𝐫𝐤𝐜𝐢𝐭𝐲 (@kayyorkcity) June 22, 2021
It gets worse. He admits that though he has real feelings for Katie now, before coming on the show two weeks ago he went on a date, that's how much he didn't give a sh*t about Katie at first. Very bold to go with the truth like that. While Katie applauds him for his bravery (seriously, Katie? I know he's nice to look at, but COME ON) the men have a harder time accepting his confession. 
And who's leading the angry mob? Aaron. Boy, does that guy love to be at the center of all the drama. Last week it was Cody, now it's his sole mission in life to bring down Thomas. I think Aaron has said "sociopath" more times in the last three minutes than Olivia Rodrigo did on her entire album. And that's saying something!

I mean, do I think Thomas is emotionally manipulating Katie for his own personal gain? 100%. He spends the majority of the group date cocktail hour trying to backtrack his earlier statements. He tells Katie that he's falling in love with her but in classic f*ckboy fashion tells the men the opposite. Oh well, I didn't tell her that I loved her per se, I just told her I loved things about her. But here's the thing: I can already tell Thomas has all the working brain cells as a piece of bologna. He might be an emotional terrorist, but he's also not a very smart one. 
Case in point? The following interaction:
THE MEN: Just tell us, are you here for followers?
THOMAS: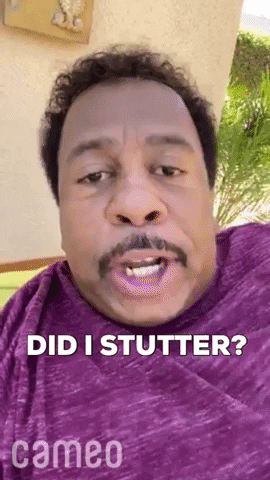 Christ. Look, I'm not worried for Katie in the slightest. It's clear there's something about his tongue energy that she's vibing with, but she's a smart girl. If he was dumb enough to admit his true intentions to her face then he's dumb enough to self-implode in other ways eventually. Until then!
Images: ABC/Craig Sjodin (2); Giphy (3); @bacheloretteabc /Instagram (1); @bitchelorette_ /Twitter (1); @kayyorkcity /Twitter (1)
You Won't Believe How Much The 'Vanderpump Rules' Cast Is Worth
I'll go ahead and agree with every recent Vanderpump Rules recap: the show is largely no longer fun. I fondly remember when 9pm was the tiny glimmer of light at the end of yet another hideous Monday. But I don't seem to be alone in feeling like the show is on its last legs. The Vanderpump Rules cast is aging out of the debauchery they were cast for—and all the icky, real-life stuff we're watching now is way too relatable (and dark) to be fun. So, because I suspect the show will be cancelled relatively soon, and I've always wanted to know if could make good money as a VPR star I selflessly hope the cast is financially stable enough to survive it, I looked into the Vanderpump Rules cast's net worth. Here's what I found out.
How Much Are They Really Being Paid?
According to TMZ, the Vanderpump Rules cast earned $5,000 each for the entire first season. Season 2, the cast earned $3,000 per episode, and season 3, they earned $5,000 per episode. By Season 4, they started earning what Slice refers to as "Housewives money": roughly $15K per episode.
In other words, Scheana was only slightly exaggerating with her constant refrain of "dream wedding on a waitress budget." She made around $63K for season 3, and we've discussed exactly how far that income range gets you in LA. (FYI, I can actually do math and recognize that $5K times 21 episodes doesn't sound quite right. But I'm trusting Slice's numbers and assuming varying pay rates depending on screen time, or taxes or whatever. You're welcome to find better numbers and share below.) Now, however, the cast is netting a cool $360K per season. So I'm sure the Scheana and Rob wedding plans are were even more elaborate, and that Rob will slide into Scheana's DMs once he reads this.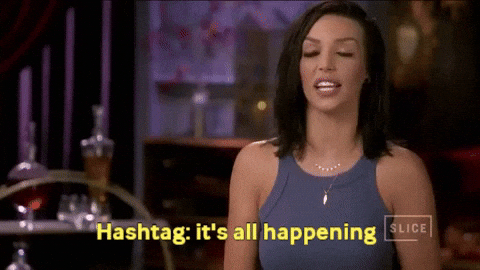 Who's Worth The Least?
In a revelation that makes perfect sense, Tom Schwartz is worth the least. Celebrity Net Worth estimates his worth at $25K, which means the tears his shed when paying for his wedding were definitely real. Katie, on the other hand, has been around since day one—and seems like one of the few competent waitresses on top of it. Even so, she has the second lowest net worth: $30K. Even accounting for wedding costs and medical bills, Katie's given this show six years of her life. I'm kind of shocked that she and Schwartz combined are still worth under $100K, and each are worth the equivalent of an entry level assistant's salary. Dark.
Finally, Katie's low net worth is even more insulting when you see who's tied for third lowest. Brittany and Lala (who joined the show for season 6 and season 4, respectively) are each worth around $50K. I'll begrudgingly admit that Lala seems like a hustler, and yes, Brittany got her own spin-off, but still. Katie can't be feeling good about that.
In retrospect, probably one of the more financially responsible decisions Schwartz has made: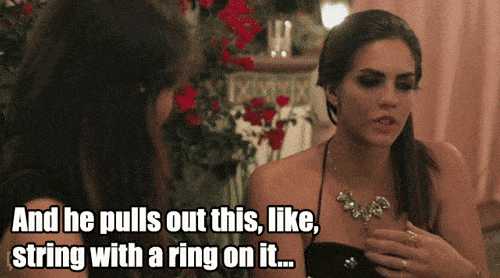 Who's Worth The Most?
Lisa Vanderpump is worth an estimated $75 million, and is the highest valued cast member by far, but honestly, Lisa doesn't really count as a Vanderpump Rules cast member as far as I'm concerned. I'll give you .05 of a second to pretend to be surprised before moving on. Beyond this, the list of highest-valued Vanderpump stars makes me want to throw my laptop out the window. To preserve my sanity, I'll rattle off the numbers quickly and then dig into analysis. Jax: $500K. Sandoval: $400K. Vail: $400K. Stassi: $300K. Kristen: $250K. Scheana: $150K. Everyone still with me? Still breathing? Great. Let's do this.
First of all, I feel literally ill over the fact that Jax is the highest-valued non-Vanderpump member of this cast. Spin-off aside, he's been on the show as long as Katie, and he is worth over 15 times more. Also, Jax pretty exclusively engages in criminally stupid, criminally cruel, or just straight-up criminal acts. (Seriously—doesn't he have legal fees to pay off? Shouldn't he be worth less from that alone?) And I don't love the power dynamic of him being worth 10 times as much as girlfriend/hostage Brittany.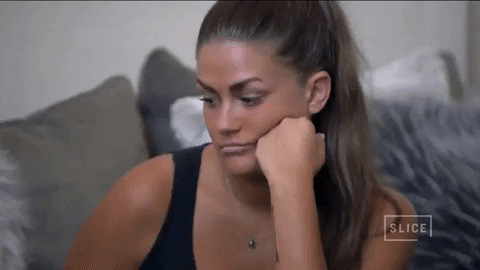 Similarly, I'm pretty fucking outraged by the value attached to Sandoval, resident assface of season 6. Slice, equally puzzled by this valuation, dubiously posits that maybe he's "good at saving." If you've watched the show and seen Sandoval's makeup drawer, you will join me in thinking probs not. Vail's value is not worth discussing (apparently it's soap opera money), and I'm nostalgically, vindictively pleased that Stassi is worth twice as much as Scheana. Other than the fact that the women's values are all so much ludicrously lower than the highest worth men, I have very little opinion on Stassi/Kristen/Scheana playing out as it did. I bet Katie has a few opinions though.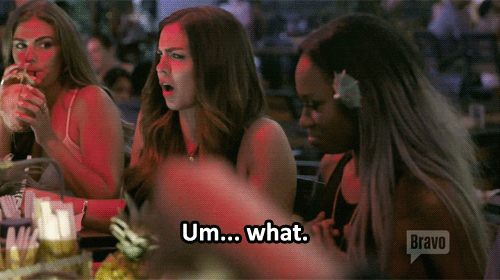 So: another Monday, another disappointing set of realities. We live in a world where Jax Taylor is worth half a million dollars. And where a spin-off called "Katie & Schwartz Navigate Bankruptcy" is probably being green-lit as we speak. At least The Handmaid's Tale comes back this month, so we'll have something relatively cheerful to look forward to.
Images: Giphy (4)
A Ranking Of The Worst 'Vanderpump Rules' Couples
Naming the best couple on Vanderpump Rules is easy: It's Lisa and Ken, and they may well be the best couple on the planet. Sure, Ken is essentially a well-dressed sofa cushion for Lisa's parade of animal companions, but I can't even get my boyfriend to sit through a full episode of VPR without grumbling about how he's going to throw acid in his eyes, let alone support me through the purchase of two ponies, eight swans, seven turtles, and eight dogs. So, it's a shame that with such a good role model, the SUR staff is still seemingly incapable of distinguishing "soulmate" from "person who also works here"—or in Jax's case, "female in my eyeline." Here's a ranking of VPR's worst of the worst.
Tom and Ariana
What's the worst thing you can say about this couple? They're kind of boring, and he wears more makeup than she does? She's pretending to be anti-marriage to get screen time not dying to get engaged? Yeah, move along. They don't actively hate each other, and they have not said things to each other on TV that have made me gasp. They're fine.

Katie and Tom
Ugh, I was really hoping to rank these two lower, seeing as most of the episodes surrounding their wedding were so goddamn traumatizing, I couldn't even enjoy the finale. I just don't understand how that Vegas trip wasn't a bigger red flag for either one of them, let alone the running joke about how sexless they are. That being said, they are still a pretty good couple by VPR standards (no cheating further than making out, vaguely promising couples' therapy, etc.).

Jax and Carmen / Jax and Tiffany
If you're thinking, "Who?" here, you have a good point. Tiffany is the girl in Vegas who paid for Jax's hotel room in which he banged another girl, and Carmen is the girl Jax was actually dating when he first got together with Tiffany. Were either of these relationships founded on more than physical attraction and shots? No, but in their defense, they didn't then stay together for three years and systematically ruin each other's lives, which is pretty much the VPR M.O.

Jax and Brittany
Speaking of that M.O., here's Jax and Brittany! Unlike Carmen/Tiffany, Brittany becomes fully invested, moves to LA, and is gifted new boobs—after which she's berated and humiliated for not showing her gratitude by doing things like "making sandwiches" and "not being around so much." Brittany is a very sweet if painfully stupid naïve girl—she deserves better than a relationship that renders both parties half as attractive as they were when they came in.

Kristen and Tom
Everyone tends to focus on how unrelentingly batshit Kristen became post-breakup (and there's a lot to focus on), but the relationship itself was also pretty fucking awful (the cheating, the constant fighting, the general vibe of two people who just couldn't figure out how to leave each other). That being said, I was full-on bawling when they had a brief emotional moment post breakup; they were probably once in love before it became a who's-shittier competition.

Stassi and Frank / Stassi and Jax
I'm grouping these together, because we don't see much of either, and they have similar trends. The relationships themselves are mostly Stassi bitching and Jax/Frank being a whiny little shit. They both have one HORRIFYING feature (Jax: impregnating a stripper; Frank: distributing Stassi's sex tape), and are otherwise unremarkable. I would've loved to see the Malibu Barbie/Ken phase of Jax & Stassi, but Stassi was too smart to be another cog in Jax's sex addiction take him back, and I applaud her.

Jax and Laura Leigh
This relationship was deliciously hard to watch. I don't think Jax paid a single piece of positive attention to Laura Leigh that wasn't related to either his dick or Stassi's presence, meaning I spent way too much time screaming, "He doesn't even LIKE you," at my TV. But seriously, if a guy is nervously smiling instead of responding with words 9/10 times, take his cue and assume they are not words you want to hear, LL! And please, either take your helium voice down a couple pitches, or tell fewer chilling meth-addiction stories in it; the combination is not workable.

Scheana and Shay
Ugh, this VPR couple wins for most brutal offenses over a long-ass period of time. It's honestly sad that Scheana didn't realize he had a pill addiction for their entire relationship, and that she somehow felt a chemistry between them that was never visible to a single viewer undoubtedly less present for Shay, if at all, behind the far more pressing issue of where he was going to get his next high. I hope Scheana finds someone who does more than sullenly tolerate her presence and that Shay finds his way off my TV screen forever.

Kristen and James
Finally, what do you get when you put the two most determinedly awful people in the world together? A Weinstein-Trump sandwich VPR's worst couple! This relationship involved cheating, lying, hints of alcoholism, verbal AND physical abuse, and also managed to be exceptionally un-fun to watch, given the fact that you are rooting for no one and nothing other than the sweet release of death for all parties involved.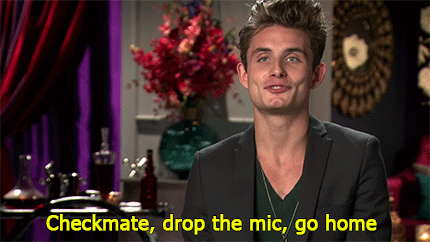 Even just recapping those relationships was exhausting—I have no idea how these people lived through all of them. Thankfully, in three weeks (!!!), I can go back to doing what I do best: getting drunk on Monday nights and continuing to watch this blessed cast do things I would never have the lack of shame strength to do myself. Blessings.