An Ode To Kate Spade, The Original HBIC
Betches across the world are mourning the loss of Kate Spade, the iconic fashion designer who was found dead by apparent suicide in her New York City apartment this week. The name Kate Spade holds a special place in all of our hearts for its own reason. Most of us have been loyal customers to the brand she founded at some point; probably because a Kate Spade crossbody was your favorite bat mitzvah gift, a candy pink iPhone 3G case was your status symbol in high school, or one of the classic leather work bags was your first true grown-betch purse.
Although it's easy associate Kate's legacy with peonies and cheerful baubles shaped like French Bulldogs, it's important to remember that it is actually so more than that. Kate Spade was one of the original HBICs, way before Homegoods started selling mugs that said "girl boss" on them and we were all selling shampoo on our Instagram stories. I mean, let's be real. Most of those mugs are rip-offs of Kate Spade New York designs, anyway.
According to the New York Times, Kate Spade created her empire from her one bedroom apartment in Manhattan. At the time, she was an accessories editor at Mademoiselle magazine who was tired of everyone's gaudy handbags, and decided to create her own line of essential designs instead. In New York, if you're not underpaid, sick of everyone's shit, and living in a little apartment, you at least know 100 betches who are, and Kate was able to spin that situation around into a multi-billion dollar empire.
Kate was known for being super fun and hilarious, and as if her colorful lifestyle brand wasn't evidence enough, her friends and fam vouched for her, too.
Katy at my book signing. I love this pic of her. So pretty. I dont think everyone knew how fucking funny she was… Its a rough world out there people. Try to hang on pic.twitter.com/2kRPvGvj8w

— David Spade (@DavidSpade) June 6, 2018
Kate's influence is totally undeniable. She basically looked at the fashion industry, was like, "you guys are boring me," and inspired a culture of party girls who can color block their asses off and drink mimosas out of cute tumblers. Rest in peace, Kate Spade.
Images: Getty Images; David Spade / Twitter
Shopbop Has All The Winter Staples You Wanted On Sale For Black Friday & Cyber Monday
Remember when Black Friday was just a day for crazy people to stampede into Walmart for a giant television and Cyber Monday was like, a sale on Amazon? For better or worse, Black Friday and Cyber Monday have now morphed into an out-of-control, never-ending sale that every single store you've ever heard of participates in. It's basically the shopping version of that friend's birthday that last two weeks and requires you to spend hundreds of dollars on shit you don't actually need. Anyway, as overwhelming as it can be, there are actually some dope sales happening, like the one at Shopbop. It's called the "Buy More Save More" sale, which is definitely a personal attack on your checking account but a blessing for your wardrobe. Here's how it works, and some of the things you should definitely throw in your cart. (P.S., this sale does include the Shopbop's Designer Boutique, but there are some exclusions. To keep things easy, just look for the "More 17" label underneath each product.
Designer shades are frequently excluded from sales, but Shopbop totally hooked it up this time. Now you can actually have the Medusa head on you like you're Illuminati, but like, at a discount.

Designer backpacks are totally something that you always consider buying, but then decide not to. Like, even if you could really use it, you're financially irresponsible and would rather buy another outfit to go clubbing in (even though you never really go clubbing). This Kate Spade backpack is velour, like everything else you're obsessed with this season, so it's perfect.

Those Stuart Weitzman boots you've always wanted, but keep buying the Steve Madden rip-offs of instead, are on sale. Just saying.

In case you haven't noticed, puffer coats are so hot right now this season. Unfortunately, the Canada Goose coat that you've had bookmarked since last winter is excluded from the sale, but there's tons of other designer styles that are marked down.

You probably have a million pairs of faded black jeans you're still holding on to. 'Tis the season to get rid of them all and invest in a really good pair. (If this advice also coincidentally applies to your dating life, then do that, too.)

5 Lightweight Summer Backpacks That Won't Cause Back Sweat
Complaining about the weather is totally one of our favorite pastimes, until shit gets real and we're actually like, sweaty or something. God forbid. There's really nothing worse than sweating, and unless you're paying $300 a month for a workout class that makes you sweat, you should obviously avoid perspiring at all costs. Seriously, it's disgusting.
While antiperspirants and deodorants take care of common problem areas like your underarms, sweltering NYC heat encourages another kind of sweat to rear its ugly head—back sweat. Not only does back sweat make your morning commute that much more unpleasant (and I'm already in a bad mood when I have to wake up before noon), it also leads to bacne (I don't even like looking at that word) and really puts a damper on all those slutty backless dresses and swimsuits you want to wear. The cute and unnecessarily expensive leather/suede backpack you haul around could, unfortunately, be contributing to the issue since leather isn't a particularly breathable or moisture-wicking material. So, here are a few backpacks we've found in summer-appropriate materials, just in case the one you use for work is making you sweat like any one of us in church.


This isn't like, a regular backpack. It's a cool backpack. The absolute angels at Rebecca Minkoff took the Julian leather backpack and made it lightweight for summer. Dreams do come true.

This cotton canvas backpack looks like it belongs on the floor of a minimalist Tumblr bedroom, but you're probably going to just fill it with shit like chopsticks you'll forget about and crumpled up receipts. It also has a laptop sleeve, which you'll probably leave something important in and find two weeks later.

If it didn't sound like a bad line from an Old Navy commercial, I'd tell you that this Marc Jacobs backpack is fashionable and functional. Backpacks are typically kind of nerdy, but this one is Marc Jacobs so it's actually sorta edgy (which isn't easily achieved by nylon bags, but whatever).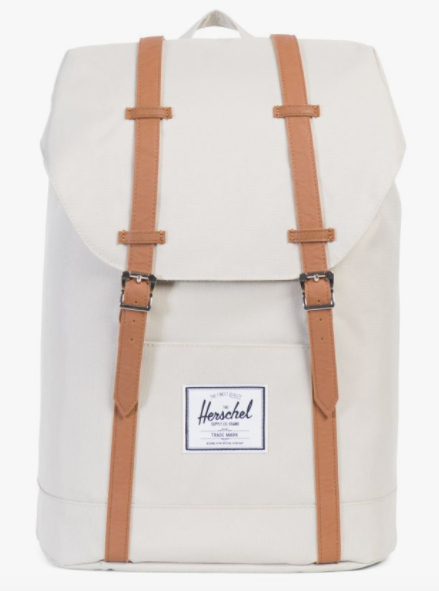 Herschel is kind of like, the Vans of the backpack world. Pretty much everyone has one now, and they're kind of making us all look like hipster dudes from Brooklyn. But they're functional, not ugly and can probably fit a bottle of wine, so why not?


I know we like, just said that Kate Spade isn't cool anymore because of the whole Coach thing, but I've pretty much already talked shit about every other designer that you preppy betches probably love, so I'll let you have this one thing, as long as you don't get carried away. This nylon backpack is actually so cute and black and white stripes go with everything (just ask Kris Jenner).
Coach Bought Kate Spade And Now They're Officially Over
It has been officially announced that Coach, the brand responsible for the designer bags every teenager threw at LEAST one total betch fit over in 2006, has bought Kate Spade for $2.4 billion (which is about $2.3 billion more than I thought Coach was even worth tbh). Are your ears ringing? That's the sound of all the world's trendy betches with a preppy leaning letting out a collective "ew."
Sure, Coach was once a HHBIC (I'm temporarily defining that as Head Handbag Betch In Charge solely for the purpose of this article), but even in its prime it wasn't number one. Don't believe me? Take a look back at Confessions of a Teenage Drama Queen. Carla Santini's blonde minion carried a Coach bag, which meant they were definitely cool.

Actually, I take it all back. Carla's minion carried a very obviously FAKE Coach bag, which is just embarrassing overall. I suppose you could extrapolate that Coach was cool and that Life With Derek chick's character was too poor to afford the real shit, which is honestly pretty depressing. A moment of silence for this povo and her mall kiosk fake.
However, the important part is this: Carla—who we all still aspire to become—carried Burberry, proving that although you were once super pumped to unwrap a Coach wristlet for Christmas or Hanukkah, there was still some richer betch crying that she received a Burberry instead of a Louis. Everyone knows there's a handbag hierarchy, and although Coach was once a decent middle-ground contender, it's now fallen flatter than Nicki Minaj's ass. Like, when your boyfriend got you a Coach wallet for your birthday two years ago, you were convinced that he was cheating on you because he didn't love you anymore.
Recently, though, Coach has been trying to step up its game. While I appreciate the effort, they're totally wasting their time. Like, I guess sending their ambassador, Selena Gomez, to the Met Gala with a bag that matches her tattoo is like, a sweet sentiment or whatever, but in a world where all it takes is Kylie Jenner repurposing one of Kris's bags from the last decade to totally resurrect a brand, it just feels like they're trying way too hard. If Juicy Couture could make a natural comeback after filing for bankruptcy and selling their shit in Kohl's, Coach was probably only a few months away from redemption. However, the backlash from this merger is prob going to screw that all up for them, which sucks, I guess.

While I'm definitely in the camp of people trying to decide if this buyout means that I'm supposed to now hate my Kate Spade bag or run back to my parents' house to fish my Coach clutches out of my childhood closet, I also think that everyone needs to chill TF out. It's not like Coach is coming for anything too precious. Sure, I'm all for Kate Spade's witty slogans and chic designs, but when it comes to shit with a pink patent bow, I'll take a hard pass. Obviously I'm not like, thrilled about this, but I think that anyone freaking out about merging two brands that frequent the clearance section of TJ Maxx needs to look at the bigger picture. It's not like Eddie Bauer is coming for Gucci or anything. Relax.

If I could compare the Kate Spade and Coach merger to anything, I'd liken it to a hypothetical collaboration between Taylor Swift and Meghan Trainor. It's something I'm definitely going to roll my eyes over when I first hear the news. The finished product is probably going to involve lots of like, pink flamingos and heart motifs. It'll be something that really appeals to preteen girls and youngish grandmas who have active social lives in Florida. When it comes on the radio or pops up on a shelf in Bloomingdale's, I might hum along or take a second glance, but in the end, it's still tacky and I hate it.
An Investigation Into What the Fashion Industry Does When It's Not Fashion Week
After what feels like a full minute since the last one, NYFW has arrived! This is the week when the fashion industry's top designers, models and photographers gather to celebrate the latest trends in clothing and accessories. It's basically the best week of the year, which is amazing because there are officially now only two weeks of the year that aren't fashion week. That made us curious, what exactly does the industry do when it's not celebrating itself in a trendy world capital? We launched an investigation and talked to the top names in fashion to find out. 

"There are thousands of photographs taken at every fashion week, which means the bulk of time in between fashion weeks is spent scrolling through pictures and clapping for each of the models as if they were still walking down the runway. This is an important ritual that can take up to 18 hours per day." — Anna Wintour

"Coping with the fact that it's not fashion week is something that no designer should have to do alone. That's why we all gather in between the London, Paris, New York and Milan events to hold hands and watch Michael Kors weep uncontrollably." — Kate Spade 

"Just because the fashion industry acknowledges that sometimes it's not fashion week, doesn't mean we have to accept it. We hope to eventually live in a world where every day is fashion day. That's actually my greatest wish, followed by world peace." — Kendall Jenner 

"After a full day, the fact that it's not fashion week gets to be pretty exhausting. That's why in the '80s Calvin Klein began the tradition of hosting fake fashion weeks in his apartment so people didn't go insane. He's credited with saving the industry by many in the inner circle." — Heidi Klum

"Not fashion week? I don't understand the question." — Marc Jacobs