You'll Die When You See Jessica Alba's Latest #Spon Fail
I was minding my own business last night, watching old clips of The View and scrolling Instagram, when a hot tip popped up in my DMs. One of my Insta-BFFs Alex (@lexniko, she's f*cking hilarious) sent me a side-by-side that almost made me fall out of my chair. It's just…so stupid. Our beloved Jessica Alba, actress, model, and skin care mogul, made a hilarious mistake in her latest sponsored post, and I haven't stopped thinking about it since.
Here's the post in question:
If you can't spot the issue, that's because the issue isn't anywhere in the actual photo. It's just a normal ad for some probiotics, with Jessica posting in her kitchen with a nice array of products. Great natural lighting! She looks stunning! I might even buy some of the products! (I definitely won't, but she doesn't need to know that.) No, to spot the issue with this photo, we have to go back in time, all the way to 2018.
Enter: Kate Hudson. Last December, Kate announced that she was the latest brand ambassador for WW (formerly Weight Watchers). At the time, she had a two-month-old baby, so it made sense for her to share her post-baby journey with the WW audience. And of course, the partnership was launched with a beautiful photoshoot in Kate's kitchen.

Except it wasn't Kate's kitchen. Look familiar? That's because it's the same f*cking kitchen that Jessica Alba is using for her probiotics spon. At the time Kate's kitchen photoshoot came out, the pictures went mildly viral due to the absolutely insane arrangement of cutting boards behind her. Who has that many cutting boards?? Why are they so large?? How do you get one out without knocking over all the others? Truly so many questions, but Kate definitely doesn't know the answers! She's never cooked in that kitchen in her life!
It's really no huge surprise that celebrities use studios or rented spaces to shoot some of their sponsored content, but this feels especially egregious. First, it's an incredibly recognizable kitchen, especially with the slanted ceiling, exposed wood shelves, and once again, those wild cutting boards. But also, I feel like Kate Hudson and Jessica Alba must have a large amount of overlap in their audiences. They're both 2000s actresses who have moved heavily into the lifestyle space, and their brands feel really similar. You'd think advertisers would want to be especially careful when planning these things. At least move the cutting boards!
Of course, this is far from the first time that a celebrity has made a careless error in posting sponsored content. This specific kitchen mixup reminded me of an instance with Melissa Joan Hart from last year. My girl Sabrina did some lunchmeat spon-con (bleak), and the company has two different brands. Instead of taking different photos for each one, Melissa posted the exact same photo, with the exact same food, and just switched out the placemats and packaging. You guys, it's so bad.

Note: MJH posted these two photos BACK TO BACK on her feed. With the same caption! I have no idea who thought this was a good idea, but I still laugh every single time I look at these photos. Having worked with branded content, it's honestly wild that the client approved this in the first place.
Another common issue that pops up with celebrity sponsored posts is the inability to figure out what to copy and paste. Basically, when you're working with a brand, they'll give you suggested copy to use for your caption, and there are usually some notes about what to add or change if you want to. Here's an example of where RHONY's Ramona Singer forgot to delete an entire paragraph:

You know it's bad when you can't even realize that the caption shouldn't start with the words "here is the draft." Ramona quickly figured this out and fixed it, but other celebrities like Naomi Campbell and Scott Disick have made the same mistake. This is truly just a careless thing to do, but it shows how little celebrities actually care about the products when they're cashing major checks. 2019 is wild.
Jessica Alba probably has no idea that she's posting in the same kitchen as Kate Hudson, and it's honestly not even her problem. Someone else definitely booked the kitchen space for her, and they probably should have done a little more research. How am I supposed to think about probiotics when I can't stop staring at those iconic cutting boards?! Either way, I'm sure she got a nice little paycheck from that photo, so good for her.
Images: jessicaalba, melissajoanhart, ramonasinger / Instagram; WW
Is Nick Jonas Into Cougars? We Investigate
Apparently I wasn't the only one to blackout over Memorial Day Weekend and make questionable decisions with a guy who told me he was "basically 21," because Priyanka Chopra from TV's Quantico just stepped out with Nick Jonas, and it is a lot for me to digest. That's right, people, 25-year-old Nick "I Lost My Purity Ring" Jonas is supposedly dating 35-year-old Priyanka Chopra after they were spotted together at a Dodgers game last weekend. To be fair, I also take the kids I babysit to baseball games sometimes so, like, it's not super solid evidence. But the two of them have been spending a weird amount of time together, so I guess I'll buy into it. For now.
For those of you who left thoughts of Nick Jonas back in 2010 along with your Delia's gift card and the Hannah Montana finale, this actually isn't the first time Nick's been romantically linked to an older woman. Which got me thinking, is Nick Jonas into cougars? Is the boy behind prolific lines like "I've been to the year 3000" and "not much has changed but they lived under water" that defined our generation, somehow seducing mature, grown-ass women?? These are the questions that keep me up at night. Clearly, this is a case for the FBI me and my creative writing degree which I shall treat like it's a journalism degree. So buckle up, betches, because it's time to take a deep dive into the psyche of a Joe Bro.
For someone who got famous for his talent and artistic drive being a hot virgin, Nick has had a lot of fucking girlfriends over the years. Like, way more than his covers on Tiger Beat ever alluded to being possible. Nick's cougar fetish goes way back to 2011, when he dated Delta Goodrem, an Australian singer (??), for 10 months. Delta was a solid 27 years old at the time of their courtship, while Nick was only 18. EIGHT-FUCKING-TEEN. When I was 18 I was still getting drunk off of wine coolers and buying my "lingerie" from American Eagle. I was certainly not banging Australian singers old enough to be my legal guardian. In an interview with 60 Minutes, Delta said this of their relationship:
"Maybe it's that I'm interested in challenges. Maybe I'm one of these spirits who goes, 'Ooh, what is this lesson here? What am I learning here?' … There was a genuine love, definitely."
Okay, I have so many questions here. First of all, why is 60 Minutes trying to get to the bottom of a Disney star's sex life? I mean, I know I'm doing the same thing here, but I also spend 30-45 minutes a day searching Bughead fan accounts on Instagram, so it's not like I'm the best at using my time wisely, ya feel me? Secondly, WHAT IS SO CHALLENGING ABOUT DATING AN 18-YEAR-OLD? Other than trying to convince the bouncer at the bar where your friends are that his fake ID is real? Also, I would love to know the life lessons Nick fucking Jonas taught this woman who was almost pushing 30. Please enlighten me, Delta. 
Moving on. Nick also had a "fling" with Kate Hudson back in 2016. As we all know, "fling" is the celebrity code word for "definitely banged a few times." When I first heard this news I was shocked, because Kate is 13 years older than little Nicky and also a mother of two. I'm not sure if Kate was having some sort of mid-life crisis in which she suddenly had a burning desire to seduce the star of her son's favorite Disney program, but somehow it happened. Then again, maybe Nick has some sort of secret game that I'm not aware of??

Christ. Maybe not.
Nick told Ellen Degeneres that he'd been on a group date with an unnamed older actress but "it wasn't a date", which is funny because that's the exact same line I use when my Hinge date tries to split the bill. He later confirmed their booty call relationship in an interview with Complex magazine when he all but admitted that he definitely banged Kate Hudson. And by that I mean he said this:
"Out of my best effort to respect her and her privacy, I'm not going to say if we had sex or not. But we did have a beautiful connection…. She's amazing."
ALSO NICK:

I rest my fucking case.
The last piece of evidence I'll present to the court 5-10 friends I've blackmailed into reading all of my articles is this: Last week, Nick tried to slide into Jenna Dewan's DMs. After the Billboard Music Awards, Jenna posted an Instagram photo with the caption "Billboard Awards- 'twas such a fun night!!!" Nick commented on her photo with this flirtatious comeback:
'TWAS. 'TWASN'T IT.
First of all, I'd just like to say that you, sir, are ballsy. Not only is Jenna 12 years older than Nick, but she's also been on the market for all of five minutes, and I'm sure my her heart is still mending from the devastating break up with the love of my her life, Channing Tatum. LET THE WOMAN BREATHE, NICKY. To be fair, he also liked a shit ton of photos that his ex-girlfriend, Olivia Culpo, posted that night as well, so it's unclear as to if he was actually flirting with Jenna or if he just had a hefty amount of Pinot Grigio and wanted to connect with someone. Who can say. All I know is it 'TWAS very suspicious.
So there you have it: definitive proof that Nick Jonas has more mommy issues than Ariel Winter is into cougars. And by "definitive proof," I mean vague assumptions I've made based on the internet rumors surrounding his sex life. Obviously. Now, if you'll excuse me, I'm going to spend the rest of the day trying to unsee the The Jonas Brothers' flat-ironed curls circa 2007 that have now been seared into my brain thanks to this investigation.
Images: Giphy (2); @commentsbycelebs /Instagram (1)
Every Thought I Had While Rewatching 'How To Lose A Guy In 10 Days' In Honor Of Its 15 Year Anniversary
If you were a true betch in the early 00's then you know you weren't shit unless you were watching the latest and greatest rom-coms that graced your television screen. And the best rom-com in the early 2000s was How To Lose A Guy In 10 Days, which was arguably a national treasure of its time. It's been 15 years since the release of the movie—yes, let that sink in, FIFTEEN YEARS because Jesus we are old—and I'm still learning new shit every day from watching it. For example, I don't need 10 days to lose a guy, all I need is 10 minutes and the mere mention of commitment. *sips wine* In honor of the movie's 15 year anniversary I've decided to re-watch it and gift you all with every thought that ran through my head while I watched it. You're so welcome. Now, shall we begin?
1. Okay I've spotted my first problem with this movie already, and it's not that this girl somehow managed to get a job at a huge women's magazine in New York City as a FULL-TIME PAID STAFF WRITER right after grad school. No, HOW did this bitch manage to flirt her way into court side Knicks tickets? I can barely flirt my way into a text back…
2. I'm listening to Matthew Mcconaughey talk to his female competitors, and it's good to know that 15 years later sexism is still just as much alive and well in the workplace.
3. (But low-key Matthew McConaughey still looks fucking amazing in this. Seriously, gift that keeps on giving on my TV screen rn.)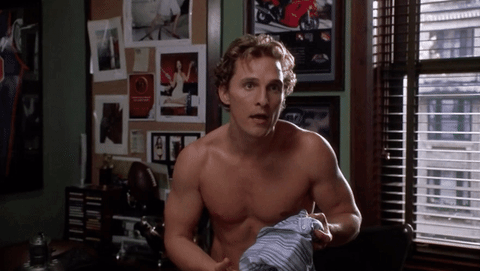 4. Okay this Michelle girl is a fucking psycho. She cried during sex? Said I love you after two days? If I were Andie I'd ghost her as a friend just listening to that story.

5. This editorial meeting is an absolute joke.
6. 10 dates in 10 days is fucking insane. The only thing I can commit to doing for 10 days in a row is my Netflix account, and even that is pushing it.
7.  Problem #2 with this movie is that Andie thinks she can just "find a guy" at a bar. Well good thing this story is about Andie and not about me, because I've been looking for a guy at a bar going on five years now and have yet to be successful. It would make a boring comedy, but perhaps a compelling horror movie. 
8. Why is this bar so well-lit? The only way I will speak to strangers when I'm out is under an extreme cover of tequila darkness. Also, why is the median age at this drinking establishment 55? The assignment was for her to find a guy to date, not help him exercise his mid-life crisis. Andie, honey, if you're looking for bar whose patrons are terrified of commitment then let me introduce you to Hair of The Dog.

9. I can't believe Andie is just going to ride off into the dark with this absolute stranger. Sober. That's the real inaccuracy here.

10. LOL he took her to Red Lobster. I know I've seen this movie, like, 100 times but I'm still waiting for Ben to creepily insinuate that shellfish is an aphrodisiac.

11. Ben, a white male in advertising, just chose Nelly's "Hot In Herre" as mood music. I now know why seventh grade me was so attracted to him…
12. Things I whisper to myself when I get a new match on Hinge: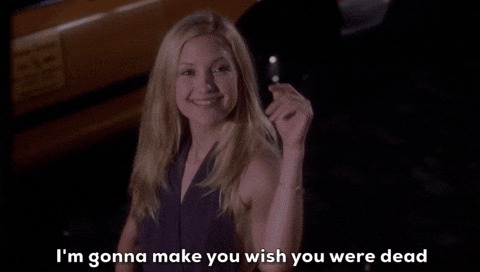 13. YO THAYER IS REAL AF. Case in point:
BEN: It's a marathon, not a sprint
THAYER: A marathon is 10 days?
14. So in order to get a guy to go on a second date with you, you need very expensive basketball tickets? And here I was thinking you could just put out.

15 OMG KRULL THE WARRIOR KING. I'm fucking screaming. This whole penis naming scene is pure gold.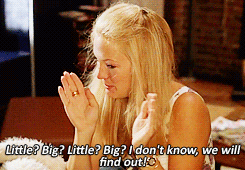 16. This entire plaid/khaki ensemble happening on my screen rn is so 2003 it hurts. Also, Thayer continues to kill it with the savage one-liners:
THAYER: You're a vision in khaki.
Seriously, Thayer, you are a national treasure. Don't let anyone tell you different.
17. Sooo making a photo album of your future kids with a guy is the equivalent of tagging a him in something on Instagram today? Interesting. One seems crazy and the other just seems like something that should be socially acceptable to do with a person after seeing each other for four months? But idk.

18. Is this her own personal rooftop that Andie and her friends are drinking/sunning on? WITH LOUNGE CHAIRS AND FLORA? And she can afford this on a writer's salary?? I mean, I too have access to my building's rooftop but there's less of a lounge chairs and flora situation happening and more of a potential lawsuits and liabilities.  
19. I'm watching this poker game and all I can think is Ben can fit an entire pool table in his apartment and my "bar cart" is an empty bud light box. Similar, but different.

20. The most unrealistic part of this movie is Ben being upfront with Andie about how "crazy" she's acting. If this were today he'd just never answer any of her phone calls and evaporate into thin fucking air only to resurface six months later between the hours of 2 and 4am.
21. BEN: You have more than enough personalities to keep me occupied
ME: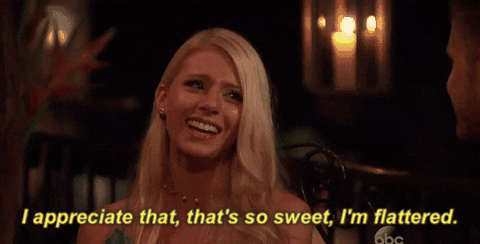 22. This therapist just said the words "positive idea" and "Staten Island" in the same sentence. K.
23. I love that the moment Andie starts to feel emotionally and physically attracted to Ben is the moment she realizes one of his greater strengths is bullshitting other people. It really comes full circle here, doesn't it?
24. Why does Ben's family sound like they're from Texas? Is this what Staten Island people are really like? Is this really where I can find a Southern sounding man who looks and dresses like Matthew McConaughey? Because if so, I've been seriously misled about wtf happens in Staten Island.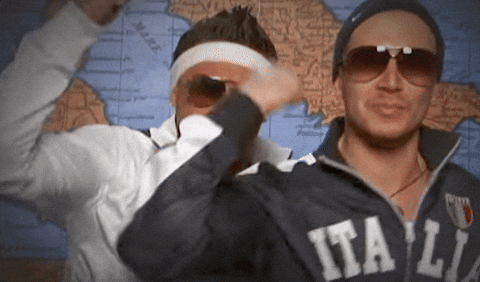 Seriously. Misled.
25. Let me get this straight. The first time they have sex is in his parents' hall bathroom? Why did I ever find this sexy? Are they full-functioning adults with paying jobs or college freshmen home for Thanksgiving break? 
26. She lives in a building with GOLDEN doors and an actual doorman. That rooftop is starting to make more sense, the salary of her profession and current fashion statement of wearing her jeans unbuttoned for the chic-ness of it are not:

Fashun. 2003 was wild, people
27. LANA: Do you see any patches or insignia on my outfit? No? That's because I'm your boss, not your girl scout leader.
Lana is me. I am Lana.
28. 15 years later and I'm still obsessed with this yellow dress.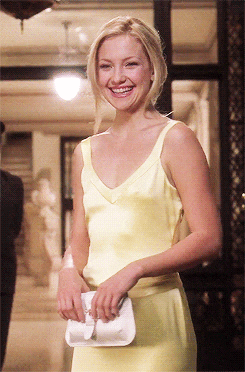 29. This party is littttt. It's also making me want to email my boss and ask her why I don't get to "frost myself" with millions of dollars worth of diamonds at our corporate happy hours. (I only get to sample the house wine.)
30. Ben's boss keeps asking Andie if she loves Ben and she's like, "Noooo, I can't? But I might?" and it's like, NO YOU ABSOLUTELY CAN'T BECAUSE IT'S ONLY BEEN 10 FREAKING DAYS. And he's been lying to you this whole time! Because he is a literal stranger to you.
31. Looking back,  "You're So Vain" was a fantastic song choice for this scene. I'll make note of it for the next time I want to publicly drag my ex for all the world to see.
32. Wait, this whole time I thought Mike was some huge player and instead he looks like he'd be more comfortable selling Verizon cell phone plans than trying to steal your girl. Are you kidding me with this?
33. Tbh the most realistic part of this whole movie is Michelle taking back a fuckboy with the flimsiest of excuses as to why he stopped seeing her.

34. Wait this is the high-end advertisement campaign they came up with for the diamonds? I have seen more high brow advertising come out of a Forever21 campaign. 
35. Looking back, this car chasing scene might be the reason I bang preppy looking fuckboys have trust issues.
36. So let me get this straight. She was leaving New York to advance her career and decided to stay because a guy she's known for 10 days asked her to? By romantically declaring his "love" for her by yelling "bullshit" at her? Seems right.
37. THEY JUST GAVE AWAY HER LUGGAGE TO A RANDOM CAB DRIVER? Yeah, be prepared to never see those belongings again, sweetie. I have a feeling their first official fight is about to happen 30 minutes after this scene when she realizes he just handed over her laptop to get sold on the black market.
38. Well this movie taught me that the more you push a guy away the more he'll realize how good he's got it and will fight for your relationship. Lol KIDDING. Nah, I didn't learn shit from this movie except that lies are an important step towards accepting love, and that if a beautiful man who works in advertisement approaches you at a bar, it's because he's just using you to win a bet. But you'll be into it anyway. Okay BYE.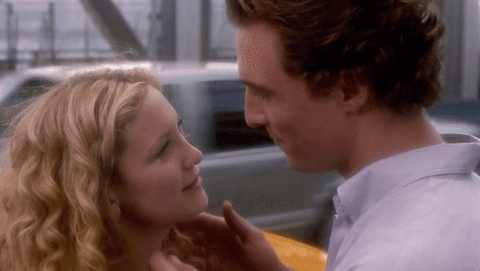 Images: Giphy (9); Netflix (5); Movieclips.com / Youtube (1)
The 5 Best Celebrity Athleisure Lines For Your Workout AKA Gym Instagrams
Karl Lagerfeld once said that "sweatpants are a sign of defeat," but that was probably way before Gigi Hadid and the rest of the fashion betches created the athleisure movement to make it socially acceptable to wear comfortable clothes in public. Even Chanel is experimenting with tracksuits and sports bras now.

Of course, with every trend comes a wave of celebrities trying to make bank and stay relevant off of it. In 2017, you're only relevant if you have a lip kit, fragrance, and/or athleisure line. While I totally support wearing leggings and a tank top every single day (keeping people guessing whether I've just come off a stationary bike or an alcohol bender is kind of my thing), celebrity workout clothes can be a slippery slope. Like nose jobs and reality shows, not all athletic gear was created equal, so here's a definitive ranking of the betchiest celeb lines.
5. Kate Hudson's Fabletics
Kate Hudson is a betch icon, which means that because her dad is the inventor of Toaster Strudel a rock star, she has the power to convince people to sign up for a subscription service to get floral capri leggings every month. Fabletics really puts an emphasis on the "leisure" side of athleisure, because you don't even have to enter your dad's credit card information more than once—let alone leave the house—to get it. Just beware that your dad may have to sell his soul in order to cancel your subscription. But that's why we love our dads: they'd do anything for us and our quest for cheap leggings. #Blessed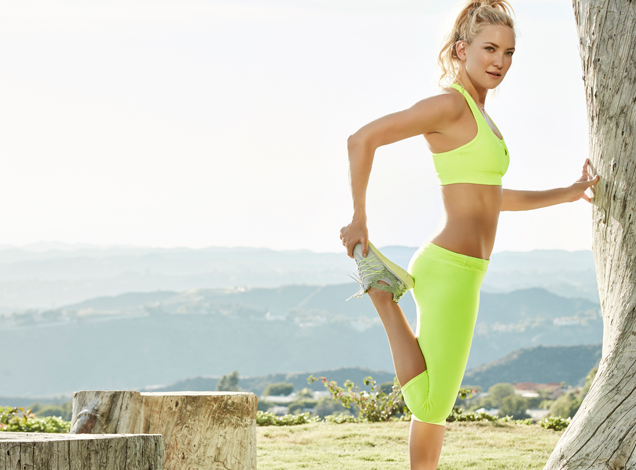 ​
4. Carrie Underwood's Calia
Carrie Underwood has the most amazing legs on the planet, so obviously, taking fitness advice from her is like getting an electrolysis referral from Kim Kardashian. Her line, Calia, is kind of like the mom version of Lululemon, but I'll let it slide because it also has more mesh than the entire cast of Jersey Shore's wardrobes combined.

Calia is sold at Dick's Sporting Goods, which is actually totally convenient because you can purchase a Louisville Slugger with your slutty caged sports bra to get all of your revenge supplies in one stop.

3. Kylie Jenner Merchandise
Kylie Jenner probably owns enough sweatpants and leggings to outfit every hungover betch for the next decade. Obvs, she threw some "sports sets" into her online merchandise shop. Everything is designed in Calabasas, which most likely means that the spandex shorts are engineered to reduce the appearance of butt pads.
​

The shop is also home to Champion sweatsuits that say "THICK!" on them. 70 bucks for a pair of Kylie's sweatpants may seem pricey, but it's probably one of the most cost effective ways to tell the world that you have a huge ass, or that you *think* you have a huge ass.
2. Beyoncé's Ivy Park
Beyoncé could release a collaboration with Crocs and the world would still lose its shit, so it's no surprise that her Ivy Park line has been so successful. It's almost like we don't even get to choose whether or not we like Beyoncé, we just have to. I honestly find it hilarious that people think the NSA is reading our group chats—if anyone's secretly watching over everything we do, it's Beyoncé's team. Anyway, Ivy Park's website is filled with like, tons of information about the "innovation" of their designs, so if you happen to break a sweat during the light jog you do when someone far away holds a door open for you, Bey's got you covered.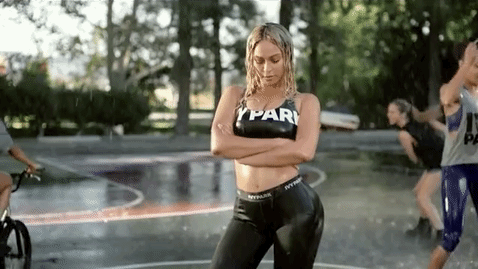 1. Rihanna's Fenty Puma
Fenty Puma by Rihanna is hands down the betchiest celebrity athleisure line out there (*braces for my inevitable hit by the Beyoncé mafia*). It's always sold out, which means it's exclusive. Plus, it inspires laziness because you can't actually work out in platform sneakers or stilettos. Unless you're Mariah Carey. (In which case, you're not even really working out. You're just spending your personal training session forcing your trainer to take pics of you. Such a power move.)