Khloé Kardashian Broke Her Silence In The Most Confusing Way
Friends, it has not been an easy few weeks for Khloé Kardashian. Not only did she have to push the giant spawn of an indiscreet cheater out of a hole the size of a lemon, but she had to do it while knowing that in the end she really should have gone the sperm donor route. I can only imagine this birth required lots of drugs, ice chips made from Evian water laced with liquid gold, and high thread count sheets. Then, since the birth of True "I was named to shame my father" Thompson, Khloé  has also had to endure the media saying she is "living in hell." What a beautiful way to describe Khloé's time with her brand new daughter. Put that one in the baby book for sure. Well, Khloé has finally had enough.
Yesterday E! News posted a picture on Instagram and linked to a story they wrote about how Khloé is "leaning on Kourtney" right now, since Kourt has also endured the shame of a cheating boyfriend with no regard for the woman whose organs literally shifted around inside her body to accommodate their child. I'm paraphrasing.
And after all the stories written about her since the cheating scandal broke, Khloé finally decided that a story claiming her sister was helping her out required a comment. So that's the line, then. Not her boyfriend being taped motorboating a rando in a club, or her mother telling Ellen that she is struggling with breastfeeding, but it was this nothingburger story that I can't even find a record of on the internet. Am I bad at Google? Anyway, Khloé commented on E!'s insta saying "oh damn… I hope I don't crush her by leaning on her! I love my little @kourtneykardash"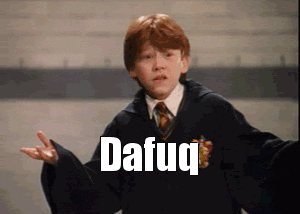 First of all, I feel betrayed by the stories claiming Khloé was "breaking her silence" and "clapping back." V misleading. It would be more appropriate for them to say "Khloé was finally so fucking bored while attempting to get True to latch on to her breast that she commented on an Instagram so she could get some more free media attention." Should I make that this story's headline?
Next, is she trying to shade E!? Like I just can't tell. If it's an insult, it's not a good one. It only serves to remind me that Khloé is, in fact, much larger than her sisters and that I really should get back to my investigation into who her real father is before the case goes cold. That bulletin board of clues in my basement isn't going to solve itself.
And finally, is she just agreeing with them? Like, "yeah I'm leaning on her, us gals with shitty taste in men gotta stick together"? I'd love to see how these sisters actually lean on each other. I'm sure we'll find out soon though, documented by a nude photo shoot for Insta.
Kourtney:  "I'm sure you're feeling sad Khloé but, like, you're blocking my ass and stealing my best light"
Khloé: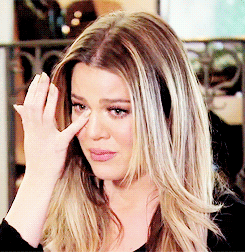 So basically it appears that the media made a story out of nothing. Shocking! Hit me up when Khloé actually breaks her silence with a scathing statement about Tristan's cheating ways while clasping his balls triumphantly in her hand. Sound good?
Images: @commentsbycelebs /Instagram (1); Giphy (2)
Khloé Kardashian May Have Just Accidentally Confirmed Her Pregnancy
Another day, another breadcrumb in the Kardashian pregnancy conspiracy theory thread. Today's latest piece of evidence that probably confirms what we've all shadily known for months comes courtesy of Khloé Kardashian's Snapchat, where it looks like she may have dropped an accidental clue. But then again, is anything really accidental when Kris Jenner is involved? Other than these pregnancies, probably not. Actually, Khloé's pregnancy was probably planned, but you get what I mean. (Kylie's was definitely an accident, though, because I refuse to believe that anyone, even a rapper who recently rapped "let me cum inside ya / let me plant my seed inside ya", would purposefully impregnate a 20-year-old Kylie Jenner.) Anyway. On Sunday, Khloé promoted her Diff Eyewear sunglasses on her Snapchat story, where some eagle eyes noticed something very interesting in the reflection of her shades.

Do you see it? Me either, because I'm not a psychopath I have no idea what I'm looking for. So look carefully into the left lens (your left—not Khloé's). Do you see what looks like a person laying face-down wearing white pants? Yeah. That is probably not a dead body, and is more likely a pregnancy pillow. Here's a photo in case you are unable to conjure up a mental image of one such pillow on your own (don't worry, I have never even heard of these things until just now).

So I mean, yeah, that's probably what this is, but I still have to ask: Why does it look like there's a torso attached to this pillow, though? I still may call the police just to be sure. Like, how do we know this isn't Rob's lifeless body? WE DON'T. Somebody check on Rob to make sure he's okay.
On a less morbid note, this pillow could, I guess, be Kylie's or Kim's or even left over from Kourtney's or Blac Chyna's pregnancies. Maybe it's like, the sisterhood of the traveling pregnancy pillow. Do I really think that? No. But I've got to throw out all viable options in the name of journalism. It could also be like, a pair of Tristan's pants he left on the floor or some shit. Maybe Khloé is sub-Snapchatting him for not picking up after himself. It's probably the pregnancy pillow, though. #Journalism. I will now await my Pulitzer prize.
That's all the news I have for today. Stay tuned for December 24th, when an episode of Keeping Up With The Kardashians entitled "Baby Fever" is slated to air. That's right. On Christmas. The devil may work hard, but Kris Jenner works a hell of a lot harder. Actually, you can't tell me Kris Jenner isn't the devil. Who else would drop news this big on fucking Christmas? I'll wait.
All Signs Point To Khloé Kardashian Announcing Her Pregnancy Very Soon
This fall, while everyone has been busy talking about the Mueller investigation and when Trump will get indicted, we've been focused on investigating something more important: the mysterious Kardashian pregnancies. It's been months at this point, and both Kylie and Khloé have managed to somehow avoid fully confirming their ~alleged~ pregnancies. But that might be about to change. It looks like Khloé is getting ready to announce her pregnancy, and here's why.
On the most recent episode of Keeping Up, it was Christmas at Kris Jenner's house, and she just couldn't keep her mouth shut about her many grandchildren. The family had their big Christmas dinner (filmed in October, naturally), and Kris started to tear up while giving the following speech:
"I used to pray that one of you guys would have a baby. And now it's like a faucet that that we turned on and it won't turn off, so the fact that I have all these grandchildren—it's been the most amazing journey to watch your kids . It's truly the meaning of life."
So besides Kris being a hormonal mess, she's also basically giving confirmation that like, all of her children are currently pregnant. She also goes Christmas shopping in the episode, and she talks about shopping for her grandkids as something that "never seems to end." Kris is teasing us, and we need more info.
Another interesting development came this week when Kris bought another mansion in LA, adding to her family's already impressive LA real estate portfolio. It's unclear who or what the house is for, but Kris definitely doesn't need it. Our theory is that she could be getting a new house ready for Khloé while Khloé is busy hanging out with Tristan in Cleveland.
Khloé's been spending most of her time in Cleveland recently, which makes sense, because Tristan is there for the NBA season, but also because there are literally no paparazzi in Ohio. When Khloé has been out and about, she's been wearing giant sweatshirts and holding her purse in front of her stomach, because that doesn't draw any attention.
So here's our guess: Kim's baby is supposedly due before Christmas, which means she'll be the center of attention a month from now. If Khloé announces her pregnancy sometime in the next couple weeks, it'll give her the perfect time in the spotlight, and then she can go back to Cleveland and lay on the couch until the baby comes. Khloé's time as the center of attention has been historically pretty limited, so she should really seize this opportunity to be the most important sister.