WTF Is Poosh, Kourtney Kardashian's New Project?
While my editor is taking a nap from covering the tidal wave of Kardashian Kontent that won't seem to end, I'm taking the liberty to address the latest earth shattering news from the Klan: Kourtney Kardashian FINALLY has a REAL JOB. Kourtney has been low-key on the track towards joining the workforce, starting with her press tour advocating for makeup and household products with less toxins. Kourtney stepped it up yesterday by announcing she has a new project coming soon called "Poosh." It's a project that's named after her daughter, which means P has ascended to the role as Kourtney's favorite child. Sorry, Reign! It's really touching to see that Kourtney and Penelope have settled their differences and come a long way since Kourtney slammed a door in Penelope's face. Thanks, family therapy!
Kourtney posted this nearly nude photograph of herself with absolutely zero context and no allusion to what the hell Poosh is. So mark that as the first time the Kardashian family has ever left something to the imagination, like, ever. If you go to the Poosh Instagram account, you'll notice it's basically just a grid of the same photo above, with more images of Kourtney Kardashian superimposed in. There's a link to "get on the list", and not much else. Interestingly, the account has 2.2 million followers already, even with no information about it, and yet I've been trying to break 2,000 followers for the past few months and I actually post fire memes. It's fine, I'm fine. But then I noticed that the @poosh account is just the old dash account, and it put everything into perspective. I was wondering what happened to that account
After a deep dive on this upcoming project—I checked out the "Poosh" trademark online and saw what it was for (and then Us Weekly wrote about it after, so it really wasn't worth the effort)—I learned it's a website that has blog posts about a wide range of subjects from entertainment to health to parenting. Basically, it's just a website version of her old app that got shut down. Hopefully, this site won't be subscription based and won't have posts that are about things we already know encompassed into three sentences.
This family is all about bringing the drama, so I really think this lifestyle website is a step in the right direction to keep the Kardashians in the headlines. Think about it: Gwyneth Paltrow's website gets backlash, like, all the time. From doctors with legit PhDs to representatives of culture's she's re-appropriated to f*cking NASA, Gwyneth has offended more people than any Sascha Baron Cohen movie or South Park episode ever could. So imagine how many mommy-shamers and fit chicks will get offended by this website. People who need to get a grip plus the Kardashians is a beautiful equation for trashy-chic gossip that you know will make me feel way better about myself than any yoga retreat or green juice cleanse ever could.
I love oil enemas! I recommend them to all of you freaks…trust me when I say life changing! #kktny

— Kourtney Kardashian (@kourtneykardash) November 28, 2011
Will this lifestyle website inevitably lead to us entertainment writers developing Xanax addictions to deal with the never-ending, overwhelming influx of more Kardashian gossip? Probably. Looking forward to your clickbait on gluten-free, dairy-free enemas and $5,000 festival wear that plagiarizes crafts made by the Navajo tribe, Kourt!
Images: kourtneykardash / Instagram; kourtneykardash / Twitter
Kendall's New Man, Ben Simmons, Has A SUPER Shady Dating History
We're almost halfway through 2018, and it's really been a whirlwind year for Kardashian news thus far. Nothing can top a surprise baby or meeting Donald Trump, but Kendall's love life is still making headlines of its own. Kendall is dating Ben Simmons, and I have a lot of thoughts. A few months ago, everyone  I became deeply invested in her new relationship with basketball star Blake Griffin, but it appears Kendall has moved on to an NBA player who's younger and hotter (feel free to fight me in the comments if you disagree).
Ben Simmons and Kendall Jenner were first rumored to be together on Wednesday, and then they basically confirmed it later in the day by hanging out together in LA. Also present at the hangout were top model Kaia Gerber (who is 16, ew) and Jordyn Woods, who at this point must be contractually obligated to hang out with a Jenner sister at all times. Jordyn was hanging out with her own NBA player, Devin Booker, but that's not what we're here to talk about. Ben and Kendall left together at the end of the night, which is obviously scientific proof that they are fucking. Don't forget to use a condom, kiddos!
But if you, like me, don't know anything about basketball except that Tristan Thompson is a piece of shit, allow me to fill you in on 5 things you need to know about Ben Simmons.
1. He's Australian And Also Very Tall
Ben Simmons isn't like a regular basketball player, he's a cool basketball player. By that I mean that he's Australian, which objectively is the hottest accent. Fight me, French people. He moved to the US for high school (basketball player things), so he now has this crazy half accent that I can't quite figure out. Oh well, guess that means I'll just have to spend the next three hours watching interviews of him. I'm not that sad, considering that he's also very pretty. He's also 6'10", which is an alarming height until you realize that Kendall is 5'10". Oh wait, still alarmingly tall.

2. He's Like, Really Good At Basketball
Since being plucked from the outback of Australia, Ben Simmons has really proven himself as a #baller. He played at LSU for one season before ditching school for the NBA (casual), and he was the number-one overall draft pick in 2016. That's basketball speak for everyone literally being obsessed with you. He was injured for his first season in the NBA, but this year he's been a star player for the Philadelphia '76ers. Voting is happening for Rookie of the Year right now, and he's considered one of the favorites. That is as much as I can say about basketball without sounding like an idiot, but he is clearly very good at his job.
3. He Was Literally Just Dating Tinashe
If your response to the name Tinashe is "who?" then please excuse yourself and come back when you're properly educated. Tinashe is a very underrated R&B singer who is both talented and sexy, and everyone should know about her. She and Ben started dating back in March, but the timeline of recent events is very murky here. A source reported last week that he broke up with her for literally the craziest reason. She was accused of "doing Kardashian shit." HELLO IRONY. The source said of Tinashe, "She is way too public with everything. They just started dating and this girl is calling up paparazzi." AM I READING THE SAME THING YOU ARE READING OH MY GOD. In a wild thickening of the plot, Tinashe's brother popped off on Twitter, saying that Ben just broke up with Tinashe on Sunday, meaning he was definitely cheating with Kendall. I need an inhaler right now because I CANNOT BREATHE.
Never met you before in my life. days after u break my sis heart u do this… ppl all lied on her talking fake news about my sis *doing kardashian shit * u cheat on her w a Jenner ???? DONOVAN MITCHELL ROY fuck nigga https://t.co/xjmm2E2mRq

— kudi (@kudikaching) May 30, 2018
4. He's At Least The Fourth NBA Player Kendall Has Dated
In a family where pretty much everyone loves dating NBA players, Kendall like, really loves dating NBA players. Khloé usually gets all the attention for her basketball fetish, but Kendall has quietly been building up quite a roster of her own. She's only 22, but Ben Simmons is already the fourth NBA player she's been romantically linked to. She made big headlines earlier this year for dating Blake Griffin, but she's also hung out with Jordan Clarkson and Chandler Parsons in the past. All of these men have names that sound like they were created by an algorithm, and they're also all very hot. Kendall very clearly has a type, and I'm not mad about it.

5. He And Kendall Don't Follow Each Other
As you already know, stalking who follows who in the Kardashian family is one of our favorite pastimes. There are endless social dynamics to investigate, and it's the most fun whenever a new face is introduced. Ben Simmons sadly does not follow any of the Kar-Jenners on Instagram, including Kendall. Poor form, Ben. Everyone should really be following at least two Kardashians at this point, so this really seems like a conspiracy. Kendall is also not following Ben, so they're at least putting 10% effort into keeping their relationship on the DL. Seems like it's working!
And I'll say this now before any of you (*glares angrily at Kris*) get any funny ideas: if Kendall ends up pregnant a month from now, so help me God, I will burn Calabasas to the ground.
Images: Giphy (2)
Guess Which Kardashian Is Going To Congress
Looking for a new retort to narcs who are always complaining that the Kardashian-Jenner family is famous for nothing? Well you're in luck because the eldest sister has been busy enacting real change in Washington DC and all of those haters can take a seat in the corner. That's right. Kourtney Kardashian is going to Congress. Or should I say, Kongress. Kourtney is headed to Kapitol Hill to take on outdated FDA regulations for cosmetics, something she is incredibly passionate about and wears on her face literally everyday!
On Tuesday, the tiniest Kardashian along with New Jersey Representative Frank Pallone will speak to members of Congress about the lack of oversight the FDA has on cosmetic products. So, like, if a blush could make you breakout in hives or a dry shampoo causes your hair to fall out, the FDA can't legally recall those products. Gross.
The Cosmetics industry is one of the few industries left relatively untouched by federal regulations. In fact it's been almost 80 years since major regulations were implemented. Currently, these products don't need to be tested for safety. Not cool. So why does Kourtney care? Well, first of all, she is a passionate and a fighter for the people. Need I remind you of the time she reminded him "there's people dying"? Inspiring. Secondly, she is working on a cosmetics line with Kylie and to get her name out like this is huge. I wouldn't bat a fake mink eyelash if you told me Mama Kris was orchestrating the whole thing to make her eldest an authority on cosmetic safety before the launch of her line. In fact, I wouldn't blink if you told me Mama Kris was secretly running the government. What can't that woman do?
It isn't totally clear what was discussed at the private meeting Tuesday but I do hope this is the kick off of Kardashians in politics, if for no other reason than to drive the haters insane.
Heads up, you need to keep up with the news. It's not cute anymore. That's why we've created a 5x weekly newsletter called The 'Sup that will explain all the news of the week in a hilarious af way. Because if we weren't laughing, we'd be crying. Sign up for The 'Sup now!
How The Kardashians Are Responding To Tristan Cheating On Khloé
Last week news broke that men are scum Tristan Thompson probs cheated on nine-month-pregnant Khloé Kardashian with some hoe at a club. Is this the part where we corral up all of the men and set fire to everything they know and love? Cause I've been ready and waiting for that shit since 1992. Just saying. Anyway, while I've been at home sharpening my pitchfork gleefully following this scandal from afar, the Kardashians have been "rallying" around Khloé in her time of need. Cosmo.com recently reported that the Khloé's family has been trying to help her concentrate on her newborn daughter and keep her away from the news, which, like, would be super sweet of them if I wasn't seeing their barely clothed bodies all over my damn Instagram feed. I guess some families show their love and support with cards and flowers, while others take selfies of their asses. To each their own. So here's how all of the Kardashians are responding to the Tristan Thompson cheating scandal, may God have mercy on their souls:
EXHIBIT A: The Kardashians Break Their Silence
Kylie was the first to break the Kardashian/Jenner silence pact after the cheating scandal broke. This picture was posted just hours after her sister's personal life went up in literal flames, and as you can see, Kylie (and her ass) are clearly distraught over the whole thing. Kylie posted not one, not two, but a whole damn series of photos that not only showed off her post pregnancy body unwavering support, but also helped promote an old lip kit. Because nothing says "thinking of you, sis" like an aptly timed promotion. Kris Jenner would be so proud. 
EXHIBIT B: Green Is The New Grief
Kourtney was the second member of the Kardashian fam to break their silence, and she did so with a casual reminder that while sources say Khloé is "devastated" and trying to "get the hell out of Cleveland," Kourt and Kim are living their best lives on vacation. So sweet! I literally can not think of one single other way to send thoughts and prayers to a family member going through something than with a photo-shoot in between Mai Thais by the pool. What I find most interesting here is Kim and Kourtney's choice of wardrobe. They both chose to wear green, which I can only assume is a subtle way of saying they're green with envy at all the press Khloé's been getting from her obliterated relationship. Like, no one even seems to give a shit that they're in Turks & Caicos for adult spring break. I mean, what has the world come to??
EXHIBIT C: Nothing Says Support Like A Selfie
Then we have Kim, from whom I honestly expected nothing less. If you'll recall from early episodes of Keeping Up With The Kardashians, Kim has always handled painful, traumatic family moments by taking fire selfies. To be fair, this pic was taken a whole day after Khloé's world imploded. Who knew Kim would be the most sensitive out of all the siblings? Perhaps motherhood has changed her? Lol, I know. I crack myself up. Let's just hope that Kim doesn't keep the picture that captured Khloé's emotional devastation at finding out the father of her child blatantly cheated on her with another woman on the mantel in her and Kanye's mansion like she did Khloe's DUI mugshot. Never change, Kim!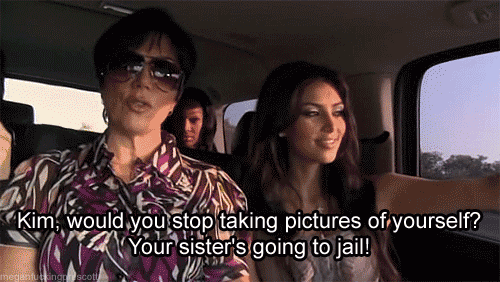 EXHIBIT D: This Is Really Necessary
And finally, my favorite show of support, here we have half of the Kardashian fam (and friends!) dancing on the metaphorical grave of Tristan and Khloé's relationship. This photo was taken just days after Khloé gave birth to little baby True and her sisters rushed to her side in the delivery room. Based on the time stamp, I'm assuming this was taken sometime after Khloé pushed a human being out of her body and in the next breath had to call her lawyer to see if they got that video of Tristan taken off of TMZ yet. While this may not have been taken at the Cleveland airport (though several paps caught similar footage of Kim and Kourtney leaving said airport) this photo shoot is still a little too close for comfort. And by "comfort" I mean common human decency.
Well, as you can see, with sisters like these how can you not want to kill yourself feel loved and supported during your most vulnerable moments? I'll keep these shows of support in mind for the next time my sister calls me to cry about her ex-boyfriend. Thanks for the tips, ladies!!
Images: @kourtneykardash /Instagram (1); @kyliejenner /Instagram (2); @kimkardashian /Instagram (1); Giphy (1)
There Are Rumors That Kylie Jenner Is In Labor Right Now
It's 2018, and if you tweet it it's true so…Kylie Jenner might be in labor. How do we know this? Well, mostly because fans are tweeting about it. Rumors began spreading this afternoon that Kylie may be in the hospital at this very moment, presumably trying to film her own "miracle of birth" video with a dog face filter. The origin of the rumor is apparently a group chat (aka the millennial New York Times) in which a woman claims her friend's friend's sister saw Kylie entering Cedars-Sinai Medical Center in LA. Reliable sources all around, I'm sure.
Is Kylie Jenner really in labour or fake news? pic.twitter.com/xcNFJJfhlK

— ellisehilton (@ElliseHilton) January 12, 2018
Others are pointing to this Snapchat by baby daddy Travis Scott, that could be a message to his soon-to-be baby mama:
Is Kylie Jenner in labor?? Travis Scott's Snapchat pic.twitter.com/FpocKiHfcC

— jpenny (@JennyPennyy) December 27, 2017
Obviously all of this is unsubstantiated (we still technically don't even know that Kylie is pregnant yet), but several high-profile Kardashian news outlets like Say Bible are tweeting about it so…yeah…
There's a rumor that Kylie is in labor… Stay tuned! Doing more research.

— Say Bible (@SayBiblePodcast) January 12, 2018
My sources say Kylie Jenner is in labor

— Sophie Julia (@Sophiejulia) January 12, 2018
Theres a rumor going around that Kylie Jenner is currently in labor!!!!!!!! Will keep you posted once it's confirmed!!

— Erin Robinson (@ErinRobinson) January 12, 2018
Stay tuned….

Kylie Might Be Using Donuts To Hint At Her Pregnancy
Hello there, and welcome back to the Kylie Jenner Pregnancy Rumor Channel. We're now into month five of pregnancy speculation, which is funny because I feel like it's been a hundred years. Somehow it's 2018 and we still don't know for sure that Kylie is pregnant, so let's talk about why these donuts mean Kylie is pregnant. Get comfortable, because this is actually a two-part conspiracy theory.
On the last episode of Keeping Up, Kylie sent almost everyone in the family pink donuts. A fun, yummy treat, or an elaborate pregnancy scheme? People were quick to point out the color of the donuts, suggesting that this confirms the rumors that Kylie is giving birth to a baby girl. That would actually kind of make sense, and it's not the most ridiculous gender reveal we've heard of.
But the next important piece of this puzzle is that Kim didn't get any donuts. We'd say she's on a diet, but Kourtney didn't eat hers either, instead satisfying herself by sniffing a donut like she was a high schooler with a fresh pack of Sharpies. No, there has to be another reason that Kim didn't get donuts. The theory is that Kylie might actually be Kim's surrogate, in which case there's no need to tell her the gender of the baby. Dun dun DUNNNNNN.
So is Kylie the surrogate? There's no way to know for sure, but it's definitely possible. That might explain Kylie's reluctance to have the spotlight on her, because the baby isn't actually hers. But it also seems weird to me that someone young enough to fit in at a frat party would just like, volunteer to make her body less hot? Like Kylie, this is the prime of your life, and you fucking volunteered as tribute to get a shitload of stretch marks? It's a no from me.
So is Kylie having a girl? And is it actually Kim's? I won't pretend to be psychic or anything, but I'm going to officially guess that the answer to at least one of those questions is yes. And let's hope we get an answer soon, because I swear I'm about to start putting vodka in my coffee if I don't get some closure.
We're Pretty Sure We Know The Exact Day Kylie & Khloé Will Confirm Their Pregnancies
Buckle your seat belts, ladies and gentlemen, because I'm about to tell you the exact date that the Kardashian empire will reveal to the world the pregnant stomachs of Khloé Kardashian and Kylie Jenner. No longer will they be restricted to only taking chest-up photographs, or stealing shirts from Shrek's closet to hide their bumps. Just when you thought you no longer cared if they were with child, without child, or dead, they are finally going to give the people what they've been asking for: a goddamn confirmation. That is all we've wanted this entire time. Just say yes or no.
So how do I know the date? The latest fan theory that's been floating around the Kardashian Universe (which is the regular universe) is taking the hint from the Kardashian family Christmas card. This is the most realistic and solid theory I've heard (and I've heard them all), and I am not ashamed to say it literally gave me chills. Let's break it down piece by piece.
As you all (should) know, the Kardashians do a very extra Christmas card every year. It's their thing. Normally they'll just post the Christmas card for the whole internet to see, and everyone loves it and that's that. This year, they're shaking things up a bit. As of December 1st, they've all been participating in 25 days of Christmas, and each day they reveal a tiny piece of the entire photo. It's like a puzzle, which, on the 25th with all the pieces together, shows the final picture. Here are some of the pictures that have revealed so far.


Notice how so far we can only see a few of the kids, Kim, and who I presume to be Kourtney based on hair color and proximity to her children. Kylie and Khloé are noticeably absent at this point.
So what piece of the puzzle will be revealed on the 24th? Kylie and Khloé in the Good American maternity collection, pregnant stomachs fully exposed. Suprise! There it is. This is totally legit. Pregnancy is the exact kind of thing people share in their Christmas card photos. And if the two of them are supposed to be giving birth some time around January/February, there is no luck for them hiding this much longer. They need to just get this over with.
Kris Jenner already hinted at her future grandchildren in that Instagram of all their holiday pajamas, sent to her from Burt's Bees, who apparently makes clothes. Can I buy a camisole that matches my Chapstick? But perhaps this was a meta hint that the pregnancy announcement would be made around Christmas time. This theory also makes way more sense than it being announced in the midseason finale of KUTWK, which I admit I previously believed, but I don't think even Kris would stoop that low. This way is much more wholesome, but still gives the girls a chance to reach the most liked Instagram of the year. There obviously has to be some media value to this, or else what was the point in getting pregnant?
I'm no psychic, but I think I just predicted the biggest moment of 2017, and of our lives. And if I'm wrong, then I guess we'll just have to wait until the babies are out of the womb to confirm this shit. But even then, will we ever really know for sure? At this rate these kids may be 30 before the Kardashian/Jenner clan confirms their existence. Kris to E! News in 2048: "BTW forgot to tell you Khloé and Kylie were pregnant." Seacrest, out.
Scott Disick Accidentally Confirmed Khloé's Pregnancy
It's now been weeks since we first got news of the alleged Kardashian pregnancy pact, and we're still waiting for official confirmation that Kylie and Khloé are really pregnant. At this point, it seems like they're determined to stay quiet for as long as possible, so we'll take our news where we can get it. And that source is Scott Disick. Desperate times, ladies.
Last week, Scott was in Washington DC to host the opening of a new Sugar Factory location, because that's what life is like when you got a Kardashian pregnant three times. When Scott was interviewed at the event, someone asked what advice he would give Khloé, and he said "If she ever asks, I'm sure I would try. But I feel like all of us are so close that all of our children are kind of brought up in the same vicinity or one block over, that everybody's kind of there for each other."
Okay, so first of all, it sounds like raising a Kardashian child is like living in a fancy hippie commune. Mama Kris is like, the love guru or some shit, going from mansion to mansion spreading good vibes for all the little ones. Scott basically said he doesn't need to give real advice, because everyone will just be around all the time like braiding each other's hair and playing with stacks of $100 bills.
But what it all comes down to is that this would be a really weird thing to say if Khloé isn't actually pregnant. He's obviously not going to come out and say it, but at this point it seems really unlikely that the whole thing is a hoax. Right now, Khloé is probably sitting in her mansion in Cleveland, wondering how she can lose the baby weight before she even has the baby. Don't worry girly, we hear CoolSculpting works wonders!