What We Know About Kendall Jenner's Obscene Halloween Party
Guys, serious question. Why the f*ck do the Kardashians keep having parties? Hot on the heels of Kim's ill-advised 40th birthday trip, Kendall decided to host her own 25th birthday/Halloween party on Harriet's Rooftop at Hotel 1 in West Hollywood. That's right, friends, while you were dropping candy down a chute to a kindergartener wearing a hazmat suit, the Kardashians & Co. were getting their aerosols all up in each other's tightly costumed business.
The guest list was reported to be around 100 people, with attendees including Jaden Smith, Justin Bieber, The Weeknd, Winnie Harlow, Doja Cat, and 95 other people that I assume I hate. Kendall dressed up as Pamela Anderson and posted her costume on Instagram:
Look, I'm not going to deny she looks great. But can all these idiots who run around obviously flouting the rules and keeping us in this state of lockdown stop telling me to vote? I already did, and I don't need your hypocritical ass telling me to do so. Thanks!!
Not only did Kendall throw a huge party, but she clearly knew it was wrong, telling her guests not to post on social media. Of all the rules people should be following right now, THAT'S the one she wanted to enforce at this party??! Also, Kendall, that's a sweet idea, but you invited people who literally make their living posting on social media. You really think they're not going to post? That's like throwing a raw steak at a lion and asking it not to eat it. Even Kendall's own sister posted the party all over her stories. Intentional sabotage or honest (drunken) mistake?
not Kendall Jenner hosting a Halloween party in the middle of the pandemic and making a "no social media" rule so people wouldn't know pic.twitter.com/ZfmvooNMkk

— ema | TAYLOR IS FREE (@repaotd) November 1, 2020
Lest you all think I am being dramatic (me? never!) and critical of Kendall for no reason, let's give her the benefit of the doubt! I'm going to take a look at some of the CDC recommendations for gatherings and see how well they were followed at this party.  
Currently, the CDC recommends that people wear masks when they are less than six feet away from other people.
Hmmm okay, so I guess that one's a fail. Unless full body makeup counts?! I have a call out to Dr. Fauci, so if he calls me back and says this one is fine, I'll update you!! 
The CDC also suggests guests bring their own food, and limit the amount of people where food is being handled. Let's see how they did on that one:
SHE BLEW OUT CANDLES!! That wasn't even sanitary BEFORE people were dying from other people's spit! I hope that coronavirus was at least buttercream. 
And finally, they recommend that guests minimize gestures that promote close contact. For example, don't shake hands, do elbow bumps, or give hugs. Instead wave and verbally greet them.
Does groping count? I really wish they had been more specific about butt contact. I can't be the only one with this question. 
ET reports that they rapid tested everyone at the door, and only people who tested negative were allowed to go up. That's at least something, I guess, but who was doing this testing? A doctor?  Or were they just hazing some low-tier Tik Tok star who was willing to demean themselves by sticking Q-tips up popstars' noses for a precious invite? My money's on that one. 
Also, this testing is imperfect! A negative rapid test is not an all-access pass to straddle a dude dressed as the Nutty Professor. It's just not. 
And I'm not the only one who's pissed. Naturally, the internet went crazy over this party. 
Ok Kendall Jenner blowing out candles as a masked waiter holds her cake and tries to move out of the way was actually the scariest thing I saw on Halloween pic.twitter.com/o46ri7TJ9W

— Nicholindz Cage (@lolzlindz) November 1, 2020
CAN ALL THESE CELEBRITIES AKA KYLIE JENNER, KENDALL JENNER, JUSTIN BIEBER, NIKITA DRAGUN, JADEN SMITH TO NAME A FEW STOP BEING IGNORANT TOWARDS THIS VIRUS THERE ARE PEOPLE THAT ARE DYING U DONT NEED A HALLOWEEN PARTY

— ❀bec⁷ (@sixthirtyagbs) November 1, 2020
kendall jenner throwing a party in the middle of a GLOBAL PANDEMIC is irresponsible beyond imagination. people are going homeless and losing their jobs. there are people dying in hospitals everyday because of this. instead of you staying home your putting more people at risk pic.twitter.com/GXhJRonHW1

— victoria ᴴ (@harrysgrovvy) November 2, 2020
I think the fact that anyone would call this a "super safe" party just shows what a truly skewed view of reality celebrities have right now (and always).
So now I have another question for you. Where are the consequences for the Kardashians? Morgan Wallen got dumped from SNL for partying without a mask, and the NFL has fined teams and coaches for not wearing masks. But it seems that things that stick to others never seem to stick to this family. I think there needs to be a larger conversation about why it's time for us as a country to be done with the Kardashian/Jenners and their problematic behavior, but in the meantime I would like to see some sort of consequence for how they've acted throughout this whole global crisis. Kendall has yet to respond to backlash, but I'm not holding my breath for anything remotely apologetic.
Don't miss out on any pop culture or entertainment news. Subscribe to our weekly newsletter here. 
Images: DFree / Shutterstock.com; kendalljenner, kendalljenner_official__ (3)/Instagram; repaotd, lolzlindz, sixthirtyagbs,harrysgrovvy/Twitter
How The Kardashians' Beauty Looks Have Changed Over The Years
I've always said that being hot is really 75% just proper hygiene. Just looking clean and polished ups your hotness ratio by a lot. (I mean, except if you're a guy living in LA, and then somehow you're allowed to look filthy and still be considered hot because it's "grunge".) Celebrities have the means to push this further. Even without the plastic surgeons, they have access to the best hair stylists, very expensive extensions and wigs, the most skilled makeup artists, personal trainers, personal chefs, and the list goes on and on. Meanwhile, looking my best as a regular person means putting on makeup in 10 minutes and poorly curling my hair—maybe putting on jeans instead of leggings (but usually not, jeans are formal wear, everyone knows that). But really, if we all had Kardashian money and access, how much better looking would we be?
Well, I decided to put that question to the test. Not by somehow becoming an overnight billionaire, but by taking a look at what the Kardashians used to look like before all the money and the fame. The Kardashian-Jenner clan were always rich, let's make that clear, but once they got in the public eye, they started really shelling out cash for their appearance. So what does being rich and having access to the the best of the beauty world do to your face? Let's take a look.
Kim

Kim went from styling her makeup like Jafar to a "natural" look. (I put "natural" in quotes because it still probably takes her a ton of makeup to get there.) Kim talking about makeup was the first time I had even heard the word "contour," and say what you will, but she heavily influenced the way all of us think about makeup. She really does look like an entirely different person from her past self, and for some reason, also stopped smiling in photos. Is that a rich person thing or from the Botox?
Khloé

I really thought that Khloé would look the most different due to her dramatic weight loss, but really, she was actually pretty thin before she was mega-famous. Now she's just super ripped and in shape. In addition to the obvious hair color change, Khloé got a tan, is no longer subject to normal human problems like oily skin, enhanced her lips, and is "contouring" her nose differently. I will say, the makeup is definitely better! Why did we all think having shiny lips was a good look?
Kourtney

I always felt like Kourtney had the least amount of work done of her entire family, but this photo makes her face seem pretty significantly different. One thing being that she looks super miserable in every single photo now. Is that part of being "high fashion"? Or is that just proving what they say about money not buying you happiness? IDK. What I do know is that years of the best makeup artists got Kourt to grow out her brows and stop with the heavy-handed black liner. I say, from my high horse, although this was my *exact* look in middle school, too. Complete with the hoop earrings! It was just of the times for a regular person. But the money definitely changed Kourt from being subjected to us regular people trends (and, from the looks of it, also changed her nose).
Kris

Kris was always cute, and now she's still cute, but she kinda looks like an entirely different person. Since her early days, Kris grew out her hair, got lash extensions, a new nose, and thicker eyebrows. She also lightened up the makeup, which makes her look way younger, but somehow has less wrinkles in the recent photo than the before thanks to her documented facelift and Botox.
Kendall

Kendall and Kylie are harder to show because they were literal children before they started their cyborg transformation. But I tried to find photos of them in their late teens. I always thought Kendall looked the most natural out of all of them, with most of her changes being to her makeup, nose, lips, and learning how to serve ~lewks~. Seriously, can Kendall teach me how to pose? I'm sick of looking awkward in every photo. I will say that her lips definitely look fuller, and not just from overlining them, but that's neither here nor there.
Kylie

In a correlation that is definitely related, Kylie has the most money and has changed the most. Aside from being a child in the original photo, clearly there is a lot going on for this total glow-up. Surgery/fillers aside, the biggest changes to Kylie's face really look like they're from just having the best of the best makeup and hair people. Before, she did her makeup like every other 14-year-old. Now she looks like a true celebrity, with perfectly filled brows, contour, super long lashes—the works.
This goes to show, with enough money, we could all look like these celebrities. It's been said before, but I'll say it again: nobody's ugly, just poor.
Images: Tinseltown / Shutterstock.com; Jeff Vespa/WireImage; Kevin Mazur/Getty Images for Sean Combs; ANDREAS BRANCH/Patrick McMullan via Getty Images; Stefanie Keenan/Getty Images for UCLA; Michael Caulfield/WireImage; Dimitrios Kambouris/Getty Images for Dior Men; Ron Galella, Ltd./Ron Galella Collection via Getty Images; Erik Voake/Getty Images for ThinkBIG!, Nazarian Institute; Michael Tran/FilmMagic via Getty Images; Alberto E. Rodriguez/Getty Images; Stefanie Keenan / Getty Images; Jon Kopaloff/FilmMagic via Getty Images
How The Kardashians Are Responding To Tristan Cheating On Khloé
Last week news broke that men are scum Tristan Thompson probs cheated on nine-month-pregnant Khloé Kardashian with some hoe at a club. Is this the part where we corral up all of the men and set fire to everything they know and love? Cause I've been ready and waiting for that shit since 1992. Just saying. Anyway, while I've been at home sharpening my pitchfork gleefully following this scandal from afar, the Kardashians have been "rallying" around Khloé in her time of need. Cosmo.com recently reported that the Khloé's family has been trying to help her concentrate on her newborn daughter and keep her away from the news, which, like, would be super sweet of them if I wasn't seeing their barely clothed bodies all over my damn Instagram feed. I guess some families show their love and support with cards and flowers, while others take selfies of their asses. To each their own. So here's how all of the Kardashians are responding to the Tristan Thompson cheating scandal, may God have mercy on their souls:
EXHIBIT A: The Kardashians Break Their Silence
Kylie was the first to break the Kardashian/Jenner silence pact after the cheating scandal broke. This picture was posted just hours after her sister's personal life went up in literal flames, and as you can see, Kylie (and her ass) are clearly distraught over the whole thing. Kylie posted not one, not two, but a whole damn series of photos that not only showed off her post pregnancy body unwavering support, but also helped promote an old lip kit. Because nothing says "thinking of you, sis" like an aptly timed promotion. Kris Jenner would be so proud. 
EXHIBIT B: Green Is The New Grief
Kourtney was the second member of the Kardashian fam to break their silence, and she did so with a casual reminder that while sources say Khloé is "devastated" and trying to "get the hell out of Cleveland," Kourt and Kim are living their best lives on vacation. So sweet! I literally can not think of one single other way to send thoughts and prayers to a family member going through something than with a photo-shoot in between Mai Thais by the pool. What I find most interesting here is Kim and Kourtney's choice of wardrobe. They both chose to wear green, which I can only assume is a subtle way of saying they're green with envy at all the press Khloé's been getting from her obliterated relationship. Like, no one even seems to give a shit that they're in Turks & Caicos for adult spring break. I mean, what has the world come to??
EXHIBIT C: Nothing Says Support Like A Selfie
Then we have Kim, from whom I honestly expected nothing less. If you'll recall from early episodes of Keeping Up With The Kardashians, Kim has always handled painful, traumatic family moments by taking fire selfies. To be fair, this pic was taken a whole day after Khloé's world imploded. Who knew Kim would be the most sensitive out of all the siblings? Perhaps motherhood has changed her? Lol, I know. I crack myself up. Let's just hope that Kim doesn't keep the picture that captured Khloé's emotional devastation at finding out the father of her child blatantly cheated on her with another woman on the mantel in her and Kanye's mansion like she did Khloe's DUI mugshot. Never change, Kim!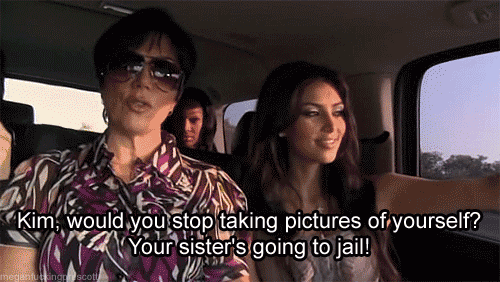 EXHIBIT D: This Is Really Necessary
And finally, my favorite show of support, here we have half of the Kardashian fam (and friends!) dancing on the metaphorical grave of Tristan and Khloé's relationship. This photo was taken just days after Khloé gave birth to little baby True and her sisters rushed to her side in the delivery room. Based on the time stamp, I'm assuming this was taken sometime after Khloé pushed a human being out of her body and in the next breath had to call her lawyer to see if they got that video of Tristan taken off of TMZ yet. While this may not have been taken at the Cleveland airport (though several paps caught similar footage of Kim and Kourtney leaving said airport) this photo shoot is still a little too close for comfort. And by "comfort" I mean common human decency.
Well, as you can see, with sisters like these how can you not want to kill yourself feel loved and supported during your most vulnerable moments? I'll keep these shows of support in mind for the next time my sister calls me to cry about her ex-boyfriend. Thanks for the tips, ladies!!
Images: @kourtneykardash /Instagram (1); @kyliejenner /Instagram (2); @kimkardashian /Instagram (1); Giphy (1)
What Birth Control Are The Kardashians On? An Investigation
Just once, I'd like to go 12 fucking hours without having my mind blown by another Kardashian pregnancy announcement. I was just wrapping my head around the fact that Kylie is kind of a teen mom now, when Khloé comes out with her own pregnancy announcement. That makes not one, not two, but THREE Kardashian babies in 2018, if you count Kim and her surrogate situation. I. Am. Shook. I, mean, WHERE IS YOUR BIRTH CONTROL, LADIES?? It's like they don't realize that their livelihoods depend entirely on how good they look? Idk. Also, wtf is Kris Jenner thinking? Because I don't for one fucking second believe that these pregnancies were not orchestrated in an attempt to combat shitty Keeping Up ratings. Let's be real here, Kris has had all of her children on some form of birth control since they hit puberty and she could start exploiting their bodies to the media career-coaching them. She's not stupid, she knows pregnancy doesn't pay the bills, semi-nude photo shoots do. Fucking duh.
So if she is letting her daughters run rampant with their vaginas then it's got to be for some sort of strategic reason. That said, I can also see these girls going rogue, if only to test how well Kris can spin a pregnancy. And if they are testing the limits of Kris's contract with the devil PR powers, then they've totally all made some sort of pregnancy pact and trashed all of their birth control. So let's explore what kind of birth control method each member of the Kardashian Klan are actively not using rn. My parents would be so proud of how I'm using my college degree.
Kendall: The Pill
I get a sense that Kendall is boring AF methodical, and therefore needs the most average a more precise birth control to fit her personality. Plus Kendall is the only Kardashian with enough brain cells to realize that she would be nothing without her body. As the third highest paid model in the world, she knows that there's no way in hell she can afford to get pregnant by some rich European dude she only fucked around with for two weeks because she wanted to use his yacht in Cannes. Smart girl.

Kylie: Pull & Prayer
I don't for one second believe this girl wasn't letting Travis Scott raw dog her on her daily basis. Since I'm pretty sure Kris Jenner had to bribe Ryan Seacrest into finagling Kylie a GED, I'm thinking she missed the part of Sex Ed where they taught her important shit, like how the pull-out method absolutely does work. Or honestly, knowing Kylie (which I do on a very close personal basis), she probably read about the Rhythm Method in some ironic Tumblr post and thought it was when you listen to rap while having sex and thought she was covered. If this is the year of realizing stuff then I'm hoping she'll realize where babies come from.

Kourtney: Female Condoms
Kourtney's a tough one for me to make wild assumptions about her sex life figure out her birth control methods. On the one hand, with Scott it was probably easy AF to control when and how she got pregnant. Most of the time I'm sure he was so drunk he couldn't get it up, and the other half of the time she probably just had to sit on his prone body to impregnate herself. On the other hand, I feel like she has to be more careful now that she's dating someone young enough for her to babysit a Brazilian model. I feel like Kourtney is into some weird shit when it comes to personal hygiene and stuff she puts in her body. I mean, remember that one time she stopped wearing deodorant because she was convinced Dove was trying to poison her with their "shower fresh" scent? Or the time she wanted to eat Reign's placenta for its healing powers? Yeah, this bitch isn't on your average birth control, that's for fucking sure. If I had to guess, I'd say she's into like, female condoms or like, birth control sponges or some shit. Something that's annoying AF to use and only works half the time because at the end of the day she's obsessed with getting pregnant regardless of whose sperm is involved.

Khloé: The Garbage Condom Method
Word on the street gossip columns that I religiously follow is that Khloé has been trying for-fucking-ever to have a child. If that's the case then I'm still about to shit on her good fortune genuinely happy for Khloé. If I had to guess, I'd say her method of birth control involves a condom, which she snags from the garbage can 2.5 seconds after the dude leaves, takes to her fertility doctors, has scrambled in with her eggs and then implants into her uterus. Congrats on trapping a decent man the new baby, Khlo!

Kim: The IUD
If Kim's Instagram account is any indication, this bitch is never trying to get pregnant ever again. Especially not when she knows she can just pay someone to carry a human life for her. Because nothing says "I hate getting fat pregnancy" like vacation candids of her with her entire ass on display while Offred her surrogate is quarantined for the next nine months in a windowless room (I assume) growing Kimye's spawn. Nah, Kim is ALL about the IUD. She knows she's nothing without her hot bod and army of skanks Instagram followers and letting childbirth get in the way of that is, like, soooo 2016.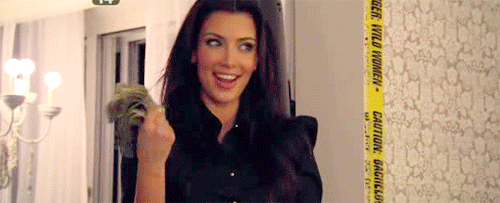 ^^Actual footage of Kim proposing the idea of a third child to Kanye