Khloé Kardashian Denies Editing Her Instagrams In The Pettiest Way
Hello! And welcome back to your regularly scheduled Kardashian news breakdown. It's like The Sup, but about butts and Photoshop, and is far more judgmental. Fun! For those of you who don't have working eyes and ears and thus haven't been following along, Khloé Kardashian has had a rough couple of weeks lately with the media. This is in part because we've been savagely roasting her ass for the Photoshop abominations she's been trying to pass off as legitimate Instagram posts and, like, we're not going to apologize for that. It's called investigative journalism, sweetie, look it up!! And, look, the articles don't all come from a bad place here. Khloé's been my favorite Kardashian ever since Kim and Kris started gracing our screens in their matching Juicy tracksuits with their delusions of grandeur, but MY GOD, Khloé, I can't see one more lumpy arm or a butt with missing chunks on my IG feed or I'm going to have to start reporting your posts to Instagram HQ for offensive material. Consider this your last warning, Khlo! But Khloé recently just came for all her photoshop haters, and let's just say it was a petty masterpiece. 
The clapback went down in Khloé's IG comments, because apparently the comments section on Instagram is destined to be our generation's courtroom. Here's the sitch: last Friday Khloé posted a selfie to Instagram in which people in the comments section heavily implied that she had tampered with the photo. I'm not sure what gave her away: the millennial pink overlay or the fact that her face in this photo is entirely different than the one she was born with? Khloé wrote "Good vibes only" as her caption, which is pretty much an invitation for people to troll her photo—at least that's what I tell my sister every time she thinks she can get away with using that caption (it's for your own good, sis!). Judge the photo for yourself:
Look, I'm no Photoshop expert (you'll have to slide into Holly Gobetchy's DMs for that), so I'm not going to blast Khloé for what could be another photoshop fail or just a really good plastic surgeon "filter." But my feelings are apparently too nice about the matter because fans WENT IN on Khloé for Photoshopping her selfie, to which Khloé responded with more passive aggression than I use to email HR about our lack of a summer Friday policy. Let's look at the comment, shall we:

Wooowww the kissy face emoji, Khloé? Really? That's the emoji I usually reserve for commenting on any sorority sister's IG post thanking people for birthday wishes when I did not in fact wish her a happy birthday, but okay.
Let's break down the comment real quick, shall we? We have one commenter @missdingledobbs, who thinks that Khloé photoshopped her selfie because in the photo we can't see the mole that Khloé was born with on her face. We also can't see the nose, lips, or cheek bones, but sure let's focus on the mole. We have another commenter, @asmarsmi, defending Khloé by saying: "I have 3 on mine. Ahh the miracles of foundation and laziness of taking it off with a q-tip in those spots." That's the comment Khloé responds to with three kissy face emojis, effectively shading her hater and saying without really saying that this photo is the result of a sh*t ton of foundation and not photoshopping. K.
But Khloé's not done yet! Another commenter said: "your eyes got pulled back too much."  To which Khloé responded with:
"@mari_888_sol so now my eyes are pulled back? Lol oh man… you guys are really reaching. But sure, whatever you want to believe. I'm good with whatever babe much love sent your way."

Tbh I think Khloé has a fair point here. This photo was clearly not photoshopped so much as it was sculpted by her plastic surgeon in a remote Calabasas location 8-12 months prior. Come on, anyone can see that. Get your facts right, @mari_888_sol!
Well that's your daily dose of Kardashian news. I'd love to say "that's all for today" or even "that's all for this hour" but knowing Kris Jenner and also Khloé's passion for FaceTune, I'm sure you'll be hearing from us a lot sooner than that. Until then!
Images: @khloekardashian /Instagram (3)
All The Kardashian Instagram Drama You Didn't Even Know Was Happening
Even though they have a reality show empire, they've monopolized the tabloids, they've taken over every social media feed, and they each have their own apps, there is still no way to stay on top of all the Kardashians' theatrics. This family overshares to the point where they oversaturate the media and yet there's still underlying drama that you probably haven't picked up on. That just makes America's real royal family all the more intriguing (suck it, Kennedys!). And where do we first go to get a glimpse of at least some of the hidden (teenage) dramz? Instagram, of course! Here's some petty drama you may have missed but need to know in order to really say you Keep Up with the Kardashians.
Travis Scott
Literally no one in the Kardashian/Jenner family is following Travis Scott, except for Kylie and Kendall. Does that mean that even the Kardashians think Kylie's relationship with a rapper who got her pregnant two months after dating won't last? Shadyyyyy. Another juicy tidbit: Blac Chyna is following Travis but not Kylie—guess she's still not over the fact that she dated Tyga.
Scott Disick
My thorough researching brought me to the findings that nearly the entire Kardashian family follows the Lord. On the one hand, that's not that surprising considering Scott is the best person to come out of Keeping Up With The Kardashians. On the other hand, he was (and still is) a huge douche to one of their own, so you'd think there would be some Kardashian family loyalty here. There is not. The Kardashians' estranged stepbrothers, Brandon and Brody, follow Scott. AND, all the Kar-Jenners follow Scott except for Kourtney and Khloé. But here's the best part: Literally everyone in that family follows Scott, yet he follows none of them back. Is that supposed to be a power move of some sort? Sure looks like it. Kourtney is THE MOTHER OF YOUR CHILDREN, Scott. The least you could do is throw her a follow.

Caitlyn Jenner
All the Jenners follow Caitlyn, obvi. The sole Kardashian to follow Caitlyn is Kim, even though Kim has been vocal about her disappointment in Caitlyn and how she doesn't see reconciliation in the near future. Then again, Kim is the most concerned with keeping up appearances, so perhaps following Caitlyn is strictly a PR move—or maybe she likes to hate-follow. Caitlyn, in turn, follows all the Kardashians and Jenners—except for Kris, of course. No surprises there.
Sofia Richie
Sofia follows Scott, and the closest Scott came to following her back was when he followed a Sofia Richie fan account that he thought belonged to her. He has since unfollowed and never ended up following HIS OWN GIRLFRIEND. Also, Sofia posts pics of them together all the time, but he really only ever posts pics of her onto his Instagram story. Sounds like a really healthy relationship. Interestingly enough, Kylie and Sofia follow each other. It's pretty obvious that Kylie is the least family oriented out of all of them and is just doing her, so it's not shocking that she's following her sister's ex-boyfriend's new girlfriend. Wow, that was a doozy to type out. This family is so fucked.

Younes Benjima
Only. Kourtney. Follows. Younes. How pathetic. The only other person out of everyone here who followed Younes at one point? Sofia Richie. Yes, at one point, the underage rebounds were following each other. Let's not forget that Kourtney rebounded from Scott with Justin Bieber, who is Sofia's ex. So as a rebuttal, Scott rebounded with Sofia, and then Kourtney decided to date one of Sofia's really good friends. Because of all this messiness, Sofia and Younes have since unfollowed each other. But it's especially interesting that no one in the Kardashian family follows Younes, even though the couple celebrated their anniversary last week. The family (with the exception of Kim) even follow Tristan Thompson still, and he publicly cheated on pregnant Khloé multiple times! Clearly the Kardashians, just like all of us, know this relationship is BS. I guess they're still holding out for a reunion between Scott and Kourtney. Come on, you know it's going to happen eventually!
Jonathan Cheban
The entire Kar-Jenner Klan follows Jonathan, and of course he follows them all back because they're literally the lifeblood of his career and the only connection that professional parasite has going for him. Interestingly, though, Jonathan follows Sofia Richie but not Scott. And actually, Sofia is the only Kardashian-adjacent significant other he is following—he's not following Tristan or Younes. What does it all mean?? Is Jonathan keeping tabs on Sofia for Kourtney? That's the theory I'll be going with until further notice, and since Jonathan blocked Betches we have no way of confirming or denying this theory. Boom. Take that, "Food God".

Images: Getty Images; Giphy (3)
How The Kardashians Are Responding To Tristan Cheating On Khloé
Last week news broke that men are scum Tristan Thompson probs cheated on nine-month-pregnant Khloé Kardashian with some hoe at a club. Is this the part where we corral up all of the men and set fire to everything they know and love? Cause I've been ready and waiting for that shit since 1992. Just saying. Anyway, while I've been at home sharpening my pitchfork gleefully following this scandal from afar, the Kardashians have been "rallying" around Khloé in her time of need. Cosmo.com recently reported that the Khloé's family has been trying to help her concentrate on her newborn daughter and keep her away from the news, which, like, would be super sweet of them if I wasn't seeing their barely clothed bodies all over my damn Instagram feed. I guess some families show their love and support with cards and flowers, while others take selfies of their asses. To each their own. So here's how all of the Kardashians are responding to the Tristan Thompson cheating scandal, may God have mercy on their souls:
EXHIBIT A: The Kardashians Break Their Silence
Kylie was the first to break the Kardashian/Jenner silence pact after the cheating scandal broke. This picture was posted just hours after her sister's personal life went up in literal flames, and as you can see, Kylie (and her ass) are clearly distraught over the whole thing. Kylie posted not one, not two, but a whole damn series of photos that not only showed off her post pregnancy body unwavering support, but also helped promote an old lip kit. Because nothing says "thinking of you, sis" like an aptly timed promotion. Kris Jenner would be so proud. 
EXHIBIT B: Green Is The New Grief
Kourtney was the second member of the Kardashian fam to break their silence, and she did so with a casual reminder that while sources say Khloé is "devastated" and trying to "get the hell out of Cleveland," Kourt and Kim are living their best lives on vacation. So sweet! I literally can not think of one single other way to send thoughts and prayers to a family member going through something than with a photo-shoot in between Mai Thais by the pool. What I find most interesting here is Kim and Kourtney's choice of wardrobe. They both chose to wear green, which I can only assume is a subtle way of saying they're green with envy at all the press Khloé's been getting from her obliterated relationship. Like, no one even seems to give a shit that they're in Turks & Caicos for adult spring break. I mean, what has the world come to??
EXHIBIT C: Nothing Says Support Like A Selfie
Then we have Kim, from whom I honestly expected nothing less. If you'll recall from early episodes of Keeping Up With The Kardashians, Kim has always handled painful, traumatic family moments by taking fire selfies. To be fair, this pic was taken a whole day after Khloé's world imploded. Who knew Kim would be the most sensitive out of all the siblings? Perhaps motherhood has changed her? Lol, I know. I crack myself up. Let's just hope that Kim doesn't keep the picture that captured Khloé's emotional devastation at finding out the father of her child blatantly cheated on her with another woman on the mantel in her and Kanye's mansion like she did Khloe's DUI mugshot. Never change, Kim!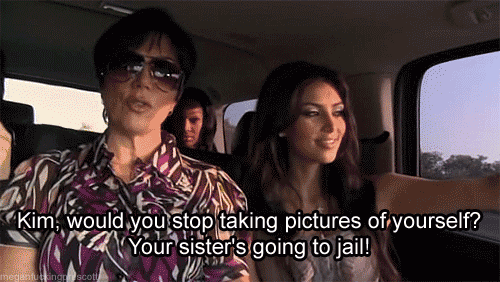 EXHIBIT D: This Is Really Necessary
And finally, my favorite show of support, here we have half of the Kardashian fam (and friends!) dancing on the metaphorical grave of Tristan and Khloé's relationship. This photo was taken just days after Khloé gave birth to little baby True and her sisters rushed to her side in the delivery room. Based on the time stamp, I'm assuming this was taken sometime after Khloé pushed a human being out of her body and in the next breath had to call her lawyer to see if they got that video of Tristan taken off of TMZ yet. While this may not have been taken at the Cleveland airport (though several paps caught similar footage of Kim and Kourtney leaving said airport) this photo shoot is still a little too close for comfort. And by "comfort" I mean common human decency.
Well, as you can see, with sisters like these how can you not want to kill yourself feel loved and supported during your most vulnerable moments? I'll keep these shows of support in mind for the next time my sister calls me to cry about her ex-boyfriend. Thanks for the tips, ladies!!
Images: @kourtneykardash /Instagram (1); @kyliejenner /Instagram (2); @kimkardashian /Instagram (1); Giphy (1)