How To Make A Healthy Salad That Won't Make You Sad
Besides rabbits, let's face it, no one really gets excited about salads. They're green, ew, and healthy, also ew. To be honest, salads were never really my thing, but then I saw the Kardashians eating a giant-ass salad, so I ate a giant-ass salad, and gained a fresh perspective. Long gone are the days of ordering simple, delicate, and boring af side salads so your date doesn't *gasp* think you actually have a healthy appetite. Today, ordering a salad doesn't mean you'll have to disappoint your taste buds. I've tested it, and it is actually possible to have a salad that doesn't drive you to tears. Say goodbye to your basic supermarket salad, and feast your eyes on the many ways to make your salad not basic.
Make It Insta-Worthy

An essential step into making your meal appealing is to make it not look so sad. You eat with your eyes first, which gives a whole new meaning to the song "Hungry Eyes." So make your salad worthy of not just eating, but most importantly, posting. Because let's be real, half the reason for eating a salad is to brag that you are eating a salad. 
Pretend your salad is a bag of skittles and get ready to taste the rainbow. Think of it this way, adding a variety of color into your bowl means you may actually get away with a true #nofilter. Remember, we're giving life back to your salad, so it's time to think outside the mixing bowl. Tomatoes don't have to be red and peppers don't have to be green. Shoot for the stars, kids.
Also, there's a reason presentation is a third of the judging on Chopped. Plating is essential. Once you have nailed down the ingredients, the next step is to display them in true influencer fashion. Chic and stylish. The best advice? Layer, don't toss. Martha Stewart probably said that once. What it means is to lay all your vibrant fixings atop of your greens versus mixing them in to start. You can always toss it all once you're ready to devour, just get the glamour shot first. 
Get Creative With Your Crunch
It's time to ditch the classic crouton. It's like the guy you went on a date with that wouldn't stop talking about his "sick Mustang"…boring. Seriously, there are so many better boys toppings out there. Dream with me here. This is the time to go nuts, literally. Nuts are not only a great way to add texture, but they are a rich source of protein. Walnuts have heart-healthy omega-3 fatty acids, which benefits your cholesterol. Sliced almonds are another first-class nut to add into the mix; they're full of vitamin E and promote healthy digestion. Not a nut person? Not a problem. Seeds may sound like bird food, but you seriously haven't experienced joy until you've had a salad with pumpkin seeds with watermelon, arugula, and feta cheese. Trust me on this—you can thank me later by commenting fire emojis on all my Instagram pictures. Lastly, but certainly not least: cheese. More specifically, crispy parmesan bits. Delicious on their own, and a serious upgrade to traditional croutons.
Superfoods And Healthy Fats

Adding superfoods and healthy fats into the mix will actually help make you feel full, and not crave a deep dish pizza immediately after. Superfoods, aka annoyingly healthy foods, and healthy fats, aka not bacon, give you the nutritional boost that your body desperately needs. If you are anything like me and are treating your body like a temple, then Temple must also be the name of your go-to nightclub. Your body is craving omega-3s, protein, and fiber; give them to it. 
Nuts make another beneficial appearance, by helping to burn calories and satisfying you better than your ex (sorry not sorry, Trevor). Also, avocados are not just for toast. They can lower cholesterol levels, boost anti-inflammatory properties, and improve vascular health. Basically, adding avocados is an avoca-duh (I'm a professional, and I stand by that pun). Now, olive oil is a staple in most salad dressings, and for a good reason. It contains anti-inflammatory properties and antioxidants, everything you need in order to dress for success. Yes, that was another salad pun, and no, I don't plan on stopping anytime soon. 
Time For A DIY
Time to channel your inner Martha Stewart, Bobby Flay, or Guy Fieri. If those names failed to inspire you, then you can insert your favorite cooking show cliche here. 
 Kale Salad With Lemon Vinaigrette: (servings: 4, effort level: 10 minutes)
Ingredients
   

4 cups chopped kale

   

1 avocado, diced

   

½ cup cooked quinoa

   

½ cup pomegranate arils 

   

½ cup chopped walnuts

   

¼ cup crumbled goat cheese
Vinaigrette
   

¼ cup olive oil

   

¼ cup apple cider vinegar

   

3 tablespoons lemon juice

   

zest of 1 lemon

   

1 tablespoon sugar
 Directions:
Mix the vinaigrette ingredients together, and assemble your salad components in a bowl, and remember what Martha Stewart probably once said, layer, don't toss. Next, take a picture so all this was worth it, and then eat it, or don't, but you probably should just eat it. 
In conclusion, eat a salad, it won't kale you (last one, I promise).
Images: Dovile Ramoskaite, Hermes Rivera, fran hogan / Unsplash
I Tried A Juice Cleanse To Lose Weight & Here's What You Need To Know
The week between Christmas and New Years is literally the dead time: no one knows what day it is, restaurants can't figure out if they should be open, and rich white people go skiing. So what's a girl with no plans and a desire to look hot on New Years to do? Go on a cleanse, obviously.
I am definitely not a proponent of fad diets or even diets in general. In fact, I'm perfectly happy with my healthy-ish eating habits that mostly focus around the question, "Did I work out enough to eat this bagel?" and usually end with me eating a bagel. But my boyfriend is into intermittent fasting (I think Yom Kippur was his favorite holiday as a kid), I needed an activity, and if we did it together I could turn it into a competition.
The Cleanse
We went for a three day smoothie/juice combo package where we were given a six-drink variety pack made fresh each day. All together our daily intake came out to around 800-1,000 calories of vegetables, fruits, and some nut protein—so we weren't completely starving ourselves. And we drank coffee in the morning, because we still had to live with each other. P.S. This shit was expensive and anything with kale in it, no matter what other ingredients you add, tastes like fucking kale.

So what happened? I hope you're interested in a play-by-play, because not eating leaves you with a lot of fucking free time. And I took notes.
Day One
1:00pm: This isn't so bad. Or maybe I'm just still full from Jewish-Christmas Chinese food?
4:00pm: I don't think I actually believe in the philosophy of a cleanse. I'm just in it for the competition, and fuck it's seriously hard to justify the self-torture when I don't believe in the purpose. It's like I'm a mercenary—and I could never be a mercenary.
7:00pm: Throwing up in the bathroom while a guy from Taskrabbit builds our new couch. A new low, I think.
9:00pm: Boyfriend and I argue over whose reaction is more like that of a heroin addict going through withdrawal. His, definitely his.

Day Two
9:30am: Slept 10 hours last night—glad this is "no one gives a shit if you work" week. Extra glad the office was empty yesterday so I could have the bathroom to myself for "cleansing" purposes.
3:00pm: Shopping was a good distraction and I really think everything is fitting better than usual. Great, I'm already skinny—I can stop cleansing.
5:00pm:
Boyfriend: What should we do tonight?

Me: Go to a movie?

Boyfriend: But what will we DO in the movie if we can't eat Sour Patch Kids?

Me: Fine, let's just sit on the couch and talk about how our tummies hurt.
7:00pm: Ohhh, this one is a nice pink color! Maybe it will taste like a Jamba Juice Razzmatazz smoothie. Nope, fucking beets.
8:15pm: Is it too early to go to sleep?

Day Three
11:00am: This is my life now; I think I have forgotten how to chew. Also, my teeth are very angry with me. It's like they're screaming for something to do.
4:00pm: Oh, looks like we do have enough energy for sex.
6:30pm: I think I'll pour #5 and #6 down the drain and end on a fast. Really excited for my bagel tomorrow morning.
9:00pm: My face hurts. I don't want to be touched. I just kicked my boyfriend out of the living room so I could watch Peaky Blinders alone. Has hanger taken on a new form or am I just a bitch now?
11:00pm – 12:00am: An in-depth discussion around where we should eat dinner the following night. Suggestions included: tapas, sushi, and an all-you-can-eat steakhouse. We landed on steakhouse.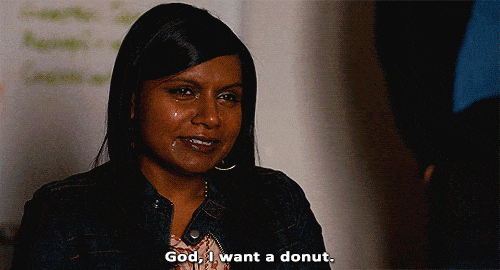 Conclusion
At the end of three days, I lost four pounds, proved to myself (and my boyfriend) that I am stronger than my hunger, and digested a month's worth of vegetables. I also wanted a salad as my first real meal, so that probably means something. But overall it felt like I was punishing my body for a crime it didn't commit, and I did not appreciate the hermit-like lifestyle it imposed upon me. Like actually, what to do you do with friends if you aren't eating food or drinking alcohol?
Anyway, I don't feel particularly "cleansed." Next time I want to pull a Regina George and lose three pounds, I'll just eat less and SoulCycle more. Now, excuse me while I feed myself.

Images: The Office / Netflix; Giphy (5)
5 Ways To Cook Kale
Ugh, kale. Like starting our 401k, getting yearly physicals, and reading CNN, we know deep down that it's good for us, but actually getting to it sucks. It's bland, it's blah, and whoever eats it plain and steamed is seriously disturbed. Kale crept into our psyche several years ago, and since then it's been assaulting us with its dark green leafy-ness and ability to be in everything from our smoothies to our salads. It probably has something to do with the insane amount of nutrients in this shit—one cup contains about 33 calories, 3 grams of protein, 2.5 grams of fiber, vitamins A, C, and K, folate, omega-3 fatty acids, and several nutrients that are proven to protect against macular degeneration and cataracts. Plus it has calcium, zinc, potassium, and phosphorus, so it's a fucking nerd overachiever all around.
In the interest of being responsible (told you, mom) we rounded up five easy ways to cook kale this shit without driving yourself insane—so embrace the kale in all its rubbery goodness and be healthy for like, at least this afternoon.
1. Add It To Your Smoothie
If you aren't already doing this, fucking duh. Blend together ½ banana, ½ cup chopped kale, ½ cup blueberries. ½ cup plain Greek yogurt, and ½ tsp cinnamon. You can like, add protein powder if you're that kind of person, too.

2. Make An Egg And Kale Scramble
In a bowl, whisk 2 eggs, salt, pepper, and ½ tbsp. of water. In a medium skillet sprayed with nonstick, add half a chopped shallot and stir until golden, then throw in about 1 ¾ cup chopped kale leaves and cook until it's wilty and shit. Add in the whisked egg mixture and ¼ cup cheddar cheese, then mix until the eggs have set. I assume you've made fucking scrambled eggs before.
3. Make It Into A Healthier Pesto
Grab your handy-dandy food processor and combine 1 ½ cups packed torn kale leaves, ¼ cup walnuts, ¼ cup shredded parmesan cheese, 1 tbsp fresh lemon juice, and 2 garlic cloves. Process until totally smooth, then season with salt and pepper. Use this shit on pasta, as a pizza base, on garlic bread, drizzled over a salad—the possibilities are fucking endless.

4. Use It Instead Of Rice For Your Stir Fry
Yes, you can. Just steam or sauté the kale in a skillet with salt, pepper, and possibly a bit of broth and seasoning, and spoon whatever stir fry you were planning to make over top. This also works with stews and curries. Look at you, bein' all low carb. Plus, you don't have to worry about the kale being bland, because the taste is literally going to be covered up by whatever delicious dish you're making.
5. Make Chips
Sigh, I know. But it really is stupid easy and healthier for you. Preheat the oven to 350F. Wash a bunch of kale and pat it dry, then break the leaves into bite sized pieces. Toss with about 2 tbsps olive oil, salt, and parmesan cheese then spread on a baking sheet in a single layer. Bake for about 10 minutes or until kale is crispy and slightly brown.

The 8 Best Foods For Your Skin, Hair & Teeth AKA How To Eat Yourself Pretty
We've already established that you can now drink yourself pretty, but what's better than incorporating drinking into your beauty regimen? Food. Food is always better. Like, sure, blacking out off vodka sodas is fun and all, but if I could take those calories and use them towards eating my weight in cheese without becoming the "before" girl in a commercial for Nutrisystem, best believe I would. So yeah, now that we've established that food is objectively the best thing ever, it's time to talk about how you can consume unlimited amounts of (certain) foods and not only not turn into a hideous troll creature, but actually look even prettier than you do now. I can understand why you don't believe me—it goes against basically everything we've ever been taught—but this is literally real. We've rounded up the best foods that are good for your hair, skin, abs, and just overall attractiveness WITHOUT sending your waistline into a death spiral. And it's here just in time for you to drink excessively and ruin your diet by drunk eating pizza. Yas. So let's see which secret beauty boosting foods are basic and which ones are betchy. Here's a list of the betchiest beauty foods ranked:
8. Flaxseed
This seems like something Kourtney Kardashian would feed her children for "dessert." Is this why Reign always looks like he wants to set someone on fire?

​Seriously, someone get this kid a Capri Sun.
It's recommended that you ground the seeds up into a "meal" for a better taste, but I'm still skeptical about calling shit you'd find on a bird feeder a meal. Aside from looking fucking miserable to eat, the omega-6 and omega-3 fatty acids in flaxseed actually can help fix skin conditions like acne or eczema. But all the flawless skin in the world isn't going to take this food out of last place for the reason that when I want to eat like a small bird, I'm talking about the quantity of food I'm eating and not the actual food itself.
7. Greek Yogurt
Is it just me or does a part of you die inside every time you eat Greek yogurt because you're wishing it was actually frozen yogurt? Just me? K. Fine, if I have to eat this tasteless paste at least it's packed with enough calcium and protein to keep my teeth looking gorgeous. Yogurt also contains natural live active cultures or "good" bacteria (sorry, I just vomited in my mouth for a minute) that aid in digestion and keep your stomach flat. Blessings.

6. Almond Butter
It has the word butter in it, which makes me want to root for it but it's not actual butter or even peanut butter so now I'm just disappointed. It does have vitamin E, manganese, and selenium in it, which helps keep your hair shiny so it has that going for it. What puts it as #6 on the list is that health weirdos everywhere are rubbing this shit all over their bodies as some sort of DIY beauty serum. Jesus Christ, I hate people. Body hair and butter should never mix and for that, coupled with the fact that this shit costs like $11 a jar, Almond Butter gets the sixth spot.

5. Sweet Potato Fries
Okay, finally, something I actually want to put in my mouth. Full disclosure here, I may have added on the fries part to the end of this one, BUT sweet potatoes are hella good for you and promote glowing, gorgeous skin thanks to all the beta-carotene in them. They also have a shit ton of vitamins A, C, and E in them, which can help improve the look of your hair and skin. Mr. Potato would have been higher on the list had this beauty food actually been in fry form, but I guess you can't win 'em all. 

4. Berries
Aside from looking chic AF in your champagne glass, berries are loaded with anti-inflammatory agents and vitamins that help protect your skin from showing signs of premature aging. They're also packed with vitamin C, which helps produce skin that's firm and strong. Basically berries are natural botox for your skin and I AM ABOUT IT. 

3. Kale
Other than being betchy as hell, Kale is actually one of the most nutrient-dense superfoods and one cup of it can literally fix your whole life (i.e. give you gorgeous hair, strong bones, and awesome teeth). Kale can definitely sit was us. 

2. Dark Chocolate
About fucking time. This is something that's already incorporated in my daily diet because #FitLife. Chocolate contains anti-aging antioxidants, which fight free radicals to protect your skin from UV damage and help prevent the appearance of wrinkles, fine lines, and skin discolorations. Plus it tastes like a dream and may or may not curb all of my homicidal tendencies. 

1. Avocados
Avocados are the betchiest beauty food for sure. Not only are they the most Insta-worthy vegetable fruit (WTF seriously?), but avocados are also super fucking good for you. All of those monounsaturated fatty acids will make your hair look better than a Garnier Fructis commercial. Plus I love anything that brands itself as the "good kind of fat." Better get these while you can, girls, they're about to cost more than your senior year spring break trip to Cabo—because aside from ruining our lives, President Cheeto also wants us to look ugly. Ugh.