What Makes Pete Davidson So Attractive? An Investigation
Is there anything more perfect in this world than when two beautiful people get together and form a power couple? It's hard to look away. You know the kind of couples I'm talking about. We've got Brad and Angelina. Blake and Ryan. Chrissy and John. Leo and *insert 21-year-old lingerie model here*. We expect these couples. They make perfect sense. They just feel right. But recently we've had a, let's say, non-traditional celebrity as one-half of the hottest couples, and I'm trying to wrap my head around just WHAT it is that makes Pete Davidson irresistible. In the last year and a half alone, Pete has been engaged to Ariana Grande, dated Kate Beckinsale and Margaret Qualley, and now things are getting romantic with Kaia Gerber. Over the weekend, they celebrated his 26th birthday and were spotted holding hands. It. Is. On. I think anyone with eyes would agree that Pete doesn't look like your traditional Hollywood leading man, or someone that we usually see with the most beautiful women in the world. So what is it about him that makes women flock to him? Let me and my remedial Psych 101 knowledge break it down for you! 
His BDE

Pete Davidson is the reason that BDE exists in our lexicon, and it was exhaustively discussed all over the internet last summer. So what contributes to his BDE? First, he's tall. You might not think this is all that important, but most of the men in show biz are tiny. I know this for a fact because I was once at a fashion show and the Jonas brothers were there, and I scooped  up all three of them in my palm, put them in the front pocket of my overalls, and walked right on out. I'm not even kidding. So, tall is rare and tall is exciting. Also, unlike Kourtney Kardashian, he is interesting to look at. He might not be traditionally handsome, but that is a FACE, you know? It has presence. And finally, he's intense. He falls hard. These relationships have not lasted a long time, but they've gotten serious quickly, with engagements and move-ins, and premieres, etc. And who doesn't want a guy that's completely obsessed with them, to the point that you get matching tattoos, a pet rabbit, and the inability to ever be physically separated before you even learn their middle name? I sure do. That's totally healthy, right?
He's Funny

This one doesn't need much explanation. He's on SNL. He joined the show when he was only 20 years old as one of the youngest cast members ever. He also has a movie called King of Staten Island coming out in 2020 that is based on his life, and that he wrote with a guy you might have heard of, Judd Apatow. Sure, his humor is dark, but I think most people would appreciate someone whispering horrific jokes into their ear at their mother's funeral. Just me? At the VERY least, Kate Beckinsale was definitely into that. 
He Gets Lots Of Publicity
As I always say around here, if you think that celebrities are not calculated and strategic about their images, then it must be nice living in your very empty and uncomplicated brain. Can I move in, please? Pete Davidson is officially a publicity magnet. Ever since his relationship with Ariana, his profile has blown up, and people are interested in his every move. This makes him a great choice for a young female celebrity who wants to put her name on the map. I mean, Margaret Qualley? Not to be rude, but who the f*ck are you? Approximately 12 people watched The Leftovers. And yeah, Kaia Gerber is getting pretty famous, but if she wants to overtake Gigi Hadid as the top second-generation supermodel, she really needs to up her profile. And a buzzy relationship was the one thing she was missing. So now they'll eat that Magnolia cake, they'll hold hands around town, they'll profess their undying love on Instagram, and then they'll break up. All of this will happen in the next 30 days. The relationship won't last long, but that publicity bump for Kaia will last forever. 
And there you have it! Pete Davidson, hot girl magnet. Did I miss anything else that makes him so irresistible? Let me know!
Images: Giphy (2); whowhatwhere,commentsbycelebs/Instagram
Pete Davidson Is Hanging Out With Kaia Gerber & We're Uncomfortable
Over the past year and a half, Pete Davidson has rapidly built a reputation for himself, and I'm not talking about his character work on SNL. After dumping Cazzie David in the spring of 2018, he quickly entered a whirlwind relationship with Ariana Grande, which was pretty much the only thing anyone talked about last summer. After Ariana, he spent some time hanging out (and making out) with Kate Beckinsale, who's a casual 20 years older than him. Shockingly, that didn't last long. Pete was next linked to up-and-coming actress Margaret Qualley, until they reportedly broke up last week.
But if we've learned anything about Pete Davidson, it's that he doesn't usually stay single for long. This week, he's been seen out and about with someone new, and I have a lot of thoughts. Pete is rumored to be dating Kaia Gerber, and it's a real yikes moment.
In case you've avoided learning who Kaia Gerber is until now, I'm sorry, but we have to talk about her. She's the daughter of world-famous supermodel Cindy Crawford, and in the past few years, she's become a supermodel in her own right. She's a staple in all the biggest runway shows, is all over magazine covers, and…she just turned 18 last month. Friends, when I tell you I cringed, I mean that I cringed. Pete Davidson, who was dating a 45-year-old just six months ago, is now dating someone who is barely old enough to vote.
The rumors began yesterday, and the evidence is already stacking up. First, Pete was spotted on Wednesday morning leaving Kaia's apartment building in Soho, and a source confirmed to Page Six that he was there to see Kaia, but said that they're "just friends." That makes sense, because I also am usually leaving the apartment of someone who's just my friend in the morning. Sure.
Then, later on Wednesday, Pete and Kaia were spotted eating together at Sadelle's, and a fan got a photo of Pete laughing while Kaia looks at her phone. This is the kind of investigative work I truly appreciate, so well done.

That's all the evidence we have for now, but these two are obviously hanging out, even if they might not be dating dating. Either way, it's enough for me to be a little skeeved out by Pete Davidson's behavior. I'm more than a year younger than him, and even I would never date an 18-year-old. Especially considering she just turned 18, that's like dating a senior in high school. Obviously, Kaia is super famous, and I don't even know if she does high school anymore, but it's still just as weird.
I'm no relationship expert, but it seems like perhaps Pete Davidson could benefit from some time alone. He's not that different from Miley Cyrus right now, except that he's less messy on social media. Typically, bouncing from one relationship to another isn't actually a good sign of your emotional stability, just an observation.
Me @ Pete Davidson:

As for Kaia Gerber, I don't really know what to say. Like, she is so pretty and I'm sure she's a great person, but any grown man who's dying to date a barely-18-year-old girl probably is probably bad news. I can see why she's attracted to Pete, because half the people I follow on Instagram are, inexplicably, also attracted to Pete, but this just isn't going to end well. She should really try dating someone her own age, or maybe even just being on her own for a minute! It's not the end of the world. Either way, this relationship makes me uncomfortable, and I really hope it doesn't last.
Images: Shutterstock; itsrosefarkash, ddlovato / Instagram
A Deep Dive Into The New Generation Of Celebrity Kid Influencers
As a society, we are obsessed with celebrities. I personally spend approximately 75% of my working day on celebrity gossip blogs (don't tell my boss, k thanks!). I look at their outfits, make fun of their mugshots, and wonder how they got their abs to look like that. Seriously though, is that baby oil they use? But now, a lot of the classic A-list celebrities are getting old. Not even the uber-rich can escape that cruel beast known as Father Time. I mean, have you looked at Johnny Depp lately? Maybe spend less time dressing like a pirate and more time using moisturizer, honey!
Luckily for us, these relics of yesteryear found equally beautiful partners to procreate with, and the result is a master race of celebrity children, who have collectively decided it's time to become famous. Since you already know Olivia Jade, I'm going to leave her off the list, but these are the cool kids she'd hang out with at school if she, you know, ever went to school. So let me introduce you to the genetically-blessed celebrity kid influencers that you really ought to know, the ones that shine so bright they're destined to become "self-made" billionaires.
Parents: The most iconic model of all time, Cindy Crawford, and that guy who owns a tequila company, Rande Gerber
Age: 17
Insta followers: 4.2 million
Known For: Making her runway debut at age 16
Even if Kaia Gerber wasn't created in a lab and genetically engineered to have the exact same DNA as her mother, she would have been #blessed. Kaia grew up in Malibu with mom Cindy and dad Rande, who just so happens to be George Clooney's best friend and co-owner of the tequila brand Casamigos. A life of never-ending sunburn with unlimited margs? Sign. Me. Up.
Four days after Kaia turned 16, she walked her first runway for Calvin Klein and hasn't looked back. In 2018 she won the totally legit sounding "Model of the Year" award and is the face of Marc Jacobs' Daisy fragrance. Cool. When I was 16, I was still reading Baby-Sitters Club books and pretending not to, but sure, jet-setting all over Europe and posing for British Vogue sounds cool too. If you don't know Kaia's name already, you will soon. Her family is insanely connected, and every designer with eyes wants to work with her because she's like, really pretty.
Lily-Rose Depp
Parents: Professional pirate Johnny Depp and French model Vanessa Paradis
Age: 19
Insta Followers: 3.3 million
Known For: Being one of Karl Lagerfeld's muses
Lily-Rose Depp is the human embodiment of the cool-girl trope. I'm afraid of her just from looking at her Instagram. She smokes! She wears thin tank tops! She's French! She invented the resting bitch face! Oh, she's on her way here? Excuse me while I go hide in the bathroom.
Lily-Rose's parents may have saddled her with a repetitive double flower first name but that's the only uncool thing about her. Lily-Rose has been a Chanel ambassador since she was 15, handpicked by the kaiser himself, Karl Lagerfeld (RIP). She's also appeared in multiple Kevin Smith movies alongside his daughter, Harley Quinn Smith.
And of course, the cool girl snagged the hottest guy in school, the Oscar-nominated, Louis Vuitton harness-wearing angel baby we all know as Timothée Chalamet. Can we get a Cruel Intentions remake starring these two please? Because that would be hot af, and I bet Lily-Rose already has the cross necklace covered *wink*.
Parents: Ahhhhhnold and Maria Shriver, member of the Kennedy family
Age: 25
Insta followers: 1.2 million
Known For: His heartbreaking performance in Midnight Sun, a tragic romance about a girl allergic to the sun. I'll let you use your imagination to determine if it was good or not.
Patrick Schwarzenegger is the descendent of American royalty (his mom is niece to JFK, Bobby, and Ted Kennedy), and an Austrian bodybuilder who is known for quotes like "It's not a tumor!, " and "I'll be back!" There was no way this celebrity kid wasn't going to be famous. He looks like his movie star dad (although not as much as the kid his dad had with the housekeeper), and has the charisma of his mom, who is a TV journalist.
Patty has three movies coming up in the next year or so, and his sister is marrying Chris Pratt in the fall. So get ready for him to be all up in your face. And if you don't know him as the guy who cranks out movies that should have gone directly to video, perhaps you'll remember him as the man who briefly filled the Liam-shaped hole in Miley Cyrus's heart. That is, until, Liam was cool with her grinding on foam fingers and she dropped Patrick like hot garbage.
Parents: Gemini vegetarian Reese Witherspoon, and the best on-screen villain in the entire teen-movie genre, Ryan Phillippe
Age: 19
Insta followers: 715,000
Known For: being a "normal" teen whose parents just happen to be famous
Ava is our least try-hard celebrity kid. Yes, she did pose looking like an ethereal beauty for Rodarte's Fall 2018 collection, and yes, she did design a shirt for her mom's clothing line, Draper James, and yes, people like Mindy Kaling comment on her Instagram all the time, but she's normal, guys! And I'm totally not jealous of her at all! I'm pretty sure she goes to college right now (what, like it's hard?), and is basically just living her life as the epitome of the all-American girl, while occasionally sprinkling in some jobs. I think we have a few years before Ava truly becomes an A-list celeb in her own right (perhaps she can play Annette in our Lily-Rose/Timothée Cruel Intentions remake?), but that's good because it gives me some time to skin her and wear her as a suit.
And those are the celebrity kids that should be on your radar! They're all fine, but if we're being real, what I'm truly waiting for is the day Suri Cruise, Shiloh Jolie-Pitt, and Hazel Moder (daughter of Julia Roberts) become famous and bump all these losers to the Z-list.
Images: Shutterstock; kaiagerber, lily rose_depp, patrickschwarzenegger, avaphillippe / Instagram
Who Is Camila Morrone, Leo DiCaprio's New Girlfriend?
In all the news of celebrities getting engaged after .25 seconds of dating, you might have missed that Leonardo DiCaprio has a new girlfriend. And yes, before you even ask, she is a model. She and Leo DiCaprio have actually been dating for almost a year now, so we decided that it was finally time to do a little investigating and actually get to know this lucky b*tch. Her name is Camila Morrone, and before you go typing who is Camila Morrone into Google, we did some digging. We discovered everything there is to know about the stunning 21-year-old, so you don't have to do your own research. You're welcome.
#LeonardoDiCaprio y #CamilaMorrone, enamorados en #SaintTropez: paseo en yate y lomazo https://t.co/dP7vJjhyZX #fielinks

— mabgia (@mabgia) July 30, 2018
Who Is Camila Morrone?
Needless to say, Camila Morrone is an actress and model. She's obviously gorgeous and slightly age-inappropriate for the 43-year-old Leo, but at least she can legally drink. Camila is starring in campaigns for Topshop, Desigual, and Ay Not Dead jeans. Naturally, she's besties with some other famous models like Hailey Baldwin, Kendall Jenner, Bella Hadid, and Kaia Gerber, to name a few. So basically, she's not that different from Leo's other model ex-girlfriends.
Morrone is currently making the segue from model to actress (eye roll). Even though she never took an acting class in her life, she was cast in the action movie Death Wish starring Bruce Willis and made her starring debut in the comedy-drama Never Goin' Back alongside Maia Mitchell, which premiered at the Sundance Film Festival. I haven't seen either movie, so I can't determine if she's any good at acting, but hopefully she's better than Cara Delevingne.
Who Is Her Family?
This is not Camila Morrone's first brush with Hollywood royalty. Her mom, Lucila Solá, is a former model and romantically linked to an actor you may have heard of… Al Pacino. In fact, Pacino is credited with introducing Morrone to DiCaprio. The guys my parents' friends introduce me to are all ugly with emotional intimacy issues, so I'm impressed with Al for this. Camila's dad was also a model, starring in ad campaigns for Dolce and Gabbana in the 90s, which explains her perfect appearance. Is it too late for me to get adopted by them, and will it make me better looking by association? 
When Did Camila Morrone Start Dating Leonardo DiCaprio?
The two were first reported as romantically linked when Leo was spotted leaving her house in mid December. I know, you've been out of the loop for a long time! It's okay, we all are. After that, Camila and Leo spent the holidays together in Aspen and were seen getting off his private plane together in LA. The following month, they were together again, celebrating Ellen Degeneres' birthday. This summer they've been spending time together on a yacht in the South of France and around the Italian Riviera, sometimes with her mom, which is the only possible buzzkill we could find in this whole scenario.
Is There A Future?
I mean, who really knows. On the one hand, just yesterday, Camila and Leo were spotted snorkeling together in Italy. On the other hand, this is Leo DiCaprio. The dude goes through ex-girlfriends like I go through shampoo. I would honestly be shocked if Camila was Leo's last much younger gorgeous girlfriend. But then again, given what's been going on in Hollywood lately, maybe they'll get engaged two days from now. It's anybody's guess.
Images: camilamorrone / Instagram
5 Fashion Trends That Will Be Everywhere In 2018
Obviously, 2017 wasn't anyone's year. It wasn't mine, it probably wasn't yours, and it most definitely wasn't Taylor Swift's. We, as a dysfunctional society, took a hard, violent fall. We hit a lot of railings; we broke a lot of shit… I'm going to say we survived, but I'm not going to say we thrived. Trump is still our president, Kylie Jenner just beat teen pregnancy, and someone *tried* to make designer Crocs a thing, BUT we still have feminism and a decent fashion sense to hang onto—thanks to hangover clothes being labeled as "street style"—so to me, we're fucking thriving. While 2017 may have brought us the good, the bad, and the ugly in more ways than one, it was definitely an eventful year for fashion. From sun's out, nips out to rubber pool slides, we're only getting started. 2018 already has a shit ton of fashion trends prepped for us, so we better start looking ahead. Here are five major fashion trends you're about to start seeing everywhere.
1. Low-Key Chic Hats
I mean, this is news to me, but apparently the effortlessly chic French girl style is very much a thing. Straight from Paris' own streets, the classic beret has taken runways and Instagram by storm. The accessory immediately turns you into the next Coco Chanel who just needs an éclair in her hand, stat. In addition, the long-lost, but definitely not forgotten, basic baseball hat or "dad hat" will soon be worn with going-out skirts and cute shoes. On the bright side, you no longer need the "greasy hair" excuse to wear a hat.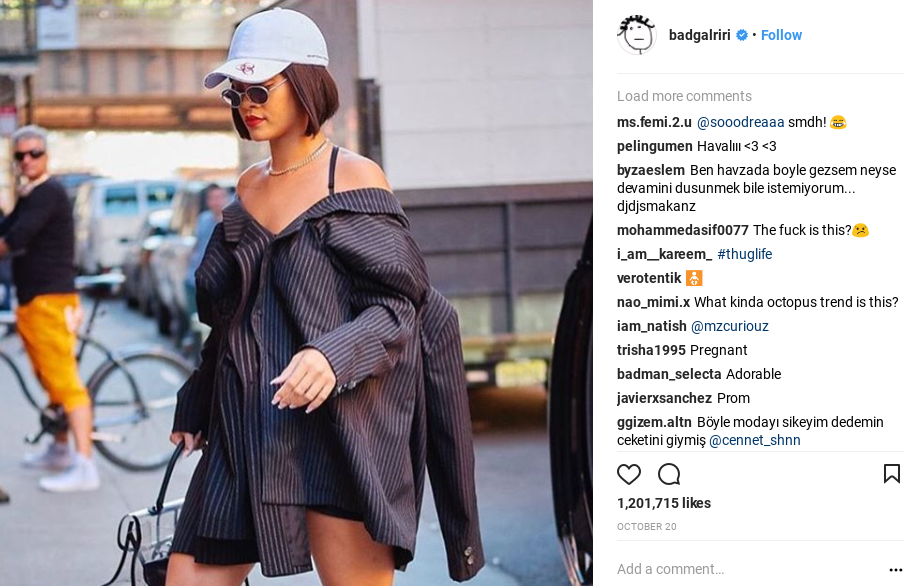 2. Palazzo Pants (Again)
This one is here to stay, but don't go crazy and dig out your summer pairs. What are you, an outfit repeater? Stick to longer, wide-legged styles in neutral prints or solid colors to take this trend in a subtle approach.

3. Plastic And Latex
Just when we thought we'd seen the worst of the worst with see-through Yeezys and half-denim, half-plastic jeans happened. Some freaks are really making this cracked-out trend last. First of all, why? Second of all, WHY? Whether it's a trendy raincoat or a cheap af-looking plastic dress, it looks like we'll be getting an assortment of clothing in tacky plastic. Guess that guy from The Graduate was right? Come spring, we'll probs start to see our fave chain stores carry latex dresses and leggings because honestly, we've run out of ideas at this point.


4. Logo Mania
I guess we're going back to 2001—a time when we felt obligated to wear Hollister or Bebe across our padded bras, just to let everyone know we were cool enough to shop the brands. This next year is apparently full of logo everything, so when you think you left that shit in high school with Abercrombie, American Eagle, or even PINK, think again, and like, this time, make it fashion.

5. All Purple Everything
If you listen to anything I say, ever, or just casually check the internet, you'd know purple is 2018's color. It's specifically Ultra Violet, but even a girly lavender or true purple will still count for something. Expect this trend to be the new millennial pink. From heels to bags to sweaters to the next fucking iPhone XYZ, you'll be wanting everything you see in the bold shade.