A Killer Cardio Workout That Doesn't Involve Running But Will Still Make You Skinny
Since we're being honest—cardio kind of really sucks but being skinny doesn't. Like, why would I want to spend a half an hour dripping sweat onto a treadmill when I can … literally do anything else? Well, stop going to your sorority sisters for fitness advice because running and the elliptical aren't the only options when it comes to cardio. Betches know that adding some body weight exercises to your routine will make you look way more toned, which is like, obviously great for your summer bikini body. If you hate running just as much as we do, pick 3 or 4 of these exercises and do them for 30-60 seconds a few times through. Your body will thank you for not torturing it on the treadmill but still getting in shape.
1. Weighted Step-Ups
This isn't as awful as it sounds. Okay, maybe it is, but at least we're not making you carry a ton of weight. Grab some 5 or 10 pounds dumbbells and a (sturdy) box to step on (you will start to feel this burn fast). Place your right foot on the box then push yourself up using only your right foot so it's straight and your left foot is off the ground. Then, pull your left knee up in the air for a high knee before lowering to the ground with your left foot first, followed by your right foot. Alternate sides. Bonus: this is also great for your ass, as long as you engage your glutes.

2. Mountain Climbers
Don't worry—we're not actually making you climb a mountain but like, that would be great cardio, too. Mountain climbers are on every fucking list we make and it's because they are hella effective and only require 30-second intervals of work. Start in a push-up position with your body in a straight line, then lift your right knee and pull it into your abs (don't worry—your abs are there and this exercise is working them), then put your leg back down in the starting position. Then, lift your left knee into your abs. Repeat this motion as fast as you can for 30 seconds then take a well deserved break before you go again. And yes, you have to do this again for it to work.

3. Lateral Skater Jumps
We know, we know—being on skates only sounds appealing if you're on a date with a hot guy, but trust us, this exercise is great cardio. Start standing in a squat position then hop your whole body to the left, landing ONLY on the ball of your left foot. Swing your right leg behind you and your left arm down in front of your left foot. Then, jump as far as you can to the right landing on just the ball of your right foot with your left leg swinging behind. Go side to side for about 45 seconds and if it isn't burning, go lower.

4. Tuck Jumps
Exercises that involve jumping are so effective, honestly, that's why we do them. Start with your knees slightly bent and jump up, bringing your knees to your chest. Engage your arms by extending them in front of your chest or wrap them in around your legs if possible. Lower your arms as you land back on the floor and immediately jump again.

5. Lunge Jumps
Okay, betches, this is just what it sounds like and it will get your heart racing in no time. Start with your feet together, then jump into a lunge with one foot in front of you and the other behind you. Make sure that your knee doesn't go over the front of your toes. Then jump, switching your legs in the air and landing back in a lunge position. It's a simple exercise but it does the damn trick as long as you're not cheating by not getting low enough.

6. Jumping Jacks
We see you rolling your eyes over this one. Don't. There's a reason this exercise is so popular, and yes, it's because it works. We can't even believe we're about to explain this to you because if you don't know how to properly do a jumping jack you need to crawl out of the cave you've been under and join the real world. Anyway, start with your feet together and your arms by your side, then jump both of your feet out while you simultaneously raise your arms together over your head. Now, jump your feet back in together and lower your arms down. Repeat this for a minute as fast as you can.

7. Burpees
You were hoping we'd forget this one but we didn't. Sorry not sorry, betch. We all know it takes hard work to look this good, so don't cheat yourself—there's already enough fuckboys who are trying to do that. Start with your feet hip distance apart, then jump down into a high plank/push-up position and lower down into a push-up. Jump your feet back towards your hand and in one swift motion jump all the way back to your starting position. Great, that's one. Now do more.

The Best Workouts If You Only Have 15, 30, & 45 Minutes At The Gym
Working out is such a dilemma. On the one hand, betches need to work out to counteract our weekly blackouts and keep up our naturally fast metabolisms, but on the other hand, who seriously has the time? I mean, if you wake up on a Sunday and spend three hours at the gym while I'm dragging my ass to brunch in last night's makeup, I salute you, but I also fucking hate you. Betches don't always have over an hour to work out, so we've planned out the most efficient ways to spend your time at the gym when you're in a rush. Whether you have 15 minutes or 45 minutes, you can def get in a legit workout without cancelling all your plans for the day. Here's the plan:
If You Only Have 15 Minutes Or Less
First of all, never judge the betch who only spends 15 minutes at the gym. This extremely limiting time crunch usually means she either has much more important shit to do, or literally has only 15 minutes to spare before work and has a Cinderella-esque transformation in the Equinox locker room before heading to her job at some waspy law firm. This betch means business, and she'll be finished working out by the time you found the best selfie lighting in the weight room.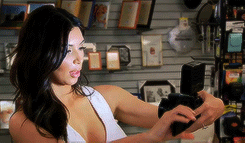 If you only have about 15 minutes, the key is sticking to floor work and ditching any machines. Honestly, you'll waste a good ten minutes by the time you choose a treadmill that's comfortably far enough from other people but close enough to the TV. Lay out a mat and work HARD (we know) for fifteen minutes straight without any breaks, choosing compound movements that incorporate strength work while getting your heart rate up. We know you just read that sentence three times to figure out WTF we mean, so some good moves include burpees, jumping lunges, jump squats, mountain climbers, and plank jacks. Try to pick a few moves and do each one for about 45 seconds each, then repeat as many times as possible until you have to bounce/collapse. Stretch in the shower.
If You Only Have 25-30 Minutes
If you have less than half an hour to spare at the gym, it's time to get your ass to work. Half an hour might seem like a solid amount of time to get in a workout, but time flies when you're fixing your ponytail for 20 minutes in the mirror while laying out your towel like you're on Miami Beach. You can get in a good workout in less than 30 minutes, but don't fuck around.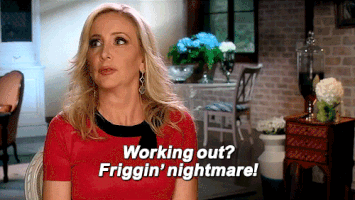 The most efficient way to spend 25-30 minutes at the gym is to break it up 50/50 into cardio and strength. First, pick a cardio machine that you're ready to kill it on for 12-15 minutes. Elliptical or treadmill are ideal if you're basic AF and have a playlist ready. The erg rowing machine is more intense because it works your whole body. Stairmaster wins if you hate yourself. After going moderately hard for half your workout, make your way onto the floor for some strength work. Try to isolate one area of your body per day to get the most out of your gym time. For example, spend one day doing lower-body moves (like squats and lunges), and another day doing upper body (like bicep curls, tricep extensions, and planks), rather than being that dumb girl who does 10 crunches, three squats and a push-up and wonders why she's still flabby.
If You Only Have 40-45 Minutes
If you have up to 45 minutes to spend at the gym, you can def get in a quality full-body workout, but you have to make sure you go in with some sort of plan. Don't be that girl who walks on the treadmill for 45 minutes while refreshing Snapchat stories. She can brag all day that she spent her morning at the gym, but she prob burned like 30 calories total and we're still talking about her, so she's literally wasted everyone's time.

Spend your first 5-10 minutes warming up your muscles and getting your heart rate up. Think light bodyweight exercises, like jumping jacks, air squats, high knees, and push-ups. Oh, and get off your knees. Then, move onto some real strength work, because news flash: if you're not lifting yet, you're doing it wrong. A super efficient way to create a little circuit for yourself is through an AMRAP, which means "as many rounds as possible." The idea is to pick a few moves that involve dumbbells or kettlebells, set a 15-20 minute timer for yourself, and complete those moves as many times as possible until the timer goes off. Then, move onto some HIIT work, whether you're into burpees and plyometric moves on the floor, or 20-second inclined sprints on the treadmill. Either way, you should be sweating your ass off (and cursing loudly) after about 10 minutes, so you can spend the last couple minutes stretching the muscles you just abused. You're welcome.