Selena Gomez & Julia Michaels Kissed And Got Matching Tats—What Does It Mean?
For pretty much my entire adult life, everyone has been obsessed with Selena Gomez's dating life, and it's always revolved around one person: Justin Bieber. Even during Selena's relationship with The Weeknd or Justin's current marriage to Hailey Baldwin Bieber, people just can't stop wondering if Selena and Justin were meant to be, or if they still think about each other. But with some vague Instagram stories on Tuesday, Selena Gomez made it seem like she might finally be moving on for good.
On Monday night, Selena surprised fans when she came on stage during Julia Michaels' concert in LA to perform their duet "Anxiety." If you can't quite place the name Julia Michaels, she's best known for her 2017  song "Issues," which your hometown radio station still probably plays every 10 minutes. Anyway, She and Selena sang their song together on Monday night, and quickly kissed when Selena left the stage. With no additional context, I wouldn't have thought anything of this kiss, but we'll get back to it in a minute.
On Tuesday afternoon, Selena posted a series of Instagram stories showing her and Julia getting matching tattoos, because that's the kind of thing that celebrities do. The tattoos are small arrows on each of their hands that point to each other, and Selena said on her story that her arrow points to Julia "forever." Damn.

And then, after the tattoo pictures, Selena posted a heavily-filtered photo of the moment that she and Julia kissed onstage. The kiss may have been super brief, but from this photo, you would never know that. Whatever the reality of their relationship is, to me, posting a photo like this is designed to make people talk. A picture is worth a thousand words, and this picture says that Selena Gomez and Julia Michaels are really into each other.

But are they into each other romantically, or just as friends?
Since posting these photos, most of the headlines about Selena and Julia have been something along the lines of "BFFs Get Matching Tattoos After Sharing A Kiss," which is a little weird to me. Sure, we don't know any history of Selena or Julia dating women (Julia dated Lauv for several months last year), but we live in a time when it's not a novel concept to be sexually fluid. Just look at Miley and Kaitlynn, or Cara Delevingne and Ashley Benson. I don't know if Selena and Julia are dating, but judging from these posts, it uh…seems like a possibility.
Another important piece of this puzzle is Julia and Selena's professional relationship. It's not new information that they're friends with each other, but Julia is also a co-writer on many of Selena Gomez's songs, going all the way back to 2013. She has writing credits on major hits like "Hands To Myself" and "Bad Liar," and, most importantly, both of Selena Gomez's new songs. And in case you didn't read our coverage, both of those songs are most definitely about Justin Bieber. To write so much together, Julia and Selena definitely already had a close relationship, but these last two songs show that they have a clear emotional intimacy, even if not a physical one.
Today is Julia Michaels' birthday, but she celebrated on Sunday night because she's on tour right now. Selena was in attendance, and she posted an Instagram that really doesn't do anything to dissuade dating rumors. Personally, the only thing that I'm captioning "my love, my heart and my soul" is a pic of like, a really good brunch, but Selena and Julia obviously have a special bond.
Julia commented back on Selena's photo, and again, they're not making it look like they're not dating.

I don't know if Selena Gomez and Julia Michaels are dating, but wouldn't it be badass if Selena got her first number-one song with a record about her ex that she co-wrote with her new girlfriend? But either way, it's good that Selena seems happy again, and has emotionally supportive people around her. I'm also a little confused why so many tabloids seem determined to just call them "BFFs" and steer clear of any dating rumors, unless they have information that we don't. Maybe they're dating, maybe they're not, but they did just post a photo of them kissing on social media. Call me old-fashioned, but that usually means something is going on. I also feel pretty confident that if this was two men kissing, tabloids would be all over gay rumors and speculation, but that's a different rant for a different day.
We'll be watching for any more signs that they're together, or confirmation that this really was just a classic BFF kiss. Let me know your thoughts on a potential Jul-ena coupling, because I think I'm really into it.
Images: selenagomez (3), juliamichaels / Instagram
The Best New Songs From Female Artists
New year, new music. You all missed me while I was gone, right? On second thought, please keep your opinions to yourself. There's a lot of great new music this week, but I'd like to take a moment to highlight the new releases from women this week. We've got new songs from powerhouses Jess Glynne and Tiffany Young, plus a few newcomers. No, Ariana Grande hasn't released her new album yet, so this list will just have to tide you over until then.
"Thursday" by Jess Glynne feat. H.E.R.
Yeah, you've probably heard "Thursday" all over the radio and wondered why you were crying in the club because of its raw honesty, but have you heard the new feature from H.E.R.? No, you haven't, because it just came out today. In this song, Jess Glynne presents a vulnerable and open account of learning to love and accept yourself. Speaking of, I chatted with her about this song, her new album, and more—interview coming soon. But for now, pour yourself a glass of red wine, because this is going to get you all the way in your feels.
"Born Again" by Tiffany Young
Mark my words: Tiffany Young is going to be a star in 2019. The California-born singer is huge in Korea, and now she's making her way stateside. Her voice is incredible. Her new song "Born Again" is a robust production with poignant vocals that will embed themselves under your skin and a catchy dance beat.
"Hurts Like Hell (Madison Beer Cover)" by Jenny March
This acoustic cover of Madison Beer's hit is the perfect petty anthem for not wanting your ex to get over you. If you can't relate to that sentiment, tell me: what was it like being indoctrinated into literal sainthood? March's version is less pop-y and more raw than the original—it is acoustic, after all.
"Valhalla" by Lauren Ruth Ward
This song gives a really cool rocker chick vibe. It feels 70s to me, but maybe that's just because I don't listen to rock music so I don't know what a 70s vibe is actually like. Let's go with it. Lauren also has a great voice. Grab your leather jacket before you hit play on this one.
"WTP" by Teyana Taylor
Yes, the song itself came out with the release of her album, K.T.S.E, but the video is new. The cool thing about it is it's completely self-directed. I don't want to spoil it, because you should all go watch the video, but she killed it. And as far as female sexual empowerment goes, it doesn't really get any better than a song that repeats "work this p*ssy" over and over for like, four minutes. And it's not a command, like, for a guy to work it. It's saying "I will work this p*ssy." I could summon the one gender studies course I took in college to write an entire essay on the importance and power of that, but I'll spare you all if you promise to watch the video.
"Pretty" by Terror Jr.
Terror Jr. is technically a duo, but their lead vocalist is female, so I'm counting it. Also, truth be told, I had no idea they were a duo until I looked it up. The more you know. Anyway, with a hook like "they say pretty is pain," Terror Jr.'s song "Pretty" is reminiscent of Jess Glynne's "Thursday." But while Jess Glynne presents a soulful and slow narrative, Terror Jr.'s song is all airy vocals and infectious melody.
"Anxiety" by Julia Michaels feat. Selena Gomez
F*cking duhhhh, I included this on my list. I sort of feel like this song could very easily be called "FOMO" because the first verse talks about how you don't want to go out or see anyone but then when you decide to stay in you miss them. I appreciate Julia Michaels' openness about mental health struggles, and I feel both very heard and personally attacked by this song. But in all seriousness, THANK YOU for bringing visibility to this.
Follow the Betches New Music playlist on our Spotify for all these songs and more.
Image: Courtesy Of Atlantic Records
The AMAs Fashion That Should Have Been Stopped & The Looks We're Living For
Mondays always suck, unless it's the day after literally any award show. There's truly nothing better than sitting at your desk, pretending to work as you scroll through Instagram and judge the shit out of all the red carpet looks. As you've probably seen if you follow any celebrities on any form of social media, last night was the American Music Awards. Let's give compliments like a drunk girl in a bathroom then talk shit about the worst dressed, shall we?
Best
Demi Lovato
Okay, all extra celebrities, please take notice. Demi's look is like, the perfect example of the perfect music award show red carpet look. The dress is super flattering, the hair and makeup is incred, and overall it kind of has an edgy vibe but is still a classic look. Well done, Lovato.

Selena Gomez
Honestly, Selena has kinda been on my nerves recently for literally no reason whatsoever, so this is difficult for me to say, but I'm obsessed with this look. Usually a drastic post-breakup hair change is a bad move, but when you're rich AF and can get back into a relationship with Justin Bieber like, a week later, the rules don't apply. I love this new (old?) Selena.

Lady Gaga
Gaga wasn't even technically at the red carpet at the AMAs—she was at the Washington D.C. stop of her tour—and she still looked better than everyone else. She rocked an Alaïa to honor the recently passed designer (RIP) and channeled some major Madonna vibes. Into it.

Ciara
Pretty sure Ciara's sole purpose in life is to just be hotter than the rest of the human population. This dress is so dope. Plus, her hair and makeup is perfect but still looks natural.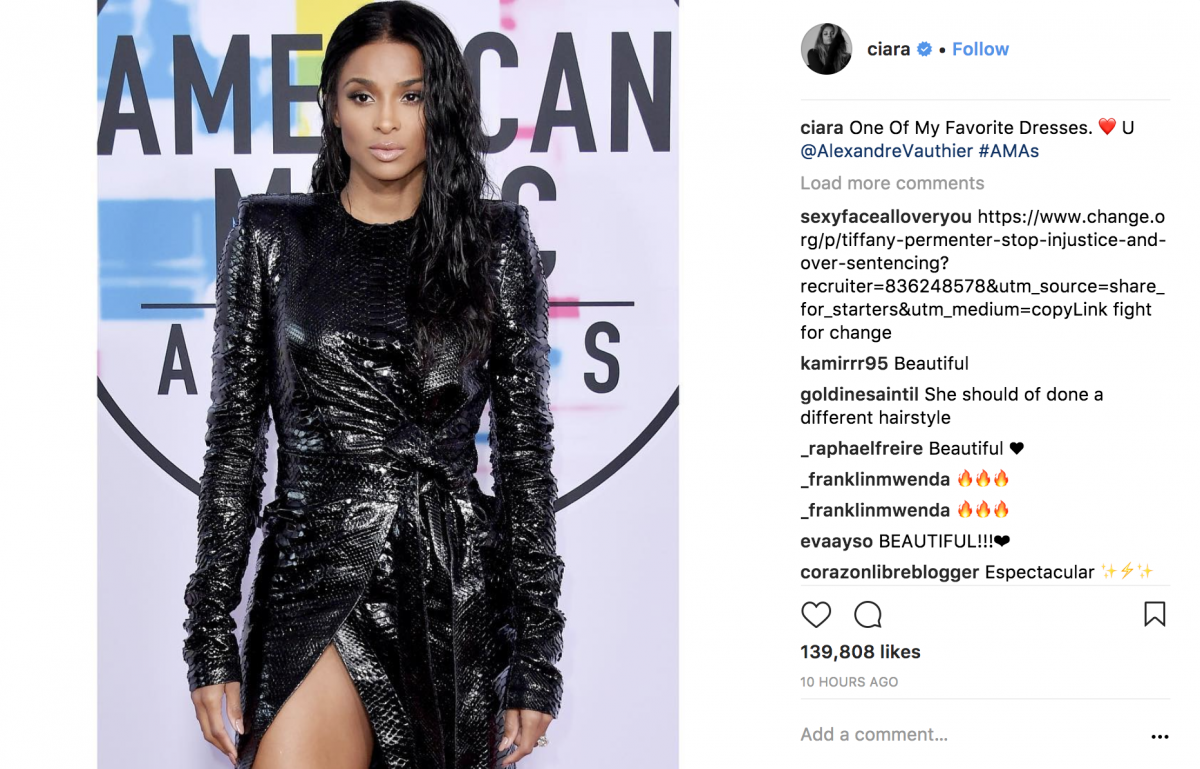 Kehlani
TBH, Kehlani's dress is kind of eh, but I'm considering her one of the best simply because she can pull off a low ponytail without looking like a founding father.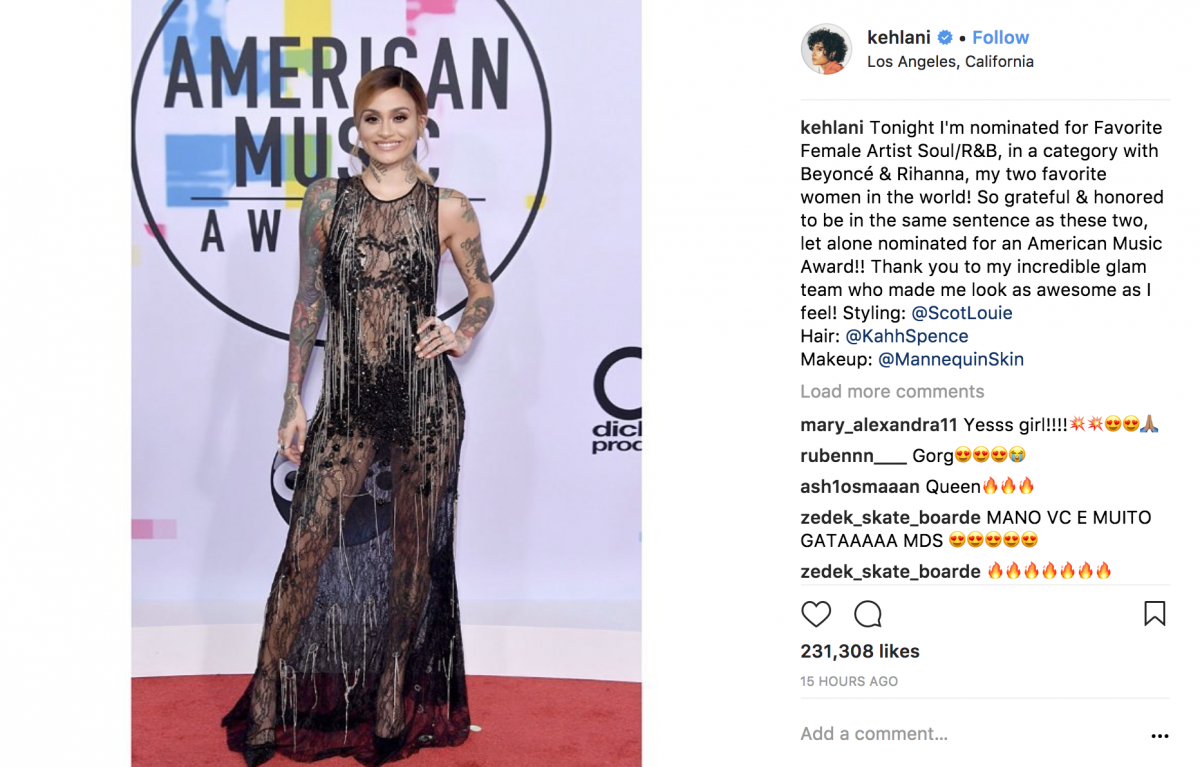 Worst
Sabrina Carpenter
I have no idea who you are, but I hate your dress. Sorry. It's very Miranda Hobbes and the boots kind of look like a serial killer made them out of human skin à la Silence of the Lambs.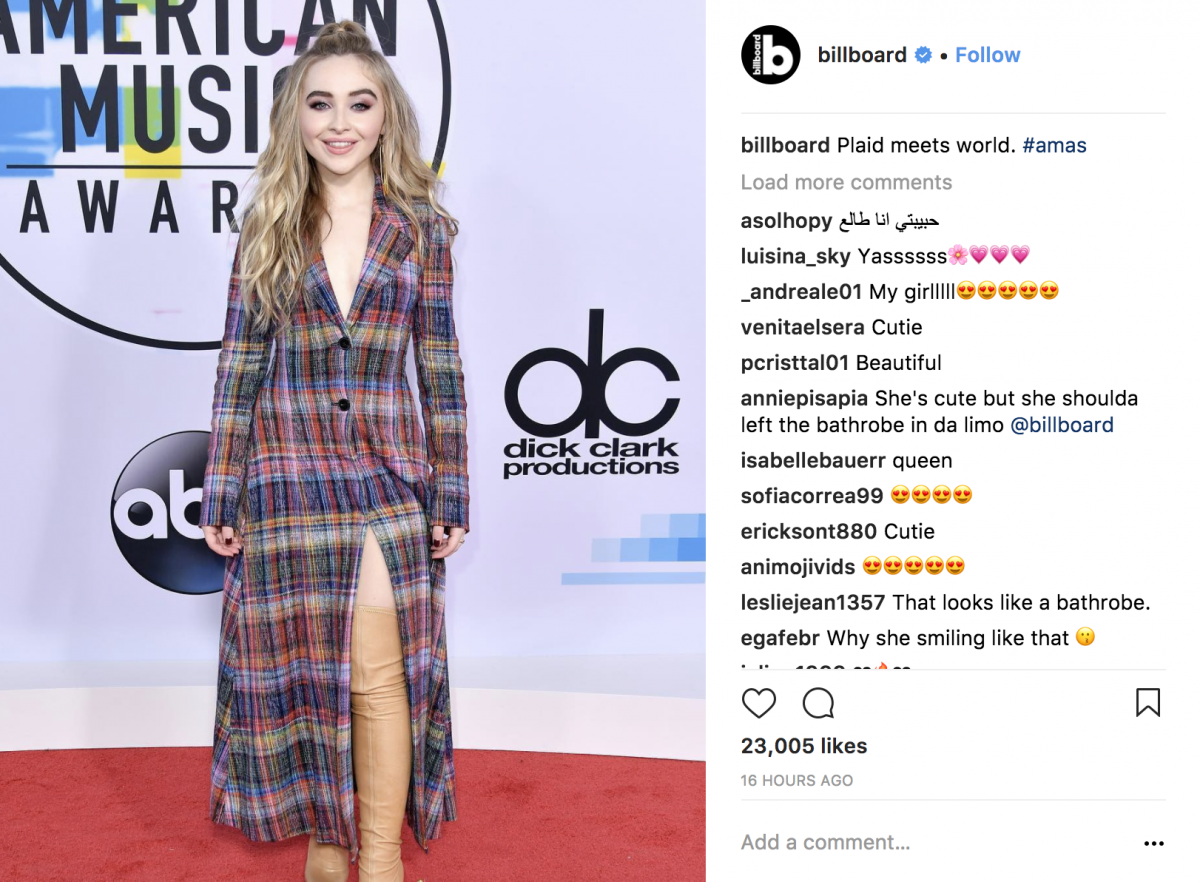 Demi Lovato
I'm putting Demi down for best dressed and worst dressed, because not even the most flawless styling could balance out this dress. She looks like a walking lava lamp. This is potentially one of my least favorite dresses in history.

P!nk
Even P!nk looks pissed to be wearing this dress. It kind of looks like a fancy loofah that came with the Bath and Body Works gift set your dad's new girlfriend bought you for Christmas after your parents' divorce.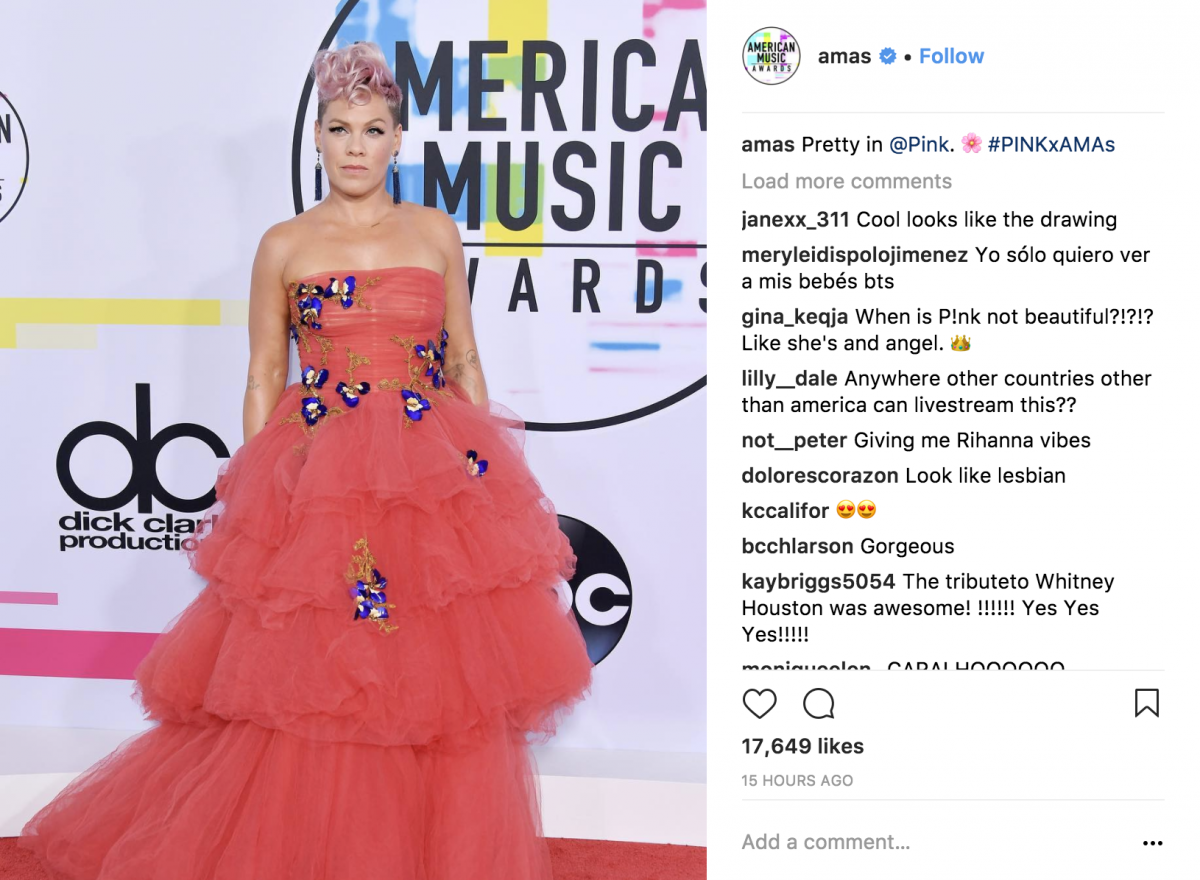 Bebe Rexha
I'm confused as to what is happening here. This dress probably had good intentions (even if it's made out of a fabric I would have worn to a friend's bat mitzvah in 2004), but then it decided to allow Bebe's boobs to try to run away from each other. Also, just looking at the cut of the dress paired with the shoes stresses me out, because I keep picturing Bebe falling over and having to do the worm instead of walk.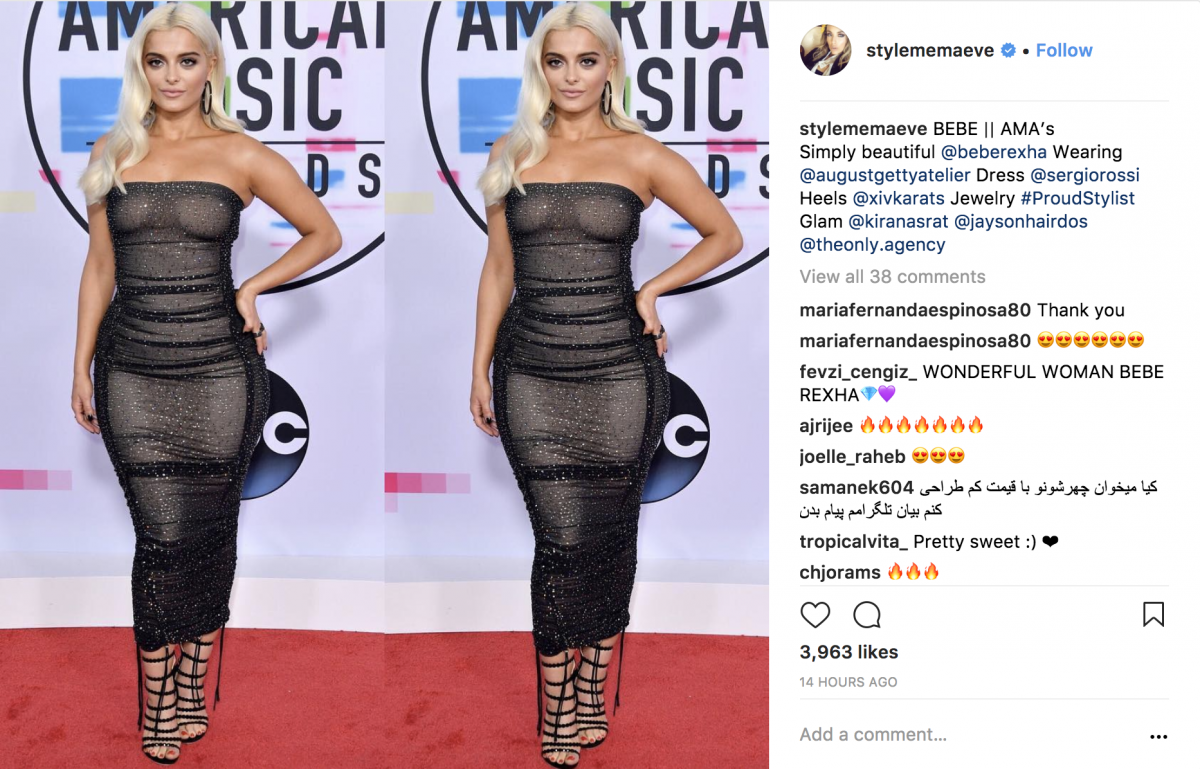 Julia Michaels
I mean, if the end goal here was to channel Lydia Deetz from Beetlejuice, then this look is killer. But like, I'm assuming that wasn't the point. This year, Comme des Garçons has kinda scammed everyone into thinking that it's fashionable to wear heaps of fluffy red fabric, but this look obviously isn't working.