3 Celebrity Diet Trends That Are Bad For You
We're all fascinated by celebrities. We study their every move: what they wear, what their skin care routine is, what they eat.
As dietitians, we know that nutrition can be overwhelming and it's easy to look to celebs for diet advice. After all, they look fabulous, and if it works for them, shouldn't it work for us? (Aside from the fact that they have a trainer, dietician, and probably an unlimited food budget, we mean.)
Unfortunately, celebrities can fall victim to diet culture just like the rest of us, and they usually aren't the best source for nutrition advice. Not to mention, they're working in an image-focused industry that prioritizes looks over health. So maybe, just maybe, we shouldn't take their diet advice after all. Need proof? Here are some trending celeb diets that may do more harm than good.
Adele's Sirtfoods Diet
First question: what are sirtuins? Silent information regulators, or SIRTs, are enzymes that regulate pathways in the body that may boost metabolism and reduce inflammation. The creators of the Sirtfood Diet claim that certain foods like blueberries, kale, and dark chocolate contain antioxidants that increase SIRT activity, thus helping you burn fat more effectively. Apparently, you can lose seven pounds in seven days by following the Sirtfood diet. 
Sound too good to be true? It is…
There is some evidence that SIRTs may benefit your metabolism, but the research on SIRTs is actually stronger when it comes to aging and longevity. More importantly, there is no research that specific foods activate the SIRT enzymes per se. Yes, some antioxidants in food stimulate SIRT activity, but it would take an exorbitant amount of those foods to make this happen—much more than you can reasonably eat in a day.
Another kicker: the first phase of the Sirtfoods diet requires a pretty extreme calorie restriction: 1,000 calories a day for three days, mostly coming from juices. No thanks.
RD verdict: Even if SIRTs help burn fat, we probably can't enhance their activity by eating normal portions of so-called "sirtfoods". Any weight loss you see on this diet is probably from limiting your calories and eating nutrient-dense foods. While the Sirtfoods diet is rich in healthy foods we love, it's basically a calorie restricted Mediterranean diet repackaged and sold with another name. Good thing the Mediterranean diet already exists, doesn't rely on intense calorie restriction, and has proven benefits.
The Kardashians' Flat Tummy Tea
The creators of Flat Tummy Tea claim that it "aids in the detoxifying and digestion process". This word "detox" is used a lot in diet culture, but what does it really mean?
Your kidneys, liver, and digestive systems metabolize and help eliminate harmful substances from your body, also known as detoxification. While some herbs may help to support these processes, your organs are pretty effective at doing them on their own, so you really don't need a tea to do what your organs were built to do.
Another important caveat: one of the main ingredients in this tea is senna leaf, a potent laxative that can actually alter your gastrointestinal motility and potentially do irreversible damage if used in the long term. Eek! That's not detox—that's diarrhea. Pass.
RD verdict: The best way to get a flat tummy, if that's one of your goals, is by eating a whole foods diet, limiting alcohol, controlling your blood sugar with regular, balanced meals, drinking lots of water, and eating foods that are rich in fiber and probiotics. While you're at it, add in 30 minutes of movement per day and voilà, a flat tummy—no harmful laxatives necessary. 
Beyoncé's Master Cleanse
The Master Cleanse, also called the Lemonade Diet, is a liquid-only diet consisting of four ingredients: water, lemons, maple syrup, and cayenne pepper. Proponents of the Master Cleanse (which also include celebs like Michelle Rodriguez and Demi Moore) claim that the specific combination of these ingredients helps detoxify the body and support weight loss. Spoiler: any diet that promotes you consume nothing but a lemonade mix for days on end is not going to be good for you, and if you need more convincing, check out this account from a brave soul who tried it.
RD verdict: While it might be true that short-term liquid fasting gives your digestive and detoxification systems a little break to work more efficiently in the future, a liquid diet usually leads to binge and overeating which taxes your detox systems even more! 
Yes, there's some evidence that spicy foods like cayenne pepper may slightly boost your metabolism, but any weight loss you see from doing this diet is likely from the severe calorie restriction from not eating. If you have enough willpower to drink this concoction, why not adopt a healthy diet and get more exercise? It's more effective and sustainable for long-term weight loss and supports overall health. 
The hard truth about celebrities is that they look fabulous because they have the money for chefs, personal trainers, and dietitians to help them eat and exercise for their personal and professional weight goals. They are not qualified to give nutrition advice, but if asked, most of them will tell you that the secret to feeling and looking great is not a fancy tea, but a healthy, balanced diet with regular exercise.
Vanessa Rissetto and Tamar Samuels are registered dietitians and co-founders of Culina Health, offering nutritional coaching and a science-based health and wellness education. Taking the complicated diets, numbers, and more out of nutrition, Vanessa and Tamar simplify healthy eating ideals and plans in order to stop stressing about food and start living life. Vanessa has over ten years of experience as a RD, and currently serves as the dietetic intern director at New York University. Tamar is a RD and National Board-Certified Health & Wellness Coach, with a unique and holistic approach that integrates functional medicine, positive psychology, and behavioral change techniques.
Images: Kathy Hutchins / Shutterstock.com
What I Learned From Going On A Sex Cleanse
Back when I suggested writing this story to my editor, I was in week three of a sex cleanse. I've never been a fan of cleanses because, even though they're allegedly good for me, they always leave me feeling a little unsatisfied. Honestly, what inspired my sex cleanse is the gorgeous guy I'm seeing, who can be… difficult. Let's just say he's definitely given me a few reasons to walk away, but honestly, in my optimistic mind where the KY bottle is always half full, his pros outweigh his cons, which is why I always ended up back in bed with him. The problem? After the sex, like right after, I would be on cloud f*cking nine, but then the next day/week/month would come and we'd speak about as much as two neighbors on the subway do. In other words, we would not speak at all. It felt like I was back in seventh grade when my crush would ignore me…except now it felt a little worse because we aren't 13 years old, and getting ignored by someone who was just inside you feels pretty sh*tty.
And why feel sh*tty when I could feel like Princess Margaret in the White House? If you don't get that reference, watch The Crown, like, yesterday, but the important thing to know is that Princess Margaret lived her best life without the lure of multiple orgasms dragging her down, and I decided that's what I needed to do. So per my sex cleanse, I would stay in and binge The Sopranos instead of venturing out into dangerous territory (aka the Upper East Side), where Monsieur Best-I've-Ever-Had lives. I also swore off other sources of both toxic and non-toxic d*ck.
Because I am a loyal member of Domino's Piece of the Pie Rewards program, cleanses are obviously not really part of my lifestyle, so I was a little fuzzy on the rules, but two things I knew I needed were an expiration date and a goal. For the length of time my cleanse would last, I gave it a month, because I'm a #strongindependentwoman. And as for the goal, I wanted to prove to myself that I'm not as hooked on sex as my tall drink of water would have me believe. And to explain the science behind what I was doing, I asked author of Don't Sleep with Him Yet clinical psychologist Dr. Nancy F. Lee, PhD to help me out.

I learned a lot from my cleanse and want to share those lessons. First and foremost, practicing willpower and just an ounce of self-control feels really good! Secondly, not doing something that feels really good for a second and really horrible for much longer (like, I don't know, drugs?) is always a good thing. I mean, sex is cool, but have you ever made a bold decision and it ended up paying off? 
"If you find yourself regretting and/or resenting sexual encounters, which both reflect confusion and can be considered detrimental to your emotional wellbeing, by all means, do an all-out sex cleanse," Lee says. It's my personal opinion that unless you're Samantha Jones, it's impossible to not get even slightly emotionally invested in someone you're sleeping with—especially if it happens almost on the regular. I'm not saying all women f*ck a dude a once and spend the next day writing their wedding vows, but I have never slept with the same person a few times and not started liking him at least a little bit. That's where I'm at: I'm sleeping with this person who is annoyingly amazing in bed and I like him. As Shakespeare would say, I'm in a pickle.
In my opinion, the benefits of a sex cleanse are many, but first, you feel at least slightly more in charge of yourself. For me, that's really important since I usually feel very much at the whim of whoever I'm dating at the time—mostly because I hardly ever click with someone who's into me, so when I do find myself finally crushing on someone, I can't help but hold on a little. (By the way, I'm using the term "dating" generously here.) Even though my bed felt a little lonely over the last few weeks, it was nice knowing that I was actually happy about getting a good night's sleep in lieu of pretending that I'm REM cycling through my bedroom door slamming shut and my entire bed shifting in place when he comes back from the bathroom at 4am. Lee says, "It's worth doing an all-out sex cleanse until you develop insight and clarity regarding what it is you truly want." 

Most importantly, even if you're really casual about sex and don't limit yourself to only sleeping with people who call you their girlfriend (hi, hello), deciding you're taking a break from something that stresses you out is never a bad thing. Even if you're just along for the (literal) ride, sex isn't like playing tennis in that once you're done, you just carry on with your day and don't think about it again. So taking a little timeout is perfectly fine and may even be good for you! Lee adds, "If, for whatever reason you and an partner simply want to take a 'break' from sleeping together for a while, there's an exciting way to enjoy a whole new form of 'sensually focused sex' that is guaranteed to heat things up!" Like with my favorite vibrator.
Look, no cleanse is meant to last forever, so I ended mine when most people end theirs: when you need to put something of substance back in your body after a long enough time without it. Gross? Sorry, but it's been a few weeks and all of these puns are just falling into my lap. In all seriousness, the point of a cleanse is to rid yourself (mind and/or body) of anything toxic that came its way, so when you feel like you're back in a sound place, that's the right time to end the cleanse. Everyone will go on different cleanses (except juice cleanses because those are a bunch of lies) for different reasons, but all of them will teach you some valuable lessons and that is the damn truth. 
Sadly, before this article went to press, yours truly was in serious need of some Vitamin D and broke the cleanse with, you guessed it, the same guy who inspired me to embark on said cleanse in the first place! Ya hate to see it. Generally, when you break your word to yourself, you don't feel great. If you can't even rely on yourself to keep it together, who can you rely on? But honestly, I feel better than I did before I went on the cleanse because I am going into this clear-headed as opposed to d*ckmatized. 
Even though I am clearly a weak bitch, I did learn a lot from my cleanse and would definitely recommend it to those stronger than myself. 
Images: Giphy (2); Unsplash
The Absolute Worst Diets For Your 2018 Body
I think we can all agree that January is bullshit, and it's time we stop pretending otherwise. Between the insufferable "I'm coming for you 2018" Instas and my boss's vague insistence that I should be "refreshed" from my time off (if refreshed means hungover, then sure), I'm honestly just confused with how people are meant to spend the holidays. Personally, I've spent the past two weeks playing "can I eat more than I did yesterday," which means my general January sadness is compounded by the fact that sweatpants are actually all that fits me right now. Since I've crash-dieted enough to know certain eating plans will do nothing but leave me fatter and crankier than when I started, I've compiled a list of the worst diets you could start right now.
(And by right now, I obviously mean Monday.)
1. Apple Cider Vinegar Diet
This diet, while disgusting, has the benefit of requiring very little real effort, so it's tempting to give it a shot. The basic principle here is that you drink three glasses of an apple cider vinegar mixture daily (one before each meal), in the hopes of improving your metabolism and suppressing your appetite. Apple cider vinegar does have certain good uses—like helping with liver function or clearing your skin—but these uses are achieved by incorporating a tiny bit into your diet, not by full-on drinking watered-down vinegar three times a day. While you're welcome to find this out on your own, I can assure you that all you'll achieve from this diet is feeling nauseous, gassy, and maybe even damaging your stomach lining. You might lose a few pounds from legitimately feeling too sick to eat, but at that point you might as well just pick up some gas station sushi and try for the "food poisoning diet."
2. Intermittent Fasting
Overall, I think this diet has the potential to be effective and work for some people—I just also think, if you're anything like me, this diet is not what you want to try right now. With various options for how to portion out your fasting (you can choose certain days of the week, or 12-18 hours every day), the restrictions on when you can eat are meant to lower your overall calorie consumption (makes sense). And while I'm told that the hunger cravings do eventually die down during those fasting periods, I've never quite made it to the other side of that tunnel. Instead, I end up fasting for maybe 8 hours, ruining half my friendships from hanger, and sucking down an entire pizza at night (so basically, what my diet is anyway). The bad thing about trying and failing at this diet is that you get into a fasting/bingeing cycle, which is terrible for your metabolism, will likely cause stomach pain, and overall instills bad food habits. If you know yourself and you know you won't stick to the fast, cut your losses and don't try this.

3. Low-Fat Diets
I find it alarming that people still do this, but there's a lot of confusing nutrition data out there (I still can't figure out if salmon is supposed to give you cancer or cure it), so I guess I get it. But you know what's a low-fat food? Twizzlers. Twizzlers actively advertise themselves as a "low-fat snack," which should give you a good sense of how healthy most food that advertises itself similarly actually is. A "low-fat" label is basically announcing that a lack of fat is the most nutritional value that food can offer—so it'll be filled with sodium, sugar, artificial ingredients, and almost nothing that actually keeps you full/healthy/etc. I'm not telling you to dive headfirst into bacon mac n' cheese, because fat is the best and makes you so skinny (though tbh how good does that sound), but don't kid yourself that you're making healthy choices if the only thing you're looking at is fat content, and don't expect to see any change beyond some sodium bloat and new cravings—flavor created without fat is weird and not to be trusted.
4. Not Eating Solid Food
If you're like Lala Kent and you're gearing up to join your "man" on his jet in two days, then sure, juice it out—but for any time window longer than that, you already know that any variation of a food-free cleanse will end in pain. What's even more annoying than the speed with which you gain back the three pounds it took half your life force to lose is the overall self-hatred that this kind of diet instills in you. Whether you cheat halfway through, or are just eating your first regularly scheduled real meal post-cleanse, something now feels dirty and bad about the food you once loved, and no one deserves that. And with liquid diets like the Beyoncé master cleanse, you get the added bonus of essentially announcing to the world that you'll be shitting out your holiday weight in the communal bathroom over the next five days. Everybody knows what cleanse means, and it isn't cute. Also, you somehow end up spending even more money on weird-ass ingredients or juices than you would on food anyway (and that's saying a lot), so there's literally no win to be had here.

If you're truly desperate about your holiday belly situation, the best general advice I can offer is drinking a ton of water, moving as much as you can, and practicing portion control. At the end of the day, just try to cut down how much candy you eat after 10pm on your worst eating habits, and make restrictions that don't ruin your will to live—they'll last longer, I promise, and you still have four months before you have to think about wearing shorts again.
Images: Charles Etoroma / Unsplash; Giphy (2)
I Tried A Juice Cleanse To Lose Weight & Here's What You Need To Know
The week between Christmas and New Years is literally the dead time: no one knows what day it is, restaurants can't figure out if they should be open, and rich white people go skiing. So what's a girl with no plans and a desire to look hot on New Years to do? Go on a cleanse, obviously.
I am definitely not a proponent of fad diets or even diets in general. In fact, I'm perfectly happy with my healthy-ish eating habits that mostly focus around the question, "Did I work out enough to eat this bagel?" and usually end with me eating a bagel. But my boyfriend is into intermittent fasting (I think Yom Kippur was his favorite holiday as a kid), I needed an activity, and if we did it together I could turn it into a competition.
The Cleanse
We went for a three day smoothie/juice combo package where we were given a six-drink variety pack made fresh each day. All together our daily intake came out to around 800-1,000 calories of vegetables, fruits, and some nut protein—so we weren't completely starving ourselves. And we drank coffee in the morning, because we still had to live with each other. P.S. This shit was expensive and anything with kale in it, no matter what other ingredients you add, tastes like fucking kale.

So what happened? I hope you're interested in a play-by-play, because not eating leaves you with a lot of fucking free time. And I took notes.
Day One
1:00pm: This isn't so bad. Or maybe I'm just still full from Jewish-Christmas Chinese food?
4:00pm: I don't think I actually believe in the philosophy of a cleanse. I'm just in it for the competition, and fuck it's seriously hard to justify the self-torture when I don't believe in the purpose. It's like I'm a mercenary—and I could never be a mercenary.
7:00pm: Throwing up in the bathroom while a guy from Taskrabbit builds our new couch. A new low, I think.
9:00pm: Boyfriend and I argue over whose reaction is more like that of a heroin addict going through withdrawal. His, definitely his.

Day Two
9:30am: Slept 10 hours last night—glad this is "no one gives a shit if you work" week. Extra glad the office was empty yesterday so I could have the bathroom to myself for "cleansing" purposes.
3:00pm: Shopping was a good distraction and I really think everything is fitting better than usual. Great, I'm already skinny—I can stop cleansing.
5:00pm:
Boyfriend: What should we do tonight?

Me: Go to a movie?

Boyfriend: But what will we DO in the movie if we can't eat Sour Patch Kids?

Me: Fine, let's just sit on the couch and talk about how our tummies hurt.
7:00pm: Ohhh, this one is a nice pink color! Maybe it will taste like a Jamba Juice Razzmatazz smoothie. Nope, fucking beets.
8:15pm: Is it too early to go to sleep?

Day Three
11:00am: This is my life now; I think I have forgotten how to chew. Also, my teeth are very angry with me. It's like they're screaming for something to do.
4:00pm: Oh, looks like we do have enough energy for sex.
6:30pm: I think I'll pour #5 and #6 down the drain and end on a fast. Really excited for my bagel tomorrow morning.
9:00pm: My face hurts. I don't want to be touched. I just kicked my boyfriend out of the living room so I could watch Peaky Blinders alone. Has hanger taken on a new form or am I just a bitch now?
11:00pm – 12:00am: An in-depth discussion around where we should eat dinner the following night. Suggestions included: tapas, sushi, and an all-you-can-eat steakhouse. We landed on steakhouse.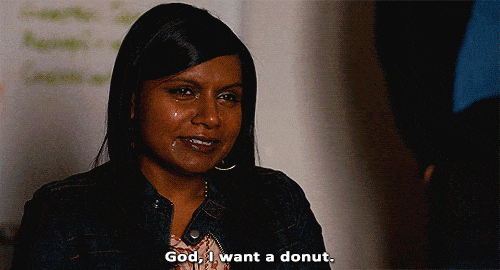 Conclusion
At the end of three days, I lost four pounds, proved to myself (and my boyfriend) that I am stronger than my hunger, and digested a month's worth of vegetables. I also wanted a salad as my first real meal, so that probably means something. But overall it felt like I was punishing my body for a crime it didn't commit, and I did not appreciate the hermit-like lifestyle it imposed upon me. Like actually, what to do you do with friends if you aren't eating food or drinking alcohol?
Anyway, I don't feel particularly "cleansed." Next time I want to pull a Regina George and lose three pounds, I'll just eat less and SoulCycle more. Now, excuse me while I feed myself.

Images: The Office / Netflix; Giphy (5)
Green Juices That Will Make You Feel Healthy AF But Won't Make You Gag
Betches have long been drinking green juice after a drinking bender to feel healthy. Unfortunately for us when we're already suppressing our gag reflex, veggie juices can be hella disgusting. Unless you're a crunchy wook-vegan-nature-loving-tree hugger, don't spew that shit at me about how you can feeeeeeel the toxins draining from your body while you try not to chew that yam and carrot concoction you call a juice. Spare me. We both know you're miserable. Of course, if a betch needs a lil detox boost, some veggie juices are better than others. If you don't own a fancy juicer and aren't likely to drop the bucks on a $600 machine you'll use on and off for a month before giving up, here are our favorite veggie juices so you can look fetch in your bikini this summer.

At just 80 calories for the whole bottle, you're going to want to stock up on these. As far as a green juice goes, it's totally different, and the whole gang of ZÜPA NOMA drinks are actually classified as drinkable soups, not juices. Stick with us even though it sounds gross. Instead of an oddly sweet vegetal concoction, this shit is like drinking the finest green bloody mary mix known to man betch. Plus, all the other flavors (like organic cucumber avocado fennel, organic tomato gazpacho, etc.) are savory and delicious.
If you're someone who still, for whatever reason, goes to Jamba Juice, go finish the 8th grade getchu a Great Greens smoothie. A small will deliver three servings of veggies to your hungover body, including cucumber, kale, and spinach. Plus there's like, fiber and shit, so you'll feel full and less likely to reach for a cheeseburger later.

Kale, apples, ginger, romaine, cucumber and more come together for this shit which isn't as sweet as other green juices. The $9 price tag may turn you off, but the lack of sugar, additives, and gagging make it a welcome addition to the list. Plus, it's only got 130 calories and is 100% real juice.
This one from Juice Press blends celery, cucumber, kale, chard, and more for a really, really, really veggie-blasting drink. It may be a little extreme in taste (like, there's NO sweet factor), but it's not bad and is only 70 calories, so…grab this.

If you just looooveeee the taste of veggies, grab this off the shelf. Apparently, Evolution Fresh were some of the first green juice makers, so they're totally legit. There's a lot of parsley and lemon in this one, though, so if you're not all about that herbal life, skip.
A 16 oz bottle of this shit has 140 calories and only 6 grams of sugar. It isn't super sweet, has cucumber and fennel which we fucking dig, and will help keep you full. Blessings.

If you crave sweetness to cut the chugging of green juices, opt for Odwalla. Yah, there's 36 grams of sugar, but you can blame the tropical pineapple, mango, and apple juices for that. It's also only 150 calories for the bottle, which, honestly, counts as a meal when I'm struggling.
Dirty Lemon Beauty Treatment Lets You Drink Yourself Pretty, Sign Us Up
Finally a beauty treatment that celebrates our strengths, like drinking flavored water and barely doing any work. Ladies, you can now drink yourself pretty (a motto I've always lived by) via Dirty Lemon, a new beauty treatment from a Brooklyn-based juice company that specializes in raw detox drinks. You're welcome.
Dirty Lemon has been on the rise for a while in super-secret millennial circles. The detox drink is meant to reset the body after too much pizza and rosé because there is a God and She is paying attention to my Instagram story.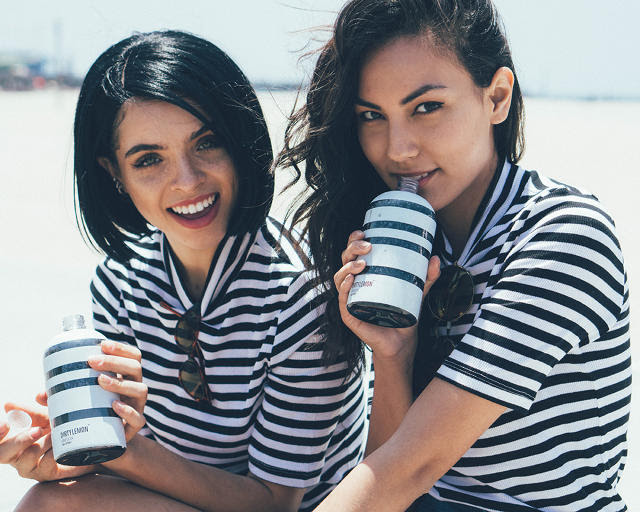 Made with cold-pressed lemon juice, dandelion extract, ginger root extract, activated charcoal, and filtered water, this shit tastes like a fucking dream—unlike that cayenne pepper and maple syrup mixture you've been forcing down your throat. Dirty Lemon Skin + Hair adds to the original recipe a fuck ton of Beyoncé's tears pharmaceutical-grade marine collagen, and other shit that's great for your hair and skin. In fact, it promises to give you better hair, skin, and nails in as little as two weeks. But so does Susi, my German hair stylist, every time she cons me into buying a $60 product on top of my haircut.

How Dirty Lemon Works
Drink one bottle a day on a full stomach, repeat. No lie, that's legit the only instructions. In fact—and this is verbatim—they suggest you ingest the drink "with a side of pancakes." Blessings.

Basically, instead of taking daily vitamins or supplements to stimulate the production of collagen you can now just take a bottle of it to the face. Not so different from what you'd be doing after work anyway but this is, like, good for you.
How To Buy It
You won't find this sleek as hell bottle of eternal youth Dirty Lemon in any stores. You can only order it in $65 quantities via text message because our world is going to shit. But feel blessed because all orders are shipped overnight and free of delivery charges (are you listening to this, Amazon??).

Final Verdict
So let me get this straight: This is a beauty treatment that lets me do nothing live my life, counteracts all the ways I fuck up my skin and body when I'm drunk, and encourages me to eat pancakes for, like, my health's sake? And it comes in a conveniently chic bottle that will look good AF on Instagram? So, like, does anyone know the founder of Dirty Lemon's number or? Asking for a friend…