Do The Producers Hate Colton? Diggy Moreland On This Week's 'Bachelor in Paradise'
Diggy here from season 13 of The Bachelorette and season 4 of Bachelor in Paradise. Betches thought my Twitter commentary on all things Bachelor was fire, so they gave me room for more than 280 characters.
I'm going to try to do my part to recap what was a somewhat anti-climactic Episodes 2 & 3 of Bachelor in Paradise. If you don't like spoilers, please read anyway, as we need as many eyes on this as possible.
Episode 2 kicks off with Colton returning from his date with Tia, and he's immediately cornered by Goose (Chris) and the rest of the Rat pack (which consists of Jordan and Nick), and they demand to know what his intentions are here in Paradise. From afar, it looks like they're filming a fight scene from a late 90's musical where no one gets touched and they only snap fingers, but they do get down to business eventually. Colton hints at still being in love with Becca, which Chris responds with: "Then why are you here??" In less than a few words Colton pretty much says: "I'll be damned if I miss out on these airline miles." Plus, Tia's here.
The next morning, the smartest guy on the beach, Venmo John, "finds" a date card, and Kenny is now the lucky person that gets to get off the island.  With his newfound popularity, Kenny talks to Bibiana, Nysha, Chelsea, and Krystal, and he decides to take the newly hobbled Krystal on the date (she somehow managed to hurt her foot on a rock on the beach, which I can personally attest is 99% sand). Kenny's date is a wrestling date (if you didn't see that coming, LASIK is for you) where he and Krystal get to enjoy a real life Nacho Libre, minus the tortilla chips. A few kisses happen, but mostly just perspiration from Kenny.
Back on the beach, Jordan makes "dinner plans" for Annaliese. Notably missing from said dinner: plates, utensils, and food. Anyway, it's the thought that counts…but she's still hungry. Kevin, who was trying to start something with Krystal, starts looking at Astrid like he wants to crawl all over her, but it's actually a lizard that beats him to the punch instead. He takes her to beach and their lips lock and he throws away the key. BUH BYE, KRYSTAL.

Pause here, because, YUKI'S BACK!!! She was a star on Winter Games for her personality and lack of English. That 2 week stint in our hearts has now qualified her to pour shots (which she has never done) in another country, which just proves to us that she's just trying to fill up her passport.
Cocktail Party time, meaning two guys are going home. Awkward convos happen, Hail Mary's are thrown, but ultimately it's the Tia and Colton show… again. Tia grabs Colton to chat, and she pretty much tells him that everyone is saying Colton is an immature 6th grader (which for the record, is not true, he's a lot older than that). Colton tells her that he wants to see what's out there, and that she should do what makes him happy, because then she'd be happy. Well, whatever the hell that means. Chris then picks up the pieces by spitting hot fire and saying he's here for Tia and nothing else (remember I said this).
Rose ceremony shakes out as such: Krystal to Kenny, Astrid to Kevin, Tia to Chris, Kendall to Joe, Nysha to Eric, and Angela to John. At this point, we just knew Colton was going home, but Bibiana (*cough cough* producers) decide to give Colton a rose so he can "have the chance to find love." Those keeping score at home, yes we lost fly-ass Wills and Nick just so we can have more of the Tia/Colton saga.

If you thought you were going to have a full week without our most recent Bachelorette, Becca, you were wrong. In the beginning of episode 3, she shows up the next day, like that trust fund friend with nothing better to do. Becca talks to Tia, and by doing so, haunts Colton in the process.I'm not sure if the producers hate Colton or not, but god is he easy to make fun of. Colton starts crying on a rock smaller than him, and Becca essentially consoles him back to health. Boom, now he has closure, and can be the savage Colton that America has come to know and love.
In what we have to imagine is AMAZING editing, Annaliese continually states how much she's into Jordan, and then boom—Jenna walks in and leaves Jordan as speechless as we've ever seen him. (It must be noted: Her outfit is pink, in addition to her hair, which makes me hope she sticks around so I can see if her hair will always match her outfits.) Jenna takes Jordan on the date, and this dude is GIDDY. They ride horses and make out on the beach (and everywhere else). Also present on this date: a black box that covers Jenna's butt the entire time. Essentially this date was just taking turns breathing for each other. Jordan comes back to the beach and pretty much tells Annaliese "good luck" and gives her two fingers. David tries to ruffle a few feathers by celebrating Jenna's birthday with her alone, and Jordan sits there like a chaperone, ensuring that there is no physical contact.
Caroline (Arie's season) shows up super nervous and literally is speaking a mile a minute. (Someone KISS her already so she can stop talking, PLEASE.) She takes John on the date, who is polar opposite of her normal type of guy. This date REEKED of a friendship, but somehow Caroline is into it. They drink, they dance, a kiss happens, Paradise wins again. Jubilee shows up the next morning, asks John on a date (literally asking him while he's snuggling with Caroline…SAVAGE) and he says yes. Ziplining and nerdy convo, once again, this date is heading to the platonic section.
Kenny decides to make a night beach date for Krystal, but Krystal pretty much tells him to check your brakes, and then pump them. He pretty much got friend zoned when males have the power…BALLSY move, Krystal. Fast forward to 5 minutes later when she's making out with Chris (yes, Tia's Chris) on the daybed. Colton finds out, and runs faster than he did as a football player to tell Tia that Chris kissed Krystal. While chatting to Jordan about how he has everything in the bag, Tia confronts Chris in a fashion that has me ANXIOUS for next week!
Images: Giphy (2)
What His Swimsuit Says About How Big Of A Douche He Is
I learned two important lessons from my time analyzing men's underwear. 1) I'm basically the female version of Tan, and 2) there are way more bad options than good when it comes to covering men's junk. The situation is no different when we're looking at bathing suits—*remembers Speedos exist*—actually, it's worse. Ultimately, scoping out guys at your local beach/pool/YMCA (I don't judge) isn't about finding your sartorial soulmate. It's really about avoiding these common red flags. Read on for what his swimsuit says about him, and the swimsuits that should make you run far, far away.
Swim Briefs
Let's start with the worst. "Swim briefs" are Speedos, plain and simple. Calling them swim briefs is the equivalent of referring to Q-tips as "cotton swabs." So even using this term is sufficient reason to excuse yourself to the bathroom and never return. For those lucky souls who have never encountered a Speedo, I'll paint you a picture. They do bare minimum in the front, and either barely cover his ass or go full thong. In other words, if you hook up with a guy wearing a Speedo, you could plausibly mistake it for your own underwear while trying to get dressed. These are strangely popular among Europeans, so consider yourself warned before meeting your Italian Hinge match at Le Bain.

Square Leg/Square-Cut Shorts
Looks like we're going least to most coverage here! Square-cut shorts are the bathing suit equivalent of boxer briefs. This cut can be sexy when revealed under pants, but IMO it's a little aggressive as the sole thing covering your lower half. (*Thinks back to the cheeky Brazilian bikini I just ordered.* Nope, I stand by it.) I feel like Jordan from The Bachelorette definitely wears this kind of bathing suit, to give you a sense of the overall dateability conveyed by this style. It's the ultimate for guys who want to show off every inch of their bodies without committing fashion suicide. AKA every guy who cracked 1,000 followers on IG and now thinks they're too good to answer your texts. Not that I'm bitter, we were obvs growing apart anyway. But yeah, guys who wear this swimsuit are likely way more into themselves than they are you. Sorry!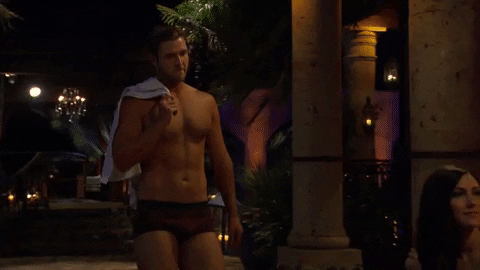 Swim Trunks
Ayyy, we've arrived at the only socially acceptable swim suit for men. Feels good. You'll recognize swim trunks from every time you've seen a male go in water without baring their full ass. They're your basic loose short, completely indistinguishable from actual male shorts to the naked eye. With swim trunks, the main thing you want to look out for is the print they choose. My personal preference is a solid that's flattering to their skin tone, or a simple print that's on-theme without being obnoxious. (E.g. *subtle* floral/Hawaiian, nautical, etc. Don't @ me, I like the tiny sailboat thing.)
If they're covered in giant flamingos, pineapples, or American flags, they're frat bros who didn't have to do anything other than breathe to get laid in college and don't intend to start now. Give them a few years of getting rejected by women like you and come back to them. Like wine, except instead of wine it's a 27-year-old man-baby. Anyone who wears plaid swim trunks is a psychopath or in middle school, and you can't convince me otherwise.

Board Shorts
Board shorts are…ok. They're really just the sloppier, oversized version of swim trunks, often worn by little kids or guys who really don't care about the fit of their clothes. Acceptable on surfers, for whom these serve a legit practical purpose. In all other scenarios, it's the sartorial equivalent of what you put on to pick up Gatorade while hungover.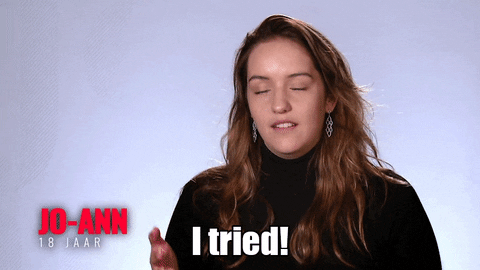 Jammers
First time hearing of jammers? Don't worry, me too. While I'd hoped this was a term for dressed-up jammies, it's actually a swimsuit specifically designed for athletic performance. AKA this bitch better be training for the Olympics. Otherwise, he's just weirdly proud of his thigh girth or trying to hide some kind of rash. Not a risk I'm interested in taking.

There you have it. If you're looking for a guy to actually date (so old-fashioned, I know), swim trunks only please. If you're already dating and looking to fine-tune his wardrobe, throw out all his obnoxious prints and board shorts. Everyone else, please feel free to hook up with the Speedo/short short/jammer wearing guys out there and report back. Don't say I didn't warn you when all they talk about is their dating app matches, muscle tone, and favorite protein powder. Wow, I'm just describing Jordan. He'll be missed.
Images: Giphy (5)