We Need Everyone Back In The Office Immediately, Even Though You've Been Working Remotely Just Fine For The Past Year And A Half
From: [email protected]
Subject: URGENT! PLEASE READ – BACK TO OFFICE DETAILS
Hi all,
We know you have eagerly been awaiting news of our return to the office—whether because you've been slowly losing your grip on reality and your house plant moonlights as your therapist, or because you've been waiting for direction on when to buy your return flight back from Florida. Either way, after months of vague holding patterns, we finally have updates to share (and you're probably not going to like them)!
Unfortunately for the introverts and those of you who live in outer boroughs because we don't pay you enough to afford to live in Manhattan, we do in fact need you back in the office as soon as humanly possible—even though we fully recognize that the company has not suffered in any way as a result of everyone working from home for the past year and a half. In fact, business is better than ever! Turns out, without the din of different departments yelling at each other from across the office, the lingering smell of microwaved fish, and the incessant clacking of fingers on keyboards, distractions are down, and concentration and productivity are way up!
Still, we need you back. Mostly because we already paid for a 12-year lease. Those Herman Miller ergonomic chairs aren't going to pay for themselves! (Except we already paid for them using all the money we saved from the mass layoffs—so, in a sense, they did pay for themselves.)
Our first day back will be the Friday before Labor Day! We, of course, want to be reasonable with our expectations, which is why you will only be expected to be present 4.5 days per week from here on out.
We know this is a big adjustment, but don't worry, to ease you into the transition, we will be providing lunch for your first day! We will be ordering salads from We Only Do Salads, Nothing Else*. Please inform Community Manager Nicole, on copy, of your order by no later than tomorrow, 12pm ET.
*$10 maximum value. 2 toppings** allowed—including protein.
**dressing counts as a topping.
In more exciting news, we are thrilled to announce that, thanks to the additional funds freed up in the budget, we are proud to offer snacks! FREE plain Lay's potato chips*** will be available Monday-Friday****
***the unruffled kind.
****while supplies last.
We know you're probably wondering if masks are required, and to be completely candid: we're still wondering that, too. We will be closely monitoring the mayor's office, the department of health, the CDC, and Dr. Fauci's facial expressions in press conferences for more information. But plan on wearing a mask indoors at all times, even at your desk. Safety first!
As a reminder, our office dress code is professional-business-chic. Bottoms are required. Our official company policy is to not have an official company policy on whether or not bras are required, but if you have to ask, they're probably required for you.
We can't wait to see everyone back in the office!
Warmly,
Person You Will Not See Step Foot Into A Physical Office Until 2022
Image: Ani Dimi / Stocksy.com
What To Do If You Were Laid Off Due To The Pandemic
In addition to dealing with a global pandemic and basically having to buy toilet paper and Clorox wipes off the black market, millions of people are currently filing for unemployment. As much as I'm thrilled that non-essential employees are staying home and know it's beyond necessary right now, it means mass layoffs and furloughs. Depressing, right? And I thought the saddest thing I was going to see this week was Peter Weber's TikToks.
If you are out of a job due to the pandemic—for one, I'm SO sorry. But, you've come to the right place. As much as I want everyone's quarantine "job" to be watching Netflix and eating Ben & Jerry's, rent and bills are, unfortunately, still a thing. And if you live in San Francisco like me, rent is a very big thing even though you would never guess from the size of my apartment.
I am the first one to acknowledge that what's going on in the world right now is freaking hard. I mean, it's a literal pandemic. And as much as I'm hoping I make you laugh with my (attempt at) jokes while giving sound career advice throughout this post, I know that if you lost your job, that must be super hard. I can't imagine the stress and anxiety that this situation is causing millions. That being said, I don't want a situation that we cannot control to stop anyone from getting their next career opportunity, if that's where your head is at.
Just because we're all pulling a full-on Rapunzel and locking ourselves away in our houses for the foreseeable future, does not mean that you cannot make moves to work towards getting a job. And lucky for you, your biggest decision today would have probably been whether to watch TV in the bedroom or the living room—so you've got some time on your hands. Here's what you can do right now if you were just laid off.
Update Your Resume
You'll hear any career experts say it time and time again: update your resume! I know it seems like a chore to write down your accomplishments, but you never know how soon you'll get your next job interview. (And, again, what else are you doing?) So take off the quarantine goggles that are telling you to simply drink wine and watch Real Housewives all day and get to work.
You might be thinking, "I was never laid off before, how do I frame that in my resume?!" Well, look—I'm sure there are a ton of correct answers to how you could put this in your resume, but I think you could handle this in two different ways. I'm of the belief that when applying for a job, it's actually a positive when a company realizes you are unemployed for a reason out of your control. That indicates that your performance is still great.
So I don't think it hurts to put a small italic note at the bottom of your most current experience that says *Laid off due to COVID-19 or however you want to phrase it, and then secondly, when you do apply (yes, surprise, I'm recommending still applying for jobs), you can follow up in your cover letter reiterating this.
File For Unemployment
If you are out of work due to the pandemic, don't forget to try and file for unemployment. I've seen on the news lately that it is extremely difficult to get through to unemployment offices right now, so even though the millions of Americans who are out of work should get this benefit, it doesn't sound as easy as it should be.
In doing a few quick Google searches about how to file for unemployment, I learned that the benefit is provided by the state. So, when you Google to find out more, make sure you're checking directions for your state specifically. It looks like each state has their own website, where you can see how you can file (ie phone, online, fax—but who has a fax anymore?!).
When you do decide to file, make sure you have the appropriate documentation and information ready. I've heard it's hard to get through (either with the website crashing, or not getting through to the phone lines), so I don't want you to miss your chance when you finally do get someone on the phone.
Good luck on this one. It sounds like a super difficult (and potentially frustrating) process, but despite that, it absolutely doesn't mean you shouldn't try. You might even want to come up with a strategy to try to get through faster, like setting alarms and logging onto websites at off hours. The outcome is some income, and it is definitely worth the wait for that (and some states, like New York, will pay out retroactively to account for how difficult it is to get through to the unemployment office).
Learn A New Skill
From Zoom happy hours to trying to figure out how to actually cook myself meals, I know quarantine can seem busy. But wouldn't it be cool if you came out of it with a new skill you could market to employers? Lots of colleges and other places are offering free online classes, and it's the perfect time to get that certification you've had your eye on for years. When else will so many digital things be free? Probably never, that's when.
This might not only pass the time—it could also beef up your resume. Especially if there's some sort of skill or course you need for the new type of job you want—this could be a good time. Maybe you'll even discover a new passion and turn into one of those people you see in commercials who started a tiny business out of their kitchen and is now a millionaire. Don't forget about me when you're famous, ok!?
Network
Regardless of the pandemic, I'll always vouch for networking. You never know when someone will refer you directly to their company, which is a whole lot more powerful than applying online.
As we said before, it seems like, over everything, many people (not all, but many) have time right now! Also, I imagine a lot of people would be open to talking about something other than the world falling apart right now. You could probably find a lot of people who are open to a phone conversation nowadays. I'm always a big fan of reaching out via LinkedIn, or even guessing someone's email address at a company. Who knows, maybe they'll be a great contact.
When you are networking, remember, this layoff is not about you or your performance, so don't let it seep into your confidence.
One tip: Be mindful of how you network. Maybe do a quick Google search of the company before you reach out to make sure there weren't mass layoffs there too. The last thing you want to do is come off tone-deaf, but I think if you phrase it in a respectful way, you'll be gucci.
Apply For Jobs
When I've seen people online talk about getting laid off during this time, it's usually paired with something like, "and I can't apply for new jobs right now". It probably is an extremely competitive time to try and find a new job, since so many people became unemployed all at the same time and many companies are not hiring.
The notion I want to clear up, though, is there are still some companies that are hiring. Not all, but some. Some industries are absolutely struggling right now, that's no secret, but there's a whole slew that aren't.
I'm going to tell you a little secret. There's a website (it's all user-generated, so take it with a grain of salt): Candor.co/hiring-freezes/ that has listed over four thousand companies' hiring statuses. You can use this site as a starting point for those who still have job open to whittle some down.
Most importantly, I don't think it hurts to apply and try to interview—because what's the risk at that point? You'll watch one less episode of Gossip Girl today? Worst-case scenario, you practice interviewing for when this is all over. Best-case? You're employed.
That's all folks, thanks for coming to my TedTalk. If anything, I hope this post inspires you to take your career into your own hands and start taking action before the pandemic is over, because honestly, I'm not good for much else right now.
Images: Emma Matthews Digital Content Production / Unsplash
5 Takeaways You Should Leave Your First Job With
Your first job is like your first boyfriend in that you truly think he's perfect, but then again, you have nothing to compare him to, so you may not even know you're with a total loser until after you've broken up. When my college boyfriend of two years broke up with me, I reached a whole new level of devastated that I didn't even realize was humanly possible. How could this person who wept in front of me when his grandmother died, surprised me in my hometown for my birthday, and paid for all of my Chipotle burritos (with every add-on you could think of) not want to be with me forever? Fast-forward like six months, and that time and distance made me realize both how wrong we were for each other and how much he f*cking sucked as a person. After him, I took note of all the things I did and didn't want in my next boyfriend. It really was the year of realizing stuff. Just call me Kylie Jenner. 
Leaving your first job should feel the same way. Even if you loved it, you should still walk away with a sense of what you want and don't want in your next position. I, for instance, loved what I was doing at my first job so much that I didn't even care about having to live in the trap house that was my apartment, which was the only place I could afford on my laughably small salary. I was an editor at a ~luxury~ magazine and it made me feel like Miranda motherf*ckin Priestly (minus all the power, money, and ability to own a home) because I got invited to every party, media dinner, and opening you can imagine. I also got free facials, clothes, trips, etc., so you can imagine that walking away from "the good life," as Kanye says, may have been a little tough.  
However, what ultimately made me want to leave was the fact that I didn't see much opportunity to climb the editorial ladder and tbh I didn't want to stay in the South forever. So after I left, I had the time and distance I needed to realize that my first job was f*cked up in more ways than one. Knowing that and knowing why helped me find my next job (also at a magazine), which I actually love. No matter what industry your first job out of college is in, these are the key takeaways you should walk away with after leaving. 
1. Respect For The Product 

I obviously don't mean this literally since not all companies produce something, but it's really important that you respect, understand, and appreciate what the company does. After I left my Job From Hell, I flipped through a few of the previous issues and noticed that we only covered sh*tty companies/people who paid an embarrassing amount of money for full-page ads. At the end of the day, I couldn't really stand behind what I wrote.
Doing something you love is the most important thing because, let's face it, we spend all of our time at our jobs and you may as well enjoy your many hours locked working in a giant freezer office doing something you give actually sh*t about. 
2. How (Not) To Interact With Your Manager

If this is your first job, chances are you have a manager and, believe it or not, there are a few not-so-chill ways to interact with them! At my first job, my editor and I were pretty close in age and she happened to be really cool, so naturally we became friends. As fun as it was working with my friend, it was also pretty f*cking awkward when she had to reprimand me for doing something wrong. Like, are we still going out for drinks later or are we in a fight because you fully yelled at me just now? 
Having a friendly rapport with your manager is great, but I'd be careful about being legit friends with them. It just confuses the hierarchy and can ultimately ruin your friendship, which in turn will make going to work suck. Keep a respectable distance between you two so that you can f*ck around a little at work, but it won't be totally uncomfortable if and when sh*t hits the fan.
3. How To Stand Up For Yourself

When you're in an entry level position, you may feel like you're working for your grandparents because everyone is constantly reminding you that you're young and don't know how to do anything. As much as I didn't want to be the annoying millennial who was offended by everything, in some instances, you can and should stand up for yourself. 
The terrible, horrible, no good, very bad world in which we live, sexual harassment is generally the first thing that comes to mind when I hear the phrases "entry level employee" and "stand up for yourself," and you definitely should. But there are plenty of low-level offenses we forget about and shouldn't let slide. Like, when you're working on a project and put 97% of your effort into it and then your sh*thead co-worker swoops in and spends a lousy five minutes doing the last 3% then turns the project in as if she did the whole damn thing. Nope!
Obviously, pick your battles wisely, but if something is going down that's legitimately making you upset, don't just bend over and take it. If you let these shenanigans go on for too long, you're basically telling your coworkers that it's totally cool if they f*ck with you forever. Is it? Is it cool?
4. Negotiating Is Allowed

I happened to be an intern at the company that ended up hiring me, so when my future editor pulled me into a conference room and offered me the position by writing my "salary" on a sticky note and asked if that's okay with me, I should have said, "No, it's not!" First of all, never accept a job on the spot; always take a few days to think about it and negotiate benefits and salary. The fact that the number was tragically low wasn't even the problem; I just didn't think to try to negotiate because I'm dumb I had no sense of what a competitive salary in that industry even was. Go on Glassdoor to read other employees' reviews on the company and to see salaries to get an idea of whether or not you're being lowballed.
Generally, companies welcome negotiations. That doesn't always mean they will accept your final offer, but they will rarely just slap a number on the table and refuse to entertain any discussions. Don't be afraid to whip out your flea market negotiating skills, people.
5. Have A Career Development Plan

Look, I think five-year-plans are stupid. Sorry, but not really. Life is too unpredictable for a multi-year plan. Here's why: My five-year-plan involved staying in the South forever because #job, #friends, #boyfriend, but then my dad got cancer, so I moved to New York to be closer to home, and my five-year-plan imploded. Having a career development plan, however, is really smart. When you're a college senior getting job offers, you're usually so excited about getting paid that you don't even think about what's next because no more frat parties and pregamed dinners—sounds good enough for now! But knowing where you want to be professionally in the future can help you make better decisions in the future—especially because nothing looks sketchier on a resume than a slew of random jobs that have nothing to do with each other. 
Instead of soul-searching for four months in your childhood bedroom because you just quit your first job and don't know what you want to do now, start thinking about that when you begin feeling like you want to leave your current job. 
At the end of the day, it's easy to wish you had done things differently after you already did them wrong, so take this as an opportunity to learn so that every job you get after your first sh*tty one, is a good one. 
Images: Giphy (5)
5 Signs You Have A Toxic Boss & How To Handle It
With the amount of time we spend at work each day, it's no wonder that a boss can make or break the experience. It's been said that people leave bosses rather than jobs, and the statistics back this up. According to a recent study, 60% of employees surveyed left or were considering leaving a job because of their direct supervisor. While it's rare to have a perfectly ideal manager, there are certain characteristics that may indicate you are dealing with a truly toxic boss  . As someone who has had experience with more than one veritable nightmare of a human being challenging boss, I can personally attest to how all-consuming such a negative experience can be. Because I'm such a selfless person, I've come up with a list of common toxic boss traits as well as strategies to survive these monsters while deciding on next steps.
Sign #1: The Work Environment Palpably Shifts

Before your new boss, work was a sort of bearable pleasant place to be. But now the environment has changed sharply and suddenly. The way this change takes effect can differ, ranging from more overt behavior like yelling and disparaging employees, to more subtle behavior like an intensity that causes the whole department to feel stressed where they once felt comfortable and at ease. The key is that the environment has changed for the negative.
Sign #2: Micromanaging Becomes The Rule
This one can be infuriating. Despite all of your efforts to date, your boss can't help but insert themself into tasks that you're more than capable of completing and feels compelled to tell you how to do them. No matter how glowing your track record, a micromanager won't be able to rise above their own insecurity and trust you to do your job, because they need to feel like they aren't an insecure shell of a person important and call the shots.
Sign #3: Admitting They're Wrong Is An Allergy

A toxic boss is incapable of acknowledging they are a human being who, like the rest of us, makes mistakes. Instead, he or she will gloss over their own errors, despite practically foaming at the mouth when it's time to point out yours. The rules don't seem to apply to them and they present themselves as almighty and infallible. In other words, they're really fun at parties.
Sign #4: They Only Look Out for Number One
Instead of cultivating a respectful and mutually beneficial relationship with those who report to them, toxic bosses are only interested in making themselves look good. You only exist as an extension of them, and they treat you like a minion rather than a colleague. They're only interested in having you validate their existence rather than help you with your career. Hierarchy is very important to this kind of boss and they won't let you forget it. Some may even go so far as to take credit for your work.
Sign #5: Resistance Is Futile
A good boss can take constructive feedback and internalize it. A toxic boss is incapable of doing this. No matter how articulately you express yourself, any criticism or pushback, however valid, is viewed as an attack and this kind of boss can't hear it. In fact, when you do try and share a differing view, they may punish you later in an attempt to reassert their power. Reasoning with this type of boss is about as fruitful as reasoning with a toddler. Now, let's get on to some useful strategies for dealing with these toxic bosses.
Strategy #1: Attempt An Honest Conversation
Admittedly, this might not be possible with certain bosses, especially those who shut down in the face of feedback. But if your boss has a glimmer of humanity, it might be worth trying to suss out the root of the disconnect, if only to bolster your argument later that you tried everything in your power to address the issue professionally and without outside intervention. It may even take several conversations, but if you can get an open dialogue going and your boss is willing to try to improve the relationship, it can pay dividends down the road.
Strategy #2: Mind The Patterns & Play The Game

After enough frustrating interactions, you will likely be able to see patterns in the way your boss likes things done or reacts to certain behaviors. For example, if you're dealing with a typical narcissist, you can make them feel needed and validated and, therefore, less threatened by you, allowing you more space to do your job. It can be a tough pill to swallow at first, especially if you're anything like me and hate being superficial with people. But think of it as something you are doing for yourself and your own well-being, rather than for your boss.
Strategy #3. Seek Out A Support Network
Unless you're dealing with a true psychopath, there's a good chance you are not the sole target of your boss' treacherous behavior. Don't be afraid to confide in coworkers that you trust and rally around your colleagues when things are difficult. The camaraderie reminds you that you are not alone, making you less likely to spiral into a dark place. This can even be an opportunity to bond with coworkers you weren't as close with before the toxic boss. Nothing unites people more than a common enemy and you may even be able to find some humor in your boss' fugly haircut the situation as a means of relief.
Strategy #4: Go Outside Of Your Department

If the previous methods aren't working or are simply impossible, it's time to look to outside resources for support. In most cases, this will be the company's HR department. While very few HR departments operate swiftly and effectively, the company should be aware and on notice of what is going on with your boss so it can be dealt with appropriately. It's also good to have a record in the event you are terminated and believe it was retaliatory. If your company doesn't have an HR department, confide in a colleague you trust who is at a comparable or higher level than your boss. He or she may have some insight or can serve as an ally later on if needed.
Strategy #5: Start Looking Elsewhere
A toxic boss can wreak havoc on your mental health, and no job is worth paying that price. If the situation is untenable, leaving may be the only option. Of course, most of us are not Kylie Jenner and can't afford to just up and quit our jobs. Put a plan in place that allows you to work toward leaving as soon as it's feasible—start looking at other opportunities and networking, set a reasonable deadline, and see what other levers you may be able to pull in the meantime. If the situation is really dire and you have to get out, assess your finances to see if you can rely on savings for a while and/or talk to your parents, partner, or other loved ones to see if some interim financial support is possible while you look for a new job.
If you're currently saddled with a toxic boss, you're far from alone. Know your value, never waver from it and don't allow an insecure and likely deeply unhappy person to make you feel less than capable. At the very least, navigating this situation will teach you some valuable lessons about how to be a leader and show you what you should not do when you are a manager. Because evil comes in many forms, I know I didn't touch on every toxic trait and coping strategy. Share your horror stories and solutions in the comments!
Images: Shutterstock; Giphy (5); whenshappyhr (3) / Instagram
What Each Character Of 'Friends' Would Earn In 2019
There are few things in life considered timeless, among them are The Beatles, red lipstick, and, of course, Friends. Seriously, that show kept me alive during my junior semester abroad in a city that's tied for least things to do and worst food. If you're ever in Spain, be sure to not visit to Salamanca. Anyway, as an English major, I was trained to genuinely believe that characters live past the end of the story, so I'm really hoping that 15 years after the last episode aired, the Friends have all been promoted many, many times and can now afford their multi-bedroom apartments in one of New York's most expensive neighborhoods.
That got me thinking, what are these guys up to in 2019? Not IRL, of course, but in Friends land aka a set in L.A. the streets of Greenwich Village. Did Joey ever get cast again? Did Chandler graduate from his internship? Are they still spending 23 hours a day in a f*cking coffee shop? And more importantly, what are they actually earning in order to afford these multi-bedroom apartments in one of New York's most expensive neighborhoods? Let's find out!
Monica: Chef
Monica is my favorite. She's loud, she's pushy, and she's clean af. Yep, she's a Jewish mom, alright. In the last episode, she, Chandler and their twin babies moved upstate to Westchester County. If you've ever been there, you know that it is a beautiful place with absolutely nothing to do. Before she moved, Monica worked hard for her head chef position at a ritzy resto called Javu's (fictional, I checked), and I'm guessing she didn't just give that dream up to push a double stroller around the sidewalks of Chappaqua, New York. Nothing against moms—in fact, I hope to be one some day in the distant future—but Monica has always fostered a serious and not-to-be-f*cked with work ethic and I can't imagine she'd work her butt off to throw her professional goals away just because she moved upstate. My guess is that, after a few years, the Bings moved back to Manhattan so that Monica could open her own French fusion restaurant on, like, the Upper West Side. To put things in perspective, a head chef at Union Square Hospitality Group, which owns Gramercy Tavern and Union Square Cafe, makes between $53k and $96k. Given Monica's extensive time spent in kitchens/diners all over the city, I'm guessing she'd make a salary closer to the right end of the spectrum. Good call saddling up next her, Chandy.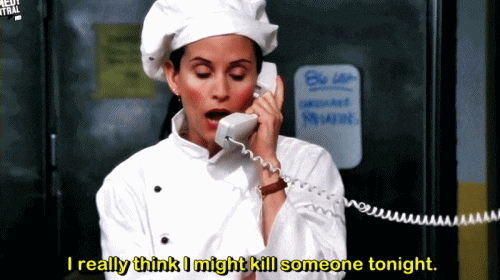 Ross: Paleontologist
Good god, I hope he at least got tenure at NYU after what must feel like 75 years of studying fossils. Assuming he did get tenure, I'm also going to assume he'd be the director of the paleontology department at this point in time. Mostly because there prob weren't too many people up for never getting laid as the most academic department's leader. So the average salary of a department director role at NYU is $101k. Excuse me, what?! Are young Americans buried in student loans because their disgustingly expensive tuitions are being used to finance department heads' six-figure salaries? As a young American who graduated from college, I think I speak for all of us when I say we need answers on this. Knowing Ross, he is spending his influx of cash money on more wannabe vintage decor from Pottery Barn and, like monthly Birchbox Man subscriptions. That's honestly all I have to say about him because I refuse to discuss the least likable character for more than 200 words.

Rachel: Fashion "Executive"
I put "executive" in quotes because wtf does that mean? Whenever I'm swiping through Bumble and land on a guy with something vague af like "Associate at Company" as his job title, I just assume he's unemployed and waiting for his trust fund to become available. So, in the last episode, Rachel gets an offer from Louis Vuitton for a "fashion executive" position in the company's Paris office and she almost goes, but doesn't because Ross's whiney bullsh*t gets to her before the plane takes off. After Rachel decides to stay in New York, we don't really get answers about what she does re: her job. I am guessing she just decided to work for LV's New York office, but who knows? And given her experience in buying, I'm also going to assume that she's a buyer at Louis Vuitton, in which case, she's making around $40k. Sounds about right. Good thing she has Ross' income to fall back on. As a survivor of the fashion world, I can confirm that it's a terrible industry if you want to be able to enjoy simple pleasures of life like wifi or electricity.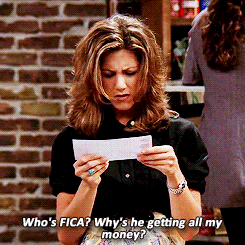 Joey: Actor
This is another favorite Bumble job title. When I see "actor" on someone's profile, it's safe to say that he's a Flywheel instructor. I honestly have no idea how much Joey made during the show, but considering he was, like always out of work, his typical income was prob close to zero. And because I'm a cynical New Yorker who's seen everyone in film except for Emily Ratajkowski's sneaky bastard of a husband get f*cked by the industry, I'm assuming the most prestigious work Joey has to offer is supporting roles in NYU student films. Since Joey clearly didn't realize that he could be living rent-free in a beautiful Noho loft courtesy of the New York Multiple Dwelling Law (the only kind thing New York government workers have done for creatives), Joey is probably a bartender at a dive bar, where he'd be making a whopping $3/hour, not including tips. As a former waitress, I'm not totally shocked by this considering most people in the service industry earn their income through tips, and something tells me this Italian meatball is doin' just fine.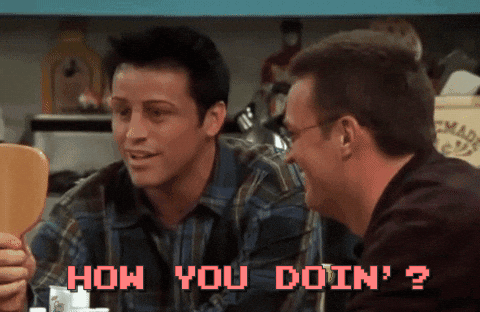 Phoebe: Masseuse
After her failed massage van idea, I'd really hope Phoebe would get a stable job at a spa or something. The mystery of how she affords her apartment will forever be one of the best kept secrets to date, but maybe after she gets hired by a place like Red Door Spa, she can make her living situation more believable. Knowing Phoebe, though, she probably works at some parlor in Korea Town that offers happy endings after a mediocre rub down. Let's hope not. Either way, she'd be taking home between $15-$35 plus tips. We know her music career won't be taking off anytime soon, so I'm really hoping she put the guitar down and took on a few extra hours at the spa.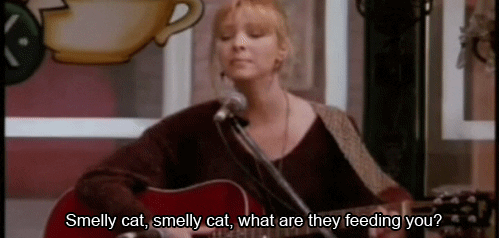 Chandelier: Transponster
One of Friends' most famous plot lines is that no one knows what Chandler does for a living. I've seen the show at least five times since it ended, and I still don't know what he does, even when I actually pay attention to the office scene. So after hours of research, I discovered that Chandler's official job was data processing and statistical reconfiguration for multi-national corporations (???) before he became a junior advertising copywriter at some young agency. I don't even know what to Google for his first job, so I am assuming he stayed in advertising and climbed up the ladder until he reached Don Draper boss status. Chandler is prob working at a mid-level agency that earns between $2-$6 million in revenue, but he's a senior account executive, so he's making around $100k. Not bad for someone who was an actual unpaid intern in his 30s. Good thing he and Monica are raking in the cash because, if my twin brothers taught me anything, it's that twins are f*cking expensive. Lastly, I'm glad he finally got his sh*t together because he really hated being a transponster and no one should work at a job they hate, even if the money is good, and that is why I will never understand why people become traders on Wall Street.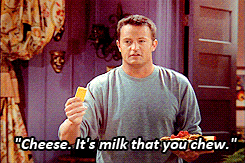 Images: Netflix; Giphy (6)
What To Do If You Hate Your Boss
There are only a few things that can make a 9-5 day at work seem longer than it already is, like not being able to check Instagram during the day, Kanye West being off Twitter, oh, and a boss that makes you want to claw your eyes out.
We've all been there. You're wondering if the pit in your stomach was caused by the tequila shots you had last weekend, or the manager breathing down your neck. Or you're day dreaming that you could be starring in Horrible Bosses, and even though murder is totally against your moral compass (it is…right?!). you're highly considering it. Because you literally can't stand the sight of the person that signs your paycheck, which could be a real issue if you have a shopping problem…I mean, habit.
It's not expected that you get along perfectly with everyone in your work life, but I do believe that people work for people, not companies. Because it feels like we are spending literally all our time at work (if you're like me and go to bed at 9 pm, you literally are), you need to find a way to survive that boss you hate. So what the f*ck is a boss betch supposed to do? Here are three things to do when you hate your boss.
1. Make Sure Their Attitude Has NOTHING To Do With You
As much as you might want to crawl up in a ball and beg for a cake of rainbows and sunshine every time your boss talks to you, this person still ultimately pays your bills. Before you go full-on 2007 Brittany Spears, take a quick look in the mirror. Now that you've confirmed your Kylie lip kit looks great, REALLY look in the mirror (AKA, the expression that means…check yourself). Are you doing everything in your power to make sure that you and your boss are getting along? As much as you might hate this person in your life, you still need to ensure that YOU are being a good employee.
If you feel like you are respectful, do things the first time you're asked, and are not making your manager's life harder, try doing something proactive for your boss. Do they ask for the same report every week? Pull it for them without them having to ask for it. Do they like things done a very specific way? Make sure everything you do follows those guidelines without being reminded.
If you feel like you're an absolutely perfect employee (I'm SURE you are), know that managers are under a looooooot of pressure. At least for me, if I can identify a source for someone being a jerk, it's a little easier to understand why they are acting this way, and what I can do to help.
2. Have A Calm, Constructive Conversation
If your boss specifically does something that completely irks you, and therefore, makes it more difficult to work, you should definitely consider providing feedback. Caveat: DON'T ever initiate this kind of conversation if you are in any kind of emotional state. You don't want to say something you'll regret, and it's important you get your message across.
If you can identify the specific things your manager could be doing to make your life less miserable, it's never bad to ask for these things. I've had managers before that LITERALLY expected me to read their minds (cool, thanks, glad they thought I had super powers). Once I started asking for them to be more explicit in their directions, and asking the questions until I fully understood the assignment, the problems vanished.
You can even say something like, "I want to ensure I always understand what you are looking for in an assignment. Could we set up a process for directions so I can get it right the first time? It will save both of us time to never have to go back and edit!" Now, this is just one example, but the point is, if you can provide feedback in a way that sounds more constructive and positive than critical, you'll likely get a positive response.
If your boss is still continually a bully, consider asking them what's up. I would set up a meeting time (so you aren't catching anyone off guard), and say that you've noticed you don't have the most productive relationship. Ask if there's anything you can do to make their life easier, because you want to be the best employee possible, blah blah blah. Whatever you do, make it about making THEIR life easier and in turn, hopefully it'll positively affect yours too.
3. Assess: Is It Worth It?
In an ideal world, you are spending 8+ hours a day in a somewhat tolerable situation. You aren't crying yourself to sleep every night because of something your boss said to you, or thinking that The Devil Wears Prada was actually modeled after your work situation.
If that's not the case, you have some decisions to make. If you're in the perfect job that's completely going to elevate your career in some way, then it's often worth it just to suck it up for a certain amount of time. Find a way to block out the noise, put your head down and get to f*cking work.
If your job situation is so-so in the first place AND you can't stand your boss, keep in mind that you probably won't get promoted or get a raise, because your manager doesn't have your back. Maybe it's time to start looking for a new job. If you do choose this, I would *highly* advise not to up and leave in a fit of rage. LOL. Find a new job, leave on good terms, and put this jerk you're dealing with behind you!
When you do look for a job in the future, make sure you get to know who will be your manager. Make sure you get all sorts of good vibes, their employees aren't secretly bawling in the bathroom, and you hopefully won't get yourself into a sh*tty situation again.
…And that concludes my TED talk. Have you ever had a boss you hated? Comment below and share how you dealt with it!
What The Industry You Work In Says About You
The following is an excerpt from our new book, "When's Happy Hour? Work Hard So You Can Hardly Work", on sale NOW.
Job environment plays a huge factor in whether it would be a good fit . Say you're really good at beauty tutorials but you wouldn't ever want to work in a big gray-carpeted corporate office, then maybe the right route for you is freelance makeup artist. On the other hand, say you need deadlines to work, love brainstorming, and seriously care what people comment on each other's Instagrams, well then, maybe you should be in media. Let's discuss popular industries and what it's like to work in them.
Fashion/PR
Exactly as The Devil Wears Prada led you to believe this job would be. Even though fashion is starting to be a little more accepting of sizes above subzero, people are still quite focused on appearance. They praise Ashley Graham on Instagram but talk sh*t about her thighs behind her back. This industry is harsh, self-important, and doesn't really pay that much. Why are people in it? Because they care about seeming cool, or maybe because they actually give a sh*t what Pantone's color of the year is.

Tech
If we learned anything from Silicon Valley, it's that this world is changing faster than your tampon on a heavy-flow day. This can be highly stressful but if you're a really skilled developer, coder, or engineer, then this is fine for you. If you're not that good, you'll know right away because you won't get work or you'll get eaten alive. If you're a female techie, now's the time to swing for the fences, as tech companies are needing to even out their ratios for press purposes because they believe in diversity and being socially conscious, of course.
Media/Advertising
If you're personable, outgoing and looking for a bullsh*t job where you get to do very little but have the opportunity to be paid more down the road, find a media job in a a large corporate company. All media companies are competing with one another, so they're all spending a sh*t ton of money on pointless employee perks like beer on tap, expensive beverages that claim to be healthier than water, and the ability to work on a couch in a different room from your desk. Gasp.

Entertainment
You have to do an incredible amount of bitch work, ass-kissing, and sliding into people's DMs to move up in this industry. Like, if you even want to write on a show, the amount of coffee you need to retrieve in your career will surpass the amount of alcohol you drank in college. If you really want to be the next Ava DuVernay, though, know that it's going to be a lot of rejection and disappointment, but it is possible to get there, so keep going.
Career Student
Rewarding AF. Not financially, though. And the only time that philosophy degree will help you is when you're discussing Game of Thrones fan theories.

Medicine/Law
Even though the two are different, we grouped them together because they're similar in that you have to put in a lot of work and hours—and also money—with very little sleep or salary to make a lot of money at some point very far in the future. Plus, you have to be really into reading to succeed in either field.
Finance
You'll have to deal with a lot of bros and douchebags to be in this industry. Everyone talks really fast and assumes you know what they're talking about when they use terms like EBIDTA and vested equity. Couldn't care less about changing interest rates? Then don't go into finance.

All The Other Sh*t, Like Agriculture
Honestly, this industry is the hardest to write about because we know very little about it. Aleen went to the College of Agriculture and Life Sciences at Cornell, yet still, not much info from us. Farmers have one of the most important jobs in the country, and do you know what they have to rely on? The weather. That's right, the weather. And then they have to deal with these huge corporations forcing them to accept buy-outs or kicking them off their land.
Yes, we left out a lot of different industries because, you know what, there are way too f*cking many, and you know what else? You'll get over it.
Want more amazing career advice? Order our new book, you won't regret it.
Images: Giphy (5)
You Could Be Corinne Olympios' Full-Time Assistant & Here's How
Good news for those of you who are dissatisfied with your current employment: A job just opened up that will either be the best thing that ever happened to you, or a Devil-Wears-Prada-On-Steroids-esque nightmare. Corinne Olympios is looking for an assistant. I'll give you a second to take that in. Ms. Olympios (as I'm sure you'll be required to call her) put out the call for personal assistants via Insta Story this morning, and said she is looking for an LA based assistant "with experience."
Question: Does watching obsessive amounts of The Bachelor count as experience? If so, I'm very experienced.

Corinne (wearing the very professional Instagram dog filter) goes on to say that she is "looking at resumes today" but provides no info as to where to send said resumes. Consider finding Corinne's email your first test.

Corinne ends her Story with one piece of advice for anyone who wants to join Team Corn, and it's probably best if you take it seriously: "Be ready, cuz, I'm a handful."

I mean, that sounds about right. Remember how she casually dropped three grand on a single shopping trip with Nick? Somebody's gotta go back and return that shit when she realizes she hates all of it. And sure, you'll probably report directly to Raquel, but there are going to be a lot of non-cheese pasta related tasks that will be your responsibility. Someone's gotta wake her up from her naps and re-schedule all of her appointments when she refuses to get up and sleeps through everything. Sounds like a dream, no pun intended.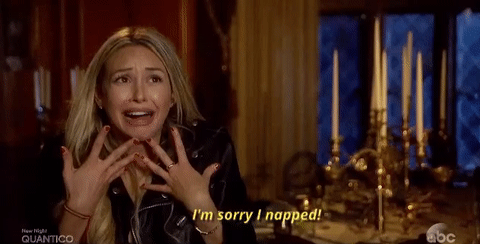 BRB. Preemptively sending in my two weeks' notice and relocating to Los Angeles now.