I Took A Pole Dancing Class To Learn About Stripping, And Wow
I would just like to say that I learned more about stripping from Hustlers than I did about America in AP U.S. History class. Seriously, this movie deserves an Academy Award in every category and I will fight anyone respectfully debate the opinions of those who disagree. Because this article isn't actually about Hustlers, I'm not going to waste my word count listing out all of the lessons imparted on me during the best two hours of my life. Look, strippers, both real and fictional (like J.Lo and the rest of the amazingly talented cast), make pole dancing look easy. Well, guys, it's actually really f*cking hard.
If you're wondering how I know this, allow me to explain: last weekend, a friend and I signed up for a pole dancing class and, I'll just to cut to the chase, it did not go well. Holding your body up while balancing on a pole requires a level of strength and determination that I do not possess, so this class was exceptionally hard. Like, yes, I could climb up the pole and chill for a few seconds before awkwardly sliding down, but that is neither sexy nor impressive, so I tried the more advanced moves and it was an absolute sh*tfest. However, my hour on the pole wasn't a raging dumpster fire because I'm just a hopeless mess, it was because pole dancing is beyond hard and no one, not even Cardi, is good on her first day. Pole dancing is no easy feat, and this needs to be recognized. So if you want to find out exactly what your local strippers do every day and night, read up!
You Need More Than Rhythm

As I mentioned before, you essentially need to be the Hulk to be able to do literally anything on a pole. Even just the basic moves, like a wide squat and then slowly straightening your knees while arching your back on your way up to a standing position (or as Christina Milian would say, "dipping it low and picking it up slow") requires a level of strength I didn't think human beings were capable of. As for the more challenging moves, yeah, that didn't go well, either. 
Just for sh*ts and gigs, I wanted to try something really hard, so I climbed to the top of the pole as ungracefully as humanly possible, hooked my right knee and my right wrist around it and attempted to swirl down slowly, à la J.Lo in the Hustlers trailer. The swirl lasted approximately half a second because the inside of my knee felt like it was being lit on fire by the sun itself and my wrist wouldn't budge since the pole was sticky with sweat. Ouch. So in addition to being able to dance with an inanimate object, exist in six-inch heels and look hot while attempting the impossible, you need to be very, very strong to be a decent pole dancer. 
It's A Workout

I know that pole dancing has become the new hot workout for young suburban moms in recent years, but don't knock it 'til you try it, because it really is a workout. For context, this is what it feels like: you know when your SoulCycle instructor says you have one song left of class and you're so relieved because three minutes of effort is really all you have left? Okay, that's how I was feeling eight minutes into pole dancing and the class was an hour long. Yikes. So, while on my hands and knees with the pole against my ass, I started to think about all of the hard working dancers out there who do this for hours on end, and I became absolutely mesmerized by their strength, willpower and endurance. 
Also, one important thing to note: it hurts a lot,  and not in a good way. At one point, I was in a handstand position with one of my feet against the pole and was told to walk my hands away from it. Because I have zero balance and next to no core strength, I came crashing down and have a giant bruise on my shoulder to prove it. I'm sure this happens less with practice, but frankly I've given up on my short-lived dreams of ever attempting this again.
It Doesn't Feel Sexy At First

Full disclosure, I walked into the studio thinking I'd at least be decent at this since I did ballet for over a decade. What a fat LOL I had after exactly two minutes, when I realized that ballet and pole dancing have absolutely nothing in common! I thought my dance background would be helpful, but going on pointe for a few seconds at a time is nothing compared to hanging upside down from a metal pole. Also, pole dancing is really graceful, and grace was something I learned in ballet, but I still managed to look like a cross between a clumsy, blind toddler and Greg from Succession on the pole.
Again, it takes practice, but I'd just like to remind you that it took J.Lo, the most fit and coordinated person on planet Earth, weeks to master this, so it would take me about three years to even kind of figure it out. That math seems accurate, I think. The thing is, I could have definitely tried to be sexy doing the moves, but I was too focused on not dying to prioritize looking good. So I truly don't know how strippers both defy gravity and look incredibly hot doing it. 
At the end of the day, strippers are athletes in every sense of the word and deserve the same, if not more, respect that we show a bunch of critically concussed men for running around a field in shoulder pads. I don't really know how or why people assume strippers are these broken and sad women who strip as a last resort, but that grossly incorrect presumption needs to be updated because they work incredibly hard. They are hardworking queens who possess a lot of skills that are hard to come by, and if you don't agree, take a pole dancing class and you'll change your mind. 
Images: Shutterstock; Giphy (3)
As A Stripper, Here Is What I Hope You Learn From 'Hustlers'
From the moment I saw the 
Hustlers 
trailer, I was overcome with a mix of emotions. First of all, I was beyond excited to see JLo, Constance Wu, Cardi B, Lizzo, and the rest of the cast shake their asses and work their magic on the big screen. But with all this excitement came a bit of fear. As a stripper myself, I was delighted to see strong women representing us in the mainstream media, but I was also worried that Hollywood may do what they do best and 
mis
represent us. And seeing as the premise of the film was that a group of strippers came up with an elaborate scheme to fleece rich men for thousands of dollars, I was also concerned that the film would leave people believing that all strippers are
scam artists
.
I attended a 12:15pm matinee of the movie with my friend, who is also a stripper, and I can say from start to finish, 
Hustlers 
dazzled the f*ck out of us. We clapped, snapped, laughed, and whispered, "SAME" to each other throughout the entire thing. It was a GD delight. And I can honestly say that I think, for the most part, they did a good job representing strippers and conveying the nuances behind the story in a way that showed the audience that the situation wasn't black and white and that strippers are, you know,
human beings.
The film hired
actual strippers
to
consult
 and act as extras in the film, and I think this really shows. It feels authentic and far from the usual portrayal of strippers or sex workers, which is that we are sad, broken people with no agency over our bodies and ourselves. However, I can still see how some people could take things from the movie and either not understand or misconstrue them. So, I'd like to go ahead and say what I hope you took away from the film, besides the obvious, which is that JLo is the hottest person in the world and can run me over with her car (if she wants).
Stripping is a legitimate job that requires lots of different skills.
A standout moment in the movie is when Destiny (played by Constance Wu) is giving a dance and a man asks her, "What happened to you that made you do this?" This is a typical kind of question from a male customer. It's condescending, rude, and ignorant. These dudes come into the club looking to buy what we have to offer, and they say sh*t like this, implying that what we do isn't valuable or worthy, and that we must only be doing it because we are damaged goods. Sex work is work, and I think Hustlers does a good job of showing how it's very much a job that requires a set of skills. You have to learn how to read and work people, how to charm people, how to be confident, plus how to walk and dance in six-inch heels. It's fun and empowering, and it's also exhausting. It's a job. I hope when you saw Destiny exiting the club as the sun was coming up, you thought, "Damn, girl," because that moment is very real.
While stripping can and should be empowering, the system it works within is broken.
The first act of Hustlers essentially shows us the working conditions for a stripper. Granted, the film takes place about a decade ago, but a lot of the industry standards remain the same. We see Destiny go through a long night of working, only to have to hand over a chunk of her earnings to her boss. Most clubs work in a way that cushions the pockets of the men in charge, and takes advantage of the women doing all of the heavy lifting. In most clubs, strippers are not paid any sort of wage. Instead, they have to pay the club for the "privilege" of working there.
I've noticed in the way management speaks to us, it is often implied that we are disposable and lucky to be given the opportunity to make money at their club. We have to pay a house fee every shift. In my experience, this ranges form $40-$100 per shift, depending on when you arrive (the house fee goes up as the night goes on). On top of this, you have to tip out other people on the staff, because they also make their money on tips.
And, while the first act of the movie shows how hard it can be, it eventually transforms to these women making insane amounts of money, because a plot of a movie must progress. But something I find myself often explaining to people is that stripping is very inconsistent work. Some nights I feel like JLo in the scene where she bathes in money and I take home two months' rent in one night. Other nights I owe the club money after working the floor for six hours because I didn't even make enough to pay my house fee.
Hustlers shows that strippers endure tough working conditions that require them to hustle hard, so instead of shaming them for what they choose to do, we should support and stand by them.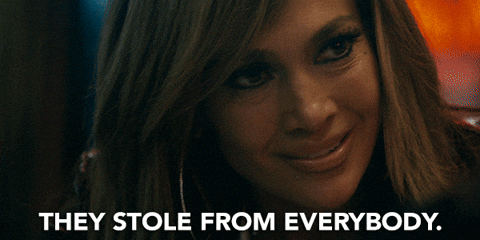 Not all strippers are trying to rob you.
Sure, this film is based on a true story about a group of strippers who came up with a master plan on how to rob some super rich Wall Street guys. But I think Hustlers makes a point to show the situation these women were in that led them to do doing what they did: a financial crash that took away their business and a need to survive and support themselves and their families. It also includes a line from Destiny reiterating that this is not what all strippers do, which I really appreciated and hope you noted. As someone who has worked at the club that Hustlers is based off of, I can say firsthand that I've never witnessed anything like this scandal there. This was a unique situation, and it made major headlines because of what a big, and uncommon, story it was. It is an exception.
Strippers are hustlers and we are smart people who persuade people (often rich men) to spend their money, but that doesn't mean all strippers are going to drug and rob you. It's an interesting story, but it is not the norm. So, please don't watch and support this movie and then use it as an excuse to stay away from strip clubs and not support actual strippers. Hollywood shouldn't be the only one making money off the dazzling world of strip clubs.
Sisterhood exists at the strip club.
In the past, I've noticed that when strippers are portrayed in film and TV they are often pitted against one another. People who have never worked in a strip club assume it's every stripper for themselves and highly competitive. Hustlers showed audiences an authentic strip club, where yes, you should not cut in on another stripper's client, but you also work best when working together. The only time they show the competitive aspect is when Destiny tries to talk to a man who is watching Diamond on stage. That's not a good move, and Destiny figures that out when Diamond grabs her hair and tells her to f*ck off. But she also learns that becoming friends with her coworkers and combining their powers is not only lucrative, but essential to staying happy at work.
A line from the original article written about the scandal, entitled "The Hustlers of Scores,"  says, "While evolutionary theory and The Bachelor would suggest that a room full of women hoping to attract the attention of a few men would be cutthroat-competitive, it's actually better for strippers to work together, because while most men might be able keep their wits, and their wallets, around one scantily clad, sweet-smelling sylph, they tend to lose their grip around three or four." This is absolutely true. Plus, working with a bunch of women who have seen your pussy is honestly a blast, and I love my sisters at the club. They keep me sane.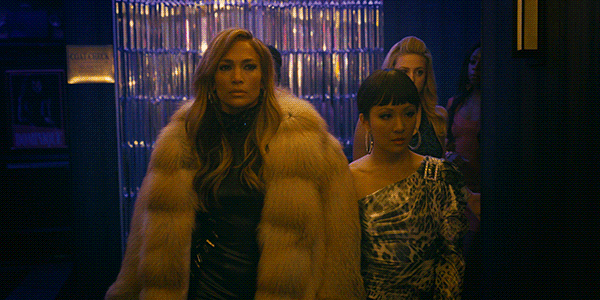 Strippers put up with a lot of stigmatizing bullsh*t.
While I'm proud of the work I do, I also know the world, for the most part, is not. My hope is that Hustlers will help people clock their unfair judgements about strippers. Being represented in mainstream media means a lot, and having a cast of strippers that the audience is meant to sympathize with is helpful. But I hope people don't leave their enthusiasm and "yaassss queen" energy at the theater door. I have seen people gushing over this movie and over the cast, but I hope they realize that while, yes, JLo is a goddess, so are the strippers she and the rest of the cast are portraying here. Something I hear way too often from my clients is, "You are too smart to be working here." They think it's a compliment, but really it's a belittling dismissal of the hard work that I and my fellow strippers do. You'll notice that I wrote this article anonymously, because unfortunately, I still feel as though there are people in my life or in the professional world who would view me differently and less positively if they discovered that I do this work. That sucks. I hope Hustlers helps you see that strippers are amazing, smart, funny, clever, badass b*tches who deserve your respect. And TBH, your money.
Stripping is a form of sex work, and all sex work is work.
Nothing bums me out more than people rationing their compassion, especially when it comes to sex work. If you saw Hustlers and discovered that you respect the work that strippers do, don't stop there. Make sure to respect and support all sex workers. Different people provide different services, and the details of those services shouldn't dictate what respect you have for them. Different strokes for different folks, babe. No need to judge.
And please, for the love of God, remember that sex work is completely separate from sex trafficking. I'm not asking you to support the latter. I'm asking you to realize that consenting adults choose to make a living from the former, and they are often shamed and penalized for it. Let's change that, shall we?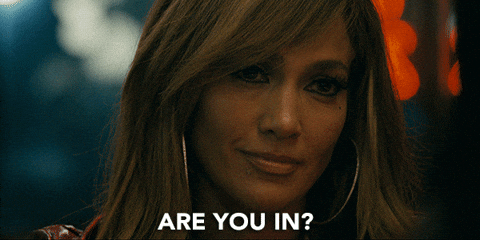 Images: Getty Images, Giphy (2)
6 Celebrity First Date Stories From Your Favorite Couples
It's an issue as old as the concept of dating itself: wtf are you supposed to do on the first time you go out with someone? Every part of meeting someone new can be stressful, but this particular question is especially tricky. After your friends go through all the trouble of finding you a promising match on Ship, you don't want to blow it by choosing the wrong vibe for a first date. If you're in desperate need of some relationship inspo this summer, here's what some of your favorite celebs did for their first dates.
Ellen Degeneres & Portia de Rossi
Ellen and Portia have come a long way in their relationship. Back when they first started seeing each other, Portia hadn't yet come out, so they didn't go out in public. Instead, they just drove around getting to know each other. Luckily, these days they can be out and proud together, and they're one of our favorite Hollywood couples.
Gisele Bündchen & Tom Brady
Gisele and Tom actually met on a blind date back in 2006. At the time, Gisele's friends all thought she needed a boyfriend, so they set her up on three blind dates in a row. Who are Gisele's friends, and how can I get them in my Ship crew? Tom was the third one, but luckily the first two didn't work out. Now they've been married over a decade, and are still going strong.
Emily Blunt & John Krasinski
John Krasinski never thought he had a chance with Emily Blunt. When he finally asked her out, he took her to a shooting range, because he thought she would be so weirded out that he could blame the rejection on the date spot, and not himself. I guess his plan backfired in the best way, because they're still together.
Offset & Cardi B
Offset and Cardi B don't really have a normal life, and their first date was definitely no exception. After watching Cardi's meteoric rise in the music industry, Offset invited her to go the Super Bowl in 2017 with him. Casual. It's usually a struggle getting a guy to pay for a couple drinks, but we can all dream.
Kylie Jenner & Travis Scott
Kylie and Travis didn't have a traditional first date, but clearly things worked out okay regardless. They hung out for the first time at Coachella in 2017, where Travis was performing. Things went so well that Kylie packed her bags and left on Travis' tour bus. Their daughter Stormi was born less than a year later.
Jennifer Lopez & Alex Rodriguez
J.Lo and A-Rod are now happily engaged, but A-Rod didn't realize their first date was even happening. They reconnected in 2017 at the Hotel Bel-Air, after initially meeting more than a decade before. J.Lo says he talked that first night about his desire to get remarried, and she obviously was listening.
Okay, so maybe some of these first dates are more practical than others, but there are some good ideas to work with here. When in doubt, just meet your Ship match for coffee or drinks, and see where the night takes you. Who knows? Maybe you'll be the next Gisele and Tom.
Images: Shutterstock; portiaderossi, gisele, johnkrasinski, iamcardib, kyliejenner, jlo / Instagram
The True Story Behind Cardi B & J.Lo's New Movie Is Peak 2019 Female Empowerment
Good news: Cardi B has spent the last tw0 years taking over music, and now she's turning her attention to movies. On Tuesday, STX Films announced their new project Hustlers, and I'm already positive it's going to be my favorite movie of all time. In addition to Cardi B making her film debut, the movie is packed with badass women like Jennifer Lopez, Constance Wu, Keke Palmer, Lili Reinhart, and Julia Stiles. I could write an essay about how much I love each of these women, but for now I will try to keep it to a minimum. The movie also stars Mercedes Ruehl, who you might not know, but she's an Oscar winner and I saw her in a play last year and she is fierce as f*ck. Moving on.
First of all, the movie is being written, directed, and produced by a woman named Lorene Scafaria, who also directed Nick and Norah's Infinite Playlist. Good to know that we've got boss women on both sides of the camera for this one. The movie is based on a New York Magazine article from 2015, and it centers on a true story. Get ready, because the plot is a wild ride. The main characters are a bunch of strippers who band together to get revenge on a bunch of gross Wall Street dudes. This sounds like all my revenge porn fantasies! Here's the subheading of the article: "Here's a modern Robin Hood story for you: a few strippers who stole from (mostly) rich, (usually) disgusting, (in their minds) pathetic men and gave to, well, themselves." This is the 2019 mood, and I am 100% here for it.
If you think the story sounds amazing, that's because it totally is. It centers around Rosie, an enterprising stripper who came up with a complex operation to scam rich men. Basically, they would drug the guys, steal their credit cards, spend a sh*tload of money, then convince the dudes nothing was wrong when they woke up. Okay, like yes, these are clearly CRIMES, but also, I respect it? If this writing thing doesn't work out for me, that's probably gonna be my next move. The real Rosie is Asian American, so I would guess that she'll be played by Constance Wu, and J.Lo is probably playing an older stripper/mentor named Samantha. I'm not sure who Cardi B will play, but I'm excited nonetheless.
There are many reasons to be excited for this movie, but I have to say that Cardi B's involvement is the most intriguing thing for me. She's obviously one of the most entertaining people on the planet, but I'm already imagining her trying to memorize lines, and it's hilarious. Hopefully they'll give her a few cues and just kinda let her improvise on set, because you can't even write the sh*t that comes out of her mouth. At least she has the real-life experience of being a stripper, so maybe she can show Constance Wu and Lili Reinhart a thing or two on the pole in exchange for some acting lessons. Dark Betty will thank her. (I doubt J.Lo needs any pointers, based on her insane workout routine.)

Sadly, it's going to be a while before we can see Cardi B and her A-list crew ruining men's lives on the big screen. The movie is scheduled to start shooting at the end of this week, so if I had to guess, it'll probably come out next summer. This is a long time to wait, but I have full confidence that it'll be worth it.
Images: Shutterstock; @jlo / Instagram; Giphy
Here's The Intense Diet And Workout Routine J.Lo Follows
She can sing, dance, act, and make going on 50 look like going on 30. Is there anything Jennifer Lopez, aka Jenny from the Block, aka J.Lo, can't do?! Honestly, probably not. Just like I haven't stopped gawking at her ginormous rock of an engagement ring, I also haven't stopped zooming in on her selfies to look for any signs of aging either. She somehow doesn't have a single wrinkle. and also maintains the most toned, insanely fit bod I've ever seen. I've been begging for years: TELL US YOUR SECRETS, WOMAN. Since her engagement with A-Rod broke the internet, I've been reminded of her technically good physique and ageless beauty. For all of us who are wondering how in the world she does it, I've dug up every detail behind J.Lo's diet and workout. Spoiler: There is no Fountain of Youth involved, as I had begun to suspect. It's all diet and a lot of intense exercise (lame, I know).
For starters, J.Lo's diet is entirely free of caffeine and alcohol. She is so dedicated that she resorts to drinking decaffeinated coffee. Yes, I want a six-pack, but I also don't think I'd make it an hour without having caffeine and alcohol withdrawals. She is like, very obsessed with water (think Kourtney Kardashian level), and keeps a diet that's full of protein and veggies. For lunch, she'll have something like salmon and broccoli, or some sort of zucchini salad. For dinner, she'll do something equally as healthy, but maybe with pork, chicken, or quinoa instead. I'm already craving carbs and sugar, but let's continue.
After having a full eight hours of sleep—I'm lucky if I get a solid five, but okay—J.Lo will start her day off with a workout at home, or with trainers like Tracy Anderson in Los Angeles, or David Kirsch when she's in New York. She apparently does this three to four days a week, and I like, can't even go two days without having a pound of pasta. Major. Props. While she enjoys a range of intense solo routines, she also likes to include her new fiancé. They'll participate in weight lifting, bike riding, and Pilates classes. So, all the things you plan to do with your friends, but you usually choose bottomless brunch instead.
It's no secret that in addition to her toned core, J.Lo has some very sexy curves that she embraces, and her butt is legendary. David Kirsch says the best workout to enhance it is the Platypus Walk: a low squat technique that works your inner thighs and tones your butt at the same time. To strengthen her core, she loves using a stability ball, doing side planks, and lots of Spider-man pushups. Kirsch even shared her full-body express workout with People, and my god, my body is sore from just reading it.
Here's a quick preview of what it entails:
Wide Stance Squat: Stand in a squat stance with your legs a little wider than shoulder-width apart (duh). Holding a medicine ball, bend into a squad while bringing the medicine ball straight out in front of you, then over your head.
Reverse Lunges: Instead of stepping forward into a lunge, step backward into the lunge. When you stand back up, bring your knee up and then back down before returning to the starting position.
Plank on a Medicine Ball: Rather than doing a plank with your elbows on the floor like a mere peasant, place a medicine ball on the floor, put your hands on the medicine ball, and hold the plank for 30 seconds.
Lateral Lunge: Start with your feet shoulder width apart, then walk your foot out to one side, squatting down into a 90 degree angle on that side.

Dumbbell Row to Tricep Extension: From PEOPLE, "Using dumbbells, start off in a plank pose and bring your left elbow (the hand holding the weight) up toward the ceiling and extend toward the back."
Shoulder Taps: Get into a plank position. Tap your left shoulder with your right hand, put your hand back down, and alternate sides. J.Lo does this for five minutes. I could probably do about 30 seconds.
Side Planks: Lay on one side with your forearm on the ground in front of you. Lift up and hold, keeping your opposite arm up.

Overhead Slams with Medicine Ball: Lift a medicine ball straight over your head, keeping your legs apart. Then, slam the medicine ball down on the ground. It's harder than you think.
Torso Rotation with Resistance Band: Holding onto a resistance band, bend your legs, lock your knees, keep your arms straight out, and rotate. No, I don't have a clearer picture of what this looks like—sorry.
Squat with Row and Bicep Curls with Resistance Band: Stand with your feet stepping on a resistance band, holding the other end in your hands. Squat down into a squat, and as you come up do a bicep curl.
Tricep Extensions with Resistance Band: If your gym doesn't have resistance bands, I don't know what to tell you. You'll need to stand with your back towards them, hold the resistance bands, then bring them straight over your head.
Medicine Ball Sit-ups: It's a regular sit-up, but you're holding a medicine ball.
Weighted Jackknives: Lie down while holding a medicine ball. Then, crunch up, bringing your arms and legs together.

Russian Twists: Sit in a V-shape with your knees bent and feet slightly off the ground (if you can manage it). Hold the medicine ball in front of your chest. Twist your body and tap the ball to the floor on one side, then twist to the other side and repeat.
Push-ups with Glider: Get in a push-up position with a glider under one hand. As you do the push-up, bring that hand out to the side. Repeat with the other hand.
Pike-up Planks: Don't put away those gliders. Get in a plank position with your feet on the gliders. Holding the plank position, slide your feet in towards your chest, then bring them back out.
From reverse lunges to Russian twists, you should do 20 reps of each move unless otherwise directed and hold planks for one minute.

It turns out that even as a rich and multitalented celebrity, obtaining ripped abs requires a f*ck ton of hard work, commitment, and dedication. Three things I can't seem to keep up when I'm in a gym. I will say that reading about J.Lo's diet and workout routine personally inspired me to put down the chips I'm snacking on, but it didn't stop me from scrolling through Postmates. Sorry, not sorry.
Images: @jlo (2), @arod, @davidkirsch / Instagram; Giphy
UPDATED: How Legit Are The Rumors That A-Rod Cheated On J.Lo?
UPDATE: In a move that honestly surprised me, Jennifer Lopez decided to address the cheating rumors publicly this week. On Wednesday, J.Lo went on The Breakfast Club, where she responded Jose Canseco, and everyone else saying A-Rod cheated on her: ""I mean, it doesn't matter, I know what the truth is. I know who is. He knows who I am. We're just happy." While she didn't outright say that there was no cheating, she made it clear that her relationship isn't affected by the rumors.
After addressing the infidelity rumors, she went on to say some pretty great things about her relationship with Alex: "I've never been with somebody who lets me be the 'full shine J.Lo' and all the sides of me, that makes me really happy…he's like, 'Just go baby, just go.'" Honestly, considering all the high-profile relationships J.Lo has been a part of, it's so nice to hear that she feels better than ever. She looks incredible, and she's clearly doing great on the inside, too.
Going back to the cheating rumors, Jose Canseco's accusations aren't looking to0 credible. His ex-wife Jessica, who supposedly slept with A-Rod, vehemently denied the rumors, and said that she is friendly with both Alex and Jennifer. I'm currently breathing some deep sighs of relief, because I need this couple to be okay.
March 11: In my mind, Alex Rodriguez and Jennifer Lopez have seemed like the perfect couple ever since they got together. They're both sexy, they're around the same age, and they both have adorable kids from previous marriages. I was excited to see them finally get engaged this weekend, because it really just feels like they were meant to find each other. Also, that ring is f*cking stunning, obviously. But, because we really just can't have nice things, there might already be trouble in paradise. There are new rumors that A-Rod has cheated on J.Lo, but what do we really know?
The source of these rumors is Jose Canseco, who was also a majorly successful baseball player. If you're not a big sports fan, Jose Canseco stopped playing baseball in 2001, and is pretty infamous for being involved with steroids. He admitted to using the drugs in 2005, and claimed that 85% of pro baseball players were using them. This was obviously controversial, and his reputation isn't the best because of it. Okay, now I'm done done pretending to care about baseball, so let's talk about the rumors.
Canseco is saying that A-Rod cheated on J.Lo with his ex-wife, Jessica Canseco. I hate this already. I'm not really sure why Jose is getting involved, other than being thirsty for attention, but he took to Twitter on Sunday night with lots of thoughts.
Watching World of Dance watching J.Lo text Alex Rodriguez little does she know that he is cheating on her with my ex-wife Jessica poor girl she has no idea who he really is

— Jose Canseco (@JoseCanseco) March 11, 2019
Jose started off with "Watching World of Dance watching J.Lo text Alex Rodriguez little does she know that he is cheating on her with my ex-wife Jessica poor girl she has no idea who he really is." This tweet is a wild ride, and not just because of the total lack of punctuation. Honestly, I don't doubt that this could be true, because if Jay-Z cheated on Beyoncé and Future cheated on Ciara, anything is possible, but can we not refer to Jennifer Lopez as "poor girl"? She's almost 50 years old, cut it out with that infantilizing bullsh*t. But yeah, Jose also said he was with his ex when A-Rod called her, and he also literally tweeted "Alex Rodriguez stop being a piece of shit stop cheating on Jennifer Lopez."  Lol, this dude is gonna get destroyed in his DMs.
Alex Rodriguez I challenge you to a boxing match or an MMA match anytime you want

— Jose Canseco (@JoseCanseco) March 11, 2019
Never have my eyes rolled harder than reading this tweet: "Alex Rodriguez I challenge you to a boxing match or an MMA match anytime you want." K. Definitely not thirsting for fame, bud. Literally nobody cares to see this fictional match. Hey @ straight men, can you please not?
Jose must have sensed some skepticism after hurling these accusations out with absolutely no evidence, so he then upped the ante by offering to take a lie detector test. "I am willing to take a polygraph to prove that what I'm saying about Alex Rodriguez is 100% accurate." Oh Jose, haven't you ever seen an episode of SVU? Polygraphs are not admissible in court of law, my dude! It's a nice gesture, but that is not going to convince anyone of 100% accuracy.
I am willing to take a polygraph to prove that what I'm saying about Alex Rodriguez is 100% accurate

— Jose Canseco (@JoseCanseco) March 11, 2019
Okay, so all of these steroid rage-induced tweets have left me with a lot of questions, and more than a little bit of doubt. But as our luck would have it, our favorite celebrity gossip source has officially weighed in on the rumors. This morning, Crazy Days and Nights posted a new blind gossip item that can really only be about one thing:

"I have been telling you for forever that this former A+ list athlete has been cheating on his A list everything in her mind significant other with a variety of people," Enty writes. "Last night, one of those many people was brought into the light. Probably not good timing with that life event announcement." This is about as close to confirmation as we'll get for the time being.
God bless Enty, forever lighting up our lives. Obviously, all of this is still alleged and we don't have a lot of evidence to go on, but these blind items usually turn out to be true. Only time will tell, but now I unfortunately have some mixed feelings about this engagement.
What are your thoughts on A-Rod and J.Lo's engagement, and the ensuing cheating rumors? Can Jose Canseco be trusted? All of this is taking years off my life right now, and it's still Monday morning. Gonna be a great week!
Images: Shutterstock; @JoseCanseco / Instagram (3); Crazy Days and Nights
A Recap Of Last Night's 3-Hour Ariana Grande Promotion, Or The 2018 VMAs
As anyone who doesn't live under a rock without wifi can tell you, the 2018 VMAs were last night. Awards were given, asses were bared, and we all had to grapple with the stunning realization that in 2018, face tattoos are like, a thing. Here's everything you need to know so you can pretend you didn't drink two glasses of wine and fall asleep in your clothes halfway through.
The Hosts
This year the VMAs went hostless which, tbh, was a godsend after Katy Perry's sad excuse of a performance as host last year, which I affectionately still refer to as "the stand-up show from Hell".
Cardi and her baby open us up but—oh wait!—it's not her baby! It's actually a moon man. Was I the only person relieved that Cardi didn't actually drag an infant child up on stage at such a loud, late-night event? Am I the only person who thinks babies and small children don't belong at the VMAs? More on this later…
For the rest of the show, the VMAs separated hosting duties among a variety of people, from charismatic superstars (hi Cardi) to actual comedians (put Tiffany Haddish on every stage please) to what I can only assume are soulless cardboard cutouts of human beings that MTV animates to star in their 3 million television shows.
The only people who got this format right, IMHO, were Tiffany Haddish and Kevin Hart, who came out and gave a truly manic roast-style monologue that made me think, "these two are on drugs, and it is WORKING."
Hart kept it semi-political, saying things like "in this game you're allowed to kneel!" while Haddish saved her comments for the stars, the most awkward of which was when she thoroughly mispronounced Camila Cabello's name and then roasted Fifth Harmony for not being invited while Camila was nominated for literally everything.
Cabello, who was in full princess gown mode, clearly didn't appreciate any of it. I mean, being reminded of the time you lost all your friends is probably not the best way to kick off a fancy award show.
Also not appreciative of the comment was Nicki Minaj, who wasted no time starting sh*t when she was accepting her award for best Hip Hop, telling Tiffany Haddish not to come for Normani because she's "that b*tch."
Me During This Moment: Oh no oh God if Tiffany Haddish and Nicki Minaj fight I won't know what to do who do I support I hate when friends are fighting I can't handle this anxiety—
Nicki (to Tiffany): No, I love you.
Me: OH THANK GOD MOM & DAD ARE GONNA BE FINE!
The rest of the hosts vacillated between "passable" to "painfully awkward and I want to die." In the passable category were Keegan Michael-Key and Olivia Munn, who did a classic "I'm reading the wrong lines!" bit.
In the "painfully awkward and I want to die category" were Blake Lively, Ana Kendrick, and the Rockettes, who I'd say got an A for effort and an F for execution. The whole premise of the bit was that Lively (dressed like she's starring in an off-broadway production of Cabaret) knows the Rockettes. She calls on the Rockettes to come out, they don't, so then Kendrick starts explaining how their new movie "will get you laid" when the Rockettes do show up, give a full performance, and Kendrick and Lively only notice once they're done with their weird mime routine.
If the above paragraph was confusing for you, that's because the whole thing was confusing and frankly, I expect more from Anna Kendrick.
Just when I was starting to feel like I was too old to understand wtf is going on at the VMAs anymore, the MTV Gods gifted us early 90s babies with Jimmy Fallon introducing Panic! At The Disco, who then led into another awkward intro by the Backstreet Boys.
Me Watching This Scene:
Millie Bobby Brown Watching This Scene:
The Backstreet Boys sang one song from each of the "Song Of The Year" nominees, and I got the distinct impression that they hadn't practiced. The whole thing was very awkward and made me even sadder than Logic's immigration performance (we'll get to that later). But I appreciate the people at MTV throwing a bone to those of us who remember what dial-up internet was like.
IMHO, the true unofficial hosts of the VMAs were Pete Davidson and Ariana Grande, to whom the camera crew cut approximately 100,000 times throughout the show, just to make sure we were all still paying attention and aware that they are engaged.
Conclusion: The only thing worse that people trying to be funny at the VMAs is people who don't try to be funny at the VMAs.
The Awards
Like most VMAs (except the infamous "I'mma let you finish but…" moment), the awards were handed out pretty predictably and the only real moment of tension was the aforementioned Nicki-Tiffany beef.
To reiterate, Nicki got Best Hip-Hop for "Chun Li" and Ariana helped her get up to the stage. #WomenSupportingWomen. She then shouts out Ariana Grande later in her acceptance speech because honestly this whole show is really just about Ariana Grande at this point.
Speaking of Ariana Grande, she won Best Pop, where she thanked "her friends on the internet" (relatable) and Pete Davidson "for existing." A ringing endorsement from one fiancee to another.
Post Malone and 21 Savage won for "Rockstar," Childish Gambino won Best Video With A Message (and had his choreographer accept because he's a Renaissance Man with better sh*t to do), J Balvin won for Best Latin, and JLo, Cardi, and DJ Khaled got Best Collaboration.
Cardi also won Best New Artist which is well deserved but also hilarious to think of her as "new" because I truly cannot remember anything from before Cardi B came into my life.
Did anybody else notice they had to enlist like, five people to help Cardi get on stage just so they could walk her back down into the audience to get her Moon Man from Millie Bobby Brown, which she immediately handed back to Millie (who is the same size as the Moon Man), because, and I quote, "this sh*t is heavy." That seemed avoidable.
The rest of the major awards (Video of the Year & Artist of the Year) went to Camila Cabello, who came a long way since getting roasted and having her name mispronounced at the beginning of the show. From here on out, 2018 will be known as El Año Cabello.
The Performances
TL;DR on last night's performances is that the women killed it and the men were like…fine.
Shawn Mendes kicked us off by making the audience extremely wet—I'm sorry, he made himself extremely wet playing guitar under a single rain cloud like he's a sexy Charlie Brown or something.
Logic, of all the dudes, brought it the hardest with a performance of his single "One Day" where he wore a shirt that says "F*ck the Wall" and brought up immigration activists from United We Dream, Make The Road New York, and the National Domestic Workers Alliance. They all entered from the back of the building wearing white T-shirts à la Eminem's 2000 performance of "The Real Slim Shady," except this time instead of slut-shaming Christina Aguilera, the artist made a poignant statement about immigrant rights and citizenship in America. 2018 really is something.
The best performances were by Nicki Minaj and Ariana Grande. At first, I was shocked they would dare put Nicki on the outside stage, but she killed it in her Egyptian-inspired performance of "Barbie Dreams" and "Fefe." The crowd was literally singing every word even though the album came out two seconds ago so, yeah, I think the monicker "Queen" is accurate.
We were all watching and waiting for Ari to perform, the way Pete Davidson watches Ari while she sleeps and waits for her to get up. And lemme tell ya, she delivered.
How good is being engaged to the dude who spawned the phrase "Big D*ck Energy?" Good enough to cast yourself as Jesus in a Last Supper inspired performance of "God Is A Woman." Then Ariana ended by bringing out her ancestors (i.e her mom, aunt, and grandma) out with no introduction like we're supposed to know who the f*ck these people are.
Diva status: Achieved.
Maluma made history as the first Latin artist to ever perform on the VMAs. He kept it pretty simple, dancing with a random sexy lady on a platform before ditching her to go dance with Camila Cabello and her mom.
Aerosmith, apparently, also performed, but I gotta be honest and say we were like 2.5 hours deep into this award show at that point, and Aerosmith reminds me of my ex so I kinda checked out. I'm sure they were fine.
The Video Vanguard Award
So obviously no discussion of the night's performances would be complete without talking about our Video Vanguard Award winner, motherf*ckin' Jennifer Lopez.
Did you know that JLo's infamous green Grammy's dress was the reason Google invented Google Image search, because so many people were Googling the dress it made them realize they needed an image option? I learned that on Twitter last night and have been shook ever since.
In keeping with the fact that she's literally the b*tch who invented Google images, JLo's performance was amazing. She started by singing "Waiting For Tonight" while flying around, then launched into a medley of all her hits.
I actually clutched my heart and said, "aww!" when she started "My Love Don't Cost A Thing," at which point the stage shifted from a Minaj-esque Egyptian motif to a snow bunny motif which I can only image was an homage to the "All I Have" video with LL Cool J.
At one point DJ Khaled comes out and I feel like its 50/50 as to whether or not he was asked to perform, or just can't help but screaming "ANOTHER ONE" into any available microphone.
The best cameo, obviously, was when Ja Rule came out to help her perform "I'm Real" and "Ain't It Funny," proving that JLO is not only a beautiful vanguard, but a benevolent one. She's forgiven Ja Rule for Fyre Festival, and so too shall we.
Anybody else spend this entire performance thinking about how JLo is 49 years old? The only thing of note I'll probably be doing when I'm 49 is going on Dr. Pimple Popper to have a fatty lipoma removed.
Once the performance was over we cut to Shawn Mendes, who totally f*cking blew it. Or the VMAs blew it. Or everybody blew it. Either way, it was blown.
As Shawn is trying to introduce JLo, you can literally hear the entire audience chatting in the background. It's deafening. No one is paying attention to him. At one point Ja Rule runs across the stage behind him and just starts chatting with another person in the audience. People are taking selfies. It was brutal. Shawn Mendes could have said literally anything in that moment because nobody was paying attention. He could have been like, "I have Donald Trump's pee tape on a thumb drive right now!" and the audience would have been like, "Do you know when someone is coming around with more drinks?"
Anyway, JLo then gave a very nice speech about her long ass career in which she called one of her managers her "three eyed crow," so I guess we know JLo likes Game of Thrones.
JLo: It's been so crazy dreaming my wildest dreams watching them all come true.
Me Drinking Boxed Wine, Blocking Yet Another Call From My Credit Card Company:
The only thing missing from this, in my view, was that I really wanted JLo to perform "Bidi Bidi Bom Bom" by Selena. That would have been dope.
Madonna?
Soooo we have to talk about the absolute weirdest moment of the night, which was supposed to be the most solemn.
It all started out well and good with the VMA's attempt at an Aretha Franklin tribute, but then Madonna came out dressed like someone who was about to sell you fake ayahuasca at a festival and you know shit is about to go off the rails.
Madonna used Aretha Franklin's tribute to tell a long-ass story about herself. Does Madonna think the VMAs are The Moth? Is this her one-woman show? I'm truly confused. The story has literally nothing to do with Aretha Franklin, other than the fact that at one point she sings an Aretha Franklin song, which is more about Madonna letting us know she's a good singer than it was about Aretha Franklin's contributions to music.
Then Madonna launches into another story that actually has nothing to do with Aretha Franklin even tangentially, where she reminds us all about the time she sang "Like A Virgin" on a cake and her manager said her career was over. She ends that performance by saying "lol" outloud, but pronouncing it wrong.
Thank you, Madonna, for that touching contribution.
Final Thoughts
All in all a pretty standard VMAs, but I have to get one thing off my chest: Does anybody else feel like baby Asahd, DJ Khaled's 1-year-old son, is just like, too young to be at the VMAs? The VMAs are late as f*ck! Also loud. He's a damn baby! Everyone here is drunk. Get a babysitter and bring him to the VMAs when he can actually sing along to some of the songs. That's just my belief.
Also, did anybody else catch that Truth commercial about how smoking will give you erectile dysfunction? That was…a lot.
Also, why the f*ck was Stormy Daniels' lawyer, Michael Avenatti, there? Don't you have a case to be working on? Are we just going all in on the "politics is entertainment" thing now?
Tune in next year when the VMAs will be hosted by Secretary of State Mike Pompeo, with a performance by Betsy DeVos.
Images: Getty Images; GIPHY  (14)