How Couples Are Getting Engaged In 2019, From The Ring To The Proposal
Did anyone else know that the months between November and February are engagement season? To me, it feels like every Sunday is engagement season, just based on the sheer amount of engagement posts I see on every social media channel. But just because I've been single and fabulous since 2014 doesn't mean I don't love to kick back at the end of a long day and read up on my bridal content—especially The Knot, which just released its annual Jewelry & Engagement Study. As you can guess from the title of the study, it's all about proposing and the jewelry that accompanies it. After reading and internalizing the study, I've deduced that proposals nowadays, especially for millennials, are all about personalization. People aren't just opening a ring box to reveal a diamond as they kneel for a few seconds anymore. Now, it's a whole big thing and, I mean, good? You're asking someone to spend the rest of their life with you, so making it as personal and thoughtful as possible seems like a step in the right direction here.
One important thing I noticed from The Knot study is that most people getting engaged today are between the ages of 25 (cool cool cool cool, just kill me now) and 34. If you're wondering what constitutes "most people," it's a whopping 67%. And if you're wondering how old the proposers are, 38% of them are 25–29 and 27% are 30–34 years old. Just judging off the ages of the people I know who are getting engaged, this is not that surprising, but still slightly depressing for me, a very single person.
But before we get into the way most proposals are going down, let's talk about the jewelry. According to the study, "More than 85% purchase new rings for the occasion, with 45% being custom designed." So I guess holding on to your great-grandma's family heirloom just isn't what most people are doing these days. I can imagine it feels great to wear a ring that symbolizes you and your partner's love for each other and to know that no one else has the same one. I remember that episode of Sex and the City when Charlotte proposed to herself (yikes) and then marched right on over to Tiffany to pick out her ring and claimed it was the most romantic experience of her life. I mean, I definitely wouldn't say no to a Tiffany diamond, but in my and other millennials' opinion, it's more romantic to say yes to a ring that your S.O. designed with you in mind. Speaking of, more than 7 in 10 proposees say they were "somewhat" involved in picking out or buying their ring, which I support. I'd rather have more input in the piece of jewelry I will be wearing every day for the rest of my life than be 100% surprised. 78% of proposees dropped hints about what they wanted their ring to look like (hopefully, not subtle hints, because we know men can be, shall we say, oblivious?), and more than 70% said it's important to see the ring in person before buying it.

When it comes to sourcing ideas for the perfect ring, the study found, "the majority (81%) of proposees turn to social media for engagement ring inspiration." This makes sense, given that just about every other aspect of a wedding is sourced through social media. How did people get ideas for weddings before Pinterest?? Serious question.
And since the first thing I wanted to know was how much these bespoke diamonds are costing people, the average cost of an engagement ring is $5,900—though it's dependent on region. If you're in the Mid-Atlantic, for example, couples spend on average $7,500. And, just as every aspect of living is cheaper in the Southeast, you can expect to spend less on the ring too, with the average cost being $5,400. But perhaps most surprisingly is that 94% of people who proposed paid for the ring on their own, a statistic I will direct every Boomer family member to whenever they try to call millennials spoiled.
Speaking of Instagram, it may seem like all couples today do is post those selfies with "I said yes / Can't wait to marry my best friend" captions, but a surprising amount of couples (51%) get engaged in private, and 40% get engaged in public, which is down from 45% last year. My Instagram would indicate otherwise, but ok, I'll take it. To quote the study, "This year, those proposing spend an average of three months planning hyper-personalized, intimate moments to ask their significant other to marry them. While more than half (51%) of proposals occur in private, nearly one in five (18%) take place in locations significant to the couple's past, like the couple's favorite date spot or the location they first met." Yes to all of this. Coming up with a way to ask someone you love to spend the rest of their valuable time on Earth with you should take a few months of planning! Even if it's a low-key proposal, it's worth putting some thought into.
To wrap it up with a classic summary of what have we learned: Instagram (shockingly) isn't reality, at least when it comes to wedding proposals. The majority of proposals occur in private, take three months to plan, and involve a custom ring to seal the deal. Of course, if some of these elements are not your vibe, that's completely okay. That doesn't mean you're doing it wrong or that your proposal or ring is less special than your friend's; it just means that you have different tastes.
Images: Gift Habeshaw / Unsplash; Giphy (2)
5 Sex Toys You Can Wear In Public
If you're anything like me, you probably think of sex toys as something to be used in the privacy of your own home, either alone or with your partner. But that's beginning to change as high-tech start-ups reconceptualize the way we think about sex toys, especially when these companies are run by women. One notable manifestation of this trend are sex toys that double as wearable accessories. With these, gone are the days where your only option for a vibrator was a veiny phallus molded from the dong of a washed-up porn star (though if that's your thing, do you). Read on for a list of sex toys you can take with you anywhere.

While it may look like your typical lace thong, this baby has a hidden pocket that fits a mini vibrator. What's more, it's also remote control operable up to a range of 10 meters, so you can cede control to someone else if that's your kink. According to the product description, "you won't have to choose between turning up to work or climaxing, popping to the post office or climaxing, or going to a wedding or climaxing." The wedding example is a bit of a weird flex, but these undies could come in handy for one of those work meetings that could have been an email.

These earrings are not necessarily for the faint of nip heart. Though they may look like your typical architectural jewelry, they're modeled after the alligator nipple clamp, a staple in the BDSM world. The great thing about clamps is that they can be adjusted to suit your tolerance, whether it's a simple desire to increase sensation or to heighten pleasure with some pain. Considering that the nipples are a major erogenous zone for many people, these earrings are a creative option that will both get you off and completely fool your more vanilla co-workers.

If you're toying (see what I did there?) with the idea of purchasing a wearable sex toy, this is the one I would start with. The Vesper necklace is perhaps the most well-known and popular wearable sex toy on this list, and it's easy to see why. Its sleek design and three power settings make it both a beautiful piece of jewelry and a powerful vibrator. And there's just something indulgent about wearing a literal vibrator out in the open: as one reviewer put it, "It's like wearing a secret around my neck and in public!"

If the nipple clamps weren't for you but you're game for some light BDSM, these bangles are a great option. They're dainty, yellow gold and engraved, making for a beautiful pair of bracelets on their own. But after a long day of enduring passive-aggressive emails from Karen in Accounting, you can meet up with your partner outside of the office (or in the office if you're having an affair with a coworker, I don't know your life) and use these "surprisingly strong" handcuffs for a little bit of fun.

Rounding out the list is a ring with 5-star reviews that doubles as a vibrator. What appears on the surface as a chic cocktail ring is actually a multispeed waterproof vibrator with customizable modes that let you control the vibrations with your own hand movements. Although it may seem small, reviewers agree that this sucker "packs a punch." I guess my ex was right and size doesn't really matter after all.

The growing prominence of wearable sex toys on the market is exciting. By allowing people, especially women, to literally wear their sexuality on their sleeve (or neck, or ear, or finger), wearable sex toys subverts the societal notion that sex is something shameful that needs to be kept hidden. That's a vibe (OK, I'll stop) that we can all get into.
Images: Marvin Meyer / Unsplash; Giphy (1)
We Asked The Kardashians' Jeweler About The Trends Celebs Are Wearing
Jewelry trends tend to come and go, so it can be tough to decide what you want to actually invest in when it comes to a good quality piece of jewelry. That's why we spoke to celebrity jeweler, George the Jeweler, just in time for summer, to tell us what trends he loves, what he hates, and what's on the horizon. If you're not familiar with George by name, you've definitely seen his work. Remember Khloé Kardashian's iconic 14k gold True nameplate necklace? Yeah, that was created by George the Jeweler. The Detroit-based jeweler has designed for the likes of Gigi Hadid, Kendall Jenner, Ashley Graham, and has a line with Christina Milian. And, as the largest gold wholesaler in Detroit, he definitely knows his sh*t. Is rose gold over? Are chokers too basic to wear anymore? And is he designing anything for Psalm West? Read on for the answers to these questions and many more.
On How He Got Started
It's a family business, my dad brought it over from the middle east forever ago, thirty, forty years ago, and me, my sister, and my brother-in-law, we all kind of work together. We're the largest wholesalers in Michigan, so that's why I was able to start with it and do what I do.
On How He Made The Leap To Designing For Celebrities
So it started with my friend Symon. She is a radio host and a singer, and I started designing for her, and then I started working with Aaron Carter, working with Christina who's now one of my best friends. When one door opens, a lot open—that kind of situation.
On His Line With Christina Milian
Christina and I connected maybe like, 4 years ago, 5 years ago? And we just immediately hit it off. Like, I started making her stuff, and then we started talking all the time, and like, we're best friends now. And she's really creative, so we just started designing things.
We're going to get into some men's stuff. We're also looking for new trends, both of us are fortunate to be in a position where people kind of look up to as a trendsetter. Whatever we go with pretty much works out, so we're constantly designing. I mean, there's so much to do in the future, we're both so excited.
On His Predictions For Spring And Summer Trends
I'm getting the sense of bigger, bolder pieces for this summer. Maybe because we were doing all the layering, which I think is a trend that's gonna stick, I think people love the layering look, it's been around for a while. But I'm also starting to see, like, the other day Kim Kardashian was wearing a giant huge gold chain. And I think I'm starting to see move towards a little bit bigger and bolder.
I do love working with diamonds… and I think that's fun because sometimes the gold craze is out, and sometimes it's up. Right now I feel rose gold and gold are really at the top of their game, and white gold is kinda just for your wedding ring.
On Whether Rose Gold Is Overdone
I love rose gold. I'm like, particular about my rose gold, I think it's pink, delicate. I think it became mainstream when apple released the rose gold iPhone. And all of a sudden rose gold became mainstream.
On Jewelry Trends That Are On The Way Out
I don't know, gemstones just feel like, old school and like, I don't know how long gemstones and all the stuff is gonna last. Just from a jeweler's perspective, I know everybody loves the colors and all that… I don't know, I'm curious myself.
On Chokers
I love the choker, I think that it's a great piece. You can dress it up, you can dress it down, I think chokers are here to stay.
On The 'True' Necklace He Made For Khloé Kardashian
So, that happened… oh my gosh, I've made so much for Khloe. That happened when she had the baby and the name first leaked. I remember I was talking to her assistant and I was like oh, I want to design something for Khloe, something special, this Old English nameplate thing is trending, I'm going to make it really beautiful, so one thing led to another, I sent her a picture, and she was like oh my god, I die for it.
A good story about Khloé, was when Gabbana died (her dog), assistant reached out to me and she was like, "Gabbana passed, so I want to do something really cool, like Khloé wants to get something cool for Kendall, so can we do something with the paw print, because the vet gave us the paw print?" And I was like, "you know what? Let's take that and let's literally imprint it on a gold medallion." And as soon as I got that to her it was all over the press, like PEOPLE magazine wrote about it, and that was a crazy story. Her and her sisters are so sweet.
On Whether He'll Do Anything For Psalm West
I would love to. So I made Kim some stuff… Kanye West has some jewelry things going on. But I would obviously love to make Kim. I made Kris, Kourtney, Kendall, Khloé, so that was cool.
On What Pieces Everyone Should Have
I think there are certain jewelry pieces that are classic and timeless, that every woman should have. I do think that there are pieces everyone should have, diamond tennis bracelet being one of them.
On What Else He Has In The Pipeline
Christina and I are working on a reality show… we're in the pitching phase. We're finishing that up, the whole concept. It's gonna be good, it's gonna be really good.  the reality show, my own jewelry line, running my family business, constantly designing, constantly. What else do I have going on? I have too much, I have too much going on.  I love it. Absolutely. Honestly, I feel like I love my job, and that's why I've been able to get where I am. I feel like when you love something it shows.
Images: georgethejeweler / Instagram
Understanding The 4 Cs Of Diamond Engagement Rings
After living in the world's most jaded city for a few years, I momentarily forgot that love is still a thing people do. But a few days ago, I was reminded of its existence in the most obvious way possible: I witnessed a marriage proposal. That's right, the girl who wears T-shirts with holes in them on first dates accidentally stumbled upon an engagement (in Central f*cking Park, no less). To my future husband, if you exist, please do better. Anyway, in all seriousness, the engagement was beautiful and my faith in true love (and curiosity in engagement rings) has been temporarily reactivated.
After she said yes, the lucky onlookers (hi) cheered, and then everyone except me just carried on with their lives. I, however, was full of questions: how long did it take him to write that speech? When did he realize he wanted to marry her? How did he decide tonight, a random Thursday, would be the night he'd ask the most important question of his life? How did she not notice that giant engagement ring box in his pocket? Speaking of the ring, I got a quick glance and it was truly stunning. That giant, glistening cushion-cut got me thinking: how on earth did this man wearing a navy suit with salmon-colored socks pick out such a beautiful marvel of an engagement ring? He was def no jewelry savant (he was wearing a gold class ring on his pinky—gag), but he did his homework, and for that, I give him an A+. Here's the thing: a person proposing to another person is essentially asking him/her to wear something every day for the rest of his/her life upon seeing it once for like, a second. Can you say yes to the proposal but hell no to the ring? Is that allowed? How is the fiancé supposed to just guess? Enter, Stephanie Gottlieb, jeweler to the stars. Gottlieb has been designing timeless pieces of jewelry that have garnered her some serious attention on Instagram, and we are here for it. If you've ever seen that episode of Sex and the City where Aidan's choice of engagement ring literally sends Carrie into a violent vomit fest, rest assured, your SO can't f*ck up like that after reading Gottlieb's valuable lessons.
Just Because You Like A Ring In Concept Doesn't Mean You'll Like It On Your Hand
Have you ever ordered a midi dress online just because it looked so damn good on the model, but when you try it on, it's a floor-length trash bag? Same. Hate to break it to you, but models have different bodies than we normal folk do, so what's fierce on them can be less so on us. Engagement rings are the same way. You can't base your entire decision on a photo you see online, or even on another person for that matter. Gottlieb says, "I think it helps to start looking online, and Instagram and Pinterest are both really great resources. Instagram can help you find a jeweler whose style and aesthetic aligns with yours, and then Pinterest can help you create a vision board for different styles you like." I've never heard truer words in my life. I always thought I wanted a 2-carat (currently on the hunt for a fiancé with family money), but one day while walking around New York's diamond district, I tried one on, ya know, for sh*ts and gigs, and it actually didn't look very good. Disclaimer: my hands are huge and my fingers are really long and skinny, so a 2-carat stone weighed down my ring finger and made me look like a sickly and distressed Mrs. Havisham. One of the great things about Instagram, aside from providing an outlet for thirst traps and food pics, is that it can help you find a jeweler who will actually work with you to figure out your taste in engagement rings and design the perfect one. And unlike name brands that basically steal your money with absurd price hikes, smaller jewelers don't use blood diamonds to create your dream ring, so you'll be able to sleep at night knowing you got a bigger and better stone that didn't cost a human soul. Sign me up!
The Four Cs Are Important
The four Cs of diamond engagement rings are carat, cut, color, and clarity. If you're an ill-informed peasant, you probably only care about carat and cut (AKA the size and shape of the diamond), but the other two c's are just as important, people! "In the step-cut stones (asscher and emerald), clarity will be more important than color since these shapes are very 'windowy' and allow you to see into the center of the stone easily," Gottlieb says. So what does this mean? It means imperfections would be more easily detected in a step-cut than in a brilliant cut (round, cushion, oval, pear, marquise, radiant, and heart). So in the brilliant cuts, color will be more important, since, like my high-rise Levi's, these cuts do a very good job at hiding imperfections in their faceting. Unless you and your judgey friends are diamond aficionados, the carat weight will likely be your biggest concern, because you'd rather have a big-ass rock with microscopic imperfections than a smaller one that's technically perfect. I care way more about how it looks on my hand than I do about the color grade and clarity. To me, a diamond is a diamond and I just want a big one. Sue me. That said, you do you and get whichever engagement ring makes you feel your most sparkly.
To Go Trendy Or To Go Timeless?
As with any facet of your wedding, deciding what style is best for you is a personal decision, but there are a lot of options to consider thanks to Instagram offering fashion-forward lewks to the masses. Gottlieb says, "Instagram provides access to more unique designs than the classics you'll find in any jewelry store." Good, because if I have to see one more three-stone ring with a circular center diamond, I will chop off my ring fingers in protest. The Stephanie Gottlieb brand doesn't just give the people what they want, though. No, her brand has a very niche style that appeals to a specific group of people. "Most of my clients are coming to me instead of their local jewelers because our engagement rings are more interesting and the aesthetic is super dainty, feminine and fashion-forward." That's her style, and the fashion gals are here for it. Her signature trend? The "band and a half," which Gottlieb and her team of designers are creating in all different renditions, with different colored stones, combinations of metals and setting styles." Ok, I'm getting myself one, brb. However, if you're a classic betch, going timeless isn't a bad idea. Gottlieb says, "Round and emerald cuts are the most timeless shapes. What I love about them is that they can feel very traditional in a more classic setting, like a three-stone or solitaire, and they can also feel very trendy in our more fashion-forward settings, like a split-shank or double-band." Luckily, you aren't really limited here. If you can't decide between trendy and cool or a classic and timeless, por qué no los dos? Do both.
Metal Type Is A Game-Changer
It's hard not to forget about about the setting, which is almost as important as the diamond. I, for instance, only wear yellow gold jewelry, but because yellow gold is considered a softer metal that bends easily, I'm thinking that may not be the best way to go for an engagement ring I'm supposed to wear forever. So how are you supposed to know which type of metal to get? Does it actually make a difference? Obviously! Gottlieb's specialty is rose gold. It's subtle, it's glamorous, it's girly, it's the metal of the moment. Once the type of metal is decided, it's time to move onto the setting. Gottlieb says, "Any jeweler can execute a pave diamond setting, but if you line up four jewelers' pave settings, they will all look fairly different." Fair enough. Every jeweler has their signature style, so make sure that style aligns with your own before making a final decision. The thing is, some women have woes about mixing metals, which they think can help guide them in their decision when it comes to the engagement ring. IMHO, engagement rings don't count, and it is allowed to be different from the rest of your jewelry. If you only wear yellow gold, but want a platinum setting, get the platinum setting. This is a big decision, so it's worth it to get exactly what you want. 
Of course, looking at engagement rings is a major moment in your life, so it's important to consider every aspect when choosing. There's a different ring out there for everyone, so don't feel pressured into picking something just because it's popular. Do you have other questions for Stephanie Gottlieb? What's at the top of your engagement ring checklist? Let us know in the comments!
Images: Stephanie Gottlieb; @stephaniegottlieb / Instagram (4)
Summer Jewelry Trends That Aren't Trying Too Hard
I reaaally love jewelry. I'm a 90s betch, so yeah, I guess you can say I've always had a soft spot for chokers, anklets, and chunky necklaces way before they were a thing again. It's a lot more fun to accessorize a simple outfit than it is to stress over wtf you're wearing for over an hour. Regardless of the style, shape, or color, you're always going to get compliments on your jewels and therefore, you'll most def wear it a million times, so the occasional splurge is worth it. Every year, the trends change drastically, so it's honestly kind of fun to keep up with them and see which piece of jewelry we will shit on before we secretly buy it online when no one is looking. This year, there are quite a few chic options you should be getting used to seeing all over your feed. Here are the summer jewelry trends you should be incorporating into your looks this season.
1. Fruity Shit
No one really knows how, when, or why this became fashionable, but food is very much in rn. The sweeter it is, the better it looks, somehow. I'm talking about like, lemons, pineapples, and watermelons. Cherries are also a classic option. People seem to be loving that shit on their dresses, so why not put it on some necklaces and earrings?

Alex & Ani Pineapple Adjustable Necklace
2. Hoops And More Hoops
Mhm, girl. Hoops just keep on coming, and they're going to be even bigger than they were last summer. This year, consider adding some bling or stones to them for an added bonus appeal and you'll have the confidence level of Rihanna. Okay, can't guarantee that last part, but at least the earrings will be on point.

3. The 90s Are Literally Never Leaving
It's starting to feel like we're in the Twilight Zone, because at this rate, we're basically stuck in time. Trends from our favorite decade—say otherwise and I hate you—are still relevant and for some reason, keep hitting the shelves of our favorite stores. This summer, body chains and jeweled belts are all the rage. Sounds cringey, but you'll eventually find yourself adding them to your shopping cart in preparation for your scandalous poolside Instas.

Urban Outfitters Camila Crystal Body Chain
4. Cute Seaside & Beach Icons
Starfish, sea shells, rays of sunshine, and of course, palm trees are just a few of our favorites come summertime. They're reminiscent of everyone's favorite season and make us think of tropical vacays, and therefore, they make us happy af. Why wouldn't we want to wear mini versions of them on ourselves?

Palm Tree Crew Pendant Diamond Edition
5. Vintage-Looking Bracelets
You know that bracelet your mom used to wear in the 80s that you once thought was fugly? Yeah, bring that out again because vintage-looking bracelets are actually considered so adorable and trendy this season. Good for them! I swear, I mean this in the least catty way possible.

Free People Shimmer Wrap Bracelet in Brown Multi
6. Statement Rings
Your delicate bands and dainty stackable sets are cute and all, but this summer is all about chunky eye-catching statement rings. Don't like, overdo this and make it look like you're wearing brass knuckles. Just one or two on each hand is plenty.

ASOS DESIGN Chunky Ring Pack In Burnished Silver With Feather And Turquoise Stone
Images: Savs / Unsplash; Palm Tree Crew; Alex & Ani; Revolve; Urban Outfitters; Free People; ASOS
Betches may receive a portion of revenue if you click a link in this article and buy a product or service. The links are independently placed and do not influence editorial content.

The 5 Biggest Jewelry Trends You'll See In 2018
I have always been a huge fan of jewelry. All the fake bling and dainty hipster rings make me feel bougie, cultured, and artsy in a weird type of way for someone that has literally never left this country. I know, right? It's so embarrassing. I don't even—whatever. Like dating apps, party clothes, and shitty rap music, jewelry has its own evolving trends to keep us from getting bored. This year's trends include a couple of favorites from iconic decades (the 80s and 90s, obviously), and some I'd call avant garde, simply because I don't know a nicer term to describe the cringeworthy pieces. Here are five of the biggest jewelry trends you'll soon see everywhere.
1. Anklets
I couldn't tell you the last time I wore one, but I do know my mother still sports hers every day. Call her ahead of her time, but honestly, I think we're just running out of places to wear dainty pieces of jewelry. When warmer weather comes back around and we're wearing shorter pants again, you'll find yourself contemplating a simple chain with like, a faux diamond or pearl on it.

Giani Bernini Cubic Zirconia Ankle Bracelet in Sterling Silver
2. Asymmetrical Hoops
This year was the comeback of thick oversized hoop earrings, but 2018 will change things up a bit by making asymmetrical hoops a thing. It kind of looks like you lost an earring and were in a rush to grab any earring, so… you did just that. I guess if this is your thing, you'll be happy to know Zara and every other chain retailer will carry their own versions.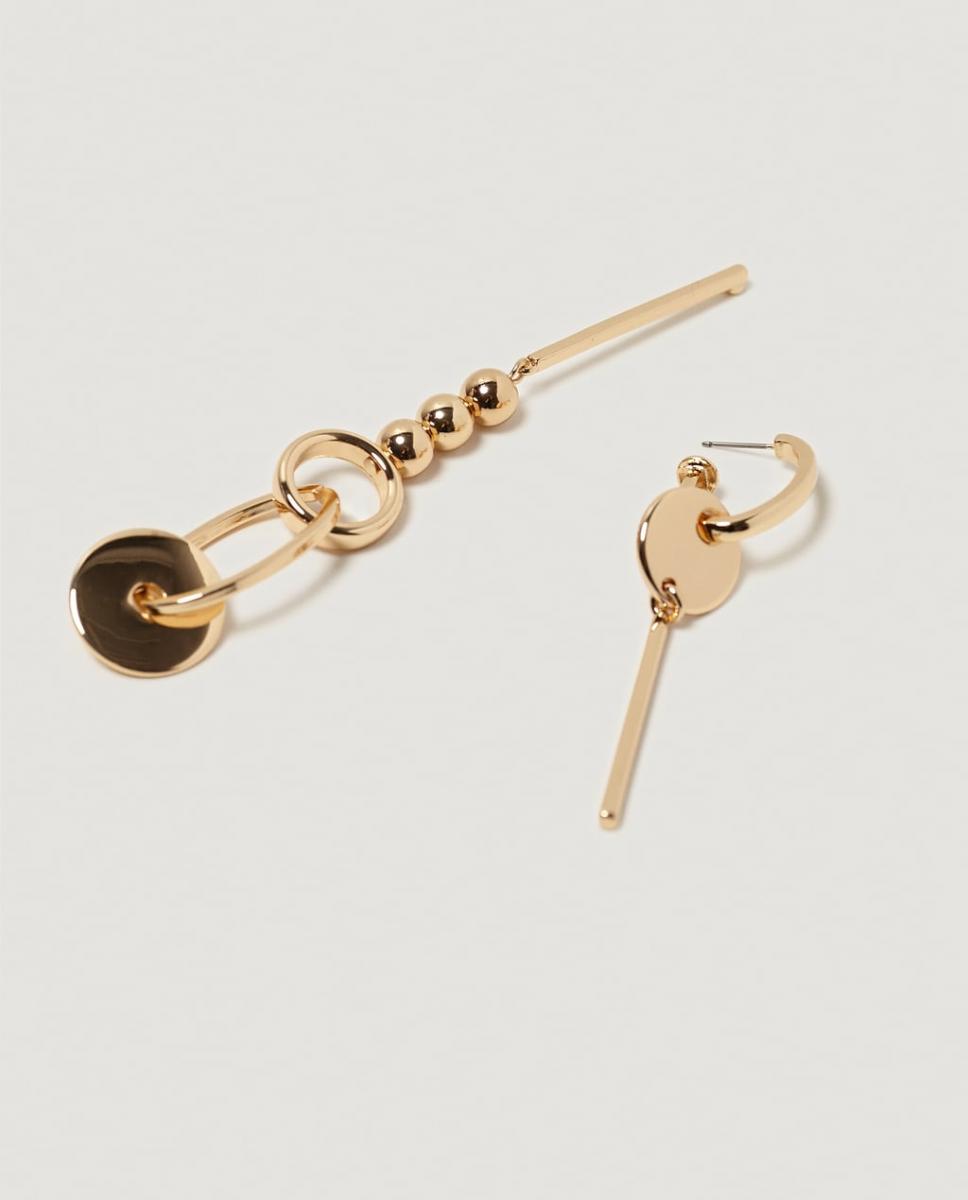 3. Statement Earrings
First, there were statement necklaces, and now, there are statement earrings. These are already popping up on some of our fave celebs, and tbh, they're kind of scary. I mean, they're just so BIG, and like, out there. I feel as though my ear lobe would definitely rip if I ever attempted to wear a pair, but to each their own I suppose. The bigger (and longer) the better will be this year's mantra.

DLNLX BY DYLANLEX Statement Earrings
4. Layered Necklaces
Chokers are sooo 2017, so for your new alternative, opt for a layered necklace. It features a short chain that should fit like a delicate choker, with two longer chains as an added bonus. You'll find yourself collecting different styles covered in the most basic charms, don't say I didn't warn you.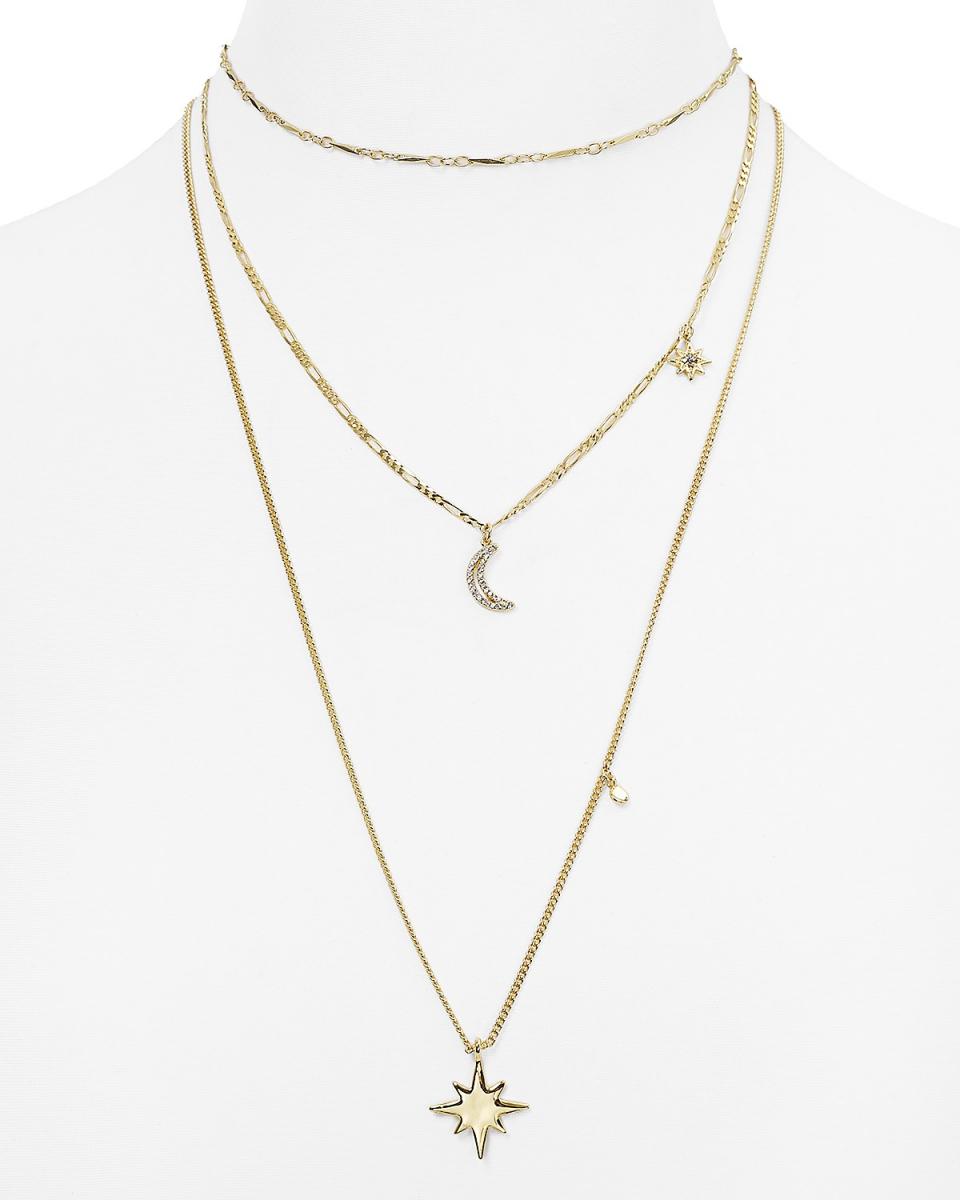 Rebecca Minkoff Layered Necklace
5. Brass Pinky/Midi Rings
A rustic gold touch makes your outfit look like, so vintage. When midi rings aren't enough for one hand, jewelry brands also offer tiny brass additions that look super cute on your pinky. However, if that sounds as ridiculous to you as it does to me, feel free to wear them as midi rings on any desired finger for a v trendy look.

Jennifer Fisher Pipe Pinky Ring
The Fall Accessory Trends You Need To Stock Up On Now
Well, it's officially August which means we're headed into the dog days of summer—a time when we cram as much day drinking and rooftop bar hopping as possible into the next 4 weeks. Once September hits, we become recluses that live our best lives on the couch and Instagram eat everything that comes in pumpkin. We'll immediately put away the sandals and bring out our over-the-knee boots, and fold away our shorts in hopes that last year's skinny jeans still fit even though we drank our weight in alcohol and didn't go to a gym once this summer. The good part is that a season's beginning = new trends aka more shopping, so you'll handle change the only way you know how: retail therapy, obviously. Whether you're prepping for weekly blackouts at frat parties or planning to be productive (for once) at work, shop these transitional accessories to take your mind from summertime sadness to Uggs, pumpkin spice, and everything BWG (basic white girl, DUH).


Expensive white gold hoops were summer's thing this year (it was so sad) but now that summer is almost over, that shit is (thankfully) being put to a halt. Fall will be about big bold earrings that take up the entire side of your face so opt for a dainty long pair that takes away the attention from your double chin facial imperfections and can be worn down or dressed up to impress.

Burberry and scarves are two things a betch will never leave her house without next season. Since it'll be too warm for cashmere, find a lightweight silk scarf to dress up your blazer with. This one features color block triangles with neutral tones and the bright pop of red we'll be seeing 24/7 soon. If choking yourself wearing scarves isn't your thing, use it as a headband because boho chic isn't over yet, or tie it on your bag, I guess. A for effort!!!

Since colder temps hit the east coast like a fucking brick wall, you probs won't be that try-hard who's still wearing plunging bodysuits come September. Unless you're trying to call into work sick already, that is. Chokers were fun and all but similar to how much basic bitches love "Closer", it's overplayed and I'm sick of seeing them. Swap out shorter styles for long pendant-like necklaces that will go perf with any fall dress or plain button up shirt.

You can still collect stackable rings and look super trendy by wearing multiples, but go for a style that's both semi-elegant and edgy. I like this one because when I'm dealing with one of my bouts of homicidal urges, I can just look at the pointy edges and contemplate the many ways I could inflict bodily harm on my enemies using just the ring on my finger. Just me?

Fall is the best excuse for a new bag to hold all your shit and hide the flask you may need to get you through the day. This large neutral tote has enough room for your laptop, meaningless papers, and everything else you carry with you at all times, but without sideswiping everyone you walk by. It'll go with any outfit and put you in the all-work-no-play mood you wish you could maintain for more than like, two consecutive minutes.

You won't have to hide your v cute pedicure immediately with booties that easily transition your look from summer to autumn vibes. I'm honestly obsessed with these because they're both block heel and open toe like my fave summer heels I ruined stumbling around every weekend. You can never have too many booties, IDC what anyone says. I need them in every color, so this pair is perfect for pairing with the T-shirt dress you're not ready to give up or dark jeans come darker nights.
6 Pieces Of Summer Jewelry You Need To Replace Your Black Velvet Choker
If you haven't stopped wearing your basic faux-velvet black choker yet, then I genuinely feel bad for you because that shit is so two months ago. Also, they get real weird when it's hot outside. It's time to stop wearing a shit ton of Alex & Ani's your grandma got you and the Pandora rings you buy for yourself. Get ready to make room for simpler, *trendier* replacements like layered necklaces and midi rings. If you haven't already, you'll notice that all relevant stores have started carrying fake bling so you can pretend that you own Cartier bracelets and personalized chokers that cost thousands of dollars.
Delicate jewelry is all you'll be wearing this summer because the more skin showing, the less you'll want to have weighing it down and turning your skin green. You know, because unless you're fucking Superwoman, you sweat. It's bad enough that fake gold eventually makes you look diseased. I guess that's the price you pay when you want to wear jewelry that looks like you paid half a million dollars, but you really spent like, $10 at Forever 21. Beauty is pain.
Once that direct deposit hits, start buying some of these summer essentials and take your first step at looking like a Kardashian.

You know all those times when you wore a plunging bodysuit or romper and you just felt like something was missing, besides your dignity? Well, meet your new BFF: the Y Necklace. This is the perfect addition to drawing more attention to your boobs, because the limit does not exist.

Add texture and boho-chic vibes to a V-neck T-shirt or high neck dress with the illusion of stacked necklaces. Layered necklaces provide body by using your own creativity. Stagger multiple delicate chains for a layered look, or if you're incapable of doing such, buy one necklace that does the job for you like this one.

Bring a sophisticated look to your outfit with stacked midi rings. Get them in a pack of geometric shapes and simple bands so you can mix and match, or just wear a couple at a time. These look trendy AF when you take a faux candid holding your drink, but only if you get them in rose gold. Obviously.

I'm so obsessed with these, and you should be too. These are the most casual, comfortable, versatile bracelets I've ever owned. They don't turn me green (thank god) and I can wear them wherever, anytime, without being called an outfit repeater. They go perfectly with your Michael Kors watch too. Get them in every color. Like, now.

I guess anklets are becoming a thing again like everything else from the 90's. I can't tell you the last time I wore one, but if you just need to have one, find one that's as simple as can be because you really don't need a cuff hanging off of your foot. Let's be real—house arrest chic is not a thing. This one isn't too expensive so you won't feel as guilty when you get drunk and lose it in the ocean.

If you can't find the pair of really expensive white gold hoops your parents got you for Hanukkah, these will do. The hoop earring is back (whether we like it or not) so if you can't resist giving in, a simple pair of delicate hoop earrings will add an edgy flair when you're headed out to the club without making you look like Lala Kent.