UPDATED: More Shocking Moments From Jessica Simpson's New Memoir
Is there anything better than a tell-all celebrity memoir? Don't answer that, because the answer is probably yes. But while some celeb tell-alls are annoyingly light on the tea, there are some that really deliver. (We've already made a list of some of the messiest ones, if you need something to read on an upcoming flight.) The latest entry in the celebrity memoir canon is Jessica Simpson, which feels right at this point in her career. She's a mom, has a successful business, and her peak acting and singing days are behind her, so what better time to hire a ghostwriter to listen to you talk about yourself?
Jessica's book is available for preorder now, and she's creatively titled it Open Book. Yup, that's the title she's going with. I don't really know what I expected from someone who didn't know if Chicken of the Sea was chicken or fish, tbh. But despite the hilariously literal title, based on some advance excerpts, it sounds like Jessica Simpson really is… an open book. I'm so sorry, but it actually is true, so maybe it was a good title after all? Jessica is refreshingly open and honest in her new book, and here are some of the most interesting parts that have already come out.
Her Experience With Sexual Abuse
In her book, Jessica Simpson gets candid for the first time about her experience as a survivor of sexual abuse. She says the abuse began when she was staying with a family friend at age six. Echoing the guilt that many survivors feel, she says, "It would start with tickling my back and then go into things that were extremely uncomfortable…I wanted to tell my parents. I was the victim but somehow I felt in the wrong." Thankfully, she told her parents when she was 12, and they never stayed with those friends again. While she does say that they "didn't talk about" what she said, at least her parents didn't put her in that situation again.
Getting Sober
Jessica also details her struggles with drugs and alcohol. She writes, "I was killing myself with all the drinking and pills," and details the 2017 moment that made her realize something had to change. On Halloween, she and her husband were headed to their daughter's school for an assembly, and Jessica writes, "It was 7:30 in the morning and I'd already had a drink." Later that day, she says she was "zoned out" as the family got ready in their costumes, and she "was terrified of letting them see me in that shape."
She details in the book how, over the following weeks and months, she decided to get sober, working with "a team of doctors," and attending therapy twice a week. Jessica writes that she turned to alcohol and pills to combat the trauma of her past experiences, and that "This feeling of being alone and scared in the dark was one I'd had since I was abused as a child." Props to Jessica for making a positive change in her life, and getting healthy for her kids.
John Mayer's Obsession With Her
I don't know where I was in 2006, but I had completely forgotten about Jessica Simpson's relationship with John Mayer. Wow, what a couple. In her book, Jessica makes John sound like a total stage-five clinger, which somehow doesn't surprise me. According to Jessica, "Again and again, he told me he was obsessed with me, sexually and emotionally." Hey John, just a note, usually "obsessed" isn't the word women want to hear. That sounds like Jessica is going to end up in your glass box.
Jessica also addresses John's infamous 2010 comment about her being "sexual napalm," saying that she was "floored and embarrassed" when she heard it. She says after that, she deleted his number, and they never talked again. I never thought I'd say this, but is Jessica Simpson… my hero? I'm the biggest fan of deleting numbers, but like, I never actually put it into practice until I've been burned by the same guy at least 3 more times, so I really admire her strength.
Her Company's Insane Success
Much like Kylie Jenner's cosmetics company, it turns out that Jessica Simpson's self-named brand of clothing, accessories, and fragrances is worth over a billion dollars. I mean, who knew?? Unlike Kylie, she's not the sole owner/investor of the company, so that doesn't directly mean she's a billionaire, but a quick Google search places her estimated net worth at $200 million. Not too shabby, especially considering the last time I really thought about her was like, 2010.
UPDATE: Now that Jessica Simpson's book is out, there's a lot more to discuss. While some of the most explosive info was revealed ahead of the book's release, there are some important topics that she saved until this week. From her marriage to Nick Lachey to physical and mental health struggles, let's go through even more shocking moments from Open Book.
Dealing With Body-Shaming
It's sadly no surprise that Jessica Simpson has faced body-shaming numerous times in her career. She's been famous since she was a teenager, and even before she became a star, she was facing criticism for her body. She writes that, as a teenager, people in her church community complained that, even when fully clothed, her curves would make men "lustful." And that's her problem, how?? This is obviously total bullsh*t, but I'm sure it's happened to plenty of other young women too.
Then, when she was first signed to Columbia Records (still as a teenager), she was immediately told she needed to lose 15 pounds. In the book, she says that label exec Tommy Mottola watched one of her videos, and told her "I want a six-pack for the next video. Janet Jackson abs." I hate this so much. Jessica points to these moments as the reason she started taking diet pills, restricting her food, and even drawing abs on herself. It's no shocker that the music industry isn't always kind to women, but this is so gross.
Her Plastic Surgery Nightmare
Jessica's struggles with her body image ultimately led to a plastic surgery decision that ended up going seriously wrong. After having her first two children, she says that she was so ashamed of the stretch marks and loose skin on her stomach that she wore a t-shirt virtually all the time, even in the shower. In 2015, she decided to undergo a tummy tuck procedure, despite being warned by her doctor that she "could die" if she didn't address her liver issues first. Though she says she stopped drinking before the surgery, she writes that she "got an infection—colitis—and was vomiting so much I thought I was going to bust my sutures." She was subsequently hospitalized for nine days, and almost needed a blood transfusion, before ultimately recovering.
Jessica doesn't say that she regrets the surgery, but she does say this: "plastic surgery does not cure what's inside. Really, it's about how you feel emotionally." Jessica Simpson might not be the most profound writer of our generation, but this is still an important message that has just as much, if not more, relevance today.
Turning Down 'The Notebook'
I know 2004 was a very different time, but I really can't imagine if Jessica Simpson had starred in The Notebook instead of Rachel McAdams. She wasn't ever offered the role, but she was sent the script as a potential choice for the movie. Jessica says that ultimately she "turned it down because they wouldn't budge on taking out the sex scene." I know everyone has their personal boundaries or whatever, but I feel like turning down a sex scene with Ryan Gosling is really her loss. 
Her Marriage To Nick Lachey
For me, Jessica Simpson's relationship with Nick Lachey is still the first thing I think about when her name comes up. They were one of the most famous couples to do a reality TV show at that time, and it sounds like three seasons of Newlyweds kind of messed with their brains. In her book, Jessica says that even after the show ended, she and Nick would worry that they were being filmed in their house. She tells the story of a time they were having a fight and got paranoid someone was watching, saying that "silently, we got up from the couch, left the house, and walked to an empty lot nearby. Only then, safe from anybody hearing, did we quietly scream at each other." Yeah, none of this sounds healthy.
In an interview on Dr. Oz this week to promote the book, Jessica also said that she wishes she would've signed a prenup before marrying Nick. She elaborated, saying that "Nick wanted me to sign a prenup, but I was, like, so offended." Basically, she was young and thought they would be together forever, but that obviously didn't pan out. 
Though Nick and Jessica have expressed happiness and respect for each other in recent interviews, it doesn't sound like there's much communication going on between them these days. In a Today Show appearance with his wife Vanessa, Nick said "I'll be honest, I obviously haven't read the book, so I don't know what she said or what she revealed there." While it's not that surprising that Nick didn't read the book, I'm sure his publicist will have a look and send him a copy with any important passages highlighted.
Open Book (still obsessed with that title) is out now, so if you really can't get enough Jessica Simpson tea, you can buy the book here. I still need to listen to the songs that she released along with the audiobook version, but I'm sure they're all bangers. It's 2020, and Jessica Simpson deserves a comeback.
Images: David Livingston/Getty Images
4 Times Jessica Simpson Was Hilariously TMI About Her Pregnancy
I don't know about you, but approximately every single one of my friends is pregnant right now. In fact, I just attended a baby shower over the weekend where, mercifully, the mother-to-be did not make us eat melted candy bars out of a diaper. I have not always been so lucky. I'm very happy for all of my friends who are having babies, but at the same time I am horrified about what their bodies are doing, where their organs are shifting, and having graphic nightmares about the birthing process. Anxiety is so fun! After my friends have their children, I come to the baby meeting armed with a list of questions that they almost always refuse to answer in extensive detail. And that's why I'm thankful for Jessica Simpson.
Jessica Simpson just gave birth to her third child, a baby girl named Birdie, on March 19th. Congratulations, Johnson family! And, in the 346 months that Jessica was pregnant, she blessed us with all sorts of information about her pregnancy journey. Some might call it an overshare, but I most definitely am interested in hearing about the flatulence that comes with having a human in your uterus. I need this kind of truth in my life! Otherwise I'd just keep on believing the stork dropped these kids off. So, in honor of Jess's new baby and her commitment to brutal honesty, I'm going to list for you a few times when she blessed us with maybe too much information about her pregnancy.
When She Shared Pictures Of Her Bump
Most pregnant ladies cover up their bump in public. They use big caftans, large sweaters, resting bitch face, a forcefield, etc. to keep people from touching their stomach. It leaves me wondering, what is under there? It could be a pillow for all I know, right Beyoncé? Thankfully, Jessica has swooped in to answer all my questions, and allowed me to feast my eyes on what is indeed, a large bump.
Great pun, Jess.
Sure, now I never want to stretch my body to what seems like one million miles past its limits in order to bring a child into this world, but I appreciate the information. And I applaud her for getting out of bed and into a bikini. I think at that point I'd just be using the bump as a tray table to hold my pizza, and the bikini as a slingshot to fling at my husband.
When She Told Us About Her Toilet Issues
Apparently there are things that happen during pregnancy that we non-pregnant ladies never even think about. Sure, I knew you were eating for two (jealous) and puking a lot, but I didn't think everyday household items would be in peril. I was wrong. Towards the end of her pregnancy with Birdie, Jessica gave us the warning we never knew we needed.
She leaned back on the toilet and broke it! I didn't know that could happen, can she sue the company for dying of embarrassment? I guess it kind of makes sense though, you're dealing with a lot of weight you're not used to, like a brand-new superhero that does not know their own strength. I'm sure Spider-Man broke a few toilets himself after he was first bitten (Marvel, plz confirm). Whatever, it's fine. I think we can all agree that the toilet lid is superfluous anyways.
When She Said A Wiener Made Her Nauseous
Jessica Simpson didn't just learn the art of the overshare with this third pregnancy. Oh no, she's been doing it for years. Back when she was pregnant with future heartthrob Ace, she planned on keeping the gender a secret. But she accidentally revealed it on Jimmy Kimmel in the most Jessica way, by saying, "The crazy thing is, I didn't know a wiener could make me nauseous!"

If we're getting technical, isn't it a wiener that made her nauseous all three times? That's where the sperm comes from, Jessica! I'm not sure I needed to know this much about her pregnancy, but at least Ace will be able to pinpoint the moment where his problems began when his therapist asks.
When She Basically Told Us How She Got Pregnant With Ace So Quickly
And to end this article, I thought we'd start at the beginning, learning how babies are made. In an interview after Jessica gave birth to Maxwell, her first child, she said that she's been following all the rules, except one. Her doctor advised her to abstain from sex, but Jessica famously did not, justifying her decision as follows: "I think I have the sexiest man in the world. So that's the rule I break." Some rules are made for breaking. I eat ice cream for dinner sometimes, no one in my office ever shows up at 9am, and I truly appreciate when the pitcher intentionally nails the batter with a fastball. But, maybe you should listen to your doctor when they tell you not to do stuff? Not judging! Just suggesting!
Not surprisingly, shortly after this interview, and when Maxwell was seven months old, Jessica became pregnant with her second child. And I guess we know it's because she couldn't keep her hands off that man candy in her house. She must not have listened to the part about protection, either. You crazy kids!

And those are just a few of the glimpses into pregnancy that Jessica Simpson has given us over the years! I truly hope she goes for number four, but if she doesn't, please rest assured I'll be happy to provide TMI if I ever get pregnant.
Images: jessicasimpson/Instagram (2); Giphy (2)
The Messiest Famous Families, Ranked
Is there anything better than a celebrity family? While I love talking sh*t about all celebrities equally, there's something about an added family dynamic that just makes everything messier, and a lot more fun. Obviously kids deserve privacy and blah blah blah, but everyone on this list is over the age of 18, and therefore fair game to roast. When thinking about my favorite famous families, there are some obvious choices, but there are also some underrated ones that don't get enough appreciation for the drama they bring into our lives. I ranked the best famous families by messiness, so you're welcome.
The Hadids
No one really knew or cared about the Hadids until a few years back, but times have changed. Gigi and Bella are both major stars now, and their little brother Anwar is quickly following in their footsteps. Add to that their mom Yolanda's tenure on The Real Housewives of Beverly Hills, and there's plenty to talk about. The main thing to know about Yolanda is that she had Lyme disease for years, and Lisa Rinna accused her of faking it. It was a whole thing, but back to the kids. After years of on and off dating, it looks like Bella is officially back with The Weeknd, which feels correct. Gigi dated Zayn Malik for a long time before breaking up this year, and Anwar is now rumored to be seeing Kendall Jenner, which almost feels like incest? Their dad, Mohamed Hadid, is a real estate developer worth hundreds of millions, and he's also best friends with Lisa Vanderpump.
The Simpsons
It's easy to forget how big of a deal Jessica Simpson was in the early 2000s. Her little sister, Ashlee, was also a pretty big deal for a while, with her own reality show and a hit album, until her career was ruined by a lip-syncing scandal on Saturday Night Live. Ah, times were so simple in 2004. Ashlee is now married to Evan Ross (Diana Ross' son), and they have a new reality show together, which I am very much not watching. But let's not forget that Jessica was the first Simpson to have a reality show with her husband. Jessica's reality show with her then-husband Nick Lachey is really wild to revisit now, because Jessica was just so dumb. The best moment is when she is shook by the realization that buffalo wings are not made of buffalo meat (but it's a very close second to the time she thought Chicken of the Sea was made of chicken). Jessica and Ashlee are the famous ones, but the Simpson family wouldn't be complete without their dad Joe. If you're wondering about Joe Simpson, think of him as a prototype for Kris Jenner, which makes him a…dadager? Idk.
The Cyruses
Even though Billy Ray Cyrus is famous, I firmly believe that Miley has been in charge of this family since she was like, 12 years old. She started making that Disney money, and the rest is history. Now, over a decade later, Miley has gone through major transformations in her career, from Disney starlet to horny teen to horny adult baby to hippie stoner. I might have missed some steps in there, but you get the gist. Miley now seems pretty chill, and is still engaged to Liam Hemsworth, whose famous family has had much less drama. These days, the most interesting member of the family is Miley's little sister Noah, who you know from her iconic (but short-lived) relationship with Lil Xan.
The Hiltons & Richards
This family often gets forgotten, because Paris Hilton is the only one who really matters here. Paris is one of my favorite people of all time, whether she's making a fool of herself on The Simple Life or pretending to DJ at nightclubs around the world. She's an icon, the leader of a business empire, and the epitome of a betch. Also, her sister Nicky married into one of the most famous families in Europe, the Rothschilds, and I am very jealous. But it's important not to forget that Paris and Nicky's aunts are none other than Kim and Kyle Richards, the messy duo from The Real Housewives of Beverly Hills. The drama between the sisters has been a main plot line on the show for years, and their sister Kathy (Paris' mom) is so above it. For months, both Kim and Kathy weren't speaking to Kyle, because she decided to produce a TV show based on their life story. The show, American Woman, got canceled after one season, so was it even worth it?
The Kardashians & Jenners
For our generation, the Kardashian-Jenners are the holy grail of famous families. In the past, we had families where multiple generations were Oscar winners or Broadway stars, but I like the Kardashians just as much. I won't bore you with all the details that you already know, but it's really spectacular to think about all this family has given us in the last decade. A 72-day marriage. Secret pregnancies. Cheating scandals. Jail time. Lip kits. And don't forget, it all started with a sex tape. All these other families can try, but no one has ever brought the drama at a level that approaches the Kardashians. The devil works hard, but Kris Jenner truly just works harder.
The Trumps
Look, I know we all hate Donald Trump, and therefore we hate most of his family just by association, but there's just so much material here. Ivanka paints herself as this iconic businesswoman and champion of feminism, but really her greatest achievement is a clothing line known for making designer knock-offs, which subsequently got dropped from most stores. Then we have Donald Jr. and Eric, who basically do nothing but wear suits and follow their dad around. Oh, and Don Jr. also allegedly had an iconic affair with Aubrey O'Day of Danity Kane, who appeared on The Celebrity Apprentice. I could go in on Melania, but I've been done with her since the moment she plagiarized Michelle Obama's speech at the GOP convention in 2016. My personal favorite Trump is Tiffany, the daughter that DJT basically didn't acknowledge until he was running for office. While Ivanka is busy fighting for women's rights (lol), Tiff spent her summer at Lindsay Lohan's club in Mykonos, so she's winning. Ha ha ha how tf did we let these people control our country?
Images: @yolanda.hadid , @krisjenner, @tishcyrus, @kylerichards18, @jessicasimpson, @donaldjtrumpjr / Instagram
6 Celebs Who Have Bigger Daddy Issues Than You
Father's Day is just around the corner aka the holiday you only remembered because your mom sent you a text saying "IT'S FATHER'S DAY, CALL YOUR DAD." Thanks, mom, you da real MVP. We all love our dads because who else would pay our cell phone bills and help us move heavy furniture and patiently listen to us lose our shit because the Wifi is spotty in our apartments and, no, they can't do anything to fix that. But sometimes fathers fuck up and their children turn into Ariel Winter public cries for help. And why celebrate the success stories when we can delight in other people's failures? So here are 6 people who have way bigger daddy issues than you (because taking away the "emergency" credit card is not a real issue).
1. Ariel Winter
Speaking of public cries for help, let's start with my favorite one, shall we? Idk what it is but there's just something about Ariel that makes me think she might have issues with the man that clearly did a terrible job raising her. She was emancipated from her parents in her teen years, so you know her childhood had to have been a shit show if she actually went through with the legal process and didn't just threaten to every time her dad refused to extend her data package for the month. But it's so weird because she just doesn't seem like a girl with daddy issues. Normally those types of girls are such attention whores always seeking validation through semi-nude selfies…

And her relationship with that replacement father figure C-list actor guy who lets her live in his house Levi Meaden is just, like, the healthiest and not at all a cry for attention…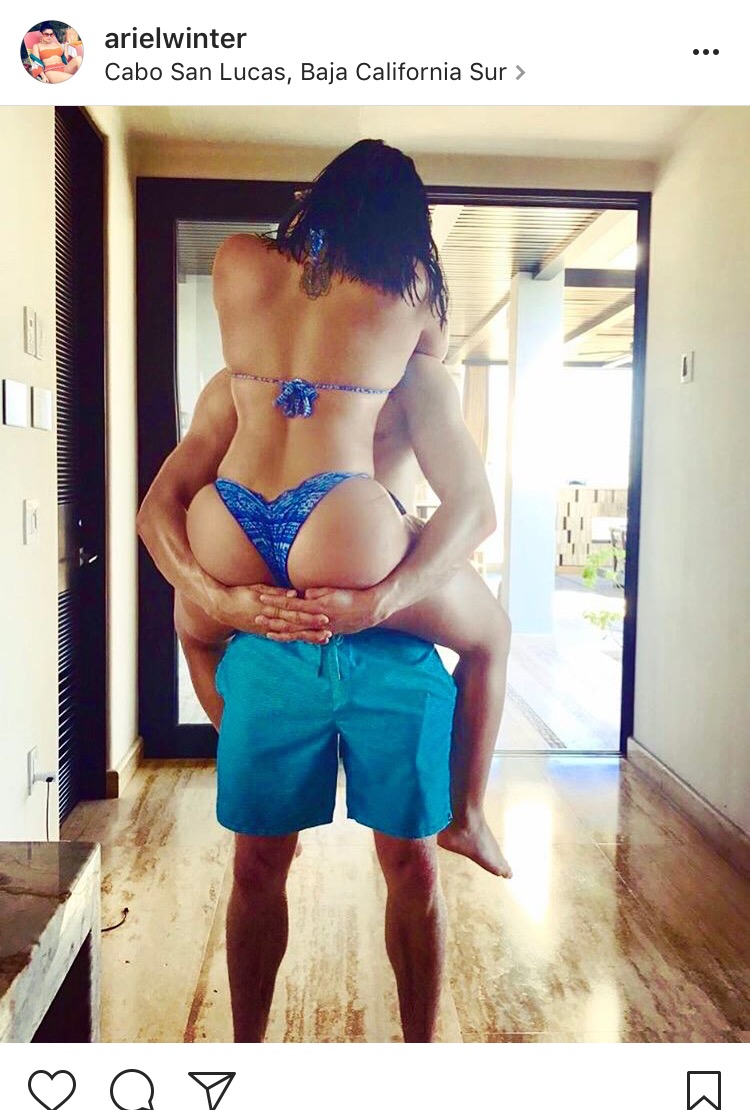 And she's just so normal and real on Instagram…

Lol kidding! It's blatantly obvious that this girl is screaming for parental guidance. Seriously, the other day she got a block of cheese tattooed on her wrist to match her boyfriend's (of less than a year) jar of peanut butter. YOU'RE NOT EVEN MAKING SENSE, ARIEL. Honestly, if that doesn't scream "daddy why don't you love me" then idk what does. Seriously, you're not fooling anyone, Ariel.
2. Ivanka Trump
Has anyone else noticed that when Ivanka is in her father's presence she constantly looks like she's internally screaming? Or is that just me the look of complacency? Idk. Either way I really don't have to say much here. I mean, I can only imagine the trauma of having a human Cheeto for a parent who is constantly trying to take away your birth control and is insistent on deporting your friend's very hot foreign boyfriend. Ugh, like, dad STOP IT. You're embarrassing me!

3. Ireland Baldwin
Ireland Baldwin, model and daughter of Alec Baldwin, has perhaps the best daddy issues story of all time. We know and love Alec Baldwin for how he accurately portrays roasts Donald J. Cheeto on SNL every week, but aside from being a comedic genius Alec is also a terrible parent. I guess we can't have it all. But he has blessed us with one of the greatest, most quotable voicemails of all time. When Ireland was in fifth grade her dad left her this voicemail: "You are a rude, thoughtless little pig. You don't have the brains or the decency as a human being." A. Rude. Thoughtless. Little. Pig. *slow claps* Honestly, he gets all the points for creative language because that was savage AF. Seriously, I'm writing this one down for the next time I babysit. But I guess if you're going to verbally abuse your child, you might as well make it something your kid—and America—will never forget, right Alec?

Just for the record, Ireland says this is "normal" behavior for her dad when he's "frustrated." In other news, Ireland just returned from a stint in rehab. I'm sure that's unrelated though.
4. Jessica Simpson
Though she's better at hiding her daddy issues than others *cough* Ariel Winter *cough* Jessica Simpson certainly has some. Does anyone else remember the one time her dad told GQ, "Jessica never tries to be sexy. She just is sexy. If you put her in a T-shirt or you put her in a bustier, she's sexy in both. She's got DOUBLE Ds! You can't cover those suckers up"? *shudders* Jessica tried to play it off like this was fake news, but I'm not buying it. I mean, the guy has chunky blond highlights IN 2017, which is evidence enough that he's a giant creep and 100% has inappropriate thoughts about his daughter.
Jessica Simpson:

Her Dad:

Me:

5. Penelope Disick
I'm not one to shit on kids—I do have some morals—but like, P is bound to have some daddy issues when she grows up. Kourtney can only do so much in terms of distracting her daughter with lavish family vacations and birthday parties that feature live fucking mermaids as the entertainment before she's going to realize that daddy is suspiciously missing from all of these events. Sorry P, Scott's not "away on business"; he's just getting shit-faced in Cannes with girls that could be your older sisters.

Yeah, being fucking adorable isn't going to save your childhood from this, P. And in that same vein…
6. Every Single One Of The Kardashians
I've seen every episode of this show because I really need to get better hobbies Keep Up, and while some would argue that Kris Jenner is clearly to blame for fucking these girls up I would argue that their dads DEFINITELY had a helping hand in this as well. One scroll through their Instagram feeds is really all the proof I need. Look, I'm not saying that semi-nude selfies are a definite cry for help, but I'm also not not saying that. For further proof, I'm just going to leave this here:

Yeah, they totally got enough love and attention as children. Totally.