We Need More Weddings Like JLo & Ben Affleck's
In case you somehow managed to miss the slew of Apple News push notifications and Instagram reposts from every major lifestyle publisher (god bless the social media editors who had to deal with that frenzy on a weekend), here's some news: JLo is now officially J…Af? Oh god. We're going to have to start saying "AF" again, aren't we? Anyway, the important thing here is that Jennifer Lopez and Ben Affleck got married this weekend, and it was literally the least big deal of all time. The duo, who have essentially been one of the most publicly cared-about couples for not one, but two eras in our lifetime, had an extremely low-key wedding, and it truly could not have come at a better time for the three-ring circus that is currently the wedding industry. 
In an announcement shared in her newsletter, On the JLo, it was announced that Bennifer casually tied the knot at a Las Vegas chapel in a 12:30am ceremony that was apparently "super small." JLo used the break room at the chapel to change into a dress she ALREADY HAD "from a movie," while Ben used the men's room to slip into a jacket he also conveniently already had, and take some mirror pics. The announcement also included a few selfies so grainy, they must have been taken on an iPhone 4. And you know what? I think that's beautiful. 
Jennifer wrote plenty of lovely things about the night in her newsletter: "Stick around long enough and maybe you'll find the best moment of your life in a drive through in Las Vegas at twelve thirty in the morning in the tunnel of love drive through, with your kids and the one you'll spend forever with. Love is a great thing, maybe the best of things—and worth waiting for." Notice that, unlike all the couples you know who tumultuously broke up and got back together, JLo saved us the "relationships are hard work and I basically hate you" speil and kept it sweet. And that's not to say Bennifer hasn't dealt with hardship. We've all seen Gigli. 
As much as celebrity weddings exist in a parallel universe that us Normals have absolutely no use engaging with (remember when Kim Kardashian and Kris Humphries spent $10 million on a wedding for a marriage that ultimately only lasted 72 days?), I think that we could learn something from Bennifer. I genuinely believe we could all do better to consider these two a benchmark. If Jennifer fucking Lopez can get ready for her wedding in the break room of a Las Vegas chapel, there is simply no reason for you to force seven girls you went to college with, one cousin you talk shit about with your mom, and two coworkers who are definitely never going to write a good reference for you after this to wake up at 5am to get their faces beat in a gaudy bridal suite you paid thousands for. 
Sure, it might sound harsh, but if it's good enough for JLo, it's good enough for you. On a surface level, this argument could feel like comparing apples and oranges, considering JLo has a wardrobe containing a white gown that already looks like a wedding dress, and there are probably days you root through your closet and struggle to find something appropriate to wear to guzzle down a Strawberry Kiwi 'Rita at Outback Steakhouse. She gets to wear glamorous dresses and have her makeup done professionally all of the time. Meanwhile, the cute ivory linen miniskirt you bought last summer is still hanging in the back of your closet with tags on it because you haven't attended a single event that isn't attached to someone else's impending nuptials in recent memory. With calendars full of bridal showers, bachelorette parties, rehearsal dinners and weddings, we're all just a moment away from breaking into Gretchen Wieners' iconic "you know I'm not allowed to wear hoops, right?" monologue, except instead of earrings, we're mourning the outfits that used to only be off-limits after Labor Day and on the most unpredictable days of a menstrual cycle. 
As brides-to-be, it kind of makes sense that we make such a big deal out of the days that are considered "ours" because we're all spending so much time and money celebrating people who are doing the literal same exact thing as us. When it's finally our turn, we go nuts. It can very easily feel like the only way to differentiate your wedding (and the half dozen events leading up to it) from everyone else's is to make it bigger and better than anything you've seen before. But Jennifer Lopez marrying Ben Affleck with an energy that can only be described as ¯\_(ツ)_/¯ is a pretty solid reminder that we should all just chill the fuck out. It may seem impossible to remember a time in which our minds were occupied with anything other than wedding content, but I urge you to think back to how hard you laughed the first time you saw Bridesmaids. For a foolproof vibe check exercise, try rewatching the film. If you realize you're siding with Helen instead of Annie this time around, it's officially time to reprioritize your life. 
The next time you find yourself spiraling over floral arrangements or scolding your well-intentioned maid of honor for showing up to a booze cruise in the wrong swimsuit, just think: WWJD? What would Jennifer do? Probably nothing that would involve a complicated Google Sheet or firing off passive aggressive text messages. Let her chillness guide the way. If JLo can be an outfit repeater on her wedding day, there is truly nothing stopping you from settling for the Etsy dupe of the infamous Jimmy Choo pearl bridal heels. Your credit score will thank you. 
Image: Rich Fury/WireImage
We Must Never Forgive Bennifer For The Trash Heap That Was 'Gigli'
"One of the most hated rom-coms of all time."
"The movie that should have ended Ben Affleck's acting career."
 "One of the worst movies I've ever seen."
2003 marked the year of Gigli, a movie with no artistic merit but major importance in pop culture history as the tarnished platter on which Bennifer was served to the world. Jennifer Lopez and Ben Affleck met on the set of Gigli and were engaged by the time of its release, despite her being married to Cris Judd at the time of filming. The pair ushered in the first ever celebrity couple blended nickname—Bennifer. Today's generation identifies their courtship mainly through vintage paparazzi photos and the iconic ass grab from the "Jenny from the Block" music video. The rekindled lovers reunited over the weekend, confirming romance rumors with not-at-all staged yacht photos in which Ben covered his enormous back tattoo with a button-down (as if we'd forget, Ben). 
View this post on Instagram
On the tails of the couple's Instagram announcement, I'll celebrate the official coming out of Bennifer 2.0, but I'll never forgive them for Gigli, the couple's cursed love child, now 18 years old. 
With a Rotten Tomatoes score of 6%, Gigli sits at the top of Yahoo Movies' worst-rated movies of all time list. One of the greatest flops in cinematic history, the film earned $7 million at the box office against a $76 million budget. After only a few weeks on the big screen, the movie was pulled from most theaters across the country, and its writer and director, Martin Brest, has not worked on another film since.
How did Ben Affleck, having just written the Oscar-winning Good Will Hunting, and J.Lo, once named Forbes' "Most Powerful Celebrity in the World," come together to create such pure chaos? How is this movie that bad?
I thought I'd get better use out of my film studies minor than this, but hey, I watched it so you don't have to.
This is a movie about a mobster named Larry Gigli, which despite being pronounced as "jee-lee," has already been cemented into your mind as "jiggly." Larry Gigli is instructed to kidnap a prosecutor's mentally disabled brother under the close watch of his fellow enforcer-turned-sexy-babysitter, Ricki (J.Lo).
In his groundbreaking, never-before-seen portrayal of "Italian Mobster Who Resents Opinions of Women," Affleck leads the film, which follows Ricki and Gigli as newfound partners in the New York mob scene. But wait—trouble is ahead for Gigli as he learns that Ricki, with her mini-skirts and blown-out hair, is a lesbian. Don't fret—the gay agenda is no match for this early 2000s white heartthrob.
The plot details of Gigli are so confusing that not even a Wikipedia page could keep me on track. Somewhere between Christopher Walken's early monologue as a suspicious detective who never again appears in the movie and the mutilation of a corpse, I got lost. I traced the lines on Ben's massive back Phoenix and made my way home to the central plot of this god-awful movie.
Tasked with hiding Brian, the prosecutor's brother, the duo lies low. Flying under the radar like any good mobsters, Gigli and Ricki drive the hostage through every street in Los Angeles in a top-down convertible. Discreet. During an unexplained pit stop at her house, Gigli introduces Ricki to his mother, who takes a liking to her, despite her being a lesbian. "Never mind," says mom, "She's been with fellas before, am I right, darling?"
We hard cut to J.Lo doing near-naked candlelit yoga as Gigli looks on, sporting the "I can turn her" game face. The pair begin a classic battle of the sexes debate: Gigli's "frontier conquering" and "obstacle eradicating" penis versus her vagina, wrapping up their discussion with longing stares as out-of-place romantic music swells in the background. The romance is quickly interrupted by a call from the mob boss instructing Gigli to cut off Brian's finger, because why not? The mafia does that, right?
CONTENT WARNING: The following section contains discussion of suicide, which may be upsetting to some readers.
The following day, Ricki's ex-girlfriend shows up at the door of this highly discreet mafia hideout and slits her wrists. Gigli and Co. take her to the hospital, where our leading man removes the finger of a corpse in the morgue to spare Brian's and we literally never speak of the ex-girlfriend again. After the romance of a violent suicide attempt and the aromas of the morgue, Gigli confesses his love, calling Ricki a "fucking untouchable, unhaveable, unattainable brick wall f*cking dyke-a-saurus rex."
That's a direct quote.
Having been swept off her feet via sexual harassment, Ricki opens herself to love and sleeps with Larry Gigli. Now, while everyone involved with the making of this monstrosity should be brought up on criminal charges, the real enemy is the writer who made Jenny from the Block turn the words "it's turkey time" into dirty talk, having her literally say, "It's turkey time. Gobble, gobble" as an invitation for sex. Accused of ruining cinema and the careers of two Hollywood darlings, Gigli has now ruined oral sex.
The duo is called to meet with the mob's top dog, played by Al Pacino, whose involvement in this movie is such a betrayal it brought a tear to my eye. Pacino kills one of his mafiosos on the spot before turning his attention to Gigli and Ricki, who come within an inch of their life, only to be saved by Ricki's feminine superpower—basic communication. The pair escape safely and leave the mob life together.
In the end, Ricki breaks it off, vowing to go "somewhere clean"—a line I'm still left wondering about. Ricki and Gigli drive Brian to the beach and, I guess, leave him there? Through tears, Gigli gives Ricki his car and, I guess, walks home?
At a painstaking two-hour runtime, Gigli is a movie about toxic masculinity winning out in the end. By 2003's standards, a tough guy in a Zara leather shacket is an unstoppable force, and in the end he gets his girl (whether she wants to be there or not). The 2021 version of Gigli would likely end with Ricki stealing the car and—just kidding, there is no 2021 version of this mess. The tear-jerking closing line is as follows: "as far as the lesbian thing goes, if you ever think about hopping the fence, give me a call." The two share a final kiss and Ricki drives away to the melancholy notes of a violin. 
That is, until minutes later when Ricki returns to pick up Gigli and the two drive off into the sunset together. 
The end.
Following production of the world's worst movie, Ben Affleck placed multiple trade ads all over Los Angeles, amounting to thousands of dollars a pop. These ads were often taken out by industry executives to congratulate other industry names on their recent achievements, very insider baseball. Affleck's ad was a love letter to Jennifer (married at the time), reading, "You have shown kindness, dedication, diligence, humility, graciousness of spirit, beauty in courage, great empathy, astonishing talent, real poise and true grace. It has been nothing but an honor and a pleasure to work with you. I only wish I were lucky enough to be in all your movies. With love, respect and gratitude, Ben Affleck." Hey @Tinx, what box is this?
By 2004, J.Lo had married Marc Anthony, Ben Affleck had made out with Jennifer Garner at a World Series game, and Gigli had been forgotten.
Too often, we hear stories of star-crossed lovers parting ways after tragedy; some wounds are too deep to recover from. I can't speak for Bennifer, but as a pop-culture enthusiast, I can never go back to a time before Gigli. Following the big-screen flop, Gigli's ghost haunted late-night monologues and SNL sketches but was laid to rest following the breakup of Hollywood's It Couple. The impact of this truly awful piece of cinema underscores every Bennifer headline or Deux Moi blind item. For their performances in Gigli, Jen and Ben won Razzie Awards for worst actor, actress, and on-screen couple of the year, but something tells me the combined $24 million paycheck helped the couple sleep at night.
Somewhere in the French Riviera aboard multi-million-dollar yachts, with her newsworthy six-pack and his rainbow body art (third reference in the can), Bennifer is locking eyes and thinking, "it's turkey time." While somewhere in Los Angeles, A-Rod is weeping. 
If you are struggling with thoughts of suicide, contact the National Suicide Prevention Lifeline at 800-273-8255 or visit suicidepreventionlifeline.org.
Images: jlo / Instagram; Featureflash Photo Agency
The 77th Annual Golden Globes Recap: It's The Last Time, Who Cares
Welcome to the 2020 Golden Globes! While us normos are actively avoiding any human interaction after three weeks of non-stop partying and soul-crushing fights with our family members, Hollywood is getting together for yet another rager. Well, technically it's an award show, but what would you call a night filled with 1,500 bottles of champagne, rambling monologues, awkward run-ins with exes, that all ends with a trip to a fast food joint? That's what I thought. 
This year, the Golden Globes were hosted by Ricky Gervais, marking the fifth time he's held the honor, and his first time hosting since 2016. Now, I'm a fan of Ricky because at his best he is scathing, and at his worst he makes everyone so uncomfortable you can actually physically feel the hatred emanating off of them, and that's a reaction I'm very used to. What can I say, you like what you know.  But I can understand if he's not your cup of tea. Well, I can't, but one of my New Year's resolutions was to be more understanding and it's only January 6th, so I'm being magnanimous. You're welcome. Anyway, this year he was better than I could have even imagined. Ricky immediately came for the people who hired him, called everyone in the room dumb perverts, and made a "Jeffrey Epstein didn't kill himself" joke. If that wasn't 90% of you after three cocktails at your office holiday party, then you're lying. 
Ricky Gervais 🔥🔥🔥🔥🔥🔥🔥🔥🔥🔥🔥🔥🔥🔥🔥🔥🔥 pic.twitter.com/z4LxMWj9ev

— Jack McGuire (@JackMacCFB) January 6, 2020
Ricky started the show off super strong, and it only got more preachy bonkers from there. So instead of a full recap, which none of us have time for unless you were fired after said office holiday party, I've broken the show into highs and lows. Let's get to it! 
HIGHS
☆ I know I already talked about the monologue, but bear with me while I just say that Ricky throwing out the line, "It's the last time, who cares" after every insult he slung at the HFPA is a level of who gives a sh*t that we should all aspire to. (Also, special shout-out to Ricky for calling out Leo DiCaprio's refusal to date age-appropriate women.)
☆ In toasting the three nominations for Knives Out, Ricky Gervais took an easy shot at Cats, everyone's least favorite movie of the year: "See what happens when you don't dress people up as cats?" Boom. Roasted. Honestly, that's gonna be my philosophy whenever I accomplish anything from now on.
☆ Ramy Youssef admitting during his acceptance speech for "Best Performance by an Actor – Comedy or Musical," that no one knows who he is. Fine, I'm mostly including this because he's from Jersey, HOW DO YOU ALL SEE THROUGH ME? Hooray, New Jersey! We will take over the world like we've been secretly plotting! Soon everyone will be referring to their hometown by their exit on the parkway mwahahaahahahhahah!
☆ Celebrities raising awareness for the bush fires in Australia. I legit think that's the only reason they gave Russell Crowe an award, because no one I know even saw The Loudest Voice. If they wanted to watch Roger Ailes prey on women they just waited to see Charlize Theron in Megyn Kelly cosplay in Bombshell. But really, those fires are BAD. Please help if you can! 
☆ Bill Hader and Rachel Bilson showing up on the red carpet together for the first time. If you're not watching Barry, you're missing out on one of the best dark comedies on TV, plus you've yet to realize that Bill Hader is stealthily hot. And Summer Roberts deserves her happy ending. I stan. 
☆ Just like at the Emmys, Fleabag won the Best Comedy Series, and Phoebe Waller-Bridge won Best Actress for her performance. These were some of the least surprising wins of the night, but sometimes the best show wins for a reason. Now that Fleabag is over, I can't wait to see what Phoebe does next, because the world is truly her oyster. When will the world be my oyster?
☆ Succession wins! Succession won best drama and Brian Cox aka Logan Roy aka possibly the most mentally abusive father in America won Best Actor. Damn, that show is good. I actually screamed at the end of the second season when something insane happens that I won't mention here, because I don't want to get lit up in the comments over spoiling something that ended months ago. So I won't spoil it, but WATCH IT ALREADY. And we were BLESSED that Brian Cox won because it allowed us the absolute best moment of the night, a Jason Momoa in a tank top sighting. It's like someone knew we needed to start 2020 out that way. 
My sexual orientation is Jason Momoa in a tank top at the Golden Globes pic.twitter.com/h0wwCl47Oa

— Sam Stryker (@sbstryker) January 6, 2020
☆ Kate McKinnon presenting the Carol Burnett award to Ellen. It was heartfelt, inspiring, and also funny. However, I was confused when Ellen said that people tell her that her show inspires them to go out every day and help people, and that's what TV should do. The TV I watch inspires me to go out there and mercilessly mock Florida. Am I watching the wrong things? 
☆ Brad Pitt's face. Whoever is keeping Brad looking this refreshed is doing a fantastic job. It looks natural even though I know it's not, and he could get it over Leo ANY. DAY. Fight me.

☆ While introducing Jojo Rabbit, Sacha Baron Cohen joked that Mark Zuckerberg is a "naive, misguided child who spreads Nazi propaganda." LMAO. Where is the lie? Why do I feel like Sacha wrote that one himself? This definitely made some people in the room uncomfortable, but none of the other presenters had material that good.
Sacha Baron Cohen just roasted Mark Zuckerberg. #GoldenGlobes pic.twitter.com/lc4m9WiTgc

— Lights, Camera, Pod (@LightsCameraPod) January 6, 2020
☆ Tom Hanks. Man, has that guy been in a lot of great movies. And THE EMOTION. Over his family. And he has a kid who is a white rapper and goes by the name Chet Haze! And he still loves them! For that alone he deserves an award.
☆ The cameraman who was smart enough to cutaway to Jennifer Aniston during Brad Pitt's acceptance speech. I know some of you might be over this love triangle, but I didn't invent it, and the media has made me invested in it for over half my life, so thank you, sir, for rewarding all the time and dedication I have put into this relationship. Now, if only her reaction had been more scandalous. We'll have to work on that for next year, Jen. 

☆ Also, Brad Pitt for acknowledging what we all know to be true, Leo COULD HAVE FIT ON THE DOOR and that Kate Winslet is a cold-blooded murderer. I also liked what he said about being kind to someone tomorrow. And I will, tomorrow! Today I have to write this recap. 
☆ Awkwafina won Best Actress for her heartbreaking performance in The Farewell, and her acceptance speech was as funny as you'd expect. When she said "I told you I'd get a job, dad," I really felt that. Way to stick it to dads everywhere that begged us to just be accountants.

☆ So I was about to put Joaquin Phoenix's win on the "lows" list because I find him exhausting, pompous, and a little crazy behind the eyes, but then he called out everyone in the room for being hypocrites and I shrieked. Stop preaching about climate change and then hopping on your private jets, assholes! I loved it. Good luck at the after parties, Joaquin. Leo is not going to be happy. 
Joaquin Phoenix did seem quite drunk BUT telling a room full of famous people to stop taking private jets to Palm Springs….you DO love to see it #GoldenGlobes

— Tyler McCall (@eiffeltyler) January 6, 2020
☆ Michelle Williams won for her performance in Fosse/Verdon, and she used her speech as an opportunity to speak out on the importance of women's rights, especially when it comes to abortion. She's known for keeping her personal life very private, so to hear her speak so passionately was truly a special moment.
LOWS
☆ WHERE WAS LITTLE WOMEN?!! This movie was beautiful. I laughed, I cried, I remembered how much this story meant to someone like me, who fancies herself a writer. And the HFPA couldn't give a sh*t about this movie. Couldn't fathom how it would be important. Barely nominated it. It makes me believe everything Ricky Gervais said about them. Oscars, your move. Are you going to make me call you sexist trash bags, too?
☆ WTF was J.Lo wearing? Girl, we already know you're a gift, you didn't have to dress like the Christmas wrapping paper my mom bought at Paper Source on January 1st  for 60% off. 
☆ Laura Dern's acceptance speech. I mean, she was funny, and charming, and she looked gorgeous, but the whole thing was hijacked by Gwyneth Paltrow's ass. Come on, cameraman. We know she looked hot, but this is about Laura! Maybe film the winner's acceptance speech from the front next time, and Google pictures of Gwyneth's body at home later on your free time. This is your job, cameraman! 
☆ Pairing Amy Poehler and Taylor Swift as presenters was BRILLIANT, because as you will remember, one of the years that Tina and Amy hosted the show they made a joke about Taylor Swift dating younger guys, and she responded later saying "there's a special place in hell for women who don't support other women." Which is something I still laugh about to this day because it was such an overreaction. But this presentation was a missed opportunity. They didn't even address it! I couldn't even tell you what they presented, that was how boring it was. The fact that they didn't take advantage of this pairing just made it pointless. I know you had something to say Amy, YOU SHOULD HAVE. 
☆ Jason Momoa put his jacket back on to present. 
☆ I find it unbelievable that Unbelievable didn't win anything. As a true crime junkie, I can honestly say that that series was a cut above the rest of the genre, and Kaitlyn, Merritt, and Toni each gave heart-wrenching performances. And seriously, WHO IS WATCHING CHERNOBYL?! 
☆ Another year where the best actor in a musical/comedy was from a musical biopic. I love Taron Egerton, but if he was going to win for anything it obviously should have been Kingsman. It takes great talent to play a character named Eggsy without laughing. 
☆ The presenters. As I mentioned earlier, they were all kind of nothing-burgers. Was Tom Hanks passing around his cold medicine at the pre-show?
Once Upon a Time in Hollywood winning multiple awards, proving once again that Hollywood loves nothing more than to jerk itself off.
That Pierce Brosnan's sons, this year's Golden Globe Ambassadors, were nowhere near as hot as Pierce Brosnan. 

The length. Over 3 hours?!?! Did I spend 11 hours binging the entire season of Spinning Out just yesterday? Yes, but what's your point?
At that's all folks! Have a good day! As Ricky says, get drunk, take your drugs! Happy New Year!
Images: Jackmacdfb ,sbstryker, lightscamerapod, eiffeltyler/Twitter; enews, betches/Instagram; Giphy
The Best & Worst-Dressed From The 2020 Golden Globes
Last night, we all begrudgingly watched the 77th Golden Globes, officially kicking off the two-month long headache that is awards season. As always, the show was… whatever, with lots of shows and movies that you probably haven't seen winning the awards. Don't worry, we'll do a full recap on all the highlights and lowlights in a bit, but for now it's time to focus on what's important: the red carpet. This year, Hollywood's biggest stars paraded around in looks that ranged from stunning to stunningly bad. This red carpet really had it all: feathers, rhinestones, and Gwyneth Paltrow in a fully see-through Victorian gown. Yeah, idk either.
Here's our breakdown of the best and worst looks from the 2020 Golden Globes red carpet, and if you disagree, I'll see you in the comments. Drag me!
Worst: Jennifer Lopez

Jennifer Lopez has spent 20 years breaking the internet in gorgeous gowns, so I guess it was only a matter of time til she, well, f*cked it up, and I may be the only person brave enough to say it. Her dress looks like the Christmas poinsettia that my mom probably still hasn't thrown away. Honestly, if J.Lo ever doesn't know what to wear to one of these events, she should just throw on the jungle dress again. No one would complain!!
Best: Billy Porter

As has become tradition at every event he attends, Billy Porter said "f*ck gender norms" and shut down the red carpet. His sparkly white jacket with a full feather train is the exact amount of extra that I'm trying to bring in 2020. If you're getting married this year, sorry, but I'm going to wear this and look better than you.
Worst: Taylor Swift

Taylor's hair and makeup look great, and this is a pretty dress, but it looks like something I'd wear to a bridal shower, not the f*cking Golden Globes. However, the biggest joke of all was that Taylor Swift was at the Golden Globes not as Joe Alwyn's plus-one, but because she was actually nominated… for Best Original Song from CATS.
Best: Ana de Armas

Ana de Armas was nominated for playing a woman who can't stop puking in Knives Out, so I was hoping her look wouldn't make me want to vom. She f*cking turned it out in this sparkly navy gown, so good for her. She has like five movies coming out this year, so she's definitely one to watch.
Worst: Charlize Theron

To put it simply, Charlize Theron's dress looks like it was inspired by the slime at the Kids Choice Awards. (I'm also getting slutty Jim Carrey in The Mask vibes.) Honestly, this dress would've been painful in any color (an exposed corset? Is this an unfinished Project Runway look?), but the choice to go with lime green is puzzling. Also, can we please, PLEASE not do capes on the red carpet anymore?
Best: Saoirse Ronan

Of all the people who showed up in dance recital rhinestones, Saoirse pulled it off the best. She looked classical and effortlessly beautiful, and she looks like she's wearing a swipe of mascara and that's it. The bitch.
Worst: Sofia Carson

We love Sofia, which makes this look all the more painful. This is gonna hurt me more than it hurts her: she took the top half of Ariana Grande's fluffy pink top in the "Thank u, next" video (the one where she's Elle Woods doing the Bend and Snap) and the bottom of a shower loofah. Really, loofah dresses should have never started, but since I can't invent a time machine, they should have stopped last year. The hair didn't help either… this reminds me of New Year's Eve, when I tried to pin my hair up in a fake bob to look like a flapper, and it started falling out after one tequila shot.
Best: Kerry Washington

Olivia Pope don't need no shirt! Minus the jewels that probably cost more than my parents' house, this is the exact outfit I wore to every CEOs and corporate hoes mixer in college. I'm not mad about it.
Worst: Joey King

Joey King showed up in a couture look that's like an optical illusion, but it didn't quite trick us into liking it. Honestly, if she had just shown up dressed as Gypsy Rose Blanchard, I would've put her on the best-dressed list. Shame!
Best: Nicole Kidman

It feels like Nicole Kidman is nominated every single year, but she always looks great on the red carpet. Nicole is one of those people who can basically pull anything off, and she didn't disappoint in this simple but stunning red gown.
Worst: Dakota Fanning

Dakota is one of the most beloved child stars, but I think she missed the memo that she's no longer a child. This dress is pretty, but it looks like what the little girl wears to the fancy family Christmas party. I'm glad Dakota hasn't become a mess like some other child stars, but she could stand to edge it up a little.
Stay tuned for our full Golden Globes 2020 recap, and like I said earlier, drag me in the comments.
Images: Getty Images (11)
Does 'Hustlers' Deserve An Oscar?
Now, before you all come for me… Is Hustlers an amazing film? Yes. I mean, I'm a gay man who's obsessed with Cardi B, Lizzo, and J.Lo, so Hustlers could literally be a piece of sh*t spread on toast and I would still convince everyone I know to see it. Fortunately, it's not sh*t spread on toast, but delicious avocado toast topped with perfectly ripened heirloom tomatoes, a gloriously poached egg, and a beautiful sriracha drizzle—but does avocado toast deserve an Oscar? I mean, does Hustlers deserve an Oscar? The reviews have been excellent, with rogerebert.com saying it's J.Lo's best work since 1997's Selena. The Hollywood Reporter called it J.Lo's best film to date, and Hollywood superwoman Shonda Rhimes tweeted that she only leaves her house for a movie every five years, and Hustlers is the one. For all intents and purposes, this movie is screaming "give me an Oscar," so what's the f*cking issue? Well, as it turns out, the woman who lived the real-life story has a major issue with it, and fittingly, like the bad bitch she's portrayed as in the film, she's not going down without a fight.
The film, directed by actor/writer/director Lorene Scafaria, has grossed $62 Million, tripling its budget in only 10 days, which is like…a really good ROI. (That means Return On Investment, which means that one class I actually showed up to in college did teach me something.) The premiere at the Toronto Film Festival was apparently iconic, with a 2,500-person standing ovation and guests immediately whispering that J.Lo deserved an Oscar for her performance as Ramona, the queen-pin of the strip club turned queen-pin of drugging and robbing men.
The movie tells the multi-year story of J.Lo's character, Ramona, and Constance Wu's character, Destiny going from making hundreds of thousands of dollars a year stripping in Manhattan before the 2008 financial crisis to drugging men and maxing out their credit cards in 2013. Cardi B essentially plays herself, with only a few brief scenes, including one of her grabbing Destiny's hair and calling her a bitch for accidentally trying to take one of her clients on her first day, which was amazing, and something I've done to coworkers while serving tables before. Lizzo appears even less than Cardi, but somehow manages to sneak her famous flute playing into her scene, and Keke Palmer and Lili Reinhart both are great in their roles as underling members of Ramona's crew. One scene in particular, with a half-naked and six-inch-heeled Keke Palmer running through a parking garage screaming, had me laughing out loud, and Lili's character's nervous puking adds a welcome lightness to some otherwise dark scenes.

All in all, it's a very good movie. J.Lo looks absolutely incredible, and one scene where men are tossing singles on her while she does a sultry pole dance to Fiona Apple's "Criminal" had me questioning if my sexuality actually was a choice. Constance Wu is… fine, and Julia Stiles could be played by literally anyone (I'm sorry, but it's true). I could have played Julia Stiles' character, and the fact that I wasn't even discussed during casting is a catastrophic overlook, but I didn't let that influence my thinking while watching the film.
The thing about it is, at no time while watching did I think this movie was going to garner Oscar buzz, and I don't really know how to feel about the fact that it has. Let me be very clear about something, I f*cking love J.Lo, and if she won an Oscar I would be crying before she got to the stage, but then again my favorite movies of all time are Sister Act and Sister Act 2: Back in the Habit, so like…who am I to be judging? After all, Bridesmaids scored nominations for Kristen Wiig and Melissa McCarthy, Anthony Hopkins won the Oscar for only 16 minutes of screen time in Silence of the Lambs, and Anne Hathaway got her Oscar for a mere 15-minute choppy AF haircut in Les Miserables. So with the rules of what qualifies as Oscar-worthy clearly not set in stone, why not consider Hustlers? I suppose that pesky little fact that the person behind the story didn't get paid for it to be told.
The movie is based on the 2015 New York Magazine article, "The Hustlers at Scores," written by real-life New York Magazine journalist Jessica Pressler (played by the lackluster Julia Stiles). The movie is told through the narration of the article's main character, Roselyn Keo, renamed Destiny and portrayed by Wu for the movie. J.Lo's character, Ramona, is based on Samantha Barbash, aka Samantha Foxx, who is currently threatening a lawsuit against STX Entertainment, the studio behind Hustlers. Samantha says she was lowballed to sign away the rights to her story, and according to her lawyer, she "unequivocally rejected all offers to be included in the film." She claims that J.Lo never spoke to her before or during filming the movie, and she is now writing her own book about her story.
Pressler's article and the film actually seem to stick pretty close together, with some direct lines from the article used in the film, such as, "You can't feel bad! If we don't do it, somebody else will do it."
My hesitation with fully believing the movie's story comes from the troubling fact that we don't quite know what about the article is true. Pressler wasn't able to fact check a lot of what Roselyn, known as Rosie, told her when she was writing it. After beginning the article by saying "according to Rosie" several times, Pressler clarifies, "I say 'according to Rosie' because her family did not respond to interview requests, and because Rosie is an admitted liar with multiple pending felony charges. Still, she is occasionally prone to offering up indisputable truths." While some of the story may be fabricated, some aspects must be true, because the fact remains that men really were drugged and robbed, with one Queens strip club bartender pleading guilty last year to being in cahoots in overcharging the credit cards of two men who were drugged by strippers.

Hustlers is told in a similar fashion to 2017's Oscar-nominated I, Tonya, with the main character narrating her own rags-to-riches-back-to-rags story while establishing an emotional connection with the audience that goes beyond whatever shady sh*t they may have done. (By the way, Nancy Kerrigan still competed in the 1994 Olympics, so like…get the f*ck over it.) The difference, however, is that Samantha Barbash more than likely won't be sitting in the audience as J.Lo's guest at the Golden Globes as Tonya Harding did with Margot Robbie and Allison Janney. Allison ended up winning the Oscar for her portrayal of Tonya's mother; Margot was nominated for best actress for her portrayal of Tonya, but lost to Frances McDormand.

So aside from the question of whether or not Hustlers deserves an Oscar for the remarkable story, the way it's been told, and/or J.Lo and Constance Wu's performances, the fact that the real-life subject of the story is unhappy remains, and this should not be brushed over. I suppose we'll find out whether or not the Academy will take that into consideration come February. With that being said, I would let J.Lo use me as her own personal red carpet if she wanted to.
Images: Getty Images; Giphy (3)
I Took A Pole Dancing Class To Learn About Stripping, And Wow
I would just like to say that I learned more about stripping from Hustlers than I did about America in AP U.S. History class. Seriously, this movie deserves an Academy Award in every category and I will fight anyone respectfully debate the opinions of those who disagree. Because this article isn't actually about Hustlers, I'm not going to waste my word count listing out all of the lessons imparted on me during the best two hours of my life. Look, strippers, both real and fictional (like J.Lo and the rest of the amazingly talented cast), make pole dancing look easy. Well, guys, it's actually really f*cking hard.
If you're wondering how I know this, allow me to explain: last weekend, a friend and I signed up for a pole dancing class and, I'll just to cut to the chase, it did not go well. Holding your body up while balancing on a pole requires a level of strength and determination that I do not possess, so this class was exceptionally hard. Like, yes, I could climb up the pole and chill for a few seconds before awkwardly sliding down, but that is neither sexy nor impressive, so I tried the more advanced moves and it was an absolute sh*tfest. However, my hour on the pole wasn't a raging dumpster fire because I'm just a hopeless mess, it was because pole dancing is beyond hard and no one, not even Cardi, is good on her first day. Pole dancing is no easy feat, and this needs to be recognized. So if you want to find out exactly what your local strippers do every day and night, read up!
You Need More Than Rhythm

As I mentioned before, you essentially need to be the Hulk to be able to do literally anything on a pole. Even just the basic moves, like a wide squat and then slowly straightening your knees while arching your back on your way up to a standing position (or as Christina Milian would say, "dipping it low and picking it up slow") requires a level of strength I didn't think human beings were capable of. As for the more challenging moves, yeah, that didn't go well, either. 
Just for sh*ts and gigs, I wanted to try something really hard, so I climbed to the top of the pole as ungracefully as humanly possible, hooked my right knee and my right wrist around it and attempted to swirl down slowly, à la J.Lo in the Hustlers trailer. The swirl lasted approximately half a second because the inside of my knee felt like it was being lit on fire by the sun itself and my wrist wouldn't budge since the pole was sticky with sweat. Ouch. So in addition to being able to dance with an inanimate object, exist in six-inch heels and look hot while attempting the impossible, you need to be very, very strong to be a decent pole dancer. 
It's A Workout

I know that pole dancing has become the new hot workout for young suburban moms in recent years, but don't knock it 'til you try it, because it really is a workout. For context, this is what it feels like: you know when your SoulCycle instructor says you have one song left of class and you're so relieved because three minutes of effort is really all you have left? Okay, that's how I was feeling eight minutes into pole dancing and the class was an hour long. Yikes. So, while on my hands and knees with the pole against my ass, I started to think about all of the hard working dancers out there who do this for hours on end, and I became absolutely mesmerized by their strength, willpower and endurance. 
Also, one important thing to note: it hurts a lot,  and not in a good way. At one point, I was in a handstand position with one of my feet against the pole and was told to walk my hands away from it. Because I have zero balance and next to no core strength, I came crashing down and have a giant bruise on my shoulder to prove it. I'm sure this happens less with practice, but frankly I've given up on my short-lived dreams of ever attempting this again.
It Doesn't Feel Sexy At First

Full disclosure, I walked into the studio thinking I'd at least be decent at this since I did ballet for over a decade. What a fat LOL I had after exactly two minutes, when I realized that ballet and pole dancing have absolutely nothing in common! I thought my dance background would be helpful, but going on pointe for a few seconds at a time is nothing compared to hanging upside down from a metal pole. Also, pole dancing is really graceful, and grace was something I learned in ballet, but I still managed to look like a cross between a clumsy, blind toddler and Greg from Succession on the pole.
Again, it takes practice, but I'd just like to remind you that it took J.Lo, the most fit and coordinated person on planet Earth, weeks to master this, so it would take me about three years to even kind of figure it out. That math seems accurate, I think. The thing is, I could have definitely tried to be sexy doing the moves, but I was too focused on not dying to prioritize looking good. So I truly don't know how strippers both defy gravity and look incredibly hot doing it. 
At the end of the day, strippers are athletes in every sense of the word and deserve the same, if not more, respect that we show a bunch of critically concussed men for running around a field in shoulder pads. I don't really know how or why people assume strippers are these broken and sad women who strip as a last resort, but that grossly incorrect presumption needs to be updated because they work incredibly hard. They are hardworking queens who possess a lot of skills that are hard to come by, and if you don't agree, take a pole dancing class and you'll change your mind. 
Images: Shutterstock; Giphy (3)
As A Stripper, Here Is What I Hope You Learn From 'Hustlers'
From the moment I saw the 
Hustlers 
trailer, I was overcome with a mix of emotions. First of all, I was beyond excited to see JLo, Constance Wu, Cardi B, Lizzo, and the rest of the cast shake their asses and work their magic on the big screen. But with all this excitement came a bit of fear. As a stripper myself, I was delighted to see strong women representing us in the mainstream media, but I was also worried that Hollywood may do what they do best and 
mis
represent us. And seeing as the premise of the film was that a group of strippers came up with an elaborate scheme to fleece rich men for thousands of dollars, I was also concerned that the film would leave people believing that all strippers are
scam artists
.
I attended a 12:15pm matinee of the movie with my friend, who is also a stripper, and I can say from start to finish, 
Hustlers 
dazzled the f*ck out of us. We clapped, snapped, laughed, and whispered, "SAME" to each other throughout the entire thing. It was a GD delight. And I can honestly say that I think, for the most part, they did a good job representing strippers and conveying the nuances behind the story in a way that showed the audience that the situation wasn't black and white and that strippers are, you know,
human beings.
The film hired
actual strippers
to
consult
 and act as extras in the film, and I think this really shows. It feels authentic and far from the usual portrayal of strippers or sex workers, which is that we are sad, broken people with no agency over our bodies and ourselves. However, I can still see how some people could take things from the movie and either not understand or misconstrue them. So, I'd like to go ahead and say what I hope you took away from the film, besides the obvious, which is that JLo is the hottest person in the world and can run me over with her car (if she wants).
Stripping is a legitimate job that requires lots of different skills.
A standout moment in the movie is when Destiny (played by Constance Wu) is giving a dance and a man asks her, "What happened to you that made you do this?" This is a typical kind of question from a male customer. It's condescending, rude, and ignorant. These dudes come into the club looking to buy what we have to offer, and they say sh*t like this, implying that what we do isn't valuable or worthy, and that we must only be doing it because we are damaged goods. Sex work is work, and I think Hustlers does a good job of showing how it's very much a job that requires a set of skills. You have to learn how to read and work people, how to charm people, how to be confident, plus how to walk and dance in six-inch heels. It's fun and empowering, and it's also exhausting. It's a job. I hope when you saw Destiny exiting the club as the sun was coming up, you thought, "Damn, girl," because that moment is very real.
While stripping can and should be empowering, the system it works within is broken.
The first act of Hustlers essentially shows us the working conditions for a stripper. Granted, the film takes place about a decade ago, but a lot of the industry standards remain the same. We see Destiny go through a long night of working, only to have to hand over a chunk of her earnings to her boss. Most clubs work in a way that cushions the pockets of the men in charge, and takes advantage of the women doing all of the heavy lifting. In most clubs, strippers are not paid any sort of wage. Instead, they have to pay the club for the "privilege" of working there.
I've noticed in the way management speaks to us, it is often implied that we are disposable and lucky to be given the opportunity to make money at their club. We have to pay a house fee every shift. In my experience, this ranges form $40-$100 per shift, depending on when you arrive (the house fee goes up as the night goes on). On top of this, you have to tip out other people on the staff, because they also make their money on tips.
And, while the first act of the movie shows how hard it can be, it eventually transforms to these women making insane amounts of money, because a plot of a movie must progress. But something I find myself often explaining to people is that stripping is very inconsistent work. Some nights I feel like JLo in the scene where she bathes in money and I take home two months' rent in one night. Other nights I owe the club money after working the floor for six hours because I didn't even make enough to pay my house fee.
Hustlers shows that strippers endure tough working conditions that require them to hustle hard, so instead of shaming them for what they choose to do, we should support and stand by them.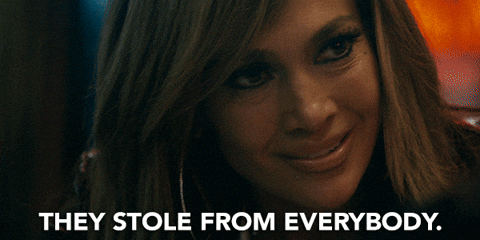 Not all strippers are trying to rob you.
Sure, this film is based on a true story about a group of strippers who came up with a master plan on how to rob some super rich Wall Street guys. But I think Hustlers makes a point to show the situation these women were in that led them to do doing what they did: a financial crash that took away their business and a need to survive and support themselves and their families. It also includes a line from Destiny reiterating that this is not what all strippers do, which I really appreciated and hope you noted. As someone who has worked at the club that Hustlers is based off of, I can say firsthand that I've never witnessed anything like this scandal there. This was a unique situation, and it made major headlines because of what a big, and uncommon, story it was. It is an exception.
Strippers are hustlers and we are smart people who persuade people (often rich men) to spend their money, but that doesn't mean all strippers are going to drug and rob you. It's an interesting story, but it is not the norm. So, please don't watch and support this movie and then use it as an excuse to stay away from strip clubs and not support actual strippers. Hollywood shouldn't be the only one making money off the dazzling world of strip clubs.
Sisterhood exists at the strip club.
In the past, I've noticed that when strippers are portrayed in film and TV they are often pitted against one another. People who have never worked in a strip club assume it's every stripper for themselves and highly competitive. Hustlers showed audiences an authentic strip club, where yes, you should not cut in on another stripper's client, but you also work best when working together. The only time they show the competitive aspect is when Destiny tries to talk to a man who is watching Diamond on stage. That's not a good move, and Destiny figures that out when Diamond grabs her hair and tells her to f*ck off. But she also learns that becoming friends with her coworkers and combining their powers is not only lucrative, but essential to staying happy at work.
A line from the original article written about the scandal, entitled "The Hustlers of Scores,"  says, "While evolutionary theory and The Bachelor would suggest that a room full of women hoping to attract the attention of a few men would be cutthroat-competitive, it's actually better for strippers to work together, because while most men might be able keep their wits, and their wallets, around one scantily clad, sweet-smelling sylph, they tend to lose their grip around three or four." This is absolutely true. Plus, working with a bunch of women who have seen your pussy is honestly a blast, and I love my sisters at the club. They keep me sane.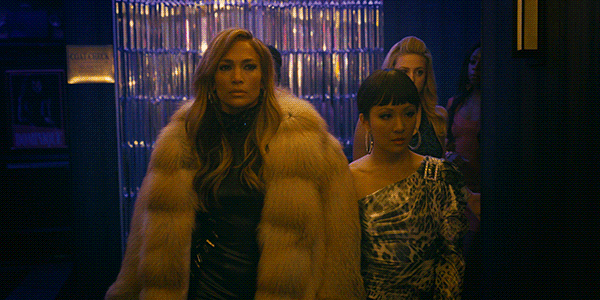 Strippers put up with a lot of stigmatizing bullsh*t.
While I'm proud of the work I do, I also know the world, for the most part, is not. My hope is that Hustlers will help people clock their unfair judgements about strippers. Being represented in mainstream media means a lot, and having a cast of strippers that the audience is meant to sympathize with is helpful. But I hope people don't leave their enthusiasm and "yaassss queen" energy at the theater door. I have seen people gushing over this movie and over the cast, but I hope they realize that while, yes, JLo is a goddess, so are the strippers she and the rest of the cast are portraying here. Something I hear way too often from my clients is, "You are too smart to be working here." They think it's a compliment, but really it's a belittling dismissal of the hard work that I and my fellow strippers do. You'll notice that I wrote this article anonymously, because unfortunately, I still feel as though there are people in my life or in the professional world who would view me differently and less positively if they discovered that I do this work. That sucks. I hope Hustlers helps you see that strippers are amazing, smart, funny, clever, badass b*tches who deserve your respect. And TBH, your money.
Stripping is a form of sex work, and all sex work is work.
Nothing bums me out more than people rationing their compassion, especially when it comes to sex work. If you saw Hustlers and discovered that you respect the work that strippers do, don't stop there. Make sure to respect and support all sex workers. Different people provide different services, and the details of those services shouldn't dictate what respect you have for them. Different strokes for different folks, babe. No need to judge.
And please, for the love of God, remember that sex work is completely separate from sex trafficking. I'm not asking you to support the latter. I'm asking you to realize that consenting adults choose to make a living from the former, and they are often shamed and penalized for it. Let's change that, shall we?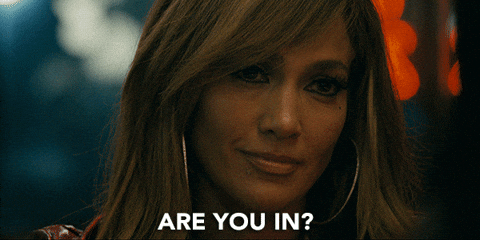 Images: Getty Images, Giphy (2)
6 Celebrities Who Do Unnecessary Instagram Ads
It's nothing new for celebrities to endorse products in exchange for large amounts of money. From the earliest days of radio, print, and TV advertising, famous people have done sponsorships with literally every product imaginable. But in the past few years, the rise of social media, particularly Instagram, has given way to a new model of celebrity endorsements. Now, anyone with more than a few thousand followers is considered an influencer, and their posts are up for grabs to the highest bidder. Naturally, people who are already famous are especially appealing to brands, and even many of the biggest names aren't above a little #Spon here and there.
But not all sponsored posts are created equal. Whether the brands they're shilling for are dumb, the posts are cringeworthy, or the deals just don't make sense, here are some celebrities who could definitely cool it with the paid partnerships.
1. Selena Gomez
Until she was usurped by Ariana Grande earlier this year, Selena Gomez enjoyed a lengthy reign as the most-followed woman on Instagram. I like Selena a lot, but I really have never understood why her Instagram is such a phenomenon. She has long-term deals with brands like Coach and Puma, which are totally respectable, but she's super unreliable about posting non-spons0red content. She'll go full weeks without posting at all, only to drop like, three ads in a row.
Selena's most recent album came out in 2015, so at this point Instagram ads might be her biggest source of revenue. As of last year, she was reportedly charging $800,000 for a single post, so I guess there's not much incentive to record new music when you can just take a selfie in a bikini and make almost a million dollars. Still, it doesn't make her very exciting to follow.
2. Kim Kardashian
This could really go for all of the Kardashians, but I'm choosing to focus on Kimberly today. As we all know, the Kardashians have built their massive empire without any major talent, so it's not surprising that they turn to product endorsements to rake in the big bucks. I don't have an issue with this, and it would be weird if the Kardashians suddenly stopped all their little businesses and projects. What's strange, though, is when Kim or one of her sisters randomly posts an ad that really has nothing to do with anything else.
When Kim posts about her makeup, or her fragrances, or her sunglasses collaboration, that makes sense. But an ad for The Secret Life of Pets 2 that features her dog photoshopped into her outfit? I'm entertained, but I really don't get the business strategy. I guess a check is a check, but I feel like at this point Kim could just say no to random stuff that doesn't line up with her brand directly.
3. Sophie Turner
We all love Sophie Turner. She's been a standout on Game of Thrones for years, and recently she's really come into her own as a star with an amazing personality. She's staring in the new X-Men movie, and she's married to a Jonas Brother. Life is good. Which is why I don't really get her recent endorsements for Wella, a hair color company. She seems like she's on the way to a pretty awesome movie career, so this just feels unnecessary. It is kind of funny because both of her famous characters both have red hair, while in real life she's super blonde. Idk, I just want more videos of her chugging wine at sporting events.
4. Bethenny Frankel
This one really rubs me the wrong way. Reality stars are probably the number-one demographic for posting sponsored content on Instagram, so that's not the issue here. But Bethenny Frankel is in a level above most of her Bravo costars. Back in 2011, Bethenny sold her Skinnygirl Cocktail company for an estimated $100 million, and she's made plenty of money since then on her other Skinnygirl brands, not to mention the Real Housewives paycheck she gets every year. I'm pretty sure she doesn't need the money.
But the bigger issue here is the product she's advertising. Teami is a brand of detox tea that's a favorite of lots of Bachelor and Vanderpump Rules cast members, but I don't get why Bethenny has anything to do with them. She's marketing herself as a natural foods chef, which is something I don't think I've heard her say since about 201o. Because of her background in food, people are probably more likely to trust what she has to say, but this is definitely just a caption that Bethenny copy-pasted from the email Teami sent her. I'm thoroughly unimpressed.
5. Jennifer Lopez
Jennifer Lopez isn't a major offender here, but I still have some questions. Lately, she's been marketing her collaboration with athletic wear brand Niyama Sol. At least it's her own line, but it's still a little random. J.Lo stays constantly busy, with movies, concert tours, and TV gigs, so I feel like the yoga pants don't need to be a top priority.
But even more questionable to me is JLo's new line of sunglasses with Quay Australia. It's pronounced "key," because letters don't make sense, but you probably know the brand from their multitude of partnerships with Bachelor contestants and other thirsty creatures of Instagram. I feel like JLo could've aimed a lot higher if she wanted a sunglasses deal. The woman has a net worth of $400 million, but I guess good for her for selling sports bras and sunglasses now.
6. Kristen Bell
Everyone loves Kristen Bell. She's funny, she's adorable, she seems super happy with her husband—what's not to love! Oh, I found something. I don't love this ad she posted for American Express. In general, I don't feel like I need famous people to tell me what to do with my money. Just a hunch, but I feel like Kristen Bell and I have different needs when it comes to credit cards. Like, I have millions of dollars and am a movie star, but I'm sure Kristen is living paycheck to paycheck. Now, if this were an ad for the popcorn that she's eating, I would be very interested.
Look, I get it, everyone loves easy money. But I miss the days when movie stars just did a car commercial every six months and called it a day. Leave the #spon to Bachelor rejects and girls with fashion blogs, okay?
Images: Shutterstock; selenagomez, kimkardashian, sophiet, bethennyfrankel, jlo, kristenanniebell / Instagram