UPDATED: Which Kardashian Had The Best Halloween Costume This Year?
There's no better part of Halloween than getting the chance to judge everyone's costume choices. Who's going as a basic slutty cat and who will wildly offend everyone at the party? But of course, the most intriguing and expensive costumes come from celebs. So who better to judge than the Kardashians? Year after year, the Kardashians tend to go all out—especially Kim. At press time, Kim has not yet posted a picture of her Halloween costume, but we're sure it's going to be iconic. Some of her best past looks were Jasmine from Aladdin, a mermaid (but like, not in a basic way), and Poison Ivy, so we can't wait to see what she's going to do this year. But the other Kardashians posted their Halloween costumes, so we get to judge those. Who did it best? Here is our ranking of the Kardashian Halloween costumes.
1. Kylie And Stormi
Obviously, first place must go to the butterfly duo of Kylie and Stormi. If this isn't mommy-daughter goals, IDK what is. Ky went full-out and DIYed had someone make her beautiful wings. Of course, her mini-me had to look just as ~fly~ with her own set of baby wings. In true Kylie fashion, the base of her outfit (a skin-tight bodysuit) is understated but still serving major MILF vibes. Points for attention to detail with Stormi's hairclip, perfectly matching her attire and Kylie's butterfly details on her shoes.
View this post on Instagram
2. Khloé And True
A very close second place goes to the Mama Koko and True! These two went for the matching bodysuit tiger look. Initially, we were disappointed by Khloé's lack of creativity (a unicorn is basic, sorry), but she really one-upped herself. Khloé's makeup is also fantastic and really makes her look like a YouTuber sexy tiger. But can someone please tell her The Lion King is about lions, not tigers. So like the circle of life lift doesn't totally apply…cute pic either way though.
3. Khloé And True
In third place, below themselves, are Khloé and True in their unicorn outfits. Just when you thought True couldn't get more adorable, she literally became a stuffed animal. Her cheeks might be the most perfect things I have her seen. I just want to pinch them! Wait, who am I? Anywho… Mama Koko kept it cute with her matching onesie, but still managed to glam it up with some jewelry and a matching manicure. Also, a special shout-out to Chicago for making an appearance in her own unicorn headband.
 4. Kylie
Back on the list in third place is Kylie for her solo Barbie look. Although the costume on its own wouldn't be that impressive, Kylie went for it and added in the whole f*cking box. You also KNOW she didn't wear that sh*t out, so that was totally for the Insta. That's what Halloween looks like when you've got 900 million followers, I guess? Points also go to her for the slightly ironic caption, because truly, her life in plastic really is fantastic.
View this post on Instagram
5. Saint
Not gonna lie, Saint's costume was kind of lame, but he's too cute to be in the last place. According to Kim's caption, Saint is supposed to be a pumpkin, but like, maybe a Yeezy baby pumpkin? I'm all here for the minimalist Halloween looks, but I feel like Saint is for sure capable of producing a more extravagant look. Perhaps there's more to come…we'll be waiting!
View this post on Instagram
6. Kendall
Our bottom of the list is, unfortunately, Kendall for her basic AF Austin Powers sex-doll costume. Usually, this would be fine and totes creative, but it looks like she bought it from Dolls Kill and put literally no money effort into her look at all. Listen Kenny, when your job is basically to post Instas, at least give us something with a little more wow. But I mean, if you want to dress up as Kendall as a fembot, you can go buy it on sale.
View this post on Instagram
Images: kendalljenner, kimkardashian, kyliejenner (2), khloekardashian / Instagram
The Messiest Famous Families, Ranked
Is there anything better than a celebrity family? While I love talking sh*t about all celebrities equally, there's something about an added family dynamic that just makes everything messier, and a lot more fun. Obviously kids deserve privacy and blah blah blah, but everyone on this list is over the age of 18, and therefore fair game to roast. When thinking about my favorite famous families, there are some obvious choices, but there are also some underrated ones that don't get enough appreciation for the drama they bring into our lives. I ranked the best famous families by messiness, so you're welcome.
The Hadids
No one really knew or cared about the Hadids until a few years back, but times have changed. Gigi and Bella are both major stars now, and their little brother Anwar is quickly following in their footsteps. Add to that their mom Yolanda's tenure on The Real Housewives of Beverly Hills, and there's plenty to talk about. The main thing to know about Yolanda is that she had Lyme disease for years, and Lisa Rinna accused her of faking it. It was a whole thing, but back to the kids. After years of on and off dating, it looks like Bella is officially back with The Weeknd, which feels correct. Gigi dated Zayn Malik for a long time before breaking up this year, and Anwar is now rumored to be seeing Kendall Jenner, which almost feels like incest? Their dad, Mohamed Hadid, is a real estate developer worth hundreds of millions, and he's also best friends with Lisa Vanderpump.
The Simpsons
It's easy to forget how big of a deal Jessica Simpson was in the early 2000s. Her little sister, Ashlee, was also a pretty big deal for a while, with her own reality show and a hit album, until her career was ruined by a lip-syncing scandal on Saturday Night Live. Ah, times were so simple in 2004. Ashlee is now married to Evan Ross (Diana Ross' son), and they have a new reality show together, which I am very much not watching. But let's not forget that Jessica was the first Simpson to have a reality show with her husband. Jessica's reality show with her then-husband Nick Lachey is really wild to revisit now, because Jessica was just so dumb. The best moment is when she is shook by the realization that buffalo wings are not made of buffalo meat (but it's a very close second to the time she thought Chicken of the Sea was made of chicken). Jessica and Ashlee are the famous ones, but the Simpson family wouldn't be complete without their dad Joe. If you're wondering about Joe Simpson, think of him as a prototype for Kris Jenner, which makes him a…dadager? Idk.
The Cyruses
Even though Billy Ray Cyrus is famous, I firmly believe that Miley has been in charge of this family since she was like, 12 years old. She started making that Disney money, and the rest is history. Now, over a decade later, Miley has gone through major transformations in her career, from Disney starlet to horny teen to horny adult baby to hippie stoner. I might have missed some steps in there, but you get the gist. Miley now seems pretty chill, and is still engaged to Liam Hemsworth, whose famous family has had much less drama. These days, the most interesting member of the family is Miley's little sister Noah, who you know from her iconic (but short-lived) relationship with Lil Xan.
The Hiltons & Richards
This family often gets forgotten, because Paris Hilton is the only one who really matters here. Paris is one of my favorite people of all time, whether she's making a fool of herself on The Simple Life or pretending to DJ at nightclubs around the world. She's an icon, the leader of a business empire, and the epitome of a betch. Also, her sister Nicky married into one of the most famous families in Europe, the Rothschilds, and I am very jealous. But it's important not to forget that Paris and Nicky's aunts are none other than Kim and Kyle Richards, the messy duo from The Real Housewives of Beverly Hills. The drama between the sisters has been a main plot line on the show for years, and their sister Kathy (Paris' mom) is so above it. For months, both Kim and Kathy weren't speaking to Kyle, because she decided to produce a TV show based on their life story. The show, American Woman, got canceled after one season, so was it even worth it?
The Kardashians & Jenners
For our generation, the Kardashian-Jenners are the holy grail of famous families. In the past, we had families where multiple generations were Oscar winners or Broadway stars, but I like the Kardashians just as much. I won't bore you with all the details that you already know, but it's really spectacular to think about all this family has given us in the last decade. A 72-day marriage. Secret pregnancies. Cheating scandals. Jail time. Lip kits. And don't forget, it all started with a sex tape. All these other families can try, but no one has ever brought the drama at a level that approaches the Kardashians. The devil works hard, but Kris Jenner truly just works harder.
The Trumps
Look, I know we all hate Donald Trump, and therefore we hate most of his family just by association, but there's just so much material here. Ivanka paints herself as this iconic businesswoman and champion of feminism, but really her greatest achievement is a clothing line known for making designer knock-offs, which subsequently got dropped from most stores. Then we have Donald Jr. and Eric, who basically do nothing but wear suits and follow their dad around. Oh, and Don Jr. also allegedly had an iconic affair with Aubrey O'Day of Danity Kane, who appeared on The Celebrity Apprentice. I could go in on Melania, but I've been done with her since the moment she plagiarized Michelle Obama's speech at the GOP convention in 2016. My personal favorite Trump is Tiffany, the daughter that DJT basically didn't acknowledge until he was running for office. While Ivanka is busy fighting for women's rights (lol), Tiff spent her summer at Lindsay Lohan's club in Mykonos, so she's winning. Ha ha ha how tf did we let these people control our country?
Images: @yolanda.hadid , @krisjenner, @tishcyrus, @kylerichards18, @jessicasimpson, @donaldjtrumpjr / Instagram
All The Times We Were Smarter Than Kendall Jenner In Honor Of Her Birthday
It's Friday, which means another week has passed where I'm forced to write about America's favorite attention whores: the Kardashians. And by "forced," I mean I willingly and gleefully volunteered for the job. Obviously. Anyways, in a shocking turn of events, I am not writing to spread rumors confirm more Kardashian pregnancies, and thank fucking god for that. I really don't think I could take another pregnancy "leak" right before my weekend starts. I was already planning to blackout at 5pm sharp, and I don't need the added anxiety of finding out a person whom I've never met and have no personal connection to Kendall Jenner is pregnant. Nope. Can't do it. I'm actually writing, because today is Kendall's birthday! *Feels journalism degree slowly withering away and dying* Kendall, aka the skinny one with the personality of a stapler (I know, I paint a vivid picture, don't I?), is 22 today. I could have sworn she was closer to 30? But maybe that's because I've been Keeping Up with these hoes for longer than all of Kylie's plastic surgery procedures combined, so yeah, Kendall feels fucking ancient to me. And since it's Kendall's birthday I figured we should celebrate the occasion the only way I know how: with a public shaming. My mother really raised a winner, didn't she?
And what better place to begin than with her intelligence? So in honor of her bday, let's talk shit about all the times we were smarter than Kendall Jenner, which was kind of a lot, tbh.
When She Chose Her Career
If you spend your valuable free time stalking these plagues upon humanity Keep Up at all, then you know Kendall has always been the timid, quiet one in the family. She has said multiple times how she, "hates the spotlight," and, "loves eating," and, "embracing her tomboy side," which is why she chose International Super Model as her career path. Makes sense. It's weird, because I've always said shit like how I, "hate workplace fluorescent lighting," but, "love eating," and, "embracing a life where I'm not homeless," and felt a similar struggle when I declared myself a creative writing major. Celebrities, they're just like us.

When She Said She Couldn't Read Good
I'm not going to say that was verbatim what came out of her mouth as an explanation for fucking up an introduction at the Billboard Music Awards, but I'm also not not saying that. Her actual introduction of 5 Seconds of Summer went something like, "um, oneeee…?" Which is barely English, let alone an introduction for which I'm sure she was paid millions to present. *internally screams* This is Betsy DeVos' America, people, right fucking here.

When She Didn't Lock Down Harry Styles As Her BF Even Though She Literally Had 1 Million Chances To Do So
So clearly she's a lesbian. Because I don't see another valid explanation for why she would let Harry Styles go just like that. Okay, so this might be a stretch seeing as how it was never actually confirmed that the two of them were more than just fuck buddies friends "hanging out," but she was at one point in her life very close to Harry Styles, and now she's very close to always being the single sister on the Kardashian family vacations. All I'm saying is someone fucked up here and it's not the beautiful, talented human she had in her clutches for two plus years. Just saying.

*whispers "she doesn't fucking deserve you" under breath*
That Time She Compared Her Legacy To Dead Music Icons
Remember that one time Kendall and Kylie decided it would be a good idea to photoshop their faces and initials on top of pictures of dead musical icons like Biggie and Tupac and sell the offending result as a t-shirt for a casual $125 a shirt? And I totally almost bought one, because I'm trash? The girls claimed they were "deeply sorry" for their blatant attempt to make a profit off of cultural appropriation a t-shirt idea and that the designs "were not well thought out." Uh, yeah. You can fucking say that again. I imagine a lot isn't "thought out" in their lives, but then again, one of them is one of the highest paid supermodels in the world, and the other is slowly bleeding me dry one lip kit at a time, sooo who's the real sucker here?

When She "Graduated" From High School
Any sort of academic degree hand-delivered by Ryan Seacrest as a strategic attempt to raise ratings is fake news if I've ever seen it. The man has gelled tips IN THE YEAR 2017. Nope. I don't trust it. We've already established that the girl can barely tell the difference between the numerical values one and five, and you think she passed California's high school state exams? I may believe literally every other bullshit rumor funneled to the media by Kris Jenner and her minions, but I ain't buying this one. Even my degree in creative writing sounds less fake than this shit.

That Time She Thought She Found The Answer To World Peace
And, last but not least, we have the Pepsi can heard 'round the world.' Oh honey, baby, cookie, sweetie, what in the fuck were you thinking? I'm still not over the fact that she thought wearing a jean-on-jean ensemble and flaunting her white privilege a pepsi can during a riot as a show of breaking down race barriers and promoting world peace would go over well with, like, anyone. I mean, was Kendall the mastermind behind this campaign? That's a hard no. I doubt that girl would know how to spell her own name without Kris Jenner whispering, "No, there's two L's," in her ear. But, like, she did show up to set and for that we roast her, because any person with human eyes and who reads at a fourth grade reading level could tell what was up. Oh, Kendall. I'd say never change, but we both know you won't.

Jesus fucking Christ. Well, at least you have an amazing thigh gap. Seriously, v jealous. Just keeping playing to your strengths, girlfriend!
WTF Is Ariel Winter Wearing Now?
We talk about Ariel Winter's outfits (duh), Kylie Jenner's upcoming child and Trump bashing the NFL. Advice is about how to ask for a full-time job and how to deal with a Bumble date gone wrong. And we play games as usual. Send your Dear Betch questions to [email protected]
Subscribe to Betch Slapped on iTunes here!
Kylie Jenner And Tyga Broke Up & Here's The Reason It Might Be For Good This Time
It's that time of year again!! It felt like there hadn't been much drama with Kylie Jenner and Tyga lately, which means it was the perfect time for them to break up again. Right on schedule (like, an E! production schedule perhaps?), there's trouble in paradise. So what happened? Let's unpack the drama.
It's a little unclear who initiated the newest breakup, but there are competing theories. Here's why it might be Kylie's choice: mysterious "sources" have said that Kylie felt like she was being taken advantage of. No shit? Tyga has been living at her mansion and she's been buying him luxury cars and essentially funding his life. That's what happens when your claim to fame is that you released one shitty song in 2012. Like I know there are people out there who still say "rack, rack city bitch" but it's not like he's earning royalties off of that. Sorry Kylie, but you set yourself up for this.

Kylie was also apparently annoyed that Tyga hadn't put a ring on it yet, which would maybe be a discussion worth having except for the fact that she's STILL ONLY 19. Seriously, how is this girl still in her teens? Like we don't have the best concept of time, but it feels (and looks) like Kylie should be approximately 40 years old by now. At this rate she's going to be 99% plastic by the time she turns 30, so we really can't wait to see what that looks like.
But some people are also saying it might have been Tyga's call to break off the relationship. Apparently he doesn't like how he's been portrayed on Keeping Up With the Kardashians, which honestly would be surprising given that the show is like, the only reason he's not living in a box. Considering Tyga is the lowest person on the Kardashian totem pole, he should be glad he gets mentioned at all. Especially with Kanye in the picture, Tyga isn't exactly the rapper everyone's dying to see.
So now the lovebirds are separated, and it really seems like it could go either way. Like, we're firmly of the opinion that Kylie is way too young/hot/rich to hang around with some guy who doesn't treat her well or even have his own income, but they clearly have some connection that none of us understand, so who knows? Kylie was spotted holding hands with Travis Scott at Coachella, so she may have already moved on to a new rapper who actually makes good music.

For now, we'll be missing Kylie's Snap stories of her making comfort food for Tyga, but we still have the Snap stories of her doing lipstick swatches on her forearm, thank god.
The Only Accessories That Are Acceptable To Wear To Coachella This Year
This week on Betch Slapped, The Betches discuss the United flight drama, Kylie's new show and 2017 Coachella fashion with Cosmopolitan Accessories Editor Nicole Fineo. They give advice to a listener about how to have the exclusivity talk and debate whether if you'd still date a guy if he was perfect in every way except that he spoke in email sign off phrases. To get your question answered by The Betches, email [email protected]
Listen to all our episodes here!
The 5 Best Celebrity Athleisure Lines For Your Workout AKA Gym Instagrams
Karl Lagerfeld once said that "sweatpants are a sign of defeat," but that was probably way before Gigi Hadid and the rest of the fashion betches created the athleisure movement to make it socially acceptable to wear comfortable clothes in public. Even Chanel is experimenting with tracksuits and sports bras now.

Of course, with every trend comes a wave of celebrities trying to make bank and stay relevant off of it. In 2017, you're only relevant if you have a lip kit, fragrance, and/or athleisure line. While I totally support wearing leggings and a tank top every single day (keeping people guessing whether I've just come off a stationary bike or an alcohol bender is kind of my thing), celebrity workout clothes can be a slippery slope. Like nose jobs and reality shows, not all athletic gear was created equal, so here's a definitive ranking of the betchiest celeb lines.
5. Kate Hudson's Fabletics
Kate Hudson is a betch icon, which means that because her dad is the inventor of Toaster Strudel a rock star, she has the power to convince people to sign up for a subscription service to get floral capri leggings every month. Fabletics really puts an emphasis on the "leisure" side of athleisure, because you don't even have to enter your dad's credit card information more than once—let alone leave the house—to get it. Just beware that your dad may have to sell his soul in order to cancel your subscription. But that's why we love our dads: they'd do anything for us and our quest for cheap leggings. #Blessed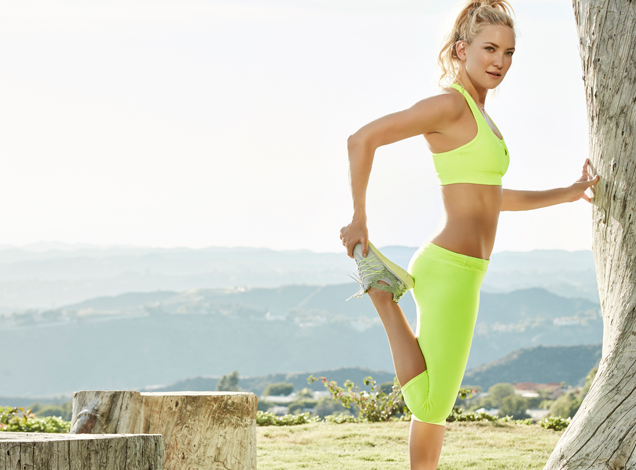 ​
4. Carrie Underwood's Calia
Carrie Underwood has the most amazing legs on the planet, so obviously, taking fitness advice from her is like getting an electrolysis referral from Kim Kardashian. Her line, Calia, is kind of like the mom version of Lululemon, but I'll let it slide because it also has more mesh than the entire cast of Jersey Shore's wardrobes combined.

Calia is sold at Dick's Sporting Goods, which is actually totally convenient because you can purchase a Louisville Slugger with your slutty caged sports bra to get all of your revenge supplies in one stop.

3. Kylie Jenner Merchandise
Kylie Jenner probably owns enough sweatpants and leggings to outfit every hungover betch for the next decade. Obvs, she threw some "sports sets" into her online merchandise shop. Everything is designed in Calabasas, which most likely means that the spandex shorts are engineered to reduce the appearance of butt pads.
​

The shop is also home to Champion sweatsuits that say "THICK!" on them. 70 bucks for a pair of Kylie's sweatpants may seem pricey, but it's probably one of the most cost effective ways to tell the world that you have a huge ass, or that you *think* you have a huge ass.
2. Beyoncé's Ivy Park
Beyoncé could release a collaboration with Crocs and the world would still lose its shit, so it's no surprise that her Ivy Park line has been so successful. It's almost like we don't even get to choose whether or not we like Beyoncé, we just have to. I honestly find it hilarious that people think the NSA is reading our group chats—if anyone's secretly watching over everything we do, it's Beyoncé's team. Anyway, Ivy Park's website is filled with like, tons of information about the "innovation" of their designs, so if you happen to break a sweat during the light jog you do when someone far away holds a door open for you, Bey's got you covered.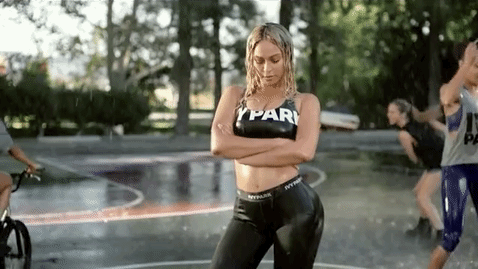 1. Rihanna's Fenty Puma
Fenty Puma by Rihanna is hands down the betchiest celebrity athleisure line out there (*braces for my inevitable hit by the Beyoncé mafia*). It's always sold out, which means it's exclusive. Plus, it inspires laziness because you can't actually work out in platform sneakers or stilettos. Unless you're Mariah Carey. (In which case, you're not even really working out. You're just spending your personal training session forcing your trainer to take pics of you. Such a power move.)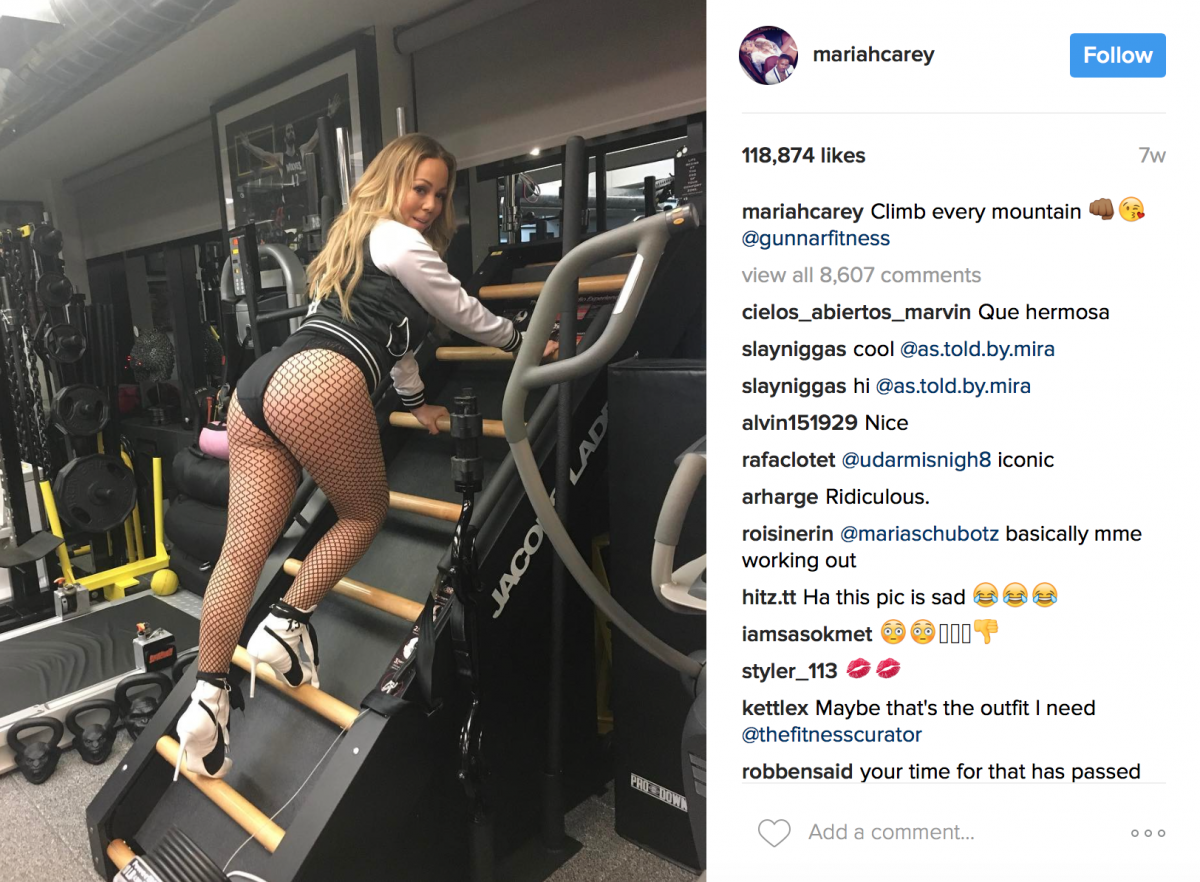 Is Kylie Jenner Successful Because We Hate Her Or Do We Hate Her Because She's Successful?
I know at this point you're probably sick of me/your mom/your grandmother/your coworkers/me again talking about Kylie Jenner. Trust, I am too. Yet here we are. Talking about Kylie Jenner has become an inescapable feat because Kylie Jenner is the ubiquitous presence we never asked for, but kind of 100 percent deserve. She's the reality star version of Donald Trump. Oh wait…
Anyway, today I'm here to hit you with a the hard-hitting questions regarding Juvederm's best client. In light of a recent interview she had with Violet Grey, it's come to my attention that we might be looking at Kylie Jenner in all the wrong ways. And no, I'm not insinuating that we look less at her ass or her insane lips because that would be pretty tough and I don't believe in miracles or straining my eyes.
In this groundbreaking interview, Kylizzle "opened up" about her life, i.e. talked about her Lip Kits and danced around subjects that don't mean shit, i.e. said nothing that hasn't already been said in a previous interview. There have been countless Kylie Jenner magazine interviews, tons of social media coverage of the girl (self-directed), and hours and hours of footage of her life—yet, what do we really know about Kylie Jenner? Almost nothing. I really couldn't tell you much about her, even though I—for some reason I can't totally understand—despise this 19-year-old woman whom I've never met. 

But, how can I—and we—really hate someone we don't know? And where has that hate gotten us? It's only fueled more goddamn Kylie Jenner. Think of it this way: Kylie Jenner is Tinkerbell and we are the claps.*
*Not to be confused with the clap. Don't be gross. 
Hate her or really hate her, Kylie Jenner obviously makes a fuck ton of money. She's the second richest Kardashian and the only teenager in Forbes's 2017 "30 under 30." There's no denying the insane amount of social media followers and immeasurable influence Kylie has on the zeitgeist. (By zeitgeist I mostly mean injection world.) But did all of this really happen because Kylie Jenner willed it to? Or did she just get lucky by being born into the Jenner clan? Does she actually work hard? Does she actually work at all? And if so, why do none of us respect her business and fame in the same way we respect and equally fear Bethenny Frankel's?
In other words, is Kylie Jenner successful because we hate her or do we hate her because she's successful?

Here, we use the highlights of the aforementioned interview to further our analysis.
1. Kylie, saying the following profound thing: "Social media is everything to me. It can also be a negative space for celebrities. But what would we do without it?"

IDK READ A BOOK?
2. Kylie, explaining her business process: "I always knew I wanted to create my own lipstick. I said, 'We need to trademark Kylie Lip Kit'—that was what I wanted to call it."

A real Alexander Graham Bell, folks.
3. Kylie, explaining the perils of having thin lips: "I was obsessed with lips in general, and with making my lips bigger before I got them injected."

No way….I am shocked. SHOCKED.
4. Kylie, explaining the basic concept of demand: "If I look in my bag and there's no lipstick, I'm like, 'What am I going to do with no lipstick?' I NEED lipstick."

I need a fucking glass of wine right now, but I'm not about to go and make a whole Pinot line. What is this logic, besides privileged?
5. Lastly, the article claims that "all three women" (that's Kris Jenner, Kylie's business partner, and apparently Kylie) "agree that the key to Jenner's success is her authenticity."

Literally no one—not even Kris Jenner—would be able to look you in the eyes and claim that Kylie's gotten to where she is because of her AUTHENTICITY. And Kris is a woman who acted like her husband didn't want to change genders for 20 years. In other words, she's a v good actress.
Kylie Jenner doesn't have authenticity because to have authenticity you have to show that you have a soul and/or a personality. Or at least fake one for your fans. But if all you can talk about is your lips, your supposed work ethic, and how hard it is to be in the spotlight, then you are not being authentic. Who is Kylie Jenner? Show us who you are Kylie! Stop hiding!
Original inquiry: Is Kylie Jenner successful because we hate her or do we hate her because she's successful?
Final Verdict: Not applicable. We don't hate Kylie Jenner. We don't even know who Kylie Jenner is.*

*I may or may not be very high right now, so alternate theories include but are not limited to: We hate Kylie Jenner because she's annoying and not a good lip-syncer. Or we hate Kylie Jenner because hating people is fun, despite what your wet blanket of a mom told you.