Where Are Justin And Selena's New Albums? An Investigation
Even though Justin Bieber is now happily married to Hailey Baldwin, we'll never really forget his relationship with Selena Gomez. They were young Hollywood's most iconic couple for a long time, and deep down, I still feel like a piece of #Jelena will never die. My therapist tells me I need to work on letting go of things, but I feel like this doesn't count.
After initially getting together in 2010, Justin and Selena were together until 2012 before breaking up the first time. Then, they went through a few years of total relationship whiplash, getting back together in 2013, 2014, and 2015. Despite getting back together for a few months at the end of 2017, 2015 was the last time they were together like, for real. While all of that is definitely confusing, 2015 is important, because it also happens to be the last time Selena or Justin released an album.
Coincidence? I think not.
2015 was an amazing year in both Justin and Selena's career, with multiple hits from each of their albums. Justin Bieber topped the charts with "What Do You Mean?," "Sorry," and "Love Yourself," and Selena Gomez moved to a new point of maturity in her music with songs like "Same Old Love" and "Hands To Myself." Seriously, 2015 was a year of nonstop bops from both of them, and I miss it. It's four years later, and we're still waiting for followup projects from both Justin and Selena, so where are the albums? Let's examine the facts.
After releasing Purpose, Justin Bieber went on a world tour for over a year, playing 162 shows on six continents. (Sorry Antarctica, no J-Biebs concert for you.) Then, in July 2017, Justin announced that he was canceling the remaining 14 dates of the tour, citing his depression and exhaustion as the reason, and saying that he wanted his "heart, mind, and soul to be sustainable." Justin received a lot of criticism for the decision at the time, but we have no way of knowing what his mental state at the time was really like.
After this announcement, it makes sense that Justin wasn't immediately back in the studio grinding out a new album. But that was two years ago. In 2017, he was featured on a few songs from other artists ("Despacito," "I'm The One"), but there was no word on new solo music. When "Despacito" was nominated for Grammys in 2018, Justin skipped the show, saying that he wouldn't be making any award show appearances until his next album was finished.
Fast forward to March of this year, when Justin posted a lengthy message on his Instagram responding to questions about a new album. He brought up how he had been working and touring since he was a teenager, and said that he was "now very focused on repairing some of the deep rooted issues" that he struggles with personally. He also mentioned wanting to be a good father, which naturally raised a lot of questions about a potential pregnancy. It's four months later, and Hailey still looks tiny af, so it looks like we're not getting a baby or an album any time soon.
But then, just a month after posting this, Justin threw us all back into confusion when he made an appearance during Ariana Grande's set at Coachella. After thanking the crowd and reminding them that he hadn't been on stage in almost two years, he left off with a cryptic "album coming soon." Justin, WHEN IS SOON? In the past few months, Justin has released high-profile collaborations with Ed Sheeran and Billie Eilish, but we've still yet to see a hint of his own new music.
Now back to Selena.
Like I said before, Selena's last album, Revival, came out in 2015, and much like Justin, we've only gotten some random singles since then. She's gone through her fair share of personal health and emotional struggles in the past few years, so it makes sense that she's needed some time out of the spotlight. Key word: "some."
Selena also canceled the end of her last tour in 2016, citing anxiety, panic attacks, and depression as a result of her lupus. After disappearing for a while, it really seemed like she was planning something major in 2017. After releasing "It Ain't Me" with Kygo, she dropped her own singles "Bad Liar" and "Fetish" in the summer of 2017. This seemed like a natural promotion cycle leading up to an album, but then everything went quiet from the Selena camp. She released "Wolves" with Marshmello that October, and said that an album would be coming soon, but apparently that was a lie.
apparently Selena Gomez and my boss have different definitions of "soon" pic.twitter.com/KaSV0fxmzX

— Dylan Hafer (@50shadesofbetch) April 17, 2019
Rough, but honestly I have stuff that's been on my to-do list since 2017. It happens to the best of us. Selena has seemed pretty unfocused on music since 2017, only putting out half-assed collabs, mostly with Spanish artists ("Taki Taki" is the best song ever released, don't @ me), but now it seems like there might finally be an album at the end of the tunnel. On Jimmy Fallon's show last month, she said that her album is basically done, and just needs a few finishing touches.
This is exciting news to hear from Selena, but honestly, I've been burned before. I'll believe an album is coming when there's some kind of official announcement, but she basically said the same exact thing two years ago. It definitely seems like there's potential for both Justin and Selena to put out albums still in 2019, but I'm not holding my breath. Both Justin and Selena have gone through personal struggles since 2015 (including approximately four breakups with each other), but they have to release albums sooner or later, right? Right??!
For now, I guess we'll have to be okay with their vague "soon" statements, because I really don't control when they decide to release new music. I'm doing my best to be patient, but Hailey Bieber, if you're reading this, tell Justin to get his ass to the studio please! And bring Rihanna too while you're at it.
Images: justinbieber (2) / Instagram; 50shadesofbetch / Twitter; The Tonight Show / YouTube
Is Selena Gomez's New IG A Reponse To Justin's Engagement?
The second I heard about Justin Bieber and Hailey Baldwin's engagement, I needed a Selena Gomez update. Like, there was a lot to talk about with Hailey and Justin, but I'm still very invested in the world of #Jelena, and I can't just shut down that part of my brain. Is Selena okay? Are her kidneys okay? I'm sure she's okay, but is she like, okay?  You know what I mean. Despite being the most-followed person on Instagram, Selena Gomez isn't big on sharing on social media, so I assumed we wouldn't really hear anything from her one way or the other.
Well, Selena has officially broken her Instagram silence, sort of, and it's the least exciting thing that could have possibly happened. Rather than a shady thirst trap, or a clever joke, or a cryptic caption, it's a fucking sponsored post with Puma. *yaaaaawn*. SELENA, WE WERE ALL ROOTING FOR YOU. Just once, I was hoping she would let her perfect image crack and show us what she was feeling, but instead she went for a tastefully edited shot in a sports bra and matching leggings.
The actual Instagram post was boring AF, but that didn't stop our friends at Cosmopolitan from twisting it into something that it just isn't. Their headline about the post really sets up for something exciting: "
Selena Gomez Just Posted Her First Instagram Since Justin Bieber's Engagement and DAMN
Wow! This photo must really be mind-blowing with a title like that! They didn't stop there. Here's what they had to say about Selena's post:
"It's a paid ad for her Puma campaign, so she probably planned on posting this before the Justin and Hailey news broke, but still, she looks INCREDIBLE. She's like 'hell yeah I work out, hell yeah I am fit, hell yeah I really don't care about that damn Biebs guy anymore.' She doesn't seem to have a care in the world, especially about her ex-boyfriend being engaged to someone he had only gotten back together with a month ago!"
Hey, uh, Cosmo, can I grab that for you sweetie? Because you're really reaching here. Okay, so she looks good in the workout clothes, but are we surprised? Did we think she got fat in the four days since the engagement was announced? I can't with this nonsense.
They try to compare it to Cazzie David's instantly iconic Instagram from when Pete Davidson got engaged, but it's honestly a little pathetic. Sorry Cosmo, but "Striking a pose in the new Puma Defy Mid" just can't compete with "Been in Africa, what'd I miss??" It's not even close, so stop trying to make this a thing. Also, don't ask me how many jokes I've made in the past month about being in Africa and missing things, because it is embarrassing. I never said I'm perfect.
And, because I believe in equally roasting everyone, ELLE also had an extremely dumb headline about Selena's Instagram:
Selena Gomez Breaks Her Justin Bieber-Engagement Instagram Silence With a Puma Campaign Thirst 'Gram
Um, rude? This is 2018, there's nothing that scandalous about wearing high-waisted leggings and a sports bra. Also, Selena Gomez is reportedly making $30 million for her deal with Puma, so everyone can kindly shut the fuck up.
In terms of Selena's Instagram, there's a 99% chance that someone else scheduled that Puma post for her, so she probably hasn't even opened the app in the past week. She only follows 36 people, so it's not like her timeline is that fun to scroll through. She's probably having a fabulous vacation somewhere, ignoring emails and giving her mind and her kidneys all the rest and relaxation that they deserve. Leave Selena Gomez alone!
Images: selenagomez, cazziedavid / Instagram
Why Rushed Engagement Is The Newest Celebrity Trend
It's been a weird summer. Trump keeps interrupting The Bachelorette, the heat wave broke everyone's spirits, and all our least fave baby celeb couples are getting engaged. And by "baby," I mean that both the celebs themselves and the actual relationships are very, very young. First we had Ariana Grande (25) and Pete Davidson (24), and now we have Justin Bieber (24), and Hailey Baldwin (21). Yes, TWENTY-ONE. I too spat out my coffee upon reading that. Doesn't that just seem awfully young to ruin your life in such a permanent way make such a long-term decision? While Justin and Hailey have had an on-off thing for years, neither couple was publicly together earlier than, say, May. All of which begs the question: why the rush? Is this a hot new celeb trend we'll all hate for a year and then emulate forever? WTF is really going on? Here are some theories.
They're Being Massive Trolls
This is one of my preferred theories, though probably unlikely. After decades of the media zooming in on left hands and perceived "bumps," it'd be really fun if these couples were just trolling the shit out of all of us. If nothing else, it would explain why they keep describing the news as "lit." I think it's fair to say that if there's even a small chance your wedding vows will contain that word, you're too young to get married. So, there's a small chance this is a wildly self-aware and meta interpretation of what the media expects of today's just-past-teen celeb. Then again, "Justin Bieber" and "self-aware" aren't used in the same sentence much. Which brings me to my next theory…
They Wanted To Change The Conversation
At this point, I feel we should address that in both couples there is a More Famous and Less Famous party. I bet you anything that Google searches for "who is Pete Davidson" and "who is Hailey Baldwin" have both skyrocketed this June. Not that either party is actually unknown, mind you—just less of a household name. Justin and Ariana, the slightly more famous, are both pop stars who the public has some trouble taking seriously. Ariana because she profited off a "sexy baby" aesthetic for some time, Justin for…darker reasons. I don't need to remind you. However, the public is also consistently obsessed with their music, so they have a ton of star power. It's possible that these engagements just came about as mutually beneficial arrangements. The Less Famous parties get a boost in name recognition, and the More Famous parties get an image boost by linking themselves to someone the public doesn't yet openly mock.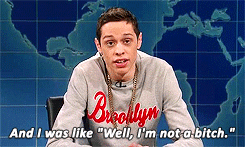 They're Working With An Apocalypse Mentality
You know how you feel when you open your email and we're on the verge of war with North Korea? Or Roe v. Wade is about to be overturned? Or children are being held in cages? You know, the gut-wrenching feeling you've been getting every day for months on end? Well, if celebs are indeed #justlikeus, maybe they aren't quite so immune to that, either. The general "the world could end at any moment so let's go all-out now" feeling. If I were a twentysomething celebrity, I'd be buying million-dollar diamonds and holding my loved ones close too. Seriously though, uncertain times do breed a lot of sudden-onset heavy relationships. Think back to your senior spring: how many couples you'd expected to last a week suddenly pledged their undying loyalty to each other? When the outside world is frightening, it helps to have a constant.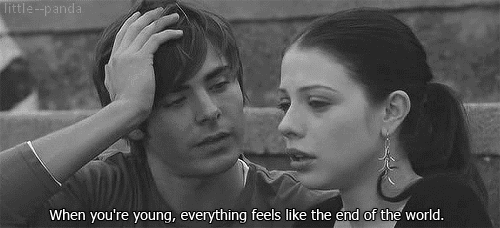 They're Really Just In Love
Yeah, this is totally possible. I'm not saying they AREN'T in love, I'm just saying that alone isn't quite enough to explain the hastiness of these decisions. Jupiter has also been in retrograde since March, which I'm low-key convinced played a major role. But you don't see me going around calling it the ONLY reason.
Justin Would Dump Hailey In A Second If Selena Called
Does this have anything to do with theories about too-soon engagements? Nope, it's just one of my more firmly held beliefs and I have nowhere else to put it. When it comes to Biebs, nothing will convince me he did this for any other reason than to post an IG story of Hailey's ring and obsessively check his phone to see if Selena watched it. Selena JUST released a song called "Back to You," guys. Somehow, somewhere, these two will run towards each other in the rain while this song plays.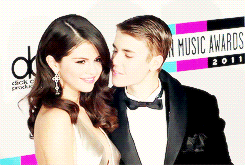 So yeah, these celebrity couples aren't the first to get married after a short period of time. But they're too young, too insanely quick, and too close together not to note. Who knows, maybe Ariana just opened the floodgates and we'll be seeing a continuing wave of 24-year-olds tying this knot to people they met at the club last week. Honestly, I can think of worse things.
Images: Giphy (3)
Justin Bieber & Hailey Baldwin Are Dating Again, But What About Selena Gomez?
It's summer in New York City, which means the trains are messed up, everyone is sweaty, and celebrities are ready to go buck wild with their PDA. Case in point: Justin Bieber and Hailey Baldwin. Justin and Hailey, who famously dated for like 10 minutes in 2016, were spotted making out all over NYC over the weekend, all but confirming recent rumors that they're back together. Am I surprised? No, not really. Am I intrigued? Abso-fucking-lutely. I've been wondering about what Justin has up his sleeve since his latest split with Selena, and this move makes a lot of sense.
This weekend, Justin Bieber and Hailey Baldwin were seen making out in two different New York City parks. Yeah, you read that right, TWO parks. Not like these crazy kids could afford a hotel room or a penthouse apartment or anything. To be honest, my public making out days ended somewhere around 2015, so I'm pretty unimpressed. Justin and Hailey experienced the best of both Brooklyn and Manhattan, starting with a broad-daylight makeout sesh in Domino Park, and canoodling after dark in Rockefeller Park, in Battery Park City. Solid park choices, love the landscaping, 10/10. Justin even posted an Instagram, and though you can't see Hailey's face, this is the dress/shoe combo she was wearing that day.
We can talk more about Justin in a minute, but I'm also interested in Hailey's relationship situation. Just last month, Hailey showed up to the Met Gala with Shawn Mendes, and everyone naturally assumed they were dating. Shawn is also a Canadian musician who makes bops but isn't afraid to show his sensitive side, aka Justin Bieber but without the erratic behavior. Honestly, Hailey probably should've picked Shawn. They claim they were just friends the whole time, but whatever. When Shawn was asked about Justin and Hailey, he said "I think that's awesome," so clearly he's not savage enough to hang out with us. (But we'll still cry to his music in secrecy.)
Before their erotic parks tour of New York City, Justin and Hailey were also seen partying together in Miami last weekend, so it seems like they're fully into each other right now. As we predicted, it looks like complete rando Baskin Champion was quickly kicked to the curb. Sorry, Basket, but you'll always have some paparazzi photos to cherish. It also appears that Justin Bieber and Selena Gomez are no closer to being back together. It's been a few months since there was any evidence of them together, which is honestly a few months too long. While Justin was busy exploring nature with Hailey, Selena was actually in Italy with her older brother from Wizards of Waverly Place, David Henrie. And no, they're not dating, he's married. Selena kind of always seems sad, so at least she's enjoying herself now.
So like, on a scale of 1-10, how real do we think Justin Bieber and Hailey Baldwin are as a couple? Right now I'm going for a soft 5, but it's really too soon to know anything for sure. Last time they were together, she was just 19 and he was a certified mess, so it could be very different this time. But you never know, Justin could be back with Selena by the time you're done reading this article. For now, it seems like Hailey and Justin are having fun, and that's really all that matters (but #Jelena forever, just so we're clear).
Images: Justin Bieber / Instagram
Are Justin & Selena Still Together? There's Been An Update
Things are very confusing in the world of Jelena right now. After getting back together in November, it seemed like maybe Justin Bieber and Selena Gomez were just meant to be, but now everything is uncertain. Last week we discussed Baskin Champion, the girl Justin's been hanging out with. Anyone with logic understands that typically, going on dates with someone who's not your girlfriend implies that you are no longer in a monogamous relationship. But it all happened very quickly, and with no explanation. Some people concluded Justin and Selena had gone on a break. Now it seems like Justin and Selena's break might be a real breakup. To put it in Facebook terms, "it's complicated."
Initial reports of their break were all over the place, and it was tough to tell what was going on without the clarity only an 18-page letter could provide. Justin and Selena appeared together at the end of February, but they're pretty good at avoiding the paparazzi when they want to. They were definitely still together on March 1, when Selena posted a birthday Instagram for Justin. It's the last few weeks where things start to get murky. Rumors of a break (or a breakup, who knows) first started to circulate around March 8—and where there's smoke, there's usually fire. After spending a lot of time together, and going to Justin's dad's wedding in Jamaica, was it all over? Selena reportedly went back to Texas to spend time with her mom, who isn't exactly Justin's biggest fan. A fond #tbt to the time when Selena's mom was literally hospitalized because she didn't want Justin and Selena to get back together.
So Justin and Selena had some time apart, but what was really going on? There have been lots of classic anonymous sources with varying reports, ranging from everything being perfectly fine to total disaster. Most reports seem to fall somewhere in the middle. Justin and Selena probably don't hate each other, but there are issues they need to work through, I guess? Idk, I hate this wishy-washy shit.
After a couple weeks of uncertainty, Justin seemed to make the first big statement by hanging out with our new friend, Baskin. Had he really moved on from Selena and found another girl to #JesusAndChill with? Baskin is a cute girl and she's probably a lot of fun when she's not competing in pageants, but I didn't want to believe that Justin would really do Selena like that after so much history. He's proven time and time again that he's still a fuckboy, but deep down I want to believe he has a good heart.

Now, there are even more sources getting in on the conversation, and it's more confusing than ever. One new report tells of a full breakup, saying that "Selena realized even though he's made some positive improvements, they just aren't a perfect match right now." First of all, my cynical side would like to point out that there's probably no such thing as a perfect match unless you're a contestant on Are You The One?, but this doesn't sound good. However, other sources are saying that they're still working through their problems. Luckily, there might be a crucial moment coming up: church.

Justin and Selena have made a habit of going to church together on Wednesday evenings. That means tomorrow we might know what to really think about this break. They both have an appointment with Jesus, and are they really going to let a girl named Baskin get in the way of a commitment like that? Basically, I picture this as a movie where the characters will meet at a certain place and time if they want to be together. Justin will probably crash his Lambo and be a few minutes late, but I really hope he'll make it eventually. Come on kids, we're counting on you.
Images: @selenagomez / Instagram; Giphy (2)
The Shady Reason Justin Bieber & Selena Gomez Aren't Spending Christmas Together
Since Justin Bieber and Selena Gomez got back together this fall, there have been very few details and lots of speculation about the particulars of their relationship 2.0. Well, it sounds like Selena's family has similar questions, because Justin is reportedly not invited to the Gomez family Christmas. I'd say it's trouble in paradise, but LOL, their relationship has not been paradise.
Apparently, Selena's family still isn't sold on the idea of her being back with Justin, and can you blame them? They had a very public relationship and breakup the first time around, and most moms think Justin is, like, the dumbest person on the planet. That might be a little harsh, but just ask your mom about Justin Bieber, and she will likely scoff before saying something about how he seems immature.
Justin's family, on the other hand, is reportedly thrilled about Selena being back in the picture, because they really just want Justin to end up with a nice girl. Okay, can we stop this narrative about Selena being a "nice girl"? In the real world, calling someone "nice" is just code for a boring person you know absolutely nothing about, but they've never done anything to hurt you. It's not a fucking personality trait. But yeah, okay, in this context it seems kinda fitting.
So for now, Justin and Selena will have to keep their relationship out of Texas and the presence of Selena's family. Sounds rough, but honestly, going home for the holidays can be pretty fucking rough too. Justin can just stay in LA and smoke weed with his male lover pastor during Christmas, and then he and Selena can have plenty of fun when she gets back. Sound good, kiddos?
This Is Why You're So Obsessed With Justin And Selena Even Though You're Too Old
There are only six weeks left this year, and most of 2017 has been a big mess. From our tragic political situation to basically everyone you know and love being a sexual predator, the good moments have seemed few and far between. At this point, we'll take whatever we can get, which is why today we're discussing the reunion of one of our most iconic celebrity couples: Justin Bieber and Selena Gomez. After Selena and The Weeknd broke up, she was spotted going to breakfast and church with Justin not long after. And just yesterday, they were photographed kissing at Justin's hockey game.
You might not love Justin. You might not love Selena. But deep down, you know that they just sort of belong with each other. It's not like they can't be apart, but some force of nature always seems to pull them back together. We're completely sucked in, and it turns out there's a scientific reason why.
Cosmo enlisted some psychologists to tell us why we care so much, and tbh, they read us like a book. They talked about how Justin and Selena represent the romantic first love that never actually works out for real people, like how you thought you'd be with your high school boyfriend forever but didn't make it past Thanksgiving your freshman year of college. They also delved in to how Justin is the bad boy, and we just want Selena to make him better. "She appears to soften him and redeem some of the rougher edges of his character. In turn, it gives consumers 'hope' that true love can conquer all," Dr. Azadeh Aalai told Cosmo. No, shut up, we're not crying. We're not sure what these psychologists do in their actual careers, but they should also consider writing #Jelena fan fiction in their spare time.
All of this goes a long way toward explaining why we all about lost our damn minds when Selena traded in The Weeknd for her old flame. They seem to be spending lots of time together, but will it last this time?
If history repeats itself, the answer will obviously be no. Justin has a clear history of bad boy tendencies, and Selena will have to decide if she wants to stick around through another one of his douchebag phases. She could basically date any guy in the world, so Justin will really have to work to earn her trust again. We also have to remember that Selena was dating The Weeknd literally less than a month ago, so there's a chance that Justin could just be a rebound for her. She knows he still loves her, and it's nice to feel loved. It's too soon to know if that shit will last, but we'll obviously be paying close attention.
Another question that remains to be answered is how public Jelena 2.0 will be. In the past, they've kissed on red carpets, openly dedicated (many) songs to each other, and talked in interviews about their relationship. But in 2017, things are happening a little more discretely. We all know they've been hanging out together, but there have been no sensual Instagram pics or anything yet. A good indicator will be the American Music Awards this Sunday, where Selena is set to perform live for the first time in over a year. She'll surely be nervous, and maybe having Justin there with her will be just what she needs? As long as she doesn't cry onstage, we'll take it.
We may not know if Jelena will be around forever, but at least Justin and Selena have given us something to talk about that's not Donald Trump. In 2017, that's basically all we ask for. Now if you'll excuse me, I have to go listen to Selena's entire discography to look for clues.