Prince Andrew's Interview About His Relationship With Jeffrey Epstein Could Not Have Gone Worse
Oof. Prince Andrew, Duke of York, decided to sit down for a TV interview with BBC, where he was questioned about his relationship with Jeffrey Epstein. And if he thought this was going to be something that would help him clear his name, things did not go as planned, let me tell ya. No, ma'am.
For those of us who may not know, Prince Andrew is the third child of Queen Elizabeth II and Prince Philip, making him Harry and William's uncle. He was also accused by Virginia Roberts Giuffre for having sex raping with her when she was 17 years old and offered to him by Epstein. Gross! Prince Andrew has denied these allegations, which is what he did during this interview, but he did not do it well.
Prince Andrew first tried to say he didn't recall ever meeting Giuffre, which didn't hold up once he was presented with a photo of himself with her with his hand around her bare waist. Yikes.

Giuffre has alleged that Prince Andrew sweat profusely while dancing with her at a club in London.
Prince Andrew's rebuttal to this was that this could not have been true because he had developed a condition that made it impossible for him to sweat due to an"overdose of adrenaline" during his combat tour in the Falklands War. *Googles "medical condition where you can't sweat, brought on by war????*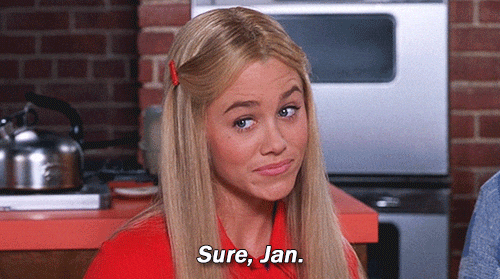 The Duke of York claimed that he has since regained the ability to sweat (lol), but this entire theory of his has already been deemed as unlikely by medics. There is a condition called anhidrosis or hyperhidrosis, which stops one from perspiring, but all of the things that cause it don't match up with Prince Andrew's story. So, yeah, adrenaline doesn't make you not sweat for years. The more you know…
Anyway, there were even more cringe-worthy parts of this interview, if you can believe. Prince Andrew appeared to be unwilling to come right out and say that he regretted his relationship with Epstein. Which like, c'mon, bud.
When asked outright if he did regret the friendship, he said, "Do I regret the fact that he has quite obviously conducted himself in a manner unbecoming? Yes."
Dude, you knew you were being interviewed about this and these were the best answers you prepared? Interviewer Emily Maitlis called him out on his use of the word 'unbecoming' to describe a literal sex trafficker, and Prince Andrew tried to say he was simply attempting to be polite, but the damage had been done.

Prince Andrew also tried to imply that the photograph of him with Giuffre might be photoshopped by saying that he never dresses casually in London (pretentious much?),– which he is in the photo — and that it appears to be taken upstairs of the London house, but he's never been upstairs. Soooo, he's never been upstairs but recognizes the upstairs from the photograph? K.
He was also confronted with the fact that he continued his relationship with Epstein after he was convicted as a sex offender, including a visit to Epstein's Manhattan mansion in 2010. Prince Andrew claimed this was out of convenience, and also tried to say that he didn't know Epstein that well.
So, he decided to go stay at a convicted sexual predator's house who he did not know very well. Smart!
Charlie Proctor, editor of Royal Central website, tweeted this after the interview, which I think sums everything up quite nicely:
I expected a train wreck.

That was a plane crashing into an oil tanker, causing a tsunami, triggering a nuclear explosion level bad.#Newsnight #PrinceAndrew

— Charlie Proctor (@MonarchyUK) November 16, 2019
Images: Gipgy (2), Twitter (1)
A Guide To The Sex Abuse Case Making Many Famous Men Very Nervous
Trigger warning: This story contains descriptions of sexual assault and may be triggering for some readers.
One of the questions I've found myself asking a bit too frequently in the past few years is: how hard is it for grown ass men to not have sex with children? Yet here I am again, asking that grossly familiar question. After uncovering what can only be referred to as institutionalized pedophilia in organizations such as U.S. Gymnastics, the Catholic Church, and like, a quarter of all Netflix documentaries; it was only a matter of time before Big Pedo was unearthed amidst 2019's most victimized demographic: the Upstanding White Man. 
Which brings us to Jeffrey Epstein, who previously regarded as an Upstanding White Man and was just indicted for sex trafficking of minors (second time's a charm) and is currently sitting in jail in New York. His alleged crime? Running what amounts to a sex trafficking pyramid scheme of girls as young as 13, which many wealthy and powerful men could be implicated in. Names surrounding the scandal include: Donald Trump, Prince Andrew, Bill Clinton, Alan Dershowitz, Kevin Spacey. Attention Netflix and Hulu, where are my competing documentaries?
Who is Jeffrey Epstein?
Jeffrey Epstein is a 66-year-old convicted sex offender who is frequently referred to as a "hedge fund manager" and/or "billionaire financier" by many of his contemporaries and in most reporting. He owns a townhouse in Manhattan which is said to be the largest private residence in NYC, as well as a mansion in Palm Beach, a ranch in New Mexico, and a private island in the US Virgin Islands that was originally named Little Saint James, but he changed the name to Little Saint Jeff. This fact alone should tell you a lot about this guy. 
What's his background?
Here's a quick summary of Epstein's career: he was hired at age 20, without a college degree, to teach math and physics at the Dalton School in Manhattan. Incidentally, the headmaster who hired him is the father of current Attorney General and Trump Ass Resident Bill Barr. From there, he was allegedly recruited to Bear Stearns by the father of a student, where he rose to partner in four years. In 1981, however, he left Bear Stearns abruptly when was asked to leave after reportedly engaging in some shady, potentially illegal lending behavior. There have been people who have denied this in the past  (like Epstein and two of his mentors), but Epstein admitted his infraction when questioned by the S.E.C. in a 1989 deposition. 
After leaving Bear Stearns, he started his own firm called J. Epstein & Co, claiming that he acts as a full-service financial manager for clients with over $1 billion. It's generally unclear why he's sometimes referred to as a hedge fund manager, when what he personally claimed to do is not at all the same as a hedge fund. Maybe I'm just nitpicking. But since Bear Stearns, his financial career has been something of a black box, mixed in with some sketchy failed investments. 
More suspiciously, Epstein only has one known client, Les Wexner, who owns L Brands (Victoria's Secret / PINK, Bath & Body Works). However, it seems that Wexner is much more than a client, as they generally appear to be besties and Wexner never seems to STFU about how great Epstein is, lauding his secret talents. That massive NYC townhouse that Epstein lived in? Wexner actually bought that in 1989 and owned it until he deeded it over to Epstein's company for $10 (!!!) in 2011, which was like five minutes ago. At one point Epstein was attempting to sell an investment that he owned and had to sign something that said he had a few million dollars on hand in case of a dispute over the sale price, and rather than vouching for the few million (which should be nothing compared with his supposed near-billion dollar fortune), Wexner signed for him instead. If this were a description of anyone else, you would probably say that person is living off their parents. 
Are his claims about his finance career legit?
Although Epstein is regularly referred to as a billionaire, there are reasons to believe otherwise. First of all, there's everything mentioned above about Wexner acting as a stand-in for Epstein's wealth. Second, despite the fact that he's been accepted by polite society as a billionaire, he's never been on Forbes 400 list of wealthiest Americans, because they haven't been able to verify the size or source of his wealth. Third, a former mentor of his, Steven Hoffenberg, sued him in 2016 claiming that Epstein was actually the one responsible for a $450 million Ponzi scheme that Hoffenberg had spent 18 years in prison for (he later dropped the suit, brought it back, and dropped it again, but since when does that mean anything). 
Lastly, when it came to his actual financial transactions, according to a 2003 Vanity Fair investigation into his worth by journalist Vicky Ward, "you won't find Epstein's transactions written about on Bloomberg or talked about in the trading rooms. 'The trading desks don't seem to know him. It's unusual for animals that big not to leave any footprints in the snow.'" In other words, if he was actually managing money, there should be substantial evidence of it, and there's not. 
Why is he coming up right now?
Epstein was arrested last Saturday, fresh off a vacation in Paris. Brings a whole new meaning to the post-vacation "take me backkkk" blues. He was indicted by the Southern District of New York on two counts: sex trafficking of minors, and conspiracy to commit sex trafficking. He pled not guilty and is currently in jail. He spent a paltry 13 months in jail a decade ago for similar crimes, and a search warrant of his townhouse turned up hundreds of sexually explicit photos of very young girls, as it does when one is "not guilty."
What's the allegation?
Police have identified dozens of victims who claim that they were sexually abused by Epstein and forced to participate in his sex trafficking scheme, with allegations tracing back to 2001. Many of the victims are in the late 20s and 30s now, and apparently one of them is now a high profile celebrity. 
The essence of this scheme, in the beginning, was that Epstein, with the help of a network of employees (assistants, pilots, housekeepers, etc.), would find young girls from high schools around Palm Beach County and pay them approximately $200 to come to his house and give him a "massage." He would make them undress and touched them while he masturbated, sometimes escalating to oral sex or raping them once he realized they would allow it (classic grooming). He and his recruiters targeted girls from disadvantaged, troubled families (as abusers do) and would also offer to pay these girls to bring him new girls, who he would also pay. 
He would sometimes see three girls in one day for these massages. There are many victims, plus the recruiters, who share nearly identical stories, even down to the descriptions of Epstein's furniture and penis (ugh, this story is heinous, like so many things to come out of Florida). Epstein's butlers have also stated that they saw teenage girls coming and going from the house constantly. 
In addition to personally receiving these massages, he would throw parties both in his homes and on his private plane with these young girls that were attended by older wealthy men, including the names mentioned earlier. Gawker published his little black book in 2015 and while not everyone in there was definitively involved in this pedophilia service, it's interesting to see who's in there. 
There is also evidence that suggests he was a "dealer" of sorts of these young girls in New York and Palm Beach. According to Miami Herald's three-part series Perversion of Justice, law enforcement "obtained dozens of message pads from his home that read like a who's who of famous people, including magician David Copperfield and Donald Trump, an indication of Epstein's vast circle of influential friends. There were also messages from girls, and their phone numbers matched those of many of the interviewed. They read: 'Courtney called, she can come at 4,'' or 'Tanya can't come at 7 p.m. tomorrow because she has soccer practice.'"
Victims say they were forced to have sex with famous men, politicians, and Epstein's other wealthy friends. As for Trump, in 2002 he said of Epstein: "He's a lot of fun to be with. It is even said that he likes beautiful women as much as I do, and many of them are on the younger side," though in recent days he's denied they're friends. In 2016, a Jane Doe filed a lawsuit against Trump stating that he raped her in 1994, when she was 13. She alleges a "savage sexual attack" during which Trump tied her to a bed, raped her, and threatened her if she told anyone. This allegedly took place at Jeff Epstein's house. She dropped the lawsuit in 2016 after receiving death threats throughout Trump's presidential campaign. 
How did he get away with this for so long?
It's clear that Epstein was enabled by the cover provided by the powerful people around him. One was Ghislaine Maxwell, a British socialite who was once Epstein's girlfriend (sure Jan), but he claims that after they broke up, he "upgraded" her to a friend. A lawsuit filed by a victim named Virginia Roberts in 2015 told a different story: it alleged that Maxwell was actually his madam and was responsible for organizing all of his affairs, including recruiting girls and hosting underage sex parties on Epstein's plane, the Lolita Express. There's Jeff again with the subtle property names.

(Ghislaine Maxwell on the far right)
There were many more instances of Epstein's reputation being protected by so-called "legitimate" people. According to Ward's reporting in Vanity Fair, Epstein hung out with an array of rich and powerful white bros, from Harvard faculty like Alan Dershowitz (his eventual defense lawyer) and Larry Summers, to senators and Nobel Prize winners. Pretty much all these guys would rave about how "brilliant" Epstein's financial mind was, how he loved to just sit and chat about theoretical physics (yeah this is seriously the party line about this guy), and what a great friend he was. He was involved in all sorts of committees and foundations, and according to the Vanity Fair piece, and pledged at least $25 million to Harvard to fund the Epstein Program for Mathematical Biology and Evolutionary Dynamics. 
Alan Dershowitz said of him: "I'm on my 20th book…. The only person outside of my immediate family that I send drafts to is Jeffrey." Wow, a child dealer who also does copyediting? A Jeff of all trades.

(Jeffrey Epstein and Alan Dershowitz)
What charges have been brought against him in the past?
Epstein has actually been in jail for this before. A case was brought against him in 2007, and after a series of highly unusual agreements between state prosecutors and his five-star defense team, which eventually escalated to an investigation by the U.S. Attorney's office, he was suddenly awarded a sweetheart deal by — who would have guessed — then U.S. Attorney Alex Acosta. Acosta is the now *former* labor secretary, who just resigned from the Trump administration amid uproar over his botched handling of the case. 
Under the non-prosecution agreement, Epstein's charges were downgraded to one charge of soliciting of prostitution and another for soliciting prostitution from a minor. He was forced to register as a sex offender in Florida, and he spent 13 months in jail on work release. Work release is basically like a jail version of working from home, where he was allowed to go to the office every day and just had to sleep at jail. And this wasn't just any jail, it was a private wing of a Palm Beach jail. Just like Alice Marie Johnson had. 
Federal prosecutors in New York directly credit the Miami Herald's investigation for revealing new evidence and motivating the renewed investigations. New charges are also being brought up in light of the fact that more victims have come forward, and there is no statute of limitations on child sex trafficking. Also, Epstein's former conviction was in Florida, and the current case is being brought in New York because his nonprosecution agreement didn't stipulate that he couldn't' be charged in another district 
What's going to happen next?
Epstein is in jail in New York now, for at least the next few days, when his lawyers will present a bail package to the judge. The government has already shaded the Lolita Express by denying him bail, citing a flight risk. 
For a full breakdown, listen to the crossover podcast episode between Not Another True Crime Podcast and The Betches Sup. Subscribe on iTunes and get it in your feed Saturday.