The Best Style Of Jeans To Show Off Your Assets
You've probably shoved yourself into a trendy pair of jeans, then looked in the mirror and thought, "Damn it, these looked a lot better on Kendall." Not to make assumptions here, but you probs have a very different bod than a VS Angel, cause TBH, those aren't that realistic. Honestly, though, it's not even a matter of whether you're supermodel-skinny or not. Different styles of jeans are just better suited for different body types. Your bestie might look amaze in one style of jeans, but when you try on that exact same pair… not so much. I blame The Sisterhood of the Traveling Pants for setting up unrealistic expectations for trying on jeans. So, instead of beating yourself up, I've created a guide to help you figure out what style will flatter your body type the best. No more being personally victimized by the fitting room.
Hourglass
If you've been blessed with an hourglass figure, you might as well show off your tiny waist. The best way to do this is with a great pair of high waisted skinny jeans. This style will emphasize your waist and flatter your curves in all the right ways. Channel your inner Scheana Shay Marie and pair it with a crop top to really flaunt your bod.


AGOLDE Roxanne Freeway Super High Rise Skinny Jean
Straight/Rectangle
If you have a straight/rectangular body type, then your ideal jeans are a low-rise relaxed flare look with big pockets. The low-rise fit in combo with the flare will create an illusion of curves while also elongating your legs. To further the look, pick a style with big pockets to make your butt look rounder. In today's dysfunctional society butt implants are totes an option, but I suggest you just get some big pockets. IDK, just seems a little easier to me. But to each their own, I guess.


Lovers + Friends Bailey Flare Moto Jean
Inverted Triangle
If you're an inverted triangle shape, meaning you're wider up top and slimmer on the bottom, then you should totally embrace the always-trendy boyfriend jean. This is one of the hardest styles of jeans to pull off, but luckily for you, you have the ideal body type for it. The baggier fit will balance out your top half. Boyfriend jeans are also an effortless way to make every outfit cooler, so get a pair of boyfriends ASAP.
Pear
If you're pear shaped, meaning you're bigger on the bottom and smaller up top, then you'll look best in a wide-leg jean. The straight-line silhouette will elongate your legs and, when paired with heels, will give you that full legs-for-days supermodel look. Not to mention, these jeans are way more comfy than a pair of suffocating skinnies, so take this as a win.


Free People Martha Wide-Leg Jeans
Knowing how to properly shop for your body type is the determining factor for whether you have a pleasant and successful shopping experience or a soul-crushing, "I'm never eating carbs again" experience. It's 2018, we're embracing what we've got. I'm OMW to get myself the right pair of jeans and order that cheeseburger at happy hour tonight (and maybe some fries, too).
Images: Mike Von/Unsplash; South Moon Under; Revolve; Madewell; Free People
Betches may receive a portion of revenue if you click on a link and purchase a product or service. The links are independently placed and do not influence editorial content.
Jeans Under $100 That Look Expensive
Every woman knows the struggle of shopping for jeans and the mental prep it entails. First step, you have to face the reality of figuring out your size, a society-established numerical value, which, sadly, has probably gone up at least two sizes since the last time you went jean shopping in high school. (Throwback to my prepubescent self trying desperately to fit into a size 24 jeans at Abercrombie to match with my XXS Abercrombie graphic tee. Sigh.) Next, you have to try on approximately 897 pairs of jeans before finding the right pair that actually flatters your body. Lastly, once you've finally find the right pair, you have to start doing the mental math to determine whether you can even f*cking afford that pair that you just spent HOURS finding. Like, hmmm let's see—how many less times do I have to not order Postmates this week to afford these? And can I find some decent jeans under $100 that don't look like crap on me?
Well, I can't fix all your denim shopping woes. But, I can help you find a flattering and stylish pair of jeans that will still allow you to maintain your financially irresponsible Postmates habit. No longer will you have to deal with justifying the price once you've just done all of that work finding the perfect pair of jeans. Shop these select styles of denim at places like Topshop, Zara, TJ Maxx, and Nordstrom Rack, to find quality jeans under $100 that look expensive.
1. Dark Wash Skinny
A dark wash skinny is the more office-appropriate version of the standard pair of jeans. It's like, your already engaged "doesn't drink for health reasons" cousin at the family party version of jeans. Like your cousin, they're conservative, predictable, basic, and otherwise boring af (but at least you know they won't be banned from Thanksgiving for getting drunk and dancing on tables). Their cleaner, more streamlined look makes them look more expensive because it doesn't allow for any weird fading that would otherwise make them look cheap. Wear them with a blazer to the office (depending on how casual your "business casual" dress code actually is) or wear them on the weekends with a knit oversize sweater.

J Brand Maria High-Rise Skinny Jeans ($89.97)
2. Distressed Boyfriends
If you can pull off a pair of distressed boyfriends, then you must be so chic and stylish that you wouldn't even go near a pair of jeans that weren't at least $200? Right??? For this reason exactly, distressed boyfriend jeans are so effortlessly stylish that they automatically look more expensive. Heck, wear your distressed boyfriends and people may even believe your knockoff Louis Vuitton Neverfull bag is actually real too!

Topshop Mid Blue Ripped New Boyfriend Jeans ($85)
3. Gray or Black
To put it simply, gray and black jeans look more expensive because they're less basic. Think about it—like, when you're at the bars, there's tons of drunk betches everywhere in their medium-wash colored jeans. They're also the same girls ordering countless vodka sodas and desperately fawning over guys. Basic. You, on the other hand, an intellectual in your stylish and flattering high-waisted gray jeans naturally stand out and don't need to beg for guys' attention. You're also ordering a vodka soda, but like, not with the house vodka at least #notbasic. So yes, you're better than them, congrats.

Zara Premium High Waist ZW Jeans ($49.90)

ZW Premium High Waist Skinny Jeans ($49.90)
4. Details
Denim details can instantly make even jeans under $100 look more expensive. More details mean more work, and more work means higher production costs, and the more money they cost to make, then the more they probably cost you to buy. Trust me, it's a stream of subconscious presumptions people will make. But like, you got them all fooled because there are tons of great styles that aren't super pricey, but still look it.

Premium ZW Shadow Black Rocky Jeans ($69.90)
5. Flare
Flare jeans are back, and honestly, I'm not mad about it. Paired with a heel, they make your legs look long, your outfit elevated, and, with all that going on for you, why wouldn't people just assume that your jeans have cost you your whole month's rent? As with the gray jeans, flare jeans are less basic and therefore, the more rare something is, the more perceived value it has. So like, flare jeans for the f*cking win.

Free People Slim Pull On Flare Jeans ($78)
If you prefer to keep spending $200 plus on your jeans, then by all means go ahead. Or, if you'd rather keep buying tacky Charlotte Russe ones, then by all means, you do you. But, if you want to actually be able to afford dinner for the rest of the week and still look good, then try one of the five aforementioned denim styles. You'll be happy you did.
Images: @petebellis / Unsplash; Zara (3); TopShop; Free People; Nordstrom Rack
Betches may receive a portion of revenue if you click a link and purchase a product or service. The links are independently placed and do not influence editorial content.

3 Unexpected Ways Show Off Your Butt
You and I both know you haven't been paying for $30 SoulCycle classes because you "just love the way exercise makes you feel." You've been working hard to look good, and now it's time to show off your butt that you've been working so hard for. Sure, you could rock those high-waisted shorts with the hemline that's literally at your ass cheeks, but that might not work in all occasions, like work and family gatherings. Or like, maybe it's cold outside, IDK. So you want to make your butt look round and toned without actually exposing it. Life is hard. Keep in mind as you shop for your own butt-flattering ensemble that there are a few key outfit components that will help draw attention to your derriere. I've styled three occasion-specific outfits that will best show off your butt. And don't worry if you're ass is basically nonexistent—these outfits will work for flat and bubble butt girls alike. There is a god.
For Being Out & About Running Errands…
You probably already know what I'm going to say here. Yup, YOGA PANTS. Ask any guy on a college campus (or like, in existence) and he'll tell you the wonders of yoga pants and the magic they do for a girl's ass. To up the ante even further, wear your Lulus with a crop top to show off your midriff and really accentuate your waist. This will draw attention to the contrast in size between your tiny waist and now-looking-extra-fat ass.

From left: Brandy Melville Serena rainbow top; Lulu Lemon Wunder Under hi-rise tight full-on Luon 28″
For When You're Daytime Casual
Daytime casual can pretty much mean anything from shopping with your friends to dinner with your boyfriend's family. These are the outfits you wear when you want to look like a put-together classy lady and not like your true trash bag self headed to 1Oak. This is the instance when you'll most likely reach for your jeans, so let's discuss what to look for in your denim specifically.
When shopping for denim to accentuate your ass, look for styles that will contour your butt. I know it sounds ridic, but then again what don't we contour these days? You want to look for jeans that have strategically placed sanding—basically, envision your best Mudd jeans from middle school. Remember how the butt was a lighter shade than the rest of the pants? There was a reason for that. That's the same kind of style you'll need now in order to perfectly flaunt the shape of your butt. Lighter washes of denim in general will help draw additional attention to your ass, so get yourself a pair of Levis which are vvvv trendy right now.
Another thing to look for when choosing your jeans is back pocket details. Details, such as pocket flaps and zippers, add volume to your butt and draw more attention to it. But be careful, because huge pockets will make your butt look smaller, so look for smaller pockets. You should also always look for high rise styles to, again, highlight the contrast between your butt and waist. Pair your high waisted denim with a peplum top which automatically accentuates curves.

From left: Ale by Allesandra x Revolve Caridad top; AGOLDE Jamie high rise
For When You're Out On The Town…
Head to your local Body Central or Wet Seal (if that still exists) because the only thing you'll need to show off your ass is a bodycon dress! If you want to look *slightly* more classy, pick one with a high neck and long sleeves. This style will make you look hot without looking like you're trying to look hot, even though you are trying to look hot. I know, being a girl is hard. Anyway, a solid colored style of dress will look chic as hell and show off your ass without distracting away from it.

Cue "Anaconda" by Nicki Minaj 'cause you're ready to show off that ass whatever the occasion!
Images: Brandy Melville; Lululemon; Revolve (2); Free People
ASOS Released The Most Confusing Jeans Of 2018
I really thought the world was working towards becoming a better place in 2018. I mean, Oprah's like basically our president now and Bring it On is on Netflix. It's less than two weeks into the New Year, and this year is already exceeding my (ridiculous low) expectations. Except, I do have one serious bone to pick with 2018, and that's the fact that we're still letting ridiculous jean trends happen.
Even though I clearly told you guys to leave stupid jeans behind in 2017, the trend obviously isn't slowing down anytime soon. Which is like, pretty shocking because I really thought that my sarcastic vaguely fashion-related ramblings really had a serious reach. Anyway, ASOS just rolled out the dumbest effing jeans I've ever laid eyes on, and I genuinely believe these are the worst ones yet. (And yes, I've seen those thong jeans.) These are so heinous that I wouldn't even be into them if Rihanna wore them.

I have a lot of questions. The first, most obvious one is what the fuck? I'm not really sure what look is trying to be achieved here, other than "I may be down for some casual butt stuff," but my first impression is that someone tried to resurrect an Abercrombie denim mini skirt by handcuffing it to some pants legs.
Secondly, why are these crotchless? What kind of underwear are you supposed to wear with these? I've finally warmed up to the idea of letting a Calvin Klein waistband sit over the top of your jeans, but this feels like we've lost all control of the human race. Am I weird for wondering if these are easier or more difficult to go to the bathroom in that regular jeans would be?
These jeans are apparently reworked Levi's. They're $119, which, at the risk of sounding like every uncle making fun of his niece's ripped jeans, feels kind of steep for a pair of pants that literally shows your entire ass.
To be totally transparent, I will admit that in a moment when I'd obviously entered a questionable headspace, I did buy a pair of jeans similar to these from Forever 21. I know, I know. But, they don't show my butt, crotch or any other body part that could potentially get me arrested for public indecency. I did try to track them down online to defend myself so you could buy them, too, but because Forever 21 is a total shit show, I can't track them down. If you want them, you're going to have to do it the old fashioned way and rip through dozens of racks of clothes that look promising but actually have "no fuckboys allowed" or french fries embroidered on the front.
The Best Jeans For Your Body Type
A betch loves shopping more than she does most people and some dogs. But going to an actual store means potentially falling in love with an article of clothing you aren't sure will fit. So, you're going to either buy it anyway, hope for the best and if it doesn't make you look skinnier fit, return it or, you'll just enter the dreaded fitting room. Both options are fucking awful, but the first is def out of the question because like, tbh we're lazy. This is why online shopping > going to a physical store, ever. Trying shit on isn't always traumatizing unless it's one of two things: a bathing suit or pair of jeans. Bathing suit season is done and over with because well, it's August and fall is just around the corner (sorry, again) so jeans are the next ones up. No two jean sizes are apparently ever the same so trying them on, hoping they make your ass look good and your waist smaller is like, nearly impossible. Here's where I save the day (as usual) and save you from all that trouble. Here are the best jeans for your body type that make you look good af.
If You Have A Long Torso, Try…

Even if you're not super tall, you can just have a long torso that makes trying on jeans dreadful. You don't want to look like fucking Steve Urkel. To flatter your torso and make you v skinny, you'll want to find a pair of really high waisted jeans. These will elongate your legs, flatter your torso, and still sit comfortably on your hips so you don't feel and look hella awkward.
If You're On The Shorter Side, Try…

If you're 5-foot-something, your jean struggle is finding a pair that won't sag every time you walk, or finding the right length so you're not tripping over your own two feet. Hi, welcome to my life. My go-to style are jeans that run mid- to low-rise on my hips. They make me look semi skinny taller and still sit right on top of my ankle. This distressed pair comes in the boyfriend fit so they're super trendy, comfortable, and hug your waist just enough so you don't find yourself pulling them up every five seconds.
If You Don't Have An Ass, Try…

I really have to thank my homegirl Fergie for changing my life aka making me love my ass in jeans again. It was in that iconic song, "My Humps," where she said her ass is loved in True Religion jeans. Bless. If you have nothing in your trunk, you want to find jeans that have detailing on the back pockets to add more dimension. Any shading kind of works as your fave highlighter by illuminating your cheeks and making them pop. Bonus points if they're also mid- or high-rise because they go a little tighter on your waist, making you have the perf hourglass figure.
If You're Really Tall, Try…

The worst part of being tall and finding a new pair of jeans is finding a pair that doesn't leave an awkward gap showing your ankle. The best solution is a style that widens out at the bottom like bootcut or flare, so they're guaranteed to stay long enough to sit right on top of your foot like a normal pair of jeans should. These come in a slim fit that flatter your waist (so like, make you skinnier) and comfortably fit around your thigh since they flare at the knee. If you're looking for something to change your life, this is it.
If You Got A Big Booty, Try…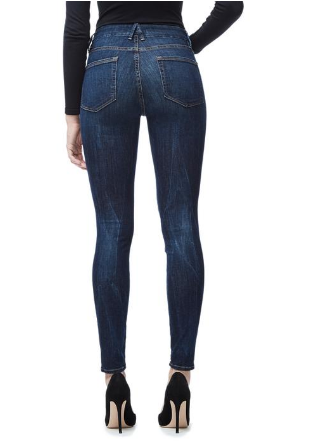 If you got a big booty and you know it, sometimes finding a pair to simply zip up without blocking your airways is like, kind of a big deal. To enhance your curves, find a high rise skinny jean to accentuate your lower half. A dark wash with light sanding will give you the perf body shape illusion and still allow you to breathe at the end of the day. Khloé literally came up with this line because she couldn't find a pair to fit her and her fake Kardashian booty comfortably so you know these will def fit like no other.
5 Low-Rise Jeans That Won't Make You Look Like A 'Laguna Beach' Reject
Apparently low-rise jeans are making a comeback, which is the least surprising news ever if you really think about it. Every couple of years, the jean style you swore you'd never wear again sneaks back into your closet, kind of like when you hang out with your ex but you're definitely not together again. We all promised to ditch low-rise jeans and their horrible short zippers when we discovered the slimming capabilities of super high rise denim, but obviously that trend wasn't going to last forever. I'm not saying you should get rid of your high-waisted jeans, and I'm definitely not saying you should pull out your old boot cut True Religions with bedazzled butt pockets. I'm just trying to prepare you for a painless transition from one denim trend to the next. Here are a few pairs of low-rise jeans that won't make you look like a Laguna Beach walk-on that never got a more detailed on-screen name credit than "Brody's friend."


These AG jeans are basically as close to a denim legging as you can get without wearing literal Pajama Jeans. These may be low-rise, but they also have a step hem and a distressed wash, so they're way more 2017 than 2007.

These are kind of like mom jeans, but they're low-rise, which helps prevent serious mom butt. They also have a slouchy fit but don't have holes, so you can pull off a relaxed look without every old dude you see in a day asking how much you paid for jeans with holes in them.

On the off chance that you do want every old dude you see in a day to ask how much you paid for jeans with holes in them, this is a pretty good pair. Plus, they're just from H&M, so if you accidentally rip through the knee hole with your foot, it's not the total end of the world.

Before you stop reading and close this article out because I just suggested you buy jeans from Abercrombie, hear me out. Do you still drink the cheap vodka you blacked out off of in college? Yes, of course you do. You just don't take photos of the bottle anymore. This is kind of the same scenario. A&F finally stopped putting their signature pocket stitching on most of their jeans, so you can still wear their super comfortable, actually affordable denim without rocking an infamous Abercrombie butt.

As long as you don't wear these with like, a pink polo with a popped collar and oversized fake pearls, you should be fine. Gigi Hadid is desperately trying to make Tommy Hilfiger a thing again, so you might as well join in on that movement.
The Best Mom Jeans That Won't Make You Look Like An Actual Mom
Moms over guys, or GTFO. Boyfriends (both the men and the jeans style) are cool and all, but since fashion sizing seems to go down the family tree, the current rage is all over the mom jean. It's basically a combo of high-waisted skinny and loose boyfriend jeans, sounds gross, I know. No one wants to wear literal mom jeans because they're like, fugly, non-fetch vintage material, and they don't make your ass look good so honestly, what's the point? Before we jump to conclusions, I will say that they are extremely comfortable, unlike all of my literal skin-tight jeans that I can barely breathe in (but, beauty is pain so, whatevs), and plus, you'll now totally fit in at any bar in Williamsburg. If you're on the fence about trying the new jean trend, here's how to wear them and what styles to buy so you look chic AF like Rachel Green instead of looking like a lame mom.
ASOS PETITE Farleigh Slim Mom Jeans In Prince Light Wash

If you prefer your jeans tight, you'll want to find a mom jean in a slim fit so it hugs your waist closely and tucks in any beer bloat. The light wash is perf for both every day and night wear for an effortless, street casual look. Your mom probs makes the joke that you pay too much for jeans you can rip yourself so a distressed style is a solid indicator that you're being judged by your parents doing something right. Pair with a crop top or tucked in blouse, and neutral pumps to really amp up your look.

If your mom says, "O-M-G I used to have a pair just like those!!," it's actually a compliment this time. Reason being that only the cool MILFs rocked DIY bleached Mom Jeans and still got some numbers while they were at it. This pair is all around loose, and tapers at the bottom for a skinny ankle fit. Roll them up and pair with non-basic sneakers (so no Adidas, k?), or a low chunky heel.

A colored and distressed mom jean takes a youthful twist on the 90s classic that was once deemed as unflattering. Well, welcome to 2017, where even the ugliest trend somehow looks socially acceptable on (almost) everyone if you have an ounce of style at all. Wear with a white off the shoulder top and nude wedges for the comfiest, yet trendiest, day drinking outfit.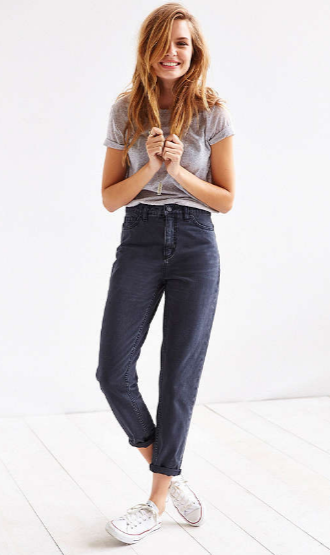 Obviously, you need (everything) a pair in black to go with the rest of the blackness in your closet. A dark shade looks best with an ankle strap heel, plunging bodysuit, and leather jacket for an Insta-worthy edgy look to the club. On your lazy days, wear rolled up cuffs with stylish mules and a loose T-shirt.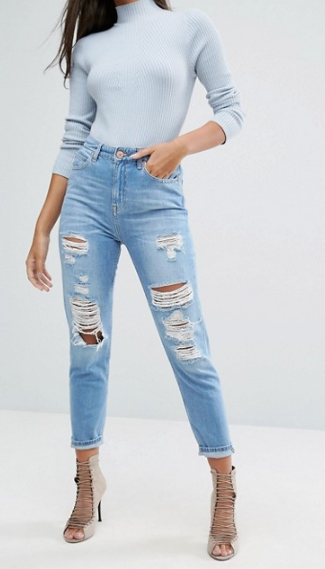 Cool mom jeans look best ripped. IDC. If you disagree and you're all like, "but, I don't want ripped jeans," because you think it's classier for whatever reason helps you sleep at night, then you can happily go look like a mom elsewhere. A super distressed style with a relaxed fit is not only fashion-forward but says, "I'm def blacking out tonight," without being v obvious about it. They'll become your next overly worn jeans if you style with strappy stilettos and a slutty flirty bralette.

Denim Essentials You Need In Your Closet Right Now
By now, it's as clear as day that this denim craze has really taken off. Everywhere I look, I see another article of clothing made out of denim—I'm just waiting to see denim underwear at this point. Apparently it's socially acceptable to wear denim on denim, and then with some more denim. Who knew Britney and JT were such trendsetters? I mean, for fuck's sake, every store has its own Denim Shop. The versatile material is emerging left and right in an assortment of colors and a variety of styles ranging from dresses to vests to overalls (because again, if it was cool in the 90s, it's cool again).
This summer is all about dressing like you could be on the cover of Vogue just by wearing a distressed oversized sweater and some ragged denim shorts. With Bonnaroo this weekend, festival season is officially fully in swing. Perfect for any summer music festival or a night full of bar hopping, here are 7 denim pieces you should definitely strut (or stumble) in during summer nights.
1. A Cool AF Denim Jacket
I recently just found two denim jackets in my closet that I haven't worn since middle school. Guess what? They still fit. And guess what else? I'm still going to fucking wear them. I guess that's a perk of being 5'3" forever. This Shop Betches x Unemployed Denim Custom Vintage Denim Jacket is basically your new replacement for the stupid black leather jacket you wear all the time. Each vintage jacket is unique so two are never the same. Feel free to customize it with whatever embroidered message or patches you'd like to make it all about you.

2. Denim Shorts
I know you have denim shorts because like, no fucking shit. Add a raw, destroyed style like PRPS Goods & Co AMX Short to your collection to really bring out your IDGAF attitude. Dress them down for running errands or dress them up with a silk tank and a pair of Jeffrey Campbell booties.

3. Denim Overalls
Fashion trends are getting weirder by the day. First we're back to wearing onesies, now overalls? Why is dressing like a toddler a thing right now? Someone please LMK. However, I have to say Kendall Jenner knows how to rock them best—as usual. If you're into channeling your 8-year-old self, go for a light-washed cropped style like the Glamorous Dolores Park Light Wash Distressed Denim Overalls. When worn with your comfiest cropped T-shirt or lace bralette, you'll look both skinny and effortlessly chic, which obviously are the most important traits in life. Use it as your next outfit for brunch Sunday morning.

4. Denim Dress
A fitted dress like the Vatanika High Zip Slit Mini Dress is made to define and enhance (any existing) voluptuous curves. Gold full-length zippers accentuate the sides, adding some street flair, and its spaghetti straps keep it caj (cas, cas'? Asking for a friend). Whatever, I'm trying to say casual in the cool way. Throw a denim jacket over this and pair with your Vans to look trendy AF.

5. Denim Jeans
Since we all have at least one pair of denim jeans (that we never wear), the trend has escalated into being extra adding embroidery. Floral prints specifically add a feminine and flirty touch to any ordinary outfit. Find a fitted faded-wash style like these True Religion Halle Mid Rise Embroidered Skinny Jeans. Wear on those chilly summer nights with a cropped oversized sweater and block-heel sandals.

6. Denim Skirt
Here's some food for thought: Just buy a denim skirt, but with more denim on it such as this Topshop Colorblock Denim Miniskirt. Contrast with a light-colored blouse to keep it balanced. Pair with wedges for a bold, spirited look that tells people you're like, really into fashion or something.

7. Denim Shirt
Don't get it twisted, it's not the same as a denim jacket. Wear the Lovers + Friends Denim Shirt With Slogan Sleeve Detail alone over a pair of jeans or shorts for a casual, downtime look. Keep it open and wear your fave cami underneath, or keep it slightly unbuttoned because like, slutty duh.