The Craziest Forgotten Scandals Of The Decade
It's been a long f*cking decade, and it's safe to say there are probably a lot of pop culture moments you've forgotten about. I mean, there are plenty of pop culture moments just from 2019 that you forgot about. We've talked a lot about the end of the decade, from rounding up the most impressive celeb glowups to the least impressive fashion trends we all succumbed to, but this list might just be the most fun yet. There's nothing better than a good celebrity scandal, so I put together the craziest ones you forgot about from this decade. There's one for each year, so enjoy this nostalgic time with some batsh*t crazy celebs.
2010: Miley Cyrus' Bong
9 Years ago the iconic video of Miley smoking salvia was leaked! Which was your reaction?! 💥 pic.twitter.com/686MhHVAT6

— Miley Cyrus Updates (@MileyUpdates) November 28, 2019
As we near 2020, it's honestly insane that Miley Cyrus started this decade as a teenager who was still best known as Hannah Montana. In 2010, she began to change her reputation with Can't Be Tamed, but she really turned heads when a video of her smoking a bong hit the internet. I can't even believe this was a big deal, but I guess 2010 was a different time. While it turned out to only be salvia (lame), Christian mothers everywhere were horrified, but the rest of us finally realized Miley could hang.
2011: Arnold Schwarzenegger's Love Child

Way before Ben Affleck had an affair with the nanny, Arnold Schwarzenegger was busy doing even worse sh*t. In May of 2011, Arnold and Maria Shriver announced that they were separating after 25 years of marriage. The next week, news leaked that the separation was spurred by Maria finding out that he fathered a child with their housekeeper 14 years earlier. Arnold admitted it, but failed to mention that he only told Maria after she confronted him with the information. Not a good look, Arnold. The love child was born just DAYS apart from Arnold's last child with Maria, making the whole thing even more gross.
2012: Halle Berry's Exes' Fight

Ah yes, this one is really deep from the pop culture vaults. On Thanksgiving of 2012, Halle Berry's then-fiancé, Olivier Martinez, got into a fist fight with her ex, Gabriel Aubry, at her house. The fight likely had something to do with the custody battle over Halle and Gabriel's daughter, whom Halle wanted to move to France full-time. The fight ended with Gabriel Aubry both hospitalized and arrested on battery charges, so I think it's safe to say it wasn't a happy Thanksgiving. After two years of marriage, Halle and Olivier got divorced in 2015, but at least she got him to fight for her while it lasted. The literal dream.
2013: Paula Deen's Racism

I don't know why we were all so surprised that an older white woman whose main personality trait is being from the south was  racist, but alas, this one hurt. After years of a successful Food Network show and other business ventures, Paula Deen's cooking empire came crashing down when she admitted in court documents that she used the N-word in conversation. Yeah, hard yikes to that. She also apparently wrote that she wished her husband could "witness a real Southern plantation-style wedding, complete with waiters acting as slaves." UMMMMM, yeah, what the f*ck?! She lost her book deal, TV show, and product lines, and she definitely deserved it.
2014: Solange & Jay-Z's Elevator Fight

The fact that Jay-Z cheated on Beyoncé still makes me viscerally upset, and apparently Bey's sister Solange had the same reaction. After the 2014 Met Gala, security camera footage leaked of her kicking Jay in an elevator, and nothing has ever made me happier. Beyoncé later referenced the incident in one of her songs, saying that "of course sometimes sh*t goes down when it's a billion dollars on the elevator." A relatable scenario, for sure. We don't technically know that the fight was about the cheating, and Jay said in an interview that "before and after, we've been cool," but like, sure Jan. I've cut my siblings' significant others off for like, buying them a sh*tty Christmas present; it's not just gonna be "cool" if you cheat on my insanely beautiful, talented, brilliant sister who is the mother of your child.
2015: Rachel Dolezal

In a decade full of messy behavior, Rachel Dolezal might just be the messiest. She was a total nobody until, one day in 2015, her story went completely viral. Dolezal was serving as President of her local NAACP chapter when a small issue came up: she was telling everyone she was black, but that was a lie. Though she was born to white parents, instead of walking it all the way back and apologizing, Rachel maintained that she "self-identifies" as African American (not a thing), leading her to get fired from her jobs, and get clowned on the whole entire internet. In the years since, she's changed her name to Nkeche, gotten charged with welfare fraud, and starred in a Netflix documentary that really just made her look worse and made her kids resent her. What a mess.
2016:
 Kim's Paris Robbery

Whether you're a Kardashian fan or not, there's no denying that the Paris robbery was a really scary moment. While staying in Paris, Kim was robbed at gunpoint in her hotel room, where she was tied up and put in the bathtub. The thieves stole $10 million worth of jewelry, which is a good reminder to all of us that you shouldn't travel with millions of dollars in jewelry. Kim like, basically doesn't wear jewelry anymore because of this, and started being more careful about geotagging, so you could actually say this is one of the most influential moments of the decade. Just saying.
2017: Kendall's Pepsi Ad

Remember when Kendall Jenner solved racism and inequality with one simple Pepsi commercial? Good times! I think everyone audibly gasped the first time they saw this commercial, which made light of a powerful social justice movement about police brutality and killing unarmed POC to shill soda. The reaction to the ad was swift and strong, and Pepsi pulled it almost immediately, but not before it went intensely viral. I'm sure someone (or several people) were fired over this, but I'm still not sure why anyone thought it was okay in the first place.
2018: Who Bit Beyoncé
the closest we ever came to world peace was when everyone just wanted to figure out who bit Beyoncé

— Betches (@betchesluvthis) December 27, 2019
I really hate to drag Beyoncé into this list again, but we can't not talk about how weird this was. Last year, Tiffany Haddish randomly told a story about Jay-Z's album release party, in which she said that a mystery "actress" was being extra and "bit Beyoncé in the face." For the days that followed, the whole of society basically stopped, as everyone tried to figure out who the culprit could be. Ultimately, sleuths deduced that it was Sanaa Lathan, and Tiffany Haddish ultimately confirmed this conclusion. I still don't know why this became a thing, but wow, what a time to be alive.
2019: Prince William Cheating

I really don't feel like this got enough attention. Earlier this year, there were fairly credible rumors about Prince William cheating on Kate with one of her good friends, and we barely even talked about it! How is this not a bigger deal?? Probably because the royal family is getting ready to serve me with an injunction as we speak, but still. You probably don't even remember the name Rose Cholmondeley, partly because it's the longest, most confusing last name ever, but an alleged royal mistress (who was also Kate's friend) deserves more attention! This alleged affair also sparked conspiracy theories that the whole "Meghan and Kate don't get along" narrative is merely a cover-up for what's really going on. Next season of The Crown is gonna be amazing.
The next decade will no doubt bring more dramatic af celebrity scandals. I'm just hoping, for the sake of content, that somebody will take one for the team (me) and pull another Tristan Thompson/Jordyn Woods.
Images: mileyupdates, betchesluvthis / Twitter; Giphy (8)
Twitter Is Obsessed With This 'Choose Your Own Adventure' Game About Beyoncé
While most days of the week Twitter can be pretty dry and only worthwhile when your favorite meme accounts are active, or your friend finally posted that tweet you spent 45 minutes debating whether or not it was funny, one particular thread from @CORNYASSBITCH has the Beyhive and Beyoncé haters alike absolutely buzzing.
On Saturday, @CORNYASSBITCH started the, "Being Beyoncé's assistant for the day: DONT GET FIRED THREAD," which is basically a Choose Your Own Adventure game that pretty much everyone is losing at. If you're a die-hard Beyoncé fan, just the idea of working for her, even for a day—breathing her air, knowing her secrets, the chance of getting firsthand side-eye from Blue Ivy Carter herself—is enough to make you take this hypothetical thread more seriously than your actual job.   
Being Beyoncé's assistant for the day: DONT GET FIRED THREAD pic.twitter.com/26ix05Hkhp

— Green Chyna (@CORNYASSBITCH) June 23, 2019
The thread starts as a simple choice of what Bey's breakfast should be: a yogurt parfait or a five-star breakfast. Your choice on this alone can completely f*uck up your chance to continue being her assistant, so the pressure's truly on from the beginning. Even people who are assistants IRL suck at it!
My own assistant just got fired on the very first question https://t.co/VrTrv8Y26k

— christine teigen (@chrissyteigen) June 23, 2019
The thread then goes on through many other choices: which music to play, where she should get ready, and whether or not she'd want to hang out with the West family (lol), to name a few. There are surprises throughout the experience (if you make it far enough), chances at redemption, and honestly some of the ways you get fired are hysterical.
How I get fired for the 4th time pic.twitter.com/R9ezC0zmY9

— Melisandre da Flame ? (@Jinadoll87) June 24, 2019
Y'all cheated and still got fired pic.twitter.com/epZG9lSbBr

— Green Chyna (@CORNYASSBITCH) June 24, 2019

I only cheated once to see the different ways the thread could end, and while I won't give away the ending, I will say I'm still pissed. Whether you're a true Beyoncé fan or not, if you're anything like me and waste spend obscene amounts of time scrolling through social media, this is an entertaining way to put your skills (or lack thereof) to the test.
Images: CORNYASSBITCH(2), chrissyteigen, Jinadoll87 / Twitter
Celebrities You Didn't Know Are Friends
We all have that crew of friends that we would do anything for, whether it's driving them to the airport at 6am or finding matches for them on Ship. It's just what friends do. Famous people are no different, except that the people in their group chat might also be A-listers. Casual. I don't know about you, but my Ship crew definitely doesn't have any Oscar winners in it. Here are some surprising celebrity friendships you might not have known about.
Serena Williams & Kim Kardashian

Serena Williams and Kim Kardashian are two of the most famous women in the world, and they've actually known each other for more than 15 years. A few years ago, Kim told Vogue, "Serena's the girl you can call and say anything to. She'll never judge you, and she's never too busy for you." Obviously Kim has a lot of respect for Serena, and she attended the tennis champion's New Orleans wedding with other stars like Colton Haynes and Eva Longoria.
Russell Brand & Helen Mirren

Russell Brand and Helen Mirren are 30 years apart, but they both have a great sense of humor, and they love working together. They've done a couple of movies together, and Brand even called their relationship"an unconsummated love affair…between a Dame and a vagabond." I'm not sure I know what he's talking about, but I'm glad it works for them.
Jennifer Aniston & Robert Downey Jr.

Jen and Robert have been friends since the '90s, and she even visited him when he was in prison. Famously, he introduced her to her (now ex) husband Justin Theroux, and made a speech at their wedding. Seriously, how can I get Robert Downey Jr. to be in my Ship crew? I need Iron Man to find me some matches.
50 Cent & Bette Midler

When 50 Cent isn't busy feuding with the stars of Vanderpump Rules, he spends time with unexpected friends like Meryl Streep and Bette Midler. He and Bette have attended each other's charity events in the past, and Bette even joked that 50 Cent was going to produce a rap albumfor her. Still waiting to hear Bette Midler rap, but I'm glad these two get along so well.
Gwyneth Paltrow & Jay-Z

Gwyneth and Jay met way back in 2006, and they've maintained a close relationship since then. They've both spoken publicly about their admiration for one another, and Gwyneth even revealedthat her kids call Jay-Z "Uncle Jay." Honestly, I'm obsessed.
Kris Jenner & Jennifer Lawrence

Jennifer Lawrence has been public about her obsession with reality shows like The Real Housewives of New York City and Keeping Up With The Kardashians, so she was thrilled to get to know Kris Jenner in real life. A few years ago, Jennifer's friends threw her a surprise birthday party and invited Kris. When JLaw first met her, she said"it was the closest ever come to losing consciousness. Honestly, I would be the same way.
So there you have it. Just like you and your best friend that you used to hate in middle school, friends can come from unexpected places. Now you're her bridesmaid, and she's finding matches for you on Ship, so anything is possible. Now seriously, who do I talk to about Robert Downey Jr. being my matchmaker?
Images: Shutterstock; Giphy (6)
Presented by

We Think We Know Who Bit Beyoncé In The Face
It's been less than a year since Tiffany Haddish rose to fame in Girls Trip, but she's wasted no time giving us some incredible Hollywood stories. In a new interview with GQ, she spilled the tea on Beyoncé allegedly getting bit in the face at a party by a deranged actress, and I need so much more information. Obviously the A-list stars aren't going to snitch on each other, so I'm taking it upon myself to speculate wildly as to who bit Beyoncé in the face.
Let's go over what we know. According to Tiffany, the whole incident went down at the afterparty for one of Jay-Z's concerts. The biter in question was allegedly on drugs, and she was annoying people all over the party. She even told Tiffany to stop dancing—the fucking nerve! Tiffany posted an Instagram selfie of her and Beyoncé on December 22, meaning that all of this drama must have taken place after the concert in Inglewood, CA on December 21. Call me Olivia Benson, I'm a fucking detective.
There's no way to know every single famous person who was at this party, but the internet has put together a decent list. Here's who we know was there: James Franco, Rihanna, Sanaa Lathan, Queen Latifah, Sara Foster, G-Eazy, French Montana, Diddy, and Jen Meyer. This is an eclectic mix, so let's do some analysis to make sense of it.
First of all, Tiffany said it was an actress, so that narrows it down a bit. Rihanna, Queen Latifah, Sara Foster, and Sanaa Lathan, congratulations, you are still in the running towards becoming America's Next Top Biter. So first of all, I think we can rule out Rihanna. Yes, she's been in movies, but is there really anyone who would refer to her as an actress? She's solidly in the "singer who acts" category, but definitely a singer first. Rihanna, you're out, auf wiedersehen.
And then there were three. Honestly, I don't believe that it was Queen Latifah. She is a poised, mature woman, and she seems far beyond the point of casually biting Beyoncé. I hereby eliminate her from consideration in the who bit Beyoncé mystery. So that leaves us with Sanaa Lathan and Sara Foster, two C-list actresses who could definitely benefit from getting their names in the press a little. Sara Foster is best known for a recurring role on 90210, while Sanaa Lathan has spent most of her career playing supporting roles in mediocre movies. Oh, and Love & Basketball.

Both of these women have responded on social media to their names coming up in the biting scandal. Sara Foster laughed at the thought that she could get that close to Beyoncé, while Sanaa Lathan denied the biting, and said that if anything it would have been a love bite. Sweetie, that's called a hickey.
Chrissy Teigen got involved in the story by tweeting about it, saying that there was only one person who she could imagine being to blame. Later, Chrissy found out the actual culprit, and it wasn't who she thought. Chrissy's Twitter account is often a source of humor, but right now I need it to be a source of information. Does Chrissy Teigen think Sanaa Lathan is the worst? Does this mean Sanaa didn't do the biting??? Or maybe our two confirmed guests aren't to blame at all. Maybe it was someone else. So WHO BIT BEYONCE?? The world needs answers.
I AM NEVER TELLING I'm scared I've said too much KNOWLEDGE IS A CURSE!

— christine teigen (@chrissyteigen) March 26, 2018
Twitter was quick to come up with a wide range of ideas, and some are better than others. Taraji P. Henson was an early favorite, but Tiffany Haddish shut that down, responding to a tweet saying it wasn't her. Thank god, now I can sleep at night. People also suggested Jennifer Lawrence, but it's confirmed that she was in New York, not LA, when the biting occurred. I'm also going to go out on a limb and say that it probably wasn't Chrissy Teigen, unless she was completely blacked out and is now subtweeting herself. Honestly, stranger things have happened. Gwyneth Paltrow was another popular guess, and I can sort of get behind that. Gwyneth seems like the sort of tightly-wound person who could so some drugs and just go fucking nuts for a few hours. I'm not saying she did it, but it seems like a possibility.

Unless Tiffany or Chrissy decide to open up about the biting, the identity of who bit Beyoncé in the face will probably remain a mystery. Unfortunately, there's just no way to know exactly which actress did some drugs on December 21 and went to Jay-Z's party and ended up biting Beyoncé in the face. But whoever you are, please be advised that you are immediately and permanently canceled, and you better not show your fucking face in America ever again. Also, I'm pretty sure Tiffany Haddish will never be allowed near Beyoncé again. I hope she enjoyed it while it lasted.
Update: Multiple sources have confirmed to TMZ that Sanaa Lathan is, in fact, the one who bit Beyoncé. Damning information includes: Sanaa is an actress (as Tiffany Haddish described the biter to be), she was reportedly at Jay-Z's 4:44 after-party in December where the bite took place, and Beyoncé and Sanaa are friends, meaning she'd be able to get close enough to commit the alleged biting. Though Sanaa Lathan sort of denied it on Twitter earlier this week (but really, that denial sounded more like an admission of guilt to me), we're still standing by awaiting orders from our Overlord, Queen Bey. Bey, just say the word and we will… flood her IG comments with bee emojis, or whatever it is people do as retaliation in these situations.
Images: @tiffanyhaddish / Instagram; Chrissy Teigen / Twitter; Giphy (2)
All The Celeb Couples We Think Will Break Up In 2018
This year has been one hell of a year for celebrity relationships. I've laughed, I've cried, and I've wanted to call my ex boyfriend and give our toxic relationship another shot (thank you for that one, Selena Gomez). And even though there have been some massive celeb breakups this year—I'm still justifying to HR the three days I took off of work to mourn Anna Faris and Chris Pratt's relationship because I JUST NEEDED SOME ME TIME, OKAY—there still weren't enough breakups, in my opinion. So, because I am way too personally invested in the lives of complete strangers, here are all the celebrities we wish would break up in 2018.
1. Scott Disick & Sofia Richie
As if you didn't see this one coming a mile away. We've already established that while Scott Disick is thoroughly enjoying his premature mid-life crisis relationship with his new girlfriend, Sofia Richie, she looks fucking miserable to be with him. There's a lot of reasons we want these two to break up. For one, she's a literal child and is closer in age to Scott's son than Scott, her actual boyfriend. For another, I think her presence is the reason why he thinks he can get away with wearing a shirt that's unbuttoned to his naval. It's truly alarming and must be stopped.

2. Vanessa Hudgens & Austin Butler
So this is more for me than anything else, but when is it not all about me, amiright? Anyway, as you may have noticed, 2017 was the year of our favorite celeb couples from our childhood reuniting. First with Liam and Miley and then with Selena and Justin—it's like we're in 2009 all over again, minus the chunky belts and side-swept bangs. And now it's Vanessa Hudgens's turn to step the fuck up and get back together with her ex Zac Efron. It's really the least she could do for me. Look, I have nothing against Austin Butler. They seem genuinely happy together, and it's not his fault that after his short-lived time as a teen heartthrob on Zoey 101, his only other acting gig was "kind of celeb at Coachella." But if Vanessa Hudgens and Zac Efron get back together, then I'll have the whole matching set of teen dream couples, and I really feel like I deserve that for the new year, ya know?

These two have been making me feel like an active participant in their relationship since the second they got together, and I fucking hate it. And I do mean the exact second, because Sarah Hyland doesn't let one damn moment go by without recording it on her Instagram story. I have a lot of problems with this relationship. For one, watching her Instagram story is more uncomfortable than reading my old MySpace posts. For two, Sarah clearly needs a lesson in celebrity hierarchy, because girls with asses like hers should not be dating guys with faces like Wells. Hear me out now: She's on a sitcom that is consistently rated as one of the best on TV, and he… took over for Jorge the bartender on Bachelor in Paradise. So, yeah, one thing is clearly not like the other here. Whatever. I guess she seems happy, but if I wanted to see genuine happiness on Instagram, I wouldn't be following you. Break up or expect to have one less follower from your 5.5 million fan base.

4. Ariel Winter & Levi Meaden
Would this be a complete public shaming list without mentioning my girl, Ariel Winter? I think not. Ariel has been dating her boyfriend Levi Meaden for a little over a year. That is, if you call posting semi-pornographic photos of the two of them dry-humping in various spots all over LA dating. And if you're wondering who Levi Meaden even is, then I can't help you, because after a deep stalking of his Instagram account brief Google search, all I got on him is that he is a Canadian actor whose biggest claim to fame is a role in a movie called Bigfoot Island. I'm sure he's on the short list for an Oscar for that one. While the two of them do seem happy together—in fact, it was reported that he even asked her dad for permission to marry her just yesterday—I'm skeptical AF. First of all, there's the age difference. He's 11 years older than her, and the physical embodiment of her unresolved daddy issues. Tbh, for as much shit as I give Ariel, I just think she can do better than some old dude who probably used his own personal experience as research for his starring role in the Lifetime original movie Revenge Porn. Just saying.

5. Arie & His Blonde
Okay, so I know *technically* the next season of The Bachelor hasn't even aired yet, and we don't actually have any definitive proof of who Arie is going to pick, but, like, we do know that his type is underage sorority girls hot blondes, so he's 100 fucking percent going to choose a blonde. Honestly, it doesn't even matter who he chooses because as soon as they get engaged, I will actively be rooting for their demise. I may have wanted good things for Arie at one point in time, but that time was before I could legally drink and when I was still choosing boyfriends off of which frat they were in. So, yeah, that time is long gone. GOOD LUCK, ARIE.

6. Beyoncé & Jay-Z
Is this sacrilege to bring up? Will I be smote down by a horde of screaming women aggressively singing "Crazy in Love" the powers that be for even suggesting this? Eh, whatever. I can't bring myself to care. Obviously, we all know that Beyoncé is a fucking goddess, and she's had the year of her life, if her Instagram is any indication. That said, we also all know that Jay-Z cheated on her with Becky With The Good Hair. Okay, I'm gonna say that one more time for the people in the back: THE MAN CHEATED ON BEYONCE. If Beyoncé—a woman who I'm convinced can procreate with nothing but sheer force of will and the power of the sun—is having issues with her man, then there's no fucking hope for the rest of us. No, Beyoncé needs to dump his ass, because she doesn't need that shit and neither do I. We're both strong, independent women who don't need no man because we have our own millions to support ourselves. Well, at least those first two were true.

Jay-Z Basically Admitted He Cheated On Beyoncé
Last week, JAY-Z (he wants us to capitalize it now lol) put out a new album that you probably haven't listened to because you're not the kind of girl who pays for Tidal when you already have Spotify. Because he's extra AF, Jay also put out a "mini-documentary" to go along with the album, and in it he answers some of our most important questions.
Basically, he finally addresses how he obviously cheated on Beyoncé and how that clearly makes him the worst person on the planet: "I just ran into this place and we built this big, beautiful mansion of a relationship that wasn't built on the 100 percent truth and it starts cracking. Things start happening that the public can see." We're pretty sure this is a reference to the infamous elevator fight with Solange, aka the moment that Jay was added to our permanent shit list.
Somewhere, Solange is wearing some hipster flowy dress and sipping her scalding hot tea, just rolling her eyes the hardest at all of this. Jay cheating hasn't been news since Lemonade dropped a year ago, but it still feels fucked up to hear him talk about it, because like what the fuck was he thinking?
He also says in the documentary that one time he had to beg Bey not to leave him, and that the thought of losing her was harder than, like, selling crack for a living or trying not to get shot. Shit's real. We have to give major credit to Beyoncé, who's obviously less of a petty bitch than us, because we wouldn't have taken that shit for half a second. Instead, now she literally can guilt trip him for the rest of his life to get what she wants, and he can't say a fucking thing about it.
Thanks for your honesty Jay, now go back to kissing your wife's ass, because you're definitely still low-key on the shit list.
Drop Everything, Sources Say Beyoncé Is In Labor With The Twins Right Now
Our worlds summers came to a screeching halt when it became apparent that Bachelor in Paradise was probably canceled for the season, but like the patron saint she is, Beyoncé has come to rescue us all from a life of mundanity. Rumors are swirling that Beyoncé is in labor with the twins, and if this is true, this just might be what we need to get us through the day week.
Beyoncé or her people haven't publicly said she's in labor, of course, but that doesn't matter. You see, some desperate stans unnamed sources in Los Angeles reported that one of the hospitals there has a ton of security right now, which could only mean one thing. No, not that given today's climate it makes sense for establishments to take extra safety precautions, but obviously that Beyoncé is in labor. I for the life of me haven't been able to find out which hospital has this reported high security so that I can camp out and wait for the birth of these little deities do some in-person investigative journalism. Oh well. I tried, you guys.
For what it's worth, I don't think that Beyoncé is currently in labor. Like, for one, do you really think fucking Beyoncé of all people would go to a hospital that regular people go to like some peasant? No. This is Beyoncé we're talking about. She's probably giving birth in some high-end spa that costs like, $3,000 a minute that happens to employ a few doctors and midwives who will sing to her as she gracefully slides out two twins without even breaking a sweat. Come on. Do you think Beyoncé would risk contaminating her babies' air with the air that not just normal people, but sick normal people breathe? No.
Either that or she's giving birth at home in the comfort of her own mansion with the company of like, her doula and a bunch of healing crystals and no less than five of the world's top obstetricians. I'm sorry, but I just cannot imagine a world in which Beyoncé gives birth in a regular fashion. This is the woman who almost fell off a chair while pregnant during a live TV performance and released not a diss track, but an entire diss album AIMED AT HER OWN HUSBAND—I don't think "chill" is in her vocabulary.
For now we'll have to wait and see if these rumors pan out, but I don't think I'm getting ahead of myself by requesting the rest of the week off of work in preparation. I mean, the twins' birthday is bound to be declared a federal holiday anyway so I'm just getting ahead of the game.
5 New Resting B*tch Faces for Spring
Spring has arrived which means it's time to trade in our all black outfits for different black outfits, and more importantly, to stay on trend with the latest resting betch faces. While last season was all about mid-winter depression and post-election angst, this season is all about showcasing how warmer temperatures equal less fucks given. We're bringing you five of our favorite new scowls for an RBF update that will have you looking bitter and better than ever.
1. Danielle Bregoli AKA "Cash Me Outside"

Danielle became a viral meme earlier this year when she went on Dr. Phil and threatened to fight an entire studio audience, whom she referred to as a bunch of hoes. Naturally, the response is that everyone fucking loves her and she now gets paid $40,000 to show up at events because it's 2017 and God isn't real. As a certified juvenile delinquent, the "howbow dah" girl sports RBF that feels like an instant classic, no matter how badly you want it to just go away already, and will pair well with any casual ensemble and extreme sense of entitlement this season.
2. Sean Spicer

Press Secretary Spicer has quickly become the angriest looking person in D.C., and it's not just because you could land an airplane on the bags under his eyes. Spicey's facial expressions, even when he's not speaking, are filled with a vitriol only experienced by someone forced to commit political suicide everyday as part of their job. He's 100% dead inside, and 100% a must-have in your wardrobe.
3. Lorde

These days Lorde is extremely excited about releasing the smash hit "Green Light" off her new album, but you'd never know it by looking at her. That's because her face naturally emanates hate beams for miles and actually has the power to kill people. Her sleek RBF look is best worn for a night out on the town and is guaranteed to elicit a worried "What's wrong? Are you mad at me?" from everyone who crosses your path.
4. Grayson Allen

Pretty much everyone who follows college basketball hates Duke's shooting guard Grayson Allen, but not as much as he loathes us and life in general. Allen is known for tripping his opponents and consistently demonstrating the opposite of good sportsmanship, all while flaunting his signature death stare. With Duke's crushing loss in the NCAA tournament still so fresh, this look is literally all the rage.
5. Blue Ivy at the Grammys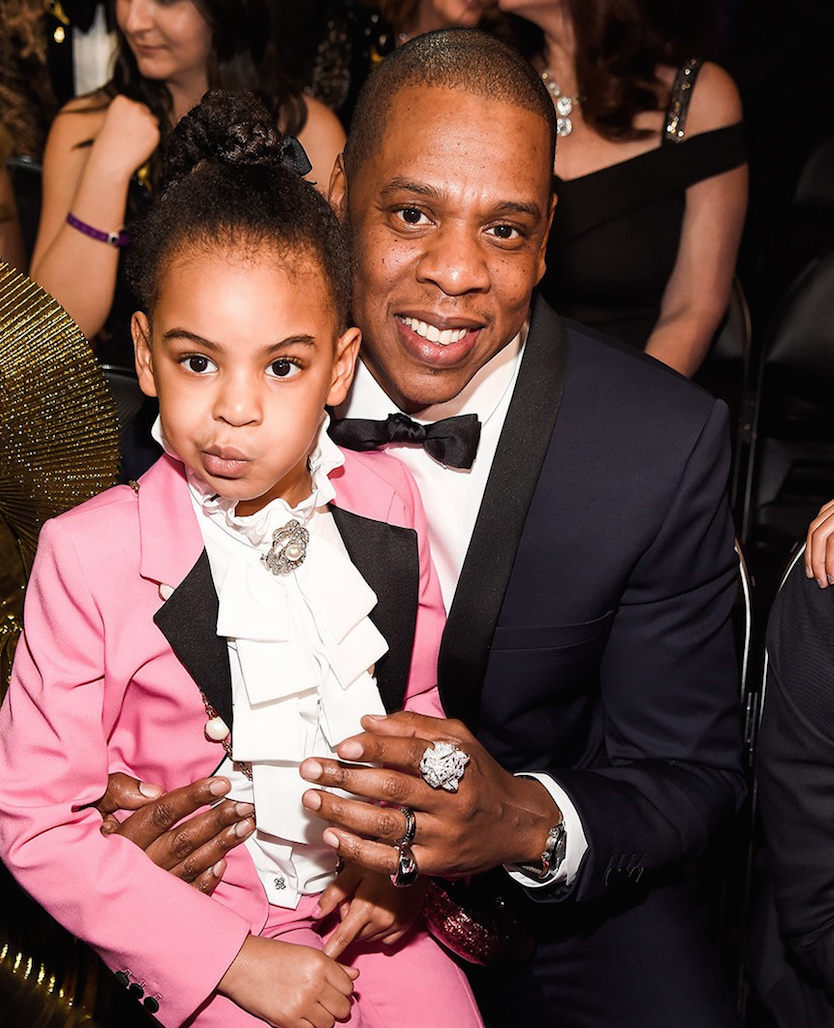 Holy god damn. The world has never seen a 5-year-old harder and fiercer than Blue Ivy Carter, not that we're surprised in the least since she's the offspring of demi-god Beyoncé. At this year's Grammy Awards she sported a $3,000 pink Gucci tuxedo and made everyone from James Corden to Nick Jonas feel inferior with her devastating shade. Wear it out of solidarity for Lemonade, or just wear it because you're a fucking badass. Either way, everyone needs to be sporting the Blue Ivy betch face this spring.