Puffer Jackets For Under $100 That Will Keep You Warm All Winter
With colder weather hitting us from all sides (and Thanksgiving being over), it's officially time to transition your wardrobe to winter. I know, right? Fall lasted like, two days. Betcha wish you could go back in time to the summer when you couldn't stop whining about how you couldn't wait for it to be sweater weather. Right? Right, Jenna?? I'm just a little salty about the cold, don't worry. In any case, one of the main things you'll need to survive the winter will be a good jacket. And not just any jacket, a puffer jacket. These trendy marshmallow coats have been worn by the likes of Kendall Jenner, which means they will keep you warm and stylish all winter long. Thank god for small miracles. I'm not going to freeze my ass off for anyone or any trend this winter. It's just too damn cold.
Unlike the bike shorts of this past summer, the puffer jacket trend is not going anywhere anytime soon, and THANK GOD. That means you can still buy one and justify your spending that much more. Tons of celebrities are killing it with their puffer jackets, matching them with any and all outfits, and you can too. I found copies of the best celeb puffer jackets that you can recreate this coming winter. But, obviously, I found them for way less—I know you don't all have Kendall Jenner money, and with the holidays coming up, we all need to save where we can. So read on to find my favorite affordable puffer jackets.
3 Trendy Faux Fur Coats For Under $100
November chills force us to start layering and packing up our short-lived fall outfits. But just because it's cold AF doesn't mean you can't look good. Thankfully, faux fur jackets are a trend that allow us to be both stylish and warm. That's why I've rounded up some of the cutest faux furs. Perfect for all your favorite holiday activities like blacking out on the sidewalk and chasing down your uber in 30-degree weather. But since you're also a broke betch and need to save money for like, presents (ew), they're all under $100. So don't call PETA on me, because these warm and stylish coats are all #vegan and #crueltyfree.
5 Trendy Puffer Jackets Like The Ones You See All Over Instagram
The puffer jacket trend is literally the greatest thing of all time. You basically just get to wrap yourself in a sleeping bag and then go out in public as if that's socially acceptable. The only downfall is that these coats will make you look fucking massive, especially when paired with chunky sweaters and blanket scarves. Here are a few that won't make you look like a human marshmallow.
This puffer is hip-length, which is usually problematic in terms of avoiding looking like the Michelin Man. However, the hem is both notched and adjustable, so it's like, way more flattering.

The wide puff panels (is that a thing?) and interior waist cincher on this Madewell parka will allow you to pull off the puffer trend without looking enormous. Now you'll have to blame other things, like your Chipotle obsession.

Okay, so the puffer jacket trend is supposed to be giant puffy coats, but if you're really not down for that, this one is close enough. The puffs are way smaller because they're stuffed with lightweight goose down.

Most puffer jackets have panels with horizontal stitching, which can be super unflattering if you are anyone besides Kendall Jenner. Luckily, this one also has a few slimming puff panels (I'm just leaning in) to help the cause.

The slanted pockets and asymmetrical zipper are basically optical illusions. You'll look more like a bitchy teen snow bunny in an ABC Family movie (I know it's called Freeform now, hop off) than a Macy's Thanksgiving Day Parade float.

7 Must-Have Faux Fur Coats That Will Make You Feel Like A Kardashian
If you vicariously live through Hollywood's most hated adored celebs like I do, you've probs seen a recent trend pop up: the faux fur coat. Faux because we actually really like animals (way more than people) and who the hell even wears real fur anymore? I mean, it's 2017—killing animals for clothing is so 1920s. Putting the extra-ness factor of these aside, fur coats are boujee af, v warm, and like, def vintage. So cute. Not only can you obvs wear them out to the club and demand the bouncer let you in because do they know who you are?! But you can also casually wear them to the store or like, while you're hungover on the couch because no one will question it. Suddenly, you've become your own Kardashian meme. To get you psyched for winter, here are 7 chic faux fur coats you're going to want to buy rn

If you want to take it slow with the bold look, opt for a short nude style. The tan color isn't overbearing and still goes with literally everything in your closet. This style features an open front, long sleeves, and satin lining on the interior so you stay warm all season long.

Pink fur is a girly take on the trend that's still absolutely posh. With an oversize collar and extra wide sleeves, you'll look bad and boujee wherever you take this. Its length falls by your waist, but Topshop is such a saint, so they have sizes that work for those that are tall or petite as well.

Kourtney's new collab with Pretty Little Thing is straight fire and full of 70s glam that take you from streetwear to elite nightclubs. Of course it comes in bold shades like neon yellow, hot pink, our beloved black, and this sensual burgundy. The deep wine is dark enough to go with contrasting colors and perf for throwing over a scandy outfit in hopes that you can skip the bar lines. Plus, the warm shade easily transitions your look from fall to winter-ready.

If there's one trend we all swore off as soon as we entered the 21st century, it was def cheetah. I hate to be the bearer of bad news, but this shit is back and it's starting with the fur coat. Maybe I'm biased because I literally just bought a faux fur cheetah coat yesterday, but despite the kinda tacky pattern, it's STILL fun, neutral, and fancy enough to avoid eye contact with peasants people. This style is a bit longer than your average coat so it's obvs extra chic and definitely going to keep you warm (and fabulous) in a tundra.

Going for black is just as obvious as the color of the sky (which, incidentally, is also black starting at 4pm). For a subtle approach, stick with what you know best in a casual everyday style. This one is a bit on the thinner side so you won't be as obnoxious (as the rest of us), but you can pair it with jeans, leggings, or dress it up with heels.

Light gray is winter's unofficial color so, this "dusty purple" (or, light gray as this definitely is…) is totes gorge and looks fab with most things. The shade still says you're a high-class woman who may or may not black after one shot but, should still be getting nothing less than VIP service.

I had to include a multi-colored option because if you can't choose one, you might as well have it all. If you're going for various colors, find a neutral chevron pattern like this luscious brown. It's v long, def warm, and looks scarily like real fur if you're trying to convince people you spent your school's tuition on it.
6 Denim Jackets That Will Save Any Boring Outfit
If there's one thing that literally every single person in the world should own, it's a good denim jacket. For the first time in my life, I'm not even exaggerating. Everyone looks good in a denim jacket, and when you're trying to find a last-minute outerwear option for an outfit that seems otherwise doomed, denim always saves the fucking day. But like, don't get carried away. You can't just throw on any denim jacket and expect to instantly turn into an off-duty 90s model. There are some seriously atrocious denim jackets in this world, so here are a few that don't suck.
Gap basically invented the denim jacket. Don't quote me on that, because it's probably not true, but you get where I'm going with this. You wore Gap denim jackets growing up. Your mom had Gap denim jackets. The cast of Friends probably had tons of Gap denim jackets. They're a classic staple.

Last year Aritzia had a longline denim jacket that I didn't buy, and to this day I still regret it almost as much as I regret the time I decided to get side bangs after a few hours of day drinking during my freshman year of college. Anyway, this thing is basically a giant denim robe, so you can hide any kind of lazy betch outfit underneath it when you need to make a last-minute dash into public.

If a denim robe isn't really your style but you still want to dabble in longline denim, go for this jacket from Topshop. It's a classic denim jacket that's long enough to cover your butt while you're wearing leggings, if you still care about that kind of thing. (Side note: It's 2017, I'm pretty sure you can show as much butt as you want these days, so maybe you don't need to stress about that anymore.)

Realistically, every denim jacket looks basically the same (unless it's a gross cheap one from Forever 21 with a pizza patch sewn on the sleeve), so if you want one that nobody else has, you're gonna have to go custom. Shop Betches teamed up with Unemployed Denim to give you the opportunity to have your own genius idea embroidered across the back of a vintage denim jacket. And yeah, it's actually vintage and not like "Urban Outfitters vintage inspired." You're welcs.

Madewell created this design to mimic the oversized relaxed fit of a perfectly worn-in jacket. It's basically a men's jacket but designed specifically for women. At least if we're not going to be paid as much as guys, we can be excited about having denim jacket equality, right?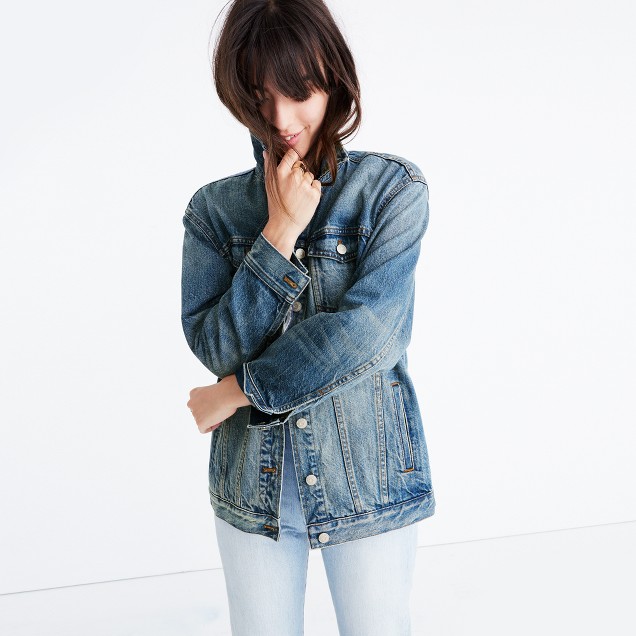 If you can look past the fact that this is called the "Trucker Jacket," this Levi's coat is actually super cute. It's another really timeless design, and the sherpa liner kinda makes it feel like you never really had to roll out of bed this morning.

The 5 Jackets And Cardigans You Need To Get Through Fall
Fall is the shit because I can wear leggings 24/7 and get away with wearing just a big-ass sweater because like, fashion. Even though there's a 30% chance my breasts can tell weather experts say it's going to be a v warm fall, temps are already cooling down. Maybe I'm being ~a little bit dramatic~ but I can no longer take on the night without a jacket. It's getting brick and although I'm sick of wearing the same old denim jacket, I'm not quite ready to sweat profusely in wear leather jackets, either. Layering up doesn't have to be a major buzzkill or make you look like a prude, though. You can still look hot and stay warm, because risking your health for your outfit is totally valid not okay. If you look hard enough, or just take my fucking advice, you can find the most perf lightweight jackets that take you from work to your 5:01pm blackout. Or, you can simply elevate a Sunday walk of shame outfit and die on the couch lounge in the comfiest hangover clothes. Either way, we can only go up from here, so start prepping for chilly fall nights you can def still look good af for.
A duster jacket is the boss-ass bitch of all jackets. They kinda remind me of a cape, but like, a sexy cape. It's business-y, warm, and v comfy for striding in the streets. Yes, comfy and warm *can* be in the same sentence as business-y. Tell your HR rep to suck it. You can totally dress this up with a really good heel or keep it casual with a sexy boot. Although this one comes in black (bless), you'll have one in every color by the time October rolls around.

I might be biased because I have one, but I'm also considerate enough to share my goodies with you. Let me just say, this is the comfiest shit ever. It's a denim jacket and a hoodie in one. Any time I feel like channeling my inner Damian Leigh, I just pull my hood up and throw on my biggest shades and stifle the urge to yell, "She doesn't even go here!" It's also trendy enough to wear with a dress and your go-to little black boot. You can totes get away with wearing this when you drag your boyfriend to go apple picking, or when you go on your sorority's Instagram shoot field trip to a pumpkin patch.

This is the inconspicuous celeb style we all aspire to have. Olive green is always huge for fall, so let anyone tell you it's fugly. This is actually a cold weather jacket so you can justify the price by telling yourself you'll wear it more than just the awkward one week span between summer and fall. The jacket is v lightweight but it blocks out the chill and is like, water resistant??? Fucking grool. Easily throw it over a mini skirt or slutty tight dress for a night out.

This is basically a black leather jacket but like, in gray (fucking obviously) which makes it sooo much better. It's not yet basic so you might as well grab it and be the trendsetter. This one is soft, breathable, and obviously goes with literally anything—from your overly worn leggings to a casual T-shirt and mini skirt.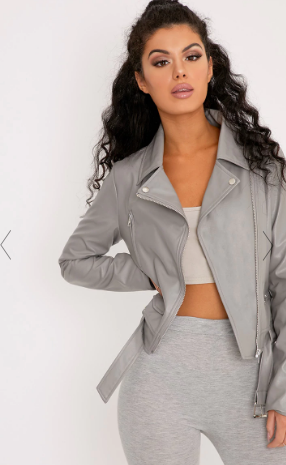 This may look like your grandma's sweater, but that's the whole principle of fall and stocking up on cardigans that end up looking the same. The fringe detailing is modern, laid-back, and says, "I'm not trying hard at all, but this cardigan is over $100." It's honestly not the warmest, but if you sweat even in a blizzard under any coat (uh, same), this is good enough to just throw over for dinner or when hopping a bar strip. Since it's neutral, contrast with something dark (aka probs most things in your closet) or layer up with a light-colored scarf.