The Best Dressed At The 2018 Golden Globes & The People Who Didn't Wear Black
Typically, the Golden Globes is the award ceremony known as the one where everyone gets totally tanked. It's kind of infamously known as the sloppiest televised night in Hollywood. This year, while I'm sure people still got super drunk (I'm looking at you, Franco Brothers), the blackout was of a different kind. As anyone with internet access (or at the very least, cable) probably knows, celebrities wore black to the event in support of the Time's Up initiative, which helps fight sexual harassment against in the workplace. Although it wasn't officially strictly enforced, this was basically the most important dress code since the Plastics decided to wear pink on Wednesdays. Because the whole point is to bring women together, anyone who didn't wear black wasn't like, ridiculously shamed or anything, but they were still noted. So this year we're doing things a little differently with our best and worst dressed list. We'll highlight the people who looked especially amazing (since everyone looks good in black), and point out those who, for whatever reason, chose not to.
THE BEST
1. Saoirse Ronan
Saoirse Ronan is totally on top of the fucking world right now. Everyone's obsessed with her, she just won Best Actress for her performance in Lady Bird, and we all can finally almost pronounce her name without having to Google it. Plus, she had someone FaceTime her mom to watch her acceptance speech. Her edgy Atelier Versace gown is to die for, and I think we all wish we could look half as good with such minimal makeup.

2. Kerry Washington
If anyone in this world is capable of making a sequin high-low dress look incredible, it's Olivia Pope. I mean, Kerry Washington. Obviously, she's powerful enough to do anything (she's literally pulling off purple eyeliner here). I don't see why she can't save the real-life America. Maybe if/when Oprah runs for President, Kerry can be her VP.

3. Angelina Jolie
Angelina Jolie also wore Atelier Versace. This custom gown is totally the personification of the "me when I answer the door of my mansion pretending to be shocked when I learn my 78-year-old husband just died" meme. I'm so into it, mostly because I often forget that Mr. & Mrs. Smith is a movie and not real life, and she's not actually going to assassinate Brad Pitt. (Probably.)

4. Millie Bobby Brown
Millie Bobby Brown is barely old enough to be left unattended in a tanning salon lobby, but I'm still going to include her in every best dressed list because she always serves a perfect look. Honesty, it's unfair that the girl will never have an awkward phase, and I will be bringing it up with my therapist during my next session. Millie's backless Calvin Klein dress is super sophisticated in the cutest way possible and probably makes you want to hide your bat mitzvah photos for the rest of eternity.

5. Oprah Winfrey
I mean, fucking duh, it's Oprah. Obviously the woman we all wish was our mom, best friend, boss, and president slayed. I actually don't know if Oprah has ever looked better. I'm pretty sure everyone's still crying from her speech, so there's that, too.

6. Alison Brie
Dress/pants hybrids are usually as risky as drinking tequila while taking antibiotics, but Alison Brie's outfit absolutely nailed it. It also had pockets, so it's the ultimate "thanks it has pockets" gown.

7. Zoe Kravitz
At first glance, Zoe Kravitz's Golden Globes look is really simple with splashes of color in her jewelry and makeup. Obviously, Zoe has her shit together enough to strategically choose even her earrings and ring. Emerald stones are meant to symbolize hope and growth, and were worn by a few actresses as a further statement. This totally makes me feel like a POS for generally having "I can find two of them while on my way out the door" as the primary criteria for choosing earrings.

EVERYONE WHO MISSED THE 'WEAR BLACK' MEMO
1. Blanca Blanco
Blanca explained her fashion choice to Fox News, saying, "I love red," which is kind of like when Kelly Kapoor wore white to Phyllis' wedding because it was "an emergency," and the emergency was she looks really good in white. Blanca clarified, "Wearing red does not mean I am against the movement. I applaud and stand by the courageous actresses that continue to break the cycle of abuse through their actions and fashion style choices. It is one of many factors leading women to a safer place because of their status. I am excited about the #TimesUp movement; true change is long overdue."

2. Frances McDormand
We're willing to give Frances McDormand the benefit of the doubt because she was so amazing in Three Billboards Outside Ebbing, Missouri, a movie that I bet nobody my age saw, except for me. It's clear from Frances' acceptance speech that she wasn't intentionally making a statement against the #TimesUp movement with her dress choice, but rather, she grabbed this navy dress in the dark while rushing out the door. Let he who has never gotten dressed with the lights off cast the first stone.

3. Barbara Meier
I'll save you the trouble of Googling and let you know that Barbara Meier is a German model who won Germany's Next Topmodel in 2006. It's unclear why she was there in the first place—maybe to keep Kendall Jenner company?—and she basically went in the total opposite direction of everyone else, sporting a multicolored floral dress. Awkward. Barbara defended her decision to not wear black, basically saying that women should be able to wear whatever they want, which nobody is arguing with. She said in a translated Instagram post, "We were fighting for a long time for the freedom to wear what it is ok, to dress up a little more sexy. If we now restrict this, because some men can not control themselves, this is a huge step back in my opinion," seemingly missing the point that nobody cares that she dressed sexy, just that she didn't wear black. Oh well. Can't win 'em all.

4. Meher Tatna
As the President of the Hollywood Foreign Press Association, you would think Meher Tatna would have gotten the memo that on the Sunday of the Golden Globes, we wear black. In her defense, though, a source told The Wrap that Tatna "wore the dress that she chose with her mother," adding, "As part of her Indian culture, it's customary to wear a festive color during a celebration." So like, okay, we're not going to argue with her culture. Sources also say that she's a big supporter of Time's Up, so we'll let it slide. her shoes are black, at least?

The Biggest Snubs At The Golden Globe Awards 2018
The Golden Globes were last night, and as usual there were a few surprises among the winners. Maybe it doesn't really matter that much, but this is the shit we live for. Here are the biggest snubs from last night, whether they were surprising or just kind of sad.
1. Issa Rae
Okay, Rachel Brosnahan is great in The Marvelous Mrs. Maisel and all, but we were really rooting for our girl Issa to pull out a win for Best Actress in a Comedy Series. Considering these shows' spotty record of acknowledging actors of color, and given how talented Issa is (and how fire her bars are), you'd think they'd have thrown an award at her… but we'll get to that a little later.
2. 'Get Out'
No matter how much you talk this movie up to your conservative relatives, you unfortunately can't say that it's a Golden Globe-winning film. Daniel Kaluuya's side-eye throughout the movie is iconic, and should have won multiple awards on its own. Then again, nominating Get Out for the Best Motion Picture in Musical or Comedy was kind of a tough sell to begin with. At least there's still the Oscars.

3. Margot Robbie
Margot's performance as Tonya Harding was amazing to watch, but she never really had the awards momentum over Saoirse Ronan in Lady Bird. Either way, now we all know Margot can fucking act, and she's sure to be nominated again in the future.
4. 'Game of Thrones'
The era of GoT winning all the awards everywhere seems to be officially over. The show was only nominated for one award last night, and didn't manage a single acting nomination even though it has like 4,000 characters. Sad!
5. Greta Gerwig
Gerwig's film Lady Bird pulled out a win for best picture, but but she wasn't even nominated for Best Director. Natalie Portman pointed out that all the nominees were men, and Greta's exclusion is a damn shame and proof that Hollywood has not even come close to achieving gender equality.

6. 'The Crown'
Last year at the Globes, Netflix's royal drama won big, but this year they basically ignored it and gave the big awards to The Handmaid's Tale instead. Tbh we can't really argue with this, but Netflix is definitely putting some pins in their Hulu voodoo doll. Let's just hope that The Handmaid's Tale continues to only win awards for Best TV Drama and not Best Documentary.
7. Actors Of Color
Sterling K. Brown and Aziz Ansari brought some diversity to the TV awards, but pasty white people went 6 for 6 in the film acting categories. Not a great look, Hollywood Foreign Press.

8. Reese Witherspoon
Okay, so Reese still had a great night, but it can't feel great to lose every major award to Nicole Kidman, even if she is your best friend. It's like when you go out with a friend who rolls up to the pregame looking objectively better than you. You're happy for her, but you're also definitely going to get drunk and send at least one shady table text about how "annoying" she's being. It's only natural.
9. E!
This might not so much be a snub as it is serious shade, but irregardless, when Giuliana Rancic asked Debra Messing why she was wearing black, Debra really let her have it. She said she was wearing black "to thank and honor the brave whistleblowers who came forward to share their stories of harassment and assault and discrimination." But then she really honed in on the E! network, saying, "I was so shocked to hear that E! doesn't believe in paying their female co-hosts the same as their male co-hosts. I mean, I miss Catt Sadler." And she did this all while being interviewed live by E! Yeah. We are not worthy.
Debra Messing drags E! (while being interviewed on E!): "I was so shocked to hear that E! doesn't believing in paying their female co-hosts the same as their male co-hosts" pic.twitter.com/HF3B2uhwtF

— David Mack (@davidmackau) January 7, 2018
10. Sexual Predators
Aaaaaand none for Harvey Weinstein, bye!!
Signs You're Dating A Nice Guy Fuckboy, The Most Dangerous Kind There Is
We need to talk about Lawrence from Insecure. By the way, if you're not watching this show, you need to start now because it's like Girls with less privilege but just as much not giving AF. Also, Issa Rae. Anyway, Lawrence is Issa's ex who she cheated on because he was too nice of a guy. This season he's been trying on the fuckboy pants for size and honestly we are concerned. The problem with Lawrence being a fuckboy is that he's the type of dude that gets away with bad behavior because everyone thinks he's a good guy, and that's the most dangerous type.
At least with a true fuckboy, he acts like one by Tinder messaging your friend or only hitting you up to "come ovr" at 1am after he's exhausted his options at the club and he's too broke to go to a strip club. That's the type of fuckboy you can easily handle because you can spot them from a mile away. In Lawrence's case, he's only been in relationships and doesn't know how to act in a casual relationship, so when he tries to just hook up with Tasha, he ends up leading her on. In true shady manner, Lawrence says "I'll let you know" when Tasha asks if he wants to get dinner or something other than just fuck after 10pm, instead of being more up front about just wanting to hook up. Hmm, why does this feel familiar? *Entire dating life flashes before my eyes* Oh yeah.
Then, Lawrence assumes Tasha knows what's up but still takes her out to dinner and agrees to go to a family BBQ with her. He knows he doesn't want a relationship yet he acts like just below a boyfriend to her, which confuses the shit out of her. Tasha might be a basic bitch with an Instagram full of selfies in lace-up tops, but we've all been Tasha once. She's hot AF and isn't desperately chasing Lawrence because she's an idiot, she's following his false signals that he wants a relationship.

Nice guys like Lawrence are the worst when they try to do casual, because they send more mixed messages than a group chat trying to locate your drunkest friend. Because he doesn't want to be thought of as a bad guy, he will continue doing fuckboy shit and then cover it up with nice boyfriend shit to get back in your good graces, all the while knowing he doesn't want to be your boyfriend. He'll say it's not leading you on because he's been clear from the start, but the only thing that's clear is your calendar between 7-10pm because he hasn't invited you out on an actual date yet but he's happy to show up as soon as you get home from the bar.
Instead of just committing to a casual relationship, he can't bear the thought of not being a nice guy, which means he will continue to lead you on and make you think there's a chance while he goes and fucks his ex behind your back. Speaking of which, fucking Issa was also a fuckboy thing to do, because even though she cheated on him, she's been desperately trying to apologize since. If he's truly over it, then he needs to cut her off and move on, instead of giving her hope that they could work it out. In conclusion, the nice guy gets away with being a fuckboy because everyone thinks his intentions are good, but in reality they're even worse than your average shady bro because they don't care about you but will do anything to get you to think they're a good guy. Including lying, cheating, and leading you on. Sorry, but we'll take a regular fuckboy over a nice guy any day.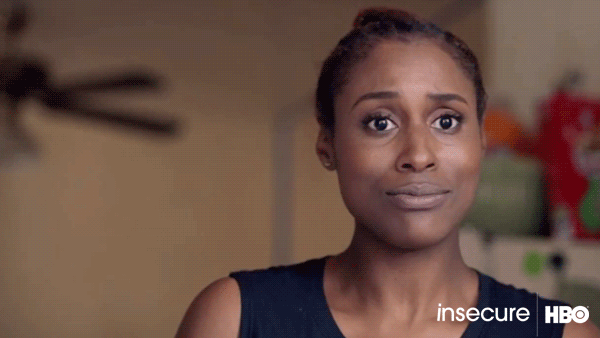 12 Reasons You Should Binge Watch 'Insecure'
If you haven't caught on to Insecure yet, you're in luck because we got bored over the holidays and watched the entire first season and we can tell you why it's a betchy show. We almost ignored this show completely, but we needed a distraction from explaining to our dads for the fifth time that we do have a plan for the future, we just haven't gotten to it. Insecure was the perfect solution. If you haven't seen it, it's basically Girls but instead of privileged New York millennials it's not-spoiled LA millennials who deal with bigger problems than their parents cutting them off after their third unpaid internship, such as casual racism in the workplace. And unlike Girls, watching Insecure won't make you want to kill yourself. And no Lena Dunham (so far)! Have I convinced you yet?
Here are our top 12 reasons why Insecure is a show you should watch.
1. Issa and her best friend Molly have a ride or die relationship that we can all relate to. They're not afraid to call each other out on their shit, but it's only okay when they do it to each other—as soon as one of their other friends talks shit about one of them, they stick up for each other.

2. Molly is a boss betch—she's hot, a successful lawyer, and has an awesome apartment—but she still falls for fuckboys because they're literally a plague. Relatable.
3. Issa is always not doing work at work and bullshits her way through a presentation, same.

4. When Issa gets in trouble for not doing work, she gets back on her boss' good side by throwing a huge party/event to raise money for her job. Literally proving that partying and getting free shit is what she's best at. Betchy.
5. Issa's relationship with her boyfriend takes us through how shitty it is to fall out of love with someone. She wants to get out of the relationship, but it's too comfortable to leave.

6. Issa has commitment issues and when her boyfriend takes her ring shopping, she freaks out and we totally get it.
7. Everyone on the show judges TF out of each other, while the audience gets to judge everyone on the show.
8. The bros on this show are hot, especially Jared. There are plenty of bro butts, which flips the Game of Thrones boob ratio around for our benefit.

9. Molly gets drunk and word vomits to her casual hookup bro, Jared, telling him that she should just settle with him. While we were v secondhand embarrassed for her, we've also all said shit drunk that we regretted later.
10. Natasha Rothwell says the betchiest thing to Issa when she seems upset: "It's my birthday, it will be about you if you get hit or have a baby".
11. The girls get a dope Malibu rental for a weekend and go out with the catchphrase "We did say" as in "we did say we're going to get crazy this weekend," and Molly takes home a college kid. Not a good move, but shit happens when we go out with our girls and "we did say" so whatevs.

12. Everything is fucked at the end of season 1, but Molly and Issa make up and you know things are going to be okay because bros come and go, but your besties hold it down.