TOKiMONSTA On Her New Album, Being A Woman In Music & Her Dream Collab
You know that friend you have? The one who has super interesting style you could never pull off, great energy, and is super cool? Yeah, so that's basically TOKiMONSTA, née Jennifer Lee, except in addition to being known for her fashion sense, she's also a DJ. And not just like, a hot girl who takes a few Instagrams behind a booth and presses play on a playlist every so often kind of DJ, either (if that were the case, I would not be here writing this right now). She's worked with the likes of Anderson.Paak, ZHU, and was nominated for a 2018 Grammy. She's played all types of venues, from Coachella stages to intimate rooftops in Brooklyn, always bringing the same enthusiastic energy, and her sets are always upbeat and fun—there's never a slow moment and the time flies.
But that's not to say she hasn't endured her fair share of obstacles. As a woman in music, it's never easy. She does say she doesn't think she's encountered "extreme difficulty" but offers that could be due to her resilient nature. And boy, speak of resilient. In 2015, she was diagnosed with Moyamoya, a rare brain disease that left her temporarily unable to speak or produce music.  After undergoing brain surgery, TOKi went on to release Lune Rouge in 2017, which earned her a Grammy nomination for best dance/electronic album. The nomination makes her the first Asian-American producer and the first woman to earn a nomination in that category, plus it was named one of Billboard's Top 40 Greatest Dance Albums of the Decade. Talk about a comeback.
Some people might feel the pressure to follow up an album of such acclaim, and Lee does admit, "I'm terrified and excited," to release her third album, Oasis Nocturno, out March 20. Despite any trepidation, Lee says she didn't go into the album with the express purpose of topping the last. When asked what her goals were when creating Oasis Nocturno, TOKiMONSTA said, "I didn't really have any goals. I try to create based on how I feel."
While her music is, to use the professional term, f*cking awesome, mixing different genres and subgenres like hip-hop, dubstep, and house, TOKi says the hardest part of making Oasis Nocturno was not anything like finding inspiration, or figuring out how to best blend her different beats, but actually the opposite: "Narrowing down which songs end up on the album (so I don't go overboard with a 50 song album)" was a top challenge, as was the more technical aspect of mixing it. Although many people in the industry tend to get engineers to mix their tracks, she says, "I like the ownership of knowing I'm doing it myself. I always feel like I'm turning into Russell Crowe in A Beautiful Mind." The result is a melodic and cohesive project that infuses complex vocals into Lee's smooth psychedelic production.
Ahead of the album release, on January 14 TOKiMONSTA dropped "Fried For The Night" feat. EARTHGANG, the second single off the new album, which is kind of like the song that describes when you go out on a Friday night after a full work week—or as she puts it, "everyone has a moment where they feel fried and burnt, but what about those moments you feel fried and turnt?" So she linked up with Atlanta-based hip-hop duo EARTHGANG to produce a song that's "dedicated to those psychedelic moments where our reality opens up a new point of view." Can't relate, but I can relate to the trippy house party visuals.
On the heels of Oasis Nocturno come Coachella performances, a set at Holy Ship! Wrecked on January 24 in Punta Cana, and a headlining spring tour with 16 North American stops. Whether it's playing for huge crowds at festivals or cozier venues, TOKi loves connecting with her fans. "Festivals feel like the entire crowd is one entity and venues feel like you can connect to each person there," she says, but she loves the energy at both. It may seem like she's done it all, and she basically has, but one goal she does have is to work with Bjorn and Missy Elliott, who she says would be her dream collab.
Simply put, if you're not already #woke, TOKiMONSTA is one to watch. It's been a hell of a ride for her so far, and 2020 is going to be a hell of a year for her.
Images: Bethany Vargas
Get To Know Cray, The Artist Fighting For Better Treatment For Women In Music & Gaming
Canadian-born, Los Angeles-based DJ Cray is a one-woman show, or so she told me when I interviewed her at a music festival in Atlanta—just us, no publicist, no manager. That's very rare in the music world from what I've encountered, but it fits right in with Cray's laid-back, completely unpretentious vibe. "I'm kind of get in, get out," she explains. "I'm pretty independent. I'm a one-woman show!"
Speaking of, being a woman in show business was a huge topic of conversation. I didn't mince any words; I just jumped straight into it and asked how she dealt with working in a historically sexist industry. "I think there's a ton of judgment against women," she admits. When they see a woman in music, people question, "if she's doing what she is doing for real, if she's too pretty," and on and on. (Not that it matters, but Cray is gorgeous and looks like an e-girl-meets-Instagram model.) I express incredulity that people would actually count attractiveness against a woman (because who among us has not been called an ugly bitch who isn't talented by our haters). Then again, how could I ever underestimate the hypocrisy of men? Cray assures me that, yes, it happens. "I get a lot of like, you're too pretty to make music," she confesses. But she questions, "Like, if I was ugly, would it be chill?"
She continues, "You would never tell a man, 'oh you're too hot to be doing what you're doing'… but I'm being told those comments." And while it seems like a no-brainer to say, it's apparently not: she asserts, "I'd rather you look at my talent and not my face." But think about it: has anybody ever said Justin Bieber was too attractive to sing? Or, if you think that's a more objective skill than being able to produce music and DJ: have you ever taken a look at Calvin Harris, or Martin Garrix, and thought they were unqualified? I'll wait. "If someone's making art, and giving art to you, it's a pretty vulnerable thing," she asserts. "So just respect their art. If you don't like it, don't listen—you don't need to make mean comments or judgmental things like that."
But the music industry isn't the only space where Cray is on the receiving end of sexist comments and doubt. She's also a big gamer with over 40,000 followers and 500,000 streams on Twitch. Anyone who paid attention to #gamergate in 2014 knows the gaming world as a whole is not exactly welcoming to women (understatement of the decade). I pose this question to Cray, and she seems like she's thought about this a lot. "So I'm basically in the middle of two industries that have issues with equality of women," she says without missing a beat. While she admits, "music and gaming are very different," she finds, "the issues they have are the same." She again cites the skepticism she has encountered that women are gaming "for the right reasons" (right, because women only pursue hobbies for the approval of men) and, again, the doubts about her sincerity and skill because of her looks. And yet I hate to think of the types of vitriol Cray might get if she weren't conventionally beautiful. It's a lose-lose.

It wasn't always this way—getting metaphorically beaten down for being too pretty. "In high school I was so insecure, and thought I was so ugly all the time," she admits. You'd never know it by looking at her Instagram, where practically every photo she posts is envy-inducing. It looks effortless, but the reality? Far from it. After being frustrated and insecure in high school, she says, "I took a selfie, every frickin' day for literally ever." At some point, she recalls, you just start figuring out your angles. "So now," when she poses, she says, "it's like clockwork."
But taking good pictures on Instagram can blur the line of reality, and even though Cray plays into this to an extent, she also acknowledges the danger. "What happens when you see someone in real life?" she asks rhetorically. "The more we edit and the more we try to post those unrealistic expectations, the sh*ttier we feel inside." She admits, "I see some photos and I'm like, 'oh my god why can't I have that body?' And I go to the gym and I'm like, can I have this body? And like, 'that's not f*cking real'. So it's unrealistic and makes you feel like sh*t."
And she insists that the camera-ready version you see of her on Instagram is not her reality. "I have so many days like that where I'm like, I can't even fake it," she confesses. On those days, it can be hard to show your face to over 190,000 followers, but she does it even if it's uncomfortable. "I make sure to show people me with no makeup, no editing," she assures me. "I want to make sure that young women who follow me don't see it as an unrealistic beauty expectation. I want people to realize we all have insecurities. I want people to understand that even the most beautiful people have insecurities, it's just something we live with as people."
So even though she's still being discredited because of her looks, and even though the music industry is far from equal, Cray admits there are "strides being taken." She recalls, "I started in this industry 5 years ago when I couldn't even tell you how many women were on the lineup—maybe two or three—so now the fact that we have more is great, but still have a long way to go." On the one hand, she acknowledges that "women treated equally is hard in a male-dominated industry, and it's hard to change something that's always been the same, it's kind of hard to go against the grain." But she does give props to a number of women in the industry who are uplifting each other, like Anna Lunoe, Whipped Cream, and Kitten. "All these women are just fucking killing it, and we all respect each other, and I wish that respect was everywhere," she says wistfully.
Obviously, the problems facing women in the music industry were not created by women, though, and it's not solely on their shoulders to fix it. It's on everybody. When I ask what we can all do to make the music industry better for female artists, she rattles off a laundry list of solutions: "Just honestly more men becoming allies, more fans understanding equality on how to treat women in the industry, more agents and managers picking up female clients, more people just honestly researching too." To that last point, she elaborates, "there are so many women out there making such amazing music, and if you just take the time to check it out, it's out there."

Being modest, she doesn't explicitly include herself in that list, but she should not be counted out. This October, she dropped her newest EP, seasons change and so do i, via Ultra Records. "The debut single, "idontwannatalkaboutlove," has a total dark-pop vibe and exudes themes of female empowerment and authenticity. "This EP is my heart on my sleeve," she admits. "It's honest and real and I just want to connect with people." And even though she admits that the EP is very vulnerable and there's apprehension in that, she says ultimately, "I'm excited to show that side of me to the world, and finally put it live for everyone to see." Because with her music, as with her Instagram, interviews, etc., she wants to get across to people that, "we all go through changes and heartbreaks. You aren't alone."
Images: Ashley Osborn
Galantis Reveals The Surprising Meaning Behind Their Hit Song 'Emoji'
Galantis is probably one of those names you're seeing everywhere nowadays. Between 150 live shows a year, numerous festival appearances, and two new hits, to say they have a lot going on is an understatement. Thankfully, they made the time to sit down with us at Shaky Beats festival in Atlanta over the weekend to talk about what it's like touring together, how the duo Galantis formed, and a few of their new songs. Check out the interview below.
What did you guys do yesterday?
Show, at Syracuse.
What did you think?
It was a good show! Really good energy.
How are college crowds versus music festival crowds?
I didn't know it was going to be such a great crowd. We actually talked about that, we should do it more. 100% of the crowd went haywire. They were happy we were there.
So you guys tour together a lot.
150 shows a year.
How do you keep up the energy to do that many shows?
It's like, you press a button, you know, you've got to reset. And then you have to be as off as you can between the shows, but once you go onstage it's like a switch in your head, and it just goes.
What was the moment that you were like, 'I'm going to link up with this guy and we're going to make music, and we're going to do this?'
I actually know where I was in Stockholm when I called you that time. It was Old Town. Just so you know… I remember I was walking from a lunch or something and I had the idea. I started to think of names for the band before I actually joined.
What were some of the other names?
Well, we had some of the worst names ever. I'm not gonna say them, but it took a very long time to find the right name, actually. And when we found it, someone else gave it to us.
What is the significance of it to you?
The name now? I don't know. Then it was the perfect mirror for the music we did, but now it's life, you know? And now we figure it's too late to change it.
You recently came out with "Emoji". What was the idea behind the song?
I think a lot of people didn't realize that there are a lot of deep, serious thoughts behind it, and thought it was kind of lightweight but it's not. It's kind of like, sad in one way, that you do start to only communicate through emojis, but also something beautiful with it, depends on what it is. Like, we're away from family all the time, and you don't even have words anymore sometimes, you just send a heart, you know, and that's useful. I think we all know those words, but you sending that emoji means something either way.
And that kind of started the thought, how something simple like an emoji can change how people have a conversation. Because putting an emoji, words, it's not the same thing. It actually added to the way you can communicate. So that's where it came from, the idea.
Do you guys have a favorite emoji?
The heart!
I like the crying laughing one.
That's very good actually! You can't put that into words either!
How did your new song "Bones" with One Republic happen?
It's kind of a long and wacky story. There was like a seed of this original that came across us, and then we wanted to work on it, and then it was already taken by OneRepublic. And I kinda knew Ryan Tedder from the past, so I found out where he lives and I went to his place. And said, "you don't have the correct idea, I have it." No, I didn't say that, but I did say I think we can do an amazing version together, how about that. And I think he liked the way we came really strong, and said that we could take this song somewhere great for both. And I think, yeah, it was such an easy quick thing after that. We were thinking the same thing about the song, and they already started a lot of cool stuff on it, so we took it from there and made it what it is today. But I think they're great, I think Ryan Tedder is one of the best songwriters, I think his vocals are amazing, unbelievable.
So, what do you guys have in the works music-wise? You just released a new song, are we getting a new album?
We got a lot of music really close to coming out. It's kind of a race which one will come out first. 
Images: Jimmy Fontaine
Ookay Talks 'Thief', Stealing The Show At Coachella & Why Women Run The World
I've conducted a few artist interviews in my day. Most of them are formal—you set up a time to meet in the designated press area at a festival, or (if you're lucky) you'll get escorted back to the artist's trailer or tour bus. You get anywhere from five to 15 minutes, and you're on the clock while a publicist times you like a hawk. You're ushered in, you do the interview, maybe snap a few pictures if you have time, and then you're whisked away just as quickly as you came.
My interview with DJ and producer Ookay (real name Abe Laguna) was not like most interviews. When I caught up with him during weekend one of Coachella, I met him and his almost exclusively female entourage ("my biggest inspirations right now are all women," he says) inside the rose garden, where we sat down on the grass and sipped rosé and chatted casually. While most interviews are intimidating, with Ookay, I honestly felt like I was talking to a friend. We laughed and joked; I even called him a troll at one point. Despite the 350,000-plus Instagram followers and the fact that his songs have personally put me deep in my feelings (due to one memorable Ezoo experience when I was cracked out and listening to his song "Thief" on repeat until 5am), I felt completely at ease. I didn't feel like I needed to impress him with well-thought-out questions, and in fact, I learned more about him from the ones that popped up off the cuff. Ookay's publicist told me in advance that he's "super light hearted and full of personality," but even still, I was taken aback by how much that characterization rang true.
It was not most interviews, in part because Ookay is not most artists. The San Diego-born DJ and producer plays drums, trombone, piano, bass, guitar, harmonica, as well as some instruments I've never heard of. "The melodica, keytar, SPD, which is like a drumming apparatus," he ticks off his fingers. I ask how many instruments he can play. "I think 6 now?" he responds, not even completely sure. He credits his musical prowess to his father, a bassist who introduced him to "very complex jazz early on, like, 13 or 12 years old." He says, "It's all thanks to my father, I wouldn't even be here right now if it wasn't for him."
And in an age where being a DJ can mean anything from "getting paid to hit play on a premade playlist" to "arranges all their own music," Ookay sets himself apart from the pack, especially with his live shows. He's been performing live on the festival circuit for a few years, but revamped the format for Coachella, where he plays multiple instruments and sings. He's also upped the visuals. "It's funny," Ookay remarks, "it's called dance music but there's no dancers." So he added dancers onstage. "Problem number one, fixed."

It was important to switch up his live set for Coachella because it is a special place for him. (He will also be playing weekend 2 at the Sahara Tent at 2:45pm.) "I had a lot of realizations here, in good ways. The first time I came here , I figured out I want to be an artist that gets to this kind of level to play this kind of festival."
It feels oddly poetic, then, five years later, he's taking the stage with this original set format, performing as not simply a DJ, but a bonafide artist. "It's kind of full circle," he admits, "very wholesome." He reflects that every year at Coachella he's learned something different. This year? "I think it was more of a reflection of how far I've come to get to this point," he decies. "My blood, sweat, and tears, the traveling, being exhausted, working my ass off, being in a warehouse for two months straight… it's worth it, everything we've been going through led to something special."
He gushes, "And for everyone that I'm involved with—as far as like, my team, and crew, and all of my fans even—it's awesome to see it just progress and keep going. And a lot of new fans, even just walking around people have been like straight-up, 'yo, never heard of you before but checked out your set because we walked in and we heard people just like jumping around and it's awesome to see you doing all this stuff on stage—'"
I shit you not, on cue, our interview is interrupted.
"Are you Ookay?" asks a girl who came up to us with a male friend in tow. I look to Ookay to see how he's going to handle this.
"I am," he answers calmly. She visibly starts freaking out.
"I love your songs so much," she tells him.
"Thank you."
"Can I give you a hug? Is that okay?"
He stands up, gives her a hug, takes a picture. The whole interaction is too perfect, and timed too well, to make up. But I can tell this isn't out of the ordinary for him—not the getting recognized part, but the "being genuinely grateful someone likes his music enough to tell him personally and engaging that person even though he's clearly busy" part. After making this fan's day, we sit back down and resume the interview, picking up at what makes Coachella so special to him. Yes, there's the fact that Ookay credits it as "one of the first festivals I paid for," but it's also where he got the inspiration for his breakout hit "Thief," which boasts over 56 million Spotify streams to date and has been remixed by the likes of Slushii and Flux Pavilion.
He wrote it after that first visit to Indio, where he was inspired to, as he puts it, "make a song that matters in two seconds… something so spectacular that you get excited."

So that's how the musical aspect of his smash hit came to be, but the lyrics?
"Oh, it's definitely about my ex-girlfriend. That's what most of the big songs are written about." That's not a bad claim to fame. "Yeah, well, I'm forever thankful," he says without a hint of irony. Given just how big the song has gotten, there is plenty to be thankful for.
He credits the success of "Thief" in part to its snappy and immediately recognizable intro, plus the memorable sax riff, but what I suspect most of all, the vulnerable lyrics, which are a breath of fresh air in the realm of dance music. " the first time I ever put my voice out there like that, one of the first songs I sang/wrote, period." His approach to writing that song, more or less, went as follows: "I'm going to take what you would consider a journal or a diary and throw it out there."
As far as other muses, he credits a lot of women. Piggybacking off his comments about his female-led entourage, he says, "I'm a huge fan of what Rezz and Alison Wonderland and what all these women are doing."
Women run the world foreal.

— OOKAY (@Ookay) April 11, 2019

He adds, "it's really cool to see women set the bar on so much shit. On top of that, the black hole thing that happened was discovered by a woman. It's amazing. I think most things have been women-driven. We got 10 more years before—"
"Before we figure out how to get rid of you guys?" I chime in (I'm sorry, I can't help it).
"Oh my god, please get rid of us, we suck," he agrees.
Ladies, he's single.

When, naturally, I ask Ookay where his dating life stands now, he seems surprised by the question.
"It's nonexistent," he answers plainly. "I think I'm at the point where if you were like, 'text a girl right now', I couldn't do it." I clarify: because he has no girls to text? "Pretty much," he replies with a shrug. Seems surprising for a young musician who's playing stages like Coachella and Electric Zoo.
"When it happens, it happens," he answers nonchalantly. "I'm not looking, I've been finally single for a year. And I've been working hard, so music has been my girlfriend." He expresses that when he's ready, he'll go out there and find someone—or perhaps someone will come to him. He jokes about maybe even finding the love of his life at Coachella. Then he and I in turn joke about doing an interview a few years from now about that. "Who knows," he guesses. "When I'm married! Or dead—just kidding, hopefully not."
I inquire if he sees himself ever getting married. He quickly answers no. When I press him on why, he says, "I don't know. A ring costs a lot of money." After a pause, he elaborates, "Marriage is interesting, it's like the weirdest tradition. It's traditional, you know what I mean? It's conventional. No one's like yes, marriage is going to be beneficial"—except for maybe the tax benefits, which launches us into another side tangent about people who get married for healthcare benefits. He sees it often, being from San Diego where there's a huge military base, where people often rush to get married.
And just like that, I find myself falling into a predictable pattern of jest that I would with my close friends, making a wisecrack about rolling up to a military base to find a boyfriend. Ookay doesn't think I'm being desperate or weird (or, to put it plainly, that I'm being serious); he gets it, as if we've known each other for more than the 15 minutes or so we've been sitting on the grass.
All joking aside, he asserts, "I'm focused on my work right now, I'm very happy. I just wrote a song about that actually; it's called 'Better Off'," as in, better off alone.
He doesn't mean it in an antisocial way, either, but rather, more on the side of self contentment. "I've gotten used to dinner with my phone," he cites as an example."I really don't mind being alone. And that's fine! And I think that's where I'm at right now, I think right now I'm just like focusing on being the best version of me for someone who comes along, whenever that happens I'm cool with it."
For now, Ookay is working on his relationship with his music, with an album in sights—his first comically accurately named album, Wow! Cool Album!, came out a little over a year ago. He pledges to return to his roots and make more EDM, because, he explains, "those are the people who gave me the platform to do this ". After a few shows in Vegas, he'll take a break from performing, return to the studio, and come back with another new live show. He'd like to do shows in cities that don't often have electronic artists come through, perform overseas, but above all, stay creative and keep pushing.
He puts it simply: "I'm just going to keep making good music for good people and try to reach an audience."
'If You Push Me Hard Enough I'm Gonna Get In Your Face': 'Below Deck's Rhylee On Being Mouthy & More
If you're not watching Below Deck this season, you're missing out. And I say that as someone who used to watch and recap Below Deck and then stopped because it got boring. I don't know what they did in casting this season, but they really got a great group of people. It's seriously so dramatic. We caught up with Rhylee Gerber, one of the deckhands, to talk about her regrets, her relationships with her cast mates, and who's the best kisser on the yacht. Read the interview below, and tune in to Below Deck on Bravo, Tuesdays at 9pm EST.
What did you expect coming into this show?
I really didn't expect much. I mean, I was very excited about it because of the experience that I could gain with working on a yacht as well as traveling, and learning something different than what I'm used to. I mean, that's really what I was thinking about.
How do you think that differed from what ended up happening?
I mean, if you throw cameras into the mix, and different personalities, there's bound to be drama. I didn't anticipate being the majority of the drama, but at the same time I can say that I was 100% me all the time. A lot of was highlighted on the show had to do with me not taking sh*t from everybody, and I kind of felt like I took a lot of sh*t. So I just didn't lay down and take it, I stood up to it.
So do you agree with the way that you came across on camera, or do you feel like viewers didn't get a fair portrayal?
Well, I mean, I'm not gonna sit there and blame anyone else. I've never blamed anyone else for my behavior. I do think that the dramatic personality traits in all of us were highlighted most because that's what creates good TV. I had reasons to act the way I did, but I did get a little bit more heated than I probably should have.
Is there any fight that you regret?
I mean, obviously it would be in my best interest to have tried to get my point across in a less aggressive manner, but at the same time… not everything is shown in detail. Like, there were consistent jabs at me, or bickering, or laughing. I mean, I regret that I came across like an asshole, and like I was disrespectful, because I certainly do respect ranks. The issue I had with the ranks that I was dealing with was that they weren't respectful to me. 
Speaking of assholes, have you heard from Chandler at all?
Actually, no. The last I saw Chandler was in LA, and we were all kind of getting along—we definitely weren't arguing. He and I both had nice things to say to each other, but from there he kind of left a bad taste in my mouth because he skipped out on his portion of the dinner bill that I covered. So, I'm not in a good place with him.
Is there anyone from the show that you still talk to?
Yeah, we've all still kept in touch. What I have to face is seeing these people give their opinions behind my back when I watch the show, it's different from what they say to my face. And I don't know if it's because they're intimidated by me, or if it's because that's just the type of people they are, but it definitely makes it a little hard to trust and want to be friendly with them. Even though we are still in touch,  we're always cordial with each other, after the things said… it makes it hard for me to want to be friendly with them when I do see them.
Yeah definitely, and even on social media, as we're watching the episodes, people are still taking jabs at each other.
Yeah, I mean, that's to be expected but if we've made up, you know, and I've spoke with Ross and Ashton in depth about this and we both were saying the same thing. When we would talk it was like, this is what happened in the past, and we've come over that, we've made our peace with it. So as the episode airs, I don't know what we stand to gain from continuing to be assholes to one another. But at the same time, I feel like they're very good at still doing that, and I can continue to be an asshole and take jabs at them, or I can embrace my portion of it, which is kind of what I'm trying to do, versus harboring more animosity.
So even though you had issues working with a couple of the deckhands, who was your favorite person to work with?
I obviously very much enjoyed working with Tyler because he brought a breath of fresh air when he came onto the boat. The dynamic between all of us changed. I think my favorite person overall to work with on the boat probably would've been Josiah, because he's kind of easygoing and placating to people's feelings when you're one on one.
Who was your favorite bosun to work under?
Oh, for sure Ross. My verdict about Ross is still a little wishy-washy, because I do think from the get-go Ross was the best person for the bosun position. our issues with each other lying and communication still, which is a big thing we have with Chandler. Granted, he's a much better communicator than Chandler ever was, but Ross had an issue with telling me one thing and meaning something else, so that caused a lot of aggravation and frustration on my end. But I do think that Ross was the better bosun, hands down. I think that he tries to appease everybody, and deep down he's a good person.
So, who was a better kisser, Ross or Tyler?
Well, I mean, every time Ross came for me he was drunk, and I was of course drinking too, so I'm going to say Tyler because I got to experience that a little bit more.
What's it like working for Captain Lee?
You know, I didn't really get to interact with Captain Lee a lot while we were working. I mean, there was never a time that I went to the wheelhouse unless we were called there. I never went to Captain Lee to complain about anything, and then it's hard to say how I feel about him in a working environment because I didn't really get to work with him. Is he my favorite captain to work with? So far on a yacht he's the only captain I've ever worked for, so he's my favorite and my least favorite.
Favorite out of one, fair enough. So on the episode that I just watched we got a new stew. What do you think of Laura so far?
Um, when Laura came on the boat we all thought she was—well everybody but Ashton, I guess—we thought she was pretty ditzy just because of how she spoke, and some of the things she would say. But you know, it's a very nerve-racking situation to come in the middle of a charter season, and then go into this group of people that have already worked together and then be as level-headed or as chill as someone like Tyler would've been. You know, Laura's a good chick, and she's coming in with a very boss-like chick i.e. Kate, and…  I think she has a lot to say and it came across rough, but I can understand her position with that because I went through the same thing.
Do you think you would do another season?
Oh, well yeah, my only thought on that is I would love to do another season, on a yacht chartering anywhere. My fear is that I'd still probably be just as mouthy, but hopefully I'm learning more from my experience. I would hope for a better received outcome, perhaps, but the one thing I can promise everybody is I will always be myself. So if you push me enough I'm gonna get in your face about it.
I mean, that's all we want from reality TV.
Right? It just makes for good TV, and fortunately I don't have to act.
So if you could fire anyone on the show right now, who would you pick?
From a professional standpoint or from an "I'm pissed off with them" standpoint?
Let's do both.
Okay so a professional standpoint I guess I would say Laura, because people say she and I both have an attitude and we're disrespecting our superiors, but I'm also still doing my job and I'm doing it well. The episode showed—and again, I'm only seeing it from what we saw—but it showed that she wasn't doing the job. So, from a professional standpoint, you want someone there that's working and doing what they're there to be doing, which is their job.
From a personal standpoint, I would have to say at this point Ashton. And this is during the season and now. During the season he consistently was frustrated with me—even when I didn't speak to him or to anybody, he just had a problem with me. I don't know if it stemmed from him thinking I was happy to see Chandler go, or because I asked too many questions, or because I turned him down for sex. I mean, he just was always frustrated with me, so I do think Ashton does well at his job, but personally I think he helped create a lot of animosity and trigger my anger.
Do you think that you being a woman has anything to do with why people think you're being aggressive or that you're not getting along as well with your male coworkers?
I appreciate that question, but it's only been in this particular situation in my life that I've ever had to think about the woman part, because never in my life did I grow up feeling like I can't do anything because I'm a woman, or people are holding me back because I'm a woman. I've never felt like that. I do understand like, men have certain physical strengths that women don't have. But in this particular case, it's so baffling to me to think that… even when Tyler came on as third deckhand, I wasn't put in positions to help with anchor, or help with anything that was "muscle work." And so part of me thinks like, maybe that was because I am a woman, or because they were frustrated with me. But either way, people are like, "oh respect your rank." Well, my rank doesn't respect me as a woman or as a third deckhand, so it's kind of like, I don't know. I have no idea if it's the woman part or if it's the overall irritation with personalities conflicting. I'm no feminist by any means, but I am seeing what people are saying on both sides I guess, if that makes any sense.
It does. So what are you up to in the offseason?
Ok, so after Tahiti I of course did my season in Alaska. I love just being there, I love running the charters with different clients and meeting new people. Right now I'm doing the same thing but I'm in Key West because our Alaska season's only May through September. So, I mean I usually just travel from gig to gig and find whatever interests and excites me.
Anything else you want to tell the Betches readers?
I mean, I would say to people that have such a strong opinion about anybody on the show, remember that it is a show. I just want people to know, this is a drama series, so they're highlighting the dramatic portions of what makes a good TV episode. And just remember like, you guys weren't there for the whole thing of it, you know? I am a person, I can get heated just like anybody else, and I can be nice as well. I'm usually more smiley Rhylee than I am mad Rhylee.
Catch Rhylee and the rest of the crew on Below Deck, Tuesdays at 9pm on Bravo.
Get To Know TroyBoi, Rising Trap DJ With A Fascinating Past
Even if you passed him on the street, TroyBoi (né Troy Henry) has a presence that is arresting. The South London-born half-Indian, part Nigerian-Portugese DJ towers over me (I'd guess he's over six feet tall).  Tattoos canvas his frame, and he has piercing hazel eyes. Clad in Gucci socks, a Louis Vuitton smartwatch, and vintage Rick James T-shirt, TroyBoi looks like he could have been a viral model—and actually, he may have been an Olympic swimmer if his life had gone a bit differently. "Who told you about that?" he asks, shyly, when I inquire about his athletic past. He reveals he was a top 100m and 200m breaststroke swimmer, and could have become a renowned athlete, "but I've always loved music and wanted to achieve this goal."
If not an Olympian, TroyBoi could have just as easily been a real estate mogul. Before turning to music, he sold real estate and considered opening his own business. Instead, at 25 years old, he decided to take a leap and pursue music full-time. It didn't take long—after winning a Flosstradamus remix contest, his career skyrocketed. At present, the Miami-based DJ put out an EP this spring, V!BEZ, with a follow-up, V!BEZ 2, on the way. He's remixed for the likes of Missy Elliott and Tinie Tempah, played Lollapalooza, EDC, Coachella, and has an upcoming sold-out date at the Brooklyn mirage. Smh. Some people really can have it all.
I express this sentiment to him, but he doesn't take the bait. In fact, he asks if I knew who he even was before this interview. The modesty isn't an act, either. If you happen to run into TroyBoi after a show, he'll stop and say hi, take a picture, and shmooze with fans. "You should never act like a snob," he asserts. "These people are downloading my music, coming to see me perform for an hour and a half, telling their friends about me." If you start out with a big ego, he insists, "you're not doing it right."
As for who or what keeps him so grounded, TroyBoi doesn't credit one particular person or influence, though he is particularly close with his sister, 10 years his junior ("she'll always be my baby sister"), and his mother. His mother is so important to him, in fact, that he has a Catholic saint-like tattoo on his forearm to represent her. He calls it his most meaningful tattoo, which is saying a lot, considering he's covered in them. He gets a little embarrassed talking about his first one, "TROY" written out in an Old English font—"in case I forget my name," he jokes—and a treble clef, "because I'm always going to love music."
TroyBoi's infatuation with music began at a young age, and though his sets will weave in the latest from Migos, Drake, and other artists du jour, the 30-year-old remains loyal to the old school. "I'm stuck in the 2000s," he admits, adding, "Nobody really makes music like that anymore." His idols include Timbaland and Pharrell Williams; he also "loves, loves, loves" Michael Jackson, even incorporating into his Ezoo set a tribute to the late idol's 60th birthday.
Speaking of his sets, fans can expect high-energy, super musical trap beats that show off his multicultural influence and hip-hop finesse. Think "Walk It Talk It" flowing seamlessly into "Say My Name". A TroyBoi set will have you screaming "Oh sh*t!!" to your friends at the beginning of each new track. Imagine handing your coolest, smoothest friend the aux cord.
To be clear, though, TroyBoi's music cannot be simplified to "pass me the aux." In 2018, when everyone with a laptop considers himself a DJ, it's easy to disparage DJs for "just pressing a button", but that's not at all what TroyBoi does. He may appear at ease on stage, but he's like a duck floating on water—calm above the surface, paddling furiously underneath. TroyBoi's sets aren't static; they constantly evolve based on the vibe of the crowd. "If it needs to be amped up, I'll amp it up. If it's too much, I'll tone it down," he explains.
At this year's Electric Zoo, festival-goers lined up hundreds of feet back to catch a glimpse of him perform. It's an accomplishment of which TroyBoi is especially proud, considering, in his own words, "New Yorkers are picky with their music." Simply put, to get to this point takes a lot of hard work. The producer confesses he's worked his past two birthdays, though he hesitates to complain since it's work he always dreamed of doing. And, at the end of the day, it's fun, and he's just happy people come to see him play. "I just want people to believe they can do this too," he says. "It's a lot of hard work, you have to sacrifice a lot. But I want to show you you can do it."
Image: MSO PR
How Does Borgore Feel About Thirst Traps & Butt Implants?
I step into Borgore's dressing room at Shaky Beats festival in Atlanta, entering a sparsely decorated trailer where Asaf Borger aka Borgore sit on a couch, relaxed and unassuming. When I found out I'd be interviewing the so-called "ruiner of dubstep" and self- proclaimed "daddy," I expected to volley insults with a seasoned troll. I didn't get that. And if I'd had any idea that Borgore had been called "EDM's most despised man" by Buzzfeed, I would have been a lot more nervous. Thankfully, I didn't need to be—I was treated professionally and respectfully. But what I didn't know stepping into that dressing room was that back in 2014, the Tel Aviv-born artist came under fire for so-called misogynistic lyrics. Critics have called him a misogynist; fans and the artist himself would argue his persona is at worst, not to be taken seriously, and at best, a performative satire.
Borgore's been wrestling with this question for about half a decade; maybe that's why, when I express my surprise at the contrast between his raunchy online persona and the thoughtful, introspective answers he gives, he says with a shrug, "The people portray me how they want to portray me." He adds, "I think that if you go back on my social media after you met me, you actually see that it makes sense, that everything that I post can actually be viewed in a different way."
So I go back. Scroll through Borgore's Twitter and you'll find tweets like, "When I'm too tired to give her dick so I just give it to her verbally" (I can't decide if he's talking about acting like a dick or if this is about seduction), punctuated by pictures of the DJ signing fans' bare asses. I ask him about it. "If someone came to you and asked you to sign his butt," he replies plainly, "would you not do it?"
Though he's developed a penchant lately for ranking dogs on Twitter (more on that in a bit), when it comes to derrieres, there's no hierarchy. "No butt is embarrassing," he says, though he does admit to having some difficulties in the past "with a little bit of hairiness." And if you're planning on bending over for an autograph, Borgore advises, "If you want your butt signed you need to be pretty dry, cause wet butt is unsignable by the laws of physics—unless you have a really special Sharpie."
Naturally, it being 2018, a conversational detour about autographic asses quickly veers off into discussing plastic surgery. "In general, I really don't like plastic surgery," he states. "If I would have liked to date a mannequin, I would have dated a mannequin. We're not perfect, but I'd rather take imperfection over something that is not real." Before I can soak in this moment of profundity, he follows it up with, "It also feels not real, you know?"
I do not know.
"I don't know if I should say it, but—" he continues, while his publicist tries in vain to protest, "Would you rather have sex with a really big dildo or a human dick that is not as big? I'd rather have smaller tits or butt that feel human than making out with something that feels extremely un-human."
That's the Borgore I expected to encounter—candid, not holding back, a little vulgar. And that reputation applies to his music, too. EDM Identity called him a "beloved yet controversial producer" and he's been said to have "ruined dubstep" so many times, in earnest, that he even released an EP called Borgore Ruined Dubstep. His lyrics often contain profanity and arguably teeter into misogyny—his 2010 song "Nympho", which currently has over 14 million views on Youtube, contains the lyrics, "This bitch is so used I wouldn't sell her at the secondhand store." Then again, that was eight years ago, and society has come a long way since then. So, too, has Borgore's latest album, Adventures in Time.
Adventure in Time is a jazz album and purely instrumental, which allows it (and Borgore) to evade lyrical criticism. That decision might seem unexpected, but to those familiar with Borgore's upbringing, it shouldn't. He studied jazz composition and performance at the Thelma Yellin High School of Arts, so composing a jazz album is not at all uncharted territory. If you look beyond the controversial lyrics and acid-laced Lisa Frank graphics at his live shows, Borgore is a multi-instrumentalist who can play piano, drums, almost everything but the guitar, which he says is "so weird," and which he cannot wrap his head around.
He explains of his foray into jazz, "Jazz was always a big part of my life, and I was scared that I'm not at the level to release anything that's me playing jazz. But I practiced a lot. So it was time." That comment in particular stuck out to me—it's vulnerable; it's at odds with the image of an overly braggadocios monster other outlets have pegged him as.
In any case, going from writing your own brand of dubstep to composing jazz is not a switch many artists could authentically make. And though fans and critics might view Adventures in Time as a departure from the music for which he is known, Borgore contends, "It's parallel. It's another layer, not necessarily a new dimension." He continues, "There was jazz and there will always be jazz; there's dubstep and there will always be dubstep." Even in all his controversy, it is a disservice to Borgore as a musician to dismiss him as a shallow bro-step DJ who's all sex and no depth. To even simply call him a DJ is an oversimplification. "I don't necessarily like DJing," he admits. "I like writing music. DJing is a funny concept," he says with a laugh. "Like, 10,000 people just watch you, like, 'Yo, you know this record! Let me play it to you. You know this record too. Check it out." He asserts, perhaps a little too humbly, "You guys can do it too, but I'm here."
The modesty doesn't seem like an act, for what it's worth. I ask if he ever watches his sets—the way pro athletes watch their games to look for areas of improvement, even— and he almost scoffs at the idea. "I hate watching myself," he replies. "I feel very embarrassed. My friends family would always go back like 'yo, check the crowd, they had so much fun!'" But as for viewing the footage himself? "Don't show me, I don't wanna know, I'll take your word for it. Also it's very narcissistic to look at yourself." Borgore even says he hates taking pictures; he's not one for looking at them, either. And although attractive young women populate his mentions and his Twitter bio reads, "turning next doors to bad bitches," he insists he's not the type to get ensnared by thirst traps. "I don't even pay attention to how people look online," he tells me. "There's so much work behind it—Photoshop, right angle, whatever whatever. You should not put social media as your standard."
As for who else makes up the majority of his mentions? Believe it or not, dogs. Tweet Borgore a picture of your pup, and he'll rate it, most often a perfect or above perfect score. "They're all perfect. They're all so cute," he says, not just about the dogs that get submitted to him, but all dogs. "The only thing that would love you more than your mom is a dog. And what's beautiful is the dog would love you if you're rich or poor, if you have butt implants or don't have butt implants… the dog will love you for who you are, truly."
Even if we never figure out who Borgore truly is, he is confident his future holds dogs. Many dogs. "I see myself in 20 years on a ranch with like, 100 dogs," he says. I ask if that means he sees himself retiring soon. "Nothing is forever," he says without hesitating. "Nothing is. The universe is not forever. Everything has an end. My career will end at one point. When I'm gonna do my retirement I still don't know, but there will be dogs involved."
Armin Van Buuren On His New Single's Unlikely Inspiration, His Love For New York & How He Saved Electric Zoo
Armin Van Buuren has been called many things, like "the flag-bearer of the trance movement" and "among the world's biggest DJs and producers for over 20 years." That's longer than some of you reading this have been alive. He's a five time #1 DJ in the world according to DJ Mag and has picked up a Grammy nomination for his song "This Is What It Feels Like". He sold out Madison Square Garden as the first solo dance artist to play there. Simply put, he's a big fucking deal. But he's also a great guy. We got the opportunity to chat with Armin Van Buuren at Electric Zoo, where he dished on why he loves New York, where he gets his inspiration, and more. Read it below.
It's really great to have you at EZoo. We're so excited. What brings you back to this festival year after year?
Uh, the invitation from the organizers. I was here the first edition. There was some drama around this festival a couple of years ago, I don't know if you remember, and the city was investigating if they would give another permit. So they wanted to have a couple of the artists actually on the phone, so I was in some sort of weird phone conversation with like, all these people from the city. So like, "So Mr. Van Buuren, why do you think Electric Zoo is important to New York, etc.?" I said, "Well, it is the premier, biggest, electronic music "… and it's still here, so I guess the phone call helped a little bit.
It was funny because this first Electric Zoo was founded by Made Event, of course, Laura and Mike, who have been supporting me since day one—they're not here, it's now part of a different organization. But it's still Electric Zoo, it's still the same place. Actually, the Main Stage is still located in the same place. I feel a strong connection with the New York people. I've been coming here so many times. I wish I had more time to play here. I love the city. I love the fans here. If you look at the statistics on my Facebook, you can see that the most fans in the world are either in Mexico, LA, or New York.
That's amazing.
It's a draw between that, so for me to be here is actually a little nerve wracking, because you know Frank Sinatra was right.
You sold out MSG.
Yeah, twice. It was a magical thing to play there. I'd give my left pinky to play there again, but it's not the best venue, I think, because you have such a small dance floor; it's seated.
They rip out half of it.
Yeah, like, how's that gonna work if it's seated? I found that… special.
If you had to hypothesize, why do you think that the biggest fans are LA, Mexico, and New York, and not the Netherlands?
You know, it's a wild guess for me too. There's just a love for trance here. Every week, we monitor the social media activity. I have a team of four people. On the show we have an item called "Trending Track," and we see how much people talk about certain tracks or what they think. And "Trending Track" doesn't have to be positive, it can also be negative, but we play it again next week. We see that New York is always taking part of that conversation.
How does it feel to be back in New York?
It just feels great to be back. In a way it feels like home, because I've been coming here for so many years, playing so many gigs here. It's legendary, as you know.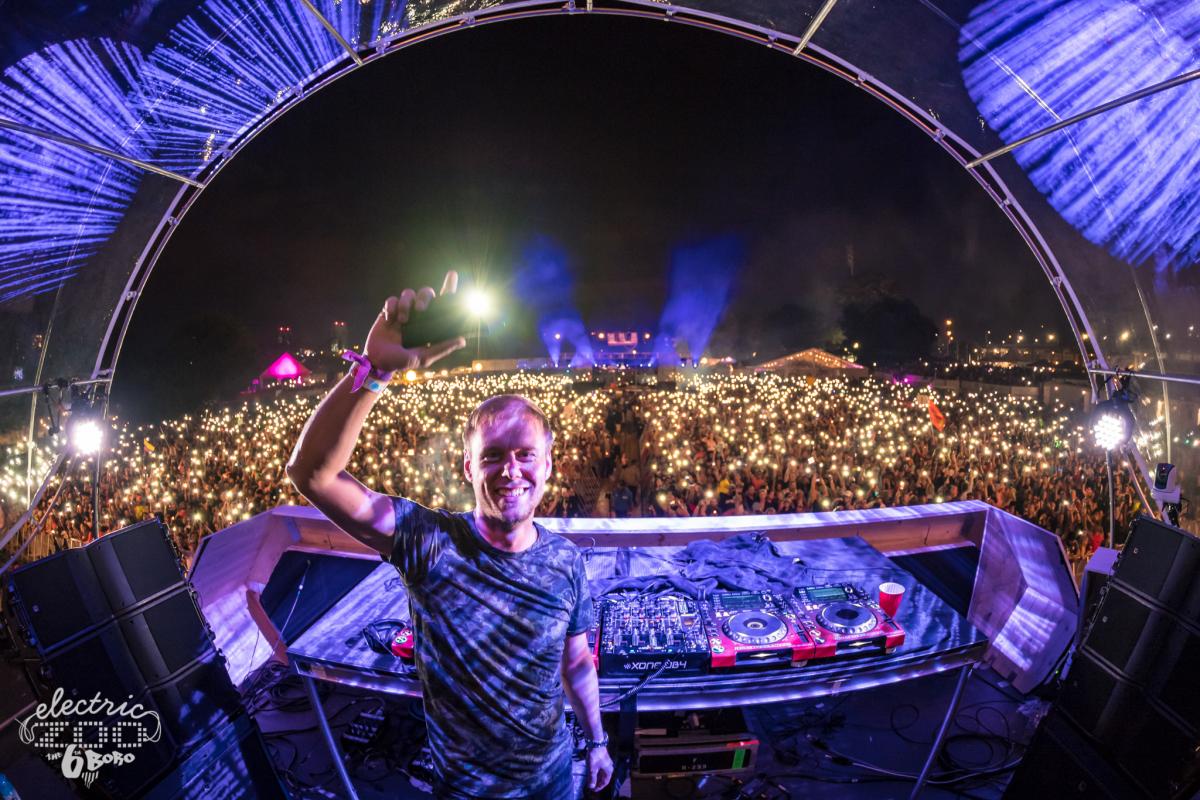 Yes. I really love your new single, "Sunny Days." Can you talk about what inspired it?
To put a long story short, I was in the studio with Gordon Groothedde and Benno de Goeij, and we were creating instrumentals for a new song writing session, and we came up with this particular melody. It was a funny story. I was coming back from the bathroom and we were just jamming away, and there was a guy painting my house. And you know how a painter comes in your house in the morning when you're not really wanting him to be there, but you need your house to be painted? And painters always have this melody that they whistle, so I came back from the toilet, and I whistled literally, because that was something a painter would sing, when he comes into your house.
Right. Totally.
Right? You're still waking up and having coffee and "Morning!" And he started playing it on the guitar. Fast forward a couple of weeks later, I had that instrumental and I was visiting Toby Gad in LA in his studio there. Toby Gad's one of the writers of "All of Me" by John Legend. We weren't actually supposed to be writing music, just sitting in his studio. We were just sitting there. I say , "Oh yeah, I have this instrumental that I want to play you." I played him a couple of instrumentals and this was the third or fourth, and they were instantly into it. And then I thought of the hook line. "Oh Sunny Days." We recorded that hook line and I left. A few hours later I got the first demo. I said, "Wow this is amazing. We have to finish it." So they sent me the stems of what they had and I developed it more in my studio in Amsterdam. And then they worked on it a little bit more and we had this track, which was funny, because it's like, wow this is different.
I really love it.
A conscious decision in my career is that, as proud as I am of my past successes, all my albums and my songs are my babies. All my sets have been conscious decisions of that time, but I can't recreate the stuff that I've done in the past. I have to move forward. I have to.
There's some people that do, and I don't criticize them, please note this. Some people, they choose to use the same kick drum and baseline for 10 years; nothing wrong with that. Because if it works, it works, right? The new Pink Floyd album sounds like from the 70s, what you want. You want it to sound like that. For me, the only way I can make music is if I work with new people, if I'm inspired.
Where do you look for inspiration? You've been in the game for two decades.
Working with interesting people. Looking around you, trying to reinvent yourself. I used to be the guy in the studio that always had the 8R loop, and then adding baseline to it and melody. And now I sit at my kitchen table, literally with a guitar. I'm not a guitar player. I can't even tell you what strings to play, but if I have two chords that sound cool, I'll record them and I'll loop them and I'll make them into a song. I think, "I'm not a song writer. I'm not a guitar player." Why not? There's a song in everybody, and I challenge everybody that listens or reads this interview. Just do it. The only thing between yourself and a hit record is yourself. There's a hit in everybody. It just takes the guts and the determination to actually finish it, and that goes for everything in life. If you want something hard enough, of course talent helps a little bit, if you've done it before it's obviously more easy, but if you can put your mind to it you can accomplish anything. I'm totally convinced. You may not get it at first. It may take a couple of months, maybe even years. But if you work on it hard enough, if you want it hard enough, and if you have original ideas, then you're going to get it.

Is there anyone that you really want to collab with? Living? Dead?
You know, every human being is beautiful in a way, and I'd like to work with anyone that has cool ideas. I've written the most beautiful songs with the most random people. But if you really put a gun to my head, obviously I would say Chris Martin. Of course everyone wants to work with Coldplay.
Then again, I worked with Coldplay. I've worked with some really famous people—I don't want to mention names—but those tracks didn't happen, because it's always about the song. People keep forgetting it. You can work with Michael Jackson in his golden days, but if the song is not right, then it's not right. I tried to work with Deadmau5, it didn't work. It's always about the idea of what do I want the song to be about? Is there an emotion there? Am I feeling this?
You're teaming up with Hardwell right?
Yes, for the AMF Festival. Also, doing a "State of Trance" that week. I just like to do different stuff. As much as I like the trance scene, it's very much in itself right now—which I think is a good place, but as an artist I feel the need to sort of venture out do uncommon stuff. I want to do stuff that's exciting and unconventional. I'm sure some people would've raised their eyebrows, but I'm sure that I can convince Hardwell to be a little more trance-y. You know what I mean?
If anyone can, I'm sure it's you.
"Off the Hook" was probably the trance-iest record ever made. I see it as a challenge, not as "Oh he's EDM" or whatever you call it. I like Hardwell as a person, he's an amazing guy, a good friend. We're very close and we're friends, so why not? It's not going to be earth shattering if we do one hour back to back. It's not like he's going to be a different person after that. I think people will be excited for that.
As we close up, what's coming next for you? Do you see yourself retiring?
I actually started working on the Gaia album, which I'm super excited about. We have a whole concept behind it, and I'm super happy. But we just started, so that's not going to be finished for quite a while. The two next singles are ready. State of Trance 1000 coming up. Doing the radio show every week, now with video, has been quite the challenge. It's a big change in my life. It's exciting.