A Celebrity Trainer Answers All Your Questions About Keto & Intermittent Fasting
These days, it seems like every person on Instagram has an opinion about what meal plan or exercise program you should follow. But, as we know, you can't trust influencers' fitness advice. So who do you turn to when you have a question about, say, the pros and cons of keto and Intermittent Fasting? You turn to the pros, of course. Jorge Cruise is a celebrity fitness trainer, distinguished weight loss coach, brand partner for Cece's Veggie Co., and #1 best selling fitness author. He has influenced celebrities such as Angelina Jolie, Jennifer Lopez, Khloé Kardashian, Steve Harvey, Miley Cyrus, Tyra Banks, 50 Cent, and Eva Longoria with his diet and workout plans. That's more celebs than in the famous 2014 Oscars selfie. Except, this time you get an invite to join the squad and hear what Cruise has to say about the Intermittent Fasting and Keto diets, two of the hottest diets that all your friends are probably talking about right now. 
So, WTF Are Intermittent Fasting And Keto?
They may be really popular at the same time, but these two diets couldn't be more different. According to Cruise, "Intermittent Fasting (IF) is when you eat in a time restricted window, typically 8 hours to eat and 16 to fast" and "Keto is focusing on high fat, high protein and leave out carbs." Cut out carbs? Over my bread body. Thankfully for me, Cruise agrees. He states, "Personally, I feel like IF is better because you can eat carbs, it's a more balanced approach and is more practical. The 16 hour window of fasting you allow your body to do housekeeping, or autophagy, which is vital to longevity and disease prevention." 
What Are The Pros & Cons Of Each?
No diet is ever right for you, the word literally has the word "die" in it. But, if you're going to give one a try, then you should do one that would best suit your lifestyle. Cruise says, "IF is for someone who wants a lifestyle and balanced program where you can enjoy carbs. Keto is just for short-term and only if you like high fat, high protein and don't like or don't mind not eating carbs." Who the f*ck wouldn't mind not eating carbs? No one. Absolutely no one. 
How To Prepare 
We've all been there, having a "Last Supper" before going on a diet, where you eat like you're never going to be able to eat anything flavorful ever again. I mean, it's literally the inspo behind the name of our podcast, Diet Starts Tomorrow. But just know that if you do that, you're doing it wrong. You should prepare for a diet mentally, not by thinking about how much you are going to miss eating ice cream, but by reminding yourself of your motivations for starting the diet. Cruise states, "Regardless of any diet, having strong motivators to do so is very important. If you don't have a strong enough reason it will be hard to start anything. I suggest to my celebrity clients to find a reason beyond looking good for summer—something significant. Maybe that's transforming their confidence so they can improve their relationships or get into a better one, connect it to their career knowing that if they are healthier, they have more energy and confidence and can earn more. For some it's family, being a role model for their kids or their spouse. Find something strong to motivate yourself." 
How To Stay On Track
It's easy to get off track, but remember that smart eating decisions start in the supermarket. Cruise suggests, "For IF, fresh produce is good, and focus in on healthy fats and protein. You can also have carbs like vegetables and even pizza, pasta, and fried rice." As far as vegetables go, Cruise says, "My go-to and what I recommend to my clients is Cece's Veggie Co., a line of organic spiralized and riced veggie products that go from pan to table in minutes. Cece's makes it easy to add fresh veggies or swap in veggies for pasta and rice for a fraction of the carbs and calories."
For keto, same thing, but no carbs. "Choose organic, and you may need more variety since it's high fat high protein," Cruise says. Another way to stay on track is through exercise. Cruise says, "I think exercise is something you should do everyday. I think you should do it in the morning while you're fasting , it's scientifically proven to be the best time to burn belly fat. Make sure to stay hydrated with electrolytes and water. With keto, a lot of people work out as well." 
How To Have A Life
Going out to dine with friends can transform your night from a nice, relaxing evening to an anxiety-filled disaster when you're on a diet, but it doesn't need to. On IF, Cruise says, "you can customize your eating window around what plans you have. You can eat at night with your friends if you go out or in the morning/afternoon. You can enjoy the foods you love on IF like pizza, pasta, and wine!" However, he notes, "with keto it's trickier because you have to focus in on healthy fats and proteins only. You won't be able to eat bread, drink wine, etc. so it'll be a little trickier since it's more limiting. You will need your friends' support since you can't be eating as many carbs." So, I guess this is a good way to find out who your true friends are. If they can handle you at your carb deprived worst, then they're real ones. 
So, Which Is Right For You?
Ultimately, I don't like to sign up for something that doesn't allow me to eat cookies whenever I want, but that's just me. But if there had to be a diet that was less painful, Cruise says, "IF is easier as it's a lifestyle plan, it's what I do and teach all my clients." In regards to Keto, Cruise explains,"Keto is a great way to lose weight rapidly, but unfortunately, you can't eat a lot of carbs. They both can cause you to lose about a pound a day," Cruise points out. So it all comes down to this: what's more important to you: midnight snacks that you can eat on keto, or carbs that you can eat on IF. You can only choose one. 
If neither of those sound amazing, Cruise created his own diet explained in his book,The Cruise Control Diet where you eat in an 8-hour window. And unlike IF, there's an eating plan that ensures people aren't hungry. He says, "The great thing about the Cruise Control diet is that there's NOTHING that's off-limits."
So, that's the tea on Keto and Intermittent Fasting from a celebrity trainer. If you're brave enough to take on one of these diets, I wish you the best of  f*cking luck. If not, let's get pizza some time.
Images: Jorge cruise (3) / Instagram

I Tried Intermittent Fasting For 10 Days & It Was Not At All What I Expected
As I'm sure many of you can relate to, I did not enter January feeling the best I've ever felt about my body. Honestly, forget holiday weight gain—I hadn't successfully lost weight since a stomach bug last May, and the whole thing was starting to feel hopeless. In 2019, I'd already tried a juice cleanse (painful, results gone within a week), and macro counting (exhausting! very difficult without professional advice on what to eat). So finally, I turned to intermittent fasting. I am in no way a nutritionist, and I cannot tell you whether IF is "good for you," or give you a scathing review of whether or not the science behind it is legit. What I can tell you is that I had a tough 10 days, and a surprising set of results. If that's enough for you, read on for my experience with intermittent fasting
What I Expected From Intermittent Fasting
If you're interested in learning more about the science behind IF (intermittent fasting), or the different ways you can do it, I used these three articles as guides. Like I said, I'm not a nutritionist, and I truly don't want my advice here to be the last word on whether or not you embark on a major diet change. Please believe me—it is a MAJOR change. I understood the merits of IF in two ways before starting. First, I learned that periods of fasting decrease insulin production and boost growth hormones—both of which mean nothing to me, but they apparently help boost metabolism, burn fat, and gain muscle. Second, by limiting your "eating window" (a term my friends would literally pay me to stop hearing at this point), you're meant to limit overall calories (e.g. you can't eat breakfasts anymore; you skip seven breakfasts' worth of calories per week).
Have some objections to that second point? Yeah, me too—don't worry, we'll get there. But just to be clear with my intentions for IF: I wanted to lose weight. Not a drastic amount, especially not in 10 days; I know all too well that that weight just comes right back. But losing maybe 1, 1.5 pounds? If nothing else, just to prove that my body was still capable of weight loss after all the weird diets I'd put it through. So, I decided on a 16:8 routine (16 hour fast, 8 hour eating window), and set off on my 10-day journey.
Actual footage of me putting together diet plans and not shutting the f*ck up about it:
How Fasting Actually Felt
Despite most recommendations for 16:8 suggesting eating 12-8pm (or even earlier), I set mine from 2-10pm. First of all, I struggle way more with snacking at night than I do during the day, and I didn't want to set myself up for failure. Second of all, I have a standing Bachelor date Monday nights, and no way in hell was I sitting through Colton's journey for love without a healthy dose of wine and pizza. The first few days were mostly the same: I showed up to work around 10 (usually when I eat breakfast) and had unpleasant but bearable waves of hunger until 2pm. This included stomach cramps (worst when I woke up, or when someone ate a delicious-looking bagel near me), and a few headaches. Water and black coffee helped, but honestly more in terms of keeping me awake than making me feel better.
The first mistake I made that week? On Day 3, I went to a spin class at 8am (a disgusting habit I picked up in LA). Not only did I nearly die from hunger that morning, I forgot the parameters of my eating window and ate until 10:30pm that night. While I worried I'd messed everything up, and was starting to question how healthy it was anyway, I woke up on Day 4 "feeling LIGHT" (per my detailed notes). My stomach felt flatter, my digestion was good, and my hunger cramps were clearing up sooner. Everything seemed good. And then, as must happen to all diets, the weekend came along.
I was spending that particular weekend in Salt Lake City, crashing some friends' ski trip. (I don't ski, I just wanted to drink in a cabin for a weekend.) In preparation, I switched my eating window for the weekend to 4pm-12am. After all, if I was going to make IF my long-term eating pattern, it had to be something I could do while maintaining a social life. And my social life right now involves ingesting calories after 10pm. (I say "involves," but really that's all my social life is.) I also weighed myself Friday morning, but both of the scales turned out to be broken, and both told me I'd gained 16 pounds in the past two weeks.
So, even though I'd woken up Friday feeling light and lean, I spent most of that day questioning reality and trying not to eat my own hand. By the time I could eat at 4pm, my body went into full animal mode, terrified I would fast for another 18 hours at any moment. Basically, I filled the day with airport snacks, a pasta dinner, and bags of Cheetos and mini Oreos the Airbnb host had left behind. Yes, right up until midnight. Saturday and Sunday, I accompanied the non-skiing group to two massive brunches and fasted through both, for which I would like several medals. (Insta proof below.)

Throughout the weekend, I felt like the bloating and general gross-ness I'd kicked during the week was back—but mostly I blamed the type of food I was eating (processed garbage and desserts, yum), and it was more of an internal "yuck" than an "oh sh*t, these pants are not fun to button." The final few days I focused on drinking sh*t tons of water, eating more real foods and fewer snacks, and bringing my eating window back to a reasonable range. (AKA Monday I ate 4-11; Tuesday I ate 3-10; Wednesday I could eat at 2 again.) But honestly, I never quite kicked the bloated feeling from the weekend and I was still freaked out by the scale disaster Friday. By the time I went back to regular eating, it didn't come a minute too soon.
Pros & Cons I Felt On Intermittent Fasting
I would need a licensed professional to confirm or deny this, but I suspect that I messed up by making my eating window so late on the weekend. Like I said, I am a chronic night-snacker—which means I've read all the advice on how it's the worst thing you can do for your body and how you're meant to give your body 2-4 hours of not eating before bed. I've also been a yo-yo dieter for years, and heard rumors of starvation mode (when your body's metabolic rate slows down bc it thinks you're dying and need the food) if you deprive your body of calories irresponsibly. Again, IDK for sure what happened, but once I started eating from 4pm-12am it felt like my body panicked, shut down any fat-burning processes, and held onto whatever calories I did consume for dear life.
In other words, with a later eating window, my digestion slowed, my usual bloated feeling returned, and it quickly seemed like a terrible idea. And while my 2-10pm eating window had made me feel lighter after a few days, it had also allowed me to stop thinking so carefully about what I was eating. I would try to break my fast with a big, healthy meal, but I was way more relaxed about carb content, afternoon snacking, and eating desserts. As long as I stopped at 10pm, I was still technically on a diet—right?
Yeah, I wasn't right. People who promote IF assume that you'll eat fewer calories if given less time, but they've clearly never been to a timed buffet. I can't say for sure whether I was eating more calories while I did IF, but I really doubt I was eating fewer (and definitely not on the weekend). And overeating with 16-hour breaks isn't a diet: it's just eating the same amount and giving you a better shot at digesting it properly. By the time I found a less f*cked up scale that Friday, I found I was two pounds heavier from the whole experiment.
BUT—and again I have no way of proving this—I felt like it was possible that part of that weight gain was muscle. I'm the kind of person who can (and has) temporarily gained two pounds from a large meal, and I'm very familiar with what that feels like. This weight gain, however, felt different.
To sum up my very scientific impression of how my body changed during this process, I felt like I was roughly the same size but less jiggly—like my pants were maybe a little tighter in the legs, but looser in the waist. It wasn't my goal, and I still have five pounds I'd like to lose, but I've experienced worse results on more painful regimes.
Overall, would I recommend intermittent fasting, or ever do it again? Kind of! I would recommend trying a few different eating windows and seeing what works best for you, for sure. I might try incorporating a 24-hour fast once a week, since I'd had good short-term results with a few days of fasting. Ultimately, I think incorporating a couple fasting periods helped me shed some bloat and regulate digestion—but extending the fasts and confusing my body on when to expect food backfired. As much as I hate to say it, I have to accept that this wasn't a "weight loss hack" by any means. If I actually want to see a lower number on the scale, I will have to consume fewer calories. Until then, I'll be accepting tips on how the f*ck I'm supposed to enjoy an evening at home without eating until the second I fall asleep.
Images: louisabhaus, dietstartstomorrow (2), betches / Instagram
Does Intermittent Fasting Work? We Asked An Expert
If your Instagram newsfeed is filled with a sh*t ton of fitness influencers, then amongst all the sweaty workout selfies and workout apparel discount codes, odds are, you've at least heard the mention of intermittent fasting. But what exactly is this scheduled way of eating if it's not necessarily a diet? Well, to the average person (myself included) intermittent fasting probably just seems like a psycho routine where one only eats in a short window of time throughout the day and starves themselves the other hours all in the name of dropping a few pounds. Well, because I'm curious as to why someone would endure such torture when there's like a million other ways to lose weight, I spoke to Kristin Koskinen, Registered Dietitian Nutritionist (RDN) and founder of Eat Well Pros—a site that hooks you up with an RDN to help you adapt to new, healthier eating habits and lifestyle changes—about what exactly intermittent fasting is, what it requires, and most importantly: is it even sustainable?
Read on if you're as skeptical about intermittent fasting as I was, because apparently the strategized way of eating isn't as torturous as it may sound.

Betches: What is intermittent fasting?
Kristin Koskinen: Simply put, intermittent fasting is the strategy of cycling eating with fasting. Unlike dieting, calorie counting, macro calculating, and food group exclusions aren't required. Regimens vary, but can include the following:
The Crescendo Fast: 12-16 consecutive hour fast for two or three days a week, on non-consecutive days.
The 5/2 Fast: Eat normally five days a week, for the other two days, eat 25% of your usual intake, allowing at least one day between fasting days.
The 16/8 Method: Fast for 16 consecutive hours per day; all food is consumed within an eight hour timeframe.
What does it do to the body?
The body requires fuel, and its preferred sources of energy are glucose and fat. Protein is an option, but a very expensive one, metabolically speaking. When glucose isn't available, as during a fasting period, the body uses fat. The human body was not developed to graze, but rather, is well-adapted to deal with the absence of food.
Losing weight from fasting is the result of reduced calorie intake as a consequence of limiting eating hours paired with hormonal changes that occur. Fasting decreases insulin levels. All food, not just carbohydrates, stimulates insulin secretion. Lowering insulin levels has been shown to increase insulin sensitivity, which is important in preventing and managing diabetes, as well as attaining long-term weight loss.
Insulin resistance can lead to pre-diabetes, diabetes, and heart disease. So what is insulin resistance?  Essentially, it's when the cells no longer respond fully to insulin. Insulin is a hormone, the proverbial key that unlocks cell doors, allowing glucose in from the bloodstream. The backlog of glucose causes the pancreas to produce and send out more insulin to drive open the cell doors. Over time, the beta cells of the pancreas can't keep up, or wear out, and the person develops diabetes. In the meantime, the excess insulin load has lead to increased weight, which typically deposits around the waist.

What does a typical intermittent fast look like?
A starting fast might be for 14 consecutive hours. That could mean finishing dinner at 7:00pm and eating an early lunch at 11:00am. Water, herbal tea, and black coffee are not restricted. Mornings without food are one thing; without coffee, that's quite another. Because most of the fast is overnight, you don't have much time to think about the fact you aren't eating. For some people, especially those in the habit of eating late into the night, they may find it easier to just go to bed earlier, and that is a win-win. Studies consistently link lack of sleep to excess weight. Sleep for as many of your fasting hours as you can, keeping in mind that seven hours of sleep is considered a minimum, 8-10 ideal, for health and wellness.
Is intermittent fasting recommended for weight loss?
Intermittent fasting has been an effective weight loss tool, especially in overweight or obese individuals. If a person has diabetes or  a history of hypoglycemia, they should consult with their health care provider before starting any sort of fasting program, as fasting will decrease blood glucose levels and medications may need to be adjusted. People with hypertension should also consult with their health care provider before starting a fasting regimen, as blood pressure can become low during a fast, which often presents as light-headedness. Fasting is not recommended for everyone and generally discouraged for those with a history of eating disorders, children, and pregnant women.

If you choose to go the intermittent fasting route, what are some things you should remember?
If choosing to pursue intermittent fasting, it's important to continue to drink plenty of water and eat nutrient dense foods during the feeding times. Food should be eaten mindfully and slowly, and without the mindset of getting-it-while-you-can or making-up-what-you-lost when fasting.  Before recommending intermittent fasting, I suggest cleaning up your diet. Replace processed foods with whole foods, eat more plant-based foods, cut way back on refined sugars and sweeteners. Then, if you want to try intermittent fasting for weight loss, your nutritional status and improved eating habits will support your success.
How long should someone follow an intermittent fasting regimen?
This depends on the individual. For some people, they find it becomes a part of their lifestyle. Some people hop in and out of fasting routines seasonally, for a few weeks, such as just after the holidays or when favorite jeans are becoming too snug. Each person is absolutely unique and there are always many considerations, including overall health, activity levels, and the quality of their diet. The first step is to clean up your diet as recommended above. Get clearance from your health care provider if you have any health issues or suspect you may. If you decide an intermittent fast is something you want to try, start with a Crescendo fast for 4 weeks. See how you feel, stop if you experience persistent fatigue, high or low blood sugars, dizziness or light-headedness, nausea, vomiting or lethargy.
Images: Toa Heftiba / Unsplash; Giphy (3)
I Tried Intermittent Fasting, And Here's What I Learned
Sometimes I scroll through Instagram and wonder if someone switched my settings to only show posts about people's diets. Like, I don't care about your Sunday meal prep, your gluten-free Paleo bread, or your #Whole30 results. I feel personally victimized by diets. I eat pretty healthy on my own and I don't like being told what to eat. But recently, a couple of my friends started raving about a diet that caught my attention: Intermittent Fasting. In case you've never heard of it, you essentially eat whatever you want in a specific window of time, and then you fast for the rest of the day. The alleged results? Increased energy, better long-term health, mental clarity, and weight loss. I did some research and decided to try it out for myself. Here's what I learned.
The Logistics
Before trying the diet, I did a ton of research on IF (lesson one: that's what the cool kids call it) and it turns out people structure their fasts differently. Most people fast for about 16 hours and eat for eight, but some people take their fasts for even longer than that. Unlike many modern diets that advise you to eat small meals every few hours to keep your metabolism on its toes, IF preaches the opposite.
The idea is to fast for most of the day, and then eat 2-3 big meals within your eating window. So, instead of ordering a Skinny Latte and a scooped out bagel within minutes of waking up, I would have to wait it out and break my fast around 1 pm like the rest of the IF elitists. And yes, that dieting superiority complex totally comes with it. Like, are you seriously eating breakfast right now? Have some self-control.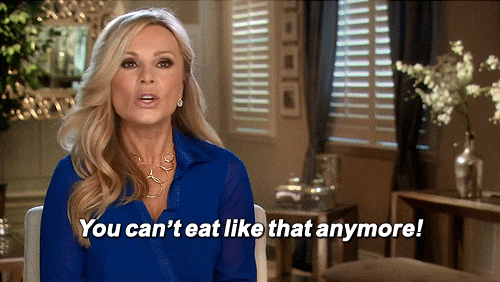 You can drink zero calorie beverages and sugar-free gum during the fasting phase, and some people say you can even have a few nuts or berries if you need to, but for the most part, you're consuming nothing. Let's just say that by the time the eating window comes and you're allowed to break the fast, you literally cherish those eight hours like they're your last eight hours on this planet. I mean, unless you're willing to split a deluxe sushi boat with four appetizers and no talking whatsoever, we're not making lunch plans.
The Benefits
When I first heard about IF, I immediately called bullshit. I mean, there's no way that consuming all your calories in an eight-hour window is good for you. It went against everything I knew about eating every few hours and listening to your body. Then I did some research and spoke to a few people who swear by it, and it turns out there might be some magic to this shit. I decided to be a responsible adult and look into the science behind the diet and its claims before starting. You should also know that I needed my sources to dramatically dumb this down for me, because well, I took science pass/fail freshman year and barely passed.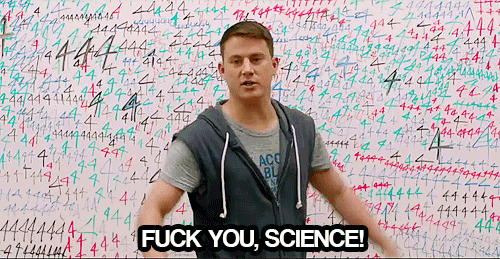 So let's talk about what happens to your body during intermittent fasting. When you fast, your insulin levels drop and your growth hormone increases. That means your body is more likely to burn fat, reduce oxidative stress, and reduce inflammation. Oxidative stress is what ages your body and could cause chronic diseases, so people say fasting has long-term benefits for your heart health and bodily functions.
Aside from preventing chronic illness and increasing your energy levels, there's also the weight loss promise. People on social media swear that they've lost half their body fat by fasting, and I honestly wasn't sure if this diet was some code we were using for Lipo. I mean, those before and after pics are so annoying but I can't seem to look away.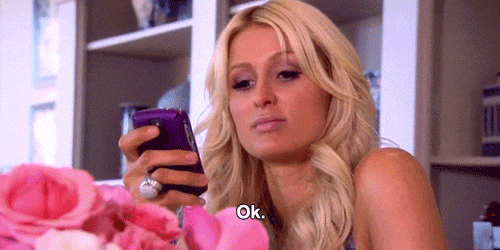 Anyway, losing weight on this diet is two-fold. Firstly, your actual caloric intake for the day will probably go down if you're not eating for most of the day. It's that simple. If you're eating fewer calories, you'll probably lose weight. Secondly, when your insulin levels lower and your growth hormone levels increase, the noradrenaline in your body increases the breakdown of body fat and uses the fat for energy. So, you're actually boosting your metabolism in the process and allowing your body to burn more fat while at rest. Take that, apple cider vinegar shot.
My Experience
To be clear, I did intermittent fasting for no more than four days and basically gave up before the whole "it takes a few days to get used to it but then it gets sooo much easier" stage. To really get the most out of IF, you need to do it for at least a week or two to train your body. It takes a while to get the hang of it, and I was impatient and frankly just over the whole thing.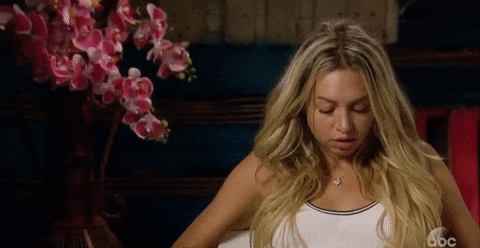 I fully acknowledge that I did it wrong, but I thought I'd share my experience anyway.
The first day was the hardest. I was told that at first I'd obviously be starving, and for me, this was especially prevalent. I'm a huge breakfast eater, and I'm also a regular snacker. If I don't have packets of raw cashews and mini M&M's in my handbag at all times, I'm not well. I could go through each day individually, but all four days were equally as difficult. Like, really difficult. First of all, I tend to work out in the morning and I need food directly afterwards. It's kind of a non-negotiable for me, and frankly I don't even understand people who aren't starving after the gym. One 45-minute workout and I literally feel like Jennifer Lawrence after dieting a month before the Oscars.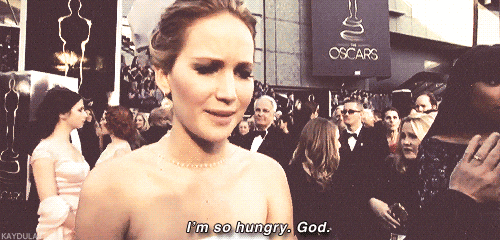 I realized on the second day that once it was time to sit down and do work with nothing in my system but a black iced coffee, I had already gone somewhat crazy. People told me they felt increased mental clarity and an overall energy boost during their fasting periods, but I was too busy Googling pictures of grilled cheese to even think about that.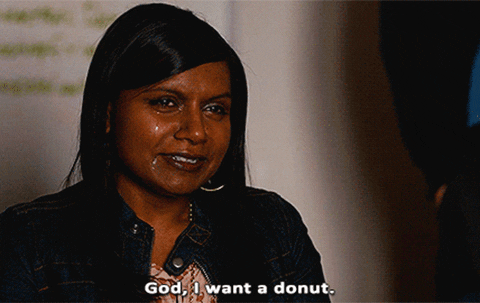 The Takeaway
You probably think after reading my experience that I wouldn't recommend IF to anyone, but here's the thing I realized: Even though I almost died of starvation and had to quit a few days in, I think a lot of people I know would actually kill it on this diet. If you're not a breakfast person and you're not much of a snacker, you'll have no problem waiting until your eating window. And if you're unemployed and you can sleep until noon on a weekday, you're golden.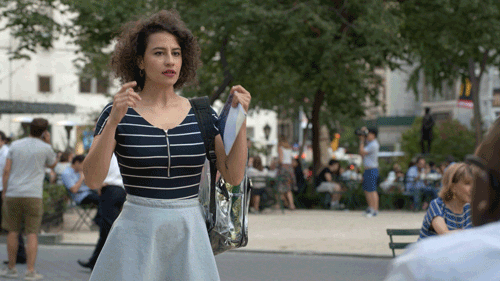 I'm not saying this diet is for everyone, but if it has this many proven health benefits and cult followers, it's worth a shot. Plus, people who stick with it for a long time end up looking and feeling amazing. You can even try it for yourself and let me know how it goes. Just please don't Instagram a before and after pic. For everyone's sake.
Images: Brooke Lark / Unsplash. Giphy (7). 
The Absolute Worst Diets For Your 2018 Body
I think we can all agree that January is bullshit, and it's time we stop pretending otherwise. Between the insufferable "I'm coming for you 2018" Instas and my boss's vague insistence that I should be "refreshed" from my time off (if refreshed means hungover, then sure), I'm honestly just confused with how people are meant to spend the holidays. Personally, I've spent the past two weeks playing "can I eat more than I did yesterday," which means my general January sadness is compounded by the fact that sweatpants are actually all that fits me right now. Since I've crash-dieted enough to know certain eating plans will do nothing but leave me fatter and crankier than when I started, I've compiled a list of the worst diets you could start right now.
(And by right now, I obviously mean Monday.)
1. Apple Cider Vinegar Diet
This diet, while disgusting, has the benefit of requiring very little real effort, so it's tempting to give it a shot. The basic principle here is that you drink three glasses of an apple cider vinegar mixture daily (one before each meal), in the hopes of improving your metabolism and suppressing your appetite. Apple cider vinegar does have certain good uses—like helping with liver function or clearing your skin—but these uses are achieved by incorporating a tiny bit into your diet, not by full-on drinking watered-down vinegar three times a day. While you're welcome to find this out on your own, I can assure you that all you'll achieve from this diet is feeling nauseous, gassy, and maybe even damaging your stomach lining. You might lose a few pounds from legitimately feeling too sick to eat, but at that point you might as well just pick up some gas station sushi and try for the "food poisoning diet."
2. Intermittent Fasting
Overall, I think this diet has the potential to be effective and work for some people—I just also think, if you're anything like me, this diet is not what you want to try right now. With various options for how to portion out your fasting (you can choose certain days of the week, or 12-18 hours every day), the restrictions on when you can eat are meant to lower your overall calorie consumption (makes sense). And while I'm told that the hunger cravings do eventually die down during those fasting periods, I've never quite made it to the other side of that tunnel. Instead, I end up fasting for maybe 8 hours, ruining half my friendships from hanger, and sucking down an entire pizza at night (so basically, what my diet is anyway). The bad thing about trying and failing at this diet is that you get into a fasting/bingeing cycle, which is terrible for your metabolism, will likely cause stomach pain, and overall instills bad food habits. If you know yourself and you know you won't stick to the fast, cut your losses and don't try this.

3. Low-Fat Diets
I find it alarming that people still do this, but there's a lot of confusing nutrition data out there (I still can't figure out if salmon is supposed to give you cancer or cure it), so I guess I get it. But you know what's a low-fat food? Twizzlers. Twizzlers actively advertise themselves as a "low-fat snack," which should give you a good sense of how healthy most food that advertises itself similarly actually is. A "low-fat" label is basically announcing that a lack of fat is the most nutritional value that food can offer—so it'll be filled with sodium, sugar, artificial ingredients, and almost nothing that actually keeps you full/healthy/etc. I'm not telling you to dive headfirst into bacon mac n' cheese, because fat is the best and makes you so skinny (though tbh how good does that sound), but don't kid yourself that you're making healthy choices if the only thing you're looking at is fat content, and don't expect to see any change beyond some sodium bloat and new cravings—flavor created without fat is weird and not to be trusted.
4. Not Eating Solid Food
If you're like Lala Kent and you're gearing up to join your "man" on his jet in two days, then sure, juice it out—but for any time window longer than that, you already know that any variation of a food-free cleanse will end in pain. What's even more annoying than the speed with which you gain back the three pounds it took half your life force to lose is the overall self-hatred that this kind of diet instills in you. Whether you cheat halfway through, or are just eating your first regularly scheduled real meal post-cleanse, something now feels dirty and bad about the food you once loved, and no one deserves that. And with liquid diets like the Beyoncé master cleanse, you get the added bonus of essentially announcing to the world that you'll be shitting out your holiday weight in the communal bathroom over the next five days. Everybody knows what cleanse means, and it isn't cute. Also, you somehow end up spending even more money on weird-ass ingredients or juices than you would on food anyway (and that's saying a lot), so there's literally no win to be had here.

If you're truly desperate about your holiday belly situation, the best general advice I can offer is drinking a ton of water, moving as much as you can, and practicing portion control. At the end of the day, just try to cut down how much candy you eat after 10pm on your worst eating habits, and make restrictions that don't ruin your will to live—they'll last longer, I promise, and you still have four months before you have to think about wearing shorts again.
Images: Charles Etoroma / Unsplash; Giphy (2)
Splendid Spoon Fixed Intermittent Fasting And Made It Way Better
Last year, I tried the Intermittent Fasting diet for this site, and if you'll recall from that article, one of my biggest complaints was that it wasn't structured enough. It was a bummer because while it totally worked, I just couldn't get on board with a diet that didn't require me to buy anything and feel like I was part of a club that hotter/smarter/richer people belonged to. Like, why would I want to go to a party that doesn't have a list or a celebrity DJ? It's like Splendid Spoon heard me, because they figured out the Intermittent Diet and fixed it to make it betch friendly.
Splendid Spoon is a meal program that uses intermittent fasting and good vibes to make you look good and feel amazing—and Gwyneth Paltrow has approved it on Goop, so you know it's the real shit. Thank god for this diet because it was 80 degrees in LA yesterday, and my New Year's Eve dress might have to be a swimsuit this year. Do they make fireproof bikinis? What I'm saying is, I want to lose weight, but I don't have time to work out because everything is on fire. Literally. Read the news.
Splendid Spoon uses carefully crafted, plant-based meals that you can replace your breakfast and lunches with throughout your week. We say meals, because while they come in juice cleanse packaging, they're much more filling and appetizing than your standard $8 juice. They have names like Pumpkin Pear Hempseed, Beet Balsamic Bisque, and Butternut Turmeric. Everyone loves soup, and this is like soup, but better. Imagine if your soup told you your hair looks nice. Soup is like the iPhone 4, and these drinkables from Splendid Spoon are a fucking Tesla—you don't need a phone if you have a Tesla, because your assistant will take your calls for you.

I'm in love with Splendid Spoon, because it gives me just enough structure to feel like I'm part of an exclusive club without telling me what to do. Like yes, I want the bouncer there to keep basics out of the VIP section, but as soon as he tells me to get off of the table I am no longer interested in listening to him. Splendid Spoon was created by a hot MILF of two, so she knows how to get me to want to do something without making me feel like I'm following the rules. I bet her kids ask her for extra vegetables and think soda is disgusting, and that is just good parenting. The diet is simple—you replace five of your breakfasts and five of your lunches with Splendid Spoon meals, and one day a week you do a full cleanse. The last day of the week is your Wander day—aka a whimsical cheat day. This is the day for you to Instagram yourself eating pizza so the world will know you are still a chill betch. They have smoothies for breakfasts, so it's not all just soup, and the menu actually gives you a ton of options to choose from.
Part of the meal plan also includes starting your day with a weekly intention, which is so new age, and we love it. Imagine being able to Postmates Café Gratitude's entire vibe to your doorstep—that is what Splendid Spoon does. They also include meditating in the diet, because every week they give you a "guided, food-focused meditation." I think "meditation" is a much better word than "not eating," and it's so clever for them to rebrand it this way. Instead of saying, "I'm hungry," you simply say, "I'm meditating."

Anyway, if you're like me and you really want to lose three pounds, you should check out Splendid Spoon. You can still eat Taco Bell on your Wander day, and if that's not enough to get you on board, then you don't really deserve to be skinny anyway. Splendid Spoon made intermittent fasting chic and easy, and we love anyone who does the work for us, especially when it comes to looking hotter.
Right now, Betches readers get $20 off their first order by clicking this link!