9 TV Shows Coming Out In April That You Can Look Forward To
Due to the spread of COVID-19, a lot of things have been temporarily put on hold. I mean, the f*cking Olympics were postponed, so that's when you know it's real. Pretty much every industry has been affected by the pandemic, and TV is no exception. Production has been shut down across the board, with wide-ranging effects. Many current shows haven't finished filming their seasons, pilots for the fall are now in peril, and who knows if we're ever getting Clare's season of The Bachelorette.
But while there are still more questions than answers when it comes to COVID-19's effects on the TV landscape, not everything is terrible. There are plenty of shows premiering in the next month or so that were finished before society stopped happening, praise be. If you've finished Tiger King and are running out of ideas of what to binge next, here are the most important TV premieres that will help us get through quaran-times.
'The Real Housewives Of New York City' – 4/2
One of Bravo's most iconic franchises is here to save us from our isolation spirals, and not a moment too soon. With Bethenny Frankel departing after season 11, it'll be interesting to see what the vibe is this year, but these ladies are always a good time. This season will feature a new Housewife, an engagement, and no doubt, many sloppy drunk fights. Can't wait!
'How To Get Away With Murder' – 4/2
After six seasons, Shonda Rhimes' hit drama is coming to an end, and I'm sure it'll go out with a bang. After a six-month break, the show's final season picks back up in April for a six-episode "Farewell Event". That sounds dramatic, but this show is always over the top. Viola Davis is one of the best actresses of her generation, and long-time fans will be eager to see how things end up. If you haven't watched before, the first five seasons are available on Netflix, so get to work.
'Chrissy's Court' – 4/6
The brand new Quibi streaming service is launching on April 6th, and there's going to be plenty of content, but I already know what I'lll be watching first. In this comedy/reality show, Chrissy Teigen stars as the judge, and she's hearing real small claims court cases. Her adorable mom also stars as the bailiff, because why not. I feel like this is going to be a mess, and I'm totally here for it. It's still unclear when Tyler Cameron's Barkitecture show is coming to Quibi, but hopefully it's soon.
'The Circle: France' – 4/9
What's better than watching people talk to themselves for 12 episodes? Watching it in a language you don't understand! Netflix is dropping the French version of their hit show The Circle on April 9th, and I'm sure it'll be just as entertaining as the American version. I just picture Joey Sasso speaking French, and I'll be laughing for the next 30 minutes. Wow, I need human interaction. The Circle: Brazil is also available on Netflix now, so I don't want to hear any complaints about waiting for season 2.
'Insecure' – 4/12
If you're looking for something that's not mind-numbing reality TV, Insecure returns for season 4 on HBO in just a couple weeks. Watching Issa and her crew of messy friends figure their sh*t out is an absolute treat, and if you've never watched, I highly recommend catching up now. The seasons are short! Also, the second episode of season 4 is titled "Lowkey Distant," which is a big mood right now.
'Killing Eve' – 4/12
The good folks at BBC America and AMC know we're dying of boredom right now, and they're doing us a huge solid. The new season of Killing Eve will now premiere two weeks early, on April 12th. Considering that this show has been a massive critical success for its first two seasons, you should definitely mark your calendar for season 3. Sandra Oh has been a favorite since her Grey's Anatomy days, and she and Jodie Comer are both incredible in this show. Thank goodness we don't have to wait a full month for it anymore!
'The Bachelor: Listen To Your Heart' – 4/13
Okay, I promised I wasn't going to watch this show, but desperate times might call for desperate TV viewing habits. Even if the trailer makes you cringe (same), Listen To Your Heart might be the only way to get your Bachelor fix for the foreseeable future. Aside from the initial postponement, ABC hasn't made any announcements about The Bachelorette or Paradise yet, but it's hard to imagine they won't be delayed at the very least. With Listen To Your Heart, they basically took Jed Wyatt's storyline and turned it into a whole show, because that sounds like a good idea. Whatever, it's not like I have other plans.
'Mrs. America' – 4/15
You want prestige drama? Here you go. In this new FX on Hulu miniseries about the fight to ratify the Equal Rights Amendment, Cate Blanchett stars as anti-feminist, anti-abortion, anti-Equal Rights Amendment activist Phyllis Schlafly. But that's not all. The show also stars Rose Byrne (as Gloria Steinem), Sarah Paulson, Uzo Aduba, and Elizabeth Banks. Serious bad bitch energy all around. I've been excited for this for months, and it has Emmys written all over it.
'The Real Housewives Of Beverly Hills' – 4/15
Despite all the chaos in the world, Real Housewives fans are eating good for the next month. I mean, in a literal sense I'm eating ramen for every meal, but as Vicki Gunvalson would say, my Bravo love tank is full. The ladies of Beverly Hills are back for their 10th season, and while their last couple seasons have been lackluster, I'm cautiously optimistic that this year will be different. At least we know we have the Denise and Brandi saga to look forward to. Joining the cast this season is Garcelle Beauvais, who makes history as the first black cast member on the show. Smh, took long enough.
So even though April might be canceled, not all the shows are. And if you're the type of person who has to binge, check out our comprehensive list of what to watch on Netflix here.
Images: Merie W. Wallace/HBO; Bravo, Netflix, Hulu, ABC, HBO, Quibi, BBC America / YouTube
What To Do When Your Boyfriend Is Obsessed With His Mom
The Betches discuss a reader's story about rejecting an offer to be a bridesmaid. They discuss the show Insecure and answer emails from a listener whose boyfriend's close relationship with his mother is causing problems in her relationship. They play Would You Rather games involving the bathroom
Send your 'Dear Betch' questions to [email protected]
Signs You're Dating A Nice Guy Fuckboy, The Most Dangerous Kind There Is
We need to talk about Lawrence from Insecure. By the way, if you're not watching this show, you need to start now because it's like Girls with less privilege but just as much not giving AF. Also, Issa Rae. Anyway, Lawrence is Issa's ex who she cheated on because he was too nice of a guy. This season he's been trying on the fuckboy pants for size and honestly we are concerned. The problem with Lawrence being a fuckboy is that he's the type of dude that gets away with bad behavior because everyone thinks he's a good guy, and that's the most dangerous type.
At least with a true fuckboy, he acts like one by Tinder messaging your friend or only hitting you up to "come ovr" at 1am after he's exhausted his options at the club and he's too broke to go to a strip club. That's the type of fuckboy you can easily handle because you can spot them from a mile away. In Lawrence's case, he's only been in relationships and doesn't know how to act in a casual relationship, so when he tries to just hook up with Tasha, he ends up leading her on. In true shady manner, Lawrence says "I'll let you know" when Tasha asks if he wants to get dinner or something other than just fuck after 10pm, instead of being more up front about just wanting to hook up. Hmm, why does this feel familiar? *Entire dating life flashes before my eyes* Oh yeah.
Then, Lawrence assumes Tasha knows what's up but still takes her out to dinner and agrees to go to a family BBQ with her. He knows he doesn't want a relationship yet he acts like just below a boyfriend to her, which confuses the shit out of her. Tasha might be a basic bitch with an Instagram full of selfies in lace-up tops, but we've all been Tasha once. She's hot AF and isn't desperately chasing Lawrence because she's an idiot, she's following his false signals that he wants a relationship.

Nice guys like Lawrence are the worst when they try to do casual, because they send more mixed messages than a group chat trying to locate your drunkest friend. Because he doesn't want to be thought of as a bad guy, he will continue doing fuckboy shit and then cover it up with nice boyfriend shit to get back in your good graces, all the while knowing he doesn't want to be your boyfriend. He'll say it's not leading you on because he's been clear from the start, but the only thing that's clear is your calendar between 7-10pm because he hasn't invited you out on an actual date yet but he's happy to show up as soon as you get home from the bar.
Instead of just committing to a casual relationship, he can't bear the thought of not being a nice guy, which means he will continue to lead you on and make you think there's a chance while he goes and fucks his ex behind your back. Speaking of which, fucking Issa was also a fuckboy thing to do, because even though she cheated on him, she's been desperately trying to apologize since. If he's truly over it, then he needs to cut her off and move on, instead of giving her hope that they could work it out. In conclusion, the nice guy gets away with being a fuckboy because everyone thinks his intentions are good, but in reality they're even worse than your average shady bro because they don't care about you but will do anything to get you to think they're a good guy. Including lying, cheating, and leading you on. Sorry, but we'll take a regular fuckboy over a nice guy any day.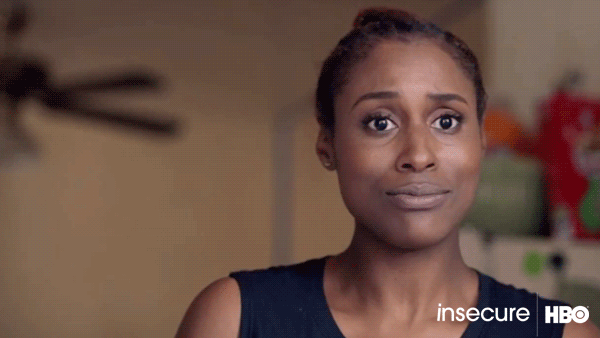 12 Reasons You Should Binge Watch 'Insecure'
If you haven't caught on to Insecure yet, you're in luck because we got bored over the holidays and watched the entire first season and we can tell you why it's a betchy show. We almost ignored this show completely, but we needed a distraction from explaining to our dads for the fifth time that we do have a plan for the future, we just haven't gotten to it. Insecure was the perfect solution. If you haven't seen it, it's basically Girls but instead of privileged New York millennials it's not-spoiled LA millennials who deal with bigger problems than their parents cutting them off after their third unpaid internship, such as casual racism in the workplace. And unlike Girls, watching Insecure won't make you want to kill yourself. And no Lena Dunham (so far)! Have I convinced you yet?
Here are our top 12 reasons why Insecure is a show you should watch.
1. Issa and her best friend Molly have a ride or die relationship that we can all relate to. They're not afraid to call each other out on their shit, but it's only okay when they do it to each other—as soon as one of their other friends talks shit about one of them, they stick up for each other.

2. Molly is a boss betch—she's hot, a successful lawyer, and has an awesome apartment—but she still falls for fuckboys because they're literally a plague. Relatable.
3. Issa is always not doing work at work and bullshits her way through a presentation, same.

4. When Issa gets in trouble for not doing work, she gets back on her boss' good side by throwing a huge party/event to raise money for her job. Literally proving that partying and getting free shit is what she's best at. Betchy.
5. Issa's relationship with her boyfriend takes us through how shitty it is to fall out of love with someone. She wants to get out of the relationship, but it's too comfortable to leave.

6. Issa has commitment issues and when her boyfriend takes her ring shopping, she freaks out and we totally get it.
7. Everyone on the show judges TF out of each other, while the audience gets to judge everyone on the show.
8. The bros on this show are hot, especially Jared. There are plenty of bro butts, which flips the Game of Thrones boob ratio around for our benefit.

9. Molly gets drunk and word vomits to her casual hookup bro, Jared, telling him that she should just settle with him. While we were v secondhand embarrassed for her, we've also all said shit drunk that we regretted later.
10. Natasha Rothwell says the betchiest thing to Issa when she seems upset: "It's my birthday, it will be about you if you get hit or have a baby".
11. The girls get a dope Malibu rental for a weekend and go out with the catchphrase "We did say" as in "we did say we're going to get crazy this weekend," and Molly takes home a college kid. Not a good move, but shit happens when we go out with our girls and "we did say" so whatevs.

12. Everything is fucked at the end of season 1, but Molly and Issa make up and you know things are going to be okay because bros come and go, but your besties hold it down.