Is Social Media Killing Natural Beauty?
When I scroll through my Instagram feed, there are five types of photos that I see. Influencers with filler for days, influencers who are preaching about their life-changing clean beauty routine, puppies, engagements, and babies. But leaving off the puppies, engagements, and babies for a sec, let's focus in on the two types of faces you see on Instagram. In 2019, we're witnessing a war between the filtered-in-real-life influencers, and the ones who preach about their chemical-free skin care routine that nobody actually asked for. We have two extremes, and it's hard to decide which approach is better (or, tbh, if either are good for you). It's a lot to sort through, when so many of us have only just started using an eye cream. Don't worry, I'm here to help. 
For those of you who don't spend all your time on beauty blogs know, the mainstream term for clean beauty is still open for interpretation, and different brands have different definitions when it comes to "clean", with no industry standard quite yet. However, if you read any of the following ingredients in your beauty products, know that they are not considered clean: Aluminum Compounds, Ethoxylated Agents, Formaldehyde, Fragrances, Hydroquinone, Oxybenzone, Parabens, Refined Petroleum, Silica, Talc, or Triclosan. 
Translation: Clean beauty means natural, nontoxic ingredients. If a brand is not clean, it may contain harmful (toxic???) ingredients. Brb while I go intensely wash my face. 
Clean beauty products and the "clean" trend as a whole have skyrocketed in 2019, and the concept does not seem to be slowing down. Larger clean brands, such as Drunk Elephant, have quadrupled their sales in the last two years (Shiseido just purchased Drunk Elephant for a casual $845 million), to give you an idea of just how big the shift toward clean products seems to be. But at the same time, fillers too seem to hold onto their reigns… especially if the faces you see on Instagram are an indication of trends.
RN and certified injector Danielle Repetti (@refresh_nurse) explained to us, "With the world of social media being so prevalent in our lives, facial enhancement isn't going anywhere." 
This did not surprise me, as injections have become more and more normalized in society. With similar price tags, and similar audiences, it made me wonder, do injections go against all ideas clean and green?

I first looked to celebrities supporting clean beauty for some answers. The initial person that pops into my mind is Gwyneth Paltrow, who is miss au naturel. The founder of Goop Beauty (a clean beauty pioneer) has admitted to getting Botox in the past, and all I have to say is, if the queen of green will take a needle to the face, something tells me that we all will. 
But will clean and natural beauty wipe away the "Instagram face" trend? There are only two ways to find out: input from a board-certified injector, and an Instagram poll. 
I asked Repetti what the current trends are in the injection world, and her answers actually surprised me. "Currently I'm seeing more and more interest in under eye filler," Repetti explained. "The reason it's becoming so popular is because when done correctly, it's near impossible for anyone to know you've had 'work' done." 
I assumed lip injections were consuming most of her time, but as the age-old saying goes, we know what happens when we ass-u-me things. 

I also asked her opinion about the cross between clean beauty and injections, and if there was any correlation or discrepancies between the two. 
Repetti explained that people appear to be more concerned with clean/green topical products, rather than injectables. She says that when it comes to clean beauty, "There are some things that people will make an exception for—injectables seem to be that thing. Technically, our fillers are made of hyaluronic acid and calcium hydroxyapatite, all of which are found naturally in our bodies. Clients who prefer 'natural' approaches to life have nothing to worry about." 
This explains why Kourtney Kardashian preached that her unborn children must be clean and vegan, but she herself has (allegedly) dabbled in injections and gone under the knife. 

Clean products and injections have their pros and cons, some overlapping. Both are created with the intention of a beautiful end result. Younger, healthier looking skin can be achieved both ways, depending on the route you choose. Clean beauty says goodbye to toxins and hello to face-friendly ingredients. Injections say goodbye to any wrinkle you thought you once knew, and can make you feel young and alive, regardless of what your skin's truest form may be. 
When you look at the price tag of injections, they vary by procedure and location. Botox typically retails from $10-15 per unit (the average patient requires minimum 30 units), while popular procedures such as lip injections and under eye filler retail on average between $450-700. Compare it to a four-step skin routine from Drunk Elephant, with products retailing from $60-90, the average spend is not far off. 
The cons? First and foremost, *the unknown*. We've yet to see the long-term results of clean beauty products or injections, and while clean claims to only have benefits, do we really know? Injections, too, claim no harm, but at the end of the day, sticking a needle and foreign substance into your body does not exactly scream health. And… there's always the option of bad injections or taking fillers too far. (Have you seen Brandi Glanville? Sorry, but it's true.)
I took an Instagram poll and asked followers whether they felt clean beauty would prevail in 2020, or if injections were here to stay. 76% of these trusty souls chose clean beauty, and while I do believe they are right, I still think injections will rule the world as long as social media is thriving. As someone who overdraws their lips and (poorly) contours their face in hopes of some Bella Hadid cheekbone action, I'll openly admit my temptations to try injections are there. I also think the shift toward clean is very real, from beauty to food, and we will see more and more integration of these products into our everyday lives. 
So, I guess what I'm trying to say here is, in 2020, you'll see more clean products on the skin, more injections under the skin, and the same amount of Facetune for final touches. In other words, even more pressure to look perfect at all times. Great.
Images: Giphy (5)
How Far Is Too Far When It Comes To Fillers?
If the women gracing our reality TV screens are any indication, the fillers trend isn't slowing down anytime soon. The statistics confirm this: in the United States, the use of fillers has increased tremendously from 1.8 million procedures in 2010 to 2.68 million in 2018, according to data from the American Society of Plastic Surgeons. With so many people going under the needle, I *Carrie Bradshaw voice* couldn't help but wonder: are fillers even safe? To find out, I spoke with Dr. Oren Tepper, a board-certified plastic surgeon, and the Director of Aesthetic Surgery at Montefiore Health System.
What Exactly Are Fillers?
Like the name suggests, fillers are used to fill in wrinkles and other creases or depressions on the face by injecting a substance into the facial tissue. There are a variety of substances that can be used depending on what the patient is trying to achieve and the doctor's preferences. Some examples are hyaluronic acid, collagen, fat and even stem cells.
Who Are Good Candidates For Fillers?

Because fillers can be used to address so many different facial issues, most people are good candidates for fillers. As far as the age range, Dr. Tepper says he has seen patients as young as in their twenties to those in their elderly years taking advantage of the procedure.
Who Should NOT Get Fillers?
Of course, those that have had bad reactions in the past are more likely to have issues again. You should also avoid fillers if you have a bleeding disorder, inflamed skin, are taking blood thinners, are pregnant or breastfeeding, or have a history of an allergic reaction to fillers.
What Are The Side Effects?
Swelling is to be expected and can range from being minor to requiring a few days to a week to subside. More seriously, a bluish discoloration can occur if the fillers are injected too close to the skin and, in rare cases, if the filler finds its way into the bloodstream, it can occlude the arteries and result in tissue loss. Dr. Tepper says that these more serious complications are relatively rare, however, occurring in fewer than 1% of cases. The FDA also cites scarring, blurred vision, and blindness as other rare but serious risks that can occur if the filler is injected into a blood vessel.
How Much Is Too Much?

According to Dr. Tepper, the general rule of thumb is that if somebody notices you have fillers, you've gone too far. I guess most Bravolebrities have yet to get this memo. The goal is to subtly enhance your natural facial features—key word being subtly. Another important factor is ratios. Dr. Tepper says that while "volume alone may not be the threshold for what makes somebody look unnatural or natural, the ratio of your upper lip to your lower lip is a real giveaway." Generally, when the upper lip is equal to or bigger in size than the lower lip, the result looks overdone and unnatural. What's worse, an oversized upper lip can actually make someone appear older. Too much filler on the upper lip pulls it down and accelerates its natural drooping, which, according to Dr. Tepper, is about 1 millimeter every decade. Great, now I have another thing to be worried about. Another option, if you're thinking of getting lip fillers in particular, is to take a more comprehensive approach and consider how you want your mouth to look as a whole. Dr. Tepper recently teamed with aesthetic dentist Dr. Jonathan Levine to introduce LipSync, a dual-specialty approach that changes both lip length and tooth position, so your entire smile looks better and you avoid the dreaded balloon lips effect.
But if you do go too far, there are some ways you can fix a f*ck up. According to the American Board of Cosmetic Surgery, mild irregularities like lumpiness or slight asymmetry may be fixed be massaging the area, which your provider can do or help you do at home. Certain types of fillers can be dissolved by injecting an enzyme (more on that in a sec), but otherwise, the best option is just to wait for the fillers to get absorbed by your body.
How Long Does It Last?

This depends on which type of filler is injected into the face. Dr. Tepper estimates that hyaluronic acid fillers will last anywhere from six months to a year and a half. One of the benefits of using hyaluronic acid is that if you are unhappy with the results, there's an enzyme that can be injected afterwards to dissolve the filler. For those seeking something longer lasting, approximately half of any fat injected as filler stays in the face, according to Dr. Tepper. While there are permanent fillers such as silicone, Dr. Tepper does not recommend using them. Not only are the results irreversible, they can lead to disfigurement, infection and other serious problems. Yikes.
What's This Going To Cost Me?
This varies tremendously depending on the filler used, the practitioner you go to and the area(s) to be treated, but Dr. Tepper estimated that the procedure usually costs about $1,000 per area on average.
Are There More Natural Alternatives?
While sadly there is no magic face cream that will annihilate your wrinkles and pay off your student loans, certain fillers are more natural than others. Using fat or stem cells may be a good choice for those who don't like the idea of injecting unnatural substances into their body. Dr. Tepper will often inject saline into the desired area to give the patient a sense of the results, but this only lasts several hours rather than several months. A lip lift is another procedure that can add volume without injecting filler. If you're looking for something sans needle, topical retinoids are a good preventative measure that can help fight wrinkles and hold off the need for the needle.
What Should I Know Before Committing?
It's important that patients considering fillers understand exactly what they are getting into. In Dr. Tepper's experience, many people mistake overdone filler for botched plastic surgery: "The overdone lips, the overinflated cheeks. Those are not surgical issues, those are overfilling." In order to avoid this, it's okay to start small and get a few injections in stages over a period of time in order to carefully assess the results instead of doing everything at once. This is especially true for those who haven't had the procedure before. Dr. Tepper uses MirrorMe3D, an innovative, new visual technology with the ability to scan and print out a 3D version of your face. This allows patients to see what they could and should look like following a procedure, as well as what has been done throughout the years in case they visit more than one doctor.
At the end of the day, fillers are generally safe and effective, so long as you stick to the non-permanent versions and visit a doctor with proper training and credentials. While it might seem tempting to click on that 50% off Groupon, refrain, lest you end up looking like a case study on Botched. Or, we could all just collectively agree that wrinkles are perfectly natural and forego the whole thing entirely. Crazy, I know.
Images: Sara Bakhshi / Unsplash; Giphy (3)
Has Nicole Kidman Gotten Work Done? An Expert Weighs In
If you were watching Big Little Lies this season, then you may have noticed that something looked well… different. And no, I'm not referring to Shailene Woodley's wack-ass hair or Meryl's terrible wig. Rather, I'm referring to Nicole Kidman's face. Now, she's always been beautiful, and that will never change, but I couldn't help but notice that something looked a little off. At first, I really couldn't pinpoint what exactly it was. I asked around, and one of my friends thought something was off with her jaw, commenting that it looked "uneven". Another avid BLL fan noted that her face was "very sharp-looking", specifically pointing out her nose and chin. 
For reference, here's a picture of Nicole at the 2018 Oscars. I know it seems like a million years ago, but it was objectively not that long ago.

And for contrast, here are some screenshots from Big Little Lies this past season.


And just to clarify, I by no means am throwing shade at Nicole, or anyone, for possibly getting something done. Look, I got Botox for my jaw, and I'm not going to sit here and pretend like I didn't ask for an extra shot or two in my forehead as well since I was already there. (Just don't tell my insurance that.) I'm trying to say is that I'm down for whatever makes anyone feel more beautiful, and I know from experience that Botox for my jaw and forehead have definitely made me feel more beautiful and confident.
So while I'm not shaming anyone for getting a little extra *ahem* enhancement, I'm pro being up front about it. Like, it's not enough that celebrities are using Photoshop, Facetune, and contouring to (appear to) look the way they do—they're also getting injections and surgery on top of it and acting like their faces are all natural. It doesn't benefit any of us for celebrities (or anyone, really) to pretend their perfectly engineered faces are just due to a little puberty, and in fact, putting forth this false narrative is harmful to all of us, who didn't magically gain pouty lips and a new nose during puberty (because that's not at all how that works).
With that being said, a girl can wonder if the face she's viewing every Sunday night has had a little extra help. To get to the actual truth of whether Nicole Kidman had something done or not, I consulted with Dr. Manish Shah, Board Certified Plastic Surgeon in Denver, Colarado.
Dr. Shah says, "I'm a firm believer in the idea that Nicole has probably had a facelift and brow lift." Which gives me hope because it means Nicole Kidman isn't just some mutant human who magically doesn't age. According to Dr. Shah, as we age, we lose bone support in our faces. He says, "When you have a facelift, you are tightening the loose skin that develops with this bone loss." He assures me that we all have natural asymmetries in our face that can be hidden by the loose skin. Therefore, when the skin tightens, the asymmetries are more easily seen. And, he points out, this is more likely in slim women, like Nicole, who doesn't have extra fat to hide bone loss.
So like, are these asymmetries the sign of something gone wrong? Dr. Shah insists, "Not at all. It is entirely normal and expected in 100% of people getting facial plastic surgery." I don't know how comforting a response this is, though—like, if I'm trying to tighten my skin, it's because I'm trying to look better. So tightening the skin just to look less even doesn't necessarily sound like a win to me. Dare I say, I may just have to age naturally?
If you do decide to get a brow lift or facelift sometime far off in the future, how can you make sure that you won't have asymmetries? Dr. Shah says, "When patients have large asymmetries, it is important for the plastic surgeon to try and reduce the amount of difference," which often requires the use of filler, fat, or facial implants. Or, you could just not stress too much about it. In general, Dr. Shah says, "Our eyes can overlook minor asymmetries—large asymmetries are hard for our brains to ignore." If it's a minor asymmetry, chances are nobody will notice.
When it comes to facelifts, there are a few things to keep in mind. Number one, Dr. Shah says people should not have a facelift too prematurely. He says, "There is so much that can be done with fillers nowadays with what is known as a liquid facelift. There are times when a woman has a facelift too early (such as early 50s) and this can actually serve to age her if her face is pulled too taut and some of the natural fullness is taken away." We've all seen a bad facelift, right? Good, so I don't need to explain to you what it looks like. Somebody tell Kylie Jenner that getting plastic surgery too early in life can actually make you look older…
For brow lifts, Dr. Shah expresses that the same rules apply. "We've all seen women who have that perpetually surprised look because the brow has been raised to an unnaturally high position." (See every Real Housewife, for example.) He urges those considering a brow lift to find a skilled plastic surgeon who knows just the right place to inject Botox in order to give the brows the right amount of natural lift. Also, according to Dr. Shah, there are techniques women can do with brow shaping to achieve youthful, nicely arched eyebrows without injections. So maybe I do need to find my way around a brow pencil after all…
All in all, it's not shocking that celebrities are using things other than expensive face creams to slow down the aging process. We just wish they'd be more open about it.
What other celebs are you positive have had work done, but they won't admit it? Let us know in the comments and we will get to the bottom of it.
Images: Shutterstock; HBO; thefacesurgeon / Instagram
Injectables Are Less Stigmatized Than Ever, But Is That A Good Thing?
It's 2019, anxiety is a national pastime, and if you're in your mid-to-late-twenties or beyond, it means you're already worried about aging, which is probably not helping the situation. Now more than ever, there are options available to slow the formation of wrinkles, most intriguing among them being preventative Botox. In the procedure, smaller doses of Botox are used to relax fine lines so they will not become deeper and etched in over time. But injecting neurotoxins into your face also creates a stress of its own. Before you convince yourself everyone's doing it and you should, too, read on for questions you should consider first.
Do I Have To Start Now?
My FBI agent has been working extra hard because every Ad on Hulu & social media is something to do w/ Botox or plastic surgery. I ain't mad at em tho

— Cydney Kessler (@CydneyAg18) June 30, 2019
Preventative Botox has been shown to prevent signs of facial aging, but that doesn't mean that it is a one size fits all treatment. "I have 22-year-old patients who could potentially benefit from it and 42-year-olds who may not," says New York Dermatologist Dr. Dendy Engelman. "It's more important to pay attention to your skin than your age." Skin type, amount of sun exposure, and how expressive you are are a few contributing factors. Don't inject anything into your face without first getting a clue as to where you need it. A good rule of thumb: see if your skin holds an expression line beyond when you're making that expression. "Just because your friend or sister is doing it doesn't mean you should," says Engelman. She adds, "Even if it would be helpful, you may need it in a different part of your face than your friend for your best result."
What Are The Risks?
Does botox help resting bitch face? Asking for a friend.

— Lady Disturbed ? PAX West (@lladydisturbed) June 30, 2019
The increased interest in Botox, especially among a younger clientele, has given rise to aesthetic bars, designed in the style of blowout bars. They make injections both accessible and nonthreatening, because you can order them off a menu in a less clinical-looking space. But be wary of being able to order your injections à la carte. "You may end up getting what you ordered, but that doesn't mean you'll like it," warns Engelman. She notes patients often don't understand the best method to get the look they want, which makes shopping around for an injector problematic for your face. But that's nothing compared to the risk of nerve damage and (although extremely rare) blindness. So don't lose sight of the fact that's it's still a procedure. Engelman expresses concern that injectors at aesthetic bars may be less skilled than doctors who are constantly trained in new techniques, have extensively studied facial anatomy, and can expertly guide you through all available treatment options. 
Who Should I Go To?
one thing I love about the women in my generation is how transparent so many of us are about getting filler/Botox/plastic surgery – like yes go off get those smile lines filled honey get those new and improved titties and be proud of it

— it's ya boy, uh… (@SierraMayhem) June 30, 2019
"Anything that makes you feel prettier can be addictive," says Engelman. So, overdoing it is a possibility, especially if your injector is unlikely to tell you when enough is enough. If you start preventative Botox young, you should only need about two appointments a year, so be cautious of anyone who allows or suggests more. The best part about living in a time where people are open about their treatments? If you like someone's look, you can probably just ask someone what they're doing or who they're seeing. Similarly, Instagram can be a great way to research a doctor's particular aesthetic. But first, always check a doctor's certifications: "Just because there's an MD behind their name doesn't mean they are necessarily an expert in the field," advises Engelman. She recommends you go to a doctor who's board certified in dermatology or plastic surgery (these specifications should be easy to find on their website). And ask to see their personal patient before-and-after images, not just theoretical results. They should have them. "You want to make sure you're both on the same page," says Engelman.
Is Botox What Even I Need?
Remember years ago when Nicole was getting a ton of shit for her Botox treatments and now she's 52 looking 37 on Big Little Lies lmao pic.twitter.com/J2MQnXJjgZ

— Noah Cassiel (@NCassiel) July 1, 2019
Engelman says that young patients tend to come into her office asking about aggressive treatments when what they need is to focus on healthy skin care practices. She recommends getting into a prevention routine including antioxidants, a vitamin A derivative (aka a retinol or retin-A), and most importantly, SUNSCREEN. If you don't protect your skin but you're interested in Botox, "It's a little like sitting in your pulmonologist's office and smoking," says Engelman. Studies show up to 90% of your skin's aging is determined by UV radiation, which can come from the sun, infrared, or blue light. Translation: wear sunscreen 365 days a year, indoor and out, if you want to head off aging at the pass. See what an improvement it makes if you stick to a skin care routine for at least 8-12 weeks. It sounds simple, but you might be surprised at the results you get if you start taking care of your skin differently.
The amount of open discussion surrounding Botox and its widely increased availability makes it seem that the stigma surrounding injectables has all but disappeared. That is great. It was not healthy for us to believe that celebrities look the way they do year after year just because they drink a lot of water. It is great that, if you need intervention for something that you're self-conscious about, you need not be insecure about the treatment as well. These "tweakments" are now an open beauty secret. But just like anything else, scrolling through your Instagram feed can make the lives and decisions of others feel more effortless than they actually are. Feeling like you have to change your look or freeze your face in time—because otherwise you will look out of place around the people you surround yourself with (on the internet or in real life)—is still a problem. 
Images: NCassiel, SierraMayhem, lladydisturbed, CydneyAg18 / Twitter
We Asked A Plastic Surgeon Our Top Questions About Facial Procedures
It's 2019, so we're not going to pretend anymore that getting plastic surgery is some kind of weird taboo that women do in dark rooms on their 40th birthday. Embracing the chance to change something on your body that you feel insecure or uncomfortable with is f*cking awesome, and stigmas are not. And if you're going to do something, it's better to have all the information than to go in blind because you were too embarrassed to do research and end up with a botched procedure, right? Right. That's why we chatted with Dr. Gary Linkov, a Facial Plastic Surgeon from New York to answer all your questions about preventative, non-surgical, and surgical facial procedures.
Which Facial Procedures Are Most Popular?
Nonsurgical: Botox, Filler, Chemical Peel
Surgical: Rhinoplasty (nose job), facelift, blepharoplasty (eyelid surgery), and lip lifts are growing in popularity
When Should You Start Non-Surgical Preventative Treatments?

Although rumours and Instagram ads may suggest otherwise, Dr. Linkov believes that the only truly preventative strategy is botox. He's had clients who start as young as their early 20s, ranging to about late 20s to early 30s. So if you're still a child and scared of needles like me, there's no need to panic. You can still prevent those wrinkles in due time.
How Do You Know If You're Overdoing It?
It's not hard to spot an overkill face (we're looking at you, Tori Spelling), but when you're in the heat of it, how do you know if you've gone overboard? Dr. Linkov says that with Botox, you're too far once you've lost the ability to show emotions through facial expressions and have difficulty animating your face. This low-key sounds like a really good thing that I'd 100% be down for, but it doesn't look so cute.
In terms of filler, you want to avoid anything that looks disproportionate to the rest of your face. Like, you can legitimately pick anyone from the cast of Real Housewives of Beverly Hills and go as far in the opposite direction as possible. The facial procedures are meant to enhance what is already there, not build cheeks from silicone. For lips specifically, you want to avoid an anterior projection that is unnatural, aka you don't want to look like you're making the duck face all the time (unless that's your strategy, then go for it).   
How Do You Fix Botched Work?

In his line of work, Dr. Linkov has seen plenty of botched faces. He says the most common type of corrections he performs for non-surgical procedures has to do with too much filler being injected or filler being injected in the wrong place. In that case, he needs to dissolve all the filler and start from scratch.
For surgical facial procedures, rhinoplasty is often one that needs correction. Sometimes too much cartilage is removed during the initial surgery, causing the nose to lose shape or sink in. Or Maybe Becca from Long Island got her nose job the summer before college and did way too much coke so now the bridge of her nose is collapsing. But like who really knows, we all started with a deviated septum anyway, right?
How Do Patients Decide The Best Course Of Treatment?
A lot of what Dr. Linkov spends his time doing is actually talking to patients and truly understanding their concerns. He likes to get a background on what procedures they've done prior to coming to see him, as well as their tolerance for various intensities of treatments. It's also vital that Dr. Linkov has time to properly analyze a client's face to choose the right method of approach. The bottom line is your surgeon should work with you, not for you, to help determine the best way to achieve what you're looking for.   
When Is The Best Time To Get A Facelift?
Dr. Linkov suggests getting a facelift once the jowls start to show *shivers* and there is some heaviness forming in the neck. Usually, this happens in the mid to late 40s for most women, but it can be later for some lucky betches. The trick, he says, is to do the facelift while the underlying muscle still has good integrity and strength. If you try to get a lift too late, the muscle will have already thinned out and will not support a transformative lift.
Do Facial Gyms Help Wrinkle Prevention?

So apparently taking a spa day to have someone smack your face doesn't count as going to the gym. Shame. Dr. Linkov says there is very little data to show that facial gyms and wrinkle-prevention exercises actually do anything. In fact, strengthening muscles may even promote wrinkles, since wrinkles are from the activity of the skin's underlying musculature. It's fine, you tried.
Who Would Preventative Treatments NOT Be Beneficial For?
If you have limited wrinkles (even when you smile or do a double chin or whatever weird sh*t Snapchat prompts you to do) you don't actually need preventative botox. Lucky. Fillers, on the other hand, are never really 100% preventative, according to Dr. Linkov, so no one should be trying that out before they want to commit to it.   
How Do You Choose A Location And Person?

While these procedures can be pricey, there's no benefit in trying to cut costs. Dr. Linkov says a lot of people often hunt for the best price per unit of Botox or syringe of filler, but those are also the faces that get botched and have to end up paying more for corrections in the future. Dr. Linkov instead strongly recommends picking a doctor by their experience to treat the face and maintain safety as their top priority. Some treatments can have side effects that range from mild to more severe, so having someone who knows what they're doing and can do it well is very important. He also suggests that you make sure your injector has the appropriate antidotes, such as hyaluronidase for fillers, and to ask what type of filler is being injected.
What Are Typical Price Points For These Procedures?
Botox: Anywhere from $10-25 per unit or $200-500 per area
Filler: $500-1000 per syringe
Chemical Peel: $200-300 per treatment
Rhinoplasty: $9000-15,000+
Facelift: $10,000-20,000+
Is There Any Downtime?
Botox: Rarely any downtime
Filler: Can have bruising or swelling for up to two weeks, but usually one to two days of downtime
Chemical Peel: Depends on the intensity of the peel, but about one week
Rhinoplasty, Facelift, Liplift: One to two weeks of downtime
What Are The Side Effects?
Botox: Paralysis of neighboring muscles, bruising (rarer)
Filler: Bruising, swelling, vascular occlusion (including skin changes, or in rare cases, blindness)
Chemical Peel: Scarring, skin pigmentation changes
Rhinoplasty: Swelling, bruising, breathing issues, cosmetic deformities
Facelift: Scarring, bleeding, facial nerve damage
Liplift: Scarring
If you want to learn more about Dr. Linkov and the procedures he specializes in, feel free to check out his website. To keep up with his daily surgical antics you can follow him on Instagram.
Images: Giphy (2) 
How Getting Botox Changed My Life
For the past couple of years, my jaw has been clicking. And it's like, loud and noticeable, and honestly, more annoying than anything else. I can't even sneak a quick protein bar at work without everyone around the world knowing, because the clicking is THAT loud. However, in the past year or so, it's gone from "just annoying" to painful and nauseating, to the point where it was negatively affecting my overall well-being on a daily basis.
When the clicking first started, I consulted with my dentist about the issue. He gave me a night guard, which did temporarily help the issue, but clearly wasn't the answer. After a couple of months of religiously wearing the night guard, the clicking returned. Not to mention, I had also started grinding through my mouth guard harder than the cast of Jersey Shore when they're at da club.

To give some more context, I clench my jaw when I'm stressed or really focused on something at work. So basically, I'm clenching the majority of the day. The clenching was causing so much tension that my jaw legitimately felt sore. Like, the kind of soreness you feel after a tough workout but like, in my jaw. But the issue only just began there. This tension was then causing me headaches, which were consequently making me feel nauseous. Basically, this jaw issue was creating a recipe of misery impacting my day-to-day life.
And, on a more vain note, my face shape had gotten more square. For friends and family it was hard to notice the change, which had occurred slowly over a few years. But, when I looked in the mirror, I saw a Lego head. And, if I back-stalked myself on Insta hard enough, it was clear to me that my face shape had changed. Whether others could see it or not, my face had gone from oval to square, and I wasn't here for it.
I started doing my research on the issue and, this time when I went back to the dentist a year later, I asked him about my findings. (Yes, I was that annoying patient who diagnosed myself via Google.) I asked him about jaw Botox, a newer treatment gaining popularity for patients with jaw issues. He told me that there was still limited knowledge and research on the procedure, but that he was more than willing to give me a referral to an ortho surgeon to get a consultation. At this point, I was more than willing to try anything.
So, I scheduled my appointment with the ortho surgeon in hopes of some relief. The surgeon carefully went through the normal questions with me to make sure she was diagnosing the issue correctly. She asked about whether I wore a night guard and questions relating to whether it was possibly TMJ. It wasn't TMJ, because my jaw wasn't fully locking, I was just clenching. And clenching hard. The diagnosis? Bruxism, a fancy name for the grinding and clenching of the teeth. Which, for many people such as myself, is a bad habit resulting from feelings of nervousness or stress.

From just looking at me, the oral surgeon affirmed my own observation that my face shape was square. Of course, she didn't know what I looked like before, but a quick look at me and she agreed with what I had already believed. She then actually felt my lower jaw muscles (known as my masseter muscles) and was in shock and disbelief about how strong and bulky mine were. Next, she felt my upper jaw muscles (the temporalis) and also commented on their strength and bulk. The ortho surgeon then explained how the two muscles were connected, and how they together enhanced the overall appearance of my newfound square face shape. She explained to me that it makes sense my face has gotten more square because these muscles had become so overworked and strong that they had gotten bulky. Uhm, excuse me miss, but how can I transfer this stressful habit to my abs instead????
All that being said, the oral surgeon said she would start by injecting my masseter muscles with Botox, using a smaller amount than would probably be necessary. When it comes to this procedure, she explained how it's better to start with too little rather than two much because, too much could affect my ability to chew. Which like, low-key I would have been down for—what better way to finally kick my late night snacking habit, ya know? But not really. Anyway, then after two weeks, I would come back into her office and she could add more Botox if I felt it necessary.
Even in those first two weeks following my first appointment, I felt an incredible difference. My jaw was no longer sore and the headaches were both less severe and less frequent. However, I was still getting the headaches, and they actually felt like they had moved in towards the center of my forehead. So, this time when I went back, she injected a little more in my jaw and also some additional units into my temporalis muscles as well.
And, let me tell you, it's been a month and my life has never been better. I mean, that's an exaggeration, but my overall well-being has definitely improved. Now when life's daily annoyances happen, like spilling my coffee on my shirt, I'm just dealing with that issue. It's not that on top of having a sore jaw AND a headache AND feeling nauseous. Additionally, it's only been just over a month since I got the procedure done, and I can already tell my face looks slimmer and less square. And, it's not just a placebo effect; friends have even commented on it. Most people have actually asked me if I've lost weight, which is crazy because I haven't. Like, not even a pound, lol. But, it's further testament to how square and swollen my face had looked prior, and the positive effects this procedure has had on, not only my well being, but also my appearance.
Just like when you're getting Botox for solely aesthetic reasons, the procedure needs to be repeated every few months because the Botox does wear off. Overtime, as my jaw muscles continue to stay relaxed, the muscles will continually become slimmer and less bulky, until my face pretty much resumes to its normal natural shape. At the end of the day, I would hands down say this procedure was a win-win. Not only do I feel better, I look better as well, and feel more myself, and couldn't recommend the procedure enough. And, if you guys have any additional questions, please feel free to ask in the comments section below!
Images: @nikolayh / Unsplash; GIPHY (2)
Skin Care Diaries: My Four-Step Routine For Highly Sensitive Skin
As you can probably tell from the title, this skin care diary entry will be less sexy than others we've published. Welcome to the world of sensitive skin. I graduated college a little over two years ago, and it's been an absolute whirlwind watching my skin and metabolism compete over who can deteriorate faster. I've never suffered from serious acne (*knocks on every piece of wood in the tri-state area*), but my post-grad skin has offered up plenty of dullness, dryness, and increasingly visible pores. I also developed what I refer to as "my problem cheek," and my dermatologist refers to as "rosacea." Basically, one stubborn patch on my face is perpetually red with some bumps—not quite pimples but just not smooth.
Before I finally caved and saw a dermatologist about it, I was convinced I had chronically dry skin and was layering on fancy oil-based serums and thick moisturizers every night. I genuinely believed that the more I spent on a skin care product, the better it was for me. But here's the honest, tragic truth about my (highly sensitive) skin. Just about anything I do to it beyond doctor-recommended cleanser, treatment, and moisturizer only makes it worse. As my dermatologist explained, the rosacea means that my skin barrier is damaged. So any products I'm applying don't actually soak in. They just settle in the top layer, creating that fun bumpy texture I was describing.
Long story short, many of the fun, bougie skin care products I'd love to try are off-limits to me. All those "intensely moisturizing" products I used to swear by? They make my oil-prone areas worse, and ultimately clog my pores. Any physical exfoliants just activate my redness-prone rosacea patches. And forget about face makeup. Any time I go for a full face of foundation, or—God forbid—highlighter, which I seem to be allergic to in every brand, I accept that my skin's overall appearance will take a hit for the next three days. So, I've worked very hard to assemble a routine that keeps my sensitive AF skin smooth, even, and pimple-free. If your skin is more dramatic about a change in routine than you are when asked to attend a 9am meeting, read on. Here are the products I've found really work.
My sensitive skin every time I try to introduce a new product: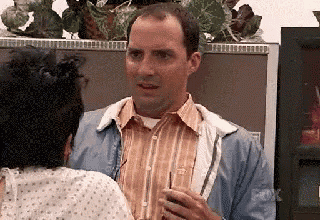 My Routine
Face Wash: I wash my face morning and night with CeraVe Hydrating Cleanser. My dermatologist recommended it, and it makes my face feel crazy soft. I'll double cleanse on days when I bothered to put on make-up, or if I skipped my routine the night before. And while I'm sure that a Clarisonic or the equivalent would make it even more effective, I frankly just do not have the time or patience to use one. Plus, I kind of hate reusable skin care accessories because I'm a germophobe and convinced they're growing bacteria. This is a problem I imagine could be alleviated by like, cleaning it, but once again I am lazy/perpetually short on time.
Toner: I follow (most) cleanses with Belif Witch Hazel Herbal Extract toner. In the words of my dermatologist, it's "not really doing anything," but she graciously invited me to finish the bottle I'd just purchased. Despite her (rude) commentary, I like the idea of an additional cleansing step while living in the cesspool of dirt known as New York City. Also, it smells refreshing and makes me feel fancy. As I mentioned before, most products that fit that description give me some kind of weird reaction, so I really appreciate the ones that don't.
Prescription: Once my doc determined that problem cheek = rosacea, I was given a prescription for an azelaic acid called Finacea Foam. It treats the redness and bumps caused by rosacea, and I use it twice a day after cleansing and before moisturizing. While it hasn't 100% cleared up the problem, I've gone from having bumps spread across both cheeks to one small patch (damn you, problem cheek!). The overall texture has also greatly improved, and what was once a weird blotchy redness now shows up as more of a flush after hot showers/working out. Highly recommend.
Spot Treatment: This is not dermatologist-approved behavior, but if I see a pimple coming on I'll dab some spot treatment with salicylic acid on the area before locking it all in with moisturizer. It's a little annoying because I have to wait for an additional layer to dry, but fully worth it if you can stop a burgeoning zit in its tracks. If I go a little too nuts and start using it daily I end up getting dry and triggering some redness, but in moderation I find this kind of product to work wonders. My two faves are Clean & Clear Advantage Acne Spot Treatment and Neutrogena Rapid Clear Acne Eliminating Spot Gel.
Sunscreen: I use EltaMD UV Clear Broad-Spectrum SPF 46 every morning, at my dear dermatologist's behest. Apparently rosacea can be triggered by sun exposure, so I guess this plays a role in calming it down. Honestly, I struggle to get excited about any product from which I don't see immediate effects, but I know it's good for me and I feel lightly smug for using it for that reason. Also, it sinks in quickly enough and replaces my moisturizer in the morning.
Moisturizer: I use CeraVe PM Facial Moisturizing Lotion every night and some mornings, depending on how dry my skin is feeling. I love it because it's lightweight, has the same silky feel as their cleanser, and doesn't sit on top of my skin like all those fancy jar moisturizers I was buying for years did. Does it make me feel rich and chic? No, but it also doesn't cost me $50 every six weeks, and my skin is way softer. I'll take it.
Serum: Eminence Facial Recovery Oil. My dermatologist all but begged me to throw this out (in her words, "I don't think more oil is what you need right now"). But I'll still dab a little on my forehead every now and then because I can't help myself. Nose, chin, and cheeks are off-limits for this riskier product, but I'll mix a little in with my moisturizer and apply to my forehead a few times a week. It smells amazing and my sister swears it's improved her fine lines.
Wednesday
Morning: Cleanser, toner, Finacea, sunscreen. I have a week-old pimple on my cheek, and last night I put on a bunch of spot treatment and extra Tretinoin on the area, plus Neosporin since I keep picking it open. (Don't @ me, it works.) The pimple is finally fading from view, but I see two to three more bumps lurking below the surface. Problem Cheek, will you ever set me free??? I've tried changing pillowcases, changing what side I sleep on, never holding my phone to that side of my face… nothing works. I take a few pictures in hopes of taking you on a visual journey, but I'm on week 7 of a 10-week shoot and the bags under my eyes/general lifeless demeanor are a little much to take.
Evening: Cleanser, Finacea, moisturizer. No spot cream or toner because I just worked 14 hours. Moisturizer I applied lying down maybe three seconds before passing out. I manage to apply more Neosporin to my cheek spot, though, because at this point I've been wrangling it for nearly 10 days and it's all I can think about. To anyone reading this: do not pick your face until it bleeds, no matter how fun and genuinely helpful it seems in the moment! I fall asleep praying it will heal overnight.
My poor, picked-at skin: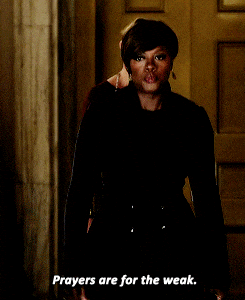 Thursday
Thursday morning I don't have to be at work until 9am. This would be better news if it didn't mean I'll be there until 11pm. However, the extra time in the morning means I can cleanse, tone, apply Finacea, and put on sunscreen all in the comfort of my home. I'm sad to admit I sometimes apply sunscreen on the subway, which I am aware makes me gross. I have a thing about layering products too quickly. I worry I'm just diluting one product with another if I don't give them time to dry. If I'm totally wrong on this, PLEASE call me out in the comments. I would love to stop putting on sunscreen with hands that just touched subway poles.
I'm not home until 11:40pm, as expected. As I dutifully cleanse, tone, Finacea, and moisturize, I realize something miraculous. Cheek pimple is, if not totally invisible, highly faded. Neosporin saves the day again. I stare at my nearly clear cheek and think about how I definitely would have skipped washing my face tonight if I weren't writing this diary. This makes me think I should start journaling my food, too. Then I eat four bite-size candy bars I stole from work and fall asleep.
Friday
Today is an exciting skincare day for you all! I'm working from home until 6:30, so I don't get out of bed until 11. I don't do anything to my face because I want to work out first, a dream it takes me two hours and 15 minutes of yoga to give up on. I wash my face in the shower, then put on Kiehl's Rare Earth Deep Pore Cleansing Masque. It's my go-to for all generalist, make-my-skin-look better needs. It's great for calming down redness and inflammation, improves overall tone, and just makes your skin look clear.
After, my skin is looking the best it has all week. The cheek pimple is totally gone, and those bumps I was complaining about on Wednesday seem to have died down too. I add toner, Finacea, and sunscreen. After sunscreen, I add my new favorite no-makeup makeup product: Smashbox Photo Finish Foundation Primer. This is the closest thing to foundation I can wear without triggering a breakout, and despite being sheer, I swear to God it visibly blurs away my flaws. Friday night, I cleanse/Finacea/maybe moisturize? I spent my evening getting high and watching Vanderpump Rules, so I honestly don't remember. I do remember eating a Twix bar at 1am and thinking the single greatest thing I could do for my health is cut down on sugar, so take that as you will.
Me: I should cut down on sugar!
Also me every time I go out: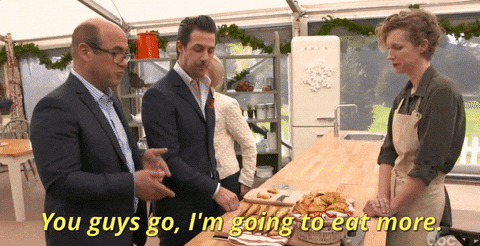 Saturday/Sunday
Saturday morning, I cleanse and tone, and get dressed in a rush waiting for toner to dry. Then I add Finacea and try to find my insurance card for a doctor's appointment for 10 minutes. Two hours later, I remember to moisturize—hope it still counts for something. No sunscreen today, oops. Saturday night I make a genuine attempt to go out. But I still end up asleep on the couch before midnight. At least I manage to wash my face before crashing. I tell myself I'll put on Finacea and moisturizer in bed. I don't.
Sunday morning I've slept for an annoyingly long time. I cleanse, tone, Finacea, and moisturize—no sunscreen. My skin's feeling dry since I fell asleep without moisturizing the night before, and I don't really plan on spending time outside anyway. I go to the movies, where I realize the junk food and half-hearted skin care Saturday has resulted in two new bumps rearing their heads on Problem Cheek. I tell myself I'll do a mask and spot treatments that night. Instead, I drink two margaritas at 5pm, and barely manage to cleanse/tone/Finacea/moisturize. I suck.
Monday
I wake up at 4:30am, regretting Sunday's margaritas with every bone in my body. I seriously consider quitting my job for five minutes, then get out of bed and cleanse, tone, Finacea, sunscreen. Monday night, I get home "early" (7pm), and treat myself to some salicylic acid spot treatment following my cleanse/Finacea/moisturizer routine. No toner because I'm already tired at the prospect of the spot treatment, but the bumps I saw at the movie theater Sunday don't seem to be going anywhere on their own.
Tuesday
Tuesday morning I cleanse, tone, Finacea, and liberally apply sunscreen to try and make up for the fact that I don't have time to apply moisturizer (and wait for it to dry). At work, I read a different skin care diary in which someone who clearly has more money and better skin than me also swears by salicylic acid for clearing breakouts. Even though the salicylic acid product is the only one in her routine I can remotely afford, I allow myself a brief moment of smugness. I also remind myself that fancy $100 skincare items have never done anything but made me break out.
Tuesday night, I cleanse/tone/Finacea, and add more spot gel (Clean & Clear) to those bumps on my cheek. I can't be sure if they're actually pimples or just rosacea bumps, but I feel hopeless if I can't even pretend I'm treating it. I tell myself I'll moisturize in bed, and as I'm sure you can guess, I do not. At 3am, I wake up, realize my mistake and moisturize. It's terrible.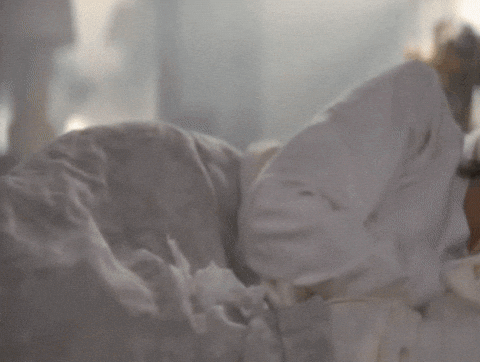 All in all, the moral of my not-so-exciting skin care routine is that I've (reluctantly) stopped chasing Instagram-perfect skin. And both my wallet and face are a lot happier for it. I don't use drugstore products because I'm low-maintenance and don't GAF. I use them because the alternative is spending $78 on a moisturizer that sits on top of my broken skin barrier and makes me break out. So if you have sensitive skin like me, remember that the #1 investment you can make is a dermatologist, and when you're rich, biannual microneedling and injections. Can't wait.
Images: Giphy (4)
The Treatments Behind Celebs' "Natural" Beauty That Nobody Talks About
In 2018, we've definitely noticed that the way we use makeup is changing (unicorn brows, anyone? JK, this trend made my eyes bleed). Specifically, we've seen a lot more honesty from celebs and normals alike about how much of a role makeup plays. Think: Kardashian-esque contouring, YouTube beauty tutorials, #nomakeup selfies. And often, it's been empowering to watch people openly celebrate both natural looks and the transformative power of makeup. But recently, the tone has shifted. While the idea was once more "everyone has flaws and that's ok," it's now about having such naturally perfect features that makeup would only detract from them. These treatments are typically semi-permanent (aka not a full nose job/brow lift—so '90s), always expensive, and basically give you an Insta-filtered face. Here are some of the semi-permanent treatments celebs are using to get that perfect "effortless" look.
Botox/Chemical Peels
I'm lumping these two together, not because they're all that similar, but just because these are the beauty treatments we've all known about and made fun of since the '90s. Both treatments have gotten a lot more sophisticated—so the Samantha Jones raw meat face doesn't happen after peels anymore, and people with Botox can (kind of) still raise their eyebrows—but they're still the basic anti-aging treatments we all know and wish we could afford love.
Microneedling
Microneedling is a procedure in which a tiny needle pokes holes all over your face. (If you've ever used a dermaroller, it's the expensive version of that.) This then promotes collagen production as your skin heals, which reduces the visibility of fine lines, wrinkles, pores, and acne scars. You know, all the things that make you look like a human, which is no longer desirable. Treatments cost up to $1,000, but then your skin is as good as Kourtney Kardashian's. (You didn't really think it was her diet that made her skin good, right?)
Injections
Injections is kind of a vague way of putting this, but that's because injections can do so many different things. You can use filler to fix bad under eyes, smooth out your jawline and cheeks, and really just smooth out any imperfections you're worried about. While I'm certain that most celebrities over a certain age have had some sort of filler put in, some of the most vocal users are the cast of Vanderpump Rules. In fact, Lala Kent and Tom Sandoval recently took a joint trip, where Lala got something called "Diamond Facial Sculpting." (Fillers, but fancy I guess?) Lala says Tom was there for "moral support," but I swear I saw him in a chair in the background of her IG story. Hard to believe Sandoval would willingly skip out on a beauty treatment.
Laser Treatment
No, I'm not talking about laser hair removal. (Though I'm certain that any celebrity who's ever worn a bikini has gotten that too.) I'm talking about lasers used as facial treatment, which, like fillers, come in many varieties and have many uses. Basically, lasers can be used to fade pigmentation (*glares at rosacea-ridden face*), even out texture and tone, and basically act as "permanent concealer." MUST BE NICE. Both Kim Kardashian and Jhené Aiko have recently raved about their laser treatments—and if they're not #skingoals, IDK who is.
Microblading
This one is along slightly different lines, because it's not about skincare. BUT, now that we are officially living in the Age of Eyebrows, it's pretty freakin' important. Microblading is getting semi-permanent tattoos draw onto your brows with teeny tiny strokes that resemble real hairs. This then gives you the appearance of naturally full brows for roughly two years. It also costs around $1,000 upfront, plus a mandatory touch-up two weeks later. So yeah, I'll be getting that when I'm 70 and win the lottery, and will be drawing on my brows each morning until then. Irritatingly, I cannot tell you that celebs like Cara DeLevingne have used this treatment. Instead, it's a whole bunch of awfuls including Bella Thorne and Lena Dunham. Microfeathering is another version of this treatment, which basically just fills in instead of drawing you a whole new brow.
Do I have anything against these treatments, beyond the fact that I can't afford them? Yeah, a little. I definitely have a problem with celebrities who pretend they haven't had ANYTHING done. I respect their privacy and all, but I'm a grown-ass woman and I find myself getting upset about my own visible pores. This isn't something that bothered me even two years ago. But now, every picture I see on Instagram features skin that doesn't look like skin. And just a few years of being bombarded with those images has been enough for me to think there's something wrong with my face because of it. Which is all to say, I'm truly worried for young kids who are growing up surrounded by that kind of illusion, and not being repeatedly and aggressively told that it is, in fact, an illusion.
Ultimately, I think it's probably positive that these treatments are public enough that I can even write this article. Yes, the treatments themselves are becoming more mainstream. But the information is available—if you look—about why exactly these celebs can post #nomakeup selfies that make me feel like a garbage rat. Now if you'll excuse me, I'm going to start a GoFundMe because all these procedures cost more than my rent.
Images: drjasondiamond, thelipking, lalakent, jheneaiko, microbladingla_juliafaria / Instagram