Watch Kirstjen Nielsen Get Booed Out Of A Mexican Restaurant
On this week's episode of Game of Thrones White Houses, the Secretary of Homeland Security got the Cersei Lannister treatment and was booed while trying to enjoy her marg. Her and some colleagues thought after a tough week of immigration policy what's better than enjoying the cuisine of those you don't want to stay in America! Not pretentious at all. She pretended like nothing was happening and ignored the protestors who went on for more than 10 minutes. Meanwhile expecting a largely hispanic waitstaff to make her some guac and not thinking about the fact that some of them may know people effected by the policy she is carrying out. Besides her being part of the Trump Administration, the reason for her being booed was because she stood in favor of the separation of families at the boarder. How a woman stood for this I will never understand.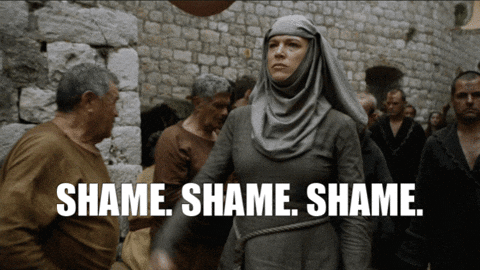 Who TF Is Kristjen Nielson?
Kris "with a J" Nielson has been around since Bush Dub's administration. Nielsen is was the Principal Deputy White House Chief of Staff to President Donald Trump and before that the chief of staff to John F. Kelly during his term as Secretary of Homeland Security. The on December 5, 2017, the v republican Senate confirmed her as the Secretary of Homeland Security, and was sworn in the next day. The reason you are just hearing about who TF she is, has to do with the the zero tolerance immigration policy… and some of these tweets. Trump must be hosting weekly twitter workshops, most likely called "The Art of the Tweet."
I will work tirelessly until our broken immigration system is fixed, our borders are secure and families can stay together.

— Sec. Kirstjen Nielsen (@SecNielsen) June 20, 2018
Okay So Show Me The Video
Okay okay, we'll show you the goods. TBH I can't wait for technology to get to a place where you can get a full body tattoo of a video, because as soon as that happens I'll be getting this permanently inked onto my back:
Part one of a video of @mdc_dsa @DC_IWW and others shouting DHS Secretary Nielsen out of a restaurant. She doesn't need to be kidnapping #immigrantchildren to deserve this treatment. Don't give the regime a moment of rest. #KeepFamilesTogether pic.twitter.com/B3RfraOk1E

— Smash Racism DC (@SmashRacismDC) June 20, 2018
If you want to know who to thank for this precious gift of a protest, it's the Metro DC branch of the DSA – aka the Democratic Socialists of America, and the DC branch of the Industrial Workers of the World (IWW). Leftists truly have no chill, and I mean that in the absolute best way possible.
WTF Is Happening With Family Separation Now?
On Wednesday, Trump signed yet another executive order, which kept the zero tolerance policies in place but directs families to be jailed together, rather than separately. Yay?
You can read our full breakdown of the executive order and what it means here.
Find out how to help migrant children and their families here.
Heads up, you need to keep up with the news. It's not cute anymore. That's why we've created a 5x weekly newsletter called The 'Sup that will explain all the news of the week in a hilarious af way. Because if we weren't laughing, we'd be crying. Sign up for The 'Sup now!
A No Bullshit Explanation Of Trump's Executive Order On Family Separation
If I was forced to say one nice thing about President Trump it's that he is incredibly talented at gaslighting an entire nation. Put in on your resume, Donny! But honey, don't piss on my leg and call it rain. To catch you up to speed, over the past few months migrants have fled to our country, as they've since the beginning of time. They're doing this to escape their own homelands for numerous reasons, including gang terror, governmental terror, other reasons big enough to risk the safety of one's family. Like to make it very clear, people don't hop the border where there are armed guards because they're bored. They have legit reasons. Anyways, once they got into the country, families were split up from their children for *checks notes* literally no reason.
Since news broke of the low-level Nazi shit that was going on at our border, Americans used their national past time, outrage, for good and were like this truly will not fly. The Trump admin eventually listened, sort of. Yesterday (after a full week of blaming Democrats and saying "only Congress" could solve the problem) Trump signed an executive order that put a stop to tearing apart families.  If you're like "hooray, that's good news!" slow your roll a bit because the rides about to get bumpy.
So What Does The Executive Order Do?
The executive order will stop separating children from their families, but it's not like he is reuniting them with a big dinner at Olive Garden. He's just putting them in one big family friendly detention center while the parents are prosecuted. (So kids are with their parents, but still in cages, just to be clear.)
The EO, which is called the "Affording Congress an Opportunity to Address Family Separation" because Trump literally can't resist a good subtweet, directs Congress to find a solution to our country's immigration problems ASAP. If they don't, we'll run into even more problems because keeping children in jail for more than 20 days violates the 1997 ruling in Flores v. Reno. Basically, that ruling says kids can't be kept in detention facilities for too long, but because the Trump Administration has a policy of 100% prosecution of anyone who enters the country illegally, this means that they have to figure out how to both comply with the ruling, and keep putting all adult illegal immigrants in jail. We call this, #TrumpProbs.
What About The Kids Who Were Already Separated?
Okay, so the real true horror is that there is already 2,000 kids separated from their parents and there is no system in order to reunite them. The detained children have been sent all over the damn country so it's not like there's one place the parents can go to play marco polo and find their baby. Because the forced separation was so quick, there was very little paperwork done to even know whose kid is who. Technically a crazed psychopath can walk into one of these centers and be like "that baby there is my baby!" and point at a random baby. And guess what, babies can't fucking talk so there isn't like anyone who is going to doubt the crazed psychopath.
For those kids who are thankfully reunited with their families, the damage is already sort of done. Like the trauma of being kept in cages without their parents leaves an emotional scar. It wasn't a bad nightmare they can simply be comforted by. In the words of JoJo, Trump's executive order was "just a little too late." It also simply does not address these children at all. It's almost like, and this is me going out on a sturdy and true limb, this administration doesn't care about these children at all.
Click here to read up on all the ways you can help support migrant families.
Heads up, you need to keep up with the news. It's not cute anymore. That's why we've created a 5x weekly newsletter called The 'Sup that will explain all the news of the week in a hilarious af way. Because if we weren't laughing, we'd be crying. Sign up for The 'Sup now!
How to Help Migrant Children Because Trump Definitely Isn't (UPDATED)
Note: This article has been updated to take into account an executive order signed by President Trump to end the practice of family separation. You can read more on what that EO means for migrant families here. (TLDR; they now get to be in jails together, but like, the children are still in jail.) 
Unless you've been living in a good news bubble, you've probably heard of the horror that is happening with migrant children being separated from their parents at the Mexican border. Due to President Trump's "zero tolerance policy" regarding anyone caught by Border Control for trying to enter the United States illegally, nearly 2,000 children have been separated from their parents. The Zero Tolerance Policy applies to absolutely everyone, even people seeking asylum and those traveling with children. Children are considered "unaccompanied minors" under this policy and while their parents are prosecuted, they are put under the care of the government. If this is starting to sound like a dystopian novel, remember it's real life. Here's how to help migrant children who have been separated from their parents by the U.S. government (can't believe I just typed that…)
Donate Your Money
With ActBlue, you can donate money to multiple services at once to ensure that your dollars will go somewhere useful. The company donates to twelve different groups that fund liberal causes and has raise more than 1.6 million dollars this year. If you donate to ActBlue, your money will benefit: Al Otro Lado, The Florence Project, Neta, Innovation Law Lab, Fuerza Del Valle, The Young Center for Immigrant Children's Rights, We Belong Together, United We Dream, The Women's Refugee Commission, The ACLU, Kids in Need of Defense (KIND), the Asylum Seeker Advocacy Project, Human Rights First, and La Union de Pueblo Entero.
Donate Your Time
If you want to help in a different way, you can interview migrants at the border by volunteering with The Texas Civil Rights Project or The Legal Aid Justice Center. If you have legal or paralegal experience, speak Spanish, Mam, Q'eqchi', K'iche, or live in a border area this is a great way to join the effort.
Join the Legal Fight
If you choose to donate to The Refugee and Immigrant Center for Education and Legal Services, or RAICES you can aid every step of legal support for immigrant families. Aiming to provide legal service to 13,000 unaccompanied children and help pay immigration bonds for asylum seekers, RAICES has raised more than four million dollars.
UPDATE: Now that Trump has signed his executive order, we need to focus on providing legal aid to the families in jail together, and helping the families who were separated be reunited. You can keep donating to RAICES, or take a look at UnLocal, a New York City-based immigration legal services provider that represents asylum-seeking families, unaccompanied minors, LGBTQ+ immigrant youth and other individuals in affirmative and defensive immigration proceedings. UnLocal is currently developing initiatives to address the ongoing humanitarian crisis at the border, and your donation will enable attorneys and volunteers to provide on-the0ground assistance to asylum seekers in, including pro-bono legal assistance, and helping parents locate and reconnect with their children.
Send Them Love
While most charities encourage financial donations over items, Baby2Baby and Kids in Need of Defense (KIND) set up a Target registry calling for toiletries and other necessities.
Other trustworthy groups that help people at the border are Pueblo Sin Fronteras, which has two shelters along the border of the Sonoran desert and Border Angels. Border Angels offers legal guidance, water, and other emergency services.
Call Your Senators!
The majority of the United States agrees that separating children from their parents is immoral and there are presently several bills in the works to stop this. In the meantime, the ACLU is advising people to call their senators and voice their concerns about Trump's policies. The ACLU can connect you directly through their website and put you in touch with a congressional staffer. Here's what to say:
"Hi, my name is and my zip code is . I'm urging the Senator to denounce Trump's family separation policy and use all of Congress' authority to stop it."
Take It To The Streets!
Protests are being organized all across the country for June 30th, when you can join the fight in your city against child separation. The main rally, Families Belong Together, will be held in Washington, but you can make a difference wherever you are by going here and entering your zip code. Despite Trump's executive order, this march is still scheduled. Here's what MoveOn has to say about it: 
The executive order that Donald Trump signed today is not a solution to the crisis created by his administration; it keeps kids imprisoned indefinitely, and doesn't reunite thousands of separated families. But it does show the administration is reacting to public pressure, so we will continue to increase our pressure for justice at hundreds of events on Saturday, June 30, to say that families belong together—and free.
Heads up, you need to keep up with the news. It's not cute anymore. That's why we've created a 5x weekly newsletter called The 'Sup that will explain all the news of the week in a hilarious af way. Because if we weren't laughing, we'd be crying. Sign up for The 'Sup now!
Everything You Need To Know About DACA, Explained
Undoubtedly, by now you've already heard the term DACA, and are probably wondering WTF is up with this trendy new acronym. No, it's not slang for daiquiri, or short for Dirrty As Christina Aguilera (I wish). It's a lot more important than that and is a big deal for the future of young immigrants in America. Let's get educated.
WTF Is DACA?
DACA stands for the Deferred Action for Childhood Arrivals, and is an Obama-era program that protects undocumented childhood immigrants from deportation. Basically, if your parents dragged your unaware toddler self into the US illegally, but you are now living here peacefully as an educated or hardworking member of society, DACA makes sure that the government can't rip your opportunities away and send you packing from whence you came.
Many recipients of DACA – nicknamed "Dreamers" – were brought over at such a young age that America is the only home they have ever known. Imagine getting every piece of clothing you own from Zara and then the government digs up your old Myspace, revealing your undocumented emo phase and sends you straight back to Hot Topic, where you are destined to choose from studded chunky belts and mesh fingerless gloves for the rest of your life. Ok, maybe not exactly the same, but like, tomato tomahto.

Why Are We Talking About It Now?
The Trump administration had been working on ending DACA since they heard Obama's name attached and descended upon it like the Hocus Pocus witches trying to suck out the souls out of these poor undocumented immigrant children. Trump blames DACA for allowing undocumented workers to take our jobs and ruin the system for the honest hard-working Americblah blah blah are we done yet? You're racist, you hate immigrants, we know the drill.

However, someone just squashed Trump's roll and his name is Federal Judge William Alsup of San Fran. Alsup blocked the Trump administration's plans to phase out the protections provided by DACA, ensuring that Dreamers wouldn't be threatened by deportation as talks on WTF to do about DACA continue. Not deporting a bunch of young adults and kids while some old white men argue with each other really seems like the bare minimum here, but hey, small victories.
Trump Is A Hypocrite, Shocking
We all know Trump is the queen of saying something and then immediately denying it and saying the complete opposite. He's more exhausting than I am when I win fights with my boyfriend using the exact same strategy. (I never said it wasn't effective.) In a truly mind-boggling televised meeting on Tuesday, Trump basically went back on one of the cornerstones of his campaign and said he'd be cool with "taking the heat" for working out an immigration deal that keeps protection of Dreamers in place. Did you hit your head, Donny? Did you sing that song, hand-in-hand with all the little Dreamers in Whoville and your heart grew three sizes that day? I hate to say it, but that actually sounds a little…stable geniusy of you.
Ah wait, silly me, this is Trump we're talking about, who will never settle for a compromise without some additional personal gain. (Omg that sounds like me too – do we have more in common than I thought?) Trump did claim he was down to work with the Democrats on a comprehensive immigration reform, as long as his border wall was part of the deal. The idea of some tighter border security might be something all sides are willing to figure out together, but Trump is definitely out of his mind if he thinks we'll reach a deal where our own people pay for a useless, expensive wall that, if I remember correctly, "Mexico was supposed to pay for." Stop trying to make the wall happen. It's not going to happen.

Will this rare moment of clarity result in an actual immigration deal that makes both sides happy? Considering he basically ran on a platform of immigrants = bad / Trump = good, his supporters are likely to give him a lot of shit for this lapse into actual conversation and teamwork. Trump is already prepared for this possibility, saying during the meeting, "My whole life has been heat. I like heat, in a certain way." Kinky. That also sounds an awful lot like another selfish, narcissistic, blonde but I just can't put my finger on it…

Sooo…like…Maroney 2020? Sounds good to me.
Heads up, you need to keep up with the news. It's not cute anymore. That's why we've created a 5x weekly newsletter called The 'Sup that will explain all the news of the week in a hilarious af way. Because if we weren't laughing, we'd be crying. Sign up for The 'Sup now!
Teresa Giudice Tried To Come For Sofia Vergara And Missed
Okay friends, it's time to face a harsh reality: Teresa Giudice hasn't been the same since she came back from prison. We'll admit it, we miss the trashy, table-flipping times of 2009. We're not sorry, and as much as we want to love Teresa, we really can't get behind some of her latest comments.
It all happened last week during a panel discussion called "Gettin' Real With the Housewives," which is already a major eye roll, but Teresa got asked by an audience member about her best and worst celebrity interactions. She took the opportunity to randomly tear into Sofia Vergara, who allegedly stepped in front of Teresa at an event last week. Teresa said Sofia also complained about taking a photo with her.
Okay, so realistically, does Sofia Vergara even know who Teresa Giudice is? We have a feeling her answer would be an overconfident yes, followed by the crazy eyes that mean she has no idea who Teresa is. Like, why would Sofia know who Teresa is? Do you think she really spends her free time watching second-tier Bravo shows? Doubtful.
The real problem was after that, when Teresa said that Sofia is a bitch and that immigrants should be nice. What? Okay like, we know that everyone should technically be nice and blah blah blah, but what the fuck is Teresa saying? Saying all immigrants should be nice is like saying that no one should commit tax fraud, but Teresa apparently missed the memo on that one.
So, Teresa, next time you're looking to pick a fight, stick with Danielle or Caroline, not Sofia and immigrants as a whole.
Highlights & Lowlights Of Donald Trump's First Speech To Congress AKA We're So F*cked
For more news delivered straight to your inbox, sign up for The 'Sup!
Donald Trump appeared before the House and the Senate last night to address a joint session of Congress. He was joined by his new besties Mike Pence and Paul Ryan, who wore matching blue ties and grinned shittily while our tacky-ass president laid out his plan for tanking the country, commonly referred to as "making America great again." Here are the highlights and lowlights. We use the word "highlight" veeeeery loosely here.
HIGHLIGHTS
Trump Condemning Anti-Semitism, Shouts Out Black History Month
Kudos to whoever keeps making the President denounce anti-Semitism and acknowledge black people exist outside of Chicago, because it's working! Trump took a whole two minutes at the start of his speech to denounce the recent wave of attacks on Jewish cemeteries, and to call for more unity and understanding. The general response was, "Good for you, Donald! You finally did president good!" Even though earlier that same day he seemed to have suggested that Jews were vandalizing their own cemeteries and threatening their own community centers in order to make other groups look bad. Ah, to be white, male, and mediocre in today's America.

Nancy Pelosi's Face
Nancy Pelosi encapsulated all of our emotions last night by completely failing to hide her hatred for the president and everything he stands for:

Elizabeth Warren
As we have come to expect, Queen Elizabeth of Massachusetts used Donald Trump's joint address as an opportunity to throw some grade-A shade by inviting an Iraqi refugee, aka the exact type of person Trump is trying to ban from entering the U.S, as her guest. It's like inviting your frenemy's ex to a party just to show her who the fuck is in charge.

LOWLIGHTS
He's Still Obsessed With The Whole '"Wall" Thing
Donald Trump is still delusionally obsessed with his stupid wall idea, and wouldn't shut the fuck up about it last night. He promised the American people that we will build a wall, but appears to have dropped the whole "Mexico will pay" aspect. Which, of course, means we're paying for it. Ugh Trump can you please stop trying to make The Wall happen?

WTF Is V.O.I.C.E?
Donald Trump used his terrifying speech to our terrifying government to lay out a terrifying new agency called V.O.I.C.E, and it's not a new singing competition coming to NBC. It stands for the Victims of Immigrant Crime Engagement. So what the fuck does that mean? Well, it appears to be solely dedicated to policing, publicizing, and punishing crimes committed by illegal immigrants. Hmm…anybody else getting some serious Hitler vibes here?

Someone Announced "The President Of The United States" And Donald Trump Came Out
This was the lowest point in the evening. Probably one of the worst things I've ever seen. Truly horrible. RIP me.

HONORABLE MENTION: The Democratic Response
The Democratic response was given by former Kentucky Governor and current total random Steve Beshear, who sat in what appeared to be a diner and stared lifelessly at the camera while surrounded by a handful of garden-variety white people. It was very boring and honestly I started looking at my phone halfway through and have no idea what he said.

For more news explained in a hilarious way (so you can laugh through the pain), sign up for The 'Sup!