Target Just Dropped New Stanley Tumbler Colors And They're Giving Me A Serotonin Boost
Betches may receive a portion of revenue if you click a link and purchase a product or service. The links are independently placed and do not influence editorial content.
One thing about me is that there isn't much that can get between me and my Stanley. I can pinpoint the exact moment I learned about them: My sister ordered one after getting served an Instagram ad (naturally) and because we've been silently competing our entire lives, I needed one too. Ever since, they've been all over my FYP and in the hands of pretty much every millennial (and Gen Z-er for that matter) that I run into. 
Honestly, this water bottle has been there for me through thick and thin—from the mornings when I've woken up with a hangover and my mouth is drier than the Sahara Desert, to essentially being a full-on self defense tool when I'm walking somewhere alone. (I'm convinced that when it's full it's comparable to a 10lbs. dumbbell). It's basically an emotional support water bottle at this point.
I know what you're probably thinking "it's just a f*cking cup, it's not a big deal." But what you might not understand is that I've literally tried every water bottle known to man because somehow every January I find myself making the same New Year's resolution to drink more water. And, when I say nothing compares to this tumbler, I mean it. It's truly elite with it's easy-to-hold handle (even though I'd like to think I'm strong, I don't have the grip of a NBA player),  to being the size to fit into a cup holder, and it's ability to keep things as hot and cold as one of Katy Perry's first radio hits.
And because I'm a millennial, I tend to collect things. So when I found out the promise land Target was dropping some new exclusive colors obviously, I needed to get my hands on one. Because above all else, there's one rule I live by and it's this: if I love it, I'll buy it in every color.
Similarly to the way Kylie Lip Kits sold out circa 2015, I wouldn't sleep on these if you actually want one. Considering that any viral TikTok makeup trend will literally clean Sephora of any and all products, I have a feeling the same logic will apply here.
And while these exclusive colorways will run you $5 more than the standard 40oz Stainless Steel H2.0 FlowState Quencher Tumbler, I would still consider them worth it. I bought my first Stanley over 2 years ago and even though I literally take it everywhere (see above about it being an emotional support water bottle) it looks like a bought it yesterday and mine is WHITE. Like, if anything is going to show dirt or any bang ups, it's going to be a white one. Not to mention, the colors that are now available are giving me a total serotonin boost.
I just bought the Citron Tie-Dye and it's become my entire personality. And considering spring is right around the corner, it's time we lightened up a little—and my fave colors do just that.
Ocean Tie-Dye That Makes Me Happier Than Any Medication Could

Is it a coincidence that the blue tie-dye compliments my Zoloft perfectly? Probably, but it makes taking my daily medication less of a chore.
Shop it: Stanley 40oz Stainless Steel H2.0 FlowState Quencher Tumbler, $45, Target
This Citron Green Literally Reminds Me Of a Margarita

There may or may not be tequila instead of water in my tumbler, but this is a no judgement zone so who cares.
Shop it: Stanley 40oz Stainless Steel H2.0 FlowState Quencher Tumbler, $45, Target
Peach Tie-Dye That Will Help Me Fit In At Coachella

If I don't bring a tie-dye Stanley cup to stay hydrated at a 3 day music festival, did I even really go?
Shop it: Stanley 40oz Stainless Steel H2.0 FlowState Quencher Tumbler, $45, Target
Wellness Hacks I Learned on TikTok That Don't Make Me Want to Chuck My Phone Across The Room
Like any other human, I wind down after a long day working from bed home by remaining horizontal and going down a TikTok rabbit hole. Considering we're only 8 weeks into the new year (and 7 weeks into me breaking any New Year's resolutions I had) my For You page seems to consist solely of wellness BS. Don't get me wrong, I love a good life hack. But on the flip side, some of these videos make me feel like, despite the green juice and chia seeds I ingest, I'm not doing enough. The mere thought of the "that girl" era  makes me break out in hives — which I'm pretty sure is the opposite of health and wellness. 
That said, I've decided I'm going to be *gasp* a little selfish this year and take care of myself. Let me get to the point—while I'm not going to take an "internal shower" (tbh the idea of that sounds disgusting) there are some redeeming qualities to WellnessTok. Here are a few trends that don't make me want to delete the app entirely.
Betches may receive a portion of revenue if you click a link and purchase a product or service. The links are independently placed and do not influence editorial content.
Dragging Yourself Out Of Bed and Into Leggings
Contrary to popular belief, hitting the snooze button doesn't count as a HIIT class. And while I don't jump out of bed stoked to hit the gym, putting on some leggings and a sports bra has given me the motivation to start thinking about hitting the elliptical. I can't believe I'm saying this, but I do think being prepared for something makes me more willing to do it (damn my mother for always being right). Putting on this bright set first thing gives me enough serotonin to get on the Peloton instead of using it as a drying rack…most of the time.
Crop Tank High Waist Yoga Leggings Set

QINSEN 2 Piece Ribbed Seamless Set, $33.99, Amazon
Adding Veggies To My Plate Instead of Removing Sh*t
I think it's fair to say we're all tired of hearing about what we shouldn't be eating. Like, explain to me why there is a war on dairy? So when I heard it was better to add something to my plate instead of taking it away, I was thrilled. Sure, it's vegetables, but vegetables get a bad rap IMO. We're always trying to make them something they're not. (We're looking at you, cauliflower gnocchi.) Can we just let them live? And if they're living next to my bowl of pasta, or chopped up in a quiche, I'm all in. What I'm not into though is all the kitchen prep. Enter: the viral veggie chopper. 
Fullstar Vegetable Chopper

Fullstar Vegetable Chopper, $29.99, Amazon
Journaling For, Like, 5 Minutes
I've always dreamed of being a journaling girlie ever since I started going to therapy. But, let's be real here, who actually has the time? And don't get me started on the cringe-factor of some of the journal prompts out there. I've seen this 5 Minute Journal all over TikTok and, naturally, I was influenced to buy it. To my surprise, the prompts were short, sweet, and didn't make me want to die from embarrassment. Honestly, it usually takes me less than 5 minutes a day—which is great because that means I can squeeze in a few more minutes of scrolling. 
The Five Minute Journal

The Five Minute Journal, $28.99, Amazon
Drinking Water. That's It. 
If you haven't seen a TikTok referencing a Stanley cup, you're probably living under a rock. While I wanted to completely avoid the trend at first, I eventually succumbed to the peer pressure. And (surprise) I'll likely never turn back, even though I despise drinking water. Having my Stanley on me at all times has turned things around. It has a handle, which I'm surprisingly grateful for. Look, I'm no NBA player so my grip only extends as far as the jar of pickles I eat over the sink. And the Stanley fits in a cup holder which makes it convenient for travel and commuting. On top of all that, they come in so many colors. I'm practically collecting these things like I did Pokémon cards in the 3rd grade. 
Stanley Adventure Quencher Travel Tumbler

Stanley Adventure Quencher Travel Tumbler, $66, Amazon
Ice Rolling
I'm such a hot mess in the morning that anything that guarantees to snatch my puffy cheeks is likely to be an instant hit in my book. But, I'd be lying if I said I wasn't skeptical of the ice roller hype. Because, much like the vegan mac and cheese I just ate, I was expecting this trend to overpromise and under deliver. Never in my wildest dreams did I expect for this ice roller to turn my mornings around quite like it did. Call me an ice queen because I use this thing while drinking coffee, to ease headaches, and honestly just help me calm TF down. 
ESARORA Ice Roller for Face & Eye

ESARORA Ice Roller for Face & Eye, $21.99, Amazon
Dry Brushing
Listen, I can *feel* you rolling your eyes on this one, but hear me out. I'm not going to lie to you and say I that I fully believe that dry brushing actually helps with your lymphatic whatever, but I will say that it's become a nice ritual for myself—I can lock myself alone in the bathroom for an extra 10 minutes and avoid being bothered. Not to mention, I literally feel like I'm getting groomed like a golden retriever. It really feels like a moment of self-care and pampering without having to worry about being too embarrassed to tell someone the massage pressure is too hard. TBH, I've never been so happy to brush myself off. 
CSM Dry Body Brush for Beautiful Skin

CSM Dry Body Brush for Beautiful Skin, $11.69, Amazon
FEATURE IMAGE CREDIT: Photo by MART PRODUCTION
Is Chlorophyll Water The Latest Bullsh*t Wellness Craze?
From alkaline water to celery water to not drinking any water at all, it seems like the wellness industry is obsessed with H2O as of late. I mean, I know it's the essence of wetness and wetness is the essence of beauty and everything, but why do we need to keep reinventing the wheel? And will it ever end? The answer to that final question, at least for the time being, is no, and that's because there's yet another type of water on the market that's making a whole lot of bold claims. Enter Chlorophyll Water, the green water drink that looks like a weird concoction I might have made in 6th grade biology, but that actually tastes amazing and is attracting celebs like Kourtney Kardashian, Mandy Moore, and VS Model Shanina Shaik. I'm listening…
While I wouldn't intentionally read, let alone try to learn anything from the POOSH website even if my life depended on it, I can't deny that I'd like to look like Kourtney K. So, I'd like to know: what's the deal with the latest chlorophyll wellness craze that she and these other hot people are getting behind? 
What Is Chlorophyll Water?
Chlorophyll is simply "a green, plant-based pigment that holds the power to translate light into oxygen and energy for plants," explains Tracy Lockwood Beckerman, Registered Dietitian at Betches. Remember from your middle school science class? She adds, "People are adding it with hopes of obtaining these similar energetic powers simply from drinking water."
What Are The Potential Benefits?
Besides making you appear up with the trends, studies have shown chlorophyll to: 
Have antioxidant properties: Beckerman explains that "chlorophyll has helpful antioxidant properties which will help combat negative cellular damage in the body."
Work as an internal deodorizer: According to this study administered on 62 geriatric patients, chlorophyll tablets were found to be helpful in "controlling body and fecal odors."
Detox the body: The study cited above also found chlorophyll to "aid in easing chronic constipation;" while other studies conducted on animals have shown chlorophyll to "promote the elimination of potentially harmful toxins and carcinogens from the body."  
Clear up acne: Chlorophyll-a photodynamic therapy (a treatment that uses drugs and light and in this case, chlorophyll) was used to treat 24 Asian subjects' acne, in which there were significant reductions. 
But…
As you might have already gathered, these studies are quite limited. Testing on animals or on subjects strictly of Asian descent like the studies cited above does not give us the science-backed results we need to feel confident that chlorophyll is a magical cure-all. Beckerman echoes this sentiment by explaining, "until I see long-term, large, randomized, double-blind, clinically controlled trials, I'd be skeptical that chlorophyll is the answer everyone is looking for."
Did My Experience Line Up?
Nutrition and science and Kourtney K. aside, I wanted to try out Chlorophyll Water in the first place simply in hopes of supporting a sustainable, earth-friendly brand. The water bottles are biodegradable and every case sold plants a tree—which might make you feel better about the $3.33 price tag for a bottle (and $39.99 for a case of 12). 
I was definitely weirded out when I realized that the green color was coming not from the water bottle, but from the actual water itself. However, my initial weirded-outness was replaced by a pleasant surprise at the fresh/crisp taste of the water, which I later learned can be attributed to the purification process it goes through. I was honestly pumped to have found a thirst-quenching drink that doesn't have any hidden sugars and whatever other chemicals MUST be in those weird flavored CVS drinks I'm always buying when I'm hungover. I found myself drinking about two bottles a day for one week.
Despite being tasty and making me look like an intimidating yoga betch (a long-lived aspiration of mine), I can't say that I was magically more energized or that my skin was suddenly glowing. I suppose I was going to the bathroom a good amount (aka I was not constipated for the Jerry in the back), but as a vegan, this isn't usually a problem (wow we're getting personal here), so I'm not necessarily the best guinea pig.
Conclusion
One week isn't long enough to test much of anything, but the current science doesn't give us much confidence in chlorophyll as the be-all and end-all health answer, either. 
Despite chlorophyll having antioxidant properties, Beckerman is instead urging us to stick to the ol'—wait for it—fruits and veggies concept (it sounds so simple on paper, dammit! *bites into chip*). She explains that the antioxidant properties found in chlorophyll "are also found in blueberries or broccoli, and we know these foods provide the body with anti-inflammatory and disease fighting properties. Why can't we all agree to eat more colorful foods instead of buying chlorophyll-infused water?" Okay, you got us there.
So eat your damn veggies, and until we have more research, if you're going to drink Chlorophyll Water, do it for its taste, prestige, and added vitamins (A, B12, C and D). 
Images: Vista Photo / Shutterstock.com
6 Ways To Trick Yourself Into Drinking More Water
Whenever there is anything wrong with me, the advice I always get is "drink more water." A headache? Drink more water. Hungover? Drink more water. Broken leg? Drink more water. I used to think that it was my doctor's mom's way of shutting me up and dismissing my symptoms. But seriously, water has a plethora (*flips hair*) of benefits. It really is that bitch. Who knew! The benefits of drinking more water include increased energy and brain power, flushing out toxins, promoting weight loss and management, improving your skin (bye bye pimples), and tons of others. Needless to say, if there is anything  wrong with you, drink more water. But it can be v hard, so here are some tips to help you drink that water.
1. Get A Water Bottle That Works For You

Shop Betches Not Not Hungover Stainless Steel Water Bottle
Personally, I love my S'well bottle. I don't think there is anywhere I go without it. It keeps my water uber cold. If you don't like ice cold water, then this isn't the bottle for you (and I think there is something wrong with you, so please send me your location so I can alert the authorities to your whereabouts). Get a bottle in a fun color, design, or with a fun saying. You're gonna be spending a lot of time together so you may as well like looking at it.
2. Use a Straw

YIHONG Set of 8 Stainless Steel Metal Straws
Using a straw forces you to drink way more and is my favorite way how to drink more water. But because we care about the turtles and sh*t, invest in some metal straws, rather than disposable plastic ones. My fav are from Amazon. You get an assortment of bendy and straight straws depending on your drinking needs and two brushes so you can keep the straws. But realistically, I just leave them all dirty until I've run out …
3. Use An App

There are TONS of apps to help you track your water intake. I use "My Water Balance" because it is super simple. I'm able to input my water and coffee intake so I can see how much caffeine I've had that day, as well. If you are feeling bougie, you can upgrade the app so you are able to input other drinks like soda, smoothies, and alcohol. The best part? It sends you reminders at whatever interval you choose so it can remind you to keep on drinking. Cheers.
4. Add Flavor
By adding flavor to your water, you can spice up your boring ol' H2O. I love adding fresh lemon and strawberries.Lemon is a natural anti-inflammatory and helps to boosts your immune system, to name a few. Strawberries are considered a "super food" and contain high levels of antioxidants and vitamin C. Infusing your water can kick up your hydration, so try infusing your water with mint, cucumber, or orange (or check out this post for other recipes).
5. One-to-One Rule

This may not be the most fun way of how to drink more water but trust, it'll be worth it. You'll thank me the next morning. So here's how it goes: when you're drinking and pounding back those shots, follow a one-to-one rule—one glass of water for every one glass (or shot) of alcohol. Since alcohol is dehydrating, you need more water to offset the effect. You'll feel way better the next morning, trust me so this won't be you tomorrow.
6. Eat Your Water

One great way for how to drink more water is actually through eating your water. Foods like cucumber, lettuce, celery, radishes, tomatoes, bell peppers, watermelon, spinach, and so many others have super high water contents. By eating some of these foods, you can justify missing a glass or two. If Beyoncé can drink her watermelon, so can we.
Images: William Bayreuther / Unsplash;Giphy (3); S'well; Amazon; My Water Balance
Super Long-Lasting Products For Your Skin & Lips
Now that winter is in full swing, my skin has officially lost all its moisture. There are only so many face masks I can do. But putting makeup on top of cracked and flakey skin can be a disaster. Typically, liquid and cream products are your go-to in the winter. Save the powders for the warmer weather. After starting with a hella good moisturizer (see here), use these moisturizing makeup products to stay hydrated af all day and beat the winter dryness.
First Aid Beauty is a fab brand if your skin is sensitive, and the brand is not ridiculously overpriced. This primer and moisturizer is a two-in-one (hello, lazy gals) so you moisturize and prep your dry skin at the same time to ensure your makeup lasts and doesn't get crusty. But if your skin is super dry, I'd suggest still moisturizing beforehand. Double the moisture, double the hydrating—I can hear the glowing angels singing now.

I don't think there is anything worse than having a super dry under eye area. It's not a cute look on anyone (not even you, Beyoncé… sorry). But this concealer is my holy grail. I have probably gone through a dozen of them and I don't plan on stopping anytime soon. No matter how dry my under eyes are, this concealer never gets cakey or cracks. It lasts for ages and can be layered to build the coverage. 

Another moisturizing makeup product I am so obsessed with. I bought it over the summer and I have been using it ever since. This cream blush is super hydrating so my cheeks never get dry from the winter winds. It also has great staying power. I use the color Naughty n' Spice, but there are three other colors to choose from. What's amazing is I can use it as blush, eyeshadow, and lipstick if I'm going for that monotone look (or just super lazy). Nudestix, if you're reading, please come out with more colors. Thanks!

I have yet to find a cream bronzer as amazing as this one. I know it's pricey, but it does last a long time. But if you know of a dupe, hit me up in the comments. It gives you a natural sun-kissed glow even in the dark depths of the winter. The only issue? It comes in one shade. Although it claims to be a universal color, that's impossible. Chanel, it's 2019, you can do better.

This amazing lipstick is incredibly moisturizing, and claims to keep you hydrated for 8 hours. It contains beeswax, moringa oil, raspberry seed oil, and vitamin E. It is all natural, long-lasting, and has amazing color payoff. My fav color is Doused Rose—it's the perfect your-lips-but-better shade, but there are 17 others to choose from to fit every occasion.

Pricey, I know, but in this case, it's well worth it. This beauty cult favorite is a suuuuuuuuper moisturizing facial mist to end your beauty routine. Say goodbye to dry and powdery makeup! If your skin is feeling super parched (and your wallet is feeling super full), spray this bad boy on before and after your makeup routine and your skin will be so glowy and hydrated you won't know what to do with yourself.

Images: Banter Snaps / Unsplash; Sephora (4); Nordstrom; Burt's Bees
Betches may receive a portion of revenue if you click a link and purchase a product or service. The links are independently placed and do not influence editorial content.
5 Hydrating Face Masks Your Skin Needs This Winter
It's officially winter. And with winter comes the joys of cracked skin and chapped lips. Hot. Sometimes, no amount of moisturizer can help. Lucky for you, there are tons of products on the market, specifically face masks, that claim they will miraculously heal your skin and actually hydrate it. Some are bullsh*t, but others actually work. Here are the best hydrating face masks your skin will thank you for using. Treat your skin to that tall glass of water it's begging for.
I'm obsessed with this mask. I have oily, acne-prone skin, but in the winter I get some dry patches (which is just the perfect combination). At night, I slather a layer of this rich goodness on before bed and leave it on while I sleep. I wake up with the smoothest skin and ZERO dry patches. It's incredible.

Anything this brand comes out with, I'm down for. With its *generous* price tag, it better be good right? It claims that "it moisturizes, restores, replenishes, and calms the skin." Yes. Please. You can leave this mask on for 10 to 20 minutes during the day or apply it as a sleep mask before bed.
For only $2.99, this one is a steal. Garnier is a v reputable and affordable brand, earning it a spot on this list. These single-use sheet masks are amazing. This one claims that it "deeply hydrates, illuminates and enhances skin's radiance." These masks also come in a Soothing formula, Hydrating formula, Mattifying formula, and Anti-Fatigue. Legit one for everyone.

This mask doesn't just moisturize, but it also reduces redness. Leave it on for 5 to 10 minutes then rinse it off to reveal glowy skin. It contains rosewater, aloe vera, and cucumber. All amazing ingredients to hydrate and even out your skin tone. If you have dry, oily, normal, or combination skin, it'll work for you.

If you don't like the smell of apricots, then stay away. But if you're cool with that, then this mask will change your life. It is incredible. Another overnight mask, I know, but it's basically multitasking—hydrating and sleeping simultaneously. This mask also contains avocado, so you know you're gonna love it.

Images: Giphy (1); Olay; Sephora (2); Garnier; Origins
Betches may receive a portion of revenue if you click a link and purchase a product or service. The links are independently placed and do not influence editorial content.
Will Drinking More Water Really Improve My Skin? I Tried It
I've never been especially adept at hydration. If you're confused by that statement because "being adept at hydration" literally just means "drinking water," please know that I am equally as perplexed and frustrated by my own inadequacies. My entire life, I've struggled with drinking enough water. There's likely a lot of reasons for this, ranging anywhere from laziness to total lack of self-preservation instincts, but I like to think it's because there are so many better tasting beverages out there that make water feel like a waste of time. In this moment I can hear health professionals across country the sighing heavily, and I would like each of you to know that I, too, am disappointed in myself.
I'm sure people will read this and have suggestions for me. "But diffused water!!" someone will inevitably posting in the comments section, thinking that they are, in fact, being helpful. To you, sweet soul, I will say this: I have had your diffused water. I've owned countless water bottles with difficult-to-clean diffusers and filled them with ungodly combinations of fruit, herbs, and vegetables in an attempt to trick my body into drinking the one thing it needs to keep me alive. And it always works, for three days.
Three days is what it takes for me to get sick of slicing lemons and rinsing mint and studiously replacing said ingredients before they get soggy and gross. Three days is what it takes for me to forget my fruit-laden bottle in my car overnight and return to a hot, mildew, pulpy mess in the morning. Three days is what it takes for me to abandon the notion of being a better, healthier person and revert back to my former dehydrated troll state. Thank you for your attempts at saving me, but I am too far gone.
So, when I was tasked with attempting to drink double the amount of recommended water a day for an entire week, I jumped on the opportunity. Hydration for my own benefit? Boring. Ordinary. Passé. Hydration for the sake of an article where I get to talk about what a sh*tty person I am? A great time. Sign me up. Break out that soap box.

According to the Mayo Clinic Website, the amount of water we should be drinking per day is a simple question with no easy answer. This is literally my least favorite kind of question. Countless anonymous, omnipotent health gurus and doctors and highly opinionated women with no qualifications around the internet will quote anywhere from 1.5 to 3 liters a day. That's how much they think it'll take to offset the questionable substances I insist on pouring in my body week after week. Fools.
Across the board, it seemed like everyone could agree that about 2 liters a day was optimal, which means that for this experiment I would be consuming 4 liters a day. This is wild for many reasons, first and foremost being that I get maybe a single liter of water on a good day. I don't even want to tell you what a bad day looks like in the event that my mom reads this and then calls and yells at me.
When you research drinking water (something no functional human should have to research, and yet here I am) there are any number of articles that will tell you that doing so isn't just a necessary by-product of being alive, but a beauty and weight loss hack. As if water is this secret elixir that was recently discovered in an untouched cave in Peru and we suddenly have access to its magical properties.

Shop Betches Wetness Is The Essence Of Beauty Water Bottle
Water clears your skin! Water helps you lose weight! Water, when mixed with soap, makes an excellent cleaning solution! All of these things are turned into bold headlines, heralded as newsworthy facts and not just obvious statements, probably because people like me are still Googling things like "benefits of water." The first bullet on any of those lists should be "it keeps you alive," but that's just not enough for us anymore, is it?
If water is going to force me to be alive, it better also give me the skin of a 16-year-old super model and the flat, bloat-free stomach of that same 16-year-old super model. Basically, if this recommended 68 oz of water a day doesn't turn me into Kaia Gerber, what is the point?? Why am I wasting my time??
Well, after seven days of forcing four liters of water into my body, I can tell you the point: you feel good.
After one week of sufficient hydration I can finally recognize what it feels like to be truly dehydrated and let me tell you, in case you weren't aware, it doesn't feel great. I can now say, without a shadow of a doubt, that I have been frequently treating dehydration with almost anything but water. Food. Iced coffee. Sleeping. Iced coffee. Unnecessary snacks. Iced coffee. All consumed under the guise of "I probably need this" when all I needed to do was drink some damn water.

So while the main item in the pro column here is, "my body is finally functioning in the manner for which it was designed," I would be remiss to not mention the cons. Do they offset a healthy lifestyle and fully operational organs? No, but they were still annoying.
First of all, it's really hard to drink four liters of water a day. What you'll find if you attempt to do so is that, once you're no longer thirsty, you have a difficult time remembering to continue to drink water. There are ways around this, but I can't really put into the words the shame you feel when your "DRINK WATER RIGHT NOW!!" reminder pops up on your laptop while it's plugged into a monitor during a meeting and you're forced to explain to your coworkers that you actually require the assistance of technology to do something vital for your own existence.
Also, being fully hydrated means that you pee. A lot. Constantly, even. Enough times that people will start to get worried about you. I don't want to project my own insecurities onto my coworkers, but if I watched someone get up and go to the bathroom twice an hour, every hour for eight hours a day, I'd assume there was a UTI involved. Or they were hungover and taking power naps on the bathroom floor. Not that I'm speaking from experience.
Did my skin miraculously clear up? No. Did my increased metabolism result in magnificent weight loss? No. Did I become a Neutrogena model over the course of seven days? Obviously not. However, if they're interested after seeing my expert selfies below, my DM's are open.

As demonstrated by these (makeup free) before and after pictures, you'll see that I look about the same except that my stress zits have accomplished an entire lifecycle during the length of this experiment. Seeing as how those tend to pop up any time I'm PMS-ing, I didn't expect any amount of water to make a difference. But I also refuse to judge the success of this venture on the aesthetic effects that I may or may not have experienced.
Despite what any number of Instagram pages or low quality videos that your moms friends share incessantly may tell you, not everything in the year 2018 has to be a "hack." I'm not here telling you to drink water because it will magically clear up your skin or make you drop two dress sizes in time for that big event without actually dieting or exercising or suddenly make that cursed amulet in your attic stop whispering turn you into a health and wellness guru. I'm telling you to drink water because it's good for you. And while that may seem like a boring reason in a world of Goop and Beauty Hacks and Instant Fixes, it should be enough.
Images:  Betch Ivy Carter; Giphy (2)
What Is Toner, Why Do You Need It, & Which One Do You Need?
Let me start off by saying that I am not a skincare expert. I am just a 24-year-old human woman. One who discovered six months ago that my college skin care routine ("washing most nights, probably") was no longer going to cut it. I'm lucky enough not to deal with serious acne. But all the "minor" concerns (dullness, dryness, redness, inexplicable bumpiness)? You bet. SO, I did what all good shopaholics journalists do best: research. I went into a very deep, surprisingly Korean internet blackhole, and emerged with a four-step skincare routine. Cleanser, toner, serum, moisturizer. Duh. Of all these steps, toner was the one I resisted most—and the one I still find most confusing. Since I'm sure I'm not alone in this, I've written up my findings on this v important topic. What is toner, why do we all apparently need it, and which one is best? Please enjoy.
What Is Toner?
First and foremost, toner is very different than it used to be. The toner I remember from high school was glorified rubbing alcohol prescribed by particularly vindictive dermatologists. But today's toners are so much more. A good toner can help you even out texture and tone (duh), shrink the appearance of pores, and leave your skin super soft and glowing.  To get technical, one skin care specialist describes toner as a way to "complete the cleansing of your skin." Apparently, cleansers "can leave a film on your face" that toner strips off. Which really makes me question why I'm using cleanser in the first place, but k.
If you want a buzzier description of what toner does, Allure describes it as "a fast-penetrating liquid that delivers skin a quick hit of hydration and helps remove some dead cells off the surface of the skin." (Seriously, are cleansers removing anything?) And in case I have any toner nerds in the comments, I'll also mention toner's effects on pH level. Apparently, a good toner functions by resetting your skin's natural acidic pH. You can read more here, or just trust me that it means you'll look good and resist more bacteria. Two equally sexy goals, am I right?
Finally, what is toner actually made of? The general answer is water, plus some combination of acids, glycerin, essential oils, plant extracts, and more. Kewl. Some toners still contain alcohol, but it's not recommended unless oil is your main problem.
TL;DR: Toners are a water-based product will give you a more thorough cleanse, prep your skin to absorb your moisturizing products, and overall improve skin's appearance and texture over time.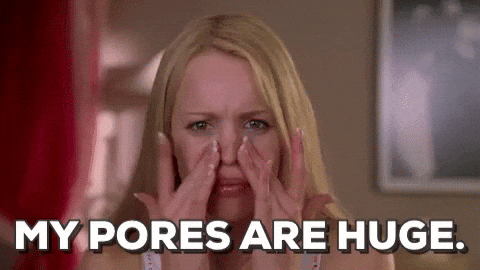 How Do I Use It?
You should think of toner as a chaser for your cleanser and a primer for your serum/moisturizer. If you're particularly anal, you should apply toner no more than 60 seconds after cleansing. Apparently, that's when your skin will absorb it best. After, you apply any serums/moisturizers/eye creams. My favorite explanation for how this works is given by Charlotte Cho, co-founder of Soko Glam. "Your skin is like a dried-up sponge," she says (adds up). "If you put thick cream on a brittle dry sponge, it won't accept it." If this doesn't make you spiral into self-doubt about every time you've put $70 moisturizer on your bone-dry face, congratulations. Can't say the same.
As for like, how do you literally put it on your face—you have two options. You can read the instructions on the bottle (some recommend cotton pads while others say to use your fingers).  Or you can really make a day of it and attempt to follow the K-beauty "7 Skin Method." I'd make a joke here about "who has the time for that," but I watched a full season of American's Next Top Model last weekend. I have the time for that.
Okay, What Kind Of Toner Should I Buy?
Now you're asking the important questions. The answer, of course, depends on your skin type. Generally speaking, Korean brands like Soko Glam will have great options, because their toner never went through the gross alcohol phase that American toners did. But beyond that, you should figure out your skin's needs (or see a dermatologist to find out) and pick ingredients based off that.
For sensitive skin, chamomile, aloe vera, and amino acids all help calm/soothe. Some good picks include Mizon Intensive Skin Barrier Emulsion and Exuviance Soothing Toning Lotion. For oily skin, alcohol will help kill oil and shine, but so does witch hazel—and the latter is less drying. Belif Witch Hazel Herbal Extract Toner is my personal fave, and Pixi by Petra Glow Tonic is another beloved one on the market. For dry skin, glycerin, essential oils, and rosewater are all key hydrating ingredients. Try the Klairs Supple Preparation Facial Toner or Caudalie Beauty Elixir. For dull, uneven skin, try Son & Park Beauty Water, which has both exfoliating and hydrating properties.
Oh, and whatever you do, stop buying Neutrogena toner. I usually love Neutrogena, but their crazy-drying alcoholic toners (yes, even and especially the "Alcohol-Free" toner) are the reason it took me so long to come around to real toner. I used that shit for two weeks and I may as well have been washing my face in Svedka. If you need any further convincing, take a look at their spokesperson. I rest my case.

That's all the wisdom I have today! But my recent skincare tear is showing no signs of stopping, so stay tuned for upcoming reviews of dermarolling, Hanacure, and how to file for bankruptcy when you've spent all your money on Korean beauty products.
Images: Giphy (2); sarah_glow / Instagram
Betches may receive a portion of revenue if you click a link in this article and buy a product or service. The links are independently placed and do not influence editorial content.