I Took A Pole Dancing Class To Learn About Stripping, And Wow
I would just like to say that I learned more about stripping from Hustlers than I did about America in AP U.S. History class. Seriously, this movie deserves an Academy Award in every category and I will fight anyone respectfully debate the opinions of those who disagree. Because this article isn't actually about Hustlers, I'm not going to waste my word count listing out all of the lessons imparted on me during the best two hours of my life. Look, strippers, both real and fictional (like J.Lo and the rest of the amazingly talented cast), make pole dancing look easy. Well, guys, it's actually really f*cking hard.
If you're wondering how I know this, allow me to explain: last weekend, a friend and I signed up for a pole dancing class and, I'll just to cut to the chase, it did not go well. Holding your body up while balancing on a pole requires a level of strength and determination that I do not possess, so this class was exceptionally hard. Like, yes, I could climb up the pole and chill for a few seconds before awkwardly sliding down, but that is neither sexy nor impressive, so I tried the more advanced moves and it was an absolute sh*tfest. However, my hour on the pole wasn't a raging dumpster fire because I'm just a hopeless mess, it was because pole dancing is beyond hard and no one, not even Cardi, is good on her first day. Pole dancing is no easy feat, and this needs to be recognized. So if you want to find out exactly what your local strippers do every day and night, read up!
You Need More Than Rhythm

As I mentioned before, you essentially need to be the Hulk to be able to do literally anything on a pole. Even just the basic moves, like a wide squat and then slowly straightening your knees while arching your back on your way up to a standing position (or as Christina Milian would say, "dipping it low and picking it up slow") requires a level of strength I didn't think human beings were capable of. As for the more challenging moves, yeah, that didn't go well, either. 
Just for sh*ts and gigs, I wanted to try something really hard, so I climbed to the top of the pole as ungracefully as humanly possible, hooked my right knee and my right wrist around it and attempted to swirl down slowly, à la J.Lo in the Hustlers trailer. The swirl lasted approximately half a second because the inside of my knee felt like it was being lit on fire by the sun itself and my wrist wouldn't budge since the pole was sticky with sweat. Ouch. So in addition to being able to dance with an inanimate object, exist in six-inch heels and look hot while attempting the impossible, you need to be very, very strong to be a decent pole dancer. 
It's A Workout

I know that pole dancing has become the new hot workout for young suburban moms in recent years, but don't knock it 'til you try it, because it really is a workout. For context, this is what it feels like: you know when your SoulCycle instructor says you have one song left of class and you're so relieved because three minutes of effort is really all you have left? Okay, that's how I was feeling eight minutes into pole dancing and the class was an hour long. Yikes. So, while on my hands and knees with the pole against my ass, I started to think about all of the hard working dancers out there who do this for hours on end, and I became absolutely mesmerized by their strength, willpower and endurance. 
Also, one important thing to note: it hurts a lot,  and not in a good way. At one point, I was in a handstand position with one of my feet against the pole and was told to walk my hands away from it. Because I have zero balance and next to no core strength, I came crashing down and have a giant bruise on my shoulder to prove it. I'm sure this happens less with practice, but frankly I've given up on my short-lived dreams of ever attempting this again.
It Doesn't Feel Sexy At First

Full disclosure, I walked into the studio thinking I'd at least be decent at this since I did ballet for over a decade. What a fat LOL I had after exactly two minutes, when I realized that ballet and pole dancing have absolutely nothing in common! I thought my dance background would be helpful, but going on pointe for a few seconds at a time is nothing compared to hanging upside down from a metal pole. Also, pole dancing is really graceful, and grace was something I learned in ballet, but I still managed to look like a cross between a clumsy, blind toddler and Greg from Succession on the pole.
Again, it takes practice, but I'd just like to remind you that it took J.Lo, the most fit and coordinated person on planet Earth, weeks to master this, so it would take me about three years to even kind of figure it out. That math seems accurate, I think. The thing is, I could have definitely tried to be sexy doing the moves, but I was too focused on not dying to prioritize looking good. So I truly don't know how strippers both defy gravity and look incredibly hot doing it. 
At the end of the day, strippers are athletes in every sense of the word and deserve the same, if not more, respect that we show a bunch of critically concussed men for running around a field in shoulder pads. I don't really know how or why people assume strippers are these broken and sad women who strip as a last resort, but that grossly incorrect presumption needs to be updated because they work incredibly hard. They are hardworking queens who possess a lot of skills that are hard to come by, and if you don't agree, take a pole dancing class and you'll change your mind. 
Images: Shutterstock; Giphy (3)
As A Stripper, Here Is What I Hope You Learn From 'Hustlers'
From the moment I saw the 
Hustlers 
trailer, I was overcome with a mix of emotions. First of all, I was beyond excited to see JLo, Constance Wu, Cardi B, Lizzo, and the rest of the cast shake their asses and work their magic on the big screen. But with all this excitement came a bit of fear. As a stripper myself, I was delighted to see strong women representing us in the mainstream media, but I was also worried that Hollywood may do what they do best and 
mis
represent us. And seeing as the premise of the film was that a group of strippers came up with an elaborate scheme to fleece rich men for thousands of dollars, I was also concerned that the film would leave people believing that all strippers are
scam artists
.
I attended a 12:15pm matinee of the movie with my friend, who is also a stripper, and I can say from start to finish, 
Hustlers 
dazzled the f*ck out of us. We clapped, snapped, laughed, and whispered, "SAME" to each other throughout the entire thing. It was a GD delight. And I can honestly say that I think, for the most part, they did a good job representing strippers and conveying the nuances behind the story in a way that showed the audience that the situation wasn't black and white and that strippers are, you know,
human beings.
The film hired
actual strippers
to
consult
 and act as extras in the film, and I think this really shows. It feels authentic and far from the usual portrayal of strippers or sex workers, which is that we are sad, broken people with no agency over our bodies and ourselves. However, I can still see how some people could take things from the movie and either not understand or misconstrue them. So, I'd like to go ahead and say what I hope you took away from the film, besides the obvious, which is that JLo is the hottest person in the world and can run me over with her car (if she wants).
Stripping is a legitimate job that requires lots of different skills.
A standout moment in the movie is when Destiny (played by Constance Wu) is giving a dance and a man asks her, "What happened to you that made you do this?" This is a typical kind of question from a male customer. It's condescending, rude, and ignorant. These dudes come into the club looking to buy what we have to offer, and they say sh*t like this, implying that what we do isn't valuable or worthy, and that we must only be doing it because we are damaged goods. Sex work is work, and I think Hustlers does a good job of showing how it's very much a job that requires a set of skills. You have to learn how to read and work people, how to charm people, how to be confident, plus how to walk and dance in six-inch heels. It's fun and empowering, and it's also exhausting. It's a job. I hope when you saw Destiny exiting the club as the sun was coming up, you thought, "Damn, girl," because that moment is very real.
While stripping can and should be empowering, the system it works within is broken.
The first act of Hustlers essentially shows us the working conditions for a stripper. Granted, the film takes place about a decade ago, but a lot of the industry standards remain the same. We see Destiny go through a long night of working, only to have to hand over a chunk of her earnings to her boss. Most clubs work in a way that cushions the pockets of the men in charge, and takes advantage of the women doing all of the heavy lifting. In most clubs, strippers are not paid any sort of wage. Instead, they have to pay the club for the "privilege" of working there.
I've noticed in the way management speaks to us, it is often implied that we are disposable and lucky to be given the opportunity to make money at their club. We have to pay a house fee every shift. In my experience, this ranges form $40-$100 per shift, depending on when you arrive (the house fee goes up as the night goes on). On top of this, you have to tip out other people on the staff, because they also make their money on tips.
And, while the first act of the movie shows how hard it can be, it eventually transforms to these women making insane amounts of money, because a plot of a movie must progress. But something I find myself often explaining to people is that stripping is very inconsistent work. Some nights I feel like JLo in the scene where she bathes in money and I take home two months' rent in one night. Other nights I owe the club money after working the floor for six hours because I didn't even make enough to pay my house fee.
Hustlers shows that strippers endure tough working conditions that require them to hustle hard, so instead of shaming them for what they choose to do, we should support and stand by them.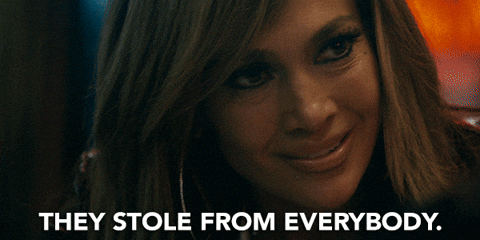 Not all strippers are trying to rob you.
Sure, this film is based on a true story about a group of strippers who came up with a master plan on how to rob some super rich Wall Street guys. But I think Hustlers makes a point to show the situation these women were in that led them to do doing what they did: a financial crash that took away their business and a need to survive and support themselves and their families. It also includes a line from Destiny reiterating that this is not what all strippers do, which I really appreciated and hope you noted. As someone who has worked at the club that Hustlers is based off of, I can say firsthand that I've never witnessed anything like this scandal there. This was a unique situation, and it made major headlines because of what a big, and uncommon, story it was. It is an exception.
Strippers are hustlers and we are smart people who persuade people (often rich men) to spend their money, but that doesn't mean all strippers are going to drug and rob you. It's an interesting story, but it is not the norm. So, please don't watch and support this movie and then use it as an excuse to stay away from strip clubs and not support actual strippers. Hollywood shouldn't be the only one making money off the dazzling world of strip clubs.
Sisterhood exists at the strip club.
In the past, I've noticed that when strippers are portrayed in film and TV they are often pitted against one another. People who have never worked in a strip club assume it's every stripper for themselves and highly competitive. Hustlers showed audiences an authentic strip club, where yes, you should not cut in on another stripper's client, but you also work best when working together. The only time they show the competitive aspect is when Destiny tries to talk to a man who is watching Diamond on stage. That's not a good move, and Destiny figures that out when Diamond grabs her hair and tells her to f*ck off. But she also learns that becoming friends with her coworkers and combining their powers is not only lucrative, but essential to staying happy at work.
A line from the original article written about the scandal, entitled "The Hustlers of Scores,"  says, "While evolutionary theory and The Bachelor would suggest that a room full of women hoping to attract the attention of a few men would be cutthroat-competitive, it's actually better for strippers to work together, because while most men might be able keep their wits, and their wallets, around one scantily clad, sweet-smelling sylph, they tend to lose their grip around three or four." This is absolutely true. Plus, working with a bunch of women who have seen your pussy is honestly a blast, and I love my sisters at the club. They keep me sane.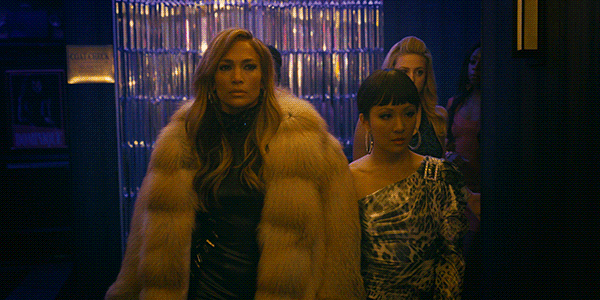 Strippers put up with a lot of stigmatizing bullsh*t.
While I'm proud of the work I do, I also know the world, for the most part, is not. My hope is that Hustlers will help people clock their unfair judgements about strippers. Being represented in mainstream media means a lot, and having a cast of strippers that the audience is meant to sympathize with is helpful. But I hope people don't leave their enthusiasm and "yaassss queen" energy at the theater door. I have seen people gushing over this movie and over the cast, but I hope they realize that while, yes, JLo is a goddess, so are the strippers she and the rest of the cast are portraying here. Something I hear way too often from my clients is, "You are too smart to be working here." They think it's a compliment, but really it's a belittling dismissal of the hard work that I and my fellow strippers do. You'll notice that I wrote this article anonymously, because unfortunately, I still feel as though there are people in my life or in the professional world who would view me differently and less positively if they discovered that I do this work. That sucks. I hope Hustlers helps you see that strippers are amazing, smart, funny, clever, badass b*tches who deserve your respect. And TBH, your money.
Stripping is a form of sex work, and all sex work is work.
Nothing bums me out more than people rationing their compassion, especially when it comes to sex work. If you saw Hustlers and discovered that you respect the work that strippers do, don't stop there. Make sure to respect and support all sex workers. Different people provide different services, and the details of those services shouldn't dictate what respect you have for them. Different strokes for different folks, babe. No need to judge.
And please, for the love of God, remember that sex work is completely separate from sex trafficking. I'm not asking you to support the latter. I'm asking you to realize that consenting adults choose to make a living from the former, and they are often shamed and penalized for it. Let's change that, shall we?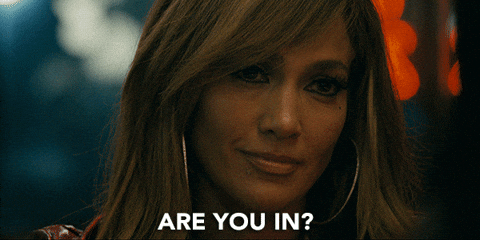 Images: Getty Images, Giphy (2)
The True Story Behind Cardi B & J.Lo's New Movie Is Peak 2019 Female Empowerment
Good news: Cardi B has spent the last tw0 years taking over music, and now she's turning her attention to movies. On Tuesday, STX Films announced their new project Hustlers, and I'm already positive it's going to be my favorite movie of all time. In addition to Cardi B making her film debut, the movie is packed with badass women like Jennifer Lopez, Constance Wu, Keke Palmer, Lili Reinhart, and Julia Stiles. I could write an essay about how much I love each of these women, but for now I will try to keep it to a minimum. The movie also stars Mercedes Ruehl, who you might not know, but she's an Oscar winner and I saw her in a play last year and she is fierce as f*ck. Moving on.
First of all, the movie is being written, directed, and produced by a woman named Lorene Scafaria, who also directed Nick and Norah's Infinite Playlist. Good to know that we've got boss women on both sides of the camera for this one. The movie is based on a New York Magazine article from 2015, and it centers on a true story. Get ready, because the plot is a wild ride. The main characters are a bunch of strippers who band together to get revenge on a bunch of gross Wall Street dudes. This sounds like all my revenge porn fantasies! Here's the subheading of the article: "Here's a modern Robin Hood story for you: a few strippers who stole from (mostly) rich, (usually) disgusting, (in their minds) pathetic men and gave to, well, themselves." This is the 2019 mood, and I am 100% here for it.
If you think the story sounds amazing, that's because it totally is. It centers around Rosie, an enterprising stripper who came up with a complex operation to scam rich men. Basically, they would drug the guys, steal their credit cards, spend a sh*tload of money, then convince the dudes nothing was wrong when they woke up. Okay, like yes, these are clearly CRIMES, but also, I respect it? If this writing thing doesn't work out for me, that's probably gonna be my next move. The real Rosie is Asian American, so I would guess that she'll be played by Constance Wu, and J.Lo is probably playing an older stripper/mentor named Samantha. I'm not sure who Cardi B will play, but I'm excited nonetheless.
There are many reasons to be excited for this movie, but I have to say that Cardi B's involvement is the most intriguing thing for me. She's obviously one of the most entertaining people on the planet, but I'm already imagining her trying to memorize lines, and it's hilarious. Hopefully they'll give her a few cues and just kinda let her improvise on set, because you can't even write the sh*t that comes out of her mouth. At least she has the real-life experience of being a stripper, so maybe she can show Constance Wu and Lili Reinhart a thing or two on the pole in exchange for some acting lessons. Dark Betty will thank her. (I doubt J.Lo needs any pointers, based on her insane workout routine.)

Sadly, it's going to be a while before we can see Cardi B and her A-list crew ruining men's lives on the big screen. The movie is scheduled to start shooting at the end of this week, so if I had to guess, it'll probably come out next summer. This is a long time to wait, but I have full confidence that it'll be worth it.
Images: Shutterstock; @jlo / Instagram; Giphy