This Guy Who Scammed His Friends & Family Out Of $750K Is The New Billy McFarland
It's almost Super Bowl Sunday, and we all know what that means. For most of America, it's time to throw on your favorite jersey, scream at your TV, and eat your body weight in wings for a few hours. For Georgia businessman Ketan Shah, however, it's time to pull off a months-long Super Bowl scam, hustling friends and family out of $750K for Super Bowl tickets, and then skipping town. (Hmm, what's that? A well-to-do businessman taking money from people who trust him for an experience he can't deliver? Where on earth have we heard that before?)

According to WSBTV2 in Atlanta, Shah owns a digital printing shop and "sits on numerous community boards" in Gwinnett County. He had a "squeaky-clean" business reputation—as all victims of this alleged scam point out—and was generally a well-regarded, active member of the community. Back in November, Shah began collecting payments from these community members, promising them "one hundred level seating," "access to the concierge lounge and a few pre-parties," and in one case, "a chance to host an arena Super Bowl event." Mutual friends and acquaintances started sending Shah down payments, and Shah's own mother gave him $36,0000. When the time came to deliver on his promises, the victims claim Shah disappeared.
Now, at this point in a normal internet scam, McFarland Shah could've just gone dark: stopped responding to emails, blocked all calls, and done his best to make himself untraceable. But since he was literally stealing from friends and family, Shah took it a step further and just f*cking took off, leaving his poor wife, Bhavi, to deal with the consequences. (A woman cleaning up the mess a man created? Where have we heard THAT before?) According to Bhavi Shah, she had no idea her husband was selling Super Bowl tickets. As another fun surprise, Bhavi also discovered after her husband's disappearance that he had taken out a half-million dollar loan against the business. Wait—you're telling me this guy is both financially troubled AND a terrible husband? Color me shocked.
View this post on Instagram
Currently, Bhavi maintains that she has no idea where her husband is, adding that he's been "roaming all over the town." Ketan Shah's family suspects he went to Vegas "as part of a midlife crisis," but it's unclear whether he's there now. Gwinnett County investigators have said "they want to hear his side of the story," adding that "it's a very odd situation that you would take people this close to you and scam this kind of money." I mean, maybe in 2015 it was an unusual situation, but I'd say it's a growingly popular move nowadays, when 90% of old high school classmates reaching out to you via Facebook are trying to involve you in some kind of pyramid scheme.
Whenever Shah chooses to reappear, the police department seems to have plenty to go on to charge him. His victims have gone to numerous police departments, as well as the FBI, with even Shah's mother reporting her $36,000 loss to the police. (She didn't press charges—or anyway, didn't press charges YET. I'm holding out hope.) In the meantime, his friends and family will be left wondering whether any American businessmen can still be trusted (no). And hopefully, asking themselves why they were ever willing to spend upwards of $20,000 to attend a sporting event. As we dive into this Super Bowl Sunday, let's all be grateful for not having sons who rob us, and remember to do your research when putting down money for something that sounds too good to be true. In 2019, it probably is.
View this post on Instagram
Images: tenor; Giphy; girlwithnojob, sodawaterpls / Instagram
4 Things To Stop Feeling Guilty About In 2019
2018 was a year of many revelations. (Yes, saying "revelations" instead of "realizing stuff" makes me the intellectual Kylie Jenner.) It was a rapid-fire year of watching our favorite celebs make engagements, break engagements, have babies, and get cheated on by f*ckboys. (What I like to call "the big four.") In between worrying that these celebs are growing up too fast and worrying I'm not growing up fast enough, I realized I was forgetting one important thing. (No, not refilling my anxiety medication. Good one though.) I realized I was spending so much time judging and measuring everyone else's process in life and feeling guilty about my own that I could barely remember what I actually wanted. All I knew was what I thought it should look like.
So, in the spirit of slowing down, letting go, and re-focusing on getting happy from the inside out, here are four things to stop giving yourself (and other people!) sh*t for in 2019.
Feeling Only Okay About Your Job
One of the more toxic elements of Instagram is that everyone on there (everyone successful anyway) seems to be a fully self-made entrepreneur who lives their best life every day, is grateful for every morning, and answers only to themselves. While that obviously sounds delightful, you have to keep in mind that you have no idea how those people got there, and how truthful they're even being about the joy they find in their careers. Similarly, the friends you compare yourself to and feel like sh*t about—whether they're pursuing creative goals or just pulling in a fat paycheck—all likely have their own unique doubts, fears, and misgivings about their jobs. That's the nature of work, and the nature of life in general.
So, am I saying you should stay at your sh*tty desk job forever, because everyone's probably unhappy about something? Try again, b*tch! If you hate your job, or even just don't love it, you can absolutely add "get a new job" to your 2019 resolutions, and go after that mother*cker. But please stop beating yourself up because you haven't yet landed the perfect gig, or even figured out what exactly that would look like. (Although if this describes you, you should definitely give When's Happy Hour a read.)
And here's a secret no one on Instagram will tell you. It's okay to not be totally obsessed with your job. It's okay to want a life that isn't only about the hustle/grind/whatever people are calling their 24/7 jobs these days. You do not have to wake up on Monday mornings eager to "get that bread" if you are happier working a moderately fulfilling 9-to-5 and spending the rest of your time with your loved ones. The world will not end, and you are not a bad person.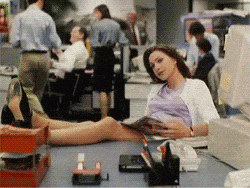 Feeling Only Okay About Your Body
This will all be thematically similar to the last section, so I'll keep it (kind of) brief. On Instagram, everyone either has a perfect body, is a "Before" rigorously working toward an "After," or is making a "bold" and "courageous" statement by weighing more than 98 pounds and being happy that way. Like with your job, if your body makes you actively unhappy then I absolutely encourage you to do something about it. But I also encourage you to think critically about that question. In a world without Instagram, would you be unhappy about your body? Does your body affect how you view yourself every second of every day, or only after you've scrolled through your feed? What makes you happier: a warm chocolate-chip cookie, or a DM request from a "promoter" with 200 followers after you post a selfie in a crop top?
Now, I'm also not saying that wanting to lose weight or achieve new fitness goals or whatever is always bad/shallow/for the 'Gram, but just because we all live our lives on the Internet doesn't mean we all have to look like swimsuit models. And being a work-in-progress—or just accepting that your body will never be the best, most accomplished, most celebrated thing about you is totally fine. Staring at your body every night and hating yourself about it? Not f*cking fine at all.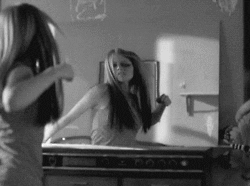 Not Having A Go-To "Squad"
This is really for my post-college and beyond readers. In college, you're surrounded exclusively by people of your own age and every article targeted at you is about the trials and tribulations of the group chat. Pre-gaming is basically a sacred ritual, and the bi-weekly group shot causes more drama than a season of Riverdale. Post-college, you find out a few things about those girl groups. Like that half of them have terrible personalities, drinking problems, or a b*tchy streak that used to be cute and aged poorly. Regardless, I often find myself feeling guilty when I see articles memes referencing a group chat that I no longer have. Or wondering when I became such a loser that my birthday dinner was under 20 people.
But here's the thing: I have never loved my friends more than I do at this stage in my life. Genuinely. The friends that I have are people who I know I can rely on, who I can talk to about anything, and who I personally consider to the coolest, smartest, and funniest people on this f*cking earth. Do I wish more of them lived in the same city, knew each other, and regularly attended Sex and the City style brunches with me? You bet I do! But I'm way over befriending a group of people I don't really have much to say to—just so I can stop feeling guilty and lame when I see pics of Kendall Jenner's girl squad.
This is the only squad that ever mattered anyway: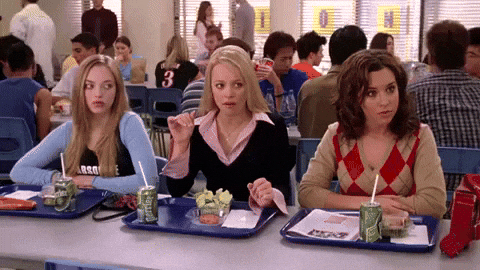 Taking A While To Orgasm
Okay I'll be real. This was the first category I thought of, and the one I was most eager to write. (It is also directed primarily at the ladies, to be clear.) It is about to be 2019, and I am thoroughly over people feeling guilty or ashamed of taking longer to orgasm. The planet is dying, our President is a moron, and society is so fragile that a change to Instagram's swiping feature literally almost killed us. It's the f*cking apocalypse, and women all over the world are still faking it or saying "I'm good" when they are not good because…Honestly, because of what? Sure, you're asking your partner to do more work. But that's not a problem when you're asking them to go in for the 300th pic of you in front of some wall art, so why is it a problem in the bedroom?
More likely, it's because men have systemically engrained the idea that women don't really need to orgasm in order for sex to be finished, so it feels bad or overly vulnerable to ask for it. But like so many things men have said over the years, this was a bad and wrong idea. Women of the world, repeat after me: sex takes as long as it takes you to finish. (Sound selfish? Too bad. Men and women alike have been saying it about men since the dawn of time.) You should never, ever feel guilty that it takes you a while—like putting pizza rolls in the oven vs. the microwave, the better product just takes more time. Let 2019 be the year of no longer accepting things just because men have been calling them true for centuries—the world will be a much better place for it.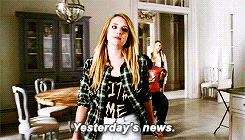 I hope you got some joy out of this article—it truly felt cleansing to write it. I want to reiterate that "not feeling guilty" does not equate to "not doing anything about it." You have the same goals and the same drive whether or not you make yourself feel like sh*t about where you are. This year, give yourself the gift of not feeling guilty about where you are in life. If hating on yourself burned calories, earned money, or gave us orgasms, we'd all have perfect lives. But it doesn't, and we don't, and guess what? It's f*cking fine. Happy new year!!!
Images: Giphy (4); Unsplash / Leighann Renee