I Get That You're Married, But That's Not Your 'Husband,' That's Just John From Kappa Sig
Congrats, girly!! I can't believe that you are actually married! I mean, obviously, I knew it was coming. I was there for the engagement reveal, the engagement party, the bridal shower, the bachelorette party, and then, of course, the wedding. So we were all very aware of what this was all leading to. I am so honored to watch you, my best friend from college, marry your college sweetheart. I was able to watch this beautiful love grow from the very beginning into what it is now. But no matter how many times you say it, I will not be able to wrap my head around the fact that your "husband" is John From Kappa Sig.
IDK, I guess growing up, everyone who had a husband seemed so old. And not just old—like also, established? That's not to say you're not established; your very stable nursing job and mortgage both speak for themselves. But "husband" just carries so much weight to it. On paper, you are married, but in my head, he's still the guy that you would put on makeup to send a Snapchat to when we were freshmen. The nights that you and I used to get stupid drunk and walk home barefoot at 2am rain or shine seem too close for you to be a wife and potentially soon-to-be mother. 
Ok, now that I think about it, it's less about you and more about him. You definitely have the poise and maturity to be a married woman. Those aforementioned Thirsty Thursday Shoeless Shuffles may have been one of those things where I thought everybody was doing it, but I was too drunk to notice I was the only one. He's the one that I can't believe holds the title of husband. We're talking about the same John, right? The one who showed up to every event already a six-pack deep? The one who would go on rants about how the real world is a "scam" every time he got high? The only fraternity brother in history to be impeached from his position as social chair? That John?
Yes, all right, it's not fair of me to highlight just the wild things he did in college. I know he's much more than just a fun guy to party with. There was that time during Greek Week when I totally ate shit in tug-of-war and he ripped his shirt off to use as a tourniquet. I mean, I wasn't even bleeding, but it's the thought that counts. But that's beside the point. I'm not even going to bring up the time when John said he "wasn't sure he wanted to get tied down just yet" when you first started dating. We're all allowed to change our minds. Level with me here: After seeing him at his craziest, don't you agree it's kind of weird that he did a full 180 and signed legal documents binding the two of you together?
I feel you getting mad at me. I'm so happy for you! I swear! I think the two of you make a perfect match, and truly I can see you spending the rest of your lives together. And I promise that I will just call him John from now on and not John From Kappa Sig. I'm just getting caught up in the semantics. Anywho, enjoy your honeymoon with your new hubby! Ew, actually, hubby is somehow worse.
Image: Samantha Estrada / Stocksy.com
5 Things Your Groom Wants You To Know While Planning A Wedding 
Nowadays, it seems like we only hear the bride's perspective on wedding planning because, let's be real, in most cases, it's the bride who is calling the shots. But I've also seen my soon-to-be-wifey's friends write off their future husbands' opinions due to their immediate lack of interest in color schemes and calligraphy options. The majority of grooms know better than to question their future wives about all things wedding related and will do anything to avoid getting their head bitten off. However, that doesn't mean he doesn't have opinions and preferences. Marriage is about compromise, and it's important to consider how your future husband feels. So, from all the silent grooms out there, here are some common (and important) things they want you to know while you're planning your wedding. 
1. They Don't Need To Be Reminded On A Daily Basis Of Everything They Have To Do For The Wedding.
Yes, there are a million and one things to do leading up to your wedding day. Yes, your groom is highly aware of this. Trust that he will show up to every appointment or tasting (and if you can't, you have a bigger problem than just wedding planning). He will also handle picking out tuxes or suits for himself and his groomsmen. Don't assume the wedding isn't a priority to him just because he hasn't made a Pinterest board for it. Cut your future husband some slack—he bought a ring and proposed without your help. He will show up for the important stuff. 
2. They Don't Want To Argue About The Details, Especially The Guest List.
View this post on Instagram
One of the hardest parts of planning a wedding is coming up with a guest list you both think is fair. Your groom doesn't want to argue over which guests get a plus-one or who has more family members on the invite list. Don't give your fiancé the silent treatment when he says hell no to inviting your entire sorority pledge class (think about it this way: the fewer people you invite, the less thank you notes to write). 
3. If They Disagree With You, It Doesn't Mean They Don't Respect Your Opinion.
Similar to arguing about the guest list, there will be things you don't see eye-to-eye on. Your groom might take a firm stance on having a band vs. a DJ, and it might not be exactly what you envisioned for your big day. But, like we said in the intro, compromise is key. One of my best friend's grooms wanted the band to play the Eagles Fight Song during the reception, and this almost gave her a heart attack. She couldn't even begin to see how this would be a good idea, but agreed to it anyway. It ended up being hilarious and everyone had fun singing along. Point is, it's impossible to agree on everything, and he still respects the hell out of your taste even when you disagree, so give him the same courtesy. 
4. It's Only One Day And No Matter What Happens, The Rest Of Your Lives Together Will Be Even Better. 
it's cool that if planning a wedding doesn't kill u then u get to be married

— Taylor Hatmaker (@tayhatmaker) August 29, 2019
The average bride can spend one to two years planning for their wedding day. During that time, it gets hard to remember that it's only one day and not the rest of their lives/marriages. It's also one day that will go by very quickly. Your groom needs you to know that this is only a tiny piece of your story together and you will have so many more important and bigger moments to experience in the years to come.
5. They Fell In Love With You Long Before The Wedding Day And Will Still Love You Even If Everything Isn't "Perfect". 
This goes back to the "it's only one day" point above. Your groom already thinks the world of you. I mean, hey, he's even given up his bachelor lifestyle to commit to you. Being with you is way better than playing hours of Fortnite on dual TVs with their roommates. So don't sweat the small stuff. They will still love you if your florist accidentally uses the wrong color peonies in the bouquet or if your hair and make up team isn't on schedule (even though they do wish you would spend less time getting ready). Their love for you is bigger than this day!
Images: Alvin Mahmudov / Unsplash, Giphy (3)
This Advice On 'How To Find A Husband' From A 1958 Women's Magazine Is Wild
Thanksgiving—or, as I like to call it: Dinner in Hell—is nearly upon us, which means soon not only will you have to pretend to like your mother's gluten-free stuffing, but you'll also have to put up with the black cloud that descends upon your family dinner table once a year in the form of your nosiest and most racist relatives. Gotta love the holidays! There's nothing quite like trying to shove a second slice of pie down your throat while also having to explain to Aunt Sally that, yes, you're still single and getting ghosted by a guy who works at Radio Shack thriving. Luckily for you betches, I may have found a way for you to come armed to the emotional waterboarding party with some crazy material to f*ck with your Aunt Sally and any other relative who likes to hold the rolls hostage until you divulge your five year plan. And it comes in the form of 1950s dating advice.
Yes, 1950s dating advice. You see, the other day I was messing around on the internet and avoiding answering any emails that would require me to actually do something to earn my paycheck, when a friend sent me the most hilarious and batsh*t article I've seen in awhile (shout-out to @ Sweetest Betch You'll Ever Meet for always coming through with the best internet trash!). Apparently, a woman randomly found a women's magazine from 1958 with a cover story on "129 Ways To Find A Husband." The 1950s dating advice ranges anywhere from "mildly frowned upon" to "I'm calling the goddamn police," so naturally all 129 pieces of wild advice was posted onto the internet for the public to judge and ridicule. I encourage everyone to read the article in its entirety because it's absolute GOLD, but since I don't have all day to sit here and individually mock every piece of advice, I'm just going to list my favorites, mmkay? 
"Read the obituaries to find eligible widowers."
I know this seems aggressive to start out with, but this was literally #6 on the list. NUMBER SIX!! I don't know what's more suspicious: that ladies back in the day were showing up to other women's funerals dressed like they're about to sock hop right over their competition's dead bodies to sleep with their newly singly husbands, OR that there were enough funerals happening for this to be commonplace advice. Either way, I'm disturbed afraid to ask my grandma.
"Dropping the handkerchief still works."
Here I was thinking Elle Woods was ahead of her time, when really betches have been perfecting the bend and snap since 1958. I prefer to emotionally masturbate over texts my ex sent me at 3am instead of using dating ploys that might physically and emotionally put myself out there, but, hey, to each their own.

"Wear a Band-Aid. People always ask what happened."
Lol clearly the person who wrote this has never spent any time with the New York subway system. I've literally seen people sitting in their own feces ride from Bushwick to Midtown without a single person asking them "are you okay" or even "do you need me to call you an ambulance," let alone actually hitting on them. I'm just saying.
"Don't room with a girl who is a sad sack and let her pull you down to her level."
First of all, I am the sad sack in the group and I find that statement personally offensive. I may or may not have earned the nickname "Moaning Myrtle" from my friends because instead of blacking out and taking home a hot stranger, I prefer to black out and request the DJ play "Wrecking Ball" while weeping into my vodka cran. BUT THAT DOESN'T MEAN I DON'T KNOW HOW TO HAVE A FUN TIME, OKAY.

"Go to all reunions of your high school or college class. There may be widowers there."
Jesus. Again with the widowers. Though, if we're being honest, this does feel like the most relatable piece of advice. Not the widower thing, but the part about the reunion being a good place to make a romantic connection get laid. But instead of trying to bang the hot widower, it's more like you're trying to bang the hot boyfriend of the girl who told you gold hoops were her thing. 
"Don't be afraid to associate with more attractive girls; they might have some leftovers!"
Okay, wow. Reading this doesn't at all make me want shove my head in an oven. I guess the people behind this list are trying to say that attractive people will be able to set you up with guys?? Lol. I don't have one friend, attractive or otherwise, who has set me up with anything less than 2018's Quasimodo. PLEASE.
"If he's rich, tell him you like his money—the honesty will intrigue him!"
This is assuming that you can find a single, attractive guy whose net worth amounts to more than a six pack of Bud Light. Considering the last eligible man I encountered was the human equivalent of a crumpled bag of Doritos, I'm not optimistic that those men are even real. BUT assuming you can find one, then Venmo yourself $1,500 when you're putting your number in his phone. Just to show him you're serious!

And, finally, my personal favorite….
"Stand in the corner and cry softly. Chances are good that he'll come over to find out what's wrong."
Funnily enough, this is actually my strategy for dating state of being after 1am, and I can't say that it's gotten me anything other than a wide f*cking berth from the male gender. Except from the bouncers who like to come over and tell me I'm "killing the vibe."

So there you have it, Aunt Sally. I'll be doing my part this year by crying in the corner more often. Now, can you do your part and stop tagging me in Facebook posts about when you should give up and freeze your eggs? Thx.
Images: Shutterstock; Giphy (4)
What Type Of Basic B*tch You Are Based On Your Engagement Manicure
In case you missed it, there hasn't been a snowstorm in New York in at least two weeks which means spring is finally fucking here. Ah, springtime. A time of year that signifies rebirth, hope, and thirsty bitches subtly emailing their boyfriends their ring size and Pinterest password. Which means it's almost time for me to engage in my favorite pastime: judging the fuck out of people's engagement photos. I would rank my tolerance for engagement photos somewhere around where I rank my standards for fuckboys on dating apps. So, pretty fucking low. And because I have ESPN or something I can almost immediately tell you the theme of your wedding based off of the manicure you choose to flaunt in your engagement announcement on Instagram. 
It's true that the most important moment of your life is not when your BF proposes to you (sorry, bro), but rather the moment you debut your ring on Instagram. That moment is huge and, whether you realize it or not, the type of manicure you have while showing off your ring speaks VOLUMES about you and your wedding. So because I want to put you in your place I care about you and your wedding, here are 6 manicures that say a fuck ton about your wedding theme, and therefore, basic level:
1. Millennial Pink: Hipster Barn Wedding
I'm not sure when we started referring to pastel pink as "millennial" but I'm almost certain it's around the same time that hipsters started referring to rustic as "chic." You already know how we feel about the hipster barn wedding theme, and your nail color is about as original as the mason jars that are sure to be included in your wedding decoration budget. Choosing this color is a safe bet and while your friends won't be shitting on you in their group chat, they will most certainly be rolling their eyes as they scroll through your feed.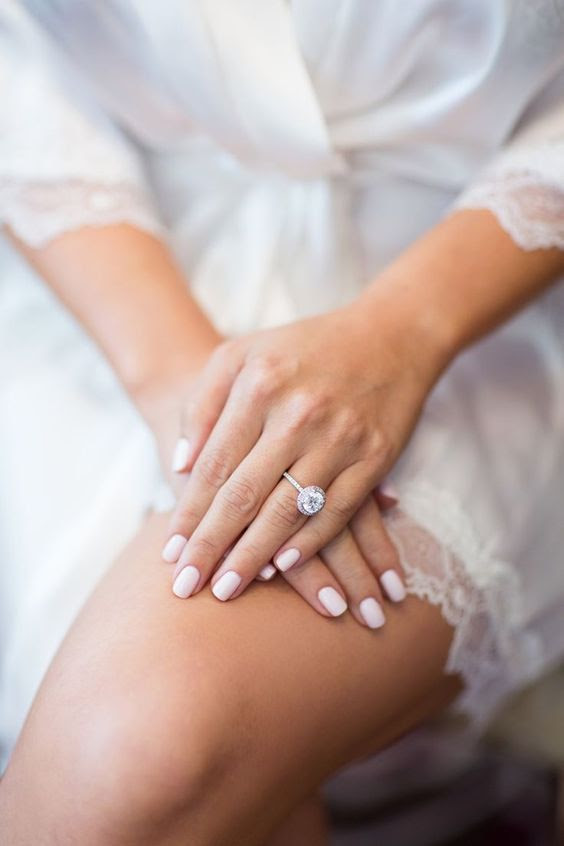 2. Red: Destination Wedding
This person probably thinks they're fun and spontaneous and the bikini selfies saturating their Instagram feed certainly are proof of that theory. They probably chose this color because Taylor Swift, a personal hero of theirs, is constantly sending subliminal messages singing about this color. It makes them feel bold and empowered and soooo fun. Which is why they are life ruiners and choose a destination wedding to celebrate their union to the poor guy that's about to spend the rest of his life as his wife's Instagram photographer.

3. Not Your French Manicure: Vintage Themed Wedding
This is the person in your friend group who is extra AF. They're always trying to be new and different and edgy when really they're just grown women wearing body glitter aka Unicorn Snot and calling it fashion. I usually object to 90% of their life choices and sporting a manicure like this ranks right up there with that one time they bought a shirt that said "Bushwick" on it for $40 from Urban Outfitters despite the fact that they live on the north shore of Long Island. They will try and reinvent the wheel aka hipster barn weddings. Instead of rustic chic they'll use the term "vintage" and refer to themselves as "old souls" in their vows. Lol, K. Like, you forget I've seen strange men take shots off your body to a Miley Cyrus song on spring break. You're fooling no one, Karen.  

4. Black Manicure: Black Tie Wedding
A true betch knows that black is the color of her soul and coincidentally every item of clothing in her wardrobe. While some people might doubt black as a bridal color, you know that these people understand nothing about taste and are about to get sat at the shitty reception table with your least liked sorority sister and your fiancé's weird friend from grade school. Like, of fucking course you're going to be wearing your favorite color during the most important photo moment of your life. Black is timeless and so will be your wedding. While everyone else is Googling "unique wedding themes" yours will be chic, tasteful, and most importantly, fancy enough to make all of your other married friends jealous. Mazel Tov.

5. Accent Nail—Ridiculous Themed Wedding
TBH I'm not even sure what to say about this. Like, is this you announcing your engagement or a cry for help? I'm assuming that the only reason you would get this extra with your manicure is because you're trying to hide that fact that you're about to marry the one night stand that turned into your boyfriend of six years. I'm also assuming that your fiancé is the type of guy that "lets" you carry all of the groceries to the car and still Snaps his ex girlfriend on the side. You've really found yourself a winner, Vanessa.

Anyway, the type of person who's doing this much with her manicure is also the type of person that's going to piss me off and do some sort of themed wedding. I'm picturing something Disney related—anything to distract their guests from noticing that the groom isn't captivated by the enchanting room decor but rather is checking out the maid of honor's cleavage.

6. Rose Gold: Romantic Basic Wedding
This one's for all my basic bitches out there—you know who you are. I don't need a crystal ball to determine that your ring is a princess cut and you'll be rocking a mermaid dress on your big day. Your bridesmaids will all be wearing some form of blush and/or sequined gowns that you swore to them they'd be able to wear again but instead will just taunt them, hanging in their closets as a constant reminder of the day they served you stood by your side. While on the one hand, I've seen your wedding done 1,000 times before, I can also appreciate you owning your basicness.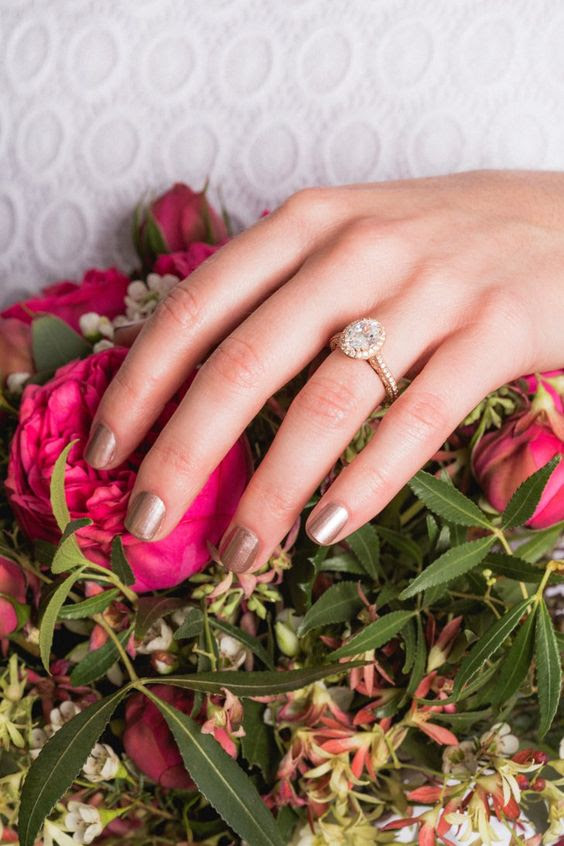 I Will Never Learn How To Cook, And You Shouldn't Either
If feminism means being able to do everything a man can do, then it also means being able to not do everything a man can doesn't do. And by that I mean, if women are expected to learn how to cook just because men don't want to do it, I'm calling bullshit. Future boyfriends, take note: I'm not learning how to cook. 
Women don't belong in the kitchen any more than Rachel Dolezal belongs in NAACP. It's one thing if your passion is cooking, but honestly there are so many better things you can do that don't involve handling raw meat and sweating over a fire. Like, there's a reason cooking only happens in the "before" part of Disney fairytales when the princesses are still poor and single. People learn to cook because they can't afford to pay others to do it for them, or because they're too boring to come up with a better hobby. Seriously, if your hobby is a basic survival skill, you need to get an actual hobby.
Do men love a woman who can cook? Sure, I mean… who doesn't? I fucking love anyone that can cook because I love good food. But am I trying to marry the chef at Peter Luger steakhouse? Much like I enjoy listening to music but I would never date a guitarist, I can also enjoy eating food made by people who are good at making food without having any desire to date them.

And just because a woman can cook doesn't give her an advantage when it comes to dating bros. And honestly, girls who talk about how good they are at cooking are like bros that talk about how much money they make. I mean, it might be true, but what's also true is they have no personality and they're desperate for you to like them. A picture of your home cooked meal on Instagram is just as much of a thirst trap as a picture of you in a bikini. At least the bikini picture is something everyone can enjoy. Meanwhile all anyone gets from looking at a picture of your chicken parm is annoyed.
Here's the thing. Even if I was bored enough where I would bother learning how to cook just to pass the time, I wouldn't want to get too good at it. If you get too good at cooking, people are going to expect you to keep cooking for them. That's why you should treat cooking the same way you treat blowjobs. You might get good at them in college, but you lie to your boyfriend and say they're not really your thing. Otherwise he's going to expect them all the time. If you pretend you hate them, he won't ask you for them and you can surprise him if you're feeling generous. In the same way, it's better if you don't bother to learn how to cook so you don't have to do it at all. Do you think Prince Harry knows how to drive a limo? Of course not. But he knows how to ride in one because he's a prince. You can have a refined palette for food without knowing how to puree a sauce.

I'd rather be a homeschooled jungle freak than have a bro fall in love with me for my cooking. Best case scenario is we get married and then I have to cook for him the rest of our marriage. You literally can only go downhill from there. On the other hand, if I never learn how to cook, we'll constantly go out to eat at nice restaurants and I never have to hear about how his mom's recipe was better when we're 12 years in a marriage with kids that won't eat their vegetables.
Basically, I want to set the expectations as low as possible when it comes to being domestic, because I am not fucking domestic. Like, why would you want to confine yourself to being an indoor cat when you can be a cheetah in the wild? I mean, we need to be free to eat out at Michelin star restaurants, not getting all Cinderella in the kitchen over some Julia Child cook book. Plus, knowing how to make a drink is way more useful than knowing how to julienne some carrots for a stew. I will shake the shit out of a cocktail glass, but don't ask me to marinate anything unless it's one of those gummy bears you soak in vodka—in which case I am pretty much a master chef. 
Sorry, but I'm not going to learn how to cook. I see no downside in this except that the bros I date will have to take me out to eat all the time or know how to cook himself. Sorry, did I say downside? There are no downsides.
They say if you can't handle the heat, GTFO of the kitchen and I've always been more of an ice queen anyway.
Domino's Made A Wedding Registry For Everyone Whose Real Bae Is Pizza
If you know anyone who's gotten married (so like, everyone reading this rn) you've probably bought some stupid shit the couple registered for as a gift. I mean, I love a gorgeous china pattern and some Baccarat crystal as much as the next betch, but like, I eat takeout five nights a week and when I don't I'm eating cereal out of a Solo cup. It's not like the day you get married you turn into Martha Stewart and start baking muffins and hosting dinner parties for the governor and shit. No one needs this stuff. And per usual, the gods at Domino's just get it, so they've created a registry that gives married people something they'll actually enjoy: a pizza registry.
The registry is filled with a handful of different pizza-filled occasions like the "Thank-You-Card-a-thon" so writing hundreds of thank you notes to your parents' friends isn't as miserable, or a "Post-Honeymoon Adjustment to Real Life" because the only thing that can make coming home from a trip to Bora Bora or Europe not so terrible is cheesy, delicious pizza.

The only thing that's kinda lame is that it's really not a registry at all, just a glorified gift card that can be used on the Domino's website. Fuck you, Domino's and your marketing team. You just created a separate landing page for a concept that has existed for YEARS. Like, I would disown someone who got me a Domino's giftcard for my birthday, but I'm expected to ask for that for my fucking wedding, the only occasion where I can ask my closest family and friends to buy me expensive shit I can't afford without it being considered panhandling? Hard pass.
However, if some entrepreneur decided to take it upon himor herself to come up with a registry for any of the following items, let's just say I wouldn't be mad.
1. Vodka Of The Month
This very well might exist, but honestly, I'm lazy and don't want to type it into Google. Regardless, any relative who gave me a monthly vodka subscription would be at the top of my thank you note list. Marriage is apparently work, so I'm going to need a lot of fermented potatoes to make it through.

2. A Drug Dealer Concierge
See previous note about marriage being work. Why do "work" when I can register for enough Xanax to kill a large mammal to be delivered to me at some later, unspecified date?

3. A One-Way Ticket To Canada And A Valid Visa
Just saying, I might need this later on with the way things have been going lately.

4. A Lifetime Netflix Subscription
Anybody who puts a $50 Domino's giftcard on my fucking wedding registry is a cheap asshole. But someone who charges my lifetime supply of Netflix to their tab? That shit's going to add up real quick. Though, given my current alcohol consumption and exercise regimen, my doctor would disagree. But fuck you, Dr. Bernstein. I don't need your negativity.

5. HBO Go
NO IT IS NOT THE SAME AS A NETFLIX SUBSCRIPTION. Do you actually know anybody with HBO? I mean somebody who's actually your age—their parents don't count. No? That's what I thought. That's because HBO is expensive af/for real adults who can afford cable packages, which is something I will never be if my current spending habits are any indication.

But I mean if someone wanted to do all these things and buy me a ton of pizza, I wouldn't exactly complain either.
5 Bold Predictions For How This Season Of 'The Bachelor' Will End
We're just a few episodes into Nick Viall's cringeworthy journey as The Bachelor and we've already got a feeling that this season is going to be different from the others. So different, in fact, that we've come up with some extremely bold predictions about how it will end—all of which would be firsts for the show. Sorry in advance for any potential spoilers.
1. Nick Viall Places As First Runner-Up

This may seem impossible based on the rules as we know them, but Nick was born to be a loser on this show and losers always find a way to not come in first. Our bet is that his final two girls start dating each other and then Nick promptly bursts into flames.
2. Chris Hansen From To Catch A Predator Shows Up

Most of what we know about Nick up to this point is that he's emotionally unstable, lonely, and enjoys slut-shaming girls that don't want to date him. It's not beyond the realm of possibility that he's engaged in some legit shady online activities, and how great would it be for rival network NBC to shut this whole production down? Primetime TV at its finest.
3. Nick Goes Into Cardiac Arrest

If Nick does develop "feelings" for one of the contestants who reciprocates them even in the slightest, it's going to be way too much for his body to handle. Think of how invested—to a stalkerish level—he's been in girls who openly consider him to be their back burner bro. If Nick develops an actual relationship it could be life-threatening, so we hope his potential wives are as insincere as they appear to be.
4. The Girls Start An Uprising And Demand That Luke From JoJo's Season Be Brought In As The New Bachelor

It's no secret that Luke was perfectly typecast as the potential next Bachelor during JoJo's season, and the contestants on Nick's season know that. Luke is surely waiting in the wings for his next moment in the spotlight, so if the girls were to revolt even for a few hours, they would probably get their way.
5. A Detox Tea Company Decides To Buy The Airtime For Advertising

This season's crop of girls "hoping to find their husbands" is barely believable and we all know what they're really competing for is corporate sponsors for their Instagram pages. Maybe this time the show will cut out the whole fake competition thing and film the cast sipping tea in a platonic circle while encouraging us to start our free trials.