9 Spring TV Shows That Will Give You A Reason To Keep Canceling Plans
Presented by SkinnyPop
As we move into the spring, and life starts to get closer and closer to pre-pandemic normalcy, it seems like we're all realizing something very important: having free time with no plans and no place to be is really nice! Over the last year (and then some), I've come to cherish my lazy weekends on the couch, with nothing to do except decide what to eat (easy, the answer is SkinnyPop) and what to watch (less easy). 
Sure, it's nice to be able to hug your loved ones again, and I'm all for making plans, but luckily there are plenty of new shows coming down the pipeline for those days you just can't be bothered to put on real pants and leave the house. Here are nine shows to look out for this spring.
'The Nevers' – 4/11 (HBO)
If you love a show with a historical setting, but don't want to vibe out to the History Channel, The Nevers is right up your alley. In Victorian England, a mysterious supernatural happening leaves a bunch of women with various special powers and abilities, and the main characters set out to protect these people from those who seek to destroy them. It's kind of like X-Men, but with fun costumes and accents.
'Dad Stop Embarrassing Me!' – 4/14 (Netflix)
Is there anyone in the world who doesn't like Jamie Foxx? I doubt it! Foxx stars in this comedy based on his relationship with his daughter Corinne, who is also a producer on the show. Based on the trailer, this is going to be one of those family shows that sort of makes you cringe in the best way possible, and it's definitely going to be a binge-in-one-sitting type of thing. Grab the SkinnyPop, and get comfy. 
'Big Shot' – 4/16 (Disney+)
John Stamos has a new show coming out, so there's finally something you and your mom can both be excited about. In Big Shot, Stamos plays a disgraced college basketball coach who ends up coaching the team at an all-girls high school. Despite some initial speed bumps, Coach Korn and the girls on the team work together to achieve something bigger than anyone expected. Think Ted Lasso meets High School Musical.
'Rutherford Falls' – 4/22 (Peacock)
Ed Helms stars in this new comedy about people from a historic small town and the neighboring Native American reservation who are brought together in a fight to preserve the legacies of their ancestors. The trailer definitely gives off charming Parks and Recreation vibes, and the show has an indigenous showrunner and cast members, as well as the largest indigenous writing staff on any American show. We love to see this representation.
'The Handmaid's Tale' – 4/28 (Hulu)
If you're still going strong into the fourth season of The Handmaid's Tale, congratulations, you're better at handling stress than I am. As June's journey to be reunited with her child (and casually topple an oppressive government), things are as bleak as ever. Season 3 ended up with our main character being shot by a soldier, but something tells me she won't stay down for long.
'The Mosquito Coast' – 4/30 (Apple TV+)
Anyone in your life who loved The Leftovers is about to be very excited, because Justin Theroux is finally coming back to TV. The Mosquito Coast is a tense AF adaptation of the novel of the same name, which was actually written by Justin Theroux's uncle. The plot centers on a man who uproots his family and moves to the Mosquito Coast of Honduras to avoid the corruption of society—but you already know there's some darker sh*t going on under the surface here. 
'Pose' – 5/2 (FX/Hulu)
After taking a lengthy hiatus, Ryan Murphy's best show (and no, that's not up for debate) is back for one last season. So far, details about season 3 are being kept under wraps, but the second season brought us into the '90s and the height of the AIDS epidemic in New York's queer community. Pose has always brought the heartbreaking moments right alongside the showstopping ballroom looks and performances, and the finale is sure to be more extravagant than ever.
'The Real Housewives of New York City' – 5/4 (Bravo)
RHONY is back for a 13th season, and let's be honest, these ladies never disappoint. This season, the returning cast will be joined by attorney and TV host Eboni K. Williams, who is coming in hot as the franchise's first Black housewife. She'll be entering the friend group alongside Bershan Shaw, who joins the cast as a friend of. It's about time that the New York housewives start looking a little more like the actual New York.
'Girls5eva' – 5/9 (Peacock)
You can never have too much '90s nostalgia content, and Peacock's new comedy from Tina Fey and Co. is exactly what we need right now. Sara Bareilles, Renée Elise Goldsberry, Busy Philipps, and Paula Pell star as the members of a long-dormant girl group who decides to attempt a comeback after 20 years. They've changed a lot, and so has the music industry, but whether they pull it off or not, it looks like it's going to be hilarious.
Images: Jasper Savage / Hulu; HBO, Netflix, Disney+, Peacock, Hulu, Apple TV+, FX Networks, Bravo / YouTube
7 Must-See Black History Month Flicks To Stream Right Now
You marched and protested for Floyd and Taylor and the countless others who came before and after them. You donated. You called. You denounced white supremacists IRL and on social media. You call yourself an ally to Black and brown people and back up that talk with actual action, like cutting off that Karen in your crew or, even better, you've got receipts, because you've voted for politicians who tout anti-racist platforms. (Dope.) 
OK, alright, you can call yourself woke. 
But you really cannot call yourself woke unless you truly know Black History, my sistrens. Thankfully, there's plenty to binge-watch and catch up on if you'd like a crash course in the deep-rooted ugliness of what it's like to be Black in America. While it'd be virtually impossible to include every doc and flick that's worth watching, this handful is a good start. From the moments the first Black people were stolen from their African homelands to the demolition of Black Wall Street to the civil rights movement to the Black people who are still suffering from this country's policies of mass incarceration, here are a few titles to start with.
Enslaved (Prime Video)
You'll follow Samuel L. Jackson around the globe as he retraces the Trans-Atlantic Slave Trade from the shores of Gabon to the U.K. to the Florida Keys and more, through the eyes of deep-sea divers in search of six sunken slave ships, the skeletal remains of their shackled human cargo, and relics, to historians who unfurl centuries-old scrolls of petitions to abolish slavery. There's even an appearance from the late civil rights leader John Lewis, he of "good trouble", who invited the divers to Washington, D.C., for a face-to-face shortly before his death in July.
Harriet Tubman: They Called Her Moses (Prime Video)
Sure, you can watch the action-packed but much-maligned 2019 box office darling Harriet, or you can get the real deal Holyfield. This documentary traces Harriet's early days in Maryland to her first journey up the Underground Railroad to Pennsylvania and beyond, again, again, and again in her rescue of an estimated 300 slaves.
The History Channel: In Search of History—Black Wall Street (YouTube)
Once located in the heart of Tulsa, Oklahoma, Black Wall Street was a thriving mecca of more than 300 Black-owned businesses such as movie theatres and doctor's offices. But that all came to a violent and bitter end after a young white woman's allegations of being raped by a Black teen sparked a race riot that would leave hundreds of Black people dead and the city leveled. By one estimate, the damages then, in 1921, totaled $2 million, or $50 million today—a massive economic blow to Blacks who endeavored to both build financial stability for themselves and create lasting generational wealth. "Maybe if we talk about it enough, it'll never be again," mused one survivor in her testimonial.
I Am Not Your Negro (Netflix)
Before their untimely deaths, what was life like for outspoken civil rights leaders Malcolm X, Martin Luther King Jr., and Medgar Evers? This doc is based on Remember This House, an unfinished manuscript written by the trio's pal, essayist James Baldwin, who only managed to pen 30 pages of prose before his own death. But his musings are enough for Samuel L. Jackson, in a voiceover, to string together troubling footage past and present of simmering racial tensions that not only led to Malcolm, Martin, and Medgar's assassinations, but also illustrate the disturbing racial inequities that remain in America today.
Loving (Netflix, YouTube, Prime Video, & more)
Before a history-making 1967 Supreme Court ruling, interracial marriages were not only taboo, but illegal in many places. One couple's determination changed all that. Loving is based on the true story of Richard and Mildred Loving, who had to flee their home in Virginia, one of 20 states that forbade mixed-race unions, for a safe-haven in D.C., and the story of their fight to live and love freely.
Selma (Hulu, YouTube, Prime Video, & more)
The Ava DuVernay-directed Selma depicts civil rights leaders' and hundreds of Black voters' history-making march from Selma to Montgomery, Alabama, in protest against the denial of Blacks' voting rights. White supremacy looms large with plenty of intimidation tactics and brutal beatings, but the throngs persevered, finally reaching Montgomery. The moment became the catalyst for the passage of the Voting Rights Act of 1965, a major win for the civil rights movement. What was not a win? This flick's Oscar snub for Best Picture.
13th (Netflix)
Land of the free? Not quite. In yet another hit from DuVernay, this jaw-dropping documentary unveils the troubling statistics of Black Americans behind bars. The film's title references the 13th amendment that abolished slavery but provided for incarceration as punishment for a crime. The truth bombs drop from the very start with statistic after sobering statistic. "The United States is home to five percent of the world's population," booms Barack Obama's voiceover, "but 25 percent of the world's prisoners." And they continue throughout, like the fact that Black people make up 13.4 percent of the American population but 40.2 percent of the prison population.
CORRECTION: This article has been updated with the correct statistic that Black people make up 13.4 percent of the U.S. population.
Images: Focus Features
10 New TV Shows To Save You From Boredom This Winter
Back in March, who could have predicted that basically nothing would change by the end of 2020? Okay, a few things have changed, but assuming you're not one of the lucky few who have already gotten their hands on the vaccine, your ass is still glued to the couch, and you're still f*cking bored. Luckily, the TV gods understand our need for constant stimulation, so there's plenty of good stuff coming to a device near you in the next few weeks. Here are the most important new shows and seasons coming soon that you won't want to miss.
'Bridgerton' – Netflix, 12/25
Back in 2017, Shonda Rhimes made history with a record-breaking deal to set up shop at Netflix. It's taken a few years, but we're finally getting our first Shondaland Netflix show, and Bridgerton looks like the exact kind of thing I want to binge in 1-2 sittings. Based on a series of novels set in 19th century England, this soapy drama centers on two young nobles who pretend to be in love, each with their own motives. With a diverse cast, gorgeous visuals, and Julie Andrews as the narrator, this is the event of the TV season.
'Chilling Adventures of Sabrina' – Netflix, 12/31
If you're still watching Netflix's Chilling Adventures of Sabrina, congratulations, you've made it to the end. The fourth and final part drops on New Year's Eve, and as always, it looks creepy and thrilling. But the most exciting part, by far, is the news that the OG Aunt Hilda and Aunt Zelda from Sabrina The Teenage Witch will be making an appearance. Idk how this factors into the plot, but my sense of nostalgia is happy.
'RuPaul's Drag Race' – VH1, 1/1
The last time I was indoors at a bar was a viewing party for RuPaul's Drag Race season 12, so the fact that we're already getting a new season puts into perspective how long this year has felt. Season 13 features 13 new queens, and whether you're a Drag Race super fan or have yet to watch an episode, trust me, you'll love it. From the runway looks to the hilarious challenges to the SHAAAAADE that the queens throw at each other, Drag Race is the perfect competition show.
'The Bachelor' – ABC, 1/4
I don't think The Bachelor needs much introduction around here, but I keep forgetting that Matt's season premieres just two weeks after The Bachelorette wraps up. Filmed in a quarantine bubble in Pennsylvania, this season is sure to be (say it with me) the most dramatic season ever, and judging from the contestant bios, we might have more than one woman trying to secure the villain spot.
'The Real Housewives of Dallas' – Bravo, 1/5
I couldn't talk about The Bachelor without also including a Bravo show, and the Dallas housewives are back in January for their fifth season. This season was filmed during the pandemic, so we'll see how the ladies incorporate face masks and shields into their glam routines. Mainly, I'm curious to see how the cast fares in the aftermath of LeeAnne Locken's problematic behavior and subsequent firing, because that sh*t was messy. Judging from the trailer, newcomer Dr. Tiffany Moon seems like a promising addition, and the ladies of Dallas are often underrated.
'Dickinson' – Apple TV+, 1/8
With so many streaming services available, a lot of people sleep on Apple TV+, but Dickinson, one of their breakout original shows, is already coming back for a second season. Hailee Steinfeld plays a young Emily Dickinson who's struggling with the confines of her 1800s New England life. With modern music and dialogue, this show is super fun, and I found myself laughing out loud regularly during the first season.
'Everyone Is Doing Great' – Hulu, 1/13
James Lafferty and Stephen Colletti (aka Nathan and Chase from One Tree Hill) teamed up to create and star in this comedy about two actors who are trying to figure out wtf to do years after starring in a hit TV show about vampires. So One Tree Hill wasn't about vampires, but I'm pretty sure this is low-key autobiographical. Also, yes, this is the same Stephen Colletti from Laguna Beach, which is reason enough to watch.
'Search Party' – HBO Max, 1/14
After moving to HBO Max last spring for its third season, Search Party is already back for season four. Going forward, I would appreciate if all of my favorite shows could start putting out new seasons every eight months or so. Dory, Drew, and the gang are still dealing with the aftermath of Keith's death, and if you know anything about this show, things probably won't go according to plan. Can't wait!
'WandaVision' – Disney+, 1/15
When Disney+ launched, one of the main draws of the streaming service was the promise of new shows in the Marvel Cinematic Universe. It took a while, but the first one is finally here, and WandaVision looks like  it's going to be a f*cking trip. Wanda and Vision, two of the more under-used characters from the MCU movies, are the perfect TV couple in this supernatural sitcom through the ages. Tbh, I have very little idea what this is actually about, but it's going to be a big deal.
'Servant' – Apple TV+, 1/15
Along with Dickinson, Apple TV's Servant is also returning for a second season next month. This psychological horror show is produced by horror icon M. Night Shyamalan, and it follows a family who hire a nanny for their child… who is actually a doll. Sh*t gets weird, obviously. Season one got solid reviews, and Rupert Grint (Ron Weasley) is in this, which is reason enough to watch.
Images: Liam Daniel/Netflix; Netflix, RuPaul's Drag Race, Bachelor Nation on ABC, Bravo, Apple TV, Hulu, HBO Max, Marvel / YouTube
Why 'Happiest Season' Isn't The Queer Christmas Movie We Hoped For
As someone who holds a lot of sentimental value wrapped in familial guilt for the holiday season, Christmas movies are a staple in my household during this time of year. There's something comforting about watching a movie filled with red and green or silver and gold where people do things like play in snow and you know for a fact that things are going to turn out well. Kevin McCallister is going to outsmart the burglars. Cameron Diaz will find true love at a cottage in the English countryside. The Grinch's heart will grow three sizes. It's all good stuff, and I've seen most of these a million times, so as much as I love the oldies, I'm also on the lookout for new, fresh material, especially when it features a demographic I have a lot of experience with. In this case, that's lesbians who are nervous to introduce their significant other to their weird families. Enter: Happiest Season on Hulu.
Happiest Season is a love story featuring two lesbians, Harper (played by Mackenzie Davis) and Abby (Kristen Stewart), and the story of how Harper invites Abby to her house for Christmas without telling her family they're together or that Harper is, you know, gay. If that sets off major warning bells in your mind, that feeling is correct. There are some heartwarming moments, and as a Kristen Stewart fan, I love watching her awkward expressions, and I also loved to see a decent amount of making out and on-screen affection. Is there anything gayer than having sex with your significant other as quietly as possible in the basement of your parents' house while you pretend to still be interested in your high school ex-boyfriend to make your mom happy? That's being home for the holigays, man. It takes me back. 

That said, even Kristen Stewart's awkward charm cannot save this movie from its tired and borderline offensive plot, which is centered on Harper not being out to her family. In the beginning scenes, Harper first told Abby that she had come out to her parents, that she'd told them she was dating Abby over the summer, and they'd taken it really well. It is not until they are driving to Harper's hometown for Christmas that she admits not only that she lied about telling her parents about her relationship with Abby, but she's not actually out to them at all, or to anyone in her hometown. It was at this point I would have caught a ride back to my apartment. I'm just saying, if someone ever admits they've been lying to you for months not only about telling their family about your relationship, but also about being out of the closet at all, and then tells you to "act straight" while you're home with them, they're maybe a sociopath or deeply repressed, and you should run while you can. 
My question came somewhere in the middle of this movie, when Abby and Harper are at a party at a country club (this movie is really, really white, in case you hadn't already gathered that), and Harper is being paraded around as part of her father's mayoral campaign while Abby hovers and attempts to appear straight in the background: why does this have to be the conflict the whole movie revolves around?
To clarify, there's nothing inherently wrong with not being out to your family. The coming out process is indeed, as pointed out by the incomparable Daniel Levy, different for everyone. The timing of that kind of decision is a personal one, and it completely differs from person to person. There's no way to know when the time is right, and it depends on a lot of factors. The issue I have with Harper is not that she's still in the closet—it's that the movie revolves around the reductive plot device of someone who's afraid to come out, resulting in her lying to her girlfriend about just about everything. It's a major red flag—not that she's still in the closet, but that she's tangled in a web of lies about her identity. And when she has a chance to come clean in front of her family and friends and salvage a relationship she's already dragged down to rock bottom with her, she doubles down on denying who she is, and by extension, who Abby is to her. 

Harper's whole shtick is that she has been afraid to come out as gay her whole life because of all the familial pressure to be "perfect." Her cover is blown after her older sister, Sloane, outs her at the family holiday party in a scene that makes you cringe and want Sloane arrested. But she still doesn't admit it—out of fear, Harper denies being gay, again, to the entire party, in front of her girlfriend. Later that night to her parents and siblings, Harper finally admits she really is gay in an effort to save her relationship with Abby, but the responses from her family are still problematic. Her mom responds by telling Harper's father that she's always wanted to try karate but has been afraid of embarrassing the family. This is insulting for a couple reasons, but mainly because being gay is not the same as being interested in karate, and also, being gay is not an embarrassing secret. Sloane, the vindictive, sinister older sister, also responds to outing Harper with the truth that Sloane and her husband are divorcing. (I won't say I don't understand why.) 
To recap, the parallels being drawn to coming out are a secret desire to try karate and a heterosexual divorce. I understand not wanting to tell your family about your marriage falling apart, but let's all agree that it is still far less taboo and stigmatized then coming out as LGBTQIA+. For this movie to take this topic and then equate coming out as gay with the "shameful" secret of wanting to do karate is, let's say, not great. It minimizes the bravery that defines coming out and puts it on the same level as a hobby, which feels even more tired than making coming out the central plot in the movie.
I also hate the fact that the movie makes it seem like what Harper puts Abby through is something they have to go through to make their relationship stronger. Being hidden from someone's family isn't a relationship milestone; it's a major red flag that they aren't ready to be truthful or transparent about your relationship to the people they love. 
When the conflict of a gay movie is the trauma of coming out, it denies viewers the chance to watch a relationship play out onscreen that isn't defined by subterfuge. All the attempts to hide the relationship from Harper's family are genuinely painful to watch. To watch Abby willingly submit to it is almost harder; it is not the love any of us deserve, and for it to play on a screen as comedy was rough. It makes it so we never get to just watch two women being together and living their lives. It invalidates any love they do have for each other and cheapens everything true about the relationship by drowning it in Harper's desperation to stay in the closet. We get almost no interactions with supportive family that aren't toxic (and that don't involve the movie's climax being when the main character's father decides that his daughter being gay maybe won't ruin his entire life).
While every coming out process is totally unique to the individual and it's never perfect, falsifying your relationship, lying to your significant other about it, and asking someone who is out to get back in the closet for you is harmful. Even at the end of the movie, where we flash forward a year to seeing Harper's family depicted as being totally supportive despite some very clear signs that might not have been the case, with Abby and Harper engaged, it didn't totally feel like an ending we'd earned or that the situation would have wrapped up that neatly. It felt sort of like a happy ending added on to make all the conflict behind it seem worth it, and I'm just saying that if Riley and Abby had ended up together instead, leaving Harper to do some much-needed soul searching alone, I wouldn't have been mad about it.
Images: Lacey Terrell/Hulu
7 TV Shows To Watch If You Need An Escape From This Sh*tshow
We've spent most of this year talking about how ~unprecedented~ these times are, but now that Election Day has come and gone, it feels like the last seven months were just a fun appetizer for a totally hellish main course. While we still await results in many important races, it can be tempting to spend 14 hours a day watching CNN, but that's honestly not wise (or necessary). Remember, your mental health is as important as ever, and you can be a responsible, informed citizen without refreshing Twitter every 10 seconds.
For that reason, I wanted to put together a list of some TV shows that might be just what you need to take a little mental break from the unbridled chaos that's happening in the world right now. The shows on this list are a mix of new and old, reality and scripted, but for various reasons, they're all better than the nightmare purgatory situation we're currently facing. Put your phone on airplane mode, crack a new bottle of wine, and enjoy your binging.
If You're Obsessively Checking The Results: 'The West Wing' (Netflix)

Okay, it might seem dumb to recommend a show about politics to escape the torment of real world politics, but it's a better strategy than you might think. The West Wing was born out of a time when (most) politicians weren't literally evil, and it's a political drama with interesting storylines and characters you can actually root for. The writing is top-notch, and a West Wing binge will give you a few weeks to fantasize about what it would be like to live in a functioning democracy.
If You Need To Fully Turn Your Brain Off: 'Selena + Chef' (HBO Max)

Bear with me. When I heard that Selena Gomez was getting a cooking show, I rolled my eyes, but Selena + Chef is surprisingly great. Filmed during quarantine earlier this year, Selena gets a Zoom cooking lesson from a different professional chef each episode. It's a ton of fun—Selena's grandparents meander in and out of the kitchen giving unsolicited commentary, and she almost hurts herself at least once an episode. The food also looks incredible, if you're getting back into a cooking phase for round two of lockdown.
If You Need To Laugh Through The Tears: 'PEN15' (Hulu)

PEN15 is definitely one of Hulu's buzzier shows, and a ton of people have started watching since season 2 came out earlier this fall. If you haven't watched yet, now is the time. The show stars two 30-something women playing their middle school selves, and it's both hilarious and uncomfortable in a way that feels strangely cathartic. I think I can safely say that middle school was traumatic for most of us, and PEN15 is exactly what I needed to finally process that trauma.
If You're Trying To Pretend Everything Isn't A Mess: 'Get Organized with The Home Edit' (Netflix)

You're either going to love or hate this show, but even though I fell firmly in the "hate" column, I still couldn't stop watching it. These two women, Clea and Joanna, have a home organization business that's huge on Instagram (they're behind Khloé Kardashian's famous cookie jars), and in the show they help out a mix of celebrities and normal people with their projects. This style of organization definitely isn't for everyone—everything is in clear bins and categorized in rainbow order—but there's something incredibly satisfying about watching them work. It's basically the opposite philosophy of Marie Kondo, but with the same overall effect.
If You Want Chaos To Distract From The Chaos: 'Dance Moms' (Hulu/Lifetime)

I started rewatching Dance Moms last month, and I had forgotten how truly wild of a ride it is. Life might feel stressful right now, but nothing compares to the stress of 9-year-olds being yelled at by Abby Lee because they dropped their hat during the group dance. Dance Moms is over 200 episodes of pure reality chaos, and there's also a Dance Moms corner of TikTok that is beyond hilarious. If you need me later today, I'll probably be crying watching a compilation of Maddie's solos.
If You Need To Be Transported To A Simpler Time: 'The O.C.' (HBO Max)

Personally, I feel like The O.C. hasn't gotten the throwback boost it deserves, and it's time we fix that. Gilmore Girls and Gossip Girl are great, but Seth Cohen and Marissa Cooper need our attention too. Especially now that winter is basically here, it seems like the perfect time to watch drama unfold against the sunny SoCal backdrop. Thankfully, all four seasons are available on HBO Max, so I don't want to hear any complaints about not having anything to watch.
If You Find Murder Cases Oddly Comforting: 'Unsolved Mysteries' Season 2 (Netflix)

I do realize the whole point of the show is they discuss an unsolved mysterious death, but the murder part is heavily implied. I'm not sure what it is about true crime content that can be at once so morbidly frightening and comforting, but if that's what gets you going, Netflix recently dropped season 2 of its dark remake of Unsolved Mysteries just in time. Honestly, you might have better luck solving these cold cases than you would trying to make sense of the Electoral College map, so go nuts.
Or, if all else fails, you can always watch Friends or Parks & Rec for the 100th time. Trust me, no one is judging. Whatever happens, it's going to be okay, just make sure you take care of yourself.
Images: Erica Parise/Hulu; Giphy (6)
What Spooky Movies You Should Binge Based On Your Zodiac Sign
Well, I just looked up from doomscrolling Twitter, and apparently it's fall now? WTF. March was yesterday, and also 10,000 years ago. I won't lie—there's a lot going on that's interfering with my typical unparalleled enjoyment of *spooky season*. But, despite the odds, the seasons do continue to change, even as the world (and literally the entire West Coast) burns, and I'm going to enjoy it by injecting an extremely unnecessary amount of pumpkin into everything I put into my mouth for the next month. We're all just finding joy where we can right now, okay?
Honestly, I have always loved this time of year. There's really never been a better time to attach yourself to a couch and watch something that's both terrifying and comfortingly fictional. Whether you're obsessed with the gross and gory or you prefer a horrifying mind-trip, there's plenty of content out there to satisfy or scare the hell out of you, depending on what you're into. As an air sign, it is admittedly hard to focus my attention completely on one thing, so I tend to be drawn toward psychological and romantic thrillers as well as mysteries with enough twists and turns to keep my interest piqued. I also tend to have 78 projects going at once and a tendency to talk sh*t, but that's neither here nor there. More to the point, I have a ton of obsessive TV-watching expertise, so whether your zodiac element is fire, earth, water, or air, I've got a recommendation for the best spooky season content for you.
Earth
Taurus, Virgo, Capricorn

Y'all are a logical, grounded bunch. You're used to friends coming to you for advice, and you're hands down the best at keeping a secret because you're loyal as hell. You crave stability and structure, and a gaping plot hole makes you angry for days. 
I suggest you watch Away on Netflix, a new sci-fi drama featuring Hilary Swank as an astronaut sent on the first ever expedition to Mars with her flight crew. It'll give you a new sense of gratitude that your significant other is on the same planet as you. Another suggestion for you is post-apocalyptic thriller Bird Box on Netflix. If you didn't see it already, it's a great combo of gritty, physical drama with a twist that makes it more unique than your typical scary movie. Same with A Quiet Place on Hulu; it's scary and silent, like the virus terrorizing us right now. Maybe too real?
Oldies like the classic psychological thriller Silence of the Lambs, streaming on Netflix, are also a solid choice because they're scary but you probably know what happens—so you can revisit a fav without being so terrified that you curl up in a ball and are too afraid to get up to pee in the middle of the night. If you're both brave and just dying for something new, try the horror crime drama series The Outsider on HBO Max. It's based on a Stephen King novel that I found heart-stoppingly frightening because, well, duh, it's Stephen King, but also compelling AF.
Air
Gemini, Libra, Aquarius

Air signs are all about communication. Above all, you need something entertaining, super intellectually stimulating, and that can satisfy your need to delve into the abstract while also being emotional and dramatic enough to keep your attention away from your phone. Not an easy feat. 
Just released on Netflix, supernatural horror series The Haunting of Bly Manor is a must-watch for air signs. The limited series is based on the most terrifying book I've ever read in my life, The Turn of the Screw by Henry James, and it's truly haunting because there's never a clear conclusion to the horror. and there are multiple interpretations of which perspective is the truth. It's sure to engage the part of an air sign brain that loves conceptual thinking and also enjoys bone-chilling terror on multiple psychological levels! You won't fall asleep until it's starting to get light outside, but you live for that kind of mental stimulation anyway.
Another good choice for supernatural horror is The Chilling Adventures of Sabrina on Netflix. Creepy but fascinating, and focused on female power, the whole "deciding between dark and light" dichotomy will appeal to air signs especially, who tend to see the world in shades of gray and believe there are three sides to every story. For the same reason, I also recommend the first season of crime-horror drama Evil, also streaming on Netflix. It's a show with plotlines that leave plenty of room for opinionated debate, which is your favorite workout. I also recommend something truly frightening or with some twists, but that isn't totally disgusting, since blood and gore can be a bit too in your face for an air sign. Horror-thriller movie The Invisible Man is new on HBO, starring the incomparable Elisabeth Moss. 
Fire
Aries, Leo, Sagittarius

Passionate, fiery, and driven: you guessed it; it's the fire signs. Voted most likely to hog the microphone at the bar on karaoke night, this element's signs are also prone to tantrums when they don't get their way. No judgment. This group is full of charisma and charm, and this lineup will give you all the drama you've been craving since March.
You're missing the high of being the center of attention in a crowd. Feeling the urge to go mingle with your neighbors? American Murder: The Family Next Door is a true crime documentary film streaming on Netflix that will fix that. Seriously, be careful when watching this if you're afraid of losing whatever faith you still have left in humanity. Ratched, a new psychological thriller out on Netflix now, is disturbing enough to be entertaining without making you hide in a closet if you watch it alone. Plus, there are some steamy scenes between Sarah Paulson and Miranda aka Cynthia Nixon, and you can watch those with your vibrator because who TF is going to stop you? One of the main themes besides basic terror is also revenge, which speaks to you on a deep level as one of the more aggressive elements.

American Horror Story: Coven, season three of the American Horror Story series, is on Amazon Prime Video and Netflix. So, on your own time, go watch (or re-watch) arguably the show's best season, which you're sure to enjoy because it's all about badass women who like to be in charge and men who ain't sh*t. Lastly, an especially scary recommendation for one of the bravest elements is the reality series Haunted on Netflix. Real people telling their real-life stories about the horrifying and supernatural things they've experienced, reenacted for your entertainment. Watch at your own risk.
Water
Cancer, Scorpio, Pisces

Sensitive, emotional, and naturally empathetic and nurturing, no one gives a better shoulder to cry on than a water sign. For your lineup in these stressful times, you need comfort first and foremost—and preferably some steamy romance you can watch from deep within your duvet. Water signs are also ideal scary movie-watching partners, because your borderline psychic tendencies mean you correctly pick out the twist about halfway through the movie without fail. What water signs need right now though are classics, the favorites, and honestly? I'm most jealous of this lineup. 
To start, I recommend Hocus Pocus (Disney+), one of the best Halloween movies of all time—sure to transport you to a time when things were simpler and the biggest problem we faced was the debate on candy corn. Next up on the list are movies The Nightmare Before Christmas (Disney+), or Hotel Transylvania (playing at various times on Freeform or on Hulu with live access), both great animated indulgences if you literally just need to watch a spooky cartoon for a sec, or if you have kids and need them to leave you alone. 
All five of the Twilight movies can be streamed on Hulu or Amazon Prime, for those of you who love a guilty pleasure cult-favorite. And, because we know how much you love sex and vampires, True Blood is also streaming on HBO Max, and there are plenty of scenes there to make you swoon into your glass of red wine as you bask in your "kidnapped by a fanged, shirtless angel of the undead" fantasy. If you need something new in your life, horror drama series Lovecraft Country is streaming on HBO Max and is shaping up to be a must-watch. 
If you've got any other recommendations, please leave them in the comments. Otherwise, grab your sherpa blanket and bottle(s) of wine so you can binge to your heart's content as you fill out your mail-in ballot! Spooky season has officially arrived.
Images: GIPHY (4), Ehud Neuhaus / Unsplash
The Definitive Ranking Of 'Normal People' Characters
I, like many others this week, spent six hours binge watching the entire season of Hulu's "Normal People". It honestly took me on an unexpected emotional roller coaster. The story of two young people in love, but also in denial. I've never been so frustrated in my life. Like JUST DATE AND BE HAPPY. Ya know??? I cried, I gasped, and I even screamed "OMG THEY'RE SHOWING HIS DICK". So yeah, if you haven't seen it yet, I highly recommend!
It's almost difficult to rank these characters, because they are all so sh*tty at one point or another, but that's what makes it fun I suppose. Here's my ranking of the characters from worst to best.
10. Jamie (THE Absolute Worst)

I debated the worst character for a moment, because there are a few options here. Quite honestly, if you've watched this show, you know that just about every single character is the worst in one way or another. But, after some glasses of wine and deep thinking, I settled on Jamie. Jamie is a rich, smart, prissy boy. But, not the kind of rich that makes him attractive. The kind of rich where he complains that they're drinking Champagne from the wrong glass (maybe he should befriend Dorit Kemsley). He was cast perfectly, because he's tiny and dweeby, which makes it that much more irritating when he's rude and plays the tough guy act. Without giving away too much detail, Jamie is insecure, manipulative, and a loser. In other words: the worst.
9. Denise (Also Basically the Worst)

Denise was also in the running for the worst, but her evil antics seem to stem from somewhere, so she landed at number nine. Denise remains mysterious, but they do not shy away from showing how awful she is during her few moments of fame. She's widowed, which gives her an excuse for being closed off. But, she's still a mom, and it's actually sad to watch how she treats Marianne. I get the wannabe Devil Wears Prada vibes from her, but without the valid excuse to do so. By the end of this show, you essentially want her to get hit by a bus, so, I'll leave it at that.
8. Alan (Again, Also the Worst)

Alan. If you're like, "who tf is Alan", he's Marianne's brother. I clarify this only because I didn't remember his name either, but loathed him as a human. Alan is the conceited red head that everyone hates. He's also born rich, but is dumb, so he doesn't have the perks of coasting through school like his peers. Every time he pops on screen, I cringe, because I know he's here to make us miserable and he succeeds at doing so 10/10 times.
7. Rob, Eric, and Rachel (Different, But The Same)

I'm grouping this trio as one ranking, because they are three versions of the same human. Boring, angry, popular kid who bullies you because they have a crush on you type. They're the kids who peak in high school, and then go on to be the weird, single, 38-year-olds sliding in your DMs with some pyramid scheme BS. Obviously, the plot twist with Rob is quite jarring (no spoilers here), but it still doesn't take away from his slimy personality. It just makes him slimy with some deeper issues than we realized.
6. Helen (Blah)
Helen is kind of boring, but kind of important. I honestly feel bad for her, being the rebound is never fun. She handles it with poise, at first, and I can't decide if it's because she is clueless, or because she wants to be the cool girlfriend. Either way, Connell is always like "I LOVE HELEN" while jerking off to Marianne, so thats where she stands. All I've got to say is, Helen never had a chance.
5. Marianne (Damaged Goods)

It was hard for me to find a place for Marianne. On one hand she is a broken soul, but on the other hand, she's kind of annoying. Like, why must you make so many average situations so miserable? That said, we see a lot of growth in Marianne throughout the show. In episode one, she's a virgin, and by episode 12 we've seen her naked banging multiple guys about 25 times. Most of us call that one semester of college. Hats off to Daisy Edgar-Jones, though. She was very convincing, and very brave. If someone asked me to go on TV at age 22 and show my ~everything~ it would be a hard pass.
4. Peggy (Also Blah)
Peggy felt so irrelevant to me, until I realized she was essentially in every episode. I am not ranking Peggy number four because she's fun. I'm not even ranking Peggy number four because I like her. But, she is simply not as evil as all of her predecessors. She doesn't start drama, she's a ride-or-die friend, and she's a hoe but makes it normal. She's the type of friend that you only bring to a party if you're okay with her sleeping with more than one of your friends (at the same time). But, she keeps it real, and most of the characters in this show lack that quality. So, cheers to Peggy.
3. Connell (My New Crush)

CONNELL. I have so much to say about this boy (man?) For starters, I've never questioned myself more when watching a show. Connell is not traditionally hot, yet so sexy. But, he's portrayed as a high schooler for two episodes, so am I going to jail for thinking that? I googled and he's 24 IRL, which is still too young, but less repulsive. There are so many layers to Connell, and I'm pretty sure every viewer wants to peel them back. He's the token good guy who is peer pressured into being a dick because his friends think it's cool. I feel like he never REALLY grows out of that, but by the end we're all so blinded by love that it doesn't really matter.
2. Karen (DUNF)
Karen is an underlying hero throughout this show, despite the fact that she doesn't make a ton of appearances. Karen is the the designated ugly nice friend, and we love Karen. I feel like her character was handed to us simply so that we are not emotionally distraught every time Marianne gets bullied, and it works. I think the irony of this is that her name is Karen. We all know that Karens typically ask for the manager to complain, but this Karen asks for the manager to compliment an employee's hard work. Love that for her.
1. Lorraine (Queen!)

Lorraine is a sweet angel on earth, and a saving grace to this show. I mean, obviously I enjoy the evil characters, but we needed Lorraine to balance things out. She is the light, and the rest of Ireland is the dark in this case. Lorraine looks like she is 30, but her son is 20, so that is unique. She is just all around a nice gal, and proves that you don't need to be rich to be happy (don't tell the Kardashians that). By the end, you want Connell and Marianne to work out, simply so Marianne can call Lorraine mom. Lorraine FTW!
If you haven't watched this show, please do. This is not an ad, but as someone who has watched more hours of TV during quarantine than in my entire life combined, this show has stuck out to me more than most. Be prepared for an emotional roller coaster, and to lust after Connell. Let me know if you agree with my rankings, and slide into my DMs if you want to argue. There will be no bashing of Lorraine, and no complimenting of Alan, but everything else is fair game.
Images: Courtesy of Hulu
Hillary Clinton Slams Bernie Sanders: 'Nobody Likes Him'
Sometimes the news is just gossip, and that's okay. (Is it though?) Today everyone online is poppin' off about a recent interview with Hillary Clinton in the Hollywood Reporter where ya girl talks some serious sh*t about Bernie Sanders. The interview covers an upcoming docuseries set to premiere on Hulu, entitled "Hillary," which gives an inside look at Clinton's life. Apparently she doesn't hold anything back, because when asked about Senator Sanders, Clinton says, "Nobody likes him." Yikes.
The quote comes from a point in the doc when Clinton is going on Sanders as a politician.
"He was in Congress for years. He had one senator support him. Nobody likes him, nobody wants to work with him, he got nothing done. He was a career politician. It's all just baloney and I feel so bad that people got sucked into it." 
When asked by the Hollywood Reporter's Lacey Rose if this assessment holds true, Clinton responded that it did. Damn, tell us how you really feel, Hill.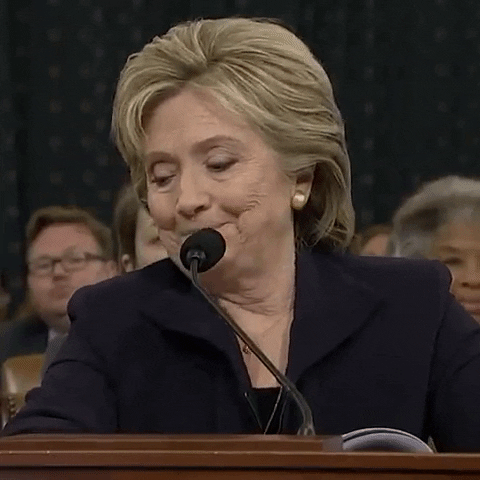 And it didn't end there! When asked if she would endorse Sanders, Clinton wouldn't say that she would, which is pretty cold considering he endorsed and campaigned for her after losing to her in the 2016 primary. Clinton also had some sh*t to talk about Bernie's followers and the culture around them that she believes he supports:
"I will say, however, that it's not only him, it's the culture around him. It's his leadership team. It's his prominent supporters. It's his online Bernie Bros and their relentless attacks on lots of his competitors, particularly the women. And I really hope people are paying attention to that because it should be worrisome that he has permitted this culture — not only permitted, seems to really be very much supporting it. And I don't think we want to go down that road again where you campaign by insult and attack and maybe you try to get some distance from it, but you either don't know what your campaign and supporters are doing or you're just giving them a wink and you want them to go after Kamala or after Elizabeth . I think that that's a pattern that people should take into account when they make their decisions." 
Looks like Hill is *not* a fan of Bernie Bros.
When asked about the recent Bernie/Warren "feud," Clinton first stated that she believes a woman can be president, and then implied that Sanders doesn't believe one could, and cited the fact Sanders called her unqualified when he was running against her, seemingly to imply that that means he doesn't believe women can be president.
All of this seems like a lot of negative energy to spend on trashing a Democratic candidate who is doing well in the polls right now. However things may have gone down — and again, Bernie campaigned for her — the fact of the matter is that Hillary Clinton and Bernie Sanders are no longer running against each other. His supporters were not nice to her at times, nor hers to his, and that sucks, but maybe it's time to move past it all?
After all, we have an election to win.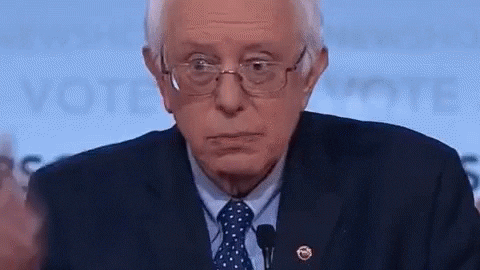 Want to keep up with the news without crying into your sad desk salad? Subscribe to the Betches Sup newsletter for a lunchtime briefing to make you laugh, instead of cry, about the news.
Images: Giphy(2)