Why Having A Personal Trainer Isn't A Waste Of Money
Getting in shape isn't always easy. And let's face it, you may never have perfectly sculpted abs or toned arms, no matter how many times you go to hot yoga or lift things up and put them down. For whatever reason, so many people are hesitant to reach out for help when their workout routine just ain't cutting it. So we connected with Matt Sauerhoff, the founder and CEO of The LIV Method, to share five reasons why having a personal trainer is actually beneficial for achieving the results you've been dreaming about, but not seeing IRL.
1. You'll receive a completely customized workout plan according to your unique needs and goals.
NEWS FLASH: What J.Lo does at the gym isn't guaranteed to work for you too. That's because celebs have…wait for it…personal trainers! Everybody (and every body) is different. Personal trainers are literally trained to make sure you're working out to the best of YOUR ability to get maximum results based on YOUR body type and goals.
Your first session with a personal trainer is usually complimentary (it always is at The LIV Method), and it's basically just a casual hang sesh, so don't be scared or expect to go full-force right away. Matt says, "At The LIV Method, we have a 15-minute chat as a preliminary meet to best understand what our client's wants, needs, and challenges are, so we can best prepare for their first session. No one's workout is ever the same, as no two people are the same. Our sessions are as unique as our fingerprints."
"It's also an opportunity for you (the client) to see if this person is someone you like and want to invest in. While knowledge is power, chemistry is EVERYTHING."
2. You're frustrated and don't understand WTF you've been doing wrong.
You've been going to the gym for a year now soooo like, where the f*ck are your abs?
So many of my friends who do yoga are super thin and toned. Other friends of mine lift weights and have arms to literally die for. But when I took yoga classes and weight trained at the gym, I basically stayed physically stagnant (probably because I didn't know what I was doing, but still).
People who usually go to Matt and The LIV Method fall into two categories: 1) active and frustrated, or 2) inactive and frustrated. Just because you're working out doesn't mean your workout is productive. So what are we doing wrong?
"While classes can be a great outlet and workout, there isn't enough consistency or progression on a week-to-week basis to allow the body to adapt in any specific way. Trainers utilize a variety of science-based principles to remove the guesswork from exercise. Everything we do has a purpose and is part of a larger plan." Yay, science!
3. You'll learn what to do inside AND outside of the gym to get optimal results.
It's not just what you do inside the gym that drives results. It's actually everything you do, including how many pints of ice cream you eat after your workout, and the amount of delicious, sugary margaritas you drink on the weekends.
"The biggest impact we can have on our clients is OUTSIDE the gym where they spend the majority of their time," Matt told us. "There are 168 hours in a week, and we are lucky to be able to see our clients for more than one to two of them, which is why we focus so heavily on education and empowering our clients to make better decisions on their own."
Simply hiring a personal trainer does NOT mean you will automatically see results. At the end of the day, it's entirely on YOU. But the knowledge you gain from them will last a lifetime, which is what makes training with a professional 100% worth your time all the time (whether you use it or not).
4. You'll have someone to hold you accountable, and help you in your fitness journey every step of the way.
You can't find a treadmill at the gym on January 1 if your life depended on it, then the parking lot is back to its usual half-empty self come February 1. You buy an influencer based workout DVD and expect to look like a Victoria's Secret Angel after week two, then give up because life gets in the way.
You know the deal. While motivation comes and goes, a personal trainer is always there to keep you accountable and consistently working toward your goals.
"When chatting with any new client, we always take our time to help our clients identify not just the "what" but most importantly the "WHY" so we can continue to remind them as to why we started in the first place."
"Most people start their journey with a high level of motivation, and full intentions to achieve what they are setting out to accomplish. But seeing results is not an immediate thing. It takes will power, grit, and determination to have the longevity necessary to see it through."
5. You'll become your best self – mentally, emotionally, and physically.
Working with the right personal trainer can be a life-changing experience that's worth every penny. If visible results are what you want, and you're not getting them on your own, then it might be time to consider hiring someone to help you.
I asked Matt to give me one thing personal trainers wish that regular gym-goers knew about their services and how they can help, and his answer really hit home for me.
He said, "If self-improvement is the objective, then hiring the RIGHT personal trainer is a game changer. I have built my life around helping others become the best possible versions of themselves. The LIV Method is my mark on this earth and my mission to help as many people as I can to realize their full potential. I have surrounded myself with the best trainers in the industry who all share a common vision and purpose and who look forward to showing you what LIVing is all about!"

I'll raise a glass of wine to that! Or a salad? IDK. I'm just a writer who works out a couple of times a week, and I clearly need a personal trainer. #SOS
Images: Pexels, @thelivmethod / Instagram (5); Giphy
How To Get Abs Without Spending Hours At The Gym
The internet's obsession with having abs and how to get abs is kind of insane. I mean, I know obliques look good in a crop top and having a strong core is important, but I literally stumble upon some "How To Get Abs So Toned They Could Cut A Diamond" article at least once a day, and frankly it's getting old. Every fitness influencer on the 'gram will tell you to do endless crunches and leg lifts, but attaining visible ab definition is so much more than a 10-minute segment at the end of your workout. In fact, if you really want your abs to show, you may even have to adjust your diet (I know, it's like nails on a chalkboard). If you're not down to spend hours at the gym doing the 1000 sit-up challenge, here are some legitimate tips on how to get abs.
1. Have Amazing Genes
This reality is so depressing and I'm sorry to be such a downer, but it's true that genetics play a huge part in having abs. Think of your skinny friend that has had natural abs since seventh grade. I'm guessing she wasn't doing Russian twists or drinking hot lemon water back then. Some people are just born with the ability to have their abs show at all times, and there's really nothing else to say. You can def take steps to make your abs look better, but if your body just isn't made for abs, all you can really do is eat your salad and hate people who are genetically blessed.

2. Stop Eating When Satisfied
A lot of bullshit websites will tell you to count your calories or eat six mini-meals throughout the day, but the real key to slimming down may just listening to your body and not eating until you're literally too full to function. What does this have to do with how to get abs? Good question. This may surprise you, but everyone has abdominal muscles, and getting them to show is a combination of strengthening them and lowering your body fat. The less body fat you have on your stomach, the more your abs will show. It's as simple as that. Try to eat until you're like, 80 percent full and then stop. I know it's hard, but you'll feel so much better and may even see some ab definition over time.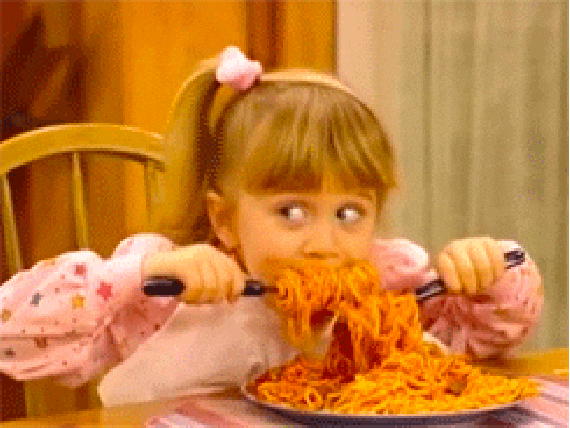 3. Add Probiotics To Your Diet
If you're eating healthy and working out, you should see your abs peek out eventually. BUT, if you have a stubborn digestive system and your body gets bloated or *fluffy* easily, probiotics are a game-changer, and you should get on board. You can buy a probiotic pill over the counter, but honestly some foods are packed with them, so give them a try before resorting to the capsule. (But if you want to just jump to the capsule, we're here for it.) Professionals recommend trying fermented foods, like yogurt, kefir, sauerkraut, and Kombucha. Probiotics won't give you abs overnight, but they will help heal your gut and reduce inflammation in your body, which tends to lead to improved digestion, a flatter stomach, and just overall feeling amazing.

4. Eliminate Artificial Sugars
This is another key when it comes to bloating. You may think that dumping three Splendas into your cold brew and sipping on a Diet Coke until lunch is actually making you skinny, but according to recent studies, you're wrong. In fact, fake sugars like aspartame, sucralose, and saccharin have actually been proven to make you bloated, which will obviously prevent you from seeing your abs. The takeaway here is to basically experiment with what works with your body and what doesn't. If you know a certain food or ingredient makes you look five times your actual size, you should prob avoid it.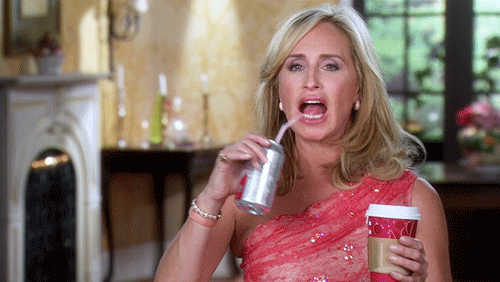 5. Static Holds Are Key
Now let's talk about ab exercises, because although diet is v important, so is the fitness part. A lot of people think the best ab routines include a million reps and a ton of volume, but sometimes the opposite is even more effective. Static holds include moves like forearm planks, boat pose, bear planks, V sits, and hollow holds. The idea is to engage your core in a challenging position and hold tight for as long as you can. Try to set a timer for 30 seconds, and then work your way up to a minute, then eventually two minutes. If it's getting easier over time, it's because your abs are getting stronger, so congrats.

6. Think Slow, Not Fast
It's weird to think that you should be going slow while working out, because everyone assumes faster equals a better workout. Like, imagine leisurely peddling your bike during a 45-minute spin class. You'd be the joke of SoulCycle. Your abs are different, because when you go fast, you're more likely to start using momentum and taking the tension away from your core. By doing your ab exercises in a slow and controlled manner, you're transferring all the tension on the muscles instead of using momentum from your entire body, aka cheating.

7. Non-Ab Exercises Work Too
If you really want to minimize your gym time, you actually don't have to do any isolated ab work at all. You just have to work on contracting your abs during other exercises. Any workout can be an ab workout if you're using your core muscles. The thing about strength training is that you have to engage your core during the moves, whether you're doing squats, lunges, or even dumbbell rows. To fully engage your core, think about bracing your muscles instead of sucking in your stomach, which is where most people screw up. You may need to tuck your pelvis inward a little bit and actually squeeze the muscles in your butt. Another cue is to think about drawing your belly button in while keeping your spine neutral. You may need to try a few different ways, but once you can actually engage your core during any exercise, you're toning your abs without doing specific ab work. It's a win for everybody.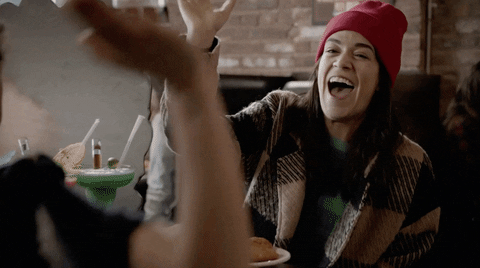 Images: PicJumbo / Pexels; Giphy (7)