7 Sneaky Ways Hotels Trick You Into Paying More During Your Stay
I recently spent the night at a bougie hotel in LA with gorgeous views of the Hollywood Hills and generously provided free snacks, condoms, lube, and alcohol in the room. "Wow, I finally made it," I thought to myself, followed by not-so-humble bragging about the fully stocked minibar on my Instagram story. I ate some of those snacks like the hungry HBIC I was… only to be slammed with a $76 bill on my credit card the next day (for Pringles, cashews, and some goddamn peach rings???). When I shared the devastating news that those snacks were NOT free with my Instagram followers, countless crying laughing emoji reactions flooded my DMs. I was repeatedly mocked and reminded how much of a naïve peasant I actually am for not knowing this "obvious" fact, which wasn't obvious because there were no price tags or menus in sight. FML. 
It turns out this isn't the only trick hotels have up their sleeves to con us into paying more. What popular and little-known schemes should we beware of? I asked frequent travelers and travel experts about other sneaky ways that hotels secretly run up our credit card bills by the end of our stay so I we can avoid falling for them next time around.
1. Half-Free Minibars With Motion Sensors

So yeah, the stuff in the fully loaded minibar in the hotel room isn't free. You pay for what you take. Great. I learned that lesson the hard way. Jennifer Melroy, lover of national parks and founder of travel blog National Park Obsessed, confirms I'm not an idiot and this is a common problem among travelers. "The sneakiest way I've seen hotels try to get guests to pay more is the half-free minibar. Select items from the mini-bar are free, but you have to carefully read the mini-bar price list to figure out which products are free and which ones are not." 
But wait, that's not even the worst part. Sometimes you'll wind up paying for what you DIDN'T take. "Many hotels use motion sensors in their minibars that will charge you if you so much as touch or slightly move an item," adds Mona Molayem, full-time millennial luxury travel blogger at MonaCorona.com. UNREAL. Good rule of thumb when it comes to hotel room minibars: Look but don't touch (unless you want to pay the price).
2. The "Complimentary" Breakfast Buffet

Hungover and hungry in the morning? You might want to walk a little bit further than downstairs for breakfast. Lisa Dorenfest, blogger at One Ocean At A Time, who spends a ton of time traveling both on land and by sea (hence the blog name), has seen that higher-end properties pull tricks like charging more for "breakfast included" rates than for paying the "no breakfast" rate. She explains, "My experience is that the smallish 3-star local hotels are less likely to take advantage of travelers. The rooms are clean, breakfast is included, the service is often superior, and the experience is, well, more local." All the more reason to shop local. Support the small business owners who run that diner up the road instead.
3. Hidden Wedding Preparation Fees
once you accept you're going to be bleeding money, the entire wedding process will start to get a litttttle bit easier

— betchesbrides (@betchesbrides) July 25, 2019
Congrats on getting hitched! To thank you for spending a huge chunk of cash in reserving a room block for you and your guests for your wedding, some hotels will tack on a bunch of hidden fees to your bill. HOW SWEET. "Couples are often unaware of site fees, catering charges, linen or furniture rental add-ons, lighting additions, etc.," says Lauren Grech, CEO and co-founder of worldwide event management and design firm LLG Events & LLG Agency. Grech adds that this especially happens to those who are planning a destination wedding, since they don't get to see the venue or meet all of their vendors in-person before the big day. Rude AF. Brides and grooms, beware.
4. Shuttles & Transportation Costs

One scheme that Tanner Callais, founder and editor of "everything cruising" website Cruzely.com, has noticed while traveling is that hotels will offer transportation packages that seem like a great deal… but they're actually a trap. "While many hotels offering these packages are right near cruise ports, we've seen instances where booking the package can cost considerably more than just taking an Uber or Lyft. So yes, you get a ride to the port, but it comes out much more expensive than if you just went on your own." I guess you really do pay for the luxury of convenience, even when it's disguised as being "included."
5. Stuffed Animals For The Kids

Okay, I don't really like kids, but even I can admit that this is cruel. "Family travel hotels put a stuffed animal on the bed so that when the kids walk in they assume that they are getting a new stuffed animal. The parent can either seem like the bad guy or pay $30 plus for a stuffed animal they didn't plan on," adds Melroy. Imagine being a kid and getting all excited that you got a brand new toy, then your parents don't spend $30, so you're left heartbroken AND toyless? Tragic.
6. Changing The Name On The Reservation

Okay, this one blew my mind. Ready for the worst sneaky fee yet? Shout-out to Mitch Glass for this pro tip. Glass is a travel blogger who runs the travel blog Project Untethered, and he also agrees that "hotels can be sneaky little money-sucks." (Money-suck might be my new fav insult.) STORY TIME. He recalls, "Recently, my mother-in-law got back from vacation and noticed a weird $200 hotel charge to her credit card. After some angry phone calls, she realized her husband originally made the reservation using his name—but he didn't actually go on the trip." What the hell?? "This, apparently, is not allowed. At checkout, the hotel charged a $200 'name change fee' to her card without notifying her. Long story short, be careful when booking for a friend or family member. They could get screwed." WILD. This hotel needs to be put on blast.
7. Using The Hotel Computer, Printer, Or Phones

International wifi and cell service sucks. Common knowledge. That's why hotels nicely provide tech for us to use when in need! JK. Using the computer, phones, and other machines aren't always free, either. Nope, you can actually be charged per minute, per piece of paper, or a flat rate fee. "While staying at a popular hotel once, I tried to use the computer in the business center to print my boarding pass for an upcoming flight. It cost me $10 to use the computer for 15 minutes, plus another $2 to print one piece of paper!" Molayem shares. To avoid these ridiculous charges, she recommends kindly asking the hotel front desk or concierge to schedule dinner reservations or print boarding passes for you for free instead of using the phone in your room or the business center. 
How To Dispute Unexpected Hotel Charges
So what do you do when these unexpected charges pop up? Even though you might want to call up the hotel and threaten the innocent customer service rep who answered the phone, that's not actually the best idea. According to Greg Ramey, co-founder and Chief Revenue Officer of group travel platform BACH, the key to fighting a surprise bill is to kill them… with kindness. "Politely ask the front desk for an understanding and, depending on the type of charge, there's a strong change they'll waive it for you." I took Ramey's advice and asked the manager of that hotel I stayed in to remove my $75 minibar charge and guess what?! He didn't. Maybe it'll work for you, though.
SMH. Dear hotels, on behalf of all of us here at Betches, STOP F*CKING CATFISHING US or else we'll drop names next time. Please. (Am I doing the kindness thing right?)
Images: Pixabay, GIPHY (5), Twitter @betchesbrides
This Story About A Fake Socialite Who Scammed All Of New York Is Wild
Fans of Gossip Girl and/or The Bling Ring, you are in luck. Over the past few months, the story of the first big "scammin' for the 'Gram" con artist has come out, and it is wild. I'm already excited for the movie. Here's the story. On the surface, Anna Delvey (born Sorokin, age 27) is basically everyone you follow on Instagram. She was rich, she always dressed in designer clothes, and she frequented restaurants whose entrées cost more than your rent. She also happened to be a massive fucking fraud (allegedly), and is currently in jail on charges of alleged grand larceny and theft of services. So, how did this complete rando casually adopt the lifestyle of a Kardashian? (No, this is not a how-to guide. Note the part where she's in jail.) Let's take a look. The Cut did an amazing job reporting on it, and you should definitely read the complete story, but if you don't have time to read it all right now but don't want to sound stupid at happy hour when literally everyone is talking about it, here's our shorter breakdown for you to read first.
What Did Anna Delvey Do?
What's sad/brilliant is how fucking easy it all sounds. Anna shows up with her "ambiguously accented" English, giant Céline sunnies, and a seemingly endless supply of cash. Naturally, people fall all over themselves to befriend this assumed trust fund baby. They spend a few months enjoying extravagant gifts, dinners, and weekend getaways—until Anna's credit card "stops working," and someone needs to cover the bill.
In total, Anna allegedly scammed an estimated $275,000, including at least $50,000 in unpaid NYC hotel fees alone. Am I appalled for the individuals Delvey ripped off? Absolutely. Am I the tiniest bit impressed at her innate gift for spending money like a billionaire? Um, yeah. The list of Delvey's purchases—not including the thousands on airfare, hotels, and decadent vacations—covers a $3,500 private jet rental, multiple Tesla rentals, $4,500 personal training sessions, Gucci sandals, Alexander Wang leggings, Supreme hoodies, $800 highlights, $400 eyelash extensions, cryotherapy, multiple iPhones, and a case of 1975 Dom Perignon. Wait, is this my Pinterest page or someone's rap sheet? V confusing.
Actual footage of Delvey walking through her hotel lobby: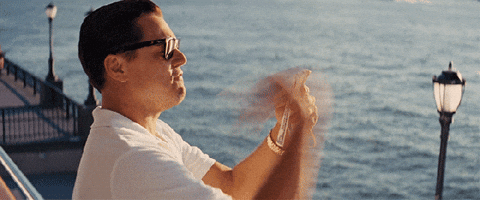 So, Who TF Was This Girl?
As for the origin story of Anna Delvey, we know she grew up in Russia, went to school in Germany/London, and then got an internship in Paris at Purple magazine. As I assume happens to most people who intern at fashion magazines in Paris, this is where Anna took a turn into becoming a horrible person. The next few years of her life are hazy, but basically she emerges into New York's social scene. By 2013, she was a Fashion Week regular, attended "all the best parties," hosted celebrity dinners with random guests like Macaulay Culkin and Martin Shkreli, and was, as one acquaintance put it, part of "the 200 or so people you see everywhere." Delvey was reportedly not, as you might expect, "superhot…or super-charming; she wasn't even very nice." All that mattered was that she was in the right places, wearing the right clothes, and appearing to spend the right amount of money.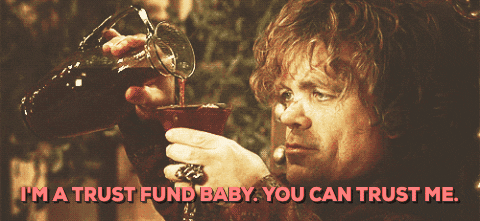 Why Did No One Stop Her?
The big question, obviously, is how she kept the alleged scam up so long. At the rate she was burning money, the fact that she didn't have the capital to back it up definitely should have come up sooner. And the reason it didn't is definitely not because she had an airtight story or was particularly good at lying. To begin with, this girl was claiming to be a German heiress without really speaking German. As this Independent article points out (a little too gleefully IMO—we get it, Americans are dumb), "a quick quiz in German could have cleared it all up very speedily." But honestly, no one who was around Delvey had any interest in finding out if her story was fake—people just wanted her to keep buying shit, trusting that the payment would eventually come through.
As for how she covered it when payment didn't come through—which was often—Delvey allegedly claimed unsuccessful wire transfers from a (nonexistent) trust fund in Germany. She also reportedly fabricated a financial adviser named Peter W. Hennecke who corresponded on her behalf when she attempted to get a loan of $25 to $35 million from various banks. The phone number associated with Hennecke was found to be a burner from a supermarket, his email was an AOL account, and when people started asking questions, Delvey literally pretended Hennecke had died. I cannot make this up. Ultimately, her debts caught up to her, and she was arrested outside rehab facility Passages in Malibu. How very Lohan of her.

What's She Doing Now?
As mentioned, Delvey is currently in jail, a turn of events she's taken surprisingly well. "People seem to think it's horrible," Delvey says about literal prison, "but I see it as like, this sociological experiment." Many quotes from Delvey's time in jail give me pause, like when she marvels over her cellmates' accounts of identity theft ("I didn't realize it was so easy"), and the tidbit that "the murderers were the most interesting to her."
Essentially, this girl is troubled—a fact equally on display in her still-existing Instagram account, which features terrible selfies interspersed with pictures of literally blank white space. Also, most of the comments on these pictures are from clearly fake accounts, with 5-10 posting the same comment verbatim within minutes. This is not the Instagram account of someone who is okay. If there's a lesson to learn here, it's that owning designer athleisure and keeping a stack of $100 bills handy is a great way to convince people you have a trust fund. Seriously though, it's an extreme example of how the Instagram existence we crave is more often than not an illusion, specifically designed to blind people with displays of money while obscuring the reality underneath. Maybe if we were less desperate to make our lives LOOK wealthy and fabulous, we wouldn't be so eager to believe someone like Delvey, who displayed more than a few red flags. And maybe we could stop breeding criminals whose primary goal is to spend more money on bottle service and sweatpants from Supreme. Just a thought.
Images: Giphy (5)