The Most Eligible Players In Super Bowl LIII
Super Bowl LIII is finally here this weekend! (That's 53 for those of you who didn't pay attention in your lesson on Roman numerals.) That means it's time for us to get drunk on beer for the first time in 2019 (calories don't count during the Super Bowl, right?) and pretend to care about who's going to win the game. We all know the real reason betches like to watch the Super Bowl. It's not about the food, or the drinks, or the commercials—it's about finding the hot players that we can pretend we have a shot with. So we found the hottest guys on both teams who are single. Time to fire up those DMs and shoot your shot.
Julian Edelman, New England Patriots Wide Receiver

I know, I started this list with a guy under 6 feet—such a faux pas! That being said, he's single, hot as hell, and getting paid 11 million for two years. Most importantly, he's an ex to Victoria's Secret model Adriana Lima, so if you landed him you're practically Angel status.
Philip Dorsett, New England Patriots Wide Receiver

After doing some serious social media stalking, I think it's safe to say that Philip Dorsett is as single as can be. Sure, he also isn't 6 feet tall, but just looking at that face makes me feel butterflies. The fact that he'll make $8 million over 4 years makes me feel butterflies too. 
Braxton Berrios, New England Patriots Wide Receiver

Some light social media stalking has led me to conclude Braxton is single. What I mean by that is I googled "Braxton Berrios girlfriend" and the only result that came up was this tweet:
S/O to my Girlfriend on #nationalgfday You're probably in a relationship with somebody else rn but we gonna handle that later. See ya soon

— Braxton Berrios (@HNYNUT_BERRIOS) August 1, 2016

So let's assume Braxton is single. He's only 5'9″, but he signed a four-year contract with the Patriots worth over $2 million, which is probably $2 million more than I will ever make in my lifetime. He was placed on the injured reserve list in September 2018, but hey, maybe you can nurse him back to health.
John Johnson III, Los Angeles Rams Safety

The fact that John Johnson III is only 23 years old is making me revisit my whole "don't date younger guys" philosophy. This stud recently dyed his dreads bleach blonde this year because it's "the easiest color to spot. Same reason why cabs in New York are yellow." Marry me now? Oh, and give me the name of your hairdresser, please—my roots look terrible. 
Jared Goff, Los Angeles Rams Quarter Back

Okay fine, Jared looks like a goofy Ryan Gosling. But he's quarterbacking a football team in the Super Bowl at 24 years old and has a 27.9 million, 4-year contract. So he's hot enough. Rumor has it he's dating some model/actress but the most credible thing on her IMDB is playing "Teenage Girl #1" on Entourage in 2006, so I think we all still have a shot.
Thanks to these eligible ballers, you now have a reason to actually watch the game—because you know the guys at your Super Bowl party are going to talk too loudly during the commercials for you to hear anything. Also, a lot of the commercials are on Youtube in advance anyway. You're welcome!
Images: Shutterstock; Getty Images (4)
What His Swimsuit Says About How Big Of A Douche He Is
I learned two important lessons from my time analyzing men's underwear. 1) I'm basically the female version of Tan, and 2) there are way more bad options than good when it comes to covering men's junk. The situation is no different when we're looking at bathing suits—*remembers Speedos exist*—actually, it's worse. Ultimately, scoping out guys at your local beach/pool/YMCA (I don't judge) isn't about finding your sartorial soulmate. It's really about avoiding these common red flags. Read on for what his swimsuit says about him, and the swimsuits that should make you run far, far away.
Swim Briefs
Let's start with the worst. "Swim briefs" are Speedos, plain and simple. Calling them swim briefs is the equivalent of referring to Q-tips as "cotton swabs." So even using this term is sufficient reason to excuse yourself to the bathroom and never return. For those lucky souls who have never encountered a Speedo, I'll paint you a picture. They do bare minimum in the front, and either barely cover his ass or go full thong. In other words, if you hook up with a guy wearing a Speedo, you could plausibly mistake it for your own underwear while trying to get dressed. These are strangely popular among Europeans, so consider yourself warned before meeting your Italian Hinge match at Le Bain.

Square Leg/Square-Cut Shorts
Looks like we're going least to most coverage here! Square-cut shorts are the bathing suit equivalent of boxer briefs. This cut can be sexy when revealed under pants, but IMO it's a little aggressive as the sole thing covering your lower half. (*Thinks back to the cheeky Brazilian bikini I just ordered.* Nope, I stand by it.) I feel like Jordan from The Bachelorette definitely wears this kind of bathing suit, to give you a sense of the overall dateability conveyed by this style. It's the ultimate for guys who want to show off every inch of their bodies without committing fashion suicide. AKA every guy who cracked 1,000 followers on IG and now thinks they're too good to answer your texts. Not that I'm bitter, we were obvs growing apart anyway. But yeah, guys who wear this swimsuit are likely way more into themselves than they are you. Sorry!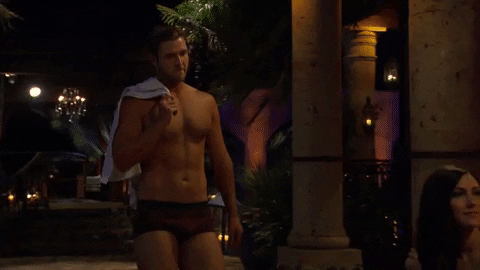 Swim Trunks
Ayyy, we've arrived at the only socially acceptable swim suit for men. Feels good. You'll recognize swim trunks from every time you've seen a male go in water without baring their full ass. They're your basic loose short, completely indistinguishable from actual male shorts to the naked eye. With swim trunks, the main thing you want to look out for is the print they choose. My personal preference is a solid that's flattering to their skin tone, or a simple print that's on-theme without being obnoxious. (E.g. *subtle* floral/Hawaiian, nautical, etc. Don't @ me, I like the tiny sailboat thing.)
If they're covered in giant flamingos, pineapples, or American flags, they're frat bros who didn't have to do anything other than breathe to get laid in college and don't intend to start now. Give them a few years of getting rejected by women like you and come back to them. Like wine, except instead of wine it's a 27-year-old man-baby. Anyone who wears plaid swim trunks is a psychopath or in middle school, and you can't convince me otherwise.

Board Shorts
Board shorts are…ok. They're really just the sloppier, oversized version of swim trunks, often worn by little kids or guys who really don't care about the fit of their clothes. Acceptable on surfers, for whom these serve a legit practical purpose. In all other scenarios, it's the sartorial equivalent of what you put on to pick up Gatorade while hungover.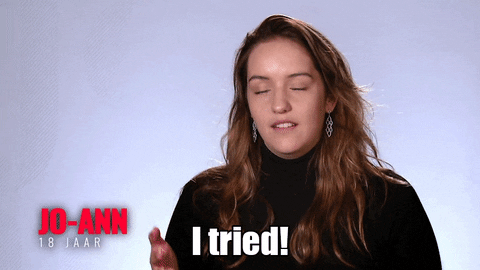 Jammers
First time hearing of jammers? Don't worry, me too. While I'd hoped this was a term for dressed-up jammies, it's actually a swimsuit specifically designed for athletic performance. AKA this bitch better be training for the Olympics. Otherwise, he's just weirdly proud of his thigh girth or trying to hide some kind of rash. Not a risk I'm interested in taking.

There you have it. If you're looking for a guy to actually date (so old-fashioned, I know), swim trunks only please. If you're already dating and looking to fine-tune his wardrobe, throw out all his obnoxious prints and board shorts. Everyone else, please feel free to hook up with the Speedo/short short/jammer wearing guys out there and report back. Don't say I didn't warn you when all they talk about is their dating app matches, muscle tone, and favorite protein powder. Wow, I'm just describing Jordan. He'll be missed.
Images: Giphy (5)
What His Underwear Says About Him
When it comes to men's underwear, I kind of thought everyone agreed: it's something you don't pay much attention to unless there's something wrong. And when you notice it for a good reason, it's typically less of a "wow, that's some breathable cotton" and more of a, "I didn't realize how good this person looks barely clothed" thing (see: Justin Bieber's Calvin Klein ad). That being said, my boyfriend approached this topic with a rabid amount of enthusiasm for someone who once held up a pair of baby-pink underwear and said "these started out navy" who's not particularly into fashion, and he quickly affirmed that what a guy's underwear says about him does matter. So, since he's been in "like, a million locker rooms," and has "seen some shit," I'll be peppering in his feedback below. Read on to find out what the underwear he wears to your hookup says about him.
Boxers
You're familiar with boxers; you saw them on every guy you hooked up with in high school, and now you probably sleep in them. As suggested by the previous sentence, guys regularly rocking boxer shorts are pretty immature and definitely haven't taken the time to upgrade their wardrobe to what an adult should be wearing. After all, boxers are too loose/bulky to be worn with pants that actually fit, so this is either a guy who wears shorts year-round or still thinks oversized jeans are "a look." Also, I'll go ahead and assume this guy isn't particularly athletic, since boxers offer exactly zero support; they're useless for exercise; and they do equally little for showing off a guy's bod. In other words, he's either not working with anything he wants to showcase or, yet again, he has no effing idea how to dress himself. Save yourself the Oedipus complex and move on.

Tighty Whities
I refuse to spend too much time on tighty whities because you, as a reader, deserve better than that. Assuming that we're working with old-school resembles-a-diaper tighty whities (which is the last time I heard anyone really use this term) and not just a white version of well-made briefs, everything that is true of boxers is true of tighty whities times one thousand. Long story short: any guy who wears this underwear knowing that he might have sex with you doesn't respect you, and his mom still buys his underwear.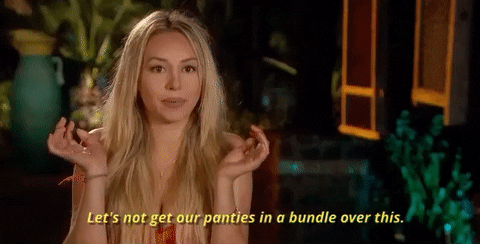 Briefs
I don't think I fully grasped the difference between briefs and boxer briefs before today, and damn. Briefs are… brief, as in the smallest possible amount of fabric while still covering someone's ass and genitals. They are also skin-tight, an underwear feature my boyfriend says is chosen for one of two reasons: "tiny dick" or "big dick." A website called "The Underwear Expert" confirms that "many are engineered to enhance the package." Whether a guy is using briefs as the equivalent of a push-up bra, or just wishes he could tattoo WELL-ENDOWED MAN on his forehead, this guy is likely vain in all the wrong ways and least likely to care if you have an orgasm. He's also the most likely to skip leg day, and spray cologne on his dick "for the ladies." Obviously, if he looks as hot in them as he thinks he does, you can let this slide.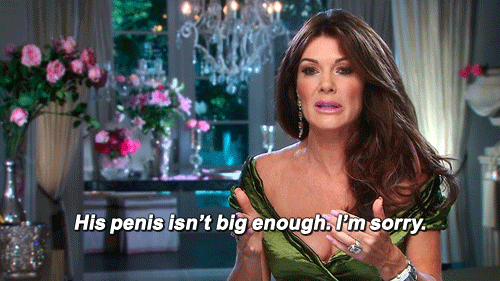 Boxer Briefs
Boxer briefs are like the buttoned-up aunt of regular briefs—they're longer (usually covering half the thigh) and a little more forgiving without any of boxers' "flowing in the wind with a giant hole in front" nonsense. TBH, guys wearing boxer briefs raise relatively few red flags: they're a grown-up alternative to boxers, they're tight enough to show off a nice ass, and they're both flattering and low-key enough to draw a nice line between "he didn't think about his underwear choice at all" and "he thought about his underwear choice way too much." Since these can err on the side of being a bit reserved/boring, boxer brief guy probably isn't the most adventurous (sexually or otherwise) and probably ordered 20 of the same boxer briefs on Amazon the same weekend that he threw out all his boxers.

Trunks
I've saved the best for last here, but fair warning for anyone getting riled by boxer brief description: if you thought I was way off, you were probably actually picturing trunks. Trunks are a hybrid between briefs and boxer briefs, meaning they cover one-third of the thigh instead of half, and I don't know how guys buy anything else once they know these exist. If guys need a foot and a half of underwear to cover them while playing sports, fine. When they're showing up for sex, they should step up and flash a little leg, which is not a huge ask given that "sexy underwear" for women covers between zero and ten percent of your ass. Trunks mean he actually tried more than one type of underwear before considering himself stocked for life, and he's decently aware of what he looks good in. Get yourself a guy who wears trunks.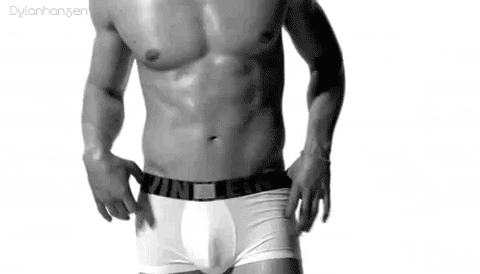 Not happy with how your fuckboy stacked up in the above assessment? Good news: Valentine's Day is coming up, and there's no better way to say "I'm only in this for the sex" than the gift of underwear. Don't believe me? You're more than welcome to check out the parade of fuckboys blowing cash at Victoria's Secret on February 13th for yourself.
Images: Shutterstock; Giphy (5)
Literally Just 11 GIFs Of Hot Men To Distract You From The End Of Democracy
It's Wednesday, so you're probably starting to sober up from the combo of anti-anxiety meds and booze that got you through inauguration weekend. But while the Xanax may be wearing off, you now have to face the fact that a man whose idea of TBT is paraphrasing Hitler is now president. I mean, you should probably call your representatives and shit, unless you want to spend the next four years celibate because some old dude took away your birth control.
But once you've done that, you can go back to pretending we aren't all fucked. Here's a bunch of hot dudes to help with that.