17 Thrillers To Read This Spooky SZN
It's spooky szn, but what really is spooky szn when we have been living in a real-life horror show for the past 10 months? I don't know, but I'm the type of person who is finding comfort from reading murder mysteries and other similar thrillers in these trying times. What does that say about me? It's unclear. Have I uttered that exact phrase before? Probably, it's been a long year. If you, like me, seek comfort from IRL horror in more fictional horror, then these are the spooky reads you need to check out this October.
August 18, 2020

This classic murder mystery features Japan's best-loved detective and is by one of the country's top crime writers, so you can trust it will have you on the edge of your seat. It's set in 1940s Japan after the head of the wealthy Inugami clan dies. As his family awaits the reading of the will, a series of strange and gruesome murders begins. Detective Kindaichi has to, obviously, figure out WTF is going on. That pursuit of the truth will uncover forbidden liaisons, hidden identities, and more.
'Winter Counts' by David Heska Wabli Weiden
August 25, 2020

When the American justice system consistently fails you and your people, you become a vigilante of sorts—or at least, that's what Virgil Wounded Horse does for the Rosebud Indian Reservation in South Dakota. But it gets personal when heroin enters into the reservation and finds its way to Virgil's nephew. So what do you do? Infiltrate the dealers, find the supplier—I mean, find out where the drugs are coming from and make them stop. As Virgil starts to put the pieces together, he's forced to come to terms with his own demons and grapple with his identity.
September 1, 2020

Farrell's last novel, I Know Everything, came out in 2019, and I still think about it, that's how much the ending shook me. So I had to include his latest, Don't Ever Forget, on this list. Police investigator Susan Adler is called to the scene of a roadside murder of a state trooper. Dashboard cam footage leads her to a nurse, who has been missing for days along with an elderly patient. A peek inside the elderly patient's house reveals evidence from two cold cases involving missing children. Talk about a rabbit hole. Of course, nothing is as it seems, people turn up dead, and it's a race against the perp, who does not want to be discovered.
September 1, 2020

And now we've reached the "me recommending authors I've recommended before" section of this article. But hey, if you know something is good, then why stray from it? Best to lean in. I first got into Lauren North with The Perfect Son, a twisty tale about a woman stuck in the hospital, racing to figure out what happened to her son, who's gone missing on his 8th birthday. In One Step Behind, Jenna—wife, mother, doctor—is the victim of a stalker. Sh*t gets crazy when her stalker is brought into the ER and Jenna has to treat him. Hold up, do they not have procedures in place to protect against that kind of thing? In any case, Jenna is desperate to understand the man who's been making her life hell, and when she goes through his phone, she finds some startling images that lead her down a winding road of destruction. 
September 1, 2020

Yes, I've written about this before, yes I'm featuring it again! It's been written about everywhere, so you really need to add it to your list. It follows Sydney Green, a girl who's born and raised in a Brooklyn neighborhood that's rapidly gentrifying. She meets her neighbor Theo, and the two become interested in the neighborhood's history. That leads them to realize that maybe the push to "revitalize" their community might be more deadly than it seems… or have they completely lost it? Can Sydney and Theo find out the truth before they too "go to live in the suburbs"?
September 1, 2020

Author of the chilling The Broken Girls (2018) has a new thriller out in paperback this September. It takes place in the small town of Fell, a town that seems to have a problem with girls winding up dead. There was the murder of Cathy Caldwell, who was found under an overpass, and Victoria Lee, who was killed and found along a jogging trail. A similar crime brings Carly Kirk to Fell: the disappearance of her aunt Viv. Carly is determined to return to Fell, stay in the same Sun Down Motel her aunt Viv worked the night shift at, and find out what happened to her. You'll be on the edge of your seat with this one.
'GROWN' by Tiffany D. Jackson
September 15, 2020

I literally still think about Jackson's 2018 thriller Monday's Not Coming, so I simply must add her latest to the spooky season reading list. GROWN tackles themes like abuses of power and the dark sides of the entertainment industry. In this ripped-from-the-headlines mystery, legendary R&B artist Korey Fields plucks Enchanted Jones from obscurity, promising to make her a star. Until Korey ends up dead, and Enchanted finds herself with no memory of what happened and his blood on her hands—literally. Did she kill Korey? If not, who did?
September 22, 2020

Grayson Sykes has been tasked with finding Isabel Lincoln, who may or may not want to be found. Is she missing, or is she just trying to start over? P.I. Sykes attempts to figure this out while tracking down Lincoln. Her search uncovers a number of secrets that become more dangerous at every turn—not to mention, Sykes has secrets of her own. 
September 22, 2020

This is actually just true crime, so I included it for the real fans. Harding's memoir is being compared to Tara Westover's Educated, and it starts in 1978, when Debora Harding was abducted at knifepoint from a church parking lot at just 14 years old. Harding was then thrown into a van, assaulted, held for ransom, then left out to die during an ice storm. Miraculously, she survived and led police to her attacker. Decades later, she did something even more unbelievable: she met her attacker face-to-face in prison. 
September 29, 2020

I don't even tend to like supernatural thrillers, but this one pulled me in right away. It has a little bit of everything: Norse mythology, ghosts, an element of fraud, and more that I don't want to spoil. In it, Lexi, a young woman battling her own demons, becomes a nanny in rural Norway for a family who just experienced a devastating loss. Lexi is hiding her own secrets, as is the house she and the family are living in, and soon she'll discover that maybe the tragic family loss wasn't what it seemed.
October 13, 2020

When I tell you I couldn't predict the ending of this one, that should say something. This novel had at least three twists that caught me completely off-guard. Sure, I could be going soft, or Molloy could just be that good. Dr. Sam Statler, a hot therapist, has gone missing after a storm. But let's rewind: we begin with Annie Potter, who isn't super thrilled to leave her life in NYC behind to move with her husband Sam to his hometown upstate. Especially because she has nothing to do while he sees (mostly female) clients all day. Little does Sam know, every word of his sessions can be heard from a room upstairs. Just when you think you've got this book figured out, it will throw another curveball at you, and even the most avid thriller readers won't predict these surprises.
October 13, 2020

In Washington, D.C., a Black man living in a homeless camp near the Smithsonian is framed for the murder of two of his closest friends. He faces life in prison. But when he meets an ex-Homeland Security Secretary, things start turning around. Sort of. He can avoid the life sentence—if he helps the former government official find a missing woman using the network of the streets and the underground world of undocumented immigrants.
October 20, 2020

This one is a fun, suspenseful read that's perfect for fans of Knives Out or Agatha Christie. Aging Indian patriarch Bhaskar Fernandez wants to reunite his relatives (who all low-key hate each other), so he invites them out to a remote manor that's rumored to be haunted, and where a few people have suddenly met an untimely death. The fun part? Bhaskar knows his family wants him dead so they can inherit his fortune, so he prepares two wills—the one he uses depends on how he dies.
October 20, 2020

This queer gothic horror comedy brings the spooky without keeping you up at night. This story-within-a-story begins in 1902 at a cursed all-female boarding school in New England, where two students, Flo and Clara, start a private club called the Plain Bad Heroine Society. They are later found mysteriously dead. Over the next five years, three more people are found dead on the property, and the school closes for good. Over 100 years later, the school ends up back in the collective consciousness when a writer publishes a book celebrating the "haunted and cursed" school. That book becomes a movie, and the actresses cast revisit the school to start filming… which is when weird things start happening.
November 10, 2020

Already a #1 bestseller in Ireland and a most-anticipated thriller by CrimeReads and Crime by the Book, Nugent's upcoming novel is one you'll want to pick up. It begins with a funeral: all three Drumm brothers are there, but one is in a coffin. Which brother is dead? Who is guilty? If you liked Succession, you'll get sucked into this cautionary tale of how sinister impulses can corrupt a family.
November 10, 2020

Fans of Andrea Bartz's The Lost Night and Megan Goldin's The Night Swim will find a perfect match in Little Threats, because of the blackout-induced amnesia plotline and the meta true crime elements. You'll see what I mean: Kennedy and Carter Wynn are two rebellious twin sisters whose lives are torn apart as teenagers when their best friend Haley is found murdered after a night of partying. With no other leads, Kennedy enters a guilty plea and spends 15 years in prison. Once she gets out, a crime show host comes around asking questions, believing Kennedy may not have committed the murder. *Oprah voice* so what is the truth?
November 17, 2020

As someone who has gone on too many bad dates with men, the premise of this book is a littleeee too relatable for me. It's centered on Jo, who makes a living blackmailing the skeeviest and most powerful men in LA—think dirty cops, handsy Hollywood producers, you know the type. Jo is eager to prove herself to her enigmatic boss, known only as The Lady Upstairs. When one of Jo's targets is murdered, Jo finds herself on a short list of suspects. To avoid prison time she has to pull off one last job—her biggest target yet. 
Images: @greystorm / Unsplash
Is Penn Badgley's New Show Problematic?
I started watching Lifetime's YOU for the same reason I assume everyone did. As a self-loathing 24 year-old with an English degree an ex-Gossip Girl addict, I missed watching Penn Badgley condescend to women about literature on my TV. And YOU does serve up plenty of that—but it also serves up a narrative that walks through very dangerous territory. As the show follows the story of one guy's growing obsession with a girl, it has the potential to fall on the side of harmless, bingeworthy pop-horror—or on the side of sexist, hurtful garbage. Here's why I'm a little worried it'll be the latter.
For those who don't know, Lifetime's YOU is about a crazed stalker/bookstore owner named Joe (Badgley) who becomes obsessed with an MFA student/generally insufferable "poet" named Beck. (Guinevere Beck in full, just to give you a sense of the writing we're working with here). The show is (mostly) narrated from Joe's point of view, a device that's apparently carried over from the source material. We hear as Joe decides to indulge his obsession: following her, breaking into her apartment, stealing her phone. We hear the judgments he makes as he examines her life: her friends are shallow and stupid; her choices in men are hopelessly misguided; and above all, she needs to be rescued from her own worst impulses. Rescued, of course, by Joe.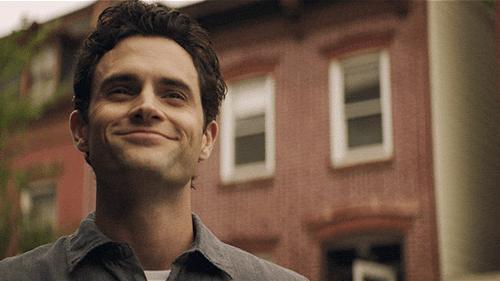 The decision to have us hear Joe's thoughts is useful, to an extent. We hear the jumps in his logic early on ("I should Google her" becomes "I should masturbate outside her window" very swiftly), establishing firmly that he is disturbed and we should treat him as such. But hearing his thoughts also creates an instinctive desire to understand him, as you experience the story through his eyes. And given that the show's view of Beck does very little to contradict his impressions—her friends are portrayed as rich, unsupportive airheads, and her pseudo-boyfriend is a celiac entrepreneur with a trust fund. To an extent, YOU tells us that Joe is right, and Beck does need to be saved from these monsters.
Of course, you could argue that the story is simply uninteresting if Beck is an unflawed character. But in the first four episodes (SPOILERS), we see Joe save Beck's life, help her work through deep-seated issues with her father, and re-invigorate her confidence as a writer. Yes, we also see him murder a man in a bookstore basement, but YOU does everything short of casting Donald Trump to ensure that we want that man dead anyway. For every act or thought that could only belong to a complete maniac, Joe is somehow given an equal and opposite opportunity to prove himself as Best Boyfriend Ever. And between that dangerous balancing act and the flashbacks to (what I assume is) Joe's abusive father, I'm getting a little concerned about the picture YOU is painting.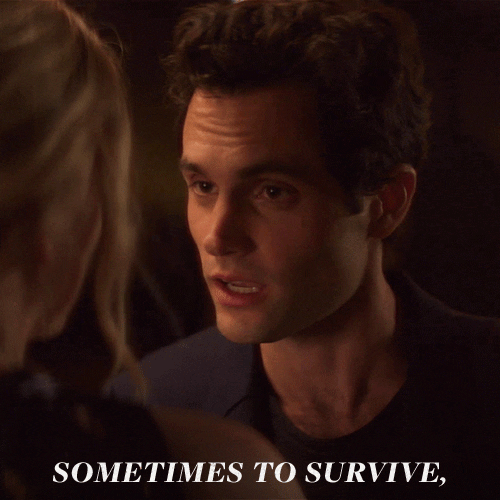 Ultimately, the question of how much we want Joe's character humanized is key. The more we watch Joe have a positive impact on Beck's life, or hear Joe's opinions and agree with them, or are shown flashbacks intended to make us feel sympathy for Joe, the more we're distanced from his active decision to prey on a strange woman. Every time Beck's friends are mocked or demonized for questioning her choice in Joe (ostensibly, because he makes no money), it complicates the narrative of "man terrorizes woman." In an odd way, the story instead becomes "Joe is so great for Beck—if only he weren't also a terrorizing psycho!" It suggests, in turn, that Beck would be better off if someone like Joe came into her life. Just a version without childhood trauma that causes him to stalk and kill people.
But I never sought out this show in hopes of watching a woman get saved by a man. I came hoping to watch a terrible man behave terribly, and eventually be punished for it. I came for the kind of justice that's rare as ever in our current world, where a bad man is outed and punished appropriately. Instead, I'm getting the same of what we see in the news, or what's been written in every book with a male author since the dawn of time. A man did a bad thing—but it's complicated, and he had a bad childhood, and we shouldn't be so quick to judge, and hey, she's not perfect either!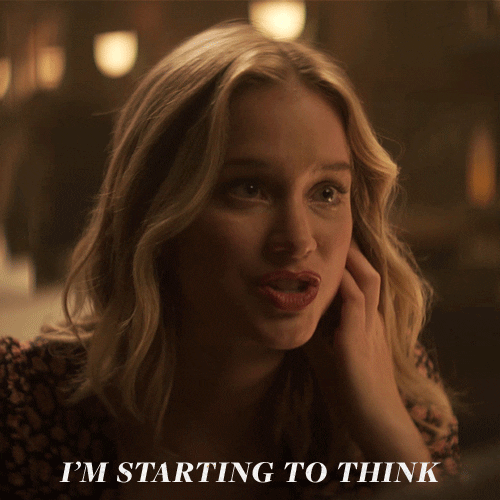 Like I said, I understand the need to have "complicated" characters on both sides for the overall non-awfulness of the story. But when you're showing Beck swiping indiscriminately on Tinder and Joe driving around a corpse in his trunk in the same episode—and implying that judgment is equally deserved for both—I'm going to lose a little patience. Explore Beck's character all you want, but portray Joe the stalker as the monster he is, and not as a morally comparable puzzle we should all be eager to solve.
Images: Lifetime; Giphy (3)
The Spookiest TV Shows & Movies Coming To Netflix In October
It's Halloween betches, and it's time to get spooky AF. Netflix is adding to the festivities with the scariest TV shows and movies—'tis the season for sleeping with the lights on and double locking all your doors. There's no better way to get in the spirit of Halloween than living in darkness with only your laptop screen as a light source. This is also the perfect excuse to ditch any and all Halloween related celebrations. More time for you to spend doing what you do best­—sitting. Which BTW, can get pretty f*cking frightening. Just look into my dead, lifeless eyes wasting my life away because yes, it's hour 30 and I am still here, Netflix.
'Chilling Adventures of Sabrina' – October 26
From the f*cked minds that brought you Riverdale comes another childhood ruining series. Sh*t gets dark and twisty when our girl Sabrina hits her 16th birthday. Unlike the stars of My Super Sweet Sixteen, Sab doesn't get a party with a horse-drawn carriage entrance. Instead, she gets to choose between becoming a demon with her whole witch family or like, being a normal human. Sounds like one hell of a birthday to me!

'The Haunting of Hill House' – October 12
Haunted houses are nothing new for Halloween, but this one certainly takes the cake. Based on a 1959 novel by Shirley Jackson, this show takes us through the lives of the Crain family. Hugh and Liv Crain are parents to five kids living in Hill House, a home haunted by ghost-like creatures. The storyline bounces between the current lives of the family, struggling with the trauma from their past, and the stories of the creatures that haunted them. Good luck with this one, I got nightmares from the trailer alone.
'Creeped Out' – October 4
Netflix has this horror series rated as kid-friendly. IDK about you, but the ghost episode of Zoey 101 (The Curse of PCA, in case you're wondering) was scary for me as a child (or maybe still now), so WTF is coming out of this that's less terrifying? The series is an anthology, all narrated by a mysterious masked figure called "The Curious". While every episode is different, there are some subtle links that bring the entire series together—and apparently, they're creepy AF.
'The Curious Creations of Christine McConnell' – October 12
Netflix's latest addition to their plethora of food series is like if Martha Stewart went goth (which I would low-key love to see). Christine McConnell is taking her Insta fame out of the 'Gram and onto the laptop screen with her own baking show. Known for her creepy cakes and f*cking terrifying photos, the author of Deceptive Desserts shows us all what she does best: making treats that look too scary to eat. That's one way to trick yourself into a diet.
'Haunted' – October 19
Have you ever seen a ghost? And before you try me, no, bugging out when you're high and seeing your dead dog doesn't count. This series is about everyday humans experiencing paranormal or supernatural events that still haunt them. Brought to you by the executive producers of The Purge franchise and Lore, this series is sure to make you overanalyze every movement of the wind and flicker of the lights.
'The Shining' – October 1
Creepy twins, sketchy hotels, and metaphors—oh my! 'The Shining' is a classic sh*t-your-pants horror film, but IDK what's scarier about this movie: the ax murderer or the film students who analyze every breath Jack Nicholson takes. You decide. If you haven't seen this movie, it's based on Stephen King's 1977 novel of the same title and is probably one of the creepiest films in existence. Would recommend watching this with friends, and then, probably having them guard your bathroom door while you shower.

'Malevolent' – October 5
A brother-sister duo decides an excellent business plan is to scam people who are grieving by pretending they know how to talk to the dead. This movie is like what would happen if the Long Island Medium turned out to be a fake. Sh*t gets weird when they go for a reading at an orphanage (red flag one) where a murder took place (red flag two). Basically, the ghosts were like "you want to talk with us B*TCH? Well, now you get to. For eternity." But I'm sure it's a lot scarier than that.
'Apostle' – October 12
An ex-priest returns to his long-lost daddy's house to find out that his sister has been kidnapped by a religious cult *gasp*. Turns out, this cult likes to sacrifice people and drill into heads—so some really fun party games here—so obvs ex-priest has to go try and save his sister. The cult is on a remote island, so this movie is for sure full of that type of horror where you scream and no one can hear you. Apparently, this movie is really gory featuring some sh*t swimming, arm cutting, and human meat grinding. Perhaps watch this one on an empty stomach.
'Truth or Dare' – October 3
This isn't your average slumber party. A legit psychopath kidnaps four teens while they're chilling in Mexico to make them play a dark-ass version of truth or dare. Every time a truth or dare presents itself, everyone's faces get super warped and they start to look like a freaky Snapchat filter. There's also a big risk in not doing said tasks—you could die. So the stakes are high, people. The tasks range from breaking someone's hand to coming out to the grand finale: killing people. This whole thing seems like a lose-lose situation.


Do you love scary sh*t like crime, cults, conspiracy theories? We're launching Not Another True Crime podcast on October 1! Follow us on Instagram at @natcpod for details.
Images: Giphy (3); Unsplash/Victoria Heath
We Watched Lala Kent's Movie 'The Row' So You Don't Have To
If you follow any of the stars of Vanderpump Rules on Instagram, you'll notice that Lala Kent's new movie came out. It's called The Row, and was released July 27th on iTunes and very few theaters. I first heard about this movie while listening to a podcast Lala was on. She said they decided to make her the star of the movie halfway through production. Sounds totally legit and not at all like someone dropped out. I'll be honest and say I wasn't expecting this sorority horror movie to be good. I was hoping it would at least be fun (it wasn't). It required the same number of drinks as The Bachelorette to get through, so don't see it in theaters. Be like me and rent it on iTunes with a bottle of vodka nearby. Or just read this recap instead.*
*Obviously, all of this contains spoilers.
The movie opens with some very extra EDM music and strobe light effects interspersed with hot women partying. This both makes me nauseous and sets a very accurate tone for the rest of the movie. Lala, a 28 year-old woman freshman in college, is being dropped off on campus by her muscular bald dad. I Googled her dad to see if he was older than Lala's boyfriend (sorry!) and his name is Randy Couture. You're welcome. Randy Couture turns out to be a detective, and immediately busts a meth lab. The lab is run by exclusively Victoria's Secret models in bras and he kills one. This will have almost no bearing on the rest of the movie.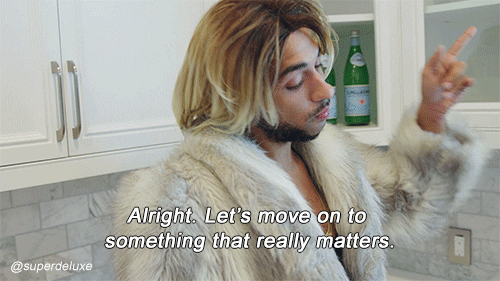 What the slutty meth lab does prepare us for is twofold. 1) Every woman cast in this movie looks like a lingerie model. 2) The women will rarely wear more than lingerie.
Back on campus, Lala's friend talks about how much she likes sleeping with professors. They decide to rush the "Victoria's Secret sorority" (told you this movie had a theme), Lambda Phi, where it turns out Lala's mother was president. Gasp. Lala is shocked, because her mother died when she was a kid and Muscle Dad doesn't open up much. Lala, who has spent the first half hour of this movie wearing knee-length dresses and refusing alcohol, reacts to this news by getting sh*tfaced. In case we forgot this was a horror movie amidst all the underage drinking and lingerie, one of the sorority girls is violently stabbed to death outside in lingerie and a robe.
TBH, I kind of expected this stabbing to have more of an effect on everyone. The police force literally says "this won't be the last," which like…is it not your job to stop it? The Lambda Phi girls take molly "for Isabel" (the dead girl), which makes me very sad for the state of female friendship in this movie. Lala is driven home by a stalker valet who tells her his sister was in Lambda Phi. Another girl is stabbed to death in hot pink lingerie.
Every girl in this movie five seconds before being murdered: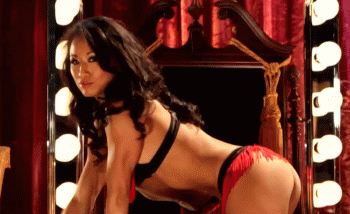 The rest of this movie pretty much drifts away with more of the same. Detective Dad struggles with case-solving and opening up emotionally to his daughter. Valet Guy shows up everywhere Lala goes without her questioning it. The Lambda Phi house mother, who very clearly wants to bang Detective Dad, tells Lala that her mom hazed a girl so badly she killed herself while she was Lambda Phi president. Lala is super upset with Detective Dad for not telling her this, which is very legit but also couldn't she have Googled this information? Two more girls are stabbed in the shower without any significant leads on the murderer. It honestly does not seem like the police are interested in this case.
I won't tell you who the murderer is, because I think that knowledge should be saved for those of us who actually had to suffer through  watch this. I can tell you that there are plenty of suspects, because every guy who hits on Lala in this movie has the facial hair and demeanor of someone who murders for sport. If you're wondering about the acting range Lala displays in the movie, she bounces solidly between "Lala trying not to get in trouble with Lisa" to "Lala drunkenly yelling at a party." She laughs, she cries, she only wears a bikini once—which makes her 600x more clothed than the rest of the female cast—and she manages to refrain from calling her detective dad "Daddy."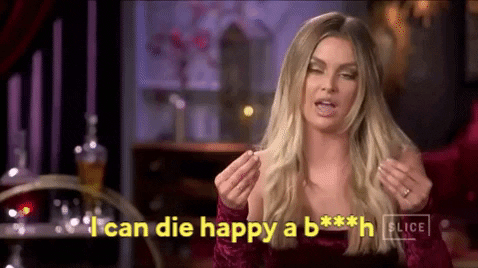 Mostly, this movie is 87 minutes of frat parties interspersed with bodies being hacked up, with lots of gratuitous nudity. If you want a reason to feel bad about your summer body, this movie will do the trick. But while it at least delivers on the promised "hot people partying" premise, the dialogue and soundtrack are honestly so bad that it's not worth blowing a Sunday afternoon on. Lala should maybe stick to reality TV where she can be her hilarious self, not star in someone's first shot at a legit movie after a long career in porn. I'm not saying that describes The Row's director, I'm just saying that's really what it felt like.
Images: Giphy (3)
'American Horror Story' Was Renewed For 2 More Seasons
If your idea of a good time is watching Lady Gaga play herself with a bad accent and/or listening to people murder each other creatively while you cover your eyes, you're in luck. American Horror Story was renewed for two more seasons, which is surprising to exactly no one because as fucked up as AHS always winds up being, it's also the shit. Plus, the ratings are through the roof every season so it's not like it was in danger of getting cancelled.

ICYMI, everyone lost their shit last year when the show's creator, Ryan Murphy, dangled the possibility of a Murder House/Coven crossover season. Well, it turns out he's a fucking tease (and actors' schedules are apparently hard to work around). There aren't any plans for the crossover to happen in 2017, so we still have to wait to watch Jessica Lange and Connie Britton try to out-weird each other on the same screen again.

On the other hand, we're still getting two new seasons of bizarre shit. Also, more shirtless Evan Peters. I guess we can deal.