How To Avoid F*cking Your Ex In Your Childhood Bedroom This Holiday Season
Everyone's back in town for the holidays, and you know what that means: ex sex texts. Exsexts, if you will. But even if you don't receive the preemptive "You gonna be in town?" messages, that's no guarantee you won't end up in the wrong place at the wrong time and then doing the wrong thing, naked (or not), in your childhood bedroom. And it's hard to think of something more wrong than that.
How will you navigate the treacherous Turkey Day time, toeing the line between drinks and dick, bars and bros, nostalgia and NOPE? Don't worry, we've got you covered.
Avoid Your Local Haunts
This may seem like a given, but when you're three rum and cokes deep and your best friend says you should "Drop by the Golden Tee, for old time's sake!", you'll probably forget your old haunt is the graveyard (dive bar) where your ghosts (of partners past) get ghoulish (shitfaced). And it's not Halloween anymore, hun, so stop starring in your own hangout horror show. Unless you think these ghosts are buying—apology appletinis are definitely "of the season."
Change Your Instagram Photo to nEXt with the EX Crossed Out
This will send a clear message and not make it seem like you're considering sleeping with your ex at all, no matter how many apology appletinis he purchases on your behalf. It also doubles as a cute homage to the MTV show your hometown friends will remember fondly and your Chronically Online™ younger friends will pretend they didn't binge watch when they were home sick from school. It will also provide you and your girlies' attitude for the evening: next drink, next bar, next awkward encounter with your best friend's ex, reminding you that everyone is someone's ex.
Only Wear Sky Crocs
Not only will you appear blasé, unconcerned, and unfuckable, you'll be walking on air—literally (metaphorically). If you haven't committed to being 100% undesirable, you can opt for the high-heeled version, but remember: you will be drinking and you will fall down. Just try to make sure you don't fall into your pick-canopied childhood bed with your ex who probably won't have a condom because he "hasn't been excited about anyone since you" and "can pull out without ruining your pink bedspread." Right.
Oh, Boy, What Else… Maybe… Start Your Period?
Doesn't the body have a natural response to shutting down your ex or something? Won't you just start bleeding so you have no choice but to deny your ex the back-in-town booty? Oh, wow, you were on your period last time you were in town and that's where the giant stain on your childhood sheets came from? Because you… oh — you fucked your ex while on your period in your childhood bed. Well, disregard this, then.
Y'know What? Fuck It—Fuck Him
Look, you're an adult. You know the repercussions and if you've been thinking about doing it this much, well, then, why deny yourself? You're rarely in town and it doesn't have to turn into "a thing" if you don't want it to. You've been going to therapy and establishing healthy boundaries in the other sects of your life, why can't you do it here, too, Janelle? Are you afraid it will turn into "a thing"? Or are you more afraid it won't? What do you really want here? Do you want him to take responsibility for his wasted life puttering around your hometown and the way he discarded you for greener pastures, a.k.a., younger pussy, because he hasn't dealt with his traumas and is afraid to delve into the core of his problems and instead regressed into a 24-year-old (literally)? Well, uh… just know he'll probably never change. And he'll probably recognize the stained sheets in your childhood bedroom. So.
This holiday season, enjoy your old stomping grounds, even if you do end up fucking your ex in your childhood bedroom. Hopefully it wasn't as dry as your dad's turkey dinner or as sour as your sister's cranberry sauce.
Images: Boris Jovanovic /Stocksy.com
The Throwback TV Shows With The Messiest Hookups
Anyone who knows me knows that I think Gossip Girl is the holy grail of terrible TV, and in these times, it has brought me a lot of comfort. Seriously, when I'm down and feeling blue because I haven't seen another human being IRL since mid-March, just got laid off, and have been subsisting on DiGiorno for way too long, I think about that episode when everyone found out that Blair boned Nate and Chuck, and even Jenny didn't want anything to do with her. Like, what's a pandemic compared to Blair Waldorf's slow and painful demise in the first season??
Anyway, if it isn't clear, I re-watched the entire series over the course of the last two months and am blown away by the fact that none of the characters are bothered that everyone hooks up with everyone's exes! Like, am I too old-fashioned for not wanting my best friend to f*ck my ex?? This got me thinking: GG definitely isn't the only show whose cast is horny af for each other. So join me in taking a walk down memory lane.
'Gossip Girl'

I obviously had to start with the messiest show of all time. In the first and best season, the couples kind of make sense since the characters are all supposed to be juniors in high school and the writers have lots to work with. Nate and Blair have allegedly been dating for 10 years (which means they started seeing each other when they were six, k) and Dan and Serena start dating. Again, this all seems normal. I stan! But then, the rest of the seasons happen and it is very clear that the writers were just kind of like, "idk whatever."
Without going into too much detail because I have a word limit, I'll just say that pretty much all of the guys in this show are eskimo brothers. Dan and Nate both hook up with Blair, Serena, and Vanessa; Jenny hooks up with Chuck and Nate; and Ivy, a random character who doesn't matter, hooks up with Dan, Nate and Rufus (!!). I'm not necessarily judging because everyone on this show is disturbingly attractive, but still, it's a little crazy. These people are supposed to live in New York City and can't find anyone outside their social circle to hook up with? Unrelated, but after season four, everyone just stopped going to college and no one acknowledges it.
'Friends'

There is definitely some cross-contamination here even though it's more subtle than that of GG. On a show with 10 seasons, it's easy to forget who hooks up with whom, but luckily, I remember. Obviously, the two main couples are Ross and Rachel and Chandler and Monica, but there's some overlap I haven't forgotten about. Yes, I'm talking about Rachel hooking up with Joey. Let's not forget that Phoebe also kissed Joey, although they never ended up together, even though Joey did propose. I'm also convinced that Monica and Chandler only got together because the writers didn't feel like bringing in a new character crazy enough to date either of them.
There obv aren't so many inter-cast relationships on Friends as there are on Gossip Girl, but there are def a few instances of the Friends dating the same people. For instance, Joey and Ross both dated the hot science lady, Charlie, and Joey and Chandler both dated Kathy. Ugh, come on, you guys!
'Desperate Housewives'

I truly believe this was one of the best shows literally ever. If you haven't watched it because you were too young to understand what was happening when it was on TV, give it a watch now. It's on Hulu. Anyway, as its name implies, the main characters are all married, but there is one singleton who I absolutely live for. Edie Brit is the Samantha Jones of Desperate Housewives, and she has loves to f*ck her friends' ex-husbands. Is it just me or does that sound like an intro on a Bravo show? She dates Gabby's ex, two of Susan's exes, and makes out with Bree's ex. Yikes! Even though I love Edie as much as I love this show, which is a lot, I always thought that plot line was kind of weird and pointless.
'Girls'

There were two really weird love triangles in this dumpster fire of a show: Adam/Jessa/Hannah and Ray/Marnie/Shoshanna. First of all, the whole premise of Girls is that, at least for a little while, they're all bound by their strong female bond, so why are they all so quick to date each other's boyfriends? Also, I'm confused why two gorgeous, cool, impressive women are both so into Old Man Ray. We'll never know.
'One Tree Hill'

Unlike my experience with Gossip Girl, I watched this show when it was on television and have not thought about it since, so my knowledge of inconspicuous details is pretty unimpressive. However, one thing I'll never forget about this iconic mess is the love triangles. First we have Lucas/Peyton/Brooke then we have Nate/Peyton/Brooke. Uhhhhhh. Brooke and Peyton are the Blair and Serena of the early 2000s, so I guess it makes sense that they're both down to hook up with each other's boyfriends. The Nathan/Brooke situation was never super serious, but Lucas and Peyton got married! After she seriously dated Nathan! What! Does that make them the Dan and Serena of this show?
What did I miss? Are there any other shows where the cast loves to bang each other? Let me know in the comments!
Images: Everett Collection / Shutterstock.com; Giphy (5)
Hookup Horror Story: His Dirty Talk Felt Murdery
Another week. Another hookup horror story. Hookup culture, for all of its pitfalls, makes up for it by providing hilarious meet-not-cutes like no other cultural phenomenon can. This is especially true for collegiate hookup culture. Something about the sultry mix of frat-level hubris and a sh*t ton of alcohol makes for a cocktail rich in awkward encounters and cringey moments. U Up's latest awkward sexual encounter is a testament to this, and we broke it down for you.  
Dear J&J, Thanks for doing the Lord's work, I've shared the podcast with all my friends and am bringing a huge crowd to your live show in Dallas. A few months ago I had a hilarious sexual experience and thought I should share. I had been hooking up on and off with this guy throughout college—just sex, as I knew he was slightly unhinged.
I'm sorry, unhinged?? I understand making an exception in the name of getting laid. He talks too much? Step up the tongue action. He has a lazy eye? Keep your eyes shut. But if your list of potential "exceptions" includes f*cking the occasional psychopath, I think it's time to reevaluate your hookup standards. 
My senior year I lived in the sorority house and had it on the bucket list to sneak a guy in. I invited him over and he showed up very drunk while I was sober. We start hooking up and I asked if he had a condom and he said no so I told him we couldn't have sex.  
Stay safe, kiddos.
He started freaking out and screaming "f*ck f*ck f*ck" so loud i was worried he was going to wake the house mother. 
If the house mother is only a feature in your awkward hookup, and not the main event, you know you've got one hell of a story. Greek life is one of those strange institutions that manages to supply you with lots of booze and raunch during your university days, while also making you feel like a high schooler, only with a Mom who is extremely strict and culturally stuck in the 1940s.
To calm him down I told him we could hook up another night this week. He then told me that he was going to "f*ck me until the cows come home" and make me "come so hard he would kill me" he then kept repeating that, saying "I'm gonna kill you Sunday" "I'm gonna kill you Sunday." 
Alright, this guy must be Bachelor-level hot. Nothing makes the entitlement of frat guys clearer when it comes to sex like extremely weird dirty talk and low-key murder threats. Either this guy is a lit major who got a little overzealous with the word play, or lines like this have worked in the past. If it is the former, he clearly needs to work on his transitions, as cows and homicide don't exactly pair well together. If it is the latter, it is time for us betches to band together and makes sure this behavior does not go rewarded in the future.
He then asked me if we could do "crazy kinky shit" even if we couldn't have sex and asked me repeatedly to have anal, which we've never done.
You do not mention cows in one sentence, then f*cking me in the ass in the next. No. Absolutely not. 
I drove him home after that so that I could get him out of the house before he caused more of a scene. In the car, he started trying to finger me while driving and said "i could totally make you crash this car right now" and when I pushed him away he started screaming "f*ck f*ck f*ck" and banging his head against my dashboard so hard I thought he might deploy the airbags.
Well, at the very least he's consistent. That said, he really needs to reevaluate his standards if crashing a car is somehow a sexual victory. If his affinity for weird pickup lines doesn't keep him from getting laid in the future, hopefully the massive bruise on his head after BANGING IT ON THE WINDOW (?!?!) will. 
I finally got him out of the car and had a story for the ages. Let me know what you would call this!  
While part of me (most of me) thinks you should really elevate your standards (aka stop f*cking Crazy Chad), the other part of me is grateful for your service. If this girl is willing to satisfy the sexual cravings of the world's crazies, I'd say she's the one doing the Lord's work here.  
How do you feel about banging the occasional crazy? Hear Jared and Jordana's thoughts on the U Up? podcast below.
3 Ways Weed Has Improved My Sex Life
Here's a very millennial humble-brag you probably haven't heard before. While the idea of having sex without alcohol was once unthinkable, I now don't like drunk sex much at all—but think high sex is completely incredible. In college (and I know I'm not alone in this), sober sex just never really happened. Being drunk nearly constantly didn't help, but sex seemed like something you could only unlock after getting drunk and brave enough to meet up with someone. It was a way to pull back from the experience and be less aware of what was going on. I know this all sounds a little tragic, but hey—not all of us had fairytale romance in college. I had fun, I'm fine, and I currently have a very different approach to sex.
Weed, for me, works in the exact opposite way from alcohol. It makes me more present, and more aware of my body and my partner (such a hippie, I know). You don't necessarily want to get super baked, but a decent THC buzz could take your next sexual experience from meh to lying in bed for hours thinking about how good it was (while furiously ordering Postmates, le duh). Note that I'm only speaking from experience here. If you want a more scientific rundown of how THC and CBD can affect your body, try this one from Allure. Here are some ways I've (personally) found that weed can improve sex.
Me telling my boyfriend I want sex: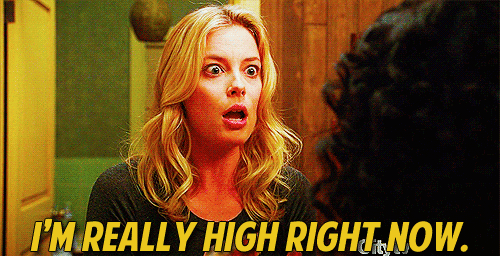 Disclaimer: If you know you don't like weed, this article is not a suggestion that you try it anyway. In fact, if you don't like weed, then I actively recommend that you avoid it—especially in a sexual situation. This should be a mandatory inclusion with every piece of internet advice, but it's way too rarely said: Just because something works for me doesn't mean it will work for you.
Weed Tames Anxiety
Once again for the people in the back: if you know that weed, in fact, heightens your anxiety, get out of this article. Just go. Now, allow me to paint a picture for my remaining stoner friends. You know the feeling that sets in when you take a couple hits after a stressful day? How all the sh*t stressing you out a minute ago now seems way more manageable? Yeah, whatever strain of weed gives you that blissful, chilled-out head high, that's what you'll want to smoke before sex. And that's doubly true if you struggle with anxiety.
Now that I'm in my 20s, I feel stressed out for 95% of every day. The possibilities for anxiety are endless: if it's not a work problem, then something at my apartment is falling apart or I haven't done laundry in three weeks or my diet is a disaster—you get it. It can be really hard to get that running list out of my head when I'm trying to relax and enjoy some much-needed stress relief (my euphemism for sex). I've literally called off sex mid-session because I couldn't stop thinking about whether I'd paid my credit card bill. When I get a little high before sex, I don't have that problem.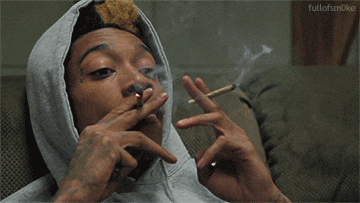 So carefree.
Weed Heightens Your Senses
This goes back to what I was saying about weed making me more aware of my body. The only time I get a comparable bodily feeling is when I'm doing yoga—and like, actually focusing on the breath and my body the way I'm meant to, not just zoning out and copying the people around me. Weed makes me realize how little I typically focus on the moment, and reminds me to appreciate how f*cking fun touching each other can and should be.
I also find that the heightened sensation makes me clearer on what exactly I'm in the mood for, and how I want to be touched in that moment. It's always a great sign when the person you're having sex with checks in to make sure they're getting you off, but sometimes I totally choke up when faced with a "is this ok?" or "do you like this?" I've squeaked out "yeah, fine" a few times before I'd even really thought about it. When I'm high, I know exactly how much I like the way I'm being touched, and find myself asking for it if I want something different.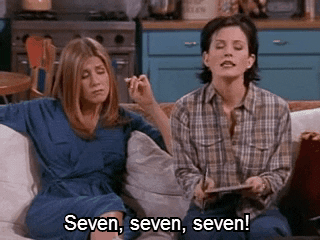 Look at Monica. She knows exactly what she wants.
Weed Makes You More Confident
Again, I speak only for myself. I know many people who enjoy the physical effects of weed, but become decidedly more timid after smoking. For me, (some) weed works a tiny bit in the way I used to use alcohol. It's a way of lowering inhibitions, and making me feel more free to speak my mind. This is definitely linked to the reduced anxiety, but it's more than that—I like the way my brain works when I'm high, and feel less insecure that something I want to say is stupid or boring. I'm less judgmental, and I don't expect the worst from other people. All of this makes it way easier to interact, open up, and enjoy the moment.
How does this translate to sex, you might ask? Well, it makes me feel hotter, for one (doesn't confidence always?), and it makes me feel more adventurous. Both are solid qualities to have during sex. And while being more aware of my body isn't always a good thing for me (like when I'm obsessing over what I look like from certain angles), it is a good thing if I'm also Lizzo-level confident in my mind while experiencing that awareness. Lowered anxiety + heightened sensation + extreme confidence = ideal sex combo. Thank you, weed!
Me, high and ready to go: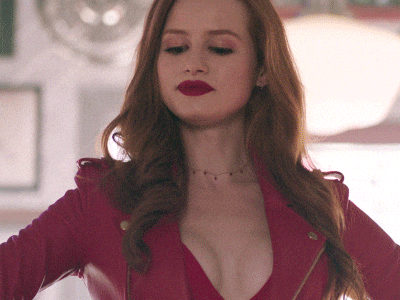 Now, go forth and toke up, my good readers. Now that it's summer, I suggest taking bong rips in an ice cold air-conditioned bedroom, or (for the adventurous, and non-city dwellers) bringing a blanket and a joint to a secluded patch of nature. And if you need something to carry your weed in, we got you.
Images: Giphy(4)
5 Tips To Have Shower Sex Without Ending Up In The ER
Shower sex can seem like a good idea, and if done right, it can be. It's hot and steamy (thank you, hot water), and no mess to clean up. But if you aren't careful, it can be v dangerous. Slippery surfaces, major height differences, and soap in unmentionable places can lead to sprained ankles, broken penises, and UTIs. Ow. But there is hope if shower sex if your ideal place to get down and dirty clean. Here are some useful tips to have shower sex and avoid ending up in the ER.
1. Buy Support
Shower sex calls for much-needed support. Thankful for us, the internet is a miraculous place and there are tons of products made to lend a helping hand. Like these bars to install in your shower or this step that is advertised as a way to help you shave your legs, but we all know why it was made. Don't get too ambitious and try to do this with no help.

2. Use Non-Water Based Lube
Most lube is water-base,d which means it'll wash away while you're in the shower, along with your natural lubricant. Normally that's nice, but obviously you have different needs here. Luckily, there are tons of silicone-based lubes, so you can avoid the awkward, painful bumping and grinding. Stay away from using soap as lube, because it may work in the moment but will definitely burn your vajay later (and put you at greater risk for a UTI).
3. Choose Your Position Wisely
If your V lines up with his P while standing, consider yourselves the lucky ones. Simply wrapping a leg around his back will work well. If you're shorter, and he's stronger, he could pick you up while you go at it. If neither of these work, face down, booty up, TIMBER, turn around and back it up. Just don't try some of those weird af positions. The shower is not the place to experiment with crazy positions. That is how you land up with a broken ankle, or worse.

4. Use Backup Contraceptive
The age-old rule is "Wrap it before you tap it" or as my dad says, "Always wear a raincoat." But the hot shower water can actually make the condom more likely to possibly break and be less effective. I'm not saying you should forgo using one, but have a second method in place, like birth control pills or an IUD. We're all here to have fun, and you don't want to regret it.
5. Use Some Friction (In The Right Places)
I definitely don't mean penis-vagina friction, because that hurts and can cause tears down there. Ouch. Having a non-slip bathtub mat is crucial for shower sex. It will prevent you from slipping while you are *possibly* standing on one leg or in some funky position. Avoid the awkward encounter at the ER by spending $10 now, I promise it's worth it.

And if all else fails, don't beat yourself up about it. Shower sex may not be for everyone so leave the shower for cleaning and stick to dry land for your fun.
Images: Shutterstock; Giphy (3)
3 Signs His Female Friend Is Sabotaging Your Relationship
I can already anticipate all the backlash to this article (I announce to my three readers). People of different genders can be friends without being attracted to each other, When Harry Met Sally set us all back decades, blah blah blah. Ideologically, I want to and kind of do believe all that. But I was also single for basically the entirety of college, better known as the four horniest years of everyone's life. So, I can tell you with complete confidence that single women competing for male attention are among the most vicious, scheming creatures on this earth. If you are a heterosexual woman in your twenties, it's pretty much guaranteed that you have at some point toed the line of acceptable behavior with a guy in a relationship. Similarly, you've likely felt threatened by a female friend who you suspected would rather see your relationship fall apart.
Then again—purely statistically speaking, definitely not from experience—you've probably also ruined, or at least damaged a relationship by being a jealous psycho when nothing was going on. So, from my vast experience, here are the three signs to let you know that a female friend is actually something to worry about. Read on before sending your 50th passive-aggressive text about Karen from work.
1. She Pretends You Don't Exist
This seems like an obvious one, but you'd be shocked how many well-meaning boyfriends pretend not to notice don't notice it. Typically, I allow my close friends to go on five dates MAX before I start angling to meet whoever they're dating. If your boyfriend has a close female friend who shows zero interest in getting to know you, that probably means she's busy pretending you don't exist—and encouraging him to do the same. By never asking to meet you, your boyfriend's "friend" is, at best, undermining your importance in your boyfriend's life and subtly implying that you won't stick around long enough to be worth meeting. At worst, she's implying that it would somehow be awkward or unthinkable for her to meet you—after all, you wouldn't introduce one girlfriend to the other, right?
Since you can't exactly tell what's going on in her head, here are a few warning signs. If she exclusively invites your boyfriend to hang out one-on-one at bars, date-y restaurants, or activities she knows you're not into, not great. If he has to ask if he can bring you whenever she invites him to a party, not great. And if, when you arrive at a party with him, she pretends you're not there while treating your boyfriend like they're the only two people in the room all night, really really not f*cking great. Finally, if you go out of your way to be friendly to her—DESPITE ALL THIS—and she barely acknowledges you? That's when you walk out.
Basically, if she's trying to will you out of existence so she can keep pretending she has your boyfriend all to herself, you have a problem. And if your boyfriend lets her get away with this, you have a sh*tty boyfriend.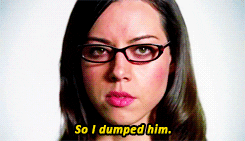 2. She Touches Him—Like, A Lot
I am not a total psycho. (Well, I kind of am, but that's not pertinent here.) I understand that friends make physical contact, and I am not suggesting you burn all your boyfriend's possessions every time you see him give someone a hug. That being said, if you're reading this article, I assume you have at some point flirted with a man. You know what friendly touching looks like, and you know what flirty touching looks like.
When it comes to this particular issue, I really encourage you to trust your gut. When I was 17, I spent months watching my best friend "playfully" hit my boyfriend's chest whenever he made a joke. I was told by everyone I knew to "calm down," and they were just friends. Even the friend in question just pulled the excuse that she "expressed herself physically." Lo and behold, six months later I find out they've been having secret sleepovers. So no, you can't exactly require that your boyfriend abstains from any physical contact with other human beings. But if you're watching someone touch your boyfriend in a way that makes you feel sick, pay attention to that feeling.

3. She Sends Him Emotional Drunk Texts
Again, I understand that friends are there to offer each other emotional support. If she tells him intimate things or goes to him for support after a breakup, that's not necessarily a red flag. But if she texts him highly affectionate or deeply personal things when her inhibitions are lowered (aka she's drunk AF), it may be a clue into what she wishes their relationship was like. And obviously, if she texts him anything along the lines of "come over," you need to have a serious conversation about boundaries.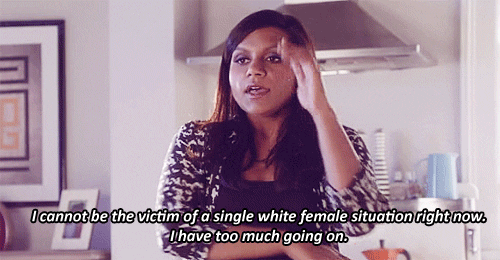 I'm not going to lie—this was a tough article for me to write. Like, had-to-take-a-walk-around-the-block-and-ward-off-a-full-scale-panic-attack tough. I've been cheated on, and I've also been the other woman (I think—they didn't mention their girlfriend for the weeks/months we spoke, but it later sure seemed like a girlfriend existed). So while I really do trust my boyfriend, I've seen firsthand how a seemingly happy relationship can be sabotaged from the outside. Is it usually a sign of an underlying problem? Sure. But even if it doesn't go to the point of cheating—if there's just another woman in his life who consistently forces your boyfriend to choose between her comfort and yours—it can make the strongest relationship feel shaky.
So, if your boyfriend has a female friend who exhibits the above behaviors, I encourage you to talk it out. No ultimatums, no screaming I WILL CUT THAT B*TCH (just me?). An honest conversation about what would make you feel better, and whether those are steps he's willing to take. If he refuses to even entertain the conversation, or—*gasp*—calls you crazy, then it's time to consider how much of the problematic dynamic is actually being caused by your boyfriend.
Images: Giphy (4); Parker Whitson/Unsplash
5 Signs You're Just A Hookup
Unless you're still dating your high school boyfriend like seven years later (congrats, weirdo), you've def come across a guy at some point and wondered, "is he actually into me or am I just a hookup?" It's something that you should figure out, specifically if you're emotionally unstable and afraid of rejection. Though I'm sure it's baffling that everyone isn't in love with you, men are, as a rule, idiots.
Once upon a time, I was an absolute moron and basically thought that if I started talking to a guy I'd eventually date him. That's when I stumbled upon the Betches dating book, I Had A Nice Time And Other Lies, one day and got a clue. This isn't even #sponsored, it's just how I found my way to this website. But also buy their new book because it's equally brilliant. K sorry I'll stop fangirling.

Anyway, you don't want to be a dumbass by focusing on a single guy and refusing to talk to other potentially even hotter guys just because you're convinced that you're going to start dating and you don't want to ruin it. That's stupid for so many reasons. Basically, here are all the signs you're just a hookup that I wish I had always known. These have been gathered from my friends and my own idiocy. I also polled some of my guy friends so you could get the ~inside scoop~.
Hopefully, you already know the obvious. If he only texts you at 2am, he doesn't want to date you. But boys, despite being complete buffoons to girls, are tbh a little sneaky sometimes. So without further ado, here are some slightly less obvious signs you're just a hookup and he's not that into you, sorry bb.
1. You've Never Seen Him Consume Anything But Alcohol
Either he's secretly a vampire (cue a Vampire Diaries marathon) or he doesn't want to waste money buying you food when he can just buy you shots in a few hours when you meet up at a bar. "Oh yeah, we'll get dinner next time but come to Kell's tonight!" Don't fall for that.
2. He Takes Forever To Reply
He takes a day to text you back, and when he does, his texts makes no sense, he doesn't answer any of your questions, he OBNRs your Snapchat (if you're, like, under 21 this is especially important), etc. it's one of the surefire signs you're just a hookup. If he replies with, "Oh sorry just saw this" or "Was slammed this week with work," you should call BS and move on. Three different guys I polled were like, "we're always lying when we say this," sooo consider it a line.

3. He Doesn't Take You To Brunch The Next Morning
Just because he let you sleep over does not mean he's necessarily into you. Like, okay, he didn't shove you out of bed at 4am. So, he's… a semi-decent human being? I wouldn't go announcing your impending nuptials. Ask yourself a few more questions: Did you wake up wedged between the mattress and the wall with no covers? Did he mutter something about how the door locks and run off to "use the bathroom" so you can change and leave ASAP? Did he promise to text you later even though you haven't even exchanged numbers? If you answer yes to any of these questions, ding ding ding (!!) he's an asshole, and he's probs not into you.
If, however, he offers to take you out for brunch, or even just a casual coffee at Philz, then things are looking up. At the very least, he better text you after hooking up.
4. He Doesn't Talk With You About Substantial Things
Do you know anything about his life? Like, does he have a little sister? Have a favorite food? Know when his next midterm is? And more importantly, does he know anything about you? Does he remember your birthday? Or like, I don't know, if you have a huge presentation for work? Basically, if he knows details about you, that means he cares enough to remember boring sh*t about your life. If he only remembers to text you Saturday night because ~suddenly~ he wants to know "what's up" then leave him on read.

5. He's Rude In Person
Either he's supremely awkward (in which case, ew byeeeeee) or he just doesn't want to talk to you. Sure, it's immature to be standing eight inches away from someone and not say hi, but really, you can't expect much from 22-year-olds who still think they're in a frat. Anyway, if he looks away when you walk by or mutters "hey" before walking off in the other direction aggressively "texting" then yeah, he's not interested.
Even though it may suck to realize that your future husband potential boyfriend person of interest isn't actually, um, interested in you, it's a healthy thing to realize. You really don't want to waste time and brain space on a guy that's not good enough for you anyway when you could be finding someone else instead or bingeing all the Netflix romcoms ever created, because tbh that sounds more fun.

Images: Giphy (4)
The Golden Rules Of Hooking Up At A Wedding
When it comes to attending weddings single, you have two options: You can either pout at the single table and get hammered alone, or you can put yourself out there and have an amazing time with a really hot stranger. (Moment of silence for how Carrie Bradshaw-esque that just sounded. Ew.) Anyway, while hooking up with another single wedding guest is probably the best case scenario (you bought a fucking toaster and paid to have your hair blown out, you deserve to get laid), there are a few rules regarding wedding hookups you should follow to avoid total disaster. Here's how to hookup at a wedding without accidentally ruining anyone's life. 
1. Stay Out Of Plain Sight
While you totally have the right to the pursuit of a good time and wedding hookups, keep in mind that this is someone's most important day of their life. It'd be kind of a vibe killer if the bride's great aunt Agnes caught you acting nasty with one of the groomsmen in a coat closet. Make sure that there are no chances of someone old AF walking in on you and having, like, a heart attack or something.

2. Don't Kill The Dance Floor Vibes
You are not Snooki, this is not MTV, and you do not need to be Jersey Turnpiking on the groom's college roommate on the dance floor. By all means, have a shit ton of fun dancing all night long, but don't make it gross just to get the attention of a dude you want to hookup with. *Drake voice* This a place for families! Who drive Camrys! And go to Disney!

3. Pack A Few Makeup Necessities
Obviously, I'm not saying you need to bring, like, your Huda Beauty highlighter palette, but you might want to throw some blotting papers in your clutch or something. At a heavily photographed event, you probably don't want to be galavanting around with smudged lipstick or runny eyeliner. And hey, even if there are no wedding hookups to be had, you can use your supply kit to fix your makeup after going fucking HAM at the dessert table. Win-win.

4. Maybe Ditch Your Spanx And Chicken Cutlets
Weddings are one occasion where you're probably fully strapped with every optical illusion-creating, red carpet-ready product available. Between Spanx, chicken cutlets, and whatever random objects you have taped to your body to create the best version of yourself, you have, like, a million hookup disasters waiting to happen. I'm definitely not suggesting you do anything drastic like diet or workout so you can look good in a cocktail dress. I'm just saying maybe, like, sprint into the bathroom and pull off your Spanx so the rando you've chosen doesn't have to watch you drunkenly struggle with them later.

5. Make Sure You're Not Related
Okay, so. You have your cousins, and then you have your first cousins, and then you have your second cousins. That's not right. Is it? It's pretty gross that I even have to mention this, but if you happen to have a really huge family, it probably doesn't hurt to slip into the lobby and do a quick Facebook creep to make sure you're in the clear. I know this piece of advice is borderline hillbilly, but you're better safe than sorry.

6. When It Comes To The Wedding Party, Proceed With Caution
If you're a bridesmaid, maybe don't decide to hookup with a groomsman after the rehearsal dinner when you have bridesmaid duties all the way until the end of the farewell brunch. If it happens, it happens, but I'm just trying to save you from any unnecessarily awkward moments. Plus, you've already made it through the nightmare that was the planning process. Don't throw away months of dealing with shared Pinterest boards with a smile only to piss off Bridezilla on her wedding weekend.

7. Don't Be A Stage-Five Clinger
Sure, there are probably a million made-for-TV romantic comedies about people meeting at a wedding, but let's be realistic here. Casual wedding hookups are probably not the best way to meet your soulmate. Sorry. I cannot think of a more tragic scenario than ruining a perfectly executed wedding hookup by doing something insane like trying really hard to catch the bouquet in front of him moments later. Do yourself a favor and leave your crazy eyes at home for once.

Images: Giphy (7)