The Throwback TV Shows With The Messiest Hookups
Anyone who knows me knows that I think Gossip Girl is the holy grail of terrible TV, and in these times, it has brought me a lot of comfort. Seriously, when I'm down and feeling blue because I haven't seen another human being IRL since mid-March, just got laid off, and have been subsisting on DiGiorno for way too long, I think about that episode when everyone found out that Blair boned Nate and Chuck, and even Jenny didn't want anything to do with her. Like, what's a pandemic compared to Blair Waldorf's slow and painful demise in the first season??
Anyway, if it isn't clear, I re-watched the entire series over the course of the last two months and am blown away by the fact that none of the characters are bothered that everyone hooks up with everyone's exes! Like, am I too old-fashioned for not wanting my best friend to f*ck my ex?? This got me thinking: GG definitely isn't the only show whose cast is horny af for each other. So join me in taking a walk down memory lane.
'Gossip Girl'

I obviously had to start with the messiest show of all time. In the first and best season, the couples kind of make sense since the characters are all supposed to be juniors in high school and the writers have lots to work with. Nate and Blair have allegedly been dating for 10 years (which means they started seeing each other when they were six, k) and Dan and Serena start dating. Again, this all seems normal. I stan! But then, the rest of the seasons happen and it is very clear that the writers were just kind of like, "idk whatever."
Without going into too much detail because I have a word limit, I'll just say that pretty much all of the guys in this show are eskimo brothers. Dan and Nate both hook up with Blair, Serena, and Vanessa; Jenny hooks up with Chuck and Nate; and Ivy, a random character who doesn't matter, hooks up with Dan, Nate and Rufus (!!). I'm not necessarily judging because everyone on this show is disturbingly attractive, but still, it's a little crazy. These people are supposed to live in New York City and can't find anyone outside their social circle to hook up with? Unrelated, but after season four, everyone just stopped going to college and no one acknowledges it.
'Friends'

There is definitely some cross-contamination here even though it's more subtle than that of GG. On a show with 10 seasons, it's easy to forget who hooks up with whom, but luckily, I remember. Obviously, the two main couples are Ross and Rachel and Chandler and Monica, but there's some overlap I haven't forgotten about. Yes, I'm talking about Rachel hooking up with Joey. Let's not forget that Phoebe also kissed Joey, although they never ended up together, even though Joey did propose. I'm also convinced that Monica and Chandler only got together because the writers didn't feel like bringing in a new character crazy enough to date either of them.
There obv aren't so many inter-cast relationships on Friends as there are on Gossip Girl, but there are def a few instances of the Friends dating the same people. For instance, Joey and Ross both dated the hot science lady, Charlie, and Joey and Chandler both dated Kathy. Ugh, come on, you guys!
'Desperate Housewives'

I truly believe this was one of the best shows literally ever. If you haven't watched it because you were too young to understand what was happening when it was on TV, give it a watch now. It's on Hulu. Anyway, as its name implies, the main characters are all married, but there is one singleton who I absolutely live for. Edie Brit is the Samantha Jones of Desperate Housewives, and she has loves to f*ck her friends' ex-husbands. Is it just me or does that sound like an intro on a Bravo show? She dates Gabby's ex, two of Susan's exes, and makes out with Bree's ex. Yikes! Even though I love Edie as much as I love this show, which is a lot, I always thought that plot line was kind of weird and pointless.
'Girls'

There were two really weird love triangles in this dumpster fire of a show: Adam/Jessa/Hannah and Ray/Marnie/Shoshanna. First of all, the whole premise of Girls is that, at least for a little while, they're all bound by their strong female bond, so why are they all so quick to date each other's boyfriends? Also, I'm confused why two gorgeous, cool, impressive women are both so into Old Man Ray. We'll never know.
'One Tree Hill'

Unlike my experience with Gossip Girl, I watched this show when it was on television and have not thought about it since, so my knowledge of inconspicuous details is pretty unimpressive. However, one thing I'll never forget about this iconic mess is the love triangles. First we have Lucas/Peyton/Brooke then we have Nate/Peyton/Brooke. Uhhhhhh. Brooke and Peyton are the Blair and Serena of the early 2000s, so I guess it makes sense that they're both down to hook up with each other's boyfriends. The Nathan/Brooke situation was never super serious, but Lucas and Peyton got married! After she seriously dated Nathan! What! Does that make them the Dan and Serena of this show?
What did I miss? Are there any other shows where the cast loves to bang each other? Let me know in the comments!
Images: Everett Collection / Shutterstock.com; Giphy (5)
I Tried 'Cosmo's Sandwich Bag Sex Tip & Lived To Tell The Tale
I live for a good headline, so it should come as a surprise to no one that I clicked a story titled, "5 Positions to Use With Homemade Sex Toys". Just to be clear, I didn't click and read this entire article on, you guessed it, Cosmopolitan, because I am trying to break into the DIY sex toy industry, but rather because I had a rough morning and needed a good LOL. This article definitely worked. 
As the guy I'm seeing continuously reminds me, I'm no sex savant, but after reading a few articles on this ridiculous publication that somehow still exists, I have to say, neither are Cosmo's writers. I didn't read the story with the intention of picking apart every little thing because I just don't have that kind of time, but before I get into it, I would just like to destroy the title real quick. There is never a need to make your own sex toys or vibrators. If you're traveling and forgot to pack one, an electric toothbrush is not the answer. I read this article with no intention of trying out any of these, but after reading the very persuasive dek ("These sex positions you can—and should—do RTFN."), I decided they were right: I should do one of these right the f*ck now! 
So I did number one and it was horrible. In other news, the pope is Catholic. I first read this "tip" in our article on terrible sex advice when you're home for the holidays, and decided I had to try this out for myself to try to figure out what kind of deranged person would think this was a good idea. Here is what Cosmo wanted me and this poor guy who didn't know what he was getting himself into to do: 
If you are staying at someone's house over the holidays and need to avoid certain seminal evidence, make the easiest masturbator ever by filling a plastic sandwich bag with lube. Put a sock around it for a better grip and stroke up and down your partner's penis while they rub you. Afterward, seal it up then hide the living hell out of that baggie.

First of all, I'm starting a petition to have the phrase "seminal evidence" deleted from the English language. Secondly, isn't the "easiest masturbator ever," like, your hand? Third, and perhaps most important, this is just jerking someone off with a lot of unnecessary equipment, and it doesn't seem like I get anything out of it. If all he has to do is touch my clit using what he normally uses (his hand), why do I need a makeshift condom and a f*cking sock to get him off?
Lastly, if he's finishing in the sandwich bag (which I'm instructed to hide instead of throw away????), are we not having sex after? This weird rubbing is the whole show? Honestly, not that I ever think about this, but if I did, I imagine this is how Pete Buttigieg prefers to be jacked off. It's so weird and too sterile to be enjoyed by anyone else. 
Anyway, for the sake of journalism, I put my woes aside and spent the money I was planning on using for dinner on $27 lube and plastic baggies. Here we go, folks.
To set the scene, he was laying on his back propped up against all 72 of my pillows and I was sitting on my knees facing him. I know this sounds really awkward, and, don't worry, it sure was, but this was the only way to do it without getting lube everywhere, which would have been decidedly more uncomfortable. Now, I was off to an awkward start because I haven't actually given a hand job since high school, I think, and kind of forgot what to do. He was laying there looking like he'd rather claw his own throat out than let me put his dick in a lube-filled baggie, but because he's an angel, I guess, he let me get a few strokes in before we officially agreed this was f*cking awful.
Honestly, this wouldn't have been so bad if I could have muted the baggie, which sounded like unwrapping one of those butterscotch candies at your grandma's house. My guy didn't seem to mind the crinkly sound, but I did, so I tried to cover it up by rambling complete nonsense. Turns out that kinda kills the mood!
As far as the the sock, we didn't use one because we didn't see the point unless we were using a barre sock with grips on the bottom. Wouldn't a very smooth sock against a very smooth baggie make you lose your grip as opposed to making  it better? 
Anyway, even though I sincerely tried to make this a good experience for him, there was something violently unappealing about stroking someone's dick that's both drenched in lube and wrapped in a f*cking ziploc bag that made me want to call the whole thing off. For the record, he didn't hate it as much as I thought he would, but I just couldn't get past the fact that there was a plastic bag between my hand and his dick. 

As for the rubbing me part, there were approximately zero angles to even try this without lube getting everywhere. So after what felt like 800 years, we finally called it. Even though he was the only one getting ~pleasure~ out of this, I still wanted to thank him for agreeing to let me ruin sex for him drain our dignity together, so I gave him a blowjob, which, if you can believe it, is even better than a baggie for disposing of "seminal evidence." Should I become a sex writer?
If I don't win a Pulitzer for journalism after this, I quit. I did learn one valuable lesson, though, and that is: lube is low-key an important substance to have handy. Just for sh*ts and gigs the next morning, we put some of this on before sex and it was quite possibly the best sex I've ever had. He also definitely enjoyed me putting it on beforehand (probably because no baggies were involved), so maybe Cosmo should write about that instead of instructing women to suck on a f*cking ice cube seconds before going down on someone? Just a thought. 
Images: Yifan Zhang / Unsplash; Giphy (2)
Here Is All The Evidence That Jordyn Woods And Tristan Thompson Hooked Up
As most Americans with a working Internet connection know by now, Tristan Thompson and Jordyn Woods are currently set up to be the most hated people in America. Khloé Kardashian reportedly dumped Tristan Thompson last night—not, y'know, because he cheated on her days before she gave birth. It's because he cheated on her once again—this time, with Kylie's BFF Jordyn Woods. Apparently, Thompson flew into town for Valentine's Day (aw), but then spent Sunday at a house party "snuggled up" with Jordyn. TMZ reported they were "all over each other" and "making out," (TBH, grateful we at least don't have to hear about Thompson "making out, grabbing junk, motorboating" again. As I'm sure Khloe is too.)
Look, no matter what happened, I'm sure we can all agree that Khloé should dump Tristan's ass once and for all. But given how close Jordyn is to the family (remember that recent series of her and Kylie in blackface matching bikinis?), I'm obviously very excited concerned to see what kind of rifts this incident could cause. Here's what the Internet has to say so far, and all the hints we've gathered that the cheating rumors are true.
First off, Tristan apparently tweeted "FAKE NEWS" following the incident—then deleted it.
While many of us might take that as confirmation the reports are false, if we've learned anything from James Kennedy (or Trump, for that matter), when someone calls something "fake news", that means it's incredibly likely to be real news, and furthermore, that there's probably proof of it. (Otherwise why would his publicist demand he take down the tweet? Famous men have lied their way through worse…)
Confounding this "did Jordyn Woods hook up with Tristan Thompson" sh*tstorm is this recent Instagram from Jordan, but more importantly, this comment by Khloé.

This photo was uploaded two days ago, after the alleged cheating would have occurred, and still Khloé commented "baby girl". If Jordyn did hook up with Tristan, would Khloé really be commenting cute things on her Instagrams? Then again, if the timeline of the incident is to be believed (which I will get to in a second), this comment could have occurred literally right before Khloé found out about the alleged cheating.
Next up in the "they really hooked up" evidence, we have this incredibly cryptic tweet from Jordyn—posted Sunday, the day she and Tristan allegedly hooked up.
I could love you and still cut you tf off.

— Jordyn Woods (@jordynwoods) February 17, 2019
In it, she says "I could love you and still cut you tf off." Which yeah, is one way to announce to your close friends that you're a cold-blooded sociopath who will hook up with the father of their children at any point. Though in her case, it's really more the Kardashian/Jenners who have the ability to "cut someone off" here—by which I mean Jordyn is dreaming if she thinks her career is not taking a hit from this. You don't mess with America's royal family and come out on top, honey. You can talk to Blac Chyna about that.
While Jordyn and Tristan are busy being shady on Twitter, the Kardashians and their allies are sharing their feelings with another time-honored social media tradition: the telling Instagram comment. In a now-deleted post by Hollywood Unlocked, founder Jason Lee puts forth a pretty damning series of claims about the incident.
In the video, Lee confirms the entire thing. He says one of his writers was there, and reported to Lee that Tristan "took everybody's phone" (yikes), then Jordyn came in and "was all up in lap," " was all over her," "touchy-feely," and—the kicker—"you let the girl stay the night until seven in the morning." Honestly, I'm feeling like this is all the proof I need—and Khloé and her friends seem to agree.
Thanks to Comments By Celebs doing the lord's work out here, you'll notice Malika Haqq (Khloé's BFF) commenting "STRONG FACTS," Larsa Pippen (another family friend) commenting "Amen!!!" and Khloé herself just adding shouting emojis. If I were Khloé, my entire brain would just be shouting emojis at this point, so I really feel that. Malika goes above and beyond to prove herself as bestie of the year (to be fair, the bar just got way lower), and commented on another post about the situation saying "These hoes ain't loyal."
So…Malika in, Jordyn out? While Kylie hasn't officially responded to the rumors yet, a source told E! News that "the whole family is writing Jordyn off," and adds that Kylie "was in denial for days." For now, it doesn't seem like the Kardashians have taken action—Khloé and Kylie still follow Jordyn, and in other mildly suspect news, Jordyn and Tristan don't follow each other.
In a final twist to this situation, which I am updating in real time, Tristan apparently admitted to Khloé that it was true when she confronted him. Several sources approached Us Weekly that Tristan "admitted it was true" when she confronted him on Monday.
And there we have it. Tristan Thompson and Jordyn Woods are over, cancelled, done.  Can't wait to see what kind of pointed inspirational quotes Khloé posts on her Instagram for the next month, and really can't wait for a Revenge Body: Part II. (In that one, she gets Hulk-strong and beats the sh*t out of all her exes).
Images: Instagram; Twitter; Instagram; Instagram
By Banking On Tia & Colton Drama On 'Paradise', ABC Did Us All A Disservice
Last week, we had the long-awaited return of the only Bachelor franchise worth saving: Bachelor in Paradise. Unfortunately, because the Bachelor franchise is obsessed with itself, we had to suffer through some drama we were already bored of on The Bachelorette: Tia and Colton. (TL;DR: Tia & Colton had a brief thing, Tia made Becca cut him after hometowns. If you need more details, try this.) Bachelorette fans have already jumped down Tia's throat for her behavior and Becca even responded asking people to chill TF out. But apparently the BiP cast didn't get the memo. Half of the episode is spent making fun of Tia for her big crush on Colton. The other half is spent roasting Colton for ignoring Tia when he (spoiler) arrives on night two.
According to ABC, the Tia and Colton story line is the most interesting thing happening this season. So why does it feel so boring?
 We Know Too Much
I'm new to the Reality Steve game, but I've come to realize this season that The Bachelor is only a surprise if you want it to be. In the case of Tia and Colton, even spoiler noobs like me were well aware that Tia and Colton had a reunion in Paradise. (Reality Steve had leaked pictures as early as June.) In addition to that, we all have social media. If there had been a serious falling out between Becca and Tia, we would have seen the unfollows. If Colton was seriously closing the Tia door, he would've deleted his heart-eye tweets about her on Arie's season. And Baby Bekah's been more than happy to keep us posted on her thoughts about all this, including speculation about their time in Paradise back when The Bachelorette was airing.
In other words, you would have had to try really, really hard to watch Paradise and not know that Colton and Tia were getting together. There's nothing organic or surprising; it's practically contractually obligated, and it's a real drag to watch.
This GIF says way too much about their whole dynamic.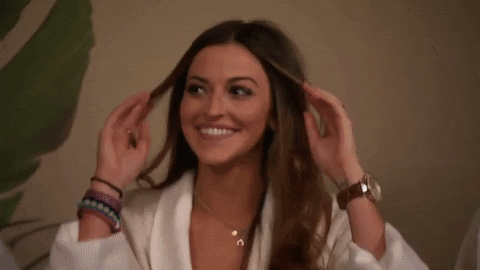 We've Seen Too Much
So, we knew it would happen. That alone shouldn't have made it so boring. In fact, confrontations you actively expect can be the most fun. Which brings us to the next point: Tia and Colton are just not that interesting. The fact is, Tia was not chosen to be the Bachelorette. And if I have any luck remaining on this earth, Colton will never be chosen as the Bachelor. Sure, Colton's got the celebrity exes and virginity, and Tia's got the knockoff Raven Southern charm. But beyond agreeing that they're both attractive people in a vaguely Friday Night Lights kind of way, I have limited interest in seeing where their stories go. I would rather watch Krystal, whose newfound sanity is already hanging by a thread, or Joe, who I sadly like less every time he opens his mouth, than continue with these two.
Paradise is a place for slightly unhinged people to gain new corporate sponsors make bad choices, not a pageant queen and Boy Scout to practice rounding second base. They're not crazy enough or tragic enough to make for really great entertainment. And I think it's safe to say that ABC has worn them out.
All of America watching this story line: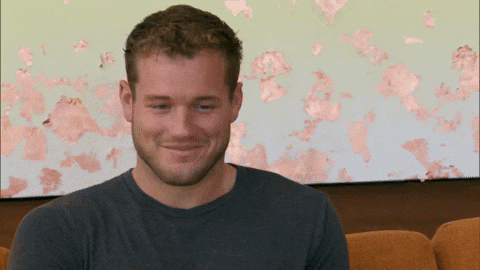 This Whole Situation Sucks
Finally: when Colton arrives on that STD-ridden Mexican beach, it's not a question of whether he'll be into her. It's a question of whether he'll cave to the public expectation that he MUST like Tia as much as she likes him, or risk his reputation going for someone else.
As a quick refresher on their relationship, Tia DM'ed Colton while he was in the casting process for The Bachelorette.  They started talking, then stopped talking when he found out he was going on the show. Their in-person time was limited to a single weekend in Los Angeles. If we're assuming worst-case scenario, Tia is walking the line between stalker fan and one-night stand. Best case, it was a short but intense fling that nonetheless, they cut off well over six months ago. And now Colton, fresh off a breakup of his own, is being asked to couple up with Tia or be hated by all of America.
As for Tia, who is understandably a ball of nerves, there's a lot more on the line than "does this guy still like me?" She's waiting to see if Colton's going to save her reputation by making this a love story, or publicly dump her. Because if Colton doesn't go for Tia, Tia just f*cked with Becca's journey for a guy who wasn't even into her. And that's hard to come back from—in Bachelor Nation, and just in life generally.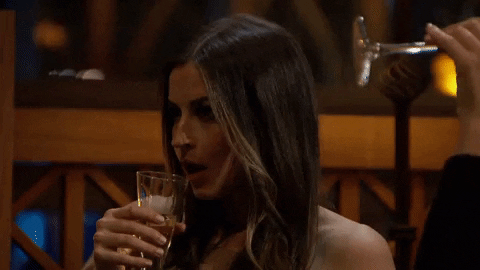 Same, Tia. Same.
Overall, I'd love to stop seeing these two faces on my TV. Colton has seemed in over his head for a while, and Tia has backed herself into a corner that will be very boring and painful to watch her get out of. For the sake of everyone's sanity, let Tia and Colton put this embarrassing chapter behind them and focus on footage like Jordan explaining American history or Bibiana punching people.
Images: Giphy (3)
5 Women Share Their Weirdest First Dates
Way too often, dating advice can stray into an icky area. And by icky, I mean letting men sound off at random on the things they don't like about women, so women can go ahead and make sure they never do any of those things. While I understand the impulse—some of my own articles are along similar lines—I thought it would be nice to take a break from deep dives into the male psyche and talk shit analyze men's behavior instead. Here are some of the weirdest first date offenses committed by straight men, as told by my hilarious friends. It's basically a transcript of your next brunch if everyone's recent dates were exclusively terrible. So…your next brunch. Enjoy!
The "Friend Zone" Guy
"Once on a first date, a guy demanded to know about 20 minutes in whether or not I was attracted to him because he had been friend zoned too many times and needed to make sure it wasn't going to happen again. And then I turned very red and said I wasn't sure what to say, and then he later implied he was good at oral sex." – Phoebe, Journalist
Outstanding. IMO, he could have said any one of these three things and gotten the same point across. Let's break it down.
"Are you attracted to me? = "Often, women are not attracted to me."
"I've been friend zoned too many times" = "Often, women are not attracted to me."
"I'm good at oral sex." = "Often, women are not attracted to me enough to want to have sex with me, so I try to convince them that I have other skills to make up for it. Also, I'm not very good at oral sex."
And yet he went with all three. I guess men were never really known for their subtlety. Moving on!

The Guy Who Is Probably A Murderer
"There was this crazy German dude who asked to put noise canceling headphones and a blindfold on me before we hooked up. But again, not clear why because he took them off before we actually hooked up. He just made me sit in silence and dark for like 2 minutes beforehand." – Whitney, Editor
Let's dissect this a tiny bit. I'm very, very concerned about what he was doing for two minutes after blocking out her senses. TBH, my first thought was that he needed to take a massive dump but like, shouldn't he have equipped her with nose clips then too? Other theories are that he needed to complete a quick drug deal, hustle another girl out of his room before she saw, or take pictures of her to add to his collection of polaroids of fully clothed women wearing headphones and blindfolds. All of which, ew. I'm going to disable all of my friends' dating apps. It's too scary out there.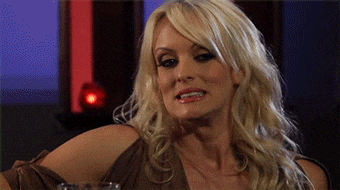 The Awkward Guy
"The last date I went on, we got coffee, except he didn't get coffee. He got a slice of banana bread and ate half and then slowly broke the rest down into crumbs with his fingers while we were talking." – Jane, Hostess
"One introduced me to his parents." – Victoria, Video Game Producer
Say what you will, but I think both offenses are equal level dealbreakers.
The Condescending Guy
"There was a guy who told me he was seeing other girls but he liked me the most because I was "pretty easy to talk to" and "know a little about music." – Emily, Consultant 
Like friend zone guy, you definitely, definitely know this guy. You probably worshipped him in high school, dated him in college, and reject him once a week now. This is the guy who confuses "opinions I have" with "good taste," and constantly vocalizes whether or not things meet his standard. And by things, I mean women, which works out because that's how he thinks of them.
The Wild Card
" told me he voted for Ted Cruz." – Lucinda, Grad Student
TBH I'm stuck on what would be worse: having your date tell you that they voted for Ted Cruz, or going on multiple dates with a guy who voted for Ted Cruz without ever knowing.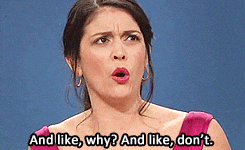 There you have it! The weirdest first date stories I got with a mass text, and they are…honestly, pretty awful. Let's all take this as a reminder to brush up on our fake emergency calls and "bad sushi" lies. Like you've ever regretted a night in.
Images: Giphy (3)
4 Hand Job Mistakes You Need To Stop Making
If you clicked on this article, you probably don't feel like a hand job expert. While this isn't exactly a core life skill, you obviously want to feel like you could give a hand job without fucking it up if you ever needed to. For example, if you're a virgin who can't drive dating a guy who's into that. Obviously, you should never do anything you don't want to do in bed. But it's also possible that you want to satisfy this particular need—you just don't know where to start. Luckily, a few simple steps can go a long way. So fake some enthusiasm, remember that practice makes perfect, and avoid the following hand job mistakes at all costs.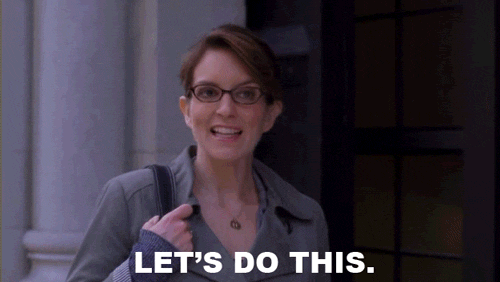 1. Being Too Rough
I'm listing this as one mistake, but you should take many measures to avoid it. Incorporate lube/lotion/whatever moisturizing substance he has in his bedroom and used to hide when you came over. (This should be a given, but I'll say it anyway. You're trying to make him cum, not build a campfire. Friction is bad.) If you have crazy long nails (especially acrylics), either wield with extreme caution or just hold off entirely. Remove all rings (for both your sakes). And please, please do not start whaling on it like you're trying to squeeze out the last of your toothpaste. Getting excited is great; forgetting that you're holding something with pain receptors is not.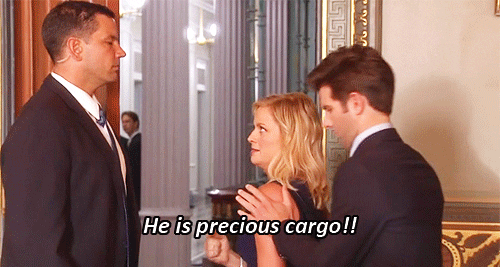 2. Going On Autopilot
I'm definitely guilty of pulling this whenever my boyfriend makes the slightest sound of encouragement. Once I know something's working, my immediate instinct is to repeat that exact move for the rest of my life. Unfortunately, you can't just check off "be good at sex" and never think about it again. To consistently turn someone on, you need to be engaged in what you're doing and offer some variety. If a guy mechanically rubbed your clit like a broken marionette doll, you would be confused, frightened, and upset. Definitely take mental notes on what he's responding to, but remember that new sensations are often the most moan-worthy. (Especially if you've been using his "favorite move" to death.)
Key elements to be switching up: the position of your hands (if you're feeling advanced, use both), the amount of pressure you apply, and your speed. (Speeding up when he's close is a good general rule, but careful not to ram your hand against the head. That shit is sensitive.)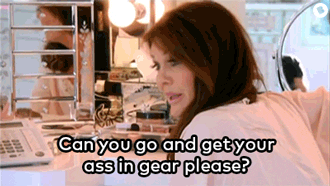 3. Touching Only His Dick
While men often seem to delight in being reduced to their genitalia, hand jobs are an exception to that rule. If you stick to only touching his dick, you're severely limiting your options and risking both of you getting bored. Surprise ass play is never the move, so check in before trying that explicitly—but plenty other areas are available. Stroking his chest, playing with his balls, and rubbing behind his balls are all typically welcome additions to a hand job. It adds some much-needed variety, and has the added bonus of demonstrating how much you like touching him. As long as it's not causing him physical pain, all signs of enthusiasm/horniness are a major turn-on.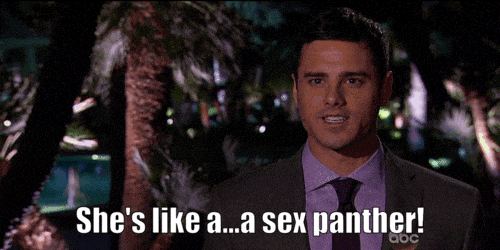 4. Not Giving A Personalized Hand Job
We all know the core issue with hand jobs: guys are always going to do this best themselves. To that end, the guy himself is your best source of information on how to give him a good hand job. If you're both comfortable with it, ask him to touch himself in front of you. When you take over, encourage him to tell you when he wants you to go harder/softer/faster/slower. Ask him if he likes his balls played with. Ask him where he's most sensitive and what to avoid. If you're uncomfortable having these conversations, that's what alcohol is for you can ease into it. Even a simple "does that feel good" goes a long way.
If you're on the opposite end of the spectrum, and highly confident in your technique, you should still check in with the guy. Every guy penis is different, and what worked for your ex could be totally off for another guy's taste. In most areas of life, communication is (sadly) key. Hand jobs are no exception.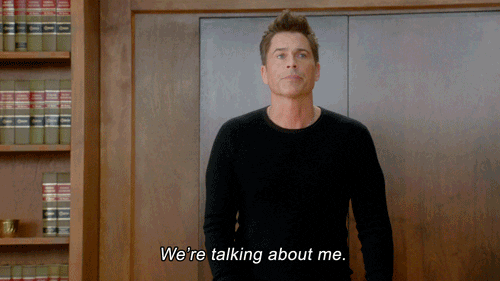 It's worth knowing that most guys I polled on this insisted there's no such thing as a good hand job. So while these tips should give you plenty to work with, don't let your hand job prowess ever stress you out. No guy will ever complain if you give up and switch to a blow job/sex/basically anything else sexual.
Images: Shutterstock; Giphy (5)
10 Dating Profile Red Flags You Should Always Swipe Left On
Our therapist once told us "when people show you who they are, believe them" and we can't remember if she was talking about our parents or the President, but this very much applies to online dating as well. If you want to know whether or not someone is right for you, look no further than the version of themselves they hope you will believe. I mean, if someone can't come across as a cool person when they have an entire camera roll of photos and the help of their friends at their disposal, there's no way they're going to be bearable over drinks. Honestly, anything less than an A+ dating profile is totally unacceptable these days. Like, you can literally pay someone on Craigslist to do this for you. It's not that hard. But as much as men are responsible for throwing up red flags on the apps, women are responsible for blatantely ignoring them. I'm sorry but you thought the guy who posted a pic of himself shirtless next to a jaguar that he killed in Africa was going to be a fun hookup? Think again. Behind every shirtless mirror selfie, there is a divorce paper that you can easily avoid signing if you just heed these warning signs:
1. His Pictures Feature Multiple Hot Girls
Unless it's clearly a family reunion and his mom is just a MILF, there's no reason to feature any other women on your dating profile, no matter how hot you think you look in that tux from your cousin Brad's wedding. This is a red flag for many reasons. One, she's either an ex or a current girlfriend and you're not about to jump into sidepiece nation for anyone. Two, if she's just a friend, he's either trying to score jealousy points from you OR he is really that dumb and doesn't realize how shitty this looks. If it's the latter, he probably doesn't tip well either amongst other dumb guy habits, so you're better off without him.

2. His Profile Is Completely Blank.
If he can't think of one good thing to say, imagine trying to hold a conversation with him. Nobody wants to date someone that tries too hard, but not trying at all means he'll probably be a dud in bed. I mean, how hard is it to introduce yourself and say one witty thing? The dating profile is kind of like a cover letter, and if he can't write a good cover letter, he probably doesn't have a good job.

3. His Profile Is Full Of Demands.
Example: "If you're high maintenance DO NOT SWIPE RIGHT," or "Only Girls Who Watch Dr. Who Need Apply." Look, if you want to compare dealbreakers, our list is ten times longer than yours. But this is a dating profile, not an autobiography. That's what the first date is for. Or at least wait until we match before you start asking judgemental question about our taste in music. Don't worry, we're judging you much harder than you're judging us. If his profile sounds angry or demanding, guess what? He is probably angry and demanding. Swipe left on that loser.

4. You Can Only Ever See One Angle Of His Face.
There's no such thing as a good side if you're hot because every side is your good side. If all his photos are taken from one angle, he's not showing you his full face for a reason. Or maybe they're all close up and you can't tell what his body looks like. That means he's much shorter than he's letting on. No tall guy is ever like, whoops I just forgot to mention I was tall. That's like running a marathon and never telling anyone, what's the point?

5. There Is A Prevalence Of Winky Face Emojis.
The occasional ironic emoji is acceptable, but anyone overusing emojis to express themselves is probably the type of guy who gets overly touchy and doesn't understand personal boundaries. He's like definitely stared at his female boss's boobs too long, and he probably calls everyone "sweetheart" to avoid having to remember names. Gross.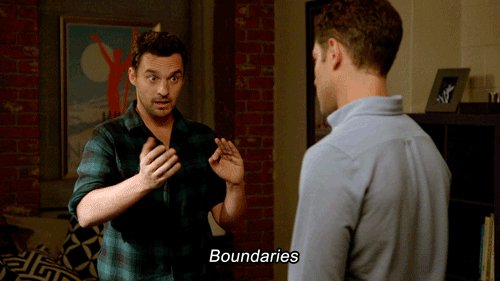 6. He Looks Different In All His Photos.
One of them is definitely from ten years ago. If you can't tell what he looks like, it's not because he's Batman and has a secret identity he can't let you know about. He's probably just insecure about how he currently looks and chose a bunch of out of date photos to represent him on his profile. If he looked like his pictures, he would look the same in all his pictures.

7. He Talks About How Good He Is At Sex.
You know how the dudes who are the worst at sex always think they're the best? Yeah, that's because sex isn't about the dude, it's about both people, and if a guy is trying to "win" at sex than 100% he is terrible at it. If he's posting about his great "skills" on his profile, he's probably never made a woman finish in his life. Plus he probably has herpes.

8. His List Of What He's Not Into Is Longer Than His List Of What He Likes.
He is quick to tell you what type of girls he's not into, but you have no idea if he even has a personality you would like. Guess what? He doesn't. If your personality is based on just hating things, it's probably because your personality sucks. He probably thinks about the world in a negative way, and before you know it you'll be 6 months into dating and he'll say something dumb like "maybe you should start working out more".

9. All His Photos Feature Celebrities (Wax Or Real).
Does this guy not have any friends? Nobody cares that you went to Madame Tussaud's and snapped a selfie with The Rock. Even if you met the actual Rock, this is a dating profile, not a resume of celebrity encounters.

10. He Is An Unknown Actor/Rapper/Model And All His Pictures Are Headshots.
He is definitely going to try and network and honestly he's probably only dating so he can have a scene study partner. In the slim chance he seems normal, you might try and go on a date with him, but just be warned that he's insecure by nature and will definitely ask you to help him with his self-tape.

12 Lies You Tell Yourself When You're Falling For Your Casual Hookup
Someone wise once said, "It's only a lie if you get caught," and betches never get caught. But when the person you're lying to is yourself, things get a little complicated. You can tell yourself over and over again that you're not that into your casual hookup, and if you say it enough you might actually start to believe it—but all the self-delusion in the world won't change the fact that you're into him. If you say any of the following lies to yourself, you might be falling for your casual hookup. Look, we won't tell on you, but we just thought you should know you're not fooling anybody.
If more than, like, 4 of these scenarios apply to you, it's time to take a long, hard look in the mirror. Our official prescription is a 20mg dose of reality, taken once a day or as often as needed for you to wake the fuck up. But uh, it's your life. Do you.
1. I Don't Even Want A Relationship Right Now.

Hey guess what? Nobody's asking. You tell yourself this because you're already thinking about the possibility of a relationship with him, and you have to stop yourself by pretending you don't care.
2. I'm Dating Other People Too.

You say as you download Tinder and frantically swipe right on the first cute guy you see, hoping he'll message you right away. There's a difference between dating around and dating other people just to distract yourself from your actual crush.
3. I Don't Even Think About Him When I'm Not Hanging Out With Him.

Except for when I'm checking his Instagram and Facebook and Twitter and Snapchat.
4. I Like That It's So Chill.

Right, and how many times have you looked at your phone since you last texted him? That's not chill.
5. We're Totally On The Same Page.

Or at least you assume you are, but you haven't actually talked about it. At least not out loud and in person. You've talked about it to him in your head multiple times, though.
6. I Haven't Really Thought About A Relationship With Him.

As you shrug and shrug and shrug into your mirror of lies.
7. I Think Going On Dates Is Such A Waste Of Time; It's So Much Better That We Can Just Cut The Bullshit Out.

Because eating nice meals and hanging out on major holidays is so overrated. Ugh. "But uh, I'll leave my Valentine's Day free just in case he asks," you say.
8. If I Had Feelings For Him, I Would Just Tell Him.

I have no problem telling him how I feel, but I don't feel anything. That's why I'm not telling him how I feel. Which is nothing. Absolutely nothing. Nothing feels kind of like falling in love, but that's probably just an illusion.
9. We're Totally Honest With Each Other About What We Want.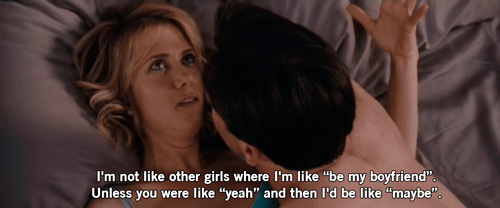 He told me he doesn't want anything serious, and I just want him to think I want what he wants. But seriously, whatever he wants, I'll totally want that too. Like, if he wants a relationship, I could want that too.
10. It Would Be Fun To Take Him As A Date To My Friend's Wedding, But Only Because He'd Be A Fun Date, Not Because I Like Him.

And definitely not because I want to see him in a suit or have him be around two people willing to commit to each other. I'm definitely not trying to plant any ideas in his mind.
11. I Could Stop Seeing Him Tomorrow And Be Totally Fine.

But I'm not going to. Because I'm totally fine. I swear.
12. The Sex Is Just Really Good.

Because of how much I like him. Everyone knows the best sex is sex with someone you're in love with. So I'm only falling in love with him for the good sex.