The Betches' Honeymoon Guide To The South Of France
Aside from your funeral, your wedding is really the only time in your life when everyone you love most in the world is in the same place and celebrating you… and your partner, I guess. Here's the thing, though: weddings are as much about the guests as they are about the couple. Honeymoons, on the other hand, are actually 100% about the couple. The only thing that kind of sucks about honeymoons is that they are stressful to plan, especially because you'll likely be planning it while also planning your wedding. Like I said, stressful. So let us plan it for you! 
If Bali or Thailand aren't really your scene because they have become the honeymoon destination for every single newlywed, consider the South of France. It is my personal opinion that nothing is more romantic than the French Riviera. If you are officially interested, you're not alone, and this is what you and your new husband/wife should do.  
How To Get There
If you want everything to go smoothly, I highly suggest booking a non-stop flight, because the only thing that sucks more than a layover is losing your luggage on a connecting flight. Plus, layovers are brutal, so just get the non-stop and fly into Nice, not Charles de Gaulle Airport, which is in Paris and nowhere near where you're trying to go. Because you'll be traveling from city to city, renting a car once you land in Nice is the move.
Pro tip: Make sure whoever will be doing the driving is the one signing the rental car contract. 
Which Cities To Hit
France's entire southern coastline is so gorgeous and you really can't go wrong when planning a trip here, but a few cities are slightly better for honeymooning than others. I don't know why; they just have a certain je ne sais quoi. Once you land in Nice, definitely take a few hours to explore on foot. Even if you don't give a sh*t about architecture, you'll still be in absolute awe of the Belle Époque and Art Deco era buildings. If nothing else, Nice will provide a nice backdrop for your "we made it!" Instagrams. 
After that, take a drive to Èze, which is a commune in the Alpes-Maritimes, a cute little village on a mountain. Èze looks like an untouched medieval town complete with uneven stone streets, narrow passages, and low arches connecting buildings. Also, there's a five-star hotel and Michelin-starred restaurant. A few other cities to make sure are on your list are Monaco, Provence, and St. Tropez. All the cities in the SoF have a similarly coastal French feel, but also have their own unique qualities that separate them from one another. 
Where To Stay
This, of course, depends on which cities you're in, but for the few we highly recommend, you have a few options. If you're starting your trip with Èze, definitely book a room at Château Eza, the five-star hotel mentioned one paragraph ago. It's behind the gates of the Old Village, which is exactly what you'd think it is, plus no cars are allowed. It really fits with the elevated, medieval feel of the rest of the town. Into it. Also, remember the Michelin-starrred restaurant we discussed? That's in Château Eza. Génial!
In Provence, Château de Berne looks exactly like the house in Under the Tuscan Sun, which, I know took place in Italy, but it literally looks the exact same, down to the turquoise-painted window shutters. The only difference is that, instead of one huge house, Château de Berne is three huge houses that are surrounded by lush greenery from every angle with a giant pool in the middle of them. This place is super light and airy, and the vibe is more botanical than medieval. 
St. Tropez has a few options, but before making your final selection, here are a few things to consider: everything is a little more spaced out in St. Tropez than in the other cities, so your ideal hotel should provide complimentary shuttle buses to restaurants, beaches, clubs, etc. Your hotel should also book all of your restaurant and beach club reservations because getting one yourself can be tricky. Our top recs for hotels that do all the above are Hôtel Byblos and Hotel Sezz. Both hotels kind of look like they could be in South Beach, but after staying in Old World hotels for the past few days, walls made of something other than 500-year-old stone could be a nice change. 
Monday, Day 1
Arrive in Nice and pick up your rental car.

Drive along the PCH equivalent of southern France and slowly make your way to Èze.

Check into Château Eza, drop your bags off, and explore the hotel's grounds, which, by the way, overlook the historic village of Èze. Make sure to spend a few minutes on your balcony for one of the most gorgeous ocean views you'll probably ever see. 
Shower, change, do whatever newlyweds do until dinner at the hotel's Michelin-starred Restaurant Château Eza. 

If you can, play the "It's our honeymoon" card so the maître d will give you a legit VIP seat on the balcony. It's not very French to eat before, like, 9pm, but try to sit down before sunset, because this sunset is no ordinary sunset. (Say sunset again.)

Jet lag is real. Go to bed.
Tuesday, Day 2
The great thing about the South of France is that all the cities are pretty close together, so you don't have to book a hotel in each one you visit. Case in point: taking a day trip to Nice and Monaco, which are both 20 to 30 minute drives from Èze. And yes, Monaco is just as glitzy and glamorous as you'd imagine it to be.

At exactly 11:55am, make sure you are at the Palace Square to see the Changing of the Guards, which is a little touristy, but also like, you're a tourist. It's cool to witness the guards in full uniform moving in perfect sync. 
Either walk or take a cab to Casino de Monte-Carlo

. If you're wearing comfortable shoes, the ~30-minute walk could be nice, but if you're all dolled up for the casino, maybe just take a cab.

Lose all of your money at the roulette table.




Take the train to Nice

Make your way from the train to Maison Auer for an espresso and pain au chocolat. Make sure to snag a seat outside so you can people-watch as you recharge. 
Walk around the winding streets, take a dip in the ocean or get some culture at Musée Matisse until you are too exhausted to do literally one more thing.

Take a train back to Èze and PTFO.
Wednesday, Day 3
Wake up early, grab a croissant for the road, and drive to Provence, which is about two and a half hours away. 

On the way, check out the famous Hotel du Cap-Eden-Roc. The only way I can describe this place is "legendary." Seriously, I cannot imagine who is fancy enough to even work here, let alone actually sleep under its roof. If you aren't literally royalty, don't waste your money on a room here (because there's a five-night minimum), but definitely throw a few bucks toward lunch at Eden-Roc Grill, an outdoor restaurant perched on a rocky cliff overlooking the ocean.


View this post on Instagram

Finally, arrive in Provence and check into Château de Berne. 

Drop your stuff off in the room and head to the pool with views of the hotel's very own vineyard. Have a chill and relaxing day by the pool.

Shower and get ready for dinner at the hotel's Michelin-starred restaurant, Le Jardin de Benjamin, which has a revolving menu every day. Afterward, head to the bar for a glass of very local wine.

Good night moon!
Thursday, Day 3
Château de Berne estate spans 1,235 acres, and some of those acres span mountains and hills. There are six footpaths and four mountain bike trails, but unless you feel really comfortable on a mountain bike, just hike.  
Take in the unreal vistas along the way before making your way back down to the hotel for a refreshing dip in la piscine (that's the pool, I don't get enough mileage out of my high school French).


View this post on Instagram

Shower up and enjoy night two at the same restaurant rocking a totally different menu. 

Bonne nuit!
Friday, Day 4
Check out and say goodbye to Provence and all the

wine

beauty it has to offer. 

Drive to St. Tropez and check into Hôtel Sezz. 
Drop your stuff off in the room and make your way to Le Club 55, which is not at all what it sounds like. It's a beautiful beach club that feels like a super upscale version of what you'd find in Cape Cod. It's casual, laid-back and very beachy. 

Make sure to book a chaise by the water, because it may not be worth renting one otherwise. The ocean view is definitely the main selling point, so you don't want to be in the back and in the shade. 

Make sure to eat lunch at the club because it's delicious—like, the freshest fish you'll ever have. It can definitely turn into quite a scene and get a little crowded, but the staff maintains control and keeps it pretty chill. 

Call your shuttle back to the hotel for dinner at L'Opéra. It's a fun restaurant that turns into a f*cking banger by a certain point in the evening. There are dancers on the tables, loud music, flashing lights…you get it. It's fun!


Once you hit your threshold, call your shuttle to take you home and go the f*ck to sleep.
Saturday, Day 5
Wake up, ideally not hungover, and make your way to Bagatelle, where I hope you had your hotel make a reservation. Also,

bring your passport

.




View this post on Instagram

Drink, eat, take Instas, you know what to do.

After you're feeling

drunk

tan enough, make your way back to the hotel for your final night in France! *weeps quietly*
Sunday, Day 6
Check out, mourn the end of your honeymoon and head to the airport. A bientôt!
Images: @_entreprenerd / Unsplash
"Earlymoons" AKA Pre-Wedding Honeymoons Have Got To Stop
It's that glorious, glorious time of year we all love/hate and know as "Wedding Season". Sure, it can be a somewhat enjoyable experience to watch all your friends getting married to their college sweethearts while you drink free Champagne and scope out which groomsman is single and hot enough to bang if you squint one eye and down three drinks. But let's be real, nothing can remind you just how single you are (the answer is: as fuck) or how poor you are (like, seriously, how are these assholes affording this shindig?) like a wedding.
The combination of those things together make it even more infuriating that some bastards now think it's necessary that they go on a goddamned honeymoon prior to actually getting married. Enter the "Earlymoon". It's just the latest insane trend people with way too much money like to engage in.

So, I guess the point is that after you stressed yourself out trying to plan for the wedding while stretching your budget to its breaking point, you need a pre-wedding vacation to reconnect with your future Mister or Missus while also putting yourself in the right frame of mind to get married. Wedding experts, who were created to swindle your dad out of his retirement savings, say this will make your wedding even more enjoyable as you're now focused on each other again and not all the planning and details.
Hot Tip Alert: if you aren't in the right frame of mind to get married immediately before your wedding, an Earlymoon probably won't fix your shitty relationship.
Likewise, if wedding planning really stressed you out so goddamned much that you have to take a vacation to keep from killing yourself or your future spouse or your whole family, maybe consider that you were a little too ambitious with the wedding plans in the first place. Calm down with the ice sculptures, Karen.

Of course, your Earlymoon doesn't have to be to Paris or Spain. (But, like, go big or go home, right?) Instead, the wedding industry says they can be as simple as a staycation or a trip to a cabin or a beach for a weekend. In that case, it's really not an Earlymoon though, is it? It's more just you hanging out with someone you love and are going to marry for a weekend.
I'd like to say that this is just another dumb new millennial trend made up by 40-year-old reporters to make us as a generation look more self-absorbed and greedy than we are, but honestly this is pretty believable since all people getting married are temporary narcissists. They will spare no expense or opportunity to make themselves and their wedding the center of attention, no matter how many friends they lose or people they leave dead and bloodied along the way, so long as they can make themselves and their wedding the center of attention, no matter how many friends they lose or people they leave dead and bloodied and dying along the way.
Um, anyway, you can best believe I'm not donating to your Earlymoon Kickstarter, and if I see a #Earlymoon Instagram I'm going out of my way to report it as abuse. Please plan accordingly.
What Your Honeymoon Destination Says About You & The Kind Of Married Sex You'll Have
If you're over the age of 25, June means one of two things: either a) everyone you know and their fucking brother is getting married or b) you're getting married. There is no c. Those are the only two options. Luckily, as we get closer to July, all the wedding, love, marriage bullshit starts to slow down because it's so hot that getting married or doing anything that involves leaving the house sounds fucking miz. In place of the "forever wedding date" and "best day ever" Instagrams you'll start to see "baecation" and "never leaving" ones take their place. In other words, honeymoon season is upon us. That's why we're breaking down what your honeymoon destination says about you. So you can choose wisely or judge the shit out of your tacky miserable newlywed friends. Either way you win!
1. Mexico
Cancun? For your honeymoon? Groundbreaking. Mexico, for some reason I'll never understand, has become the most popular spot for newlyweds. Pretty much, if this is what you choose, you're cliché af. Your hubs probs booked this for you and freaked the fuck out when he found a place where all the food was included. Bless him and his cheap-ass heart. You'll enjoy yourself, but secretly you'll be thinking about how much more fun you had in Mexico during spring break sophomore year and how much better the sex was with Johnny the Sigma Chi than your new spouse. Bummer. Like your unoriginal honeymoon choice, you'll live a pretty basic life. In a few years, you'll move to the suburbs, pop out a few kids and live a completely boring life.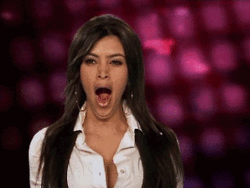 2. Europe
You're doing the honeymoon for the 'gram and everyone knows it. You care a lot what people think and want to come off as way more cultured and original than your other newlywed friends who are laying on a beach somewhere. Your best memories were probs from when you studied abroad in Europe and you coerced your fiancé into booking this trip instead of an all-inclusive somewhere because you wanted to make those same memories with him. Vom. Because you care so much about what people think, your marriage looks perfect to outsiders but behind closed doors some serious shit goes down. You'll pretend everything is okay until you catch him screwing his secretary and then you'll ditch his ass and take his money with you. Mazel!
3. Anywhere In The Continental U.S.
I mean, seriously? I know the Grand Canyon is pretty and Napa has some of the world's best wine, but live a little. You just tied yourself to one person and missionary sex for the rest of your life, the least you can do is leave the country. When you stay stateside, you make the Mexico crew look like true wanderlusters—that's how fucking lame you are. When people ask why you're not actually going somewhere, you'll act all holier than thou about "not needing a fancy trip because marrying your soulmate is celebration enough" but deep down you're already starting to panic about how uneventfully your life is panning out. I'm not saying anyone who has their honeymoon in the U.S. is destined to have a mid-life crisis where they freak out, fuck the hot new intern at their job, and have a messy divorce, but I'm also not not saying that.
4. French Polynesia
Tahiti, Bora Bora and the likes are reserved for the super wealthy romantic types. Sure, most honeymoons cost more than what a couple can afford, but it takes true money to be able to drop $20k on a week-long vacay. Like, I can't do that even if I wanted to. (Ok, you got me, I want to.) Your spouse is probably in finance or taking over the family business, while you have family money but managed to land a killer PR job right out of college. When you decide to have kids you'll hire at least three nannies and say it's because you're working parents, but really it's because you don't want to give up your luxurious lifestyle of traveling around the world and black tie galas.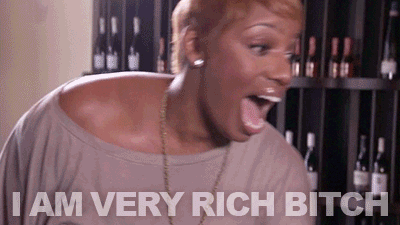 5. Caribbean
Anywhere in the Caribbean tends to be a popular choice when it comes to choosing the perfect spot for a honeymoon. There are different islands for different vibes: Jamaica and Puerto Rico for average peeps, St. Barts and Anguilla for the bougie betches, and a bunch of shit in the middle. If you go to the Caribbean after your wedding you're most likely the life of the party and everyone likes you. You're not as lame as the people going to Mexico but not as snobby the Bora Bora crew. You'll live in the city for a few years and then move to an up-and-coming suburb when you decide to start a fam. Your kids will probs be cool too and you'll grow old with your cool little family.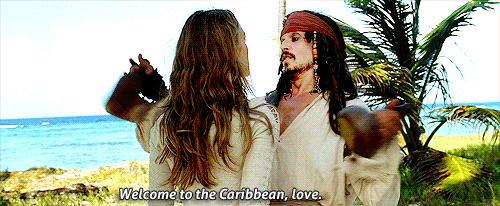 6. Asia
Like the newlyweds that go to Europe, you care what WAY too much people think and can't wait to post honeymoon pics of your Asian adventure on social media, but rather than being a sophisticated, Upper East side type, you're a hipster couple that composts all your waste and judges the shit out of people who think Starbucks is good coffee. In other words, your wedding had mason jars and burlap and you're kind of the worst. When you get home, you'll tell everyone that seeing the Tian Tan Buddha statue in Hong Kong was the most spiritual incredible moment of your life, but you actually liked riding elephants in Thailand better. In the future, you'll sell your apartment in the city to get a tiny cabin or an RV or some other hipster bullshit in the middle of nowhere. You'll go off the grid and no one will miss you. Oh, and you smoke a lot of weed.
7. Hawaii
Hawaii is for the couple who, despite being in their late 20s, is actually like fucking 40 years old at heart. If this is you, you stopped taking birth control on the wedding night and will probably get pregnant sometime during the trip because you're ready to be a mom like, yesterday. The wedding ceremony was in a church that you've been going to your whole life and there was a reception right after in a barn with only beer and wine. I'd bet your last name is Smith or Jones. In a few years, you'll become the president of the PTA and start a blog about motherhood called "Mom-Stop," a play on non-stop that no one will pick up on.
8. A Cruise
Are you fucking kidding me? A cruise? For your honeymoon? Gross. That's all.

What type of bridesmaid are you? Find out here!